This post may contain affiliate links. Please see our full Disclosure Policy for details.
There are hundreds of minimalist ideas for Christmas decor but these DIY minimalist Christmas decor ideas are soft on your budget and calming to your eyes with Christmas trees, string lights, wreaths, gift wrapping and more less clutter ideas.
The holiday season is a time for festive decorations, decking the halls, wrapping gifts, spreading holiday cheer, and hosting family and friends. But getting your house ready for the holidays may be an overwhelming endeavor. So, if you want to decorate your home for the holidays without stressing about clutter or have a small space consider a minimalist approach to simplify.
Minimalist Christmas decoration is all about simply emphasizing important pieces to create a calm and beautiful mood with less but quality decor. Christmas decorations do not have to be extravagant to be appealing like hygge home or make a cozy home to feel the Holiday spirit.
Choose a theme for your design that radiates festive spirit without taking up too much space. A color theme like white and gold or neutral and green, or a natural theme like sugar and spice. These 35 DIY minimalist Christmas decor inspirations to improve your existing minimalist home aesthetic.
You will also like: Farmhouse Christmas Decor Ideas
Minimalist Christmas Decor Ideas FAQ's 
Simplify your home with minimalist Christmas decorations like DIY Modern Christmas trees with knitted skirt, decorating with lights, natural accents, and small touches around the house. Holiday decorating incorporating Scandinavian style or Farmhouse Rustic vibe is ideal for this approach. Decorate Christmas trees with Christmas printables, make ornaments, and decorate Christmas mantel or gift wrapping using minimalism.
Use naturally minimal elements like identical wreaths for Christmas cabinets, candle holders in a cozy nook, greeting cards on display, wood beads and bright light on backsplash, gingerbread display on open shelving, snow platter or charcuterie Christmas tree for simple Christmas kitchen.
How can I decorate my Christmas without clutter?
Decorating for Christmas without clutter is workable, allowing you to keep a clean and orderly living area while enjoying the festive spirit. A simple countertop display, candlestick cluster fireplace mantel or green entry. Here are some tips for clutter-free Christmas decor:
1. Set a clear theme: To avoid cluttering your area with different styles and hues, choose a different theme or color plan for your decor.
2. Quality over Quantity: Invest in ornaments and decorations that are timeless and sentimental for you.
3. Natural Materials: Natural accents like fresh greenery, dried oranges, pinecones, and foliage give the room a homey, rustic feel without being overpowering. Blend the outdoors and indoors by bringing natural elements inside for decor.
4. String Lights: Hang tiny Christmas lights, such as LED fairy lights or twinkle lights, to create a comfortable ambiance without adding clutter.
5. Minimalist Wreath: Make a basic or minimalist wreath using natural materials to adorn your front door.
6. Artful Gift Wrapping: To create a beautiful and clutter-free look, wrap gifts in basic kraft paper and embellish them with simple ribbon, twine, or greenery.
7. Clear Surfaces: Do not overdo the decorations on tabletops and other surfaces. Make one or two standout items the main attraction.
8. Minimalist Table Setting: Set a classy table with basic dishes, exquisite glassware, and subtle linens.
9. Digital Decor: To create a festive atmosphere without adding physical clutter, think about placing digital decorations on a screen or projector.
10. Rotate Decor: To keep your room looking clean and new, rotate your Christmas decorations throughout the season.
11. Donate or Store Unwanted Decor: Examine your decorations before the Christmas season and consider giving or storing anything you no longer need or want.
12. Less is More: Minimalist design stresses the value of selecting things that have a function, adding to the mood and creating a more effective use of space. Use small accent pieces.
13. Be Mindful of Scale: Be mindful of the size of your decorations concerning your available area. Decorations that are too huge or too many can overwhelm a room.
14. Use Wall Space: Without taking up any room on the floor or table, bring seasonal cheer by hanging wall art or minimalist prints.
15. Simplify the Tree: To conserve room, go for a small or tabletop tree. Use a few high-quality decorations for a simple tree with built-in lights. Choose a simple greenery arrangement and a few gold ornaments hanging on a tree with string lights over fuller ornaments, lights, and other tchotchkes. Consider displaying a mini Christmas tree on the coffee table or dining room.
16. Use soft textures: Soft and fluffy textures make you want to touch them and feel cozy. Consider using boucle, sheep skin, or other soft elements to feel relaxed. Use baskets to keep blankets and throw pillows.
Use these suggestions to make your home seem cozy and joyful throughout the holidays without compromising your simple clutter-free living area.
How to decorate for Christmas with little money?
DIY Christmas ornaments: Make your decorations from paper, salt dough, or recyclable items.
Nature's Bounty: Make free decor out of twigs, holly, and pinecones from your backyard to resemble hanging indoor forest.
Thrift Store Finds: For priced used decor, visit thrift stores and Christmas tree market for vintage finds.
String lights: To create a festive mood, grab some inexpensive LED string lights.
Handmade Wreath: Make a basic wreath out of cardboard, burlap, and string.
Paper Snowflakes: Create inexpensive window decor by cutting out paper snowflakes.
Dollar Store Decor: Look through dollar stores for low-cost decorations and ornaments.
No-cost Printables: Print out free holiday-themed artwork to display or frame like these adorable Christmas free printable. Wishing you a Merry Christmas with traditional saying "May your days be Merry and Bright" and "Joy to the World".
Recycle and Repurpose: Replace worn-out ornaments with fresh paint or finishes.
Minimalist Approach: For a classy, low-cost Christmas, embrace simplicity with sparse decor.
How can I make Christmas simpler?
Minimal Decor: Adopt a few essential pieces of minimalist decor to cut all the stress and clutter.
Streamline Meals: To lower stress levels, organize easy-to-manage meals, and assign cooking duties to others.
Minimize activities: Try not to overbook yourself. Instead, focus on a few specially selected holiday activities.
Digital Greetings: To save time and extra expenses send digital cards for the holidays.
Give Experiences: Rather than giving material goods, think about giving time or experiences.
Simplify Traditions: Consider reevaluating your traditions and preserving the most meaningful ones.
Practice Self-Care: To lessen the stress of the holidays, schedule time for rest and self-care.
What are the colors of minimalist style?
A small, muted color scheme that radiates peace and simplicity is what defines the minimalist style:
Whites: Create a sensation of openness and purity with clean, pure whites.
Neutrals: Add Warmth without being overpowered by soft neutrals like light taupe, grey, and beiges.
Monochromatic: To maintain coherence, stick to a single color family, such as grey tones.
Black: When used sparingly, it adds refinement and contrast.
Muted Tones: Earthy or pastel hues or other subdued tones help to create a serene mood.
Metallics: For understated accents, minimalist designs may use copper, silver, or gold.
Cool Pastels: Pastel hues that are not too bright yet have a hint of peace, like mint or gentle blue.
Charcoal or Navy: To create depth and contrast on an accent wall, go for a vibrant look using deep and dark hues.
Minimalist Christmas Decor
Minimalist Christmas decor stresses simplicity with an all-white tree, neutral decorations, and a limited color palette. You can show a genuine spirit of Christmas in a calm and uncluttered environment thanks to subtle elements like paper snowflakes, eucalyptus greenery, and clean linens that create an attractive, clutter-free festive feel.
Glass Jars
You can make these simple glass jars using jars, ribbon, red cranberries, and garland.
Christmas village
Christmas village set from Etsy.
Ornaments
Personalized Gingerbread Family Ornament from Etsy.
Custom ornaments decoration from Etsy.
Wood sign
Christmas quote wood sign from Etsy.
Wood Christmas Tree
DIY Christmas tree with LED lights from Etsy.
Scandinavian Vibe for Christmas Decor
Scandinavian Christmas decor ideas combine modern and rustic elements in a minimalist style. Their goal is to make your house seem comfortable and peaceful. You may create a unique space that reflects the essence of Scandinavian design by adhering to the principles of simplicity, natural materials, and a neutral color palette. This Christmas season, experience the coziness, warmth, and Hygge that come with bringing the enchantment of Scandinavia into your house.
Garland
Beautiful Christmas Minimalist Mantel Decoration with bleached trees.
Wreath
Jingle Bells
Vintage bells wreath to resemble jingle bells.
Modern Christmas Decor
Modern Christmas decor is all about sleek minimalism and simplicity. Choose geometric designs, metallic elements, and a muted color scheme with splashes of vibrant colors. A sleek, elegant atmosphere is produced with Holiday door decorations, DIY holiday doormats, and abstract tree decorations. Modern holiday look is defined by streamlined elegance, which celebrates style with a festive spirit.
Burlap Christmas Tree
Twine Trees with wood cones, a frame, rope, and glue.
Star decoration
Star topiary with ornaments and 2×4's.
Giant Triangle Wreath with garland, artificial flowers, a wooden frame, and glue.
Winter wonderland
Beautiful Christmas village in greenhouse with blushy pinks if you prefer.
Snowglobes
Snowglobes lighted village mantel decor using recyclable jars and frames.
Flower arrangement
Christmas Vase Decoration using floral foam, skewers and ornaments.
Outdoor Christmas Decor Ideas
You may add festive appeal to your outdoor area to elevate it. For an enchanted winter wonderland outdoors, consider placing a welcoming wreath on the entrance and placing light-up reindeer or glittering snowflakes, Christmas trees, and decorations in the right places.
Giant Popcorn Garland with greenery.
Outdoor Christmas Trees with wood and string lights.
On a Budget Christmas Decor
Utilize cheap decorations, recycle, and make your ornaments to create an affordable holiday paradise. Handmade wreaths, imaginative lighting, and dollarstore finds can make your holiday season joyful.
Advent calendar
Countdown to Christmas with Advent Calendar
Hanging decor
Christmas Pinecone hanging decor
Dried Orange Wreath using dried orange slices, bells, garland, star, a frame, and glue.
Pine Cone Christmas Tree using foam cones, pine cones ranging from 2 inches down to 1/4 inch, hot glue gun, stick, dowel or branch, wood cup/box, floral foam, and string lights.
Cozy Christmas Decor
Make a lovely Christmas hideaway with soft blankets, warm lights, and rustic elements. Add a glittering tree, aromatic candles, and plaid fabrics. Adopt a minimalist style to create a warm and cozy Christmas vibe in candlelight.
Neutral tones
Classy living room decor with minimum elements.
Candles
Chic Christmas Decor
You can add a minimalistic touch of elegance permeates this chic Christmas decor.
Gnomes
Small Glitter Wooden Christmas Decor
Elegant Christmas Decor
Rich fabrics, glittering lights, and classic decorations are all elements of elegant Christmas decor. A refined color palette and traditional accessories can help you achieve refinement.
Centerpiece
Natural elements
DIY Birch Vase with twigs and artificial berries hot glues on it.
Living Room Christmas Decor
You can make your living room beautiful with simplicity and little effort.
3 tier display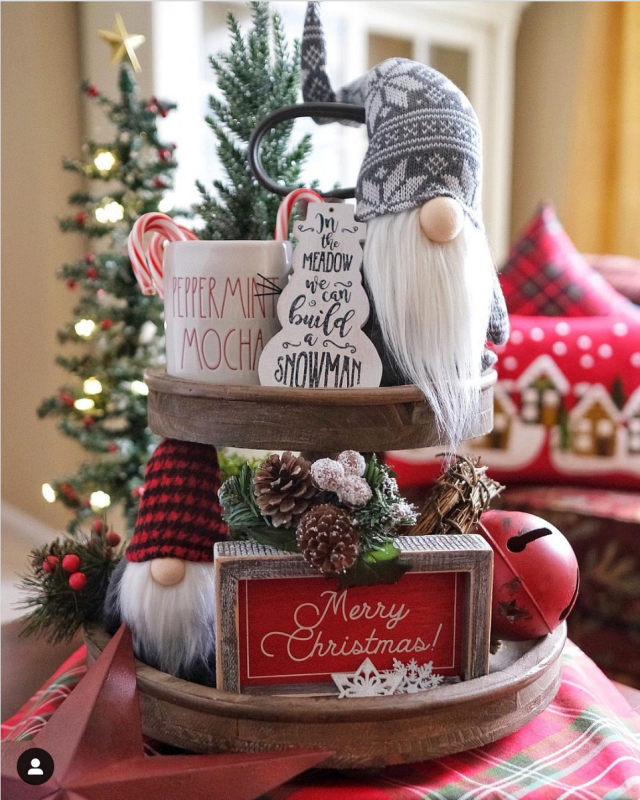 Mantel decor
Table runner
German Christmas Decor with music notes Christmas tree.
Magical Christmas Decor
Magical Christmas decor will enchant your room with its shimmering lights, sparkling ornaments, and warm touches that will make every corner radiate festive delight.
Fireplace
Dining table
Snowy center small Christmas decor
DIY snow globes mason jars with vinyl sticker and mercury glass spray paint.
Magical Snow Houses Christmas in a bowl
Christmas cards
What does minimalist decor look like?
Distinguish minimalist decor by its simplicity, efficiency, and emphasis on fundamental features. Usually, it appears like:
Clean Lines: Straight lines and a clean, uncluttered appearance are characteristics of minimalist design.
Neutral Color Palette: Dominate the color palette by whites, blacks, greys, and subdued tones.
Few Decorative Elements: To prevent excess minimalist rooms emphasize a few well-chosen elements.
Functional Furniture: By being multipurpose and practical, furniture helps to unclutter the room.
Clear Surfaces: Clear surfaces of minimalist interiors highlight an air of openness.
Uncluttered Space: A space that is free of superfluous items is more serene and organized.
Focus on Lighting: To enhance the simplicity and clarity of space minimalist design relies on natural light and placed artificial lighting.
How does a minimalist decorate for Christmas?
You can create a clutter-free, peaceful living space by sticking to essentials while decorating for Christmas with a minimalist aesthetic.
Simplicity: Make a simple statement by valuing clear spaces and crisp lines. Display a wreath art with simple fir or pine trees.
Use a neutral color palette: Focus on subdued tones, whites, and blacks.
Sparse Tree: Pick a simple tree to decorate, then add a few well-chosen decorations.
Natural Elements: Use organic elements such as pinecones, wood, and foliage.
Monochromatic Accents: Use decor with one color, such as metallics, black, or white.
Subtle Lighting: To create a comfortable ambiance you must use warm and fuzzy string lights.
Minimalist Table Settings: Use white and neutral dinnerware to create a basic yet attractive look.
Meaningful Decor: To prevent going overboard, use decor that has special meaning for you.
Accept Minimalist Symbols: Pay attention to traditional symbols such as candles, snowflakes, and white stars.
Think Before You Wrap: Use simple paper and sparse ribbons and decorations to wrap gifts.
Celebrate this holiday season in style and elegance with minimalist Christmas decor, which keeps your house clutter-free. With a variety of possibilities to provide a minimalist and festive spirit to your home, these 35 ideas will guarantee a calm and fashionable holiday season.
You will also like:
40 Farmhouse Christmas Decor Ideas that are so charming
25 Adorable Gingerbread Christmas Decor Ideas
Written by: Alveena Nazir