This post may contain affiliate links. Please see our full Disclosure Policy for details.
Impressive Holiday door decorations unusual ideas. Decorating the front door for Christmas Holidays in winter is great fun and popular. I am sharing some very unique and best ideas for Holiday door decorations that include classroom door, front door/ entryway, office door, outdoor and more DIY projects that are crafty.
Christmas is right around the corner, this Holiday season create a warm welcome for your family, friends, and guests with inspiration to decorate front porch with details like Holiday doormat, garland, Christmas wreath, and ornaments for Christmas tree with pop of color. The idea is to express your joy by decorating your Christmas doors with bright and warm colors to attract as many blessings as possible. The Holiday Door images are theme based and are fun to do with kids at school as well as home. Also good for entrance and kid's bedroom doors.
Impressive Holiday Door Decorations
You will find:
Santa door decoration
Night before Christmas door
Holiday door decoration
Santa comes down the chimney Christmas door decor
Elf funny door decoration
Pete the cat Holiday door
Santa elf Christmas door
Snoopy winter door decoration
Santa's workshop Holiday door
Twin ginger bread house door
Santa's factory door
Gingerbread house door
Snowman globe Christmas door
Snowman doors
Holiday door snowman
Upside down reindeer door decoration
Reindeer Holiday door decoration
Nutcracker Holiday door
Polar bear Christmas door
Gingerbread man door hanger
Minion Santa door decor
Snowflake Holiday door
Gift wrapped front door
Grinch front door
Christmas doors
DIY Holiday door decorations
DIY Christmas tree front door
Winter door decorations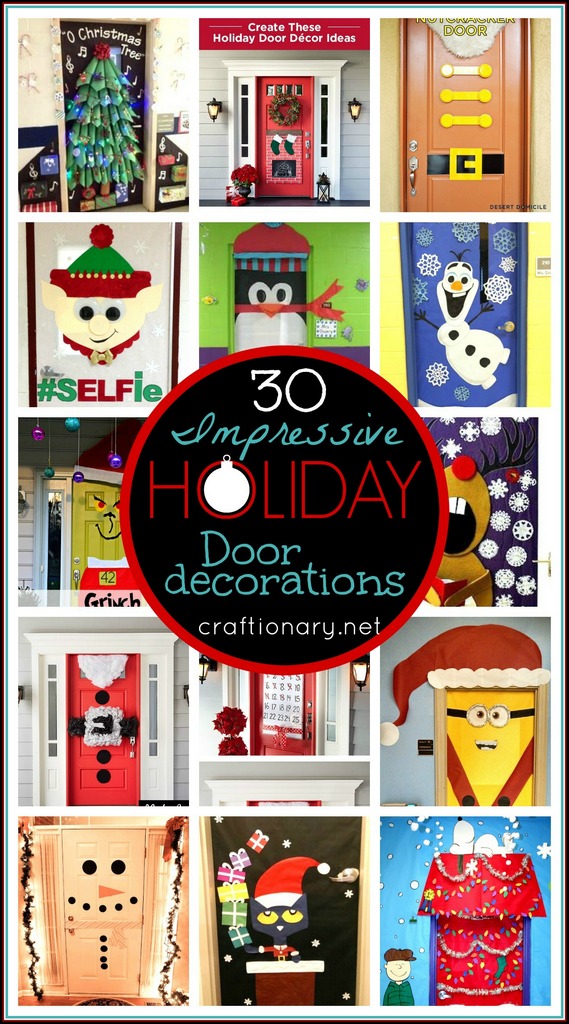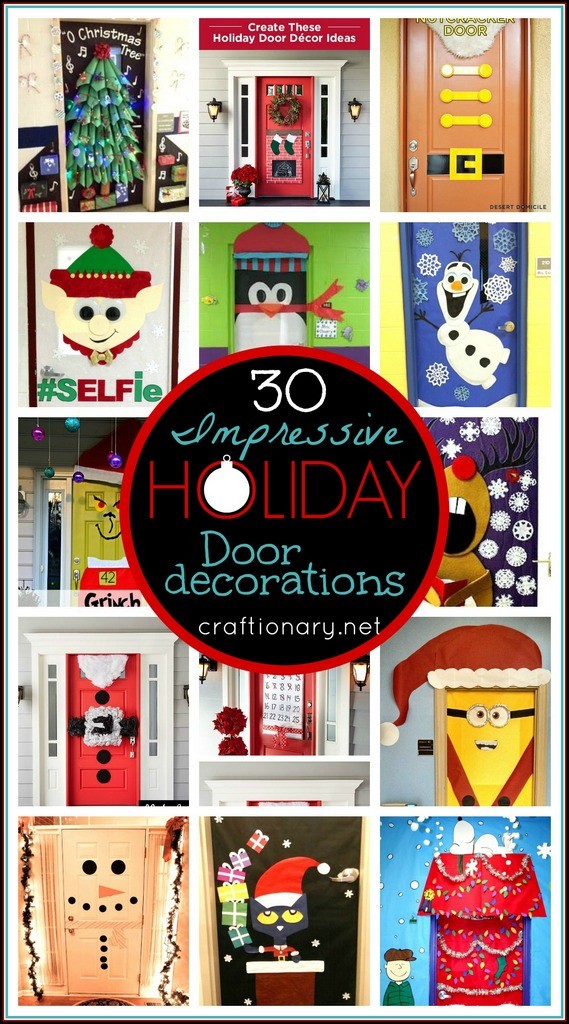 Santa Door Decoration

Make a Santa Door out of paper cutouts via Maggie Kinder. So easy and cute!
Night Before Christmas Door
Use Black craft paper for Christmas eve background
Trace and cut trees, buildings, moon, stars and Santa's sleigh on different craft papers to create a scene
Use cotton balls for snowfall
via Bridgeforth Middle School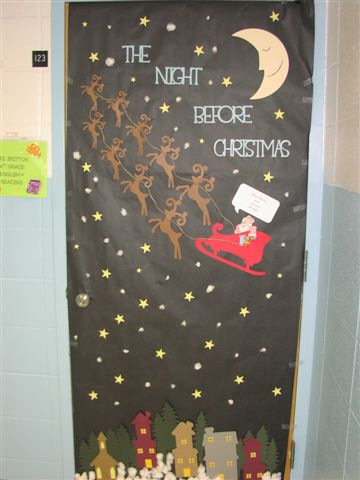 Holiday Door Decoration
Gorgeous door decoration ideas that will make a statement via Michaels.

Decorating Holiday Door with festive front porch
For a more festive and Holiday winter wonderland magic front porch entry way consider adding accent items and statement pieces. A few suggestions include:
Candles with faux snow
Holly burlap wreath
Evergreen wreath
Traditional wreath with eucalyptus and cedar accents
Basket with berry vines and faux berries
Planters and boxwood with spruce, pinecones, Magnolia leaves, and pine tree branches
Fresh greenery wrapped with floral wire
Add dried oranges and pine cones for swag
Outdoor fabric pillows with texture and checks pattern
Santa Comes Down the Chimney Christmas Door Decor

Cover the upper half with white craft paper
Use a brick design wallpaper or a wrapping paper to form the smoke chamber/ chimney or mantel
Use felt, crepe paper and fabric to create stockings, fireplace and Santa's pant and boots.
Elf Funny Door Decoration
A fun idea for photo lovers Elf selfie.
Pete the Cat Holiday Door
This is fun to create with kids who love "Pete the Cat" books.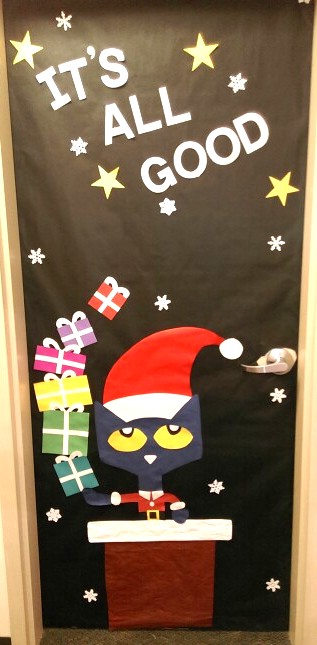 Santa Elf Christmas Door
Since Santa was busy so the kids decided to dress up the elf as Santa for their Holiday door decoration. The materials that you require are:
Off white craft paper for the face
Red craft paper for the body, hat, stripes on the tights and shoes
Green craft paper for the stripes on the tights for stockings and to cover the door for the background
Cotton for the hat, buttons on the shirt and belt and shoes
Black craft paper for the belt
A black marker to outline everything and to draw the details on the face
Glue and hot glue to stick everything in its place after drawing and cutting
Snoopy Winter Door Decoration
Another fun door decoration project that involves paper, sharpies and cutouts with glitter for shine to finish it off.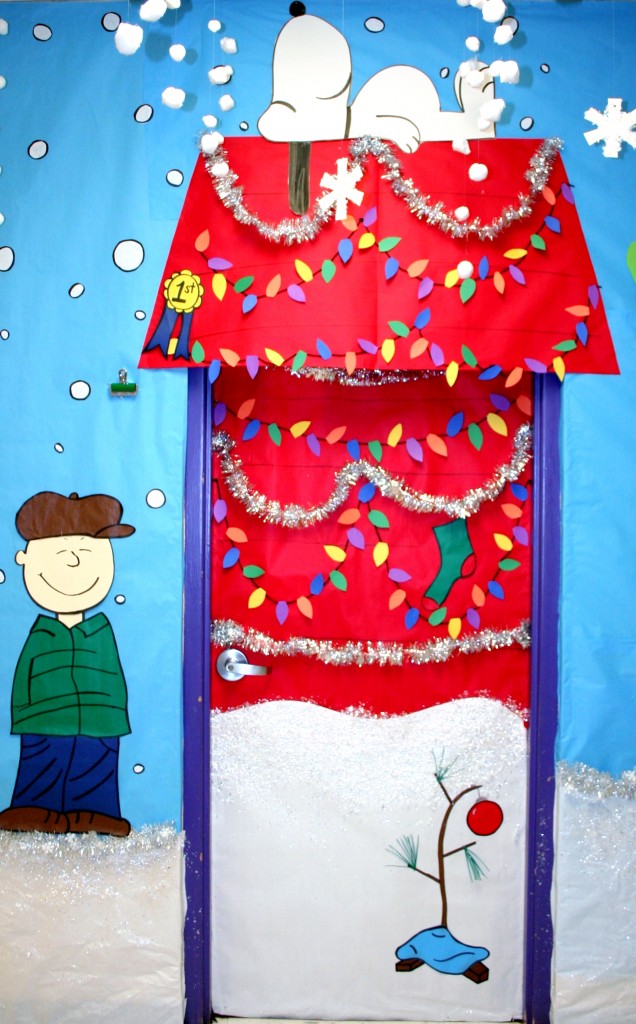 Santa's Workshop Holiday Door
A creative door made with puffy paints and acrylic paints on a craft paper on the door via Cottonwood Chronicles
Twin Ginger Bread House Door
If the kids have their room side by side or whether you're spending Christmas this year with your neighbors, this project is a blast. You will need:
Lots of brown paper to create the house
Use toilet paper roll, wrapping paper, cardstock or bamboo sticks to create snow peaks and candy cane with red ribbon wrapped on the poles.
Make candies out of jar lids.
Wreaths with a bow are a simple addition, easily available at dollar store.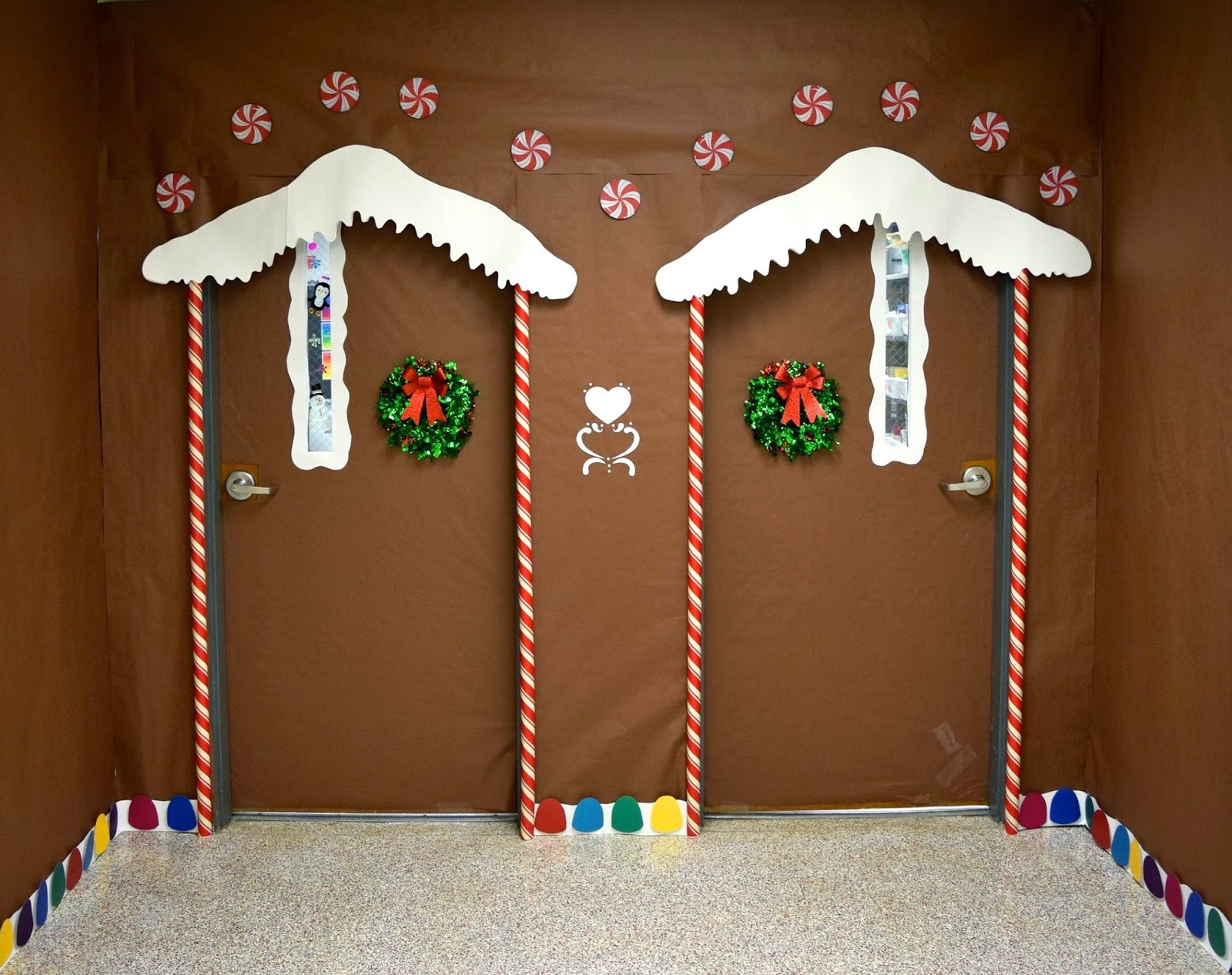 Santa's Factory Door
For the background use brown craft paper to cover the door the side walls and the roof.
Use Styrofoam to make the triangle part of the roof.
Color the paper plates and then stick them or you can pin them on the Styrofoam.
Use white craft paper to make the frame of the window and pink craft paper to make the curtains.
Use white card paper to make the snowy borders and fill the walls with details like gingerbread man and twirl candies or candy canes and wreaths.
Gingerbread House Door
Another creative take on the gingerbread man.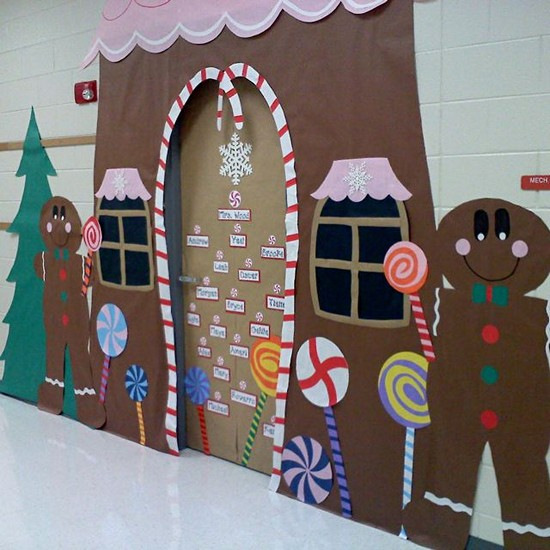 Gingerbread house classroom door is a complete scene with:
White and Purple grease paper for the roof.
Cut the twirls from a wrapping paper.
The sticks on the sides of the door can be made from tissue paper roll or bamboo sticks wrapped up in a striped wrapping paper.
Yellow craft paper for the windows and black craft paper for the frame of the window.
Stuff a transparent polythene bag with pink crepe paper and fix a stick inside it and stick it on the wall.
Use green craft paper to make the wreaths and the tree and red craft paper to make the bows.
Red and white craft paper can be used to make the gloves.
Snowman Globe Christmas Door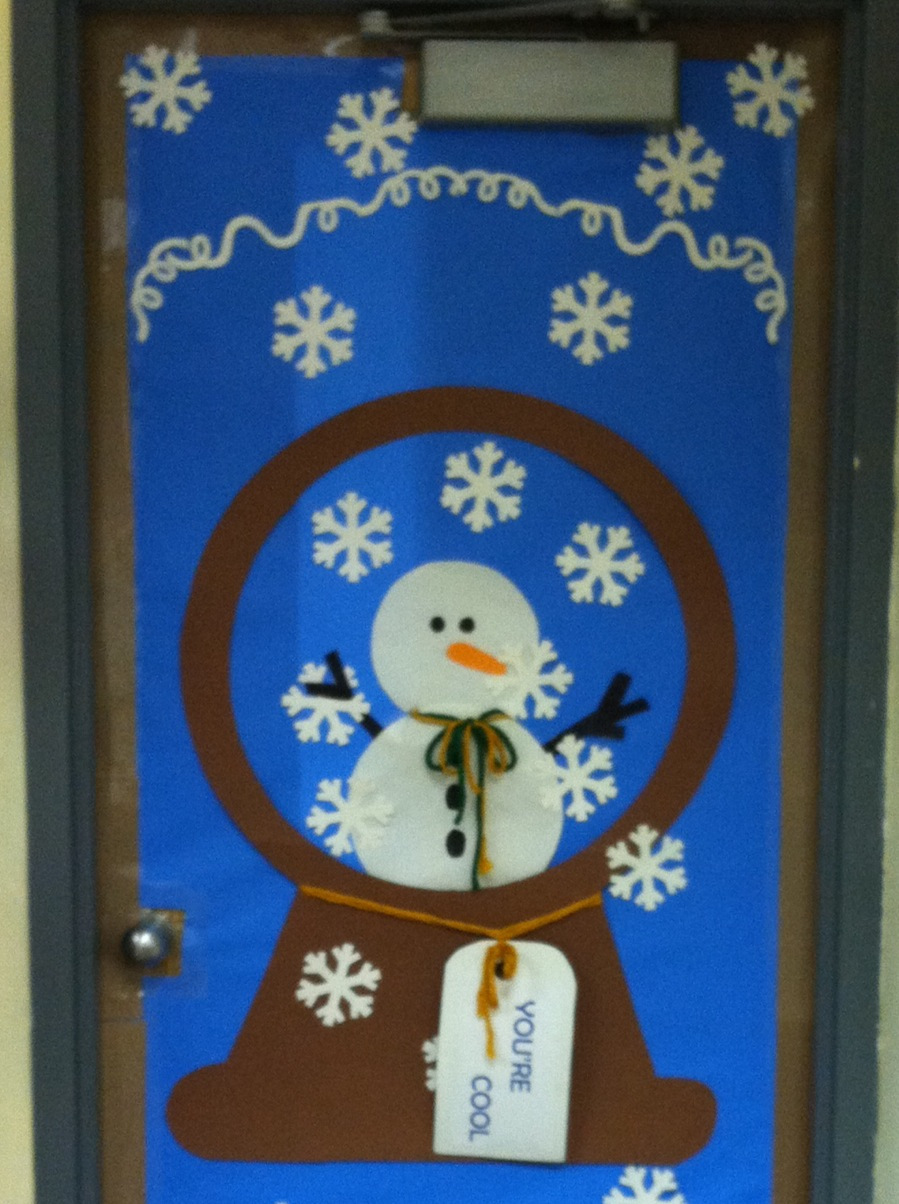 Snowman Doors
Here's a fun way to make a snowman without using snow for your Holiday door decoration this year. Gather up all the kids for this fun and exciting activity at Cupped Snowman door or make snowman faces.

Holiday Door Snowman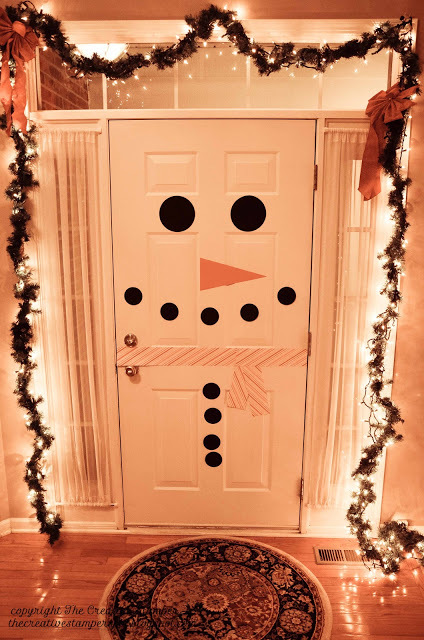 Upside Down Reindeer Door Decoration
Pink paper sheet for the background
Draw a flying reindeer on a brown card paper just like in the image or use a template
Black craft paper to cut the hoofs or hooves of reindeer
Stick the reindeer upside down
For the string lights cut a thin stripe from the craft paper or use sharpie
Cut small bulbs in different color papers and arrange them just like in the image
Finish the details as per your liking!
Reindeer Holiday Door Decoration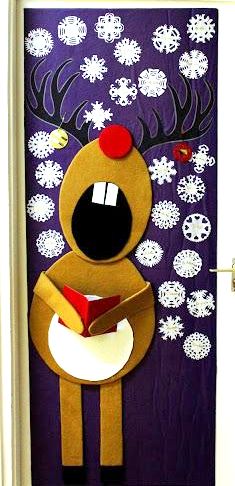 Nutcracker Holiday Door
Nut Cracker Christmas Door using faux fur and wood disc with some sheets of paper or plastic.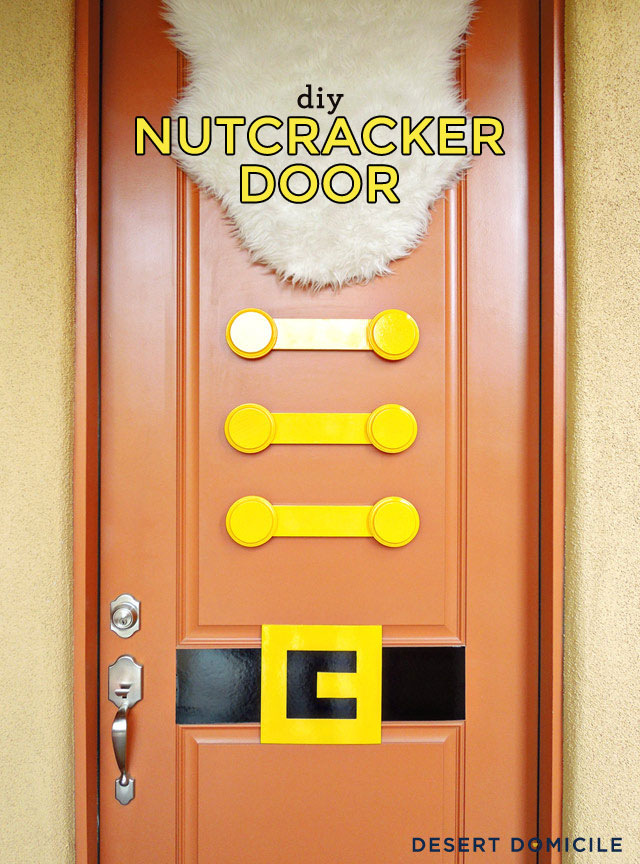 Polar Bear Christmas Door
Let it snow to create paper snowflakes and polar bear winter scene.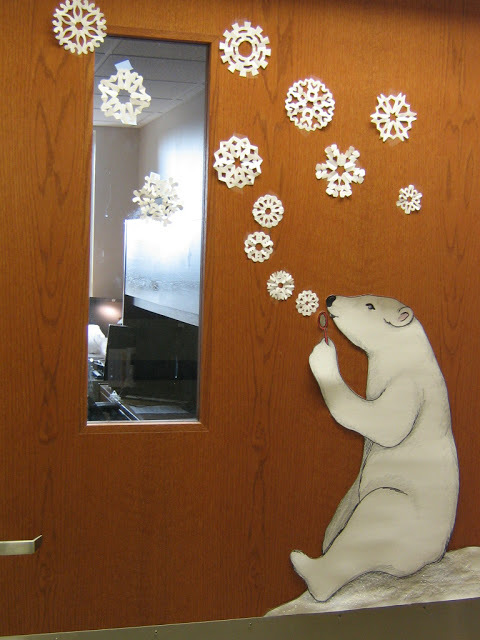 Gingerbread Man Door Hanger
This Christmas go for simpler and elegant door decoration with this DIY aluminum Gingerbread man door hanger, it uses a flat bar aluminum stock for the shinier effect.
Minion Santa Door Decor
A minion Santa wishes all the kids this Christmas a very Merry Christmas.
Snowflake Holiday Door
Make snowflakes for your Holiday front door winter sparkle. Use acrylic snowflakes bought from the store, spray glue and sprinkle glitter.
Gift Wrapped Front Door
If you don't have time to go to the store and buy stuff. This season don't be worried because this DIY Gift Wrapped Door Decoration is just a 5 minute thing. All you need is wide ribbon and a bow.
Grinch Front Door
A fun way to decorate the entryway with Grinch cutouts and felt.
Christmas Doors
More fun door decoration ideas.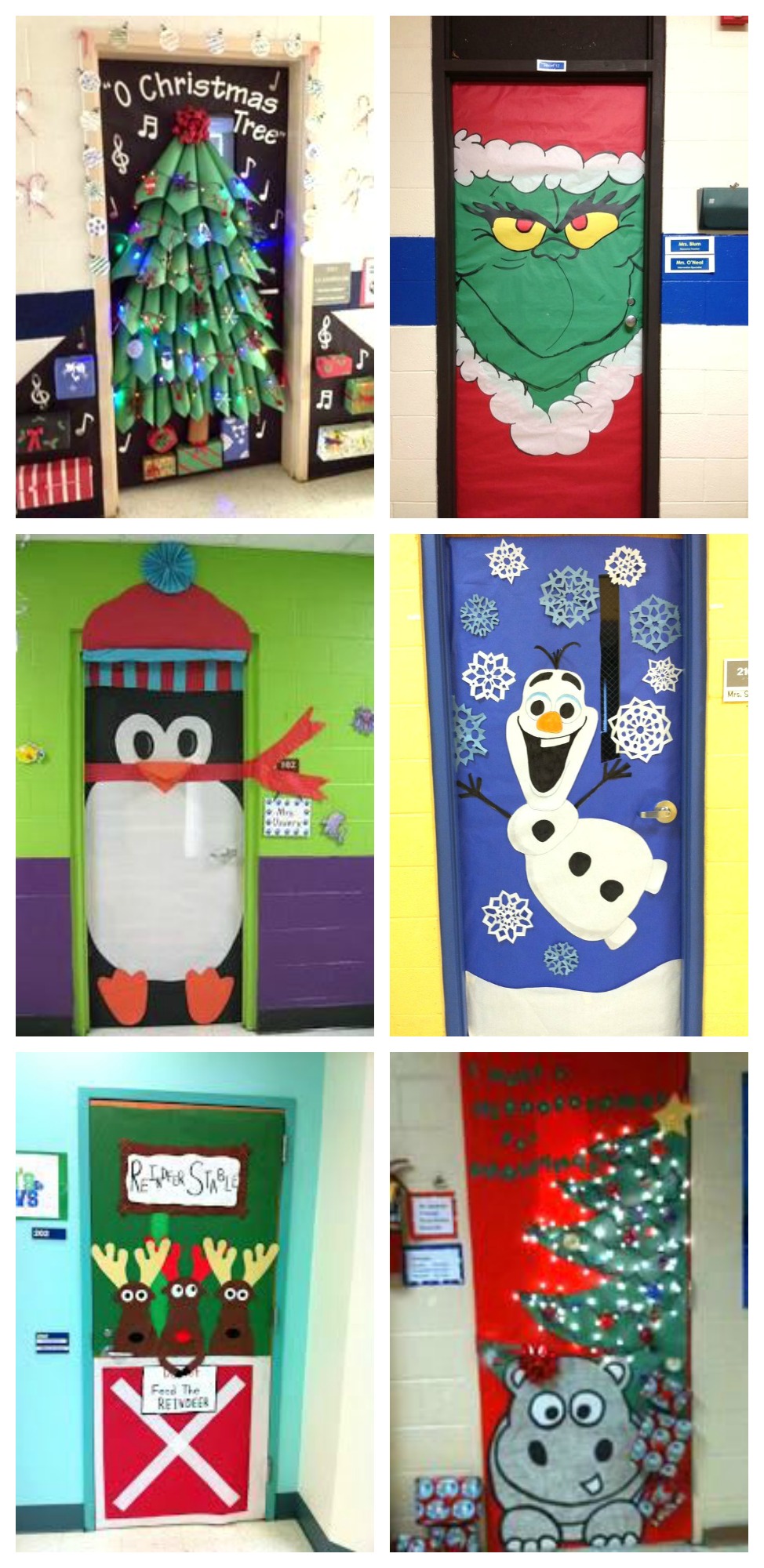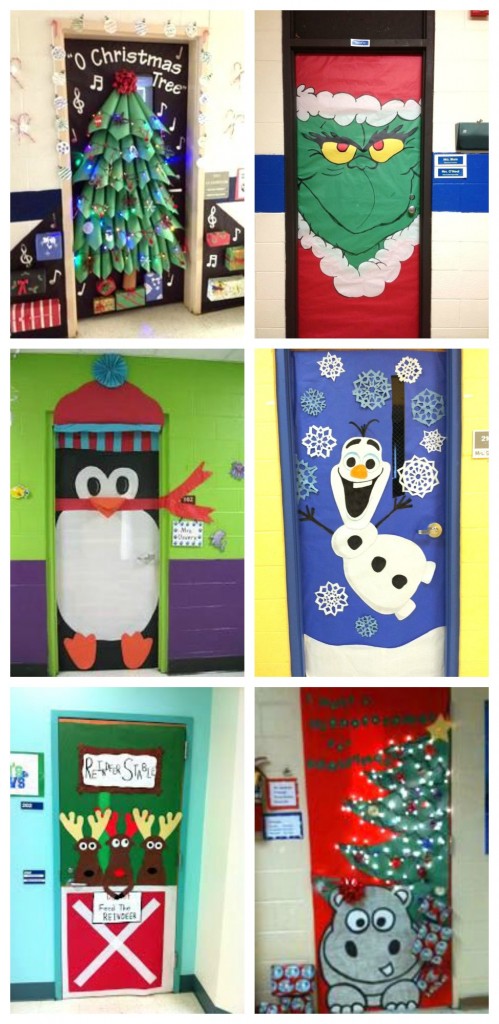 DIY Holiday Door Decorations
DIY Christmas tree front door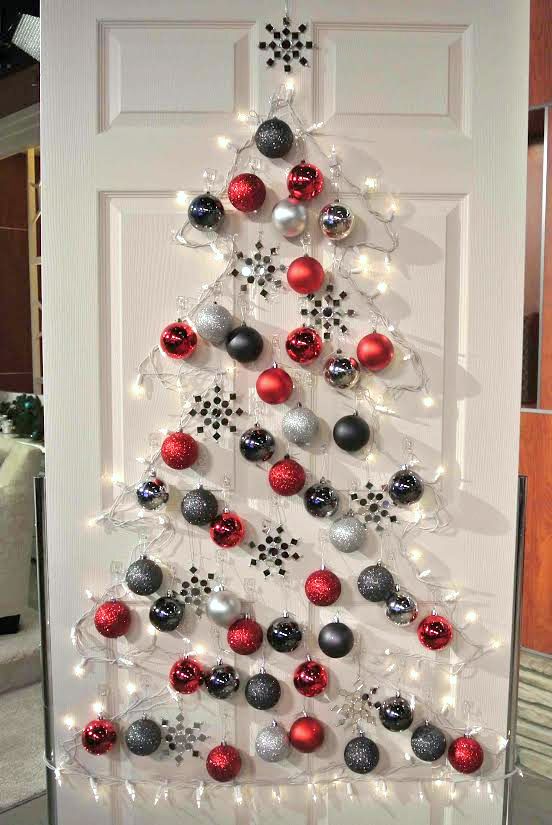 Winter door decoration
Most of these projects are without an original source, found via Pinterest. If you are or know the creditable link, let me know in the comments.
You May Also Like: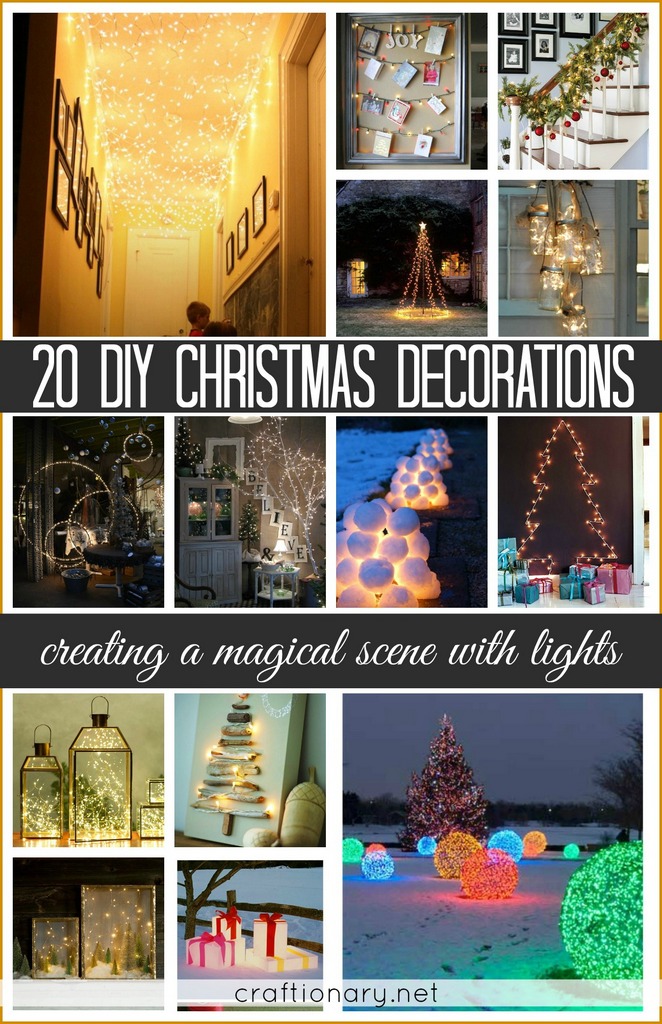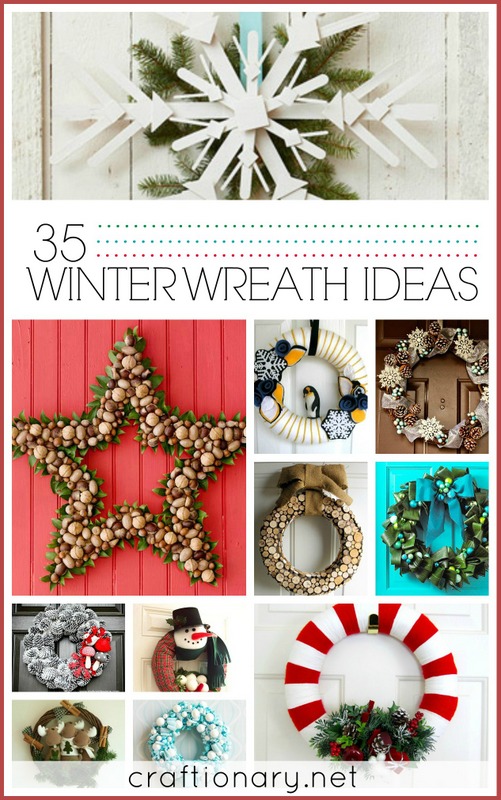 Are you on pinterest?
Updated regularly whenever I find unique ideas.