This post may contain affiliate links. Please see our full Disclosure Policy for details.
Decorating with lights, 20 DIY string light projects using string led lights. Decorate with lights to create a magical winter wonderland scene for indoor and outdoor Holiday decorations. Decorating with lights to create a magical scene for Christmas sounds very unique and expensive. But you can definitely create these DIY light projects on cheap with easy tutorials found here. Lights bring a festive look to any event. Therefore, these ideas are not only limited to decorating for Christmas but can be reinvented through out the year for birthdays and other festive events.
Decorating with lights
Here you will find the following ideas with images and tutorials to guide you:
DIY string lights projects
DIY Marquee sign board
Mason jar lights
Lights Christmas tree
Illuminated forest shadow box
Hula hoop chandelier
Fireflies lantern
Tomato cage outdoor Christmas trees
Lighted snow globe
Driftwood Christmas tree
Tin can lanterns
Snow ball lights
String light tree
DIY lighted wood stars
Glowing gift boxes decor
How to make Christmas light balls
DIY light garland
DIY light branch
Light display frame
DIY glowing garland
DIY lighted ceiling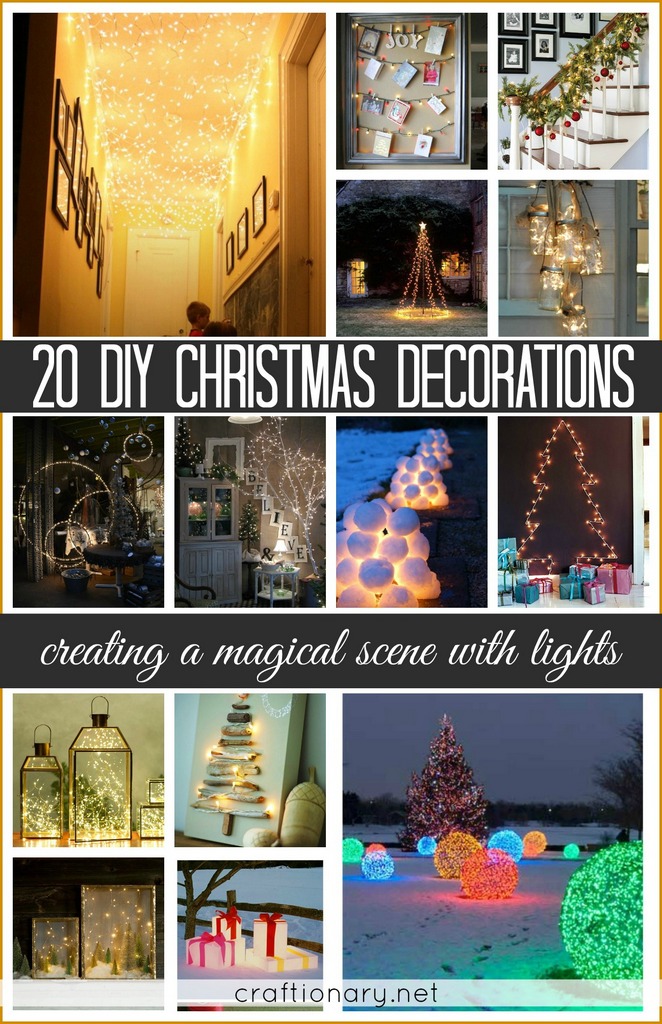 20 DIY String light projects for decorating with lights
When decorating with lights there are a variety of ideas. The idea is to string or hang lights on various home decor items and instantly have a festive touch. Some home decoration examples include:
Soft glow lamps
Flickering candles
Greenery with Christmas lights
Strands of string lights hanging from staircase
Ladder covered with fairy lights
Light fixture sparkle with white lights
Holiday lights on headboard
Creative ways to light canopy bed
Living spaces holiday season mantel decor
Guests seated in dining room with soft glow centerpiece
Create ambiance and mood with battery pack string lights
Wrap little light bulbs around vase, patio, or dining table
Bring comfort with blankets, corner nook setting, and calm ambience
These ideas are super easy to make. Create a magical winter wonderland scene.
Let's get started with these DIY ideas for decorating with lights.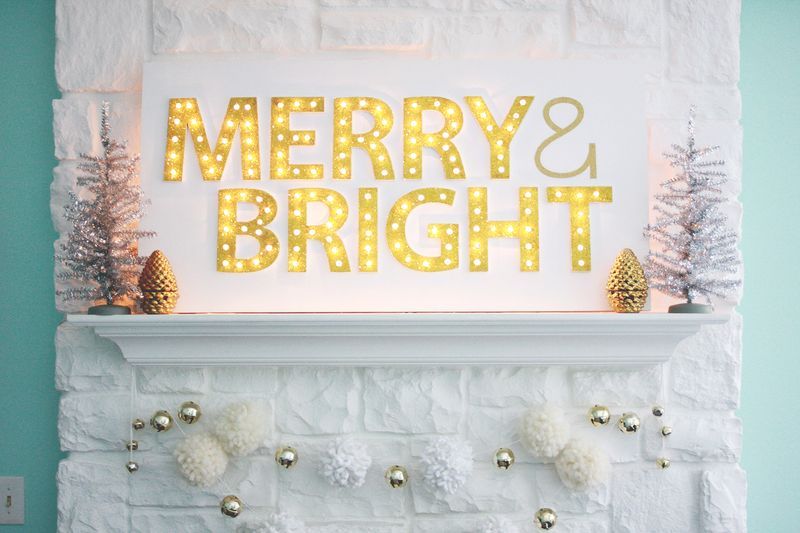 DIY Marquee Sign Board
Merry and bright Holiday decor created with string lights and styrofoam cut letters.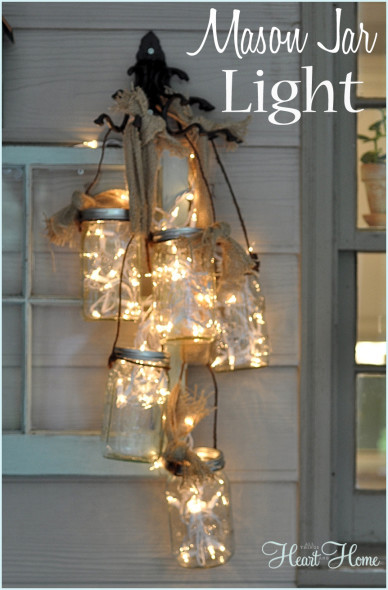 Mason Jar lights
Festive entrance door decor using mason jars, wire and string lights.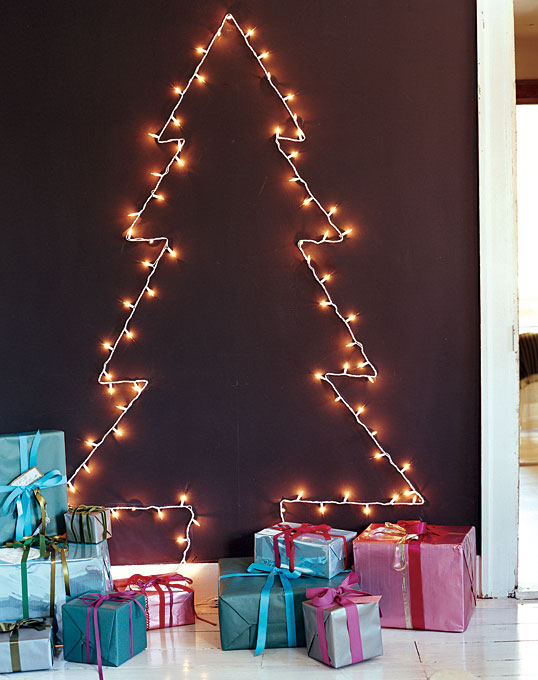 Lights Christmas Tree
A beautiful string light tree on the wall. Great idea for small spaces.
Illuminated Forest Shadow Box
Create a snow-kissed forest in minutes with four simple materials.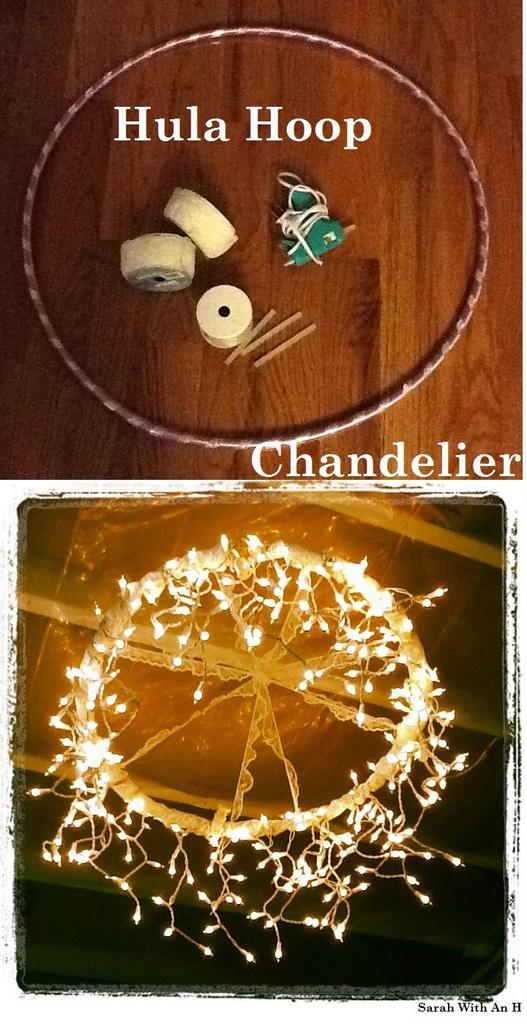 Hula Hoop Chandelier
Hula hoop and lights a perfect outdoor project to lighten up your porch.
Another fun idea to decorate with hula hoop.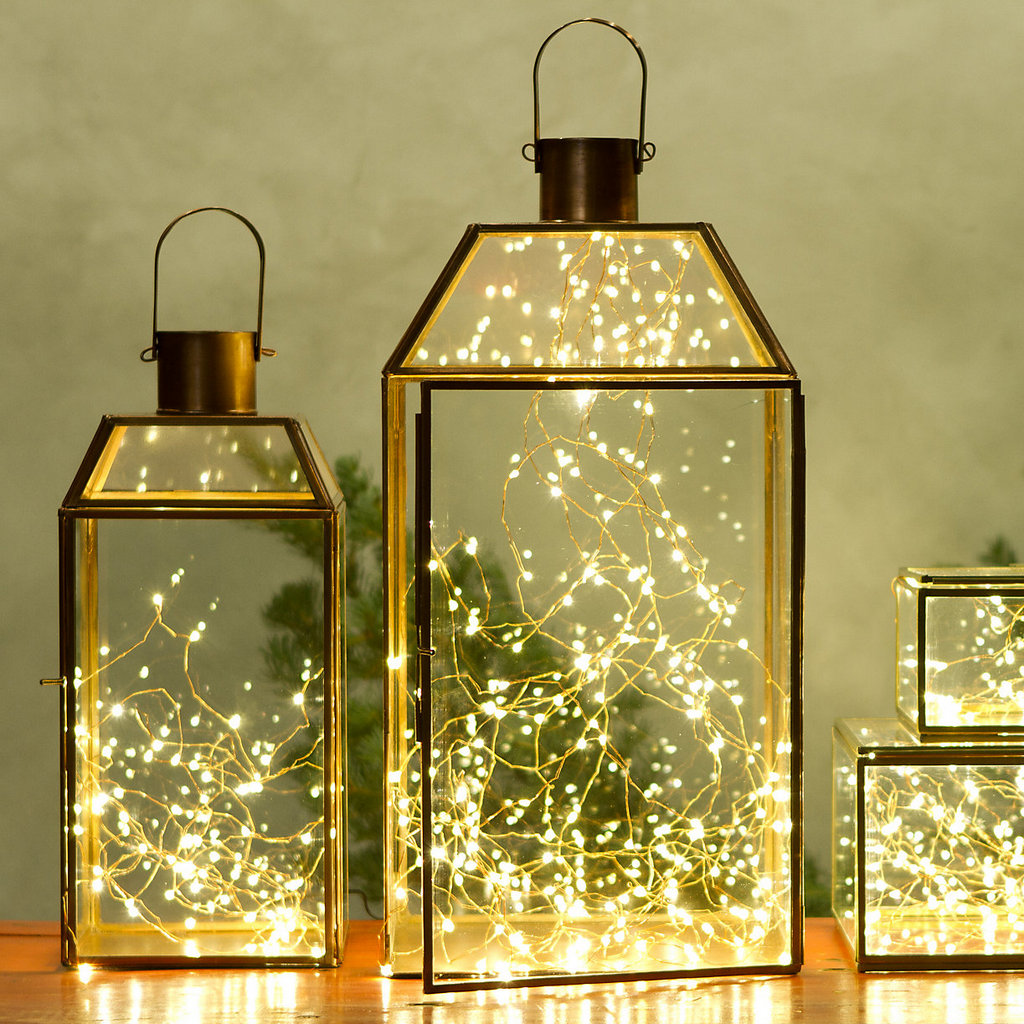 Decorating with lights Fireflies lantern
Easy DIY Christmas decoration that looks beautifully festive with stargazer lights.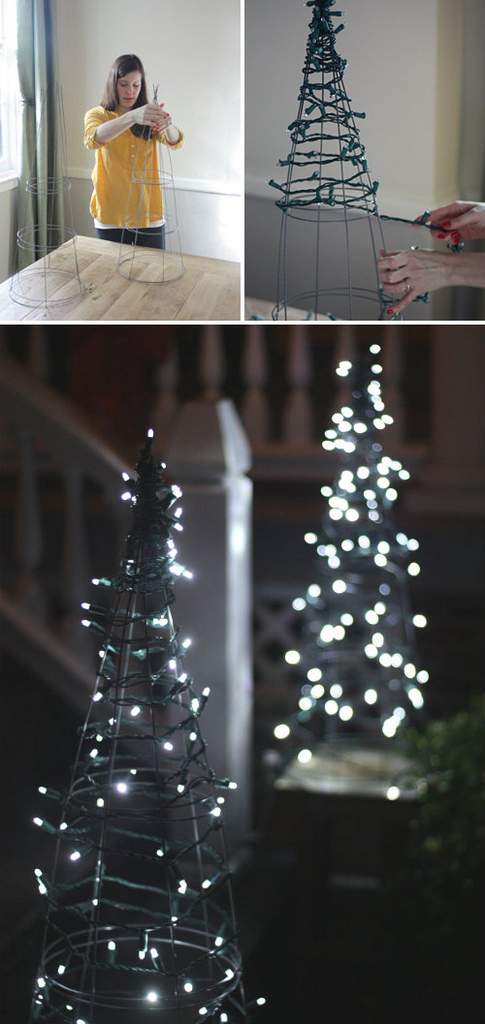 Outdoor Christmas Trees
Tomato cage and string lights to make great Christmas tree lights outdoor decor.
Lighted Snow Globe
Make a fishbowl snow globe with battery operated led lights.
Driftwood Christmas Tree
Make a Christmas tree canvas with driftwood and string lights.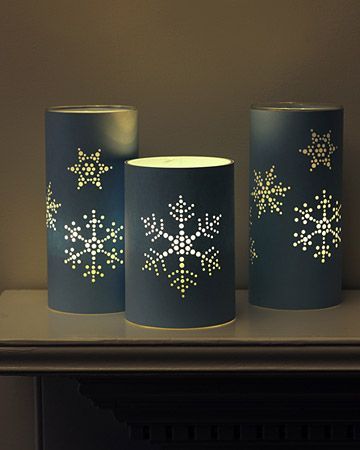 Decorating with lights Tin can lanterns
Make snowflake lanterns with template and hammered holes. Put string lights inside and voila!
Makes great gifts too.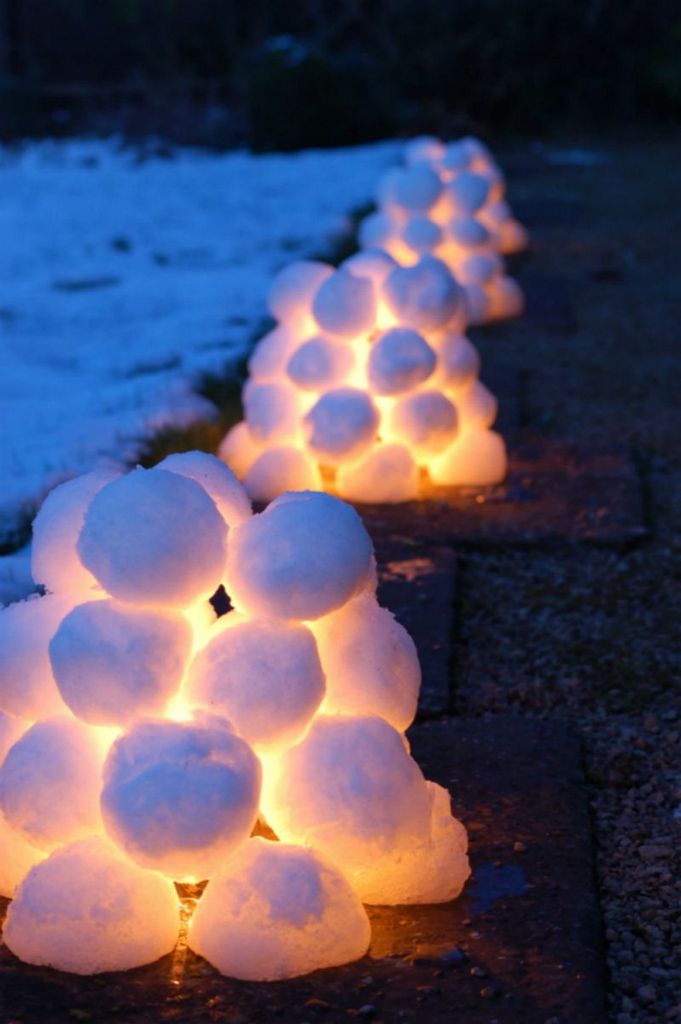 Snow ball lights
What a fun idea to light up the front! Lights covered with snow balls to make snow lanterns. It's also fun to make snow balls for this project with the family.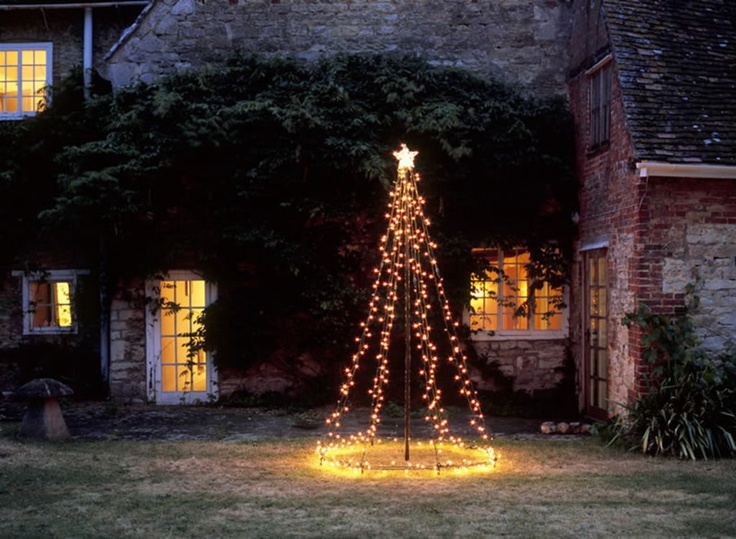 Decorating with lights String light tree
Instead of spending a lot on buying one, how about making an easy Christmas tree. Use twigs and branches from the backyard and attach them to a 2×4 wooden log with wire or string. Now hang the string lights or stargazer lights on it. You have a beautiful outdoor Christmas tree.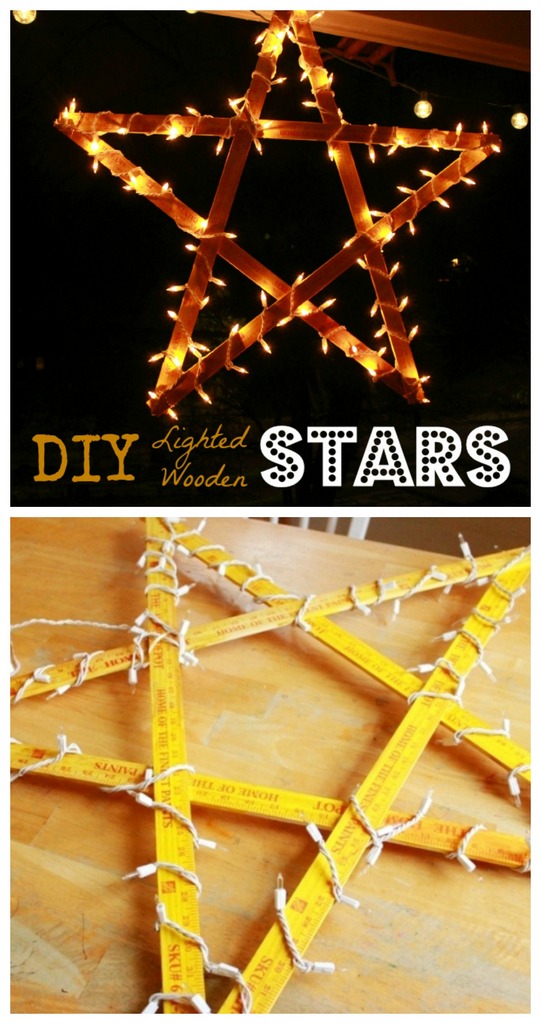 DIY lighted stars
Make lighted wooden star using 8″ yardsticks or rulers found at Lowes. Wrap lights on to it and hang.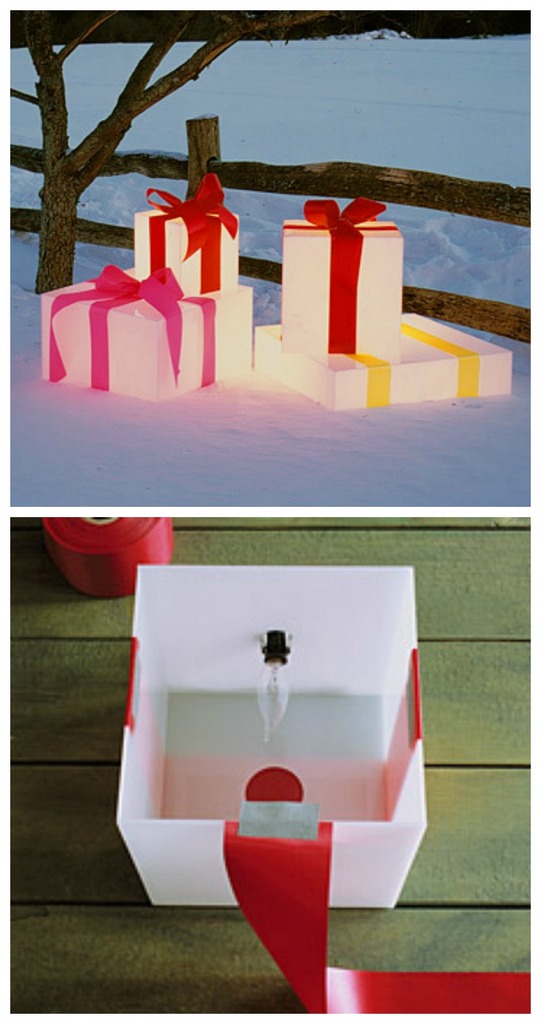 DIY glowing gift boxes
Make illuminated gift boxes for outdoor decor using plastic boxes and waterproof ribbon. Add string lights or battery operated bulbs inside.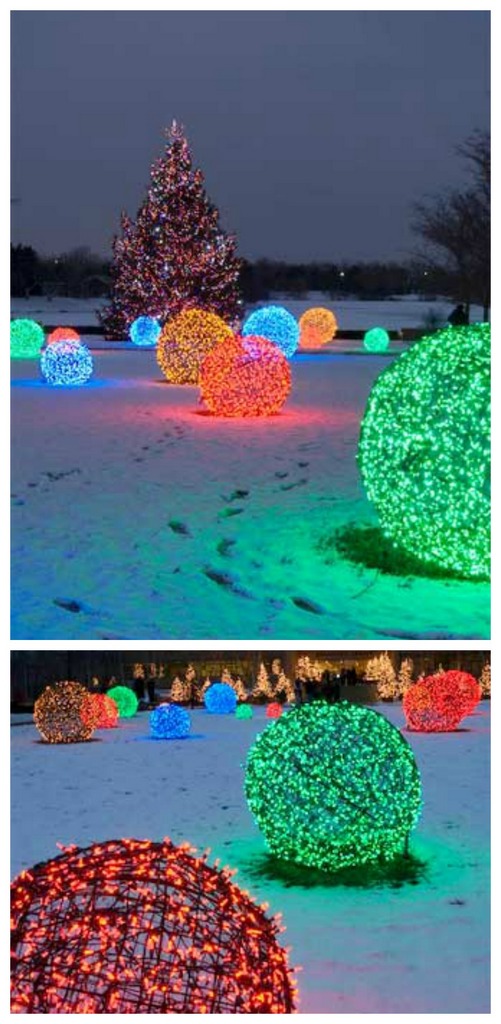 How to make Christmas light balls
DIY Christmas light balls made with chicken wire and mini string lights.

Decorating with lights DIY Light Garland
Ping pong garland made by cutting and pushing cafe lights into the balls.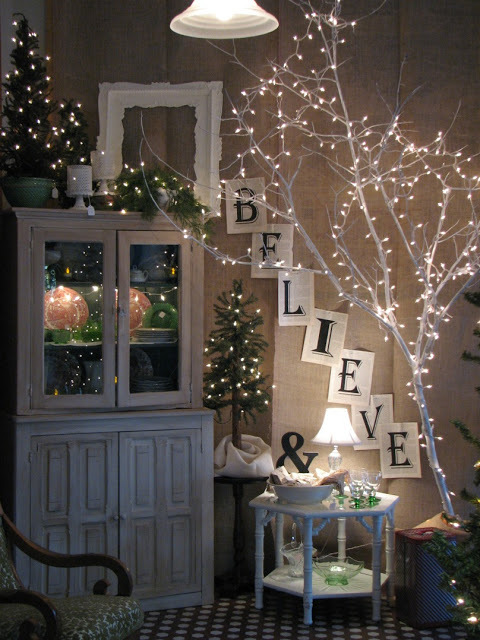 DIY light branch
Bring a tree branch indoor and light it up. This idea is also great for outdoors.
Decorating with lights display frame
Love this Christmas cards display frame made with string lights.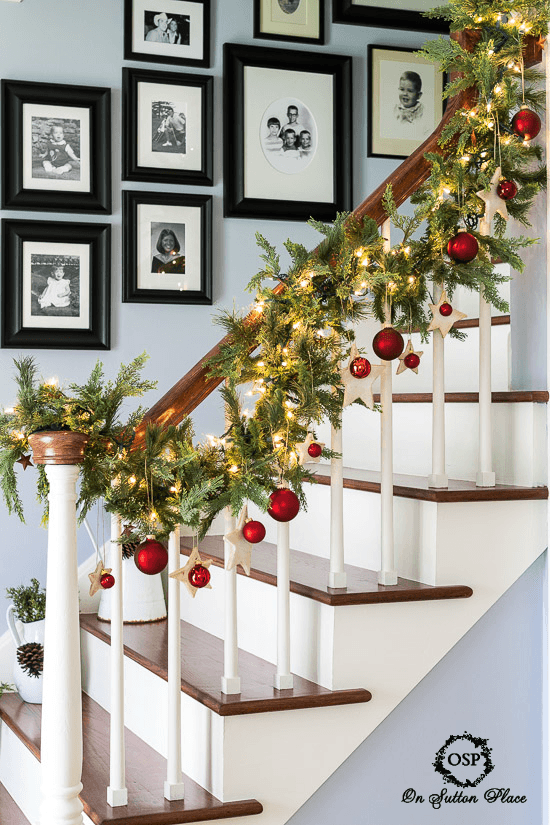 DIY Glowing Garland
Just a simple addition of lights to the garland makes it look festive.
DIY lighted ceiling
Beautiful magical space created with hooks and twinkle lights in the hallway. I think this will be a wonderful idea for kids playroom or living room as well.
I hope you enjoyed these DIY ideas of decorating with lights. Unknown sources not cited.
Using string lights to create a magical space using small and big scale projects.
You May Also Like: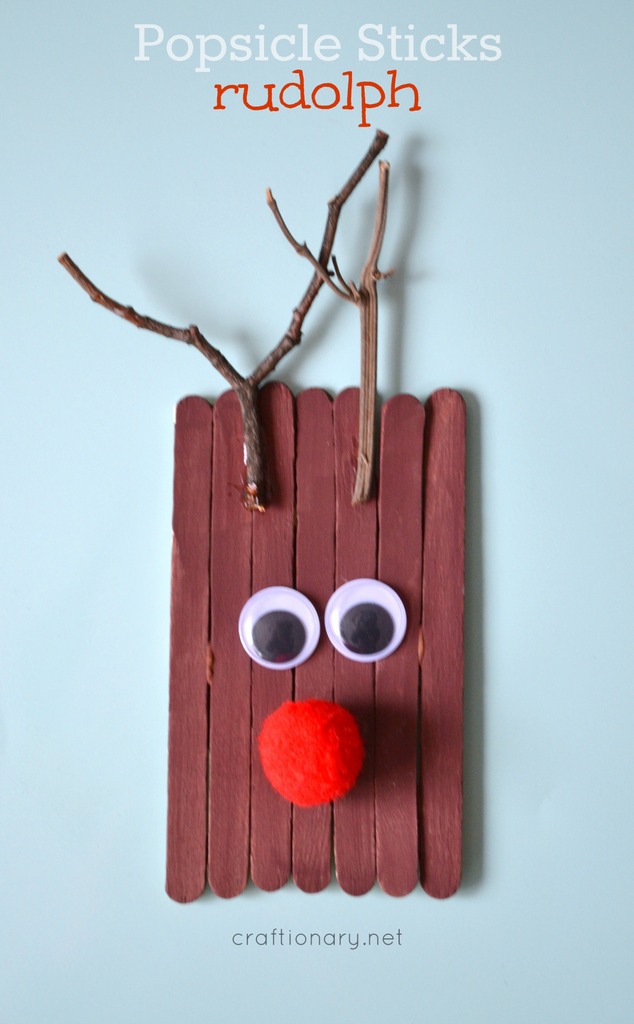 See also popsicle stick creations including Olaf (Snowman) and Santa.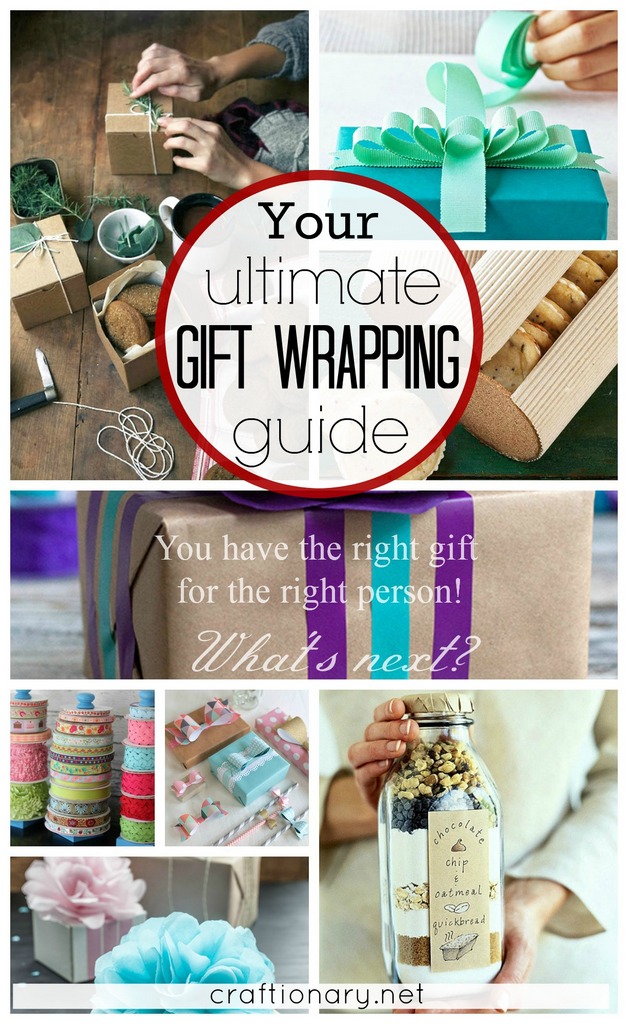 Are you on pinterest?
Updated regularly whenever I find unique ideas.