36 Stunning epoxy resin projects that are sure to amaze. Resins more specifically epoxy resin is used in making stunning projects for crafts and jewelry. Epoxy countertops and epoxy art have gained a lot of popularity over years. It gives beautiful and clear results. Resin crafts and resin projects using wood and metal, as well as plastic and silicone molds are easy and simple resin projects for beginners to try. Jewelry making and wood working ranges from simple designs to super extraordinary as the challenge grows. However, the concept of epoxy resin is very simple. Once your project is complete simply pour the resin and hardener mixture and viola!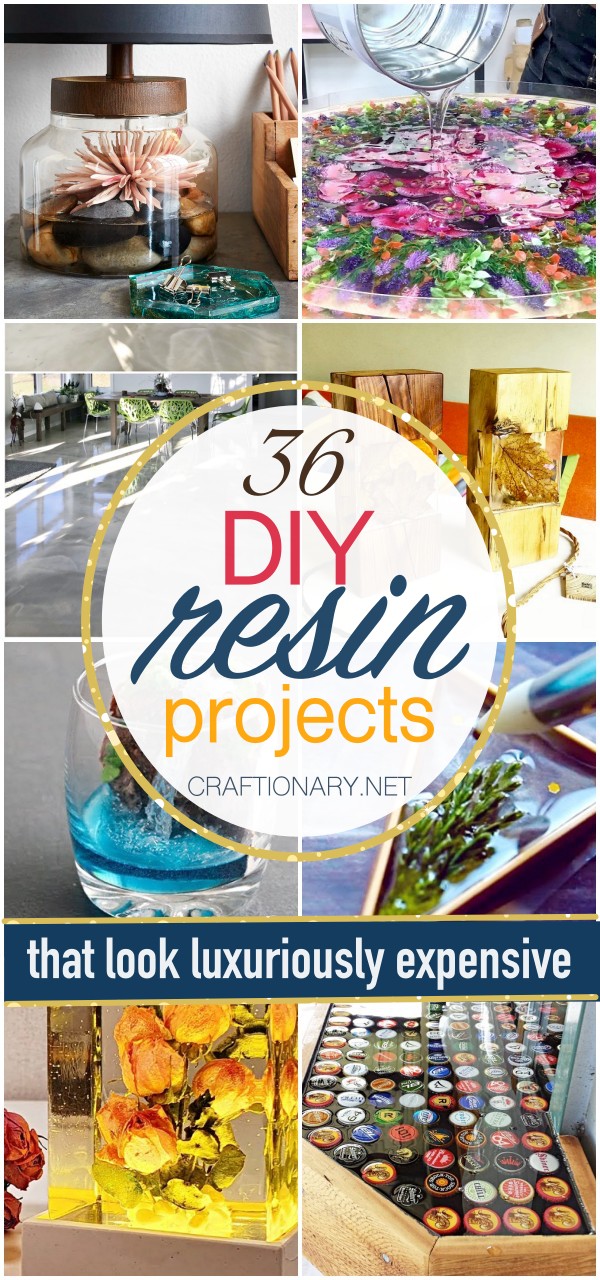 Before looking at some stunning projects lets read a bit about epoxy resins.
What is resin?
Resin is mainly used as a glue. It helps transfer stress between the fibers, protects the surface from external factors and clasps things together. The first resins were found in nature in the plants, insects and trees. Amber or shellac are common natural resins.
How strong is resin?
Resin has a strength of 55.7 MPa and an elasticity of 2.7GPa. It can withstand stress and strain and is a perfect choice for building strong and functional projects.
What is epoxy resin and how to use it in crafts and DIY projects?
There are three different forms of resin. They are different based on cost and properties. Our focus is on epoxy resin as it is used commonly for crafts and DIY projects. Epoxy resin is a liquid form adhesive that dries clear with a shiny look. It is used in manufacture of plastics and paints. Resin works as a primer and coating on flooring and countertops as well. And it is popular in diy projects and art as a sealer.
What is the difference between resin and epoxy resin?
Epoxy and resin are different only due to drying time. Epoxy hardens faster than resin and both require mixing before use. Resin can take about 8-10 hours while epoxy resin dries in only 6-30 minutes making it more popular in home based crafts and DIY projects.
Is resin dangerous?
The answer to this question is no. Epoxy resin is generally non toxic. However, precaution should be taken to keep it away from mouth and hands should be thoroughly washed after completing the project as precaution.
Epoxy resin maintenance
Epoxy resin is generally strong and requires basic maintenance only. It doesn't break or stain easily. However, it can start to yellow overtime if exposed to sunlight. The UV light from the sun tends to degrade the epoxy polymers causing discoloration. Even the most crystal clear and colorless epoxy resin require precaution from sunlight to keep it beautiful and white.
Moreover, epoxy resin is not heat resistant. Epoxy resin coated countertops like granite countertops require care and precaution. Hot pans should not be directly placed over it.
To return your project to its clear shine use any polishing compound of your choice. The process is fairly simple, clean the surface with a slightly moist cotton or linen cloth. Now dab some polish on the cloth and rub the resin surface. Use a slow and circular motion with little pressure till the desired shine is achieved.
How to clean resin if it comes in contact with your skin?
In case epoxy resin comes in contact with your skin simply remove it using either of the following:
Vinegar
Acetone
Waterless citrus-based hand cleaner
Where can I find epoxy resin?
Epoxy resin is easily available for resin projects at Walmart, Amazon, michaels, hobby lobby, home depot or any home hardware store.
The most commonly used is the ArtResins gallons. It comes in two components. The hardener and the resin which should be mixed as per instructions before pouring on your project. Another one used by crafters is envirotex lite.
How much resin do I need for my project?
A rough estimate can be made based on the area and volume of the project's surface. This calculation is based on the depth of your project. If the surface is flat length times width can give you an estimated area. For depth simply multiply height of the project to get the estimated volume.
How can I make epoxy resin projects diy and crafts?
A variety of amazing art and DIY projects can be made using resin epoxy by ArtResin. This product is especially for crafters and artists to make projects at the convenience of their homes. Various pigments and dyes can be mixed with it to make paint projects.
When the hardener and resin (the two components) are mixed together a chemical reaction takes place. As a result, the epoxy resin started to solidify and gradually hardens. The final product is glossy clear surface.
What supplies are needed for resin projects?
A typical resin project requires the following supplies:
Epoxy Resin
Gloves
Spreader or plastic spoons
Plastic mixing cups
Stir stick or popsicle stick for stirring
Covered working space
Heat gun
Torch
What materials can I add to epoxy resins?
A variety of materials can be mixed into epoxy resin for your projects. In short, anything! Some things that are popular to add to epoxy resin crafts and diy projects are:
Fresh flowers
Pigments and dyes
Glitter
Gold leaf
Pressed or artificial flowers
Food colors
Beads etc.
What surfaces can I pour resins on?
You can pour epoxy resin on almost every surface. Some popular ones include:
Metal
Wood
Stone
Concrete
Canvas
Silicone molds
Cookie cutters
Silly putty
Paper
Textured tiles
What epoxy resins projects diy and crafts can I make?
Epoxy resin can be used in a variety of projects and crafts. Such as:
Woodworking
Jewelry making
Coasters
Ashtrays
Countertops
Ornaments
Decorative accents
Paint Pouring art
Geodes
Flooring
EPOXY RESIN PROJECTS FOR BEGINNERS:
Based on your interest the various epoxy resin crafts and projects have been categorized below for convenience. These projects based on the size will allow you to decide whether you are comfortable to initiate the project as a beginner.
EPOXY RESIN COASTERS
1. Petri dish coasters by artsy fartsy mama.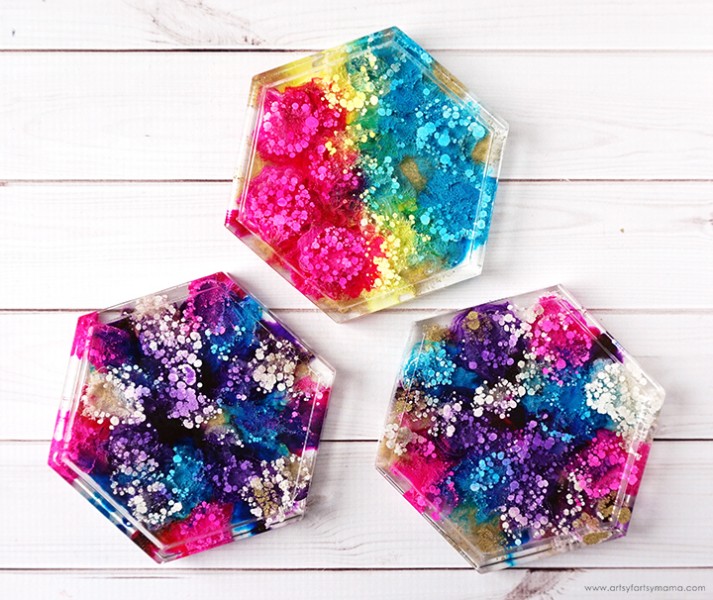 2. Diy make craft resin coasters step by step tutorial by that home bird life.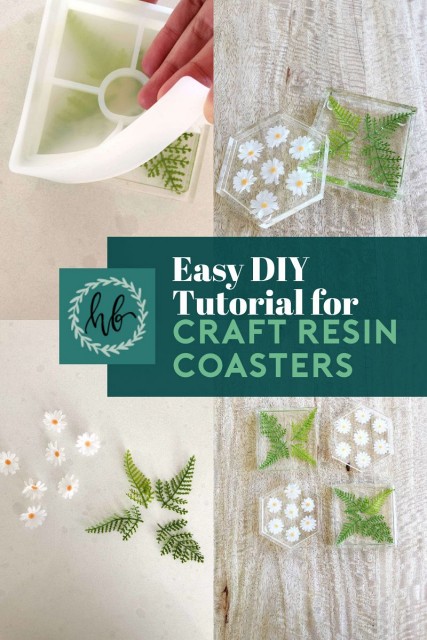 3. DIY epoxy resin wood coasters via diy huntress.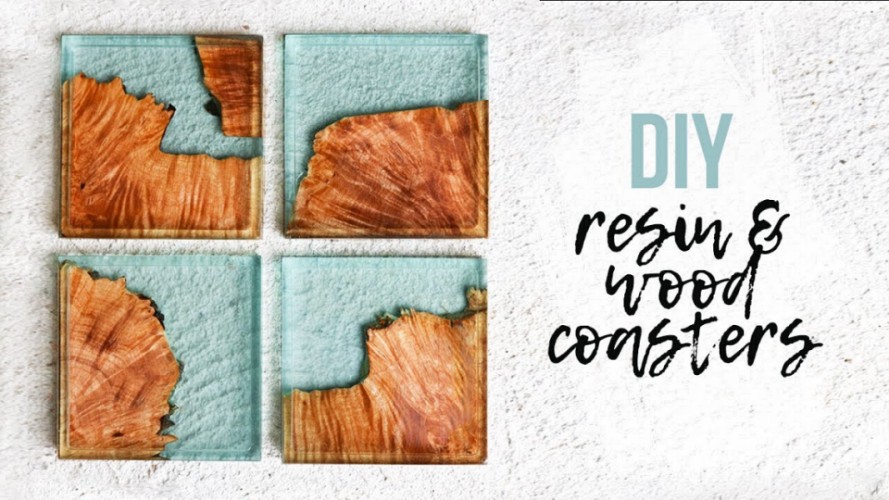 4. Real flower coasters botanical resin via etsy.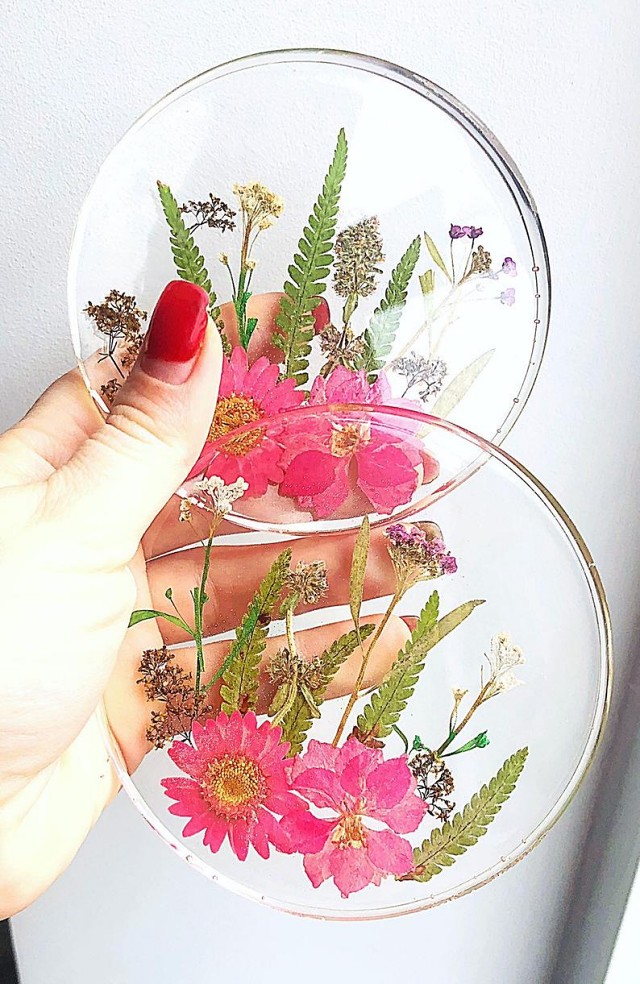 5. Resin art tutorial make freeform geode coasters by Edna Wargon Art.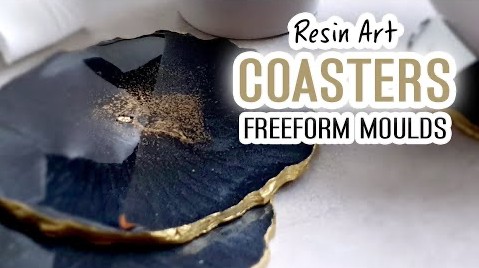 6. How to make geode agate resin coasters by sunshine and rosebugs.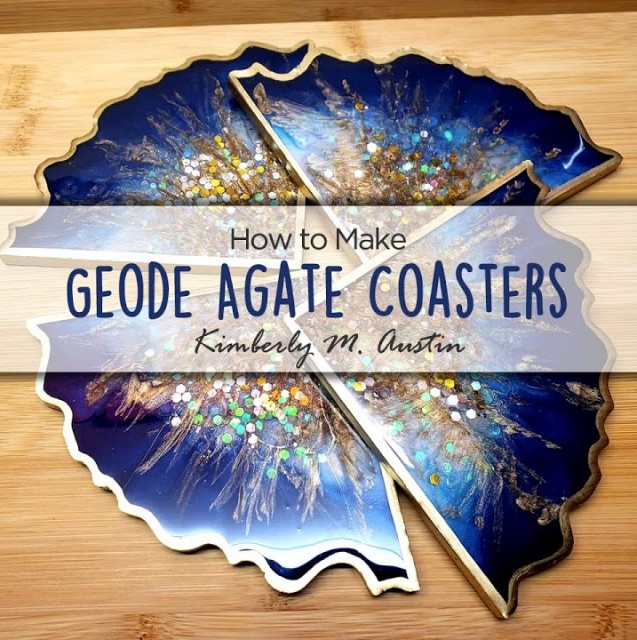 EPOXY RESIN ARTWORK
7. DIY resin and wood wall art with hidden key storage via diy huntress.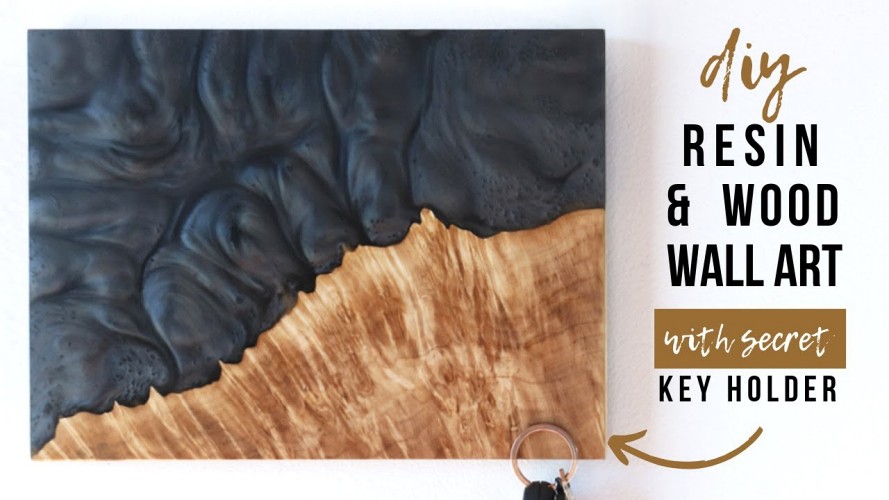 8. Poured resin gold leaf canvas gallery art by resin crafts blog.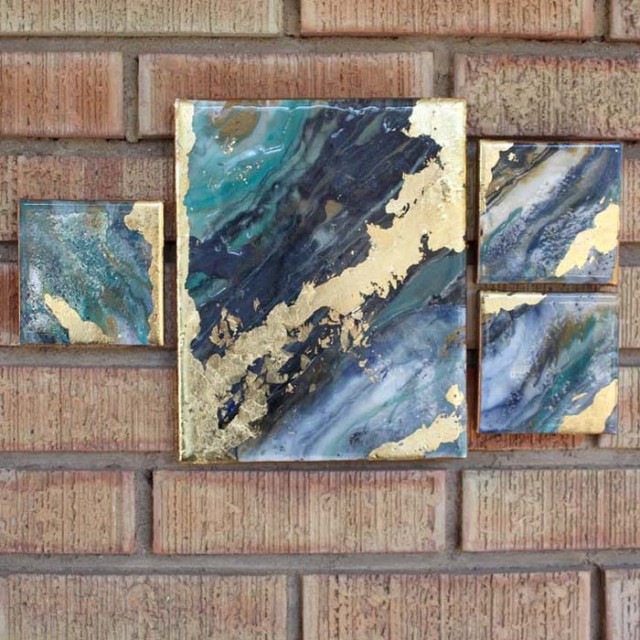 9. DIY resin art by lily ardor.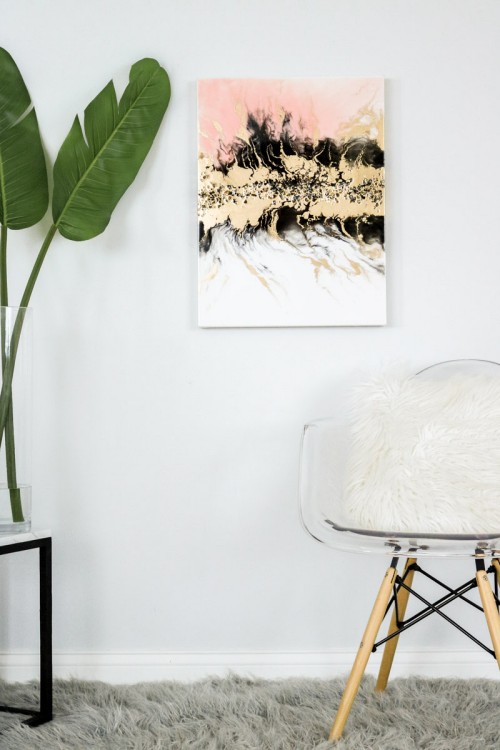 10. Painting 3D turtle in resins by gerardo chierchia.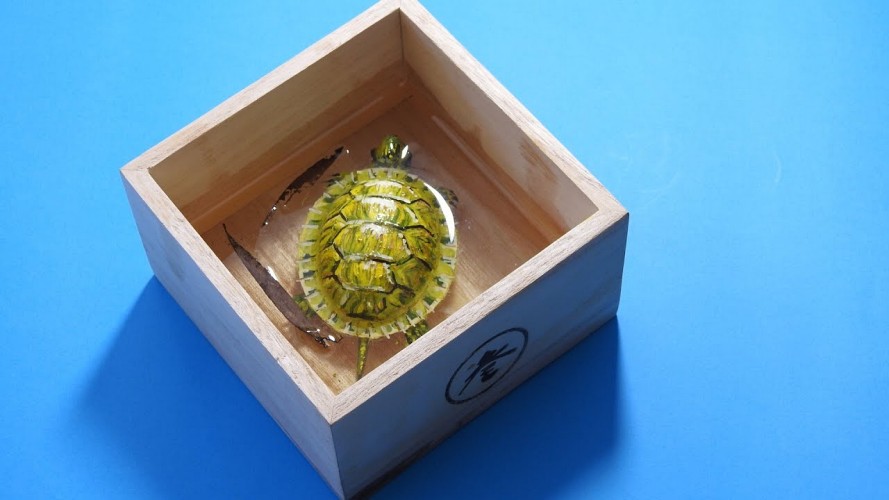 11. Galaxy inspired epoxy resin paint pour art by brittany goldwyn.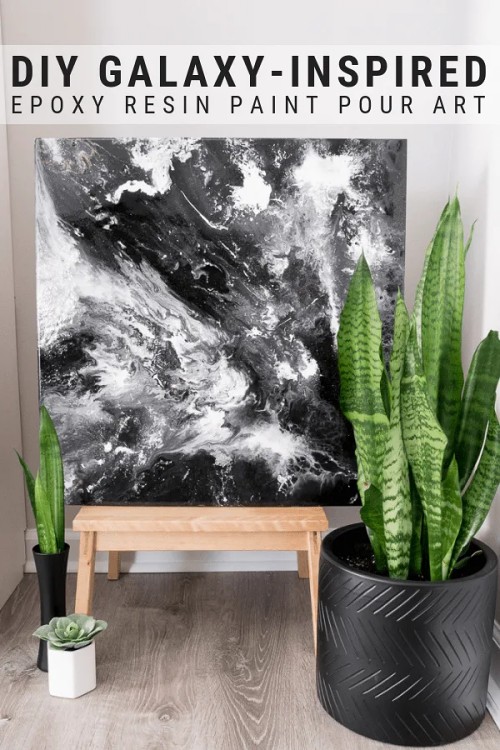 EPOXY RESIN WOOD PROJECTS
12. resin art wooden chopping boards by my modern met.
13. DIY lap desk epoxy resin via anikas diy life.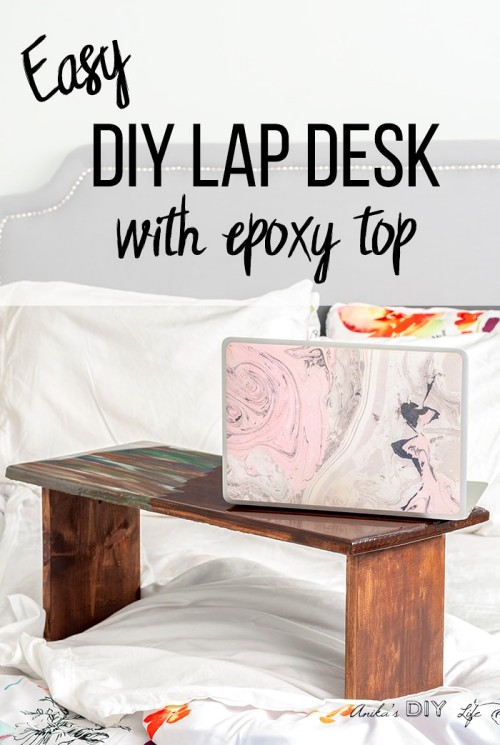 14. Epoxy resin wood coasters by DIY creators.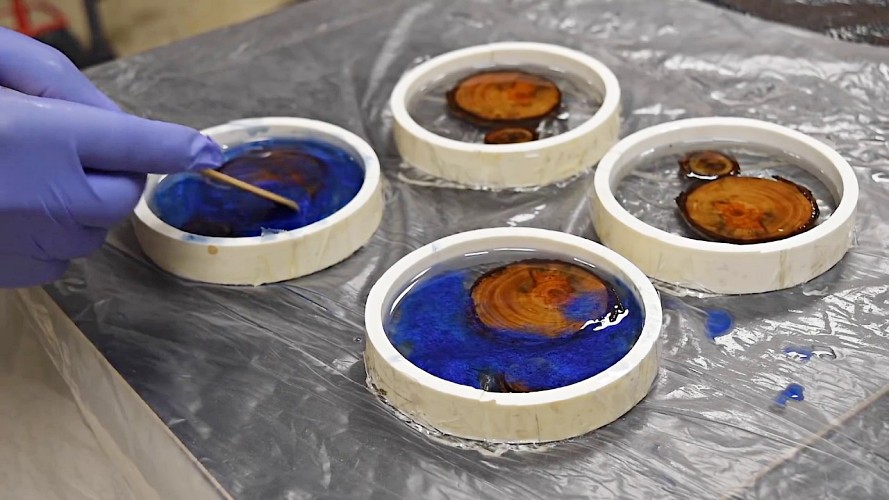 EPOXY RESIN COUNTERTOPS
15. How to pour an epoxy countertop by family handyman.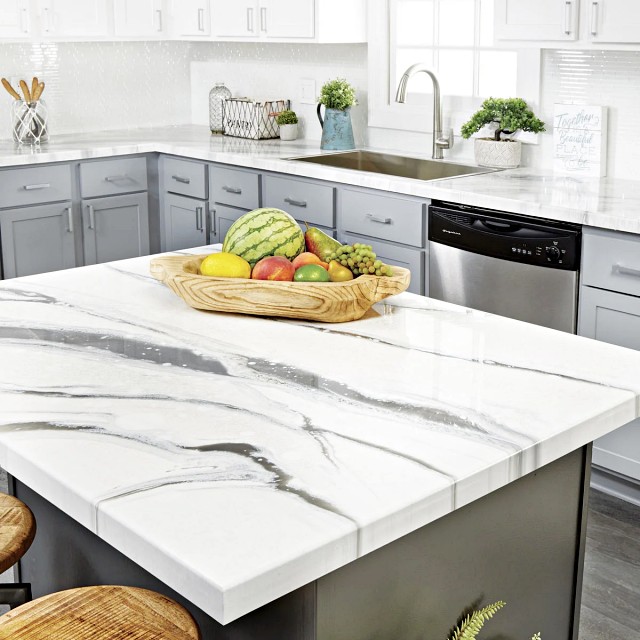 16. Effortless diy epoxy resin countertops by randolph sunoco.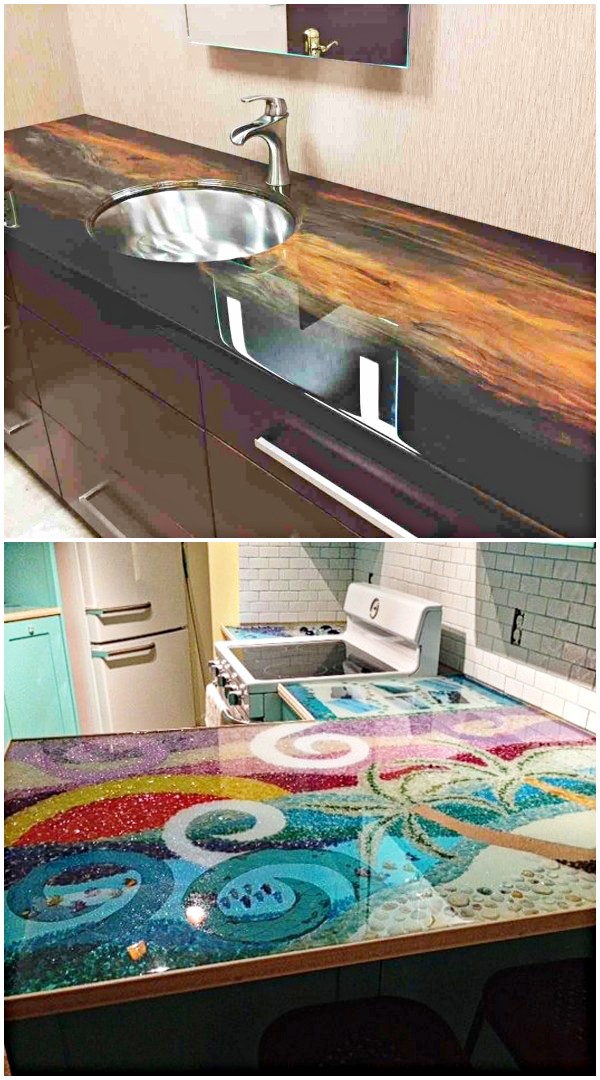 EPOXY RESIN GEODES
17. DIY faux agate cheeseboard with art resin by Lily Ardor.
EPOXY RESIN TRAY
18. Confetti tray diy via tastemade.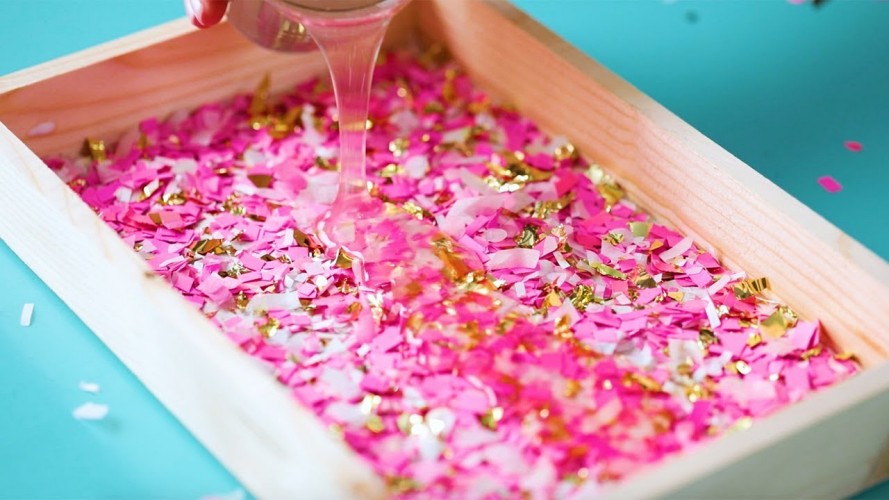 19. Green and gold leaf fluid landscape tray by kathryn beals.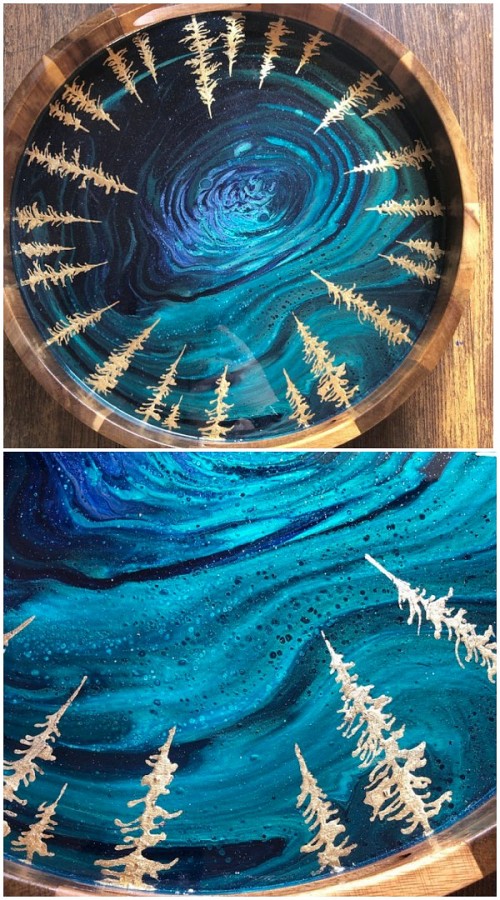 20. DIY bar cart makeover by delicious and diy.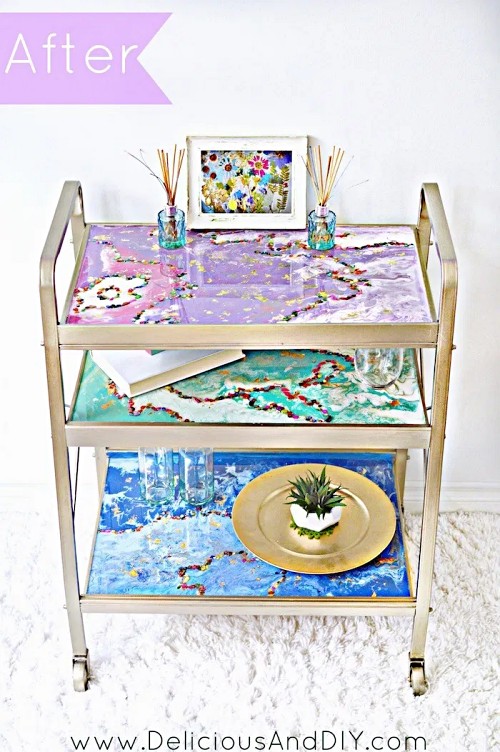 21. Decorative mosaic tray by reality day dream.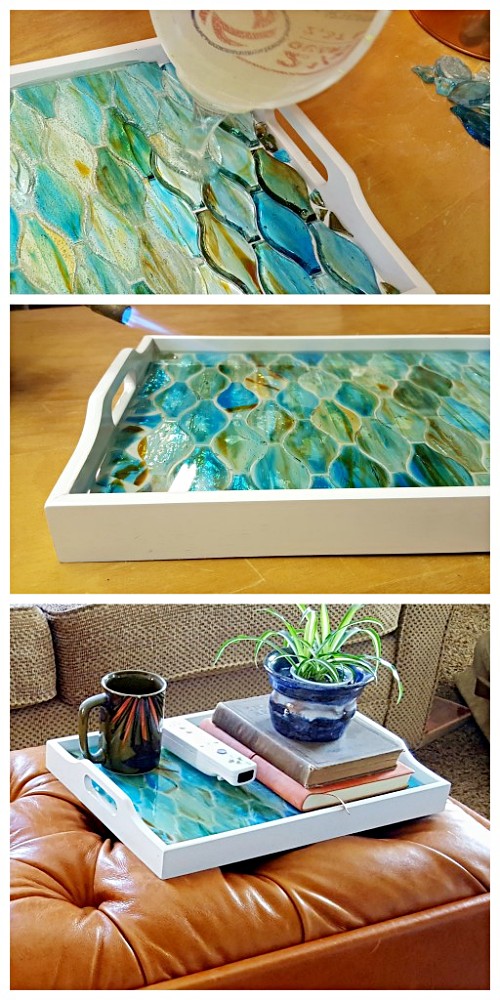 22. Free form epoxy resin tray by hobby trends.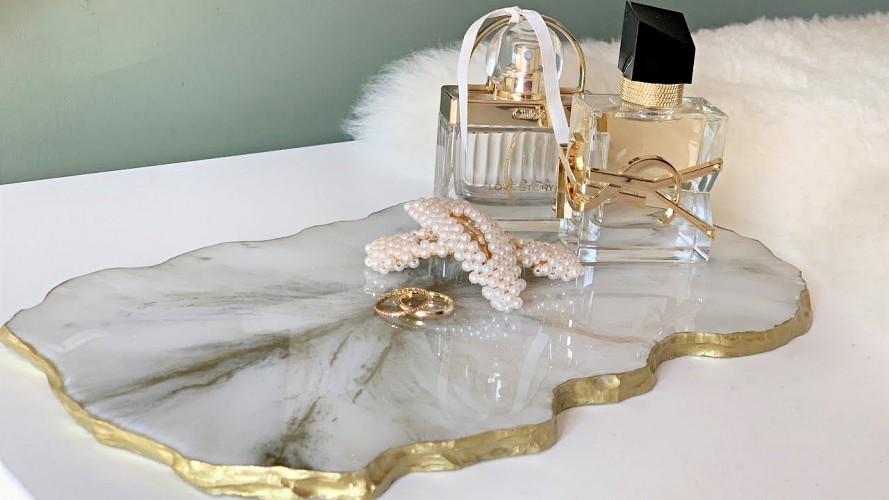 EPOXY RESIN JEWELRY IDEAS
23. Alcohol ink in resin by mom always finds out.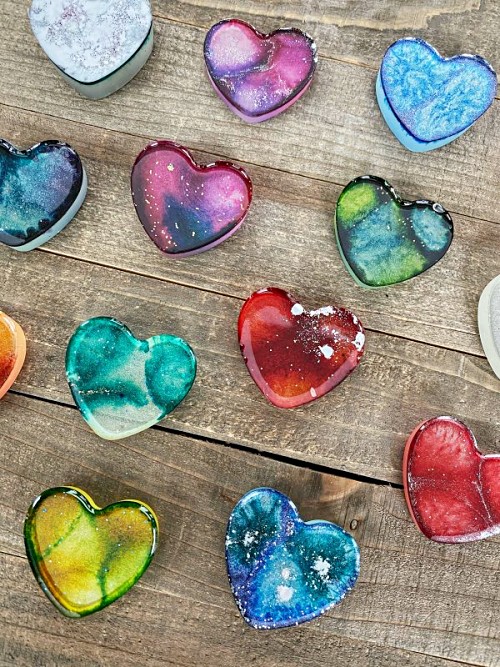 24. Fairy pendant made from dried plants and epoxy resin by now ive seen everything.
25. resin envirotex diy craft and jewelry ideas at craftionary.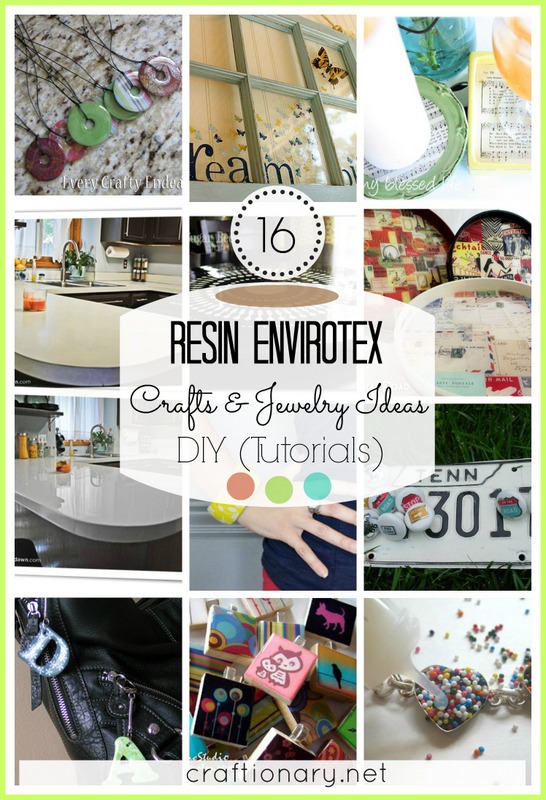 EPOXY RESIN FLOORING
26. DIY homeowner installs designer metallic epoxy floor by duraamen.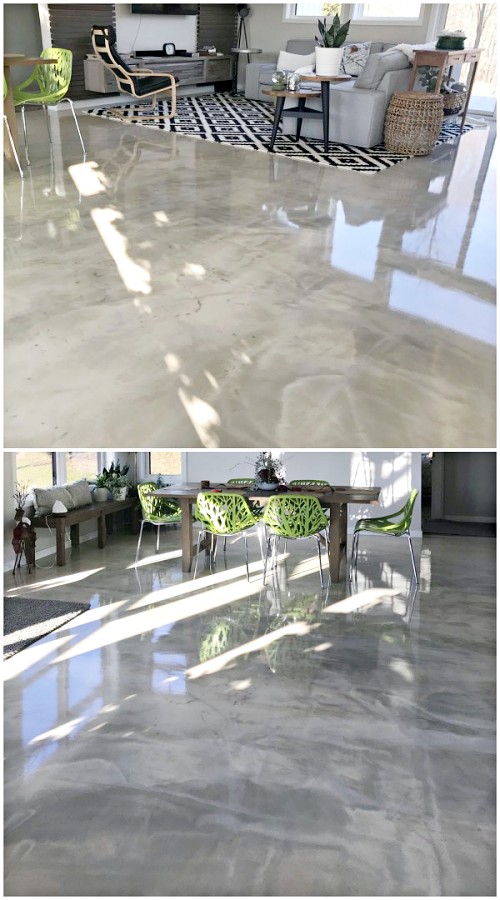 EPOXY RESIN GARDEN PROJECTS
27. Epoxy bar coating epoxy resin coating outdoor table top using bottle caps. Photo by: best bar top epoxy.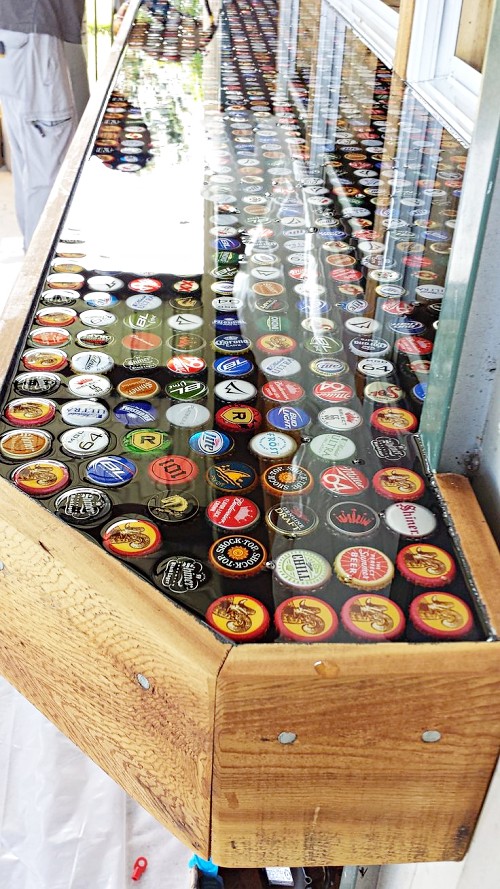 EPOXY RESIN KEYCHAIN
28. DIY alcohol ink resin keychains by resin crafts blog.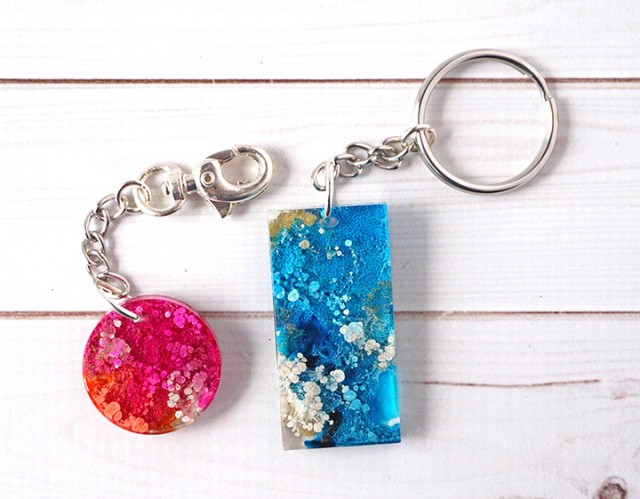 29. How to make shaker charms by sweet art crafts.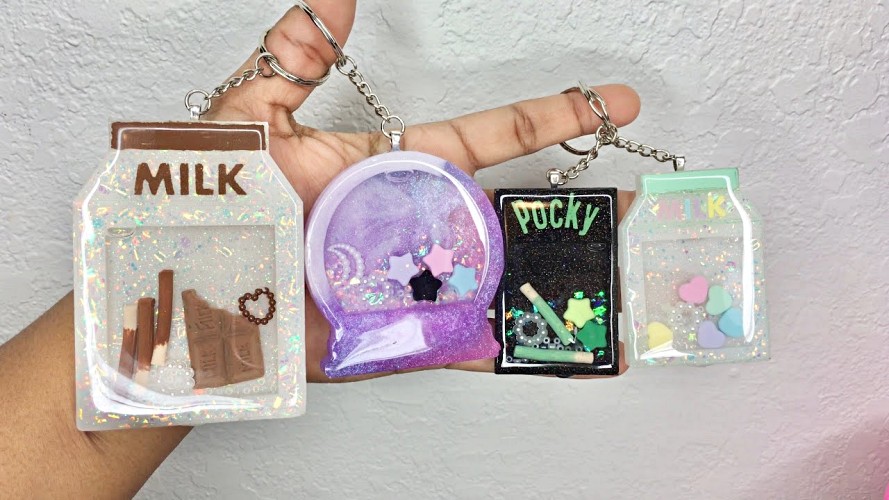 EPOXY RESIN CRAFTS
30. Easy resin crafts to make at home by bhg. Make an easy rock lamp with resins using rocks from the beach and place them in a glass base lamp with removable lid. Pour epoxy resin to finish of the project.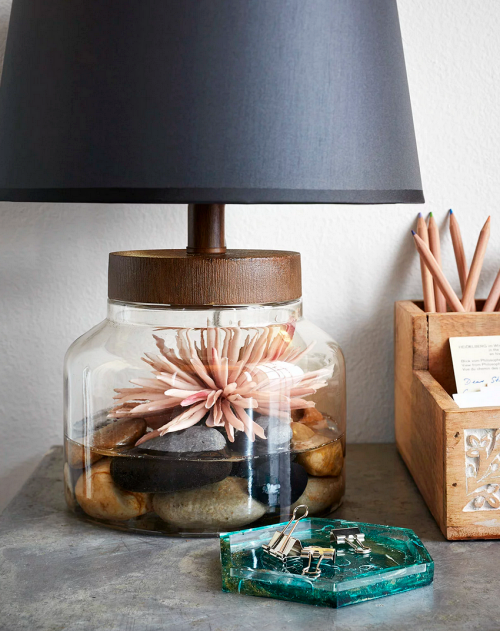 31. Resin leaf lamp made with wood logs and real leaves by rachel calder design. Original source unknown.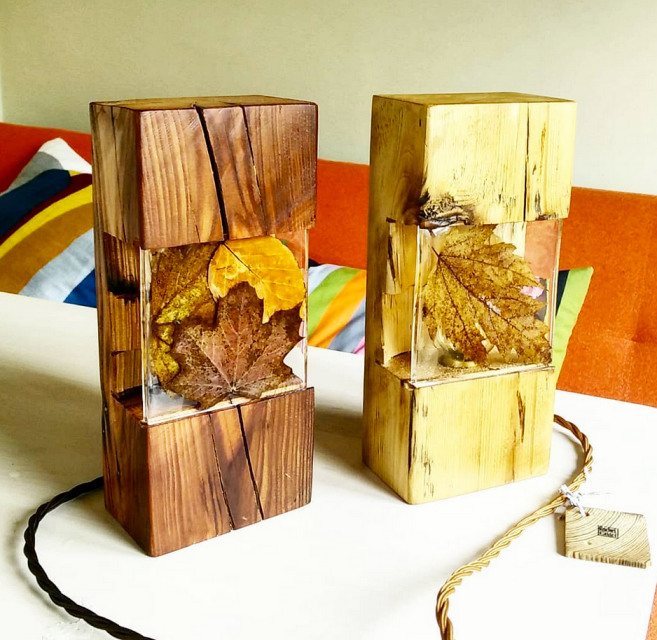 32. Pink roses and epoxy resin night lamp by mahaza art.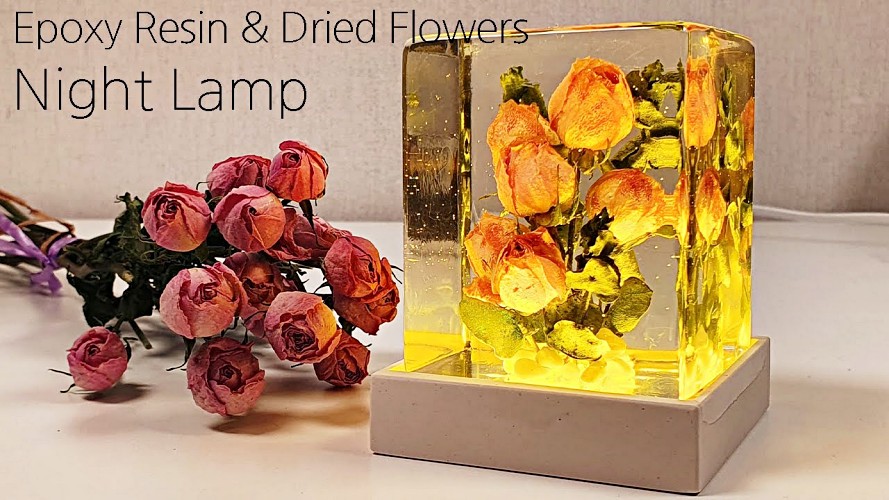 33. DIY terrarium waterfall resin crafts by crafty fingers.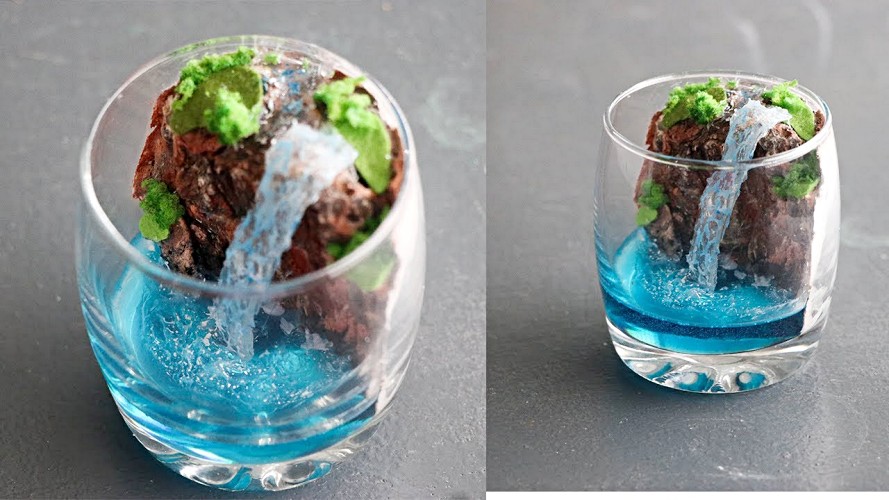 34. Flowers in resin epoxy resin project by epoxy and wood.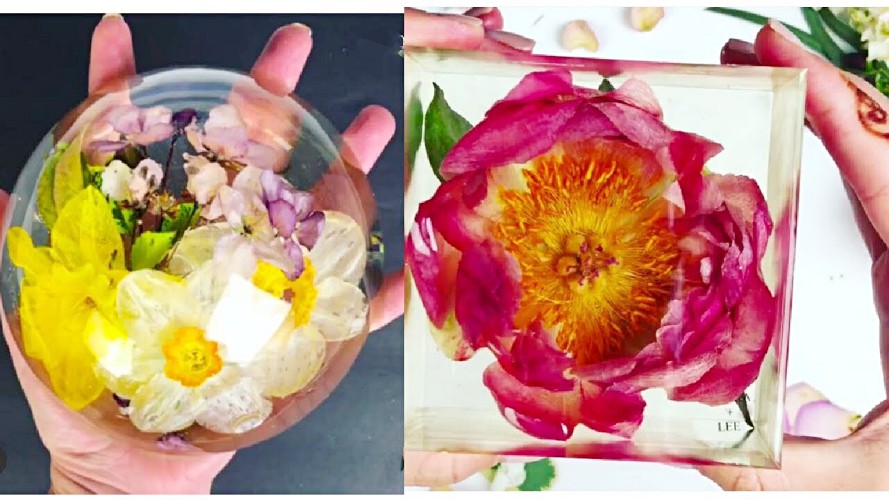 35. How to make a resin wooden bowl by the wooden joy.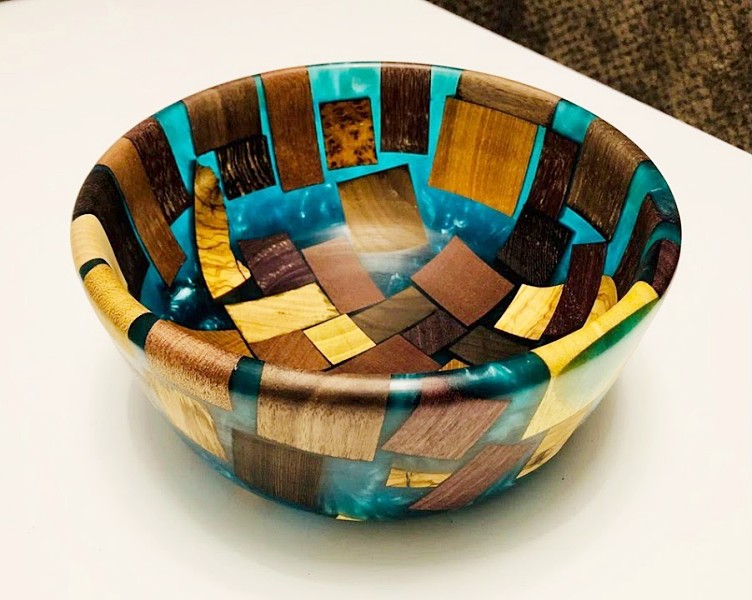 EPOXY RESIN TABLES
36. River coffee table by the vanderveen house.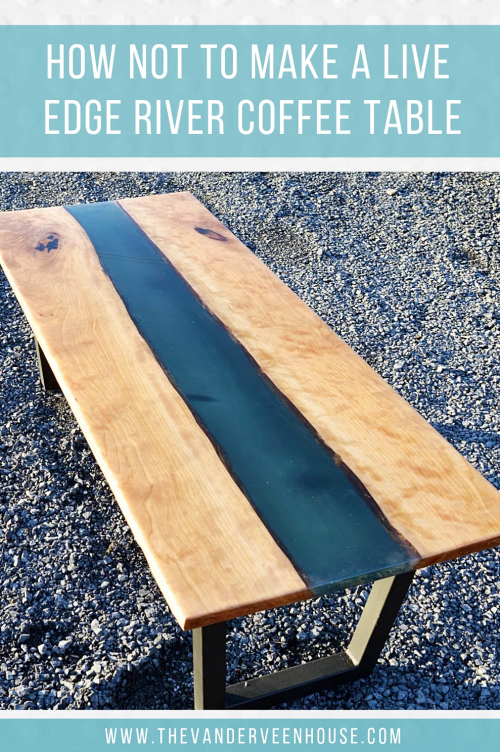 37. Amazing table of flowers and epoxy resins by positive couple.
These are some great ideas I have collected for my first epoxy resin projects. I hope you enjoyed them as well.
FAQs Epoxy Resin Projects
Frequently asked questions in the comments section:
1. How to harden sticky resin?
These are great projects. I am a beginner and not having luck with my epoxy projects. Both ended up tacky. Went through every step as stated and still tacky. Can you put anything on this final layer to reduce the tackiness?
Author: This article by art resin blog is very helpful for dealing with how to harden sticky resin?
2. Tips and advice for resin projects beginner?
You inspire me so much. I am a beginner in resin crafting, and I pray one day I can do resin crafts like you can. I want to make them for my family and myself. I'd like to do anyone who would want one as well. For now, I am just taking it slow as a beginner. Do you have any tips or advice?
Author: My tip is to start from basics and learn the craft of resin before utilizing more materials with it to make unique items. Use some molds and resin mix as per instructions and see how it goes. Nothing better than learning from practical experience. Good Luck!
3. What is the best epoxy product to use?
What is the best epoxy product to use for crafts, jewelry, home DIY that is cost effective, remains transparent, no cracking, keeps its shine the natural colour of items used shines through for ages, water, and heat resistant? A mouth full I know, but this info will help me with the projects I'd like to tackle. Thank you in advance. Kind regards. Teresa
Author: Hi Teresa, found this detailed video on How to choose a resin? What kind of resin should I use? and Advice on what resin to use.
4. Does layering epoxy resin work?
Hi, I am new to epoxy crafting and was thinking about making some coasters. I was thinking about making some sayings using vinyl in the cricut and just laying the cutout in the middle of the coaster between the layers of epoxy. Like fill the mold half full of the epoxy then lay the vinyl and then full the mold with epoxy. Can anyone tell me if this will work?
Author: Hi, thanks for asking! I have not personally tried it but according to my understanding, it should work. Just like it works for gel candles I tried. However, wait till the bottom layer is completely dry and hard so that when you place your saying it doesn't sink in. Good luck!
5. What is the durability between epoxy and epoxy resin?
What is the durability between epoxy and epoxy resin since one of them dries quicker? Is there any that is stronger than the other?
Author: Hi Tebogo, the main difference between both adhesive types is the drying time. Both epoxy and resin adhesives require mixing before use, but epoxy hardens much faster than resin glue. Epoxy adhesive is far more expensive compared to resin glue since it has an excellent bonding capability that surpasses all type of adhesives.
You would also like to know that Epoxy is the family of basic components or cured end products of epoxy resins. Epoxy resins is also known as polyepoxides. Due to its strong bonding epoxy resin is commonly used in the construction of vehicles, snowboards, aircrafts, and bicycles.
Therefore, based on your craft project you can choose how strong and durable you want the bond to be! I hope this helps!
You may also like:
Resin Envirotex DIY Craft and Jewelry ideas
Rock painting craft ideas with pebbles and stones
DIY mason jar planters for garden lovers