This post may contain affiliate links. Please see our full Disclosure Policy for details.
We thought you will benefit from these 30 Christmas charcuterie board ideas 2023 with ingredients and recipes. You will find ideas to make cookie boards, and hot chocolate boards along with other dessert charcuterie boards. There are festive ideas like Charcuterie Christmas tree and Christmas wreath as well. However, my favorite to be honest are the appetizer and snack boards. We have also taken care of you if you are seeking vegan Charcuterie board or cheese board inspiration for Holidays.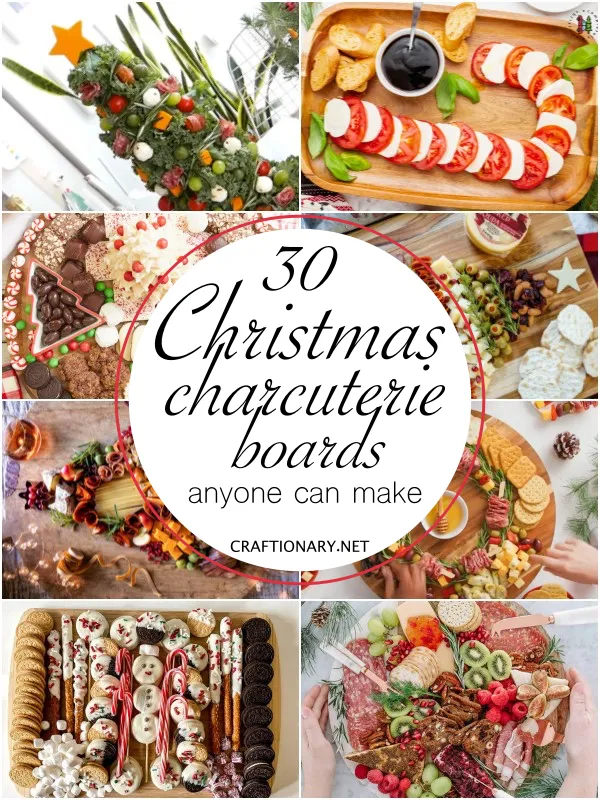 It's time to enjoy your meals by gathering with your family and friends on a festive dinner. Impress your guest this Christmas with your food display skills. Nothing is better than the Christmas charcuterie board set besides a stunning Christmas centerpiece. A Christmas charcuterie board is a perfect appetizer, sides and snacks for the holidays. This board is fun, festive, and full of meat, cheese, fruits, nuts, and other healthy ingredients. Everyone enjoys laughter and conversations popping a few things in the mouth. It is also fun to include Christmas garland and holiday decorations that are easy to prep so you have more time for your meal preparation.
Charcuterie is a French word pronounced as (shar-KOO-ta-Ree). As per Merriam Webster it means a delicatessen specializing in dressed meats and meat dishes.
What is Charcuterie Board?
A charcuterie board is used as an appetizer to serve on a wooden board or stone slab. You can eat straight from it or portion it onto flatware. In fact, you don't need any special equipment for it. Just have a wooden cutting board, marble slate, cheese board, or even a serving platter ready to use for charcuterie board.
There are tons of options available one such fun and trendy idea is a lazy susan Charcuterie board that can spin and rotate on the table and provide ease of reach for our guests from any direction.
You will also like: Best food bars and food stations with luxurious decor style
Christmas Charcuterie Board Ideas
Let's have a look at easy and simple charcuterie boards for Christmas, you will love these grazing boards with recipes and ingredients shopping list for your ease.
Charlie Brown Christmas Charcuterie
Do you want to enjoy the movie at Christmas? Then this charlie brown Christmas charcuterie is the ultimate snack and foraging board to enjoy the movie. It's so fun to make this charlie themed cookies board and you can enjoy it.
brie cheese
fresh rosemary
cherry tomato
cucumber
pretzel sticks
snoopy doghouse Christmas cakes
Charlie Brown Christmas macarons
Schroeder's cream cheese
music note crackers
roasted peanuts
snowflake pretzels
Christmas Cookie Charcuterie Board
The Christmas cookie charcuterie board is a perfect welcome treat for your Christmas parties. You can make this board with homemade or store-bought cookies and sweet gourmet treats.
Christmas cookie twinkle tree
triple chocolate chunk cookies
raspberry filled valentines heart cookies
milk chocolate almonds
chocolate served cherries
M&Ms, peppermint candies
peppermint cookies
chocolate toffee
butter pecan meltaway cookies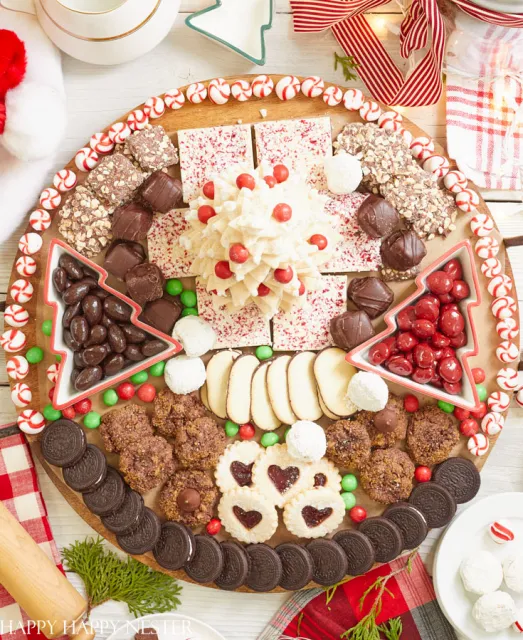 Hot Chocolate Charcuterie Board:
Building the board for holidays or Christmas for friends and family is fun. Everyone loves and enjoys making it. This hot chocolate charcuterie board is an excellent option to enjoy your Christmas. This DIY board is filled-up with Christmas-decorated marshmallows, chocolate spoons, peppermints, hot cocoa bombs, festive toppings, and sprinkles. It's a gift for chocolate lovers. Use cookie cutters and small bowls for tiny ingredients.
No Bake Christmas Cookie Charcuterie Board
Do you want a super easy but fancy dessert board for your holiday? Then this beautiful, customizable no bake cookie charcuterie board is easy to make and perfect for your kids.
Holiday M&M Candies
mixed nuts
holiday oreo cookies
gingerbread Oreo cookies
pepperidge farm peppermint milanos
gingerbread family cookies
Oreo Cookie Charcuterie Board
The things; that we make for ourselves aren't what the kids want to eat. So, making a kids-themed meal is a good idea, and oreo cookies charcuterie board is perfect for kids' holidays. Oreo cookies are ideal for dipping and decorating. And without Oreo, no event will be welcome.
Chocolate Oreo cookies
golden Oreo cookies
dipped pretzel rods
dipped Oreo cookies
Oreo cookie pops
marshmallows
Hershey's peppermint kisses
candy canes
Christmas Candy Charcuterie Board
Making this sweet board is so much fun. Everyone will love this Christmas candy charcuterie board, especially the kids. This dessert board is easy to make with chocolate spoons, minty bells, Santa holiday party pals, peppermint buttercream frosting, assorted cookies, graham crackers, etc.
Small Christmas Charcuterie Board:
The frosting Christmas tree charcuterie is so adorable. You can easily make it with vanilla frosting, green food color, small candies and sprinkles for decorating, mini chocolates, or any cookies you would like for dipping.
Elf on the Shelf Hot Cocoa Board
It's fun to make an elf-on-the-shelf charcuterie board, and an all-time favorite of kids. It's filled with cookies, candies, hot cocoa mix, hot chocolate bombs, elf-on-the-shelf cookies, marshmallows, and cakes to make it the shape of an elf-on-shelf hot cocoa board. When it's time for the elf-on-the-shelf hot cocoa board, you can fill it with your desired toppings. You can serve it as a breakfast or a snack board and enjoy your Christmas holidays.
DIY Hot Cocoa Charcuterie Board
Nothing can beat the hot coca cup when it's time to warm up yourself in the snow. Get ready for audible gasps when your guest sees this hot cocoa charcuterie board at your gathering. This masterpiece is perfect for all guests, from children to adults to old age.
cinnamon
vanilla and maple-infused whipped cream
marshmallows
chocolate chip cookies
chocolate-covered oreos
mini powdered donuts
chocolate-covered pretzels
pretzel rods
candies
candy canes
caramels
Merry Charcuterie Board Idea:
This seasonal-themed wreath of fresh edibles and herbs is a delicious combo of holiday charcuterie board. This board is an addition for any Christmas parties and eve dinner with bamboo board and white round plate.
salami
prosciutto
cherry tomatoes
roasted sweet peppers
seedless red grapes
seedless green grapes
champagne grapes
black olives
green olives
dried fruits
cheese chunks
fruits
nuts
finger sandwiches
honey
jam
crackers
cookies
rosemary
basil leaves
Merry and Bright Christmas Wreath Charcuterie Board:
For festive holidays gathering appetizers are essential to keep your friend busy till dinner time. So, this Christmas wreath charcuterie board is the best option to kill time. Print 'May your days be Merry and Bright' Free Christmas Printable to display along.
salami
prosciutto
olives
cheese
roasted red pepper
rosemary
Charcuterie board ideas
Make skewers and arrange them in a circle over the bamboo board to make a festive wreath.
Holiday Wreath Charcuterie Board
Meat – 4 oz spicy Salami or kababs
Produce – 1 jar roasted Artichokes, 1 pint Cherry tomatoes and 1 fresh Rosemary
Condiments – 1 tsp Balsamic vinegar and 1 jar green olives
Baking & Spices -1 pinch Salt and pepper
Oils and Vinegar – 1 tbsp Olive oil
Dairy – 10 oz Mozzarella balls
Christmas Wreath Charcuterie
Christmas wreath charcuterie gives yummilious touch to your holiday party or festive dinner on Christmas eve. This board is super easy to make and will be impressed your guests.
dry salami
cheese
strawberries
grapes
pomegranates
cranberries
blueberries
chocolate
crackers
rosemary
Christmas Wreath Cheese Board
This Christmas wreath cheese board is a good appetizer and perfect for your kiddos. And the best part is that you can scale it according to your gathering without cooking or backing anything.
cheddar cheese
garlic cheese
pepper jack cheese
Habanero cheese
Greek olives
cherry tomatoes
fresh herbs such as bay leaves, thyme, rosemary, and sage.
Holiday Veggie Wreath Charcuterie Board
Are you conscious about your diet? Then go with this beautiful veggie wreath charcuterie board; it's simple and easy to make. This simple vegetable wreath is a healthy option for your Christmas appetizer table.
leaves of kale
red pepper
yellow pepper
celery
carrots
cucumber
rosemary
cranberries
chocolate
Grinch Christmas Charcuterie Board
Do you want to make an easy and impressive charcuterie board to serve? Then the Grinch Christmas charcuterie board is perfect for festive celebrations. You can add a fresh new spin to your Christmas party with this board featuring a Whoville Christmas Tree design.
salami
broccoli
cherry tomatoes
rosemary
Grinch cheeseball or mozzarella ball
pita crackers
star crackers
cheddar cheese cubes
Pepper Jack cheese cubes
half of a pretzel rod
mild cheddar slices
muster cheese slice
sausage bites
Simple Christmas Tree Charcuterie Board
This Christmas tree charcuterie board is so simple and easy to make. It will be a showstopper at your gathering and impress your guests.
fontina cheese
smoked gouda
salami
pepperoni
green olives
dried cranberries
almonds
honey mustard
rosemary
flatbread crackers
water crackers
pomegranate seeds
Pinwheel Christmas Tree Appetizer Charcuterie Board
Pinwheel Christmas tree board appetizer is perfect for your holiday or Christmas eve. These non-baked tortilla pinwheels are fill up with festive savory cream. And arranged in a Christmas tree shape looks stunning. You can make it in no time before the party because there is no need to cook or bake.
Make pinwheels with cream cheese, garlic powder, onion powder, lemon juice, green olives, black olives, red peppers, dill, mince, tortillas, and green tortillas (spinach). Garnish with rosemary and cherry tomatoes.
Christmas Tree Cheese Board
When it's time to serve up your loved ones, nothing is perfect than this fun and festive Christmas tree cheese board. You can spread the cheese and meat on a charcuterie board in an impressive way. But it looks prettier when you arrange your favorite cheese, meat, fruits, and crackers into the shape of a Christmas tree.
3D Christmas Tree Charcuterie Board
Are you tired of your boring charcuterie board; try this 3D Christmas tree charcuterie board this Christmas. You can easily make this 3D board with a floral cone and wrapping sheet. Use toothpick to cover the entire cone with lettuce or salad leaves. After that, you can easily place the ingredients (sausages, cheese, olives, cherry tomatoes, herb cheese, cured meat, bocconcini, rosemary, jalapenos, and dried apricots) with the help of a toothpick. It would be a showstopper at your party and make everyone wow.
Building a Christmas Charcuterie Tree
This Christmas charcuterie tree is a masterpiece for your creativity and makes everyone wow and amaze. This grazing charcuterie will be a showstopper and the perfect appetizer for your Christmas party. This tree has layers of:
olives
cheese
salami
cherry tomatoes
berries
strawberries
lychee
Santa Charcuterie Board
Making Santa charcuterie board is full of fun. Fresh fruits, crackers, and creamy marshmallows that surround snowman dip with cheese and berries. This board is an eye-catching centerpiece at your table.
strawberries
raspberries
blueberries
green grapes
mozzarella pearls
ritz crackers
cranberries
marshmallow fluff
whipped cream cheese
vanilla extract
Easy Santa Christmas Cheese Board
This Santa Christmas cheese board is so easy and yummilious. You can engage your kids to make this Santa cheese board for Christmas. They will enjoy making this holiday-themed snack with the whole family. This cute Santa can be madewith two different swiss and mozarella cheese, pepperoni, olives, grapes and cherry tomatoes.
Candy Cane Caprese Salad
Candy cane Caprese salad board is a festive appetizer for holidays. It makes your guests wow with some toasted baguette slices and balsamic glaze. This salad board is a bit fancy but incredibly easy and an all-time favorite for everyone. For this salad charcuterie, you need beefsteak tomatoes, fresh mozzarella, olive oil, kosher salt, fresh basil leaves, and balsamic glaze.
Candy Cane Charcuterie Board
Holidays are all about spending time together, eating, and having fun. There are a lot of recipes to bake or cook for the holidays, especially Christmas ones. And everyone wants to make something different and easy. This candy cane charcuterie board is one of them. It's only shaped like a candy cane on a stone slate plate. But it's healthy because it has cheese, meat, and veggies that nibble up.
pepperoni
salami
mozzarella cheese
tomatoes
basil leaves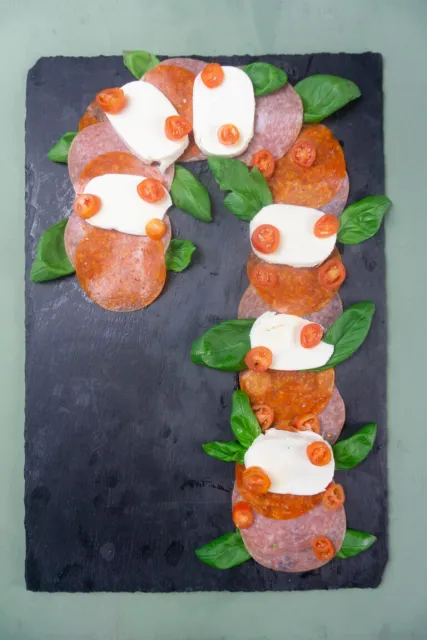 Easy Holiday Charcuterie Board
Making a perfect simple charcuterie board is super easy and not so expensive. You can easily impress your guest with this board made of meat, cheese, and fruits.
Christmas Dessert Charcuterie Board
Do you want to make a charcuterie dessert board for Christmas but don't have a board to make it? Then make this DIY charcuterie board by yourself. It's easy to make this DIY board with candies, chocolates, cookies, and nuts on a round plate. Make this Christmas dessert charcuterie board and surprise everyone with your creativity.
Kid-Friendly Christmas Cheese Charcuterie Board
Do you guys want to make your kid's Christmas special this year? Then try this Christmas cheese charcuterie board. It is perfectly festive and healthy because it includes all things; that kids love to eat and even some healthy options from your point of view as a parent piece of mind. It's filled with cheese, crackers, pretzels, yogurts, chocolate, cookies, cucumbers, carrots, apples, strawberries and meat served with candy cane and herb dip.
An assortment of cheese, meat, crackers, chocolate, peanuts and fruits on a wood slab.
Christmas Charcuterie board in red and green
You can make your festive charcuterie board in red and green colors. This board is themed festive, with red and green elements and classic Christmas flavors like pomegranate, cranberry, and nuts. This whimsical board is a great way to bring some holiday spirit to your dining table.
hard and soft cheese
salami
pepperoni
prosciutto
crackers
kiwi
green grapes
raspberries
pomegranate seeds
nuts
figs
honey
red pepper jelly
rosemary
dill
Vegan Christmas Charcuterie Board
Do you want to surprise your guest? Then this simple vegan Christmas charcuterie board is; what are you looking for? This board can be served, as an appetizer, full meal, or snack. And you can create it small or big according to the guests you have to attend. This board has vegan dips, fresh fruits, olives, and nuts. It turns out as a centerpiece of your table.
Dips
Baba Ganoush
Roasted Carrot Hummus
Sun-Dried Tomato Pate
Edamame Hummus
Tomato Chutney
Vegan Cream Cheese
Fresh Fruit
Grapes
Raspberries
Blueberries
Cherry Tomatoes
Cucumber
Red and Green Apple
Kiwi
Nuts and Dried Fruits
Walnuts
Dried Apricots
Dates
Raisins
Roasted Almonds
Olives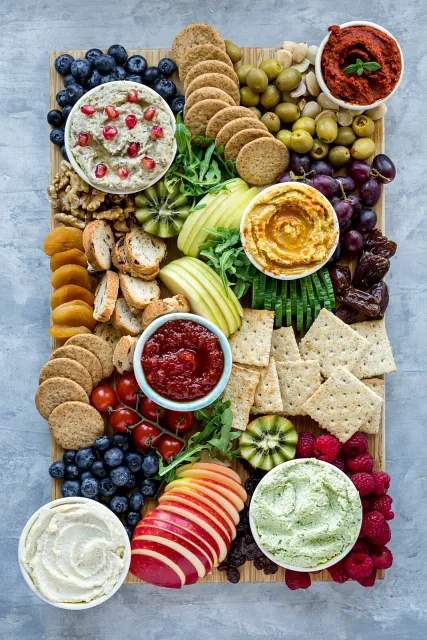 Epic Grilled Breakfast Charcuterie Board
Enjoy your breakfast with this grilled breakfast charcuterie board this Christmas. Let your guest graze this epic 26-inch tall board that is filled up; with waffles, sausages, scrambled or boiled eggs, toasts, jams, butter, charcuterie meats, cheese, or anything that you want to serve in breakfast. This epic board is satisfying and full of rich nutrition.
Waffles or pancakes
Sausages
Potatoes
Croissants, muffins, danish, coffee cake, bagels
Fruit or veggies
Eggs (soft-cooked, scrambled, over-easy)
Charcuterie meats
Charcuterie cheese
Toast, jam, and butter
Avocado
Storage instructions for Charcuterie Board
Charcuterie boards take a little more care, but when shown the proper care and love, they can stay beautiful and serve your family for many, many years. There are some things you have to do and avoid to keep your base intact:
Do's:
Wash your board with water and soap to get off foods or after setting out meat.
Oil it regularly because it protects the boards from moisture warping.
Dry off thoroughly with a towel after rinsing it.
Use food grad-wax in addition to oil for extra protection.
Use vinegar and baking soda or kosher salt and lemon to get rid of nasty smells and bacteria.
Don't:
There are the following things you should have to avoid to keep your board intact.
Never use the dishwasher to clean the board.
Don't use abrasive scrubbers like steel wool because it damages its beautiful finishing.
Don't soak your board for a longer time in the water.
Don't use vegetable or olive oil because these can rancid over time and cause your board to smell.
Don't place it in a closed space because it can cause moisture warping and breaking.
What is a traditional charcuterie board?
The traditional board consists of meat and cheese only.
What are the most necessary items for a charcuterie board?
Charcuterie meats, cheeses (sliced or cubed), olives, roasted nuts, creamy spreads, crackers, veggies, and herbs (for the leafy part) are considered the most necessary items for a charcuterie board.
Should Charcuterie Board be served cold?
Mostly charcuterie board was served lightly chilled. And it could not be left standing at room temperature for more than a couple of hours. So, the best part is to make smaller platters or boards that can be rotated out of the fridge easily at a need to keep them fresh.
What is a way to build a charcuterie board?
There is no perfect way to make a board but you can follow these steps for an idea:
Fill small vessels with dips, spreads, and yogurt.
Add cheese and meat
Add crackers
Then add fruits, veggies, herbs, crackers, and snacks.
What are the main tips to build a charcuterie board?
Get the perfect size board according to your need.
Use easy-to-find ingredients.
Use pre-sliced ingredients.
Use a template for your guidance.
Buy festive colored fruits and veggies
Use lots of little bowls.
Do you make a charcuterie board the night before?
Wrap your board with everything that can be prepared except fresh fruits and veggies and store it in the refrigerator for up to 24 hours. Make sure to set a timer to take it out 30 to 40 minutes before you're ready to serve it.
Author: Amber Saad