This post may contain affiliate links. Please see our full Disclosure Policy for details.
Crafty living room wall decor ideas shares unique and creative crafts you can make to decorate your home on a budget with art.
You can put a variety of things on the small accent wall such as wall art, minimalist paintings, boho scones, a shelf with plants to bring jungle vibes, a modern family photo gallery, string lights, and mixed frames with farmhouse-style vintage prints or chic sculpture graphics.
Decorate and design your plain living room wall by painting a fresh color, create interest with patterned and creative wallpaper or choose to paint a wall mural. Wall paneling and drapery can also make an enclosed room look spacious and airy. Use a wall shelf or book storage to display a collection and set things by grouping them by odd numbers.
Think of inspirational options that speak to you like hanging your treasured sports equipment, a handwoven piece of rug, a collage, or a family tree to cherish memories or artwork utilizing your collection of cork, coins, or even musical notes.
Take a moment to observe your living room space. Pay close attention to the height of your ceiling, the layout, and the dimensions of your walls. Now think about a comfortable budget and price point, color, size, and art that appeals to you. Decide based on the overall vibe of your living room and narrow down choices that complement the existing design of your home.
Whether you live in a spacious estate or small downtown apartment. Start with the right choice of color. Like what color will make my living room appear bigger? White paint will reflect light and make the room seem larger. Liven up a dull living room by considering natural wood furniture or purify the air with houseplants.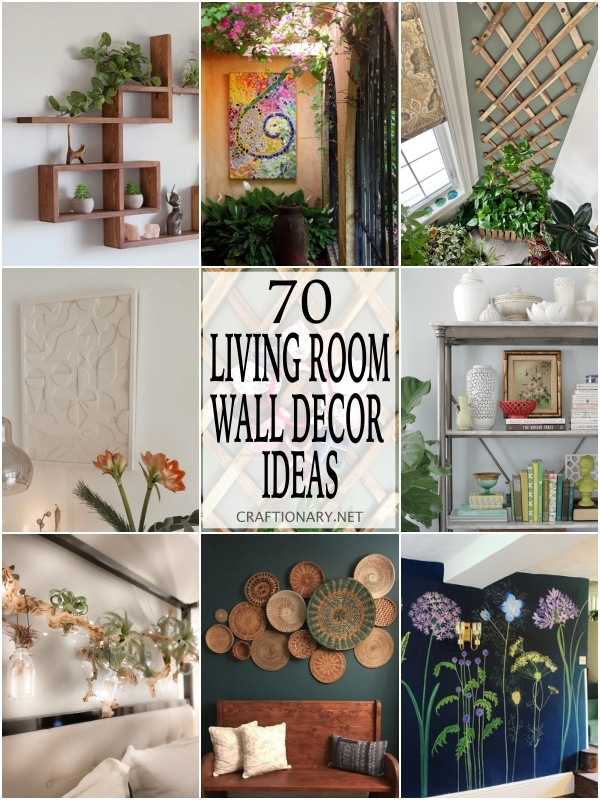 Living Room Wall Decor Ideas
Here you will find easy and fun DIY wall-hanging ideas that are suitable for every decor style that is functional and practical. From formal elegance to earthy rustic elements and from trendy aesthetics to subtle touches. Entertain and showcase that unique designer inside through your home wall decor. Create a cozy and calm simple space or a happening eclectic abstract area you can enjoy with these endless possibilities.
Consider major upgrades
You can bring big impact in your living room decor ideas with major upgrades. For example, add lighting by pairing wall scones on a large wall or adding a single light fixture in a dark corner. Add wood beams to add depth to your space. Install large windows for spacious and airy feeling that cover the wall from floor to ceiling. You can also color the window trimming black for modern aesthetics. Hang window treatments like roman shades, fabric curtains or shutters to complement your home decor.
Wallpaper ceiling and painted walls
Consider covering the ceiling with wallpaper and painting the walls for designer touches.
Framed TV
A frame TV is an excellent choice for decorative living room that doubles into a family room. When not in use it can be displayed with a wallpaper to look like a large sized framed art. Change your wallart for no cost with this beautiful addition on your wall.
Trendy Yarn Wall Art
A fashionable and contemporary circular decor creates a particularly eye-catching effect.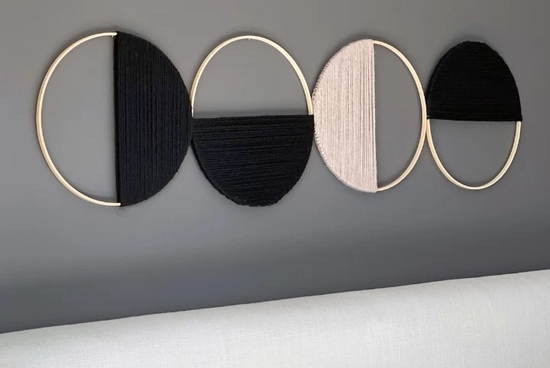 Hang a Beautiful Garland
Freshen up the walls for the season with colorful paper flower garland.
Wainscoting on the wall
The most popular way to add feature to your walls in with wainscoting panels and paint. Crown molding, shiplap and wall molding with baseboards, decorative moulding, and trimming is another excellent option.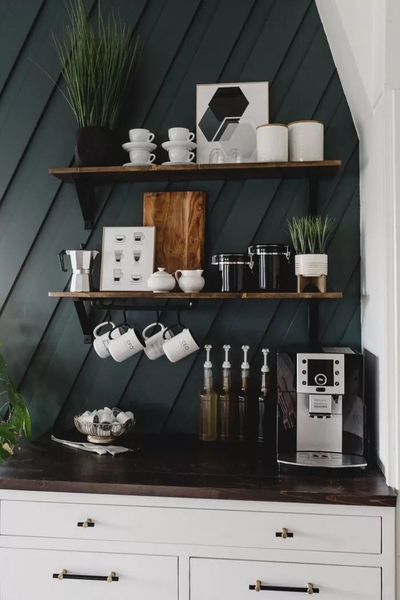 Dark green accent wall with Rattan Baskets
Bring Bohemian vibes with Rattan baskets and wicker lamp.
Nordic style gold wall vases
These trendy traditional ginkgo biloba inspired Gold and glass vases add instant interest in any corner of the living room.
Repurposed lilac bark with Vintage Bottles
A vintage bark was used with miniature vintage bottles to create this unique wall-mounted vase. When a branch of ancient lilac is cut, a purple circle appears in its core, and the wood is robust and durable.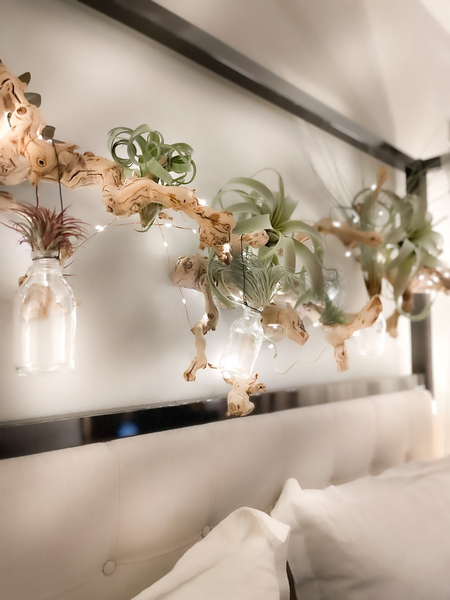 A Silhouette Effect
Use this timeless classic art to make modern black and white statement centerpiece.
Flower Pressed Art
Press flowers in seconds with a microwave and create gorgeous botanical artwork to hang on your living room walls indefinitely.
A large resin art
Resin with all its exceptional possibilities. Make a large resin artwork to display on your living room walls for luxurious feel like this urban jungle inspired Leaf Resin Art.
Gingko Branches in a Frame
Paper ginkgo leaves and spray-painted fake stems might work to make this elegant piece.
The dream catcher
Add a contemporary dream catcher for minimalist and modest look on your living room walls. White crochet and macrame are common but more vibrant yarn can also be used.
Geometric patterns on the wall

Painting a circle or an arch on the living room wall before installing floating shelves can provide depth and visual appeal to the display.
Upcycle Clay Canvas
Create an abstract piece of wall art with clay, gold leaf paint markers and acrylic paints on a canvas.
Make Textural Wall Art
This colorful and textural fringe wall hanging made by brushing cotton fabric is an excellent addition to your living room.
Vintage handkerchief wreath
Use your collection of vintage linen and other items to create unique wall hanging.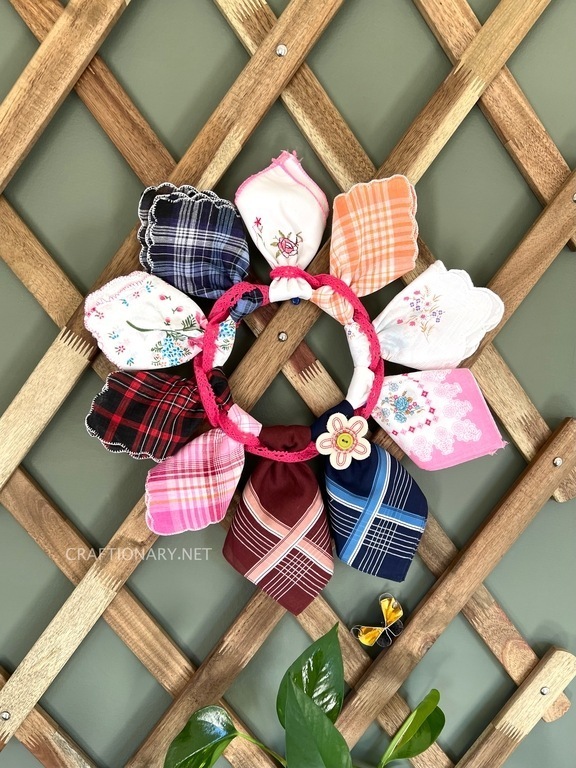 Hanging wicker basket
Adding homemade tassel trim to already-beautiful wall hanging baskets makes them stand out more and become a charming and unique rustic accent.
Statement Abstract Painting
Paint whatever your heart desires and its a masterpiece.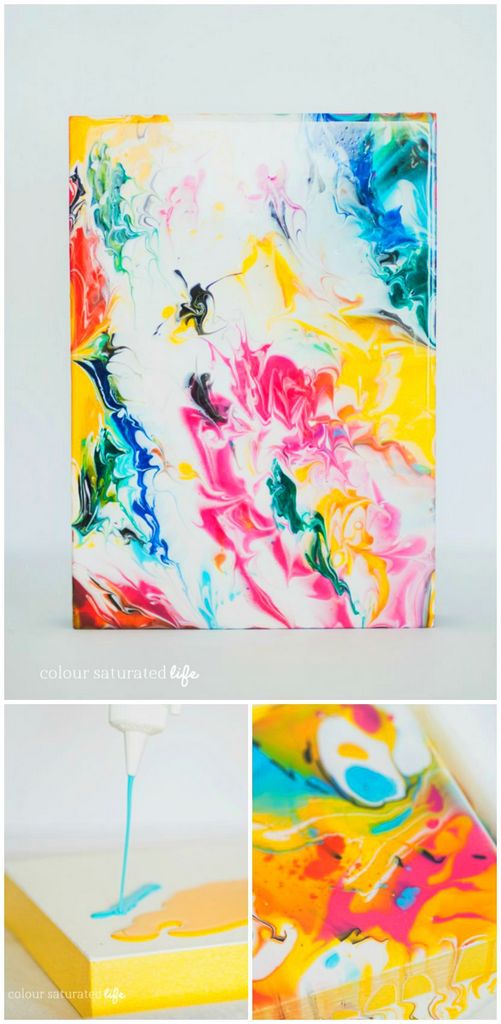 Paint a wall mural
If you are an artist spend some time making a mark on your accent wall with unique wall painting. Conversely, you can add peel and stick wall decals.
Circular Wreath
Wreaths may be used year-round, not only in the winter. This hoop and dried flower wreath are beautiful, whether hung on the wall or propped up on the mantle.
Plant Display Shelf
Display your Lego creations, plant collection or any thing that interests you on living room wall shelves you can build. These are decorative and functional.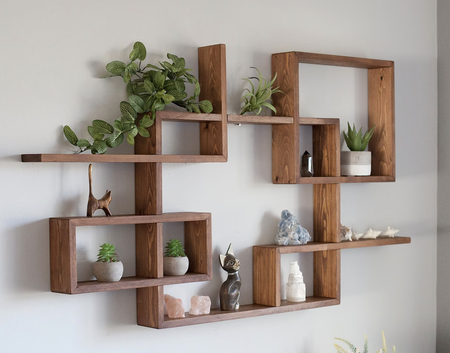 Fun Patterns for brightness
This colorful geometric living room wall hanging will surely be a conversation starter wherever it is displayed.
DIY giant geometric wall hanging
Traditional Monogram Wall Hangings
Paint or embroidery monograms on fabrics to create unique wall hangings with tassels.
Hand embroidered letter wall hanging
Display Framed Photographs and Drawings
Make a grid with collection of photo frames and display photographs from your trips or your drawings if you like. Or go artistic with a empty frames wall art.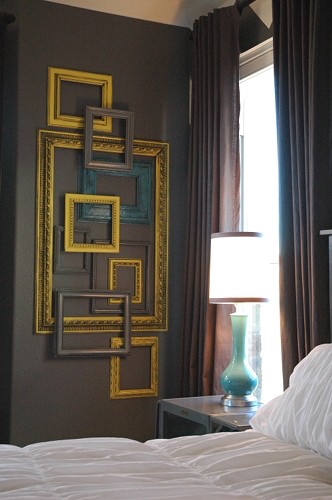 Display your favorite books in built-ins
Make custom built-in cabinets and create a library of your books collection for living room wall decor ideas. I love the use of traditional gold frames to hang on the wall cabinets.
Laser Cut Paper Sketch
Laser cut layered artwork on paper or wood with a cutting machine or use an xacto knife with cutting mat instead. Distinct designs will look great hung up together in a grid on the living room walls.
Simple Brown paper stars
Repurpose supermarket or local grocery store bags to make glam snowflakes or stars and hang them with branches for seasonal decor.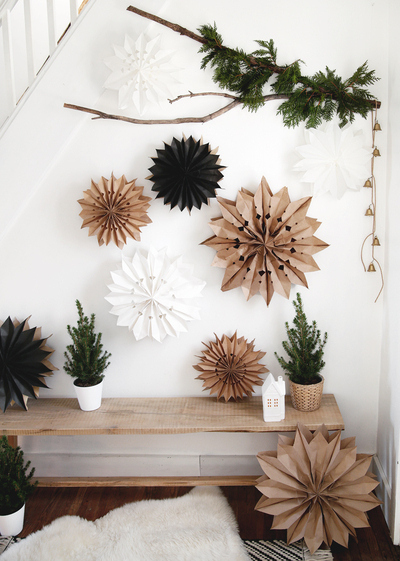 Macrame Accent Piece Trick
Use this simple macrame trick to hang anything on the wall.
A Wall Shelf with Decor
Adding storage and appeal to your walls with a dramatic floating shelf is an easy but striking way, particularly when it's decorated with lovely items like candlesticks and hanging paintings.
Dress up a bookcase
You can considering styling a book shelf with accent pieces for living room wall decor ideas. This ideas helps you make changes as your heart desires with ease.
Styling bookshelves and bookcases
Fresh Potpourri Wreath
Your living room will smell lovely with a large rosemary and fragrant lavender rustic wreath looped with a belt on top. Use this idea to glue potpourri and other natural scented items on a wreath form.
Make a Rainbow
This one is just as simple, enjoyable and upbeat in a living area as in a bedroom. You'll also be astounded by what an ordinary pool noodle can accomplish here.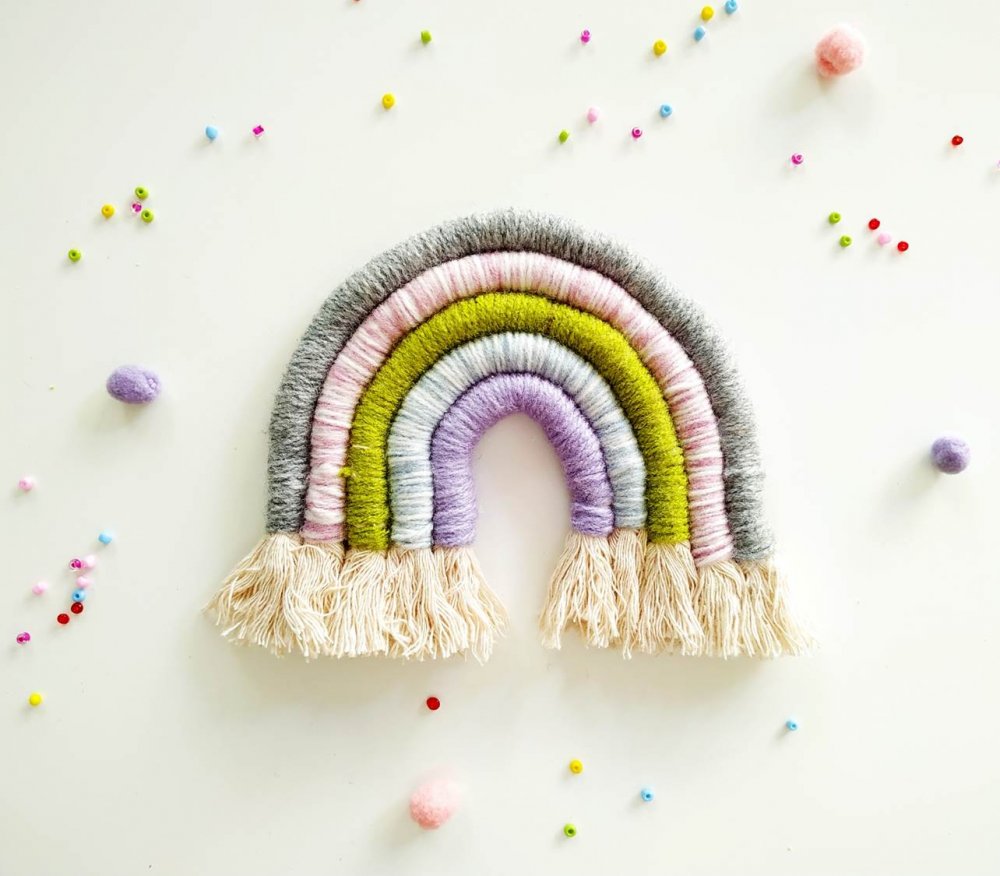 Decorate wall with trellis
Hang a trellis and paint the wall to create a beautiful natural vine display on the wall.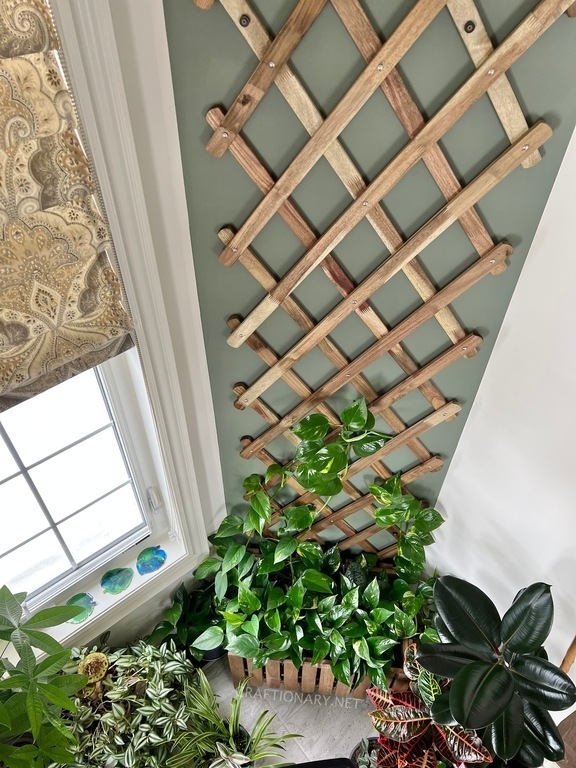 Brass Circle Wall Hanging
Consider making an accent wall elegant living room wall decor from brass rings.
Display things on floating shelves and brackets
Add decorative brackets underneath the floating shelves for fun with contrasting wallpaper.
Wall Panels Living Garden
Turn your living space into a jungle home with a plant wall that brings fresh air to you and looks stunning with panels made of wood, metal or even PVC.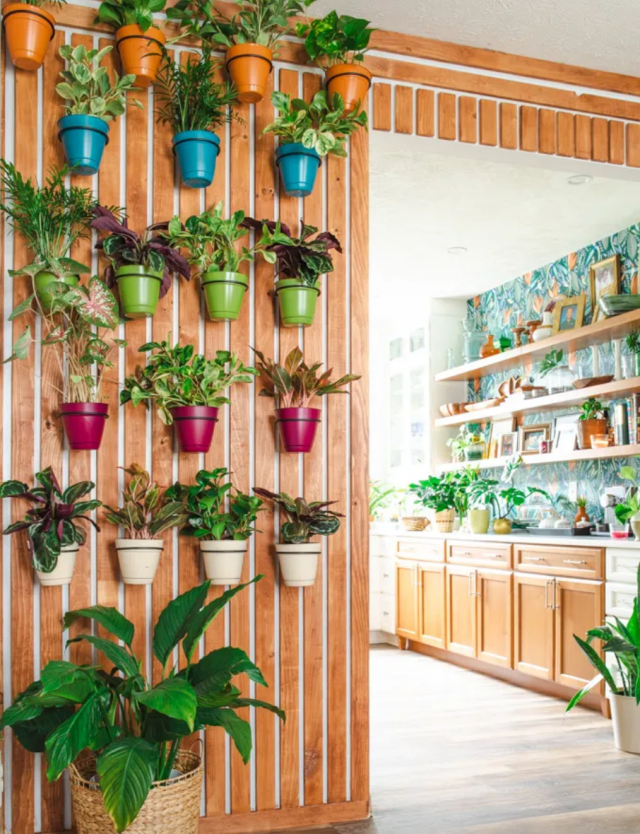 Whimsical Wall Hanging
Add splashes of vibrant color with light and flowy materials for whimisical decor.
DIY colorful modern yarn wall hangings
Wall Clock
A decorative wall clock can be both functional and stylish. You can choose a modern or traditional design, depending on your decor style.
Metal Wall Designs
High end metal decor for your accent wall like these large metal leaf art forms.
Old Banister Herb Display
Create a one-of-a-kind herb display by repurposing old banisters.
Rustic hanging paper chain
Paper chain grids are fun to create in many different patterns for your lounge walls. You might even try a monogram or landscape if you take the time to plan it properly.
DIY paper chain rainbow wall hanging
Feather Wall Hanging
You can transform cheap paper sheets or leather into gorgeous paper feathers with fringed scissors for modern farmhouse decor at home.
Creative leaf Artwork
Make a gorgeous boho paper wall hanging by folding paper into contemporary tropical leaves and turning it from branches. Using wooden beads and rope enhances the bohemian feel of your lounge wall.
Mosaic for small living rooms
Make a bold fashion statement with mosaic for small living rooms and wall decor ideas for apartments and townhouses.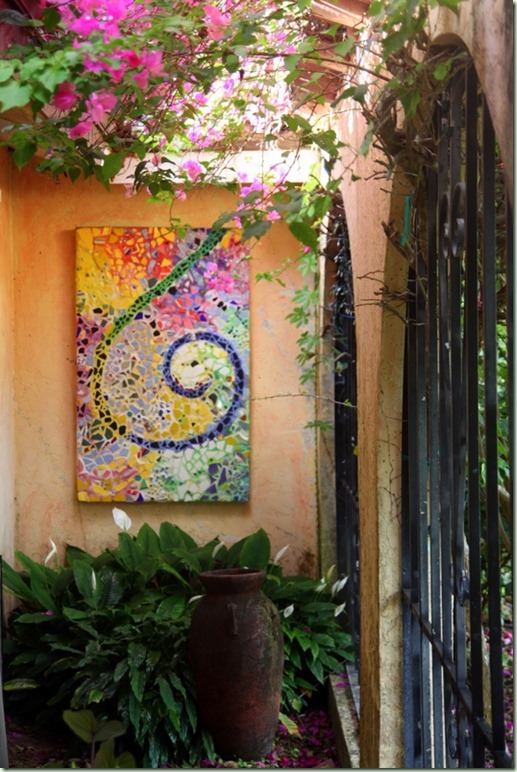 Koi Fish Rainbow Wall
Want to take your origami skills to the next level? Sheet Koi Origami Artwork is an elegant idea for adding color to your lounge room walls. An upgraded version, complete with LED lighting, and these koi fishes can be used for long living room wall decor idea. Try paper butterflies instead! Possibilities are endless.
Minimalist Wall Craft
Who would have thought chicken wire would look so stylish? This homemade wall decor is a show-stopper thanks to colorful paper rolls and a wood frame. Make the paper fit in with your living area color scheme.
Homemade Paper Heart Wreath
Consider making this paper accordion hearts garland for a special event or to adorn your lounge front wall.
Framed paper sculpture
You'll love this concept if you want a more three-dimensional appearance in your living rooms homemade wall decorations. The paper scrap artwork adds dimension and color to a living area while maintaining a light and airy vibe.
Knitted Tree of Life Hanging
Use twisted yarn to make the trunk and Weeping Willow-style tassels for dropping leaves to make this inspirational art.
Embroidery thread cardboard craft
Wrap any pattern or letters cutout of cardboard with yarn or thread.
Woven wall hanging
You can create a stunning woven wall hanging with latch hooks, rug canvases, and yarn.
Tribal Crochet Artwork
Make a arrow style tribal crochet wall art to make a statement in the lounge area.
Pom Pom Wall Art
It's fun to make pom poms. Use them to make a boho inspired living room wall decor in fun colors and textures.
The Homemade Floral Art
This Anthropologie inspired wall decor is made by wrapping a piece of plywood in yarn. The array of little white and yellow pom-poms makes white daisies that complement the wallpaper.
Color Changing Cloud Wall
Have fun creating a gaming enthusiast dream living room with cloud wall that changes colors and patterns with mood.
Make Japandi Inspired Large Scale Art
Make a bubble DIY wall art with air dry clay and styrofoam balls.
Hang Small Felt Sculptures
An easy-felt wall hanging that represent the moon's phases.
Yarn Diptych Wall Decoration
DIY colorful God's Eye wall hanging to add some personality to the bland wall of your living area.
Make a Papier Mache Wall Art
An excellent piece of art made with paper mache, cardboard pieces and gesso in a frame.
Transforming a Wall with Cardboard
Make fun art for no cost with cardboard box pieces.
Vibrant Fabric Tapestry
Use fabric or felt scraps to create stunning mid-century modern wall hanging tapestry that mimic more costly materials by layering organic shapes.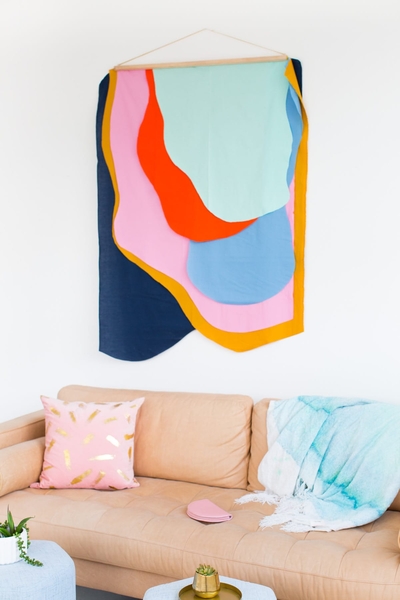 Colorful DIY fabric wall hanging
Photo Gallery with family portraits
Create a timeless classic photo collage gallery with family pictures or portraits. Play around with different sizes, heights and angles for dramatic effects.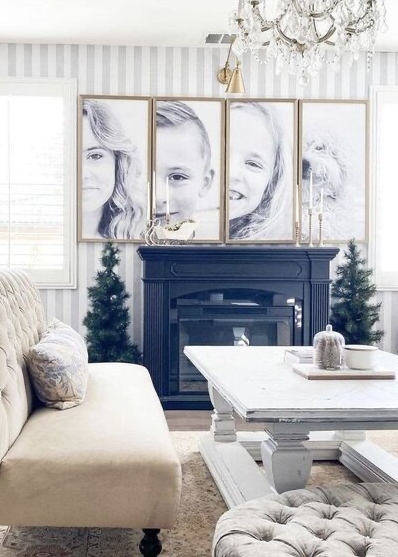 Hang French Country Mirror
This white living room wall decor ideas and a gold oval large wall mirror add a touch of French country elegance.
Display vintage porcelain tastefully
Different from the usual lounge wall, here the wall is lined with vintage china collection. When grouped collectively, these mismatched ceramic plates take on an artistic quality. Use plate display hangers with spring and hanging wires that will hold your plates tightly. The coated edges will protect the plates from crack or chip.
Organizer in Different Color
Paint a variety of cardboard tubes, paper towel rolls, shipping tubes, and other circular objects to create an environmentally-conscious decorative item for your lounge. Decorate them with ornaments, hardy plants, or anything else that grabs your attention while entering your lounge.
DIY recycled cardboard tube wall
Functional Frame Decor
Add a decorative steel frame to the wall for organization and decor.
Frame trimming to wall shelves
Add decorative trimming to make wall shelves looking extraordinary.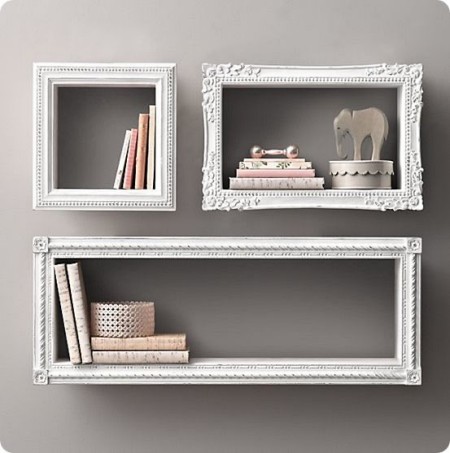 Decorate with designer wallpaper
A wallpaper or wall sticker can change the look of a space instantly with a quick fix. The peel and stick wallpapers are easy to apply and bring dramatic changes in a living area. Alternatively, you can also hire an artist to draw murals on the wall or use a stencil to paint intricate patterns.
Birch Covered Wall
Use this idea as an inspiration to create a feature wall using wood discs, corks, stencil and so much more.
DIY wooden log home decor ideas
I hope you found these living room wall decor ideas useful and it helped you make deicisons for your happy space.