This post may contain affiliate links. Please see our full Disclosure Policy for details.
These hygge decor ideas for hygge home will guide you to decorate your physical environment for content state of mind to relax and rest for Fall and Winter.
The Fall season is in full swing, indicating winter solstice with a transition from bright and vibrant colors to rustic and dark themes for interior decorators. The falling of the first dried leaf in your backyard indicates the strong urge to revamp your home with cozy throws, pillows, and stock cushions, all pointing to the Hygge lifestyle.
The feeds on social media would make you drool over expensive hygge decor items, which are heavy on your pockets and expensive to keep up with constantly changing trends. However, there are several ways to adopt hygge without straining your budget. Achieve this goal by using warm lighting, plants, throw pillows, cozy blankets, warm candles, woven baskets, and natural materials to create your perfect cozy nest on a budget.
What is Hygge's lifestyle?
Hygge (pronounced as "hoo-gah") is a state of mind that has become a design trend for Fall and Winter. It is less about the physical environment and more about your mental state of being content. Hygge is to be present and embrace the moment.
The term Hygge first originated in the Middle Ages when a similar old Norse word reflected the exact meaning of "protected from the outside." Till now, this Scandinavian term reflects a feeling of coziness, well-being, and contentment by relishing little joys of life with your loved ones.
In general, Hygge radiates positivity, coziness, and togetherness. Danish and Scandivinians have been practicing this for centuries, and thanks to digital media, this trend is also popular in American culture.
What are the ten rules of hygge?
Hygge lifestyle is all about a welcoming ambiance that cannot be described or reflected by embracing the ten basic elements of Hygge, i.e., atmosphere, comfort, equality, gratitude, harmony, presence, pleasure, truce, togetherness, and shelter. Hygge might seem expensive. But it offers a perfect getaway from a chaotic lifestyle.
What does Hygge decor mean?
To me, Hygge decor is one of the most misinterpreted terminologies for home decor. People spend a lot of money on finding the perfect luxurious home decor items; however, Hygge is not just about things but the feeling that a home radiates. Luckily, the contemporary minimalist and sustainable trends have the same energy.
Neutral color schemes and natural features (such as wood, greenery, and water), welcoming smell, calm textures, and tastes invigorate warmth and calming sensation. Another way to incorporate a calming sensation in a house is by using scented candles.
When did hygge become popular again?
Despite being an old concept, hygge gained wide attention in 2016 to express their way of life. The idea of escaping the chaotic routine and robotic lifestyle was appealing to everyone as it helped them to connect with themselves.
Hygge Decor in 2023 is all about functionality, sustainability, and eco-friendly products. Hygge enthusiasts prefer sustainable materials that are either natural or reclaimed. The decorators emphasize biophilic designs and thus use more indoor plants, natural stones, and wooden accents. In this way, these designs contribute to a better sense of connectedness with nature and well-being. Hygge decor is not just about physical objects but the atmosphere, ambiance, and intimidating space that you create for enjoying the pleasures in life.
What are the basic elements of a hygge home?
Hygge lifestyle and designs are all about finding treasures in ordinary things. This concept is focused on creating serene spaces to spend quality time with your loved ones or by your own self. It is the art of balancing soft textures, natural elements, minimalism, and warmth to create a welcoming area to live in. Hygge spaces are pared down, thus eliminating any distraction or source of annoyance.
There are no hard and fast rules for hygge decor, however, one can incorporate various elements to master this art in their homes.
Basic elements:
Neutral color palettes: Think creamy whites, warm beige, grays, and pale shades are benchmarks for creating a hygge space. These colors compliment the minimalist and natural elements of hygge. Neutral-colored furniture, upholstery, throws, pillows, and decor look fantastic with wooden articles thus helping to fuse warmth and natural aesthetics into a space.
Layering: The next most important structural element of hygge decor is layering. Layers of sheets, throws, faux furs, and rugs can add perpetual charm to a space. One must find the right blend of hygge space by mixing multiple patterns and textures of different sizes. Remember, creativity is the key to a successful interior design.
Mood lighting: Warm and natural lighting plays a vital role in imparting the right ambiance to a space. The selection of suitable fireplaces, lamps, led lighting, and wall sconces can enhance warmth in a space.
Soft colors, designs, and textures: Hygge is all about surrounding oneself with snuggly, cozy, soft, and comfortable textures, designs, and fabrics. Add timeless style to your living room by picking neutral throws on a sofa and topping them with fluffy cushions.
Eliminate visual cluttering: Eliminate anything and everything that gives a distraught, distracting, or cluttered appeal. It is important to invest in good-quality shelves, and storage boxes to keep everything in order and within one's reach.
Bring nature inside your house: Hygge helps people embrace natural elements and helps them adopt things in their distinctive pattern. Plants, natural fireplaces, stone fireplaces, and wooden decor can help to incorporate rustic charm into a house.
Personal touch: Contemporary hygge decor encourages an inclusive approach towards personal and sentimental objects. These objects also enhance an inviting atmosphere and sense of belonging for the people.
Comforting elements:
Functional furniture: Hygge furniture is designed by keeping trends, design, and functionality in mind. In addition, quality over quantity is the prime concern for any hygge space. Add cushions and blankets to your couch for hygge.
Comfort food and beverages: Comfort food is an essential component of a hygge style. Brew yourself some coffee or hot chocolate, bake your favorite brownies, or try a unique Nordic-style food or beverage to enjoy a snuggly day.
Comfort clothing: The hype in Hygge in the last seven years can be the reason for the widespread acceptance of lounge wear worldwide. This type of dressing doesn't require any fancy clothing but only comfort flannel, cable-knit, velvet, cotton, lace, linen, faux fur, silk, and wool are some home decor fabric choices to consider.
Tech-free meals: Have you ever wondered how eating without having mobile phones or television feels like? Well, one can experience this by having quality meals without watching anything. Hygge meals mean eating while savoring the food, reflecting upon things, or planning your days.
Cozy outdoor space: Have you ever dreamed of falling asleep on a hammock in your garden or balcony while reading your favorite classic play? You can experiment with tons of things such as lanterns, lights, a fire pit, and decent plants in hygge outdoor decor as well.
Reading nook: Reading nooks are spaces that help you leave all the worries and help you transport into your dreamland. Set up your hygge reading space with a comfortable sofa or floor cushion and enjoy a good book.
Comfort scents: Another interesting way to bring warmth and coziness to your home is using scented candles and essential oil diffusers. Warm scents such as vanilla, ginger, orange, or cinnamon alos contribute to a relaxing environment.
What is the Danish concept of hygge interior design?
Hygge interior design is not just about crowding your homes with hefty furniture, drapes, and cushions rather it is a minimalist approach to a peaceful life. This happiness is also directly linked to their personal lifestyle choices, social equity, and community spirit.
Hygge homes help Danes explore the sense of belonging, and enjoy life's simple pleasures, and life coziness in a busy work life. Here are some of the most inspiring Hygee decor ideas for the coming season:
Hygge decor ideas for bedrooms:
Layered bedding:
First thing first, hygge bedding is layered bedding with multiple sheets, pillows, and throws. One can achieve this look by using a duvet cover with neutral color shams, a knitted throw, and pillows that reflect your choice like this inspiration from Sage phillips home.
Hygge bedroom cloud shelf:
Consider adding a shelf to display plants, candles, books and warmth. The combination of cushions, pillows, and a textured duvet cover set combines perfectly with the overall theme. If your bedroom lacks sufficient space, a definite accent wall, or a headboard, then my interior tales is a perfect way to use a cloud shelf over the bed to display your essential items or a collection. You can also make a cloud wall statement art.
Contemporary Hygge bedroom decor:
Consider adding color to brighten up your space with bed sheets, multiple layers of pillows to complement the interior or area rug. Leaving for work wouldn't be easy from this fantastic hygge bed by Nordwind hygge. From sheer curtains to plants, each decorative item in the room tells its tale.
Encircle yourself with the objects and belongings that bring you joy:
No doubt hygge focuses on aesthetics but most importantly it focuses on surrounding oneself with the things they love. Here is a phenomenal hygge bedroom by isis little jungle who has surrounded her space with beautiful plants and warm lights.
Hygge bedroom reading corner:
Everlasting Bookworm shows the right use of fairy lights to brighten up a dull reading corner in a hygge bedroom. Consider adding a bulletin board to collect images of things you love, a comft sofa, pillow and knitted throw.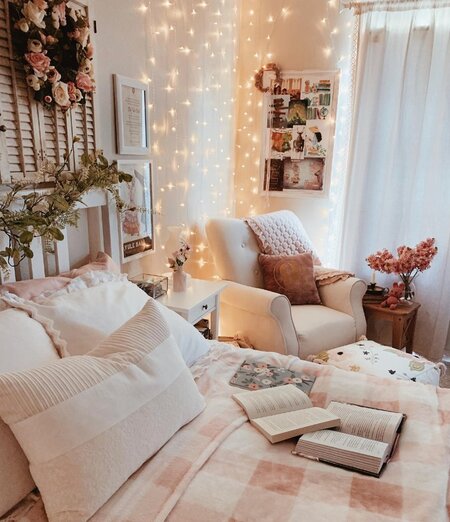 Blue accent wall Hygge bedroom:
Who says a person must limit their options to neutral colors while designing hygge bedrooms? Here is an embodiment of a fantastic blue accent wall by Gruenderzeit zeit that creates a perfect calming effect.
Hygge decor ideas for the dining area:
Natural elements in a dining area:
Embrace natural elements in hygge decor. Here is a unique inspiration by Joanna cosy home with pastel colors, wooden articles, and statement suspended lights.
Midwestern dining area:
There is always room for experimentation if you are not interested in traditional neutral hygge dining rooms. Anne mcdonald design uses vintage dining chairs with a custom dining table to impart a hygge aesthetic with midwestern warmth in her house.
Hygge dining room art:
This dining room by Dutch canal house is the finest example of remastering Nordic style dining rooms with a personal touch. The statement accent wall, sitting area, wall hangings, and centerpiece complement the color of the furniture.
Hygge decor ideas for living room:
A cozy living room is all one needs to relax after a hectic day. While soft and comfortable furniture with coordinated rugs, curtains, throws, and pillows are enough to spend a cozy day, here are some elements that can help to enhance the look and feel of your hygge home.
Rustic charm:
Rustic elements help to create an intimate atmosphere due to their closeness to nature, texture, soft lighting, and warm color palette. Here is how the old cottage welcomes fall in this picturesque rustic decor.
Scandinavian Hygge decor:
This living room illustration by Nordic spirits shows that there is no substitute for the monochromatic Scandinavian charm. The designer showcases his creative pursuits by pairing white curtains, shelves, cushions, and decorations with a solid grey sofa.
Minimalist Hygge living space:
It's fascinating how the simplest designs can radiate immense positive energy, like this ivory interior inspired by my home eis my castle. This minimalist Scandinavian style beige pallet hygge bedroom reflects less is more approach with natural wooden decor and a functional layout.
Hygge decor ideas for the hallway:
Hallways are not actual living spaces, rather they are used to circulate from one room to another. While you decorate your home in hygge, hallways should reflect a similar vibe. Here are some amazing ideas by talented designers worldwide who use budget-friendly ways to hygge their hallways.
Contemporary hallway decor:
Jackson studios has assembled contemporary decorative items such as a glass lamp, a faux fur stool, wooden branches, a candle, and books to enhance the ambiance of their hallway.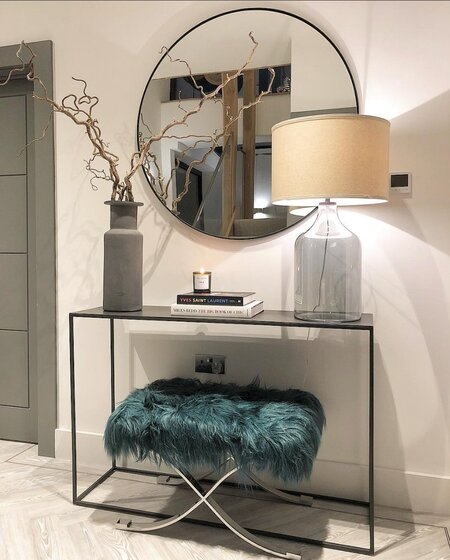 Scandinavian hallway design:
The best thing about Scandinavian designs is the use of natural and neutral shades. White walls with neutral to basic decor are what makes them unique and different from other vintage designs. Here is an amazing design by hygge for home which uses faux plants in a hygge hallway to enhance its beauty.
Hygge decor ideas for bathrooms:
Bathrooms are not just functional spaces but a place to relax and spend personal time! Create a spa-style bathroom for rest and rejuvenation. You can also use a combination of towels, candles, lights, plants, and scented soaps in various colors for a prominent look. Here are some of the most refreshing ideas for hygge bathrooms.
Wooden bathroom:
Want to elevate your bathroom from bare necessities to a personal statement? Try adding a natural touch and matching towels to your bathroom like nasz stuletni dom.
Suspended plants and towels in a bathroom:
If you have a small bathroom that needs a major transformation, then you can incorporate hanging features in the bathroom for better functionality and improved aesthetics. Hey wanderer also uses suspended towels and plants in a tiny bathroom.
Tub tray in bathroom:
Tub trays are the most conventional bathroom accessories ever invented! They are ideal for placing your favorite books, candles, and sea sponges for self-care. Check out Domino mag's minimalist approach to accessorizing the bathtub rack.
Modern bathroom:
This state-of-the-art contemporary bathroom is a legitimate goal for a custom house! The detailing, natural elements, and statement cabinet by the man with a hammer are all one could wish for.
You will also like: 20 Bathroom organization ideas for daily essentials and items
Hygge kitchen ideas:
Hygge kitchens are perfect to evoke your inner desire to cook, bake, and spread happiness among your family and friends by cooking aromatic meals. Here are some of the most interesting Hygge kitchen inspirations that will surely help you achieve the kitchen transformation that you need!
Scandinavian kitchen:
Scandinavian kitchens are the most favored hygge style. Decluttered spaces, neutral colors, wooden detailing, bright, airy, and mirror detailing are everything a hygge designer would wish for like this kitchen inspiration by Domnacic hej.
Open layout kitchen:
This style offers an unobstructed view of the kitchen with only necessary items on display and allows kitchen to become part of your lifestyle. Joanna cosy home has a perfect kitchen display with the right balance of natural and artificial light.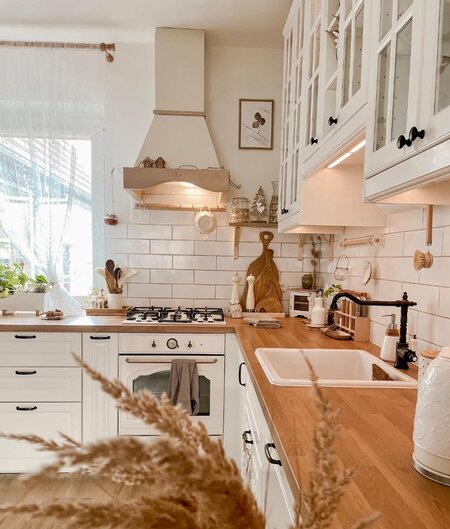 Ombre kitchen:
Step out of traditional kitchen colors and embrace this beautiful ombre homey kitchen by Jessica Kirby. This kitchen also has all hygge features including a faux fur throw, an open layout, plants, and warmth.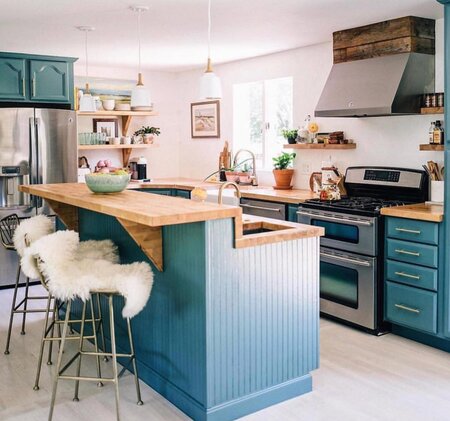 Time-worn patina:
Mixing old utensils and style with new items gives a hygge vibe to kitchens. In this hygge kitchen by house becomes home natural, glass, and brick elements amalgamate its traditional look with a contemporary one.
You will also like: Kitchen cleaning products that are good for environment naturally
Other Hygge spaces:
Hygge floating desk home office:
Nothing can beat the charm and charisma of this floating desk home office design by home and spirit.
Hygge home play area:
Fancy fix decor transforms an old IKEA bunk bed into a hygge play area.
Hygge porch:
Monochromatic tones such as cream, grey, and neutral colors in different layers such as rugs, comforters, and soft blankets like this ideal inspiration by froken frida who uses a suspended swing, and moody rug.
Hygge cottage decor:
Hygge cottages have rustic interiors, soft lighting, plush and knitted throws, and fur decor with fireplaces. Here is a seamless sun room decoration for the holiday season by gareth at keepers cottage.
The hygge decor on a budget:
Hyggee is a form of art and expression that doesn't require your entire fortune. There are several items that you can buy or craft at home to elevate your hygge decor on a budget such as:
Pillows:
Pillows and cushions are ideal to create a snuggling and comfortable nest:
DIY pumpkin pillow for hygge decor:
Kick off your fall decor by crafting this cozy pumpkin pillow for Fall hygge by sinnenrausch diy.
Crochet pillows:
Learn to crochet pillows like a pro with the help of around the table yarns and give your rooms the makeover they deserve.
Candles:
Candles help to spread welcoming aromas in the house that create a calming sensation for the residents.
DIY candles at home: 
DIY candle decoration ideas has you covered for simple tricks to make hygge candles.
DIY Hygge candle holder:
Craft candle holder with walnuts by Dekocio.
Hygge wood table:
Creativity is boundless! Oh my live transforms an ordinary coffee table into a Scandinavian-style coffee table to elevate his interior decor. Also the neutral tones, mirrors, and faux fur details compliment this design.
Hygge lamp:
Sophisticated DIY table lamp by Hetkijkhuis.
DIY Scandinavian vases:
Elevate your Nordic homes by designing these contemporary Scandinavian vases by Alex Blooms DIY suitable for every corner of your house.
You will also like: 35 DIY Flower Vases
Mirrors
Mirrors are an excellent ornament to elevate beauty, charm, character, and space (optical illusion) for any room inside the house. Similarly, DIY mirrors can enhance the hygge ambiance by creating a sense of serenity, warmth, and accentuated.
DIY Scandinavian hygge mirror:

Use metallic buff to turn an ordinary Scandinavian mirror into an RH-style mirror for elevated cozy home decor!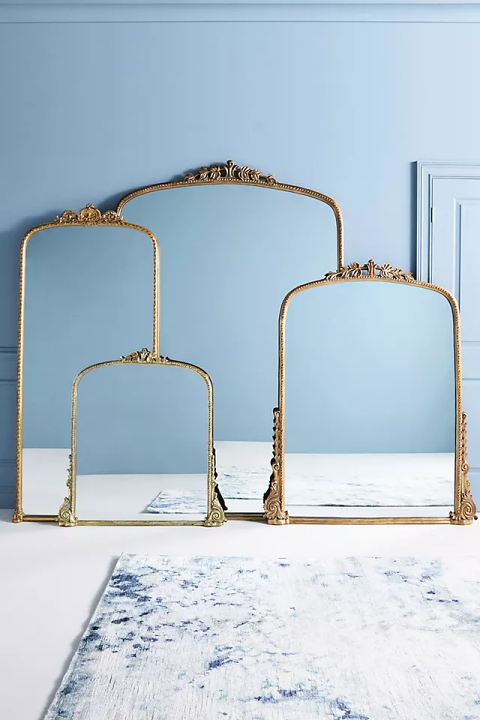 Color pop:
Here is an exciting idea for incorporating statement color pop sofas in your living space by angiee. The decorator uses a green sofa to associate a feeling of tranquility and nature with wooden elements that also align well with the hygge concept of finding contentment in simple things.
Windows:
A good view of a natural, or urban landscape is soothing for mind and soul. Here is a phenomenal hygge living room inspired by hamburg dania hoi to use windows as a central point of the living space.
Fireplace:
Fireplaces are a gateway toward a relaxing ambiance in a room. The peaceful crackling of burning wood coupled with the woody scent is perfect for a cuddly feeling. So like this amazing vintage cottage inspiration by the groggy anchor for planning your hygge weekends.
Faux fireplace:
If you don't want an actual fireplace but love to incorporate it into your decor; then faux concrete fireplaces as shared by the gula shop are always an option. They are also easy to operate and help to maintain coziness in a living area.
Porch fireplace:
The porch fireplace by PJ Havel is by far, the most interesting way of including a fireplace in your interior design. Complimented with wooden chairs and rustic rugs, one can enjoy the colors of fall with such aesthetic designs while maintaining a natural hygge charm with your loved ones.
Hygge hanging plants:
Get nature inside your house by choosing this minimalist hanging plant shelf by Artful Roost in your hygge house.
Plants on stands:
Here's an idea that incorporates plant stands by Kedisi deli in a spacious living room.
Wall art decor:
The finest way to accentuate hallways is to use multiple photographs with minimalist furniture and adequate lighting like this inspiration by helen and delilah.
You will also like: 70 Crafty Living Room Wall Decor Ideas
Wallpaper:
Nothing can beat the significance of the right balance of wallpaper, paint, and furniture in a hallway. Check out how kvarteret krukan shows how to set up a cost-effective hallway with natural and faux plants to add serenity to your house.
Centerpiece:
Use Autumn elements to setup a centerpiece like this simple Fall idea from my taste of living.
Natural Material Baskets:
Incorporate comfort by using natural materials and neutral baskets to store and organize items in your home. You can also make gift baskets for Hygge Christmas and Fall like this Hygge holiday gift basket.
Author: Nageen Sohail