This post may contain affiliate links. Please see our full Disclosure Policy for details.
How to make a cozy home? We all want a home that is warm and inviting but not claustrophobic. I'm sharing 9 cozy interior design tips that will make your house feel cozy no matter what your home decor style!
Your home style can be minimalism, boho, Scandinavian, rustic, farmhouse or modern. But when we talk about home feel it incorporates calming, airy, cozy, warm and inviting. Our focus is more on ambience, feelings and emotions rather than home styling elements.
Table of contents:
Creating a cozy house environment
A cozy house doesn't necessary mean you need to have a specific sized space. You can be living in an apartment or a house and apply the key elements discussed here.
A cosy home atmosphere makes you feel good, inviting and calm. People used to lit fire and live in enclosed spaces with naturally good feel items to make their space feel cozy comfort. It is an inherent need that we humans possess.
9 Interior design tips for cosy home
1. How to add warmth with lighting?
The importance of good lightning is the most essential element. There is perhaps nothing more important than having good lighting to create a cozy atmosphere in your room.
Start by looking at your lighting situation to design a warm room. Think about the number of light sources you have in your room. One overhead light is never enough in focal areas. Focus on having clusters of illumination for better lighting in conversation points. Use lamps (table lamps or floor lamps), task lights and candles to bring ambiance lighting.

via pinterest
Warm or Cool Light Bulb?
Another important consideration is the types of actual light bulb (lighting temperature). There are warm white, cool white and day light bulbs. To create a cozy home atmosphere opt for warmer light bulbs.
Warm light bulb (yellow glow) is around 3,000 K and cooler light bulb (blue glow) is 5,000 K and above. The higher the kelvin the cooler the light. Cooler light bulbs are often used in more office type areas whereas warm light bulbs are used to feel more inviting and cozier.
Smart Lighting Systems
Control lighting by using smart lighting systems. They are great to set the mood. Color of the light has a direct affect on the calming and soothing sensations that the brain generates. Using smart lighting that you can dim and the ones that changes colors are a game changer.
Dimming light to soft warm orange at night when you are relaxing with hue lights is the new thing. Even though the bulbs are expensive but they last for a long time. You also have lots of color choices and they are dimmable LED. They are so much fun to have in your space.
Hue bulbs work with smart systems like Google Home and Alexa. You can use voice command to turn it on and off, dim the light and change the color as well.
String lights
String lights bring magical vibes in any space instantly. They are so bohemian style but you can incorporate them in any decor style even whimsical. Add fairy lights or LED lights with batteries and enjoy the twinkle light feel with rechargeable batteries. Another great option is the globe pendant light. They instantly bring fantasy vibes.
Candles and lanterns
Lastly, lighting with candles will always be the ultimate cozy addition to any room and win the ambience. Candles are part of the lighting section even though you are not going to light the whole room with candles.
Consider using Moroccan and Turkish lanterns and candle holders that are an statement on their own.

via pinterest
Wax burner lamps
Another great option are wax burners that give out scent and double as dim light lamps. They bring the magic of scent and light together in an accent piece. They are great for small spaces like bathroom and laundry room as well. You can also look for the plugging nightlight lamps that give out scent and they come with a dial that you can set to the amount of scent you want them to emit like air wick.
Salt lamps
Salt lamp is known for its healing powers. Incorporate salt lamp in your lighting and get magically treated for stress and anxiety as you relax and cozy up in your beautiful home.

Salt lamp can also be accessorized in any space. Instead of lighting a bulb these accessories can be used with small warm light like string lights. You can also place them near a light source for warmth to release the salt healing elements.
2. How to bring life with Plants and Flowers?
Houseplants and fresh flowers
Add unique plants, flowers and foliage living things to breathe life in your cozy home. Imagine the difference if you take them away from a room and you'll get my point. Mostly people enjoy plants maybe it's a matter of humans being inherently drawn to the nature.

via reddit
Houseplant tips
If you are a frequent traveler and are worried about your houseplants check out my page for houseplant tips. You can water them using the watering method I have shared in my stories and your plants will be fine for a week or more. Also buying more resilient plants like pothos, spider plant, snake plant and succulents. They don't die easy!
Budget friendly plant options
Plants can get expensive therefore think about investing into plants that last whole year. Think about buying plants you can propagate and grow from cuttings. Look for out of season variety at garden center which they might through away and try to propagate them like succulents.
There are natural varieties you can find in your community parks and garden that you can propagate at home from cuttings as well. So think out of the box and you will find great solutions.
Texture and color with plants
Plants bring texture and color with pots, planters and baskets. Make your home cozy with neutrals and warm tones like terracotta pots, brassy metallics, woven baskets or metal buckets.
Artificial flowers and faux greenery
Real plants and fresh flowers require care and are expensive as well. As an alternative, you can go for artificial plants and faux flowers. I recommend plastic faux over silk faux because of the quality and longevity.
Some plastic fake plants are very realistic and they look amazing. Plants can enhance the look of your space. Invest in some realistic looking faux fiddle leaf fig trees and you will love them forever.
3. Hang Drapes and Curtains?
Window coverings can bring a big difference in terms of coziness in your home. Even though sheers and blinds bring a airy and light feel, thermal drapery and blackout curtains bring warmth and coziness in cold weather.

via mendola fabrics
Consider swapping lighter weight curtains with heavy drapes not only will they keep the heat in your room but they will also add an extra layer of softness as well.
4. Use Artwork and mirrors?
Hanging artwork and mirrors are the best way to decorate any home. In order to make home cozy we aim to avoid blank walls.
Even though blank walls can absolutely be a design choice. You may decide to hang one single piece of artwork on a statement blank wall. However, it should be an intentional choice and not a reflection after the act.
What can I hang on the wall?
There are a variety of options for hanging on the wall:
paintings and artwork
prints
fiber art
mirrors
textile wall hangings
family photographs

via pinterest
Affordable Beautiful Artwork
Artwork and paintings can get expensive. However, there are a lot of affordable print options that you can get online if original artwork is not for you. With so many ideas circling the internet you can absolutely DIY artwork and frame it. Some reasonable artwork choices are:
Etsy
IKEA
Homesense
Minted
Walmart
Amazon
Artwork not only brings personality to the room but it also insulates walls. It reduces the echo in the house where the sound is bouncing off the walls.
Mirrors
Mirrors can be used to enlarge your space and also to bounce light around the room. You can hang them on the wall or have a statement large mirror leaning against the wall.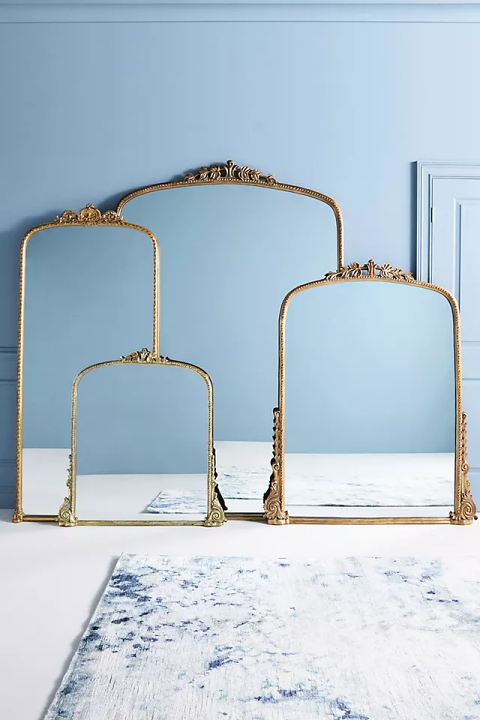 via anthropologie
5. Use Fragrance and Scent
Fragrances and scents not only make the space inviting but they change the entire mood and leave you spellbound. There are a variety of ways you can introduce beautiful smells in your home. Some ideas I personally love are:
scented candles
wax melts like scentsy
plugging scents like air wick
fresh fragrant flowers
essential oils
diffusers
humidifier
6. Add water feature to ease out
The magical sound of running water can bring a spa effect in your cozy home. Think about adding a water feature that works best for you.
You can go for ultimate luxurious to minimum water feature accent piece to display on your side table. Your option completely depends on your choice of space and budget.
7. Install Rugs and Textile to warm up your space
Why are rugs cozy?
Use rugs and textile to bring cozy room feel. Homes with tiles, laminate or hardwood flooring can feel very chilly under your feet in winter. The cold feet is not exactly the best way to feel cozy in your space.
Layers of rugs
Adding area rug will help bring the extra warmth and insulation in your room. If your space is designed to not incorporate a large rug think about layers of multiple smaller rugs for the same effect.
Rugs for design and pattern
There is no space that doesn't benefit from beautiful rugs. Persian and Moroccan rugs with beautiful designs and patterns bring statement in any room. If you have added texture and design in other ways to your room consider displaying a jute or natural fibre rug to lighten it up.
Carpeted area
Another great way to bring coziness is to add carpet in your area. You can layer it with vintage rugs to break the continuity of the carpet. Carpets are great for spaces where you can sit on the floor, play and do various activities like family room. They also insulate and keep heat trapped in the room.

via blissful design studio
In kitchen and bathrooms
Consider placing rugs in non-primary spaces like your hallway, kitchen and even bathrooms. Rugs in bathroom can be a sign of discomfort for some, if that is the case, you should at least consider putting a plush bathmat in your bathroom.
Choosing neutral and earthy colored bathmats makes it easier to know when it's time to clean them. Invest in bathmats that can be tossed into the laundry machine with bleach for a quick wash and are fresh to use again.
8. How to add texture to my home?
What is texture?
Texture is the surface quality of a material. Use texture to achieve cozy feeling in your home. Cozy textures are usually made of materials that are soft and feel good against the skin.
How to find textured items?
When you have elements in your room that make you think of warm, safety and well being chances are you have a cozy room with interesting textures. When you are searching for a textured item try to think about whether you like to touch it or not. If you like to touch it chances are it has an interesting texture.
Things that bring texture
Some things that might have come to your mind that we all may enjoy touching are:
Use texture rich fabrics like chunky throws, velvet, knits, cushy throw pillows, crushed linen, faux fur.
Mix accessories in materials like wood, leather, warm brass, or ceramics for warmth and interest.
Pile on pillows.
Stack books in shelf. Here are some interesting ideas on how to style bookshelves?
Use baskets that are woven, knitted, braided or crates to bring textile feel and sensation.
Texture with pillows and throws
Piling on throw blankets and throw pillows on your primary furniture like sofas and armchairs in your sitting areas brings texture in your room. You don't have to overdo it but have a good mix of pillows with different patterns and textures.
In addition to having pillows and throws displayed on your furniture, you can also have them stashed in baskets or storage ottoman on the corners and sides making them accessible for your guests to just grab if they feel chilly. It makes the space feel more inviting for others as well.

via shop freckled hen
Consider building a cozy fireplace
A cozy fireplace is the ultimate luxury that we all thrive for! Whether its a wood log burning real fireplace or a easy maintenance self-cleaning gas fireplace it will be an amazing addition to your home.
Abstract art using thread and acrylics
If fireplace is not an option for you, consider making a faux fireplace for creating a cozy home ambience in your house.
I hope these cozy home tips were useful for you and that you can implement them in someway. Bring your personal taste in these tips and you will be impressed with your own designer instincts to make cosy house.