This post may contain affiliate links. Please see our full Disclosure Policy for details.
Find tissue paper crafts ideas for kids and adults to make beautiful projects for home decor, gifts and more.
Tissue paper is an inexpensive and adaptable material that you can use to make a variety of crafts from children's crafts to home decor. You will find this underutilized craft supply in gift wrapping aisle of craft stores and others. They are commonly used to stuff gift bags with presents inside. They come in a variety of colors, soft to the touch, fragile, and sheer. The best part is they are recyclable and don't produce wastage making them ideal for crafting with kids.
Tissue paper can bring a splash of color and imagination to any project because of its vibrant colors and lightweight texture. This post will go over 40 crafts with tissue paper for kids and adults that are excellent for holidays like Easter, Halloween and Christmas, and home decor.
These tissue paper projects are sure to spark creativity and fun, whether you're trying to make a festive environment for an event with tissue paper party crafts, beautify your home with paper flowers, or spend quality time crafting projects with your kids.
Crafting with Tissue Paper
Tissue papers are fragile and can easy tear apart. Therefore, I thought about sharing some craft tips for working with tissue paper before sharing the craft ideas.
Dull and over-used tools will fold the paper. Therefore, make sure to use sharp scissors and punches with tissue paper to avoid imperfect cuts. Cut and punch several times on aluminum foil to sharpen old tools.
Depending on the thickness of tissue paper sheets, you may want to punch a bunch of sheets together to get a clean cut without fold with thin tissue. Experiment with your punch to decide the number of sheets you can punch together at once.
Dark colored tissue paper may release dye when it gets wet after a few minutes. Therefore, be careful not to brush too much glue over it when using mod podge. You can test it by applying some glue with brush or fingers and smooth it down. Let it dry. Sometimes, overuse of glue can also result in tissue paper tearing and creating a mess.
Tissue paper wrinkles very easy, therefore, it is easier to work with small pieces or tissue paper squares than entire sheets.
What can I make out of Tissue Paper?
Use the flexible material tissue paper to create a wide range of crafts and decorations. Tissue paper flowers, pom-poms, garlands, lanterns, and gift wraps are examples of common decorations. It is excellent for kid's activities as well as for adults because it is simple to use and promotes the development of fine motor skills.
What can you do with scraps of tissue paper?
Tissue paper flowers, pom-poms, garlands, lanterns, and gift wraps are a few of the most well-liked suggestions for scraps of tissue paper. Tissue paper may be folded, sliced, and layered in a variety of ways to make stunning and one-of-a-kind creations that can be utilized as decor for events, parties, and everyday occasions. Since tissue paper crafts are simple to make and can aid in the development of fine motor skills in children, they are a great activity.
How do you decoupage with Tissue Paper?
Decoupage is a technique of decorating an object by gluing paper or fabric onto its surface with mod podge or PVA glue. Tissue paper can be used for decoupage, and the basic steps are to prepare the surface, cut the tissue paper into small pieces, apply glue, place the tissue paper pieces onto the glue-coated surface, seal the tissue paper, and finish the project. Decoupaging with tissue paper can be a fun and creative way to decorate a variety of objects, such as boxes, frames, or furniture.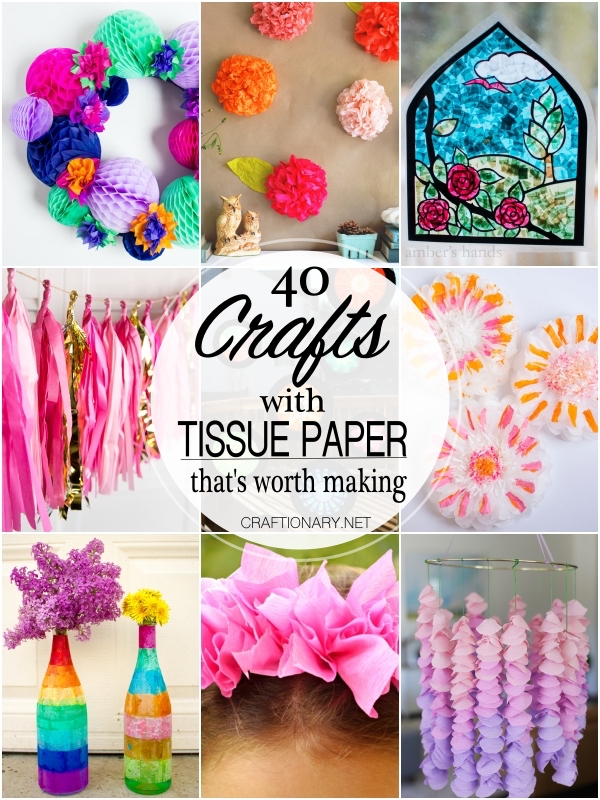 TISSUE PAPER CRAFTS FOR HOME DECOR
Crepe Paper Mobile: You can use Tissue paper wisteria to create home decor with a flame effect.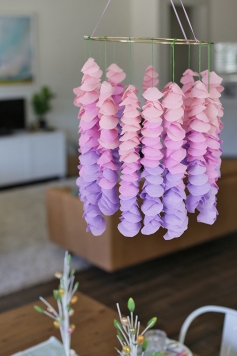 Tissue Paper Wisteria: You can use tissue paper wisteria to create home decor with a flame effect.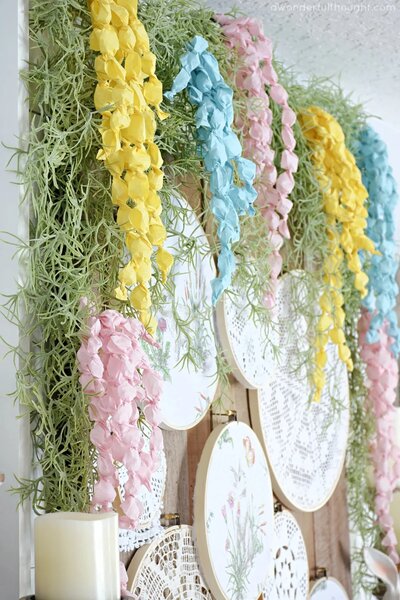 Lanterns with tissue paper:
Illuminate in dim settings with Tissue craft lanterns that you can make with homemade materials in varying colors and prints by mud and bloom.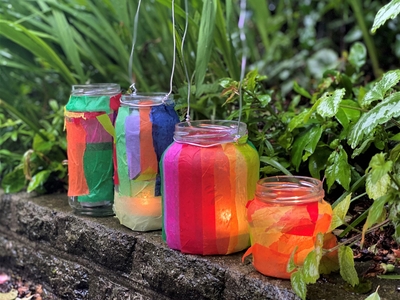 Tissue Paper Decoupage:
To transform a plain dinner plate into a stylish one, all you need is ornamental tissue paper and a decoupage technique by DIY with Kanchan.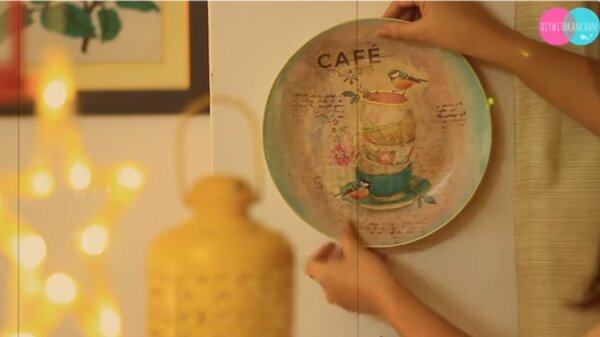 Tissue Paper Pom Poms Garland:
A cute garland to adorn your Christmas mantel or party background is made from miniature tissue paper pom pom. Make the colors specific to your event or holiday.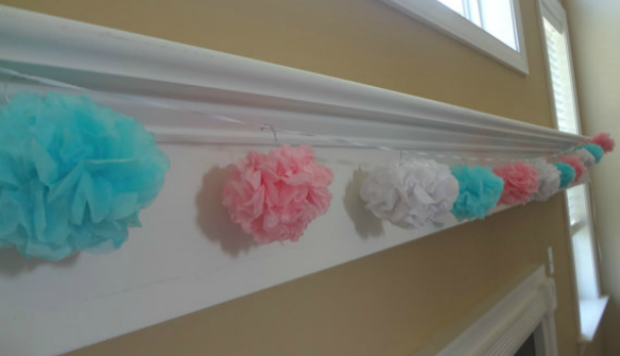 How to make a flower with Tissue Paper?
The most important details in making a tissue paper flower are gathering materials, cutting the tissue paper, folding it, securing the center, rounding the edges, separating the layers, and finishing the flower. Gathering materials includes tissue paper in the color of your choice, scissors, and floral wire. Cut the tissue paper into a rectangle shape, fold it accordion-fold, secure the center, cut the edges, separate the layers, adjust the shape, and fluff the petals, and wrap the floral wire with green tape or ribbon. A tissue paper flower is a beautiful and versatile decoration that can be used for parties, events, or as an everyday decoration.
Easy Tissue Paper Flowers: Purchase or create Paper flowers that make a thoughtful gift for anyone.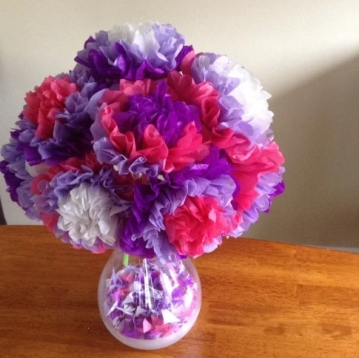 Beautiful Mirror Stickers:
Create designs that let light flow through by cutting loops from black stock paper, circles from various color tissue paper, and 8 or 16 folds by glen and katie.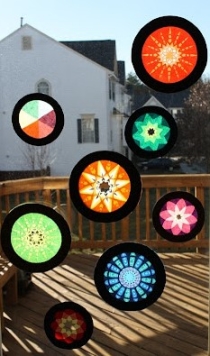 DIY Tissue Paper Coasters:
Housewives can use these colorful tissue paper coasters to remind their families to use a coaster and prevent water rings from damaging their furniture.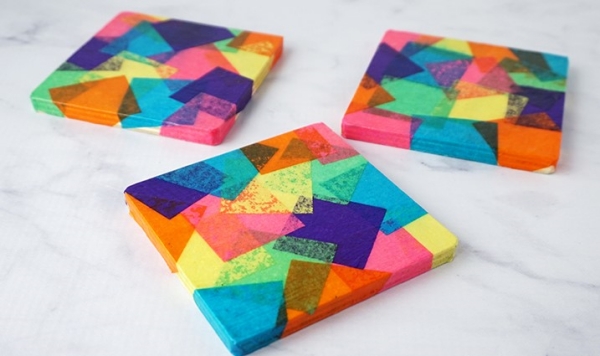 Beautiful Wall Craft with Tissue Paper: 
Use tissue paper flowers to create wall art or collages, and can be colored, patterned, or filled with liquids.
Tissue Paper Tassel Garland: 
Making your own tassel garlands eliminates the need to purchase them for home decor. This craft requires some dexterity. To cut equally wide tissue paper strips for the tassels, you'll need a ruler.
Honeycomb Ball Wreath with Tissue Paper: 
A honeycomb ball wreath made of honeycomb balls and tissue paper flowers is a fantastic craft project I have found. Change the theme, use various colors, or simply match the decor of your home.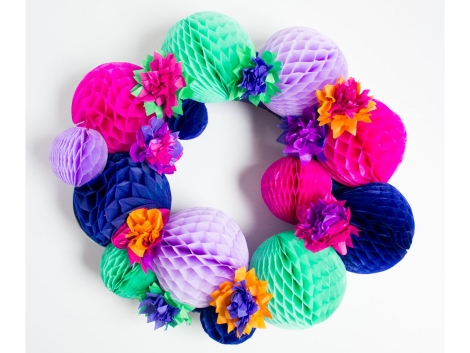 How do you make a stained-glass window with tissue paper?
The most crucial steps in producing a stained-glass window out of tissue paper are gathering supplies, coming up with a design, cutting the paper into small pieces, placing the pieces on the contact paper, sealing the contact paper, and hanging the finished product. You'll need tissue paper in different colors, scissors, clear contact paper, a black marker, and a template of the pattern if you want to make a stained-glass window.
Tissue Paper Stained Glass Window: 
It's as easy as taping a sizable piece of contact tissue to a window or wall, then let your kid decorate it with vibrant tissue paper shapes by happy hooligans.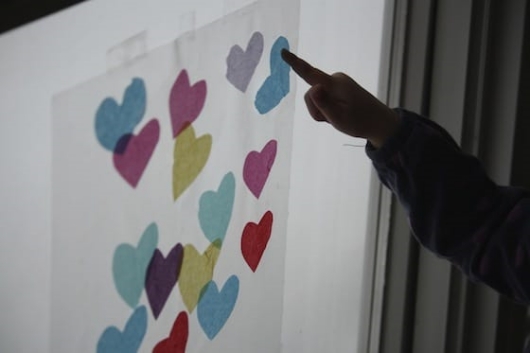 Tissue Paper Fringe Garland:
This vibrant tissue paper fringe garland from Lorrie Everitt Studio is a fun and unusual solution to party decorating woes.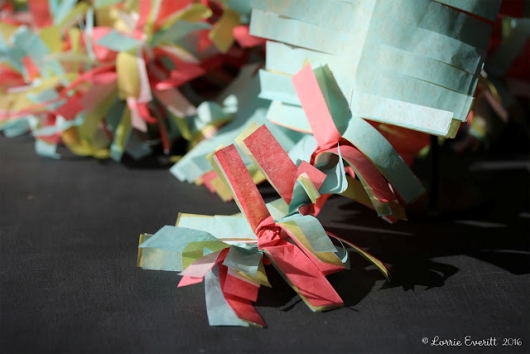 Tissue Paper Fans: 
Fans are common materials for tissue paper crafts. Make these from a variety of vibrant tissue papers and embellish with matching tissue cuttings that have round corners by the crafty mom.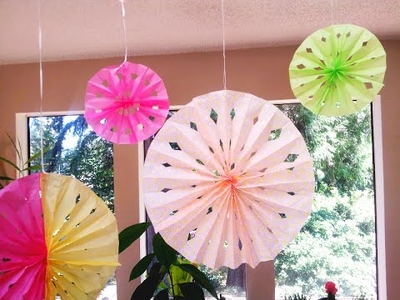 Tissue Paper Bottle Art: 
Bottle art with flowers is a simple and affordable way to create a unique and personalized decoration using tissue paper and an empty bottle.
Tissue Paper Candy Corn door wreath: 
A tissue paper door wreath is a fun and easy DIY project that adds a touch of Halloween spirit to any home.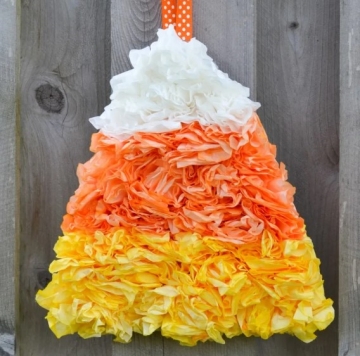 Mason Jar Snow Man with Tissue Paper: 
Use inexpensive materials to create a snowman from a mason jar! This project is ideal for use as decor in winter season.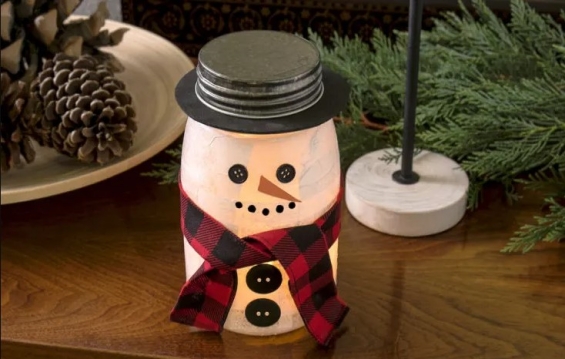 Ruffled Tissue Paper Garland Craft:
When it comes to decorations pretty providence demonstrates how to build a quick and easy ruffled tissue paper garland project. You will need supplies like colored tissue paper, scissors, string, needles, and adhesive tape materials.
DIY TISSUE PAPER CRAFT IDEAS:
Tissue Paper Flower Bracelet: 
Children and teenagers will both adore these floral bracelets created from colored tissue paper, a pipe cleaner, and wooden beads. It is a friendship bracelet that is floral-loving.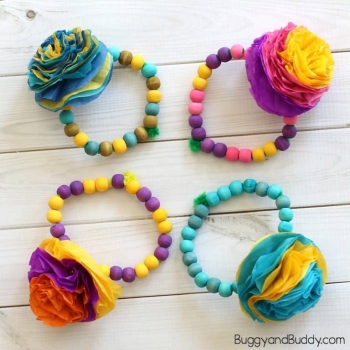 Painted Tissue Paper Pom-Poms:
Paint ready-made tissue paper pom-poms to add a splash of color! These would also make lovely wall decor for a nursery or girl's bedroom, in addition, to use at events.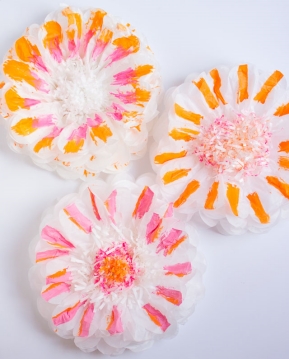 Tissue Paper Birds Canvas:
Use Tissue paper to create beautiful wall art using the bleeding tissue paper technique and more easy things to paint.
Tissue Paper Book Marks:
Making bookmarks out of laminated tissue paper strips? Please, yes! I adore the thought of using these as stocking presents for readers in your life.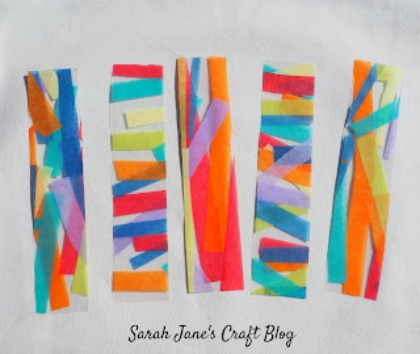 Tissue Paper Flower Headbands:
Create tissue paper flowers and use headbands to secure them securely in place by makes and takes.
Stained Glass Sun catcher Art with Tissue Paper: 
Tissue paper is an ideal craft material for creating sun catchers, as it is transparent and can be used to create a stained glass effect.
DIY Tissue Paper Rainbow Art: 
Use tissue paper to create stunning wall art also! Starting with tissue paper that has already been cut into little squares saves a ton of time. How adorable would this rainbow themed artwork be in a child's room or playroom?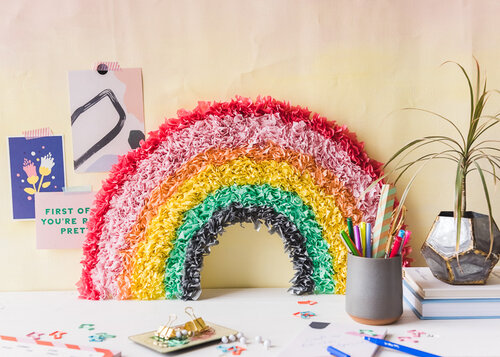 Colored Popsicle Craft with Tissue Paper:
Set up the kids at an outdoor table with construction paper squares and have them try to duplicate their favorite flavor of ice cream on paper. You can also hang them in your freezer as a reminder by a dab of glue will do.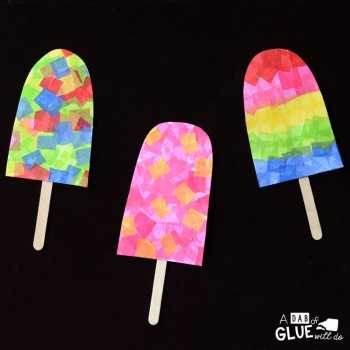 CRAFTS WITH TISSUE PAPER FOR PARTY:
Tissue Paper Gift Wrap:
Transform any gift into a complete knockout. You can easily construct tissue paper ribbons, pom poms, and crumpled toppers to spice up your tissue paper gift wrap for special occasions.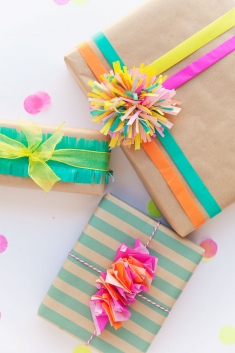 Tissue Paper Party Lights:
You may create a fantasy on your balcony or in your bedroom with these floral party lights. Since LED lights don't get as hot as regular twinkle lights, use them with your tissue paper flowers.
Tissue Paper Confetti Balloons:
Use tissue paper confetti to make clear balloons more festive by creating triangles, circles, flowers etc. Insert them into the balloon and fill with helium.
Toilet Paper Roll Mini Pinatas:
Want to create pinatas quickly and affordably for a party? Grab some tissue paper and toilet paper rolls; they make excellent party favors.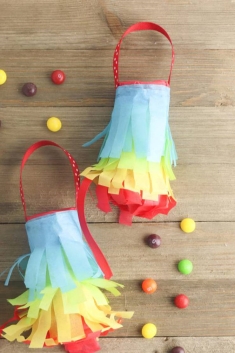 Easy Pumpkin Favors with Tissue Paper:
Wrap favorite Halloween treats in paper and open them like presents for a cute Halloween party decoration with these pumpkin favors.
Tissue Paper Wall Letters for Party:
The most important idea is to customize these tissue paper wall letters to suit the guest of honor for a party at no cost. You can also personalize these with other decorative elements.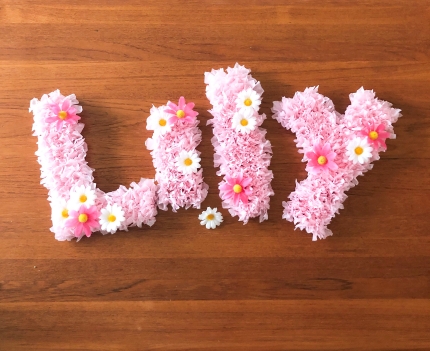 Baby Shower Booties with Tissue Paper:
Baby showers are important events where the baby is introduced to the world. Use a paper cup, sheet, tissue, ribbon, paper strip, white semi-circular part, and candies to make cute booties.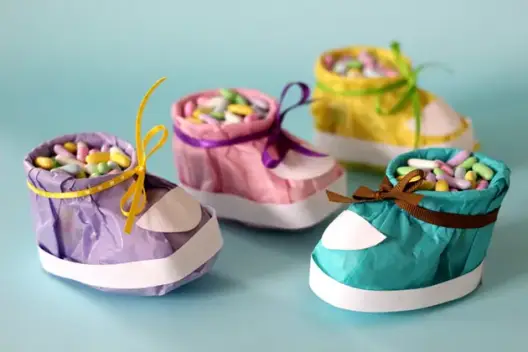 Geometric Lanterns with Tissue Paper:
Make geometric tissue paper lanterns with a step-by-step tutorial and use in decoration for upcoming celebrations.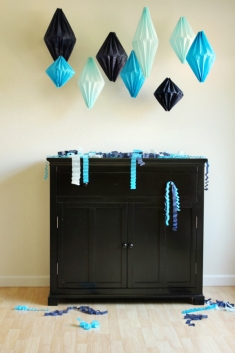 Tissue Paper Balloon Bowls:
This craft combines art and science to create a fun activity for rainy days, offering a fresh approach to traditional Papier Mache techniques to make balloon bowls.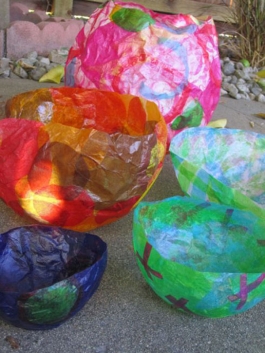 TISSUE PAPER CRAFT IDEAS FOR KIDS:
Tissue Paper Butterflies: 
Pre-cut and use 4-inch tissue paper squares for this project. These butterflies are simple enough for smaller kids to enjoy.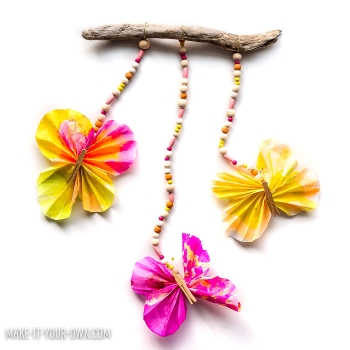 Tissue Paper Sunflower Craft:
Together with the youngsters, create a charming tissue paper flower activity. To hang in their bedroom or playroom, this will make a stunning work of art. Who knows, you might want one in your craft space as well because it's so adorable.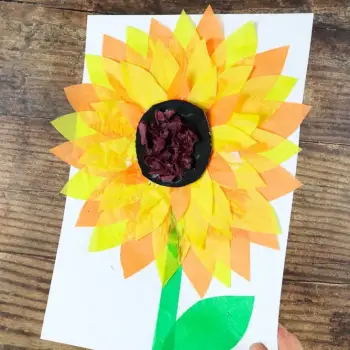 Fall Leaves Tissue Paper Craft:
Children love bouncing on crunchy leaves and seeing the leaves turn into brilliant colors of red and orange. Recreate that experience by doing this tissue paper fall leaves craft.
Tissue Paper Fish Craft:
This Asian-inspired craft is made out of toilet paper rolls and tissue paper circles to create fish scales. It is kid-friendly if cut ahead of time or with safety scissors to make japanese flying carp.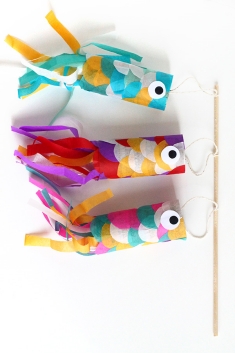 Tissue Paper Pineapple Craft:
Do you need a quick paper craft project idea like this pineapple tissue paper craft!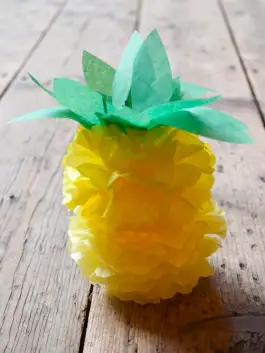 Paper Plate Globe: 
You can make a planet earth globe from a paper plate and tissue paper to have fun with your kids and check out the amazing result.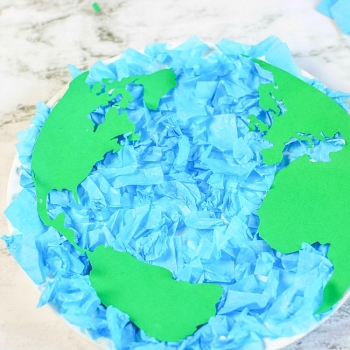 Tissue Paper Hot Air Balloon Craft:
With this brilliant and amazing tissue paper hot air balloon creation, you may explore the universe of your imagination by utilizing any tissue paper you have, including used tissue paper squares.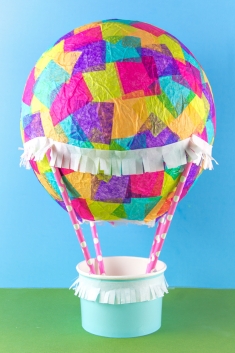 Sea Creatures with Tissue Paper:
Making sea animal crafts out of tissue paper is a simple and enjoyable hobby that both children and adults will love. Tissue paper in various colors, glue, scissors, and some imagination is required to make ocean animals.
Author: Sarah Samad