This post may contain affiliate links. Please see our full Disclosure Policy for details.
Get best towel display ideas for your bathroom whether modern and stylish for hand towels and hanging towels for guest bathroom and home staging. Use towel origami for towel fold and roll for bar, shelf or hook display.
When it comes to bathroom decor, simple things often make a great impact. Bathroom organization, clutter free clean bathroom and your towel display are such elements that may completely change the appearance and feel of your bathroom. There are various inventive and beautiful methods to display your towels rather than just putting them on a hook.
What color towels are ideal for home staging?
The choice of towel colors during home staging has a significant impact on the visual appeal. It's suggested to choose crisp, clean, and neutral-colored towels to create a welcome and uncluttered ambiance. Common choices include:
1. White towels: White is a traditional and timeless color. It radiates sophistication, cleanliness, and luxury. A bathroom may impose a luxurious spa vibe when it has white towels.
2. Light grey towels: Light grey towels add a slight pop of color while remaining neutral and elegant. They look well in bathrooms with modern or minimalist decor.
3. Beige or taupe towels: These towels give off a warm, inviting vibe that makes a space seem comfortable. They go well with many different bathroom designs and color palettes.
4. Gentle Pastels: Light blue, mild green, and soft pink are examples of gentle pastel hues that may offer some color without overpowering the room. They can instill a sense of calm and charm.
5. Towels in ivory or cream: These materials give off a cozy, welcoming vibe. They offer a nostalgic touch to bathrooms with traditional or vintage themes.
6. Navy Blue Towels: Navy blue towels may add a splash of color as well as a nautical or coastal atmosphere. They look particularly good in bathrooms with a nautical motif.
7. Soft Yellow Towels: Bright and cheery yellow towels may create a sunny, inviting atmosphere in the bathroom.
To create a neutral, pleasant environment, pick towels that suit the home's design and color palette, and make sure they are clean, well-folded, and organized during staging.
What colors are best for displaying your towels?
Maintaining a consistent color scheme for towels may improve the bathroom's visual appeal, but when making your selection, it's crucial to consider things like personal choice and color consistency.
Advantages of using the same colors:
1. Uniformity: Using colored towels in your bathroom gives the area a sense of consistency, organization, simplicity, and aesthetic appeal, which improves its visual appeal.
2. Elegance: A monochrome or single-tone towel scheme may elevate your bathroom's elegance and sophistication and create an opulent, spa-like ambiance.
3. Easy Maintenance: It is not necessary to match diverse colors and patterns when the towels are colored, giving them a cleaner, more cohesive appearance.
Advantages of Mixing colors:
1. Variety: You can experiment with different colors and décor by mixing the colors of your towels, which will give your bathroom individuality and diversity.
2. Coordination: Towel color coordination may result in a harmonious and well-balanced bathroom design when it matches the color palette and theme.
3. Seasonal or Thematic Changes: Towel color mixing allows you to make seasonal or special occasion alterations in your bathroom, such as adding holiday-themed towels.
The color of the towels is determined by the design of the bathroom and personal preferences. Towels should be neat and coordinated, and combining different colors gives them charm. Spacious bathrooms tend to favor a combination of style and size.
How can you display bathroom towels for home staging?
Staging a bathroom towel is crucial for bathroom presentation, whether for real estate, a particular event, or just to create a friendly ambiance. Here are some pointers for properly setting up a bathroom towel:
1. Choose High-Quality Towels: Use premium towels to create an elegant and cozy bathroom atmosphere.
2. Fold Neatly: Fold towels neatly to create a classy, welcoming, and well-organized bathroom presentation that creates a pleasant atmosphere.
3. Roll for a Spa-like Look: Tightly roll towels to create a refined, spa feel that combines design with practical space-saving features.
4. Stack or Layer: Stack or pile towels to add depth and elegance when staging a house.
5. Use a Towel Bar: For tidy and well-organized towel storage that looks elegant.
6. Add Accessories: A little potted plant next to your towels, a pretty tray, or a fragrant candle may all set the mood.
7. Coordinate with Bathroom Decor: To create a unified and aesthetically pleasing look, choose towels in hues that go well with the bathroom's design and color palette.
8. Keep it Minimal: Avoid overloading the bathroom with too many towels and keep extras in a linen closet or cupboard to optimize staging space.
9. Tie with Ribbon or Bow: Tie a ribbon or stylish bow around a stack of towels to add a personal touch, particularly in guest or restrooms.
10. Fluff and Arrange: To make the bathroom stand out, straighten, and place the towels by fluffing and arranging them to get rid of creases.
11. Refresh as Needed: During prolonged staging times, it's advised to routinely replace towels to preserve a tidy and enticing washroom.
Staging towels in a bathroom aims to create a clean, comfortable, and luxurious atmosphere, enhancing the overall presentation of the space and making potential buyers or guests feel welcome.
How to display small towels?
Displaying small towels successfully requires innovative and space-saving techniques. Here's how to display little towels:
1. Roll and stack: Create a tidy and eye-catching arrangement, firmly roll and stack tiny towels.
2. Use a Basket: Place neatly folded or rolled small towels in a beautiful basket for a well-organized display.
3. Open Shelves: Use open shelves to display small towels in order that is both useful and aesthetically pleasing.
4. Towel Rings: Provide easy access by hanging small towels on towel rings near the sink or bathtub.
5. Decorative Hooks: Give a fashionable touch with ornamental wall hooks.
6. Floating Shelves: Arrange tiny towels on floating shelves to keep them neat and to create a stylish focal point.
7. Woven Baskets: Small towels can be kept in woven baskets to give the arrangement warmth and texture.
8. Towel Cart: Showcase small towels with a movable towel cart that has racks for convenience and flair.
9. Tiered Tray: For a neat and eye-catching display, arrange small towels on a tiered tray.
10. Glass Front Cabinets: Showcase small towels in cabinets with glass doors to provide a refined and secure appearance.
11. Colorful Small Towels: Utilize small towels in a range of colors to create a striking and colorful arrangement.
12. Towel Clips: Small towels can be hung from a shower curtain or wire using ornamental towel clips.
13. Towel Ladder: A little ladder towel rack is a nice and unique way to display small towels.
14. Wall-Mounted Buckets: To store small amounts of towels and add a rustic touch, install wall-mounted buckets.
15. Towel Origami: To create a whimsical and beautiful display, fold tiny towels into colorful shapes.
Maintain the towels' accessibility and aesthetic appeal by customizing your small towel display to fit the available area and bathroom design.
Is it better to fold or roll towels?
Your desired style and personal preferences will determine whether you choose to roll or fold your towels. For both approaches, keep the following in mind:
Folding Towels:
1. Neat and Organized: Towels that are folded seem tidy and well-organized. It's a traditional option that complements most bathrooms.
2. Space-Saving: Small bathrooms and linen closets might benefit from folded towels because they are often flatter and need less space.
3. Stackable: You can store more towels in a smaller area by stacking folded towels on shelves or in cupboards.
4. Easier to Store: They are useful for storage, particularly if your bathroom cabinet or linen closet is small.
Rolling Towels:
1. Spa-like Elegance: A luxury and spa-like feeling is evoked by rolled towels. They give your bathroom a hint of class and elegance.
2. Visual Interest: Rolled towels are ideal for ornamental displays because of their cylindrical form, which adds visual appeal.
3. Easy Access: Rolled towels are a convenient option for regularly used towels, like hand or guest towels, because they are simple to grasp and use.
4. Creative Displays: They complement the design of the bathroom by providing flexibility for imaginative arrangements in trays, baskets, or open shelves.
Towel folding or rolling is a matter of personal preference, available space, and bathroom atmosphere. Some choose to use both: rolling hand towels and folding bath towels.
What is the art of towel folding?
Towel origami, which is another name for towel folding art, is a used method in the hospitality sector to create eye-catching displays for visitors, especially in hotels and cruise ships. It's also a whimsical and enjoyable approach to incorporating elegance into bathroom design.
What can I use to hang towels?
You may hang towels in your bathroom from a variety of fittings and accessories:
1. Towel Bars: Traditional wall-mounted horizontal bars are perfect for holding bath towels.
2. Towel Hooks: Smaller towels and robes work well with one or more hooks that offer convenient access.
3. Towel Rings: Hand towels fit well in circular wall-mounted fixtures.
4. Decorative Racks: Stylish racks provide a beautiful element in addition to their usefulness.
5. Over-the-Door Hooks: Hooks that save space by hanging on the back of doors.
6. Towel Ladders: Wall-mounted or slanting ladders are beautiful options for holding many towels.
7. Towel Warmers: Heated towel bars provide a wonderful towel experience.
Is a bar or hook better for hanging towels?
To hang towels, select between bars and hooks based on your desire and the type of towels. For bigger bath towels, bars are perfect because they let the towel air out and dry, lowering the chance of mildew. Hooks provide quick access and convenience and work well with hand towels and smaller towels. For most bathrooms, a mix of the two methods can work best.
What is an ideal space to hang towels in a modern bathroom?
Towels are usually hung in a modern bathroom on sleek towel bars, hooks, or racks that are fixed on the wall. For bath towels, towel bars are located next to the shower or bathtub; for hand towels and robes, hooks or racks are positioned in convenient locations.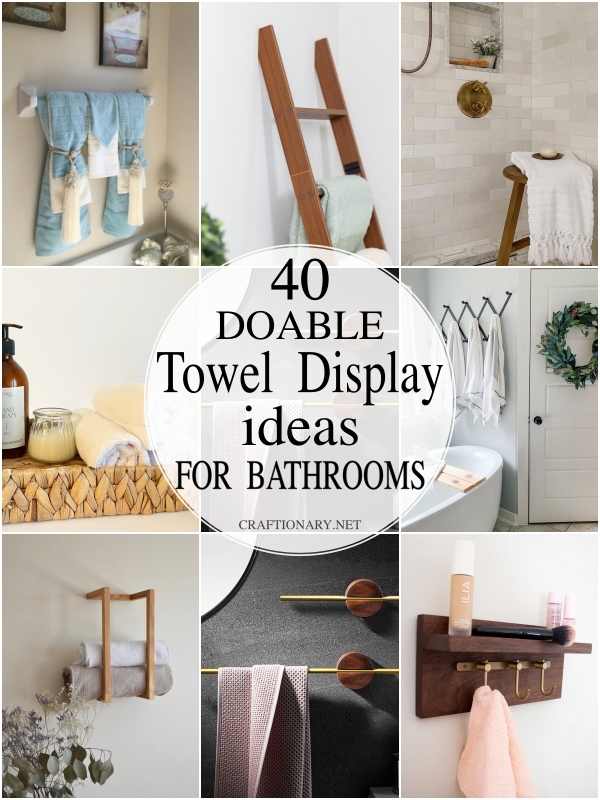 Towel display ideas for bathrooms
There are several different bathroom display ideas which are as follows:
White Bathroom Towel Display with a fan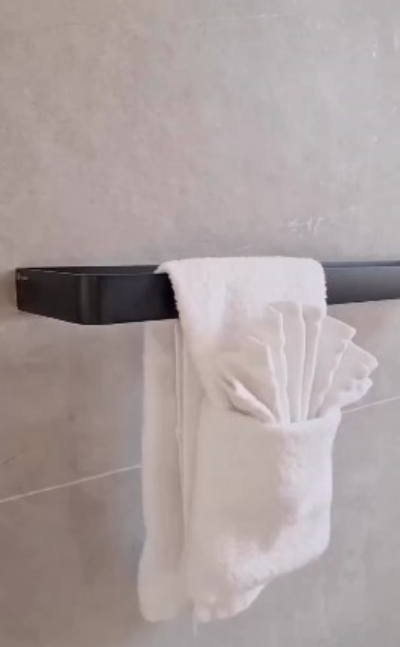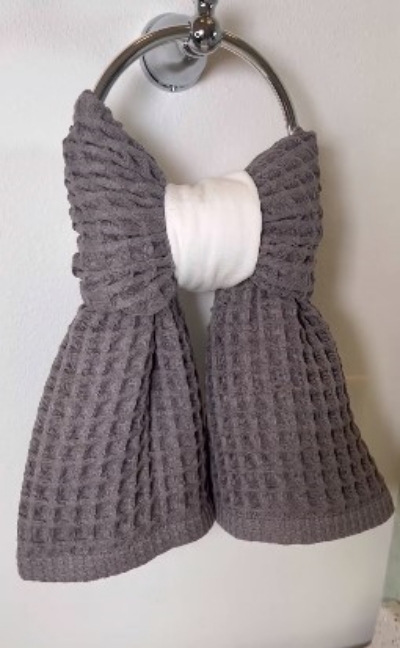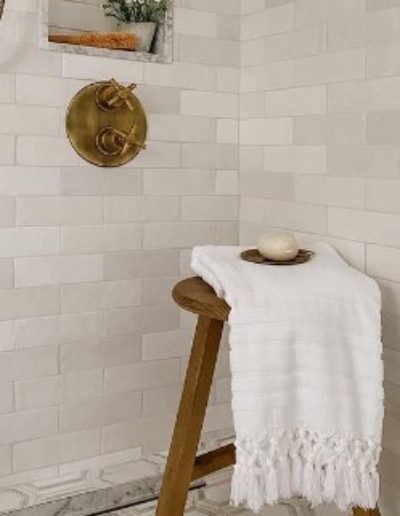 Bathroom hand towel display ideas
You can organize your hand towels in various ways and some of the best are as follows: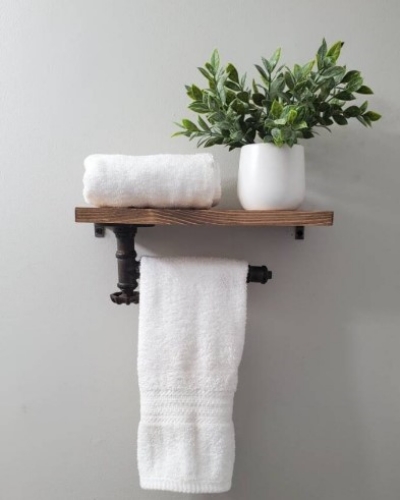 Knot Turkish Hand Towel on Ring Display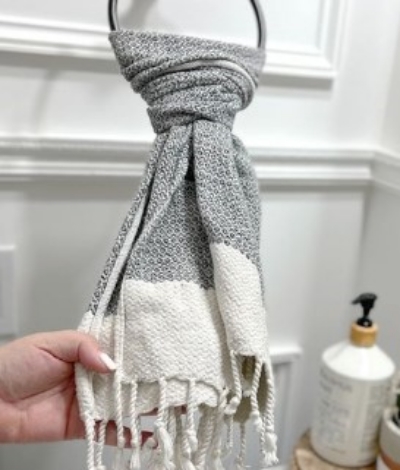 Hand Towel on a Tabletop Metal Rack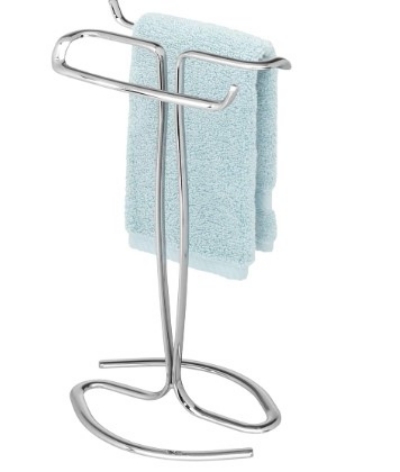 Wood Hand Towel Hooks with Brass Towel Hangers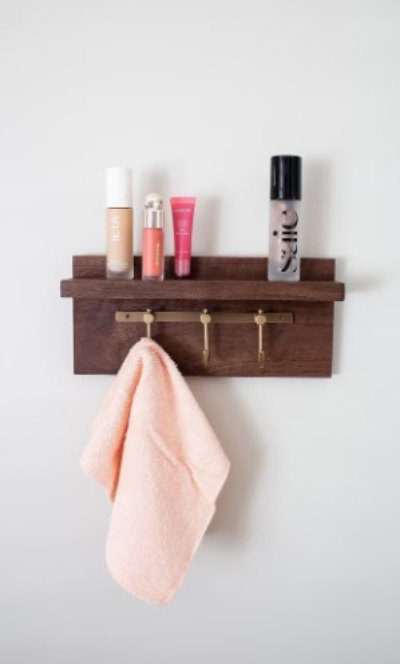 Gold towel and accessories stand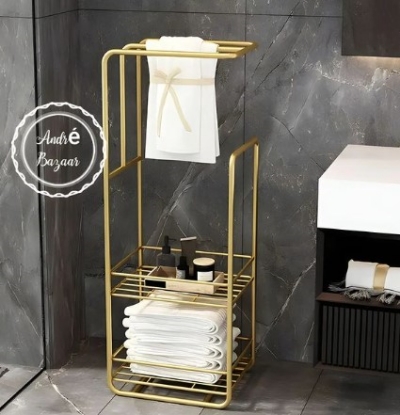 Turn a vintage cabinet into bathroom vanity and add a side railing for hanging towel.
Accordion peg racks for towel hanging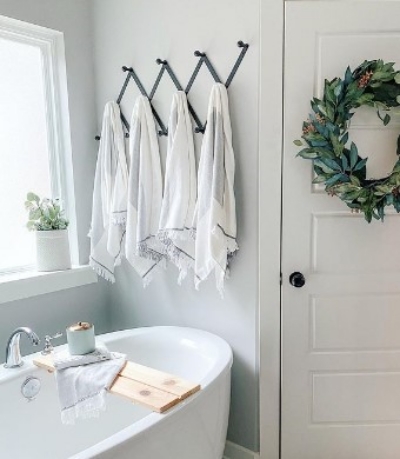 Bath Towel Display Ideas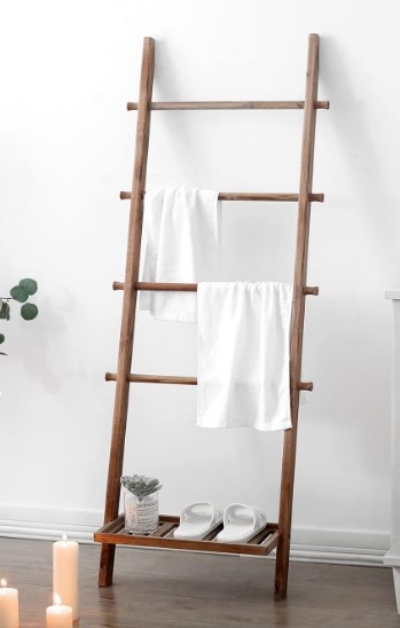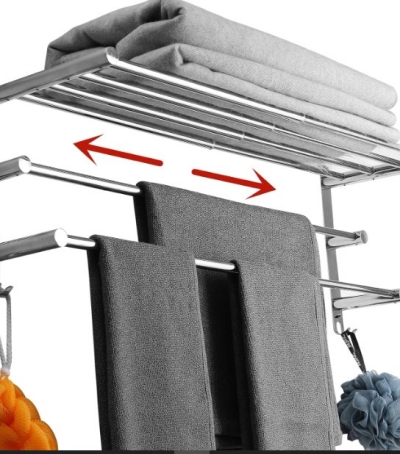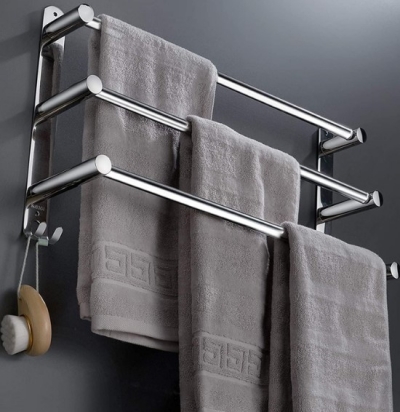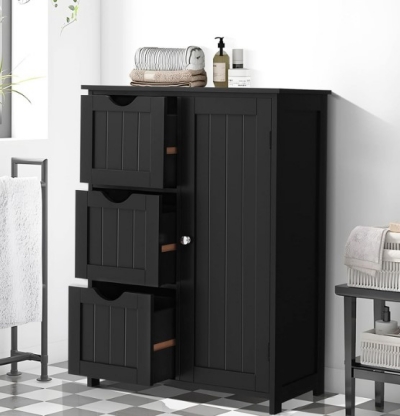 Oak farmhouse wall towel holder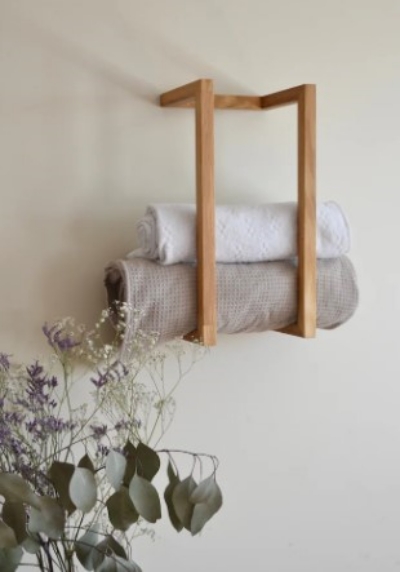 Walnut Floating Storage cupboard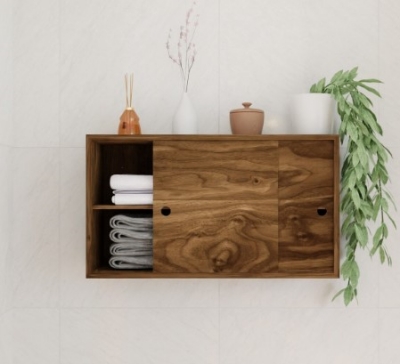 Minimalist Modern Wood Towel Rack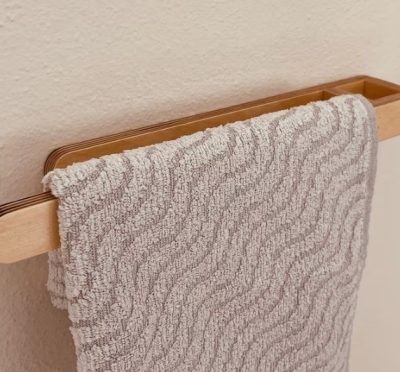 Rustic Industrial Towel Holder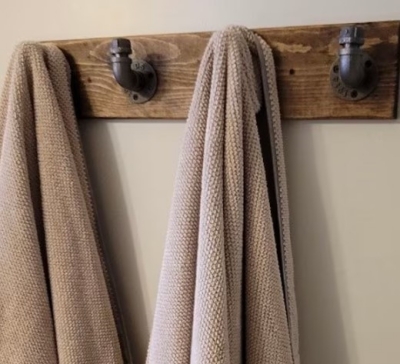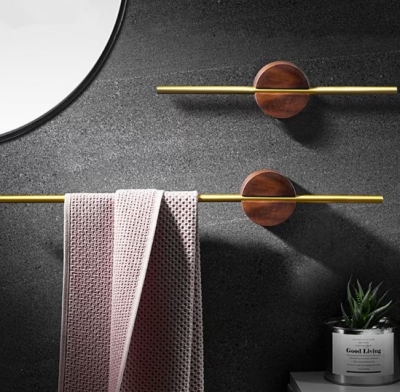 Guest Modern Wall Mounted Towel Rack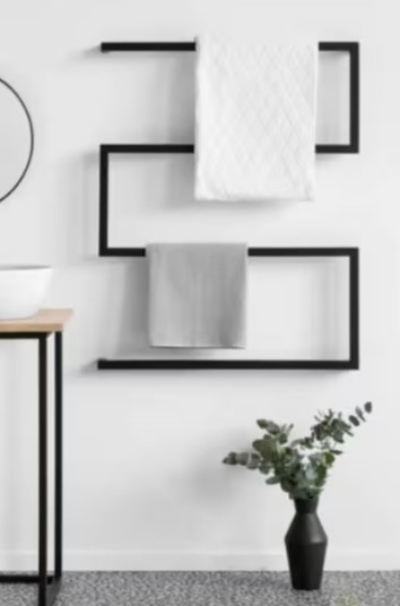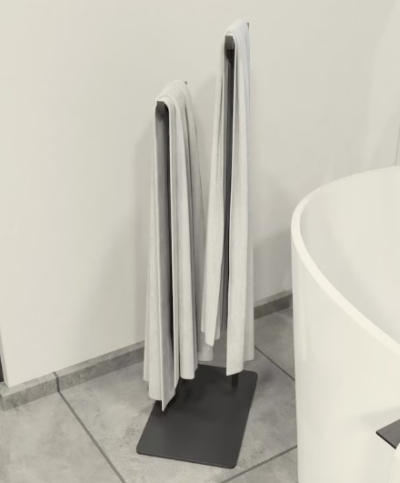 Square Towel Holder Display Idea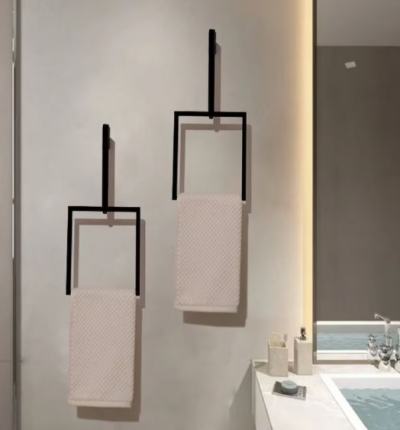 Wall Mount Towel Rolls Organizer – unknown source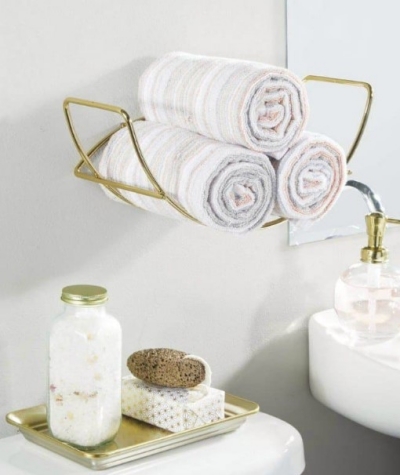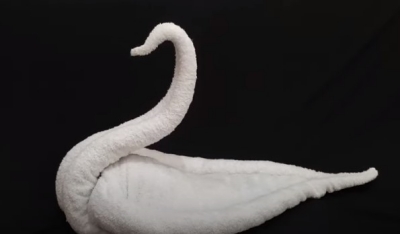 Hanging Towel Display Ideas
Hang and tie to make towel loops on a bar for displaying towels – unknown source.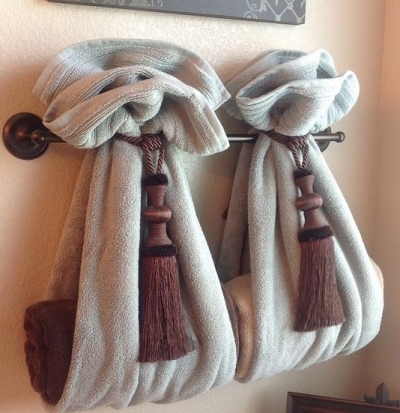 Use curtain tiebacks around a set of towels on bar via Pinterest.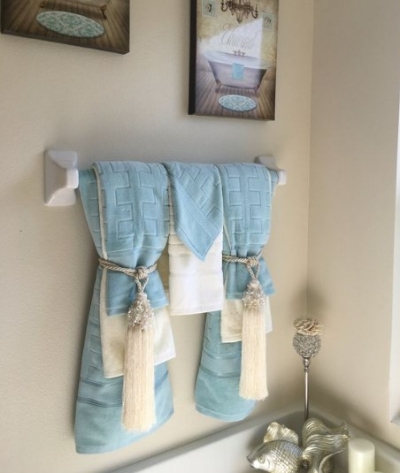 Macrame towel over the rod hangers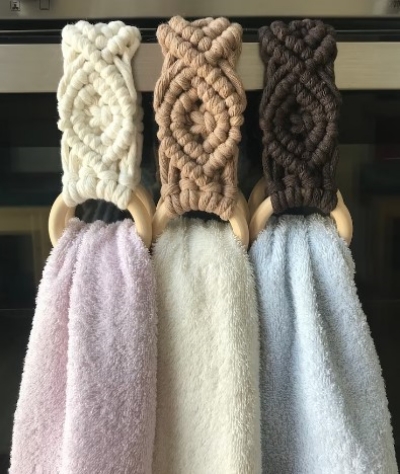 Nautical Manila Rope Towel Rail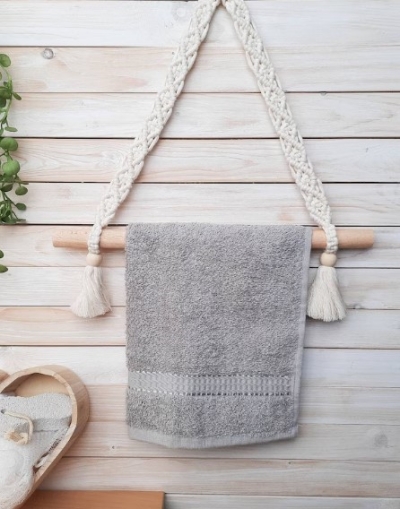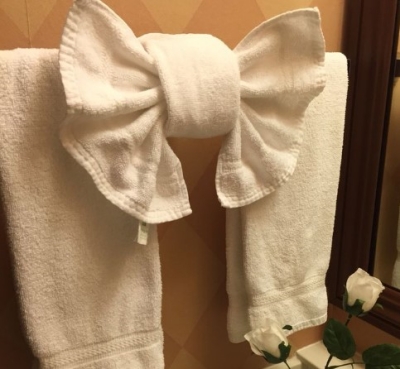 Under the sink Towel Bar for small bathroom.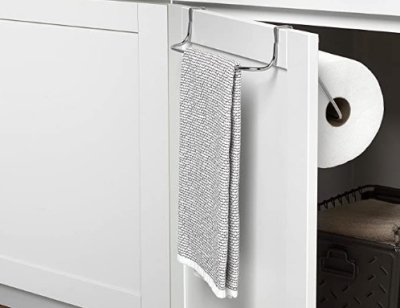 Guest Bathroom Hand Towel Ideas
Small face towels lavender embroidery for guest bathroom in a woven basket.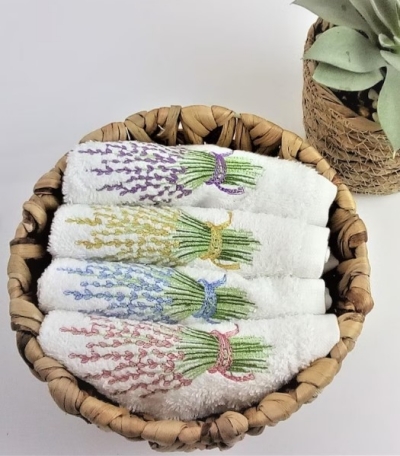 Rustic Bathroom Decor – unknown source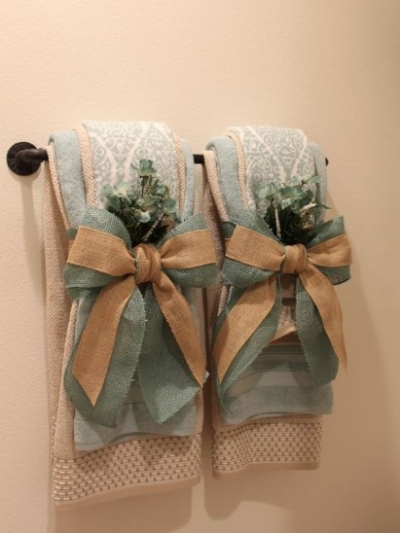 Rotatable Wall Mount Towel Wooden Bar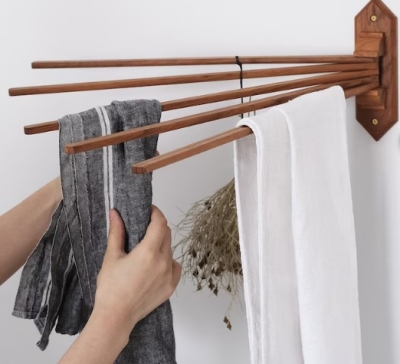 Tiebacks and Clips for Towel Display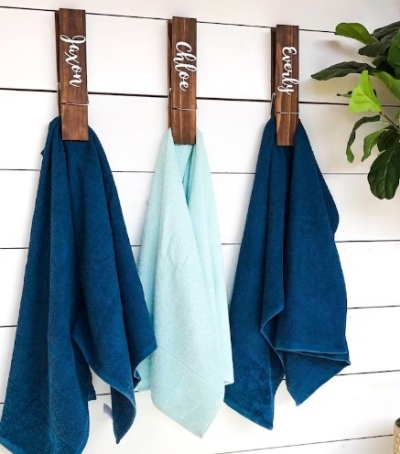 Hand Drying Towel Display in a Basket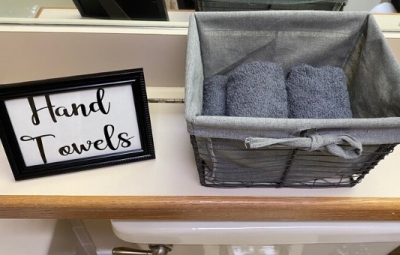 Use coat hooks to display bathroom towels like this Hand forged Metal round towel holder.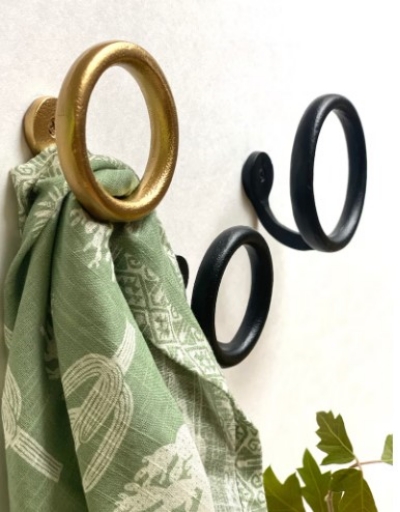 Use seasonal accessory or ribbon to tie a hand towel to hang over a bath towel – unknown source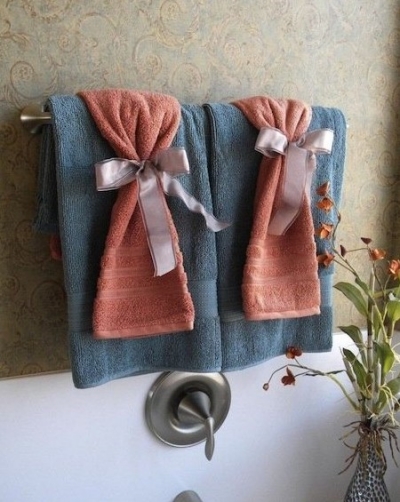 Over the door towel rack for small bathrooms.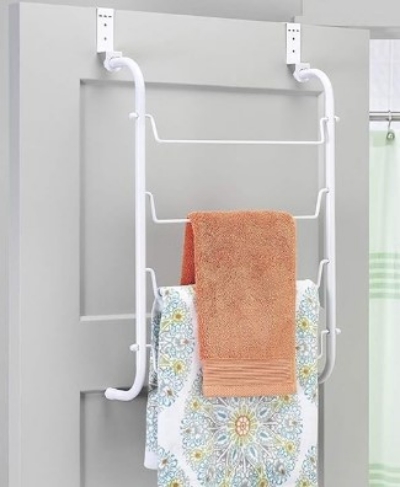 Make your bathroom decor stand out with unique towel displays. These 40 designs provide a range of aesthetics and methods to turn your bathroom into an opulent and fashionable haven. Select the one that best fits your style and design.
Author: Alveena Nazir