This post may contain affiliate links. Please see our full Disclosure Policy for details.
I am loving chevron and gray lately. So, I made personalized silhouette canvas art. I went with red and yellow as contrasting colors for the scheme. The happiness of yellow and neutralization of gray is a perfect for sunny days. And black and white decorative accents will add some glamor to the room. I'll be sharing updates on the room later.
So today I am sharing with you:
Chevron painted silhouette project canvas
Painted canvas tutorial
Material to make silhouette project
Canvases
Black paper (for silhouette images)
Cardboard
X-Acto knife and self healing mat
Acrylic paints


 
How to make silhouette project?
I made a Chevron (Zigzag) printable on photoscape. You can use any online tool.
Print chevron (zig zag)
If you would like to use the chevron pattern for your projects, you can Print/Download it here.

There are 4 sizes for ease and suitability.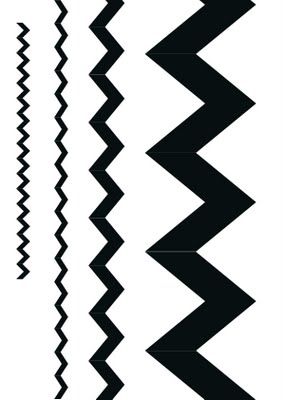 DIY Cardboard chevron stencil
Now (with the help of an X-Acto Knife) cut the chevron pattern out of a piece of cardboard. Use self-healing mat for safety purposes. You can also use freezer paper or transparency sheet for making a stencil.
Paint chevron canvas
Using the Chevron stencil as your guide, paint on the canvas. I used acrylic paints for painting.
For Gray color– The simple black and white combination.
For Dark Yellow– I added a hint of red to bright yellow.
I couldn't make up my mind about using the canvases horizontally or vertically. So, I hung them on the wall to decide. And I realized:
If the wall is wide, the horizontal chevron looks better. On the other hand, if the wall is high, go with the vertical chevron. It makes sense that way and adds feature to the room.
Silhouette cutouts
Take side images of your family. And outline the details. Use the outline as your guide to cut out silhouettes on a black paper. It took me ages to have my son's one sided photo.
Try to display silhouettes on canvas and see what works best.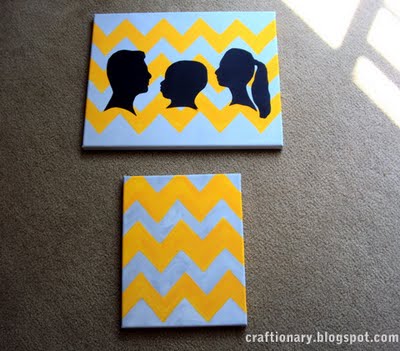 I decided to arrange the family silhouettes like this: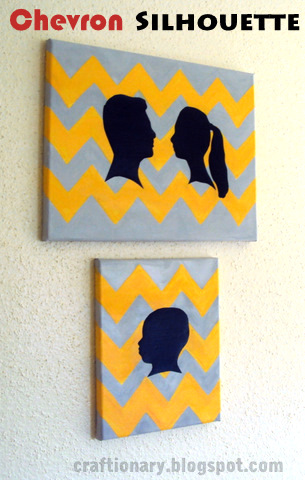 And that's it.
You will also like:
Looking for Wall Decorating ideas?
Are you on pinterest?
These are updated regularly whenever I find unique ideas.