This post may contain affiliate links. Please see our full Disclosure Policy for details.
Make a vintage pressed flowers in frame with fresh flowers dried with parchment paper and flower press or heavy books. Use glue stick to make your flower arrangement on a double glass frame in seconds. Display pressed flowers in frame and enjoy your easy moody decor. Use pressed flowers as decorative embellishment in art and craft projects like jewellery, greeting cards, phone cases and even vases.
Pressed flowers can maintain their natural color for 5-7 years with some timely fading. However, the fading makes it more classical and vintage in my opinion resulting in more value. You can combine it with vintage metallic, brass and gold to create mood.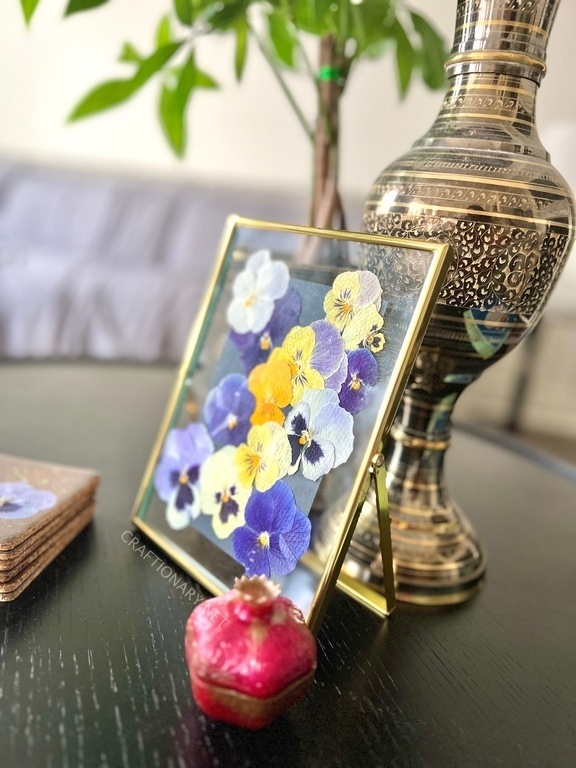 Methods to dry flowers?
There are several methods to dry flowers:
1. Air drying method:
Hang bunches of flowers upside down in a dry, ventilated space, away from direct sunlight and moisture to allow them to completely dry for 3-4 weeks. A store room or garage will work for this simplest and natural way.
2. Silica gel:
Submerge the flowers in silica gel or cornmeal inside an airtight container or sealed bag. Allow it to absorb all the moisture out for 2-3 days. It is a fast and effective method but can be expensive and messy as well.
Use matte clear spray, aerosol hairspray or adhesive spray to seal dried flowers for extra protection.
Dry flowers in seconds with this simple microwave press. Arrange fresh, undamaged flowers on a paper towel and put another paper towel on top for absorption. Top with a microwave-safe plate, corrugated cardboard or ceramic tile for weight. Microwave for 30 seconds and check. Spin for another 30-60 seconds. Depending on the flower the timings may vary. Gently remove flowers from the paper and use them in your projects.
Microwave drying flowers is the quickest technique but it is not suitable for all flowers. It may also not preserve the color and shape of the flowers as well as natural drying methods. Make sure to test your flowers first.
5. Oven drying:
Place the flowers on a baking sheet and dry them in a low-heat oven for several hours, or until they are completely dry. This method is quick but may not preserve the color and shape of the flowers as well as other methods.
6. Traditional method:
Layer the flowers between paper towel and iron on lowest setting. Increase the heat if required. This old flower drying method may result in fading of colors resulting in discolored flowers.
7. Waxed Paper:
Place your flowers between two sheets of waxed paper and cover the waxed paper with a thin cloth. Use low to medium setting to press with a warm iron. The cloth prevents the iron from waxy residue.
8. Pressed flowers:
Press flowers between layers of paper towel to flat dry under heavy books or homemade press. You can also stack layers of flowers over each using paper towel as layer between them. Make sure to place lots of weight on top and let them dry for 2-3 weeks.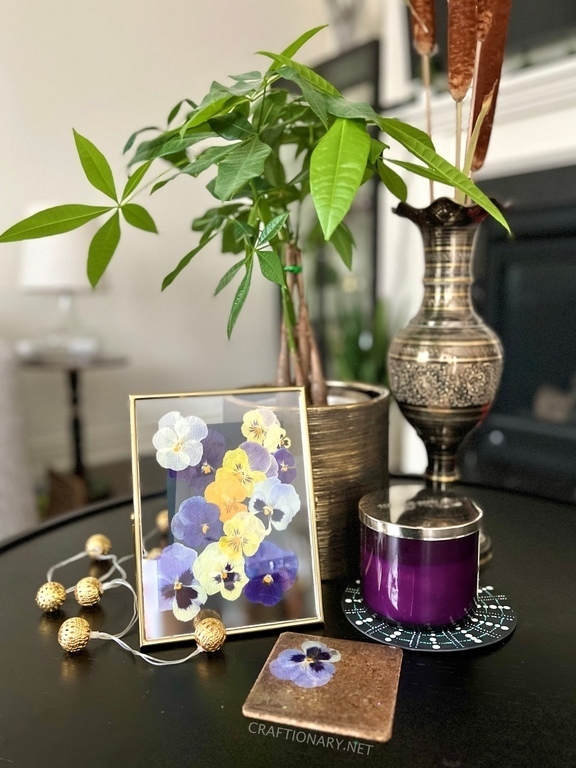 9. Diary book:
Old books, telephone books, and diaries work well for small flowers like pansies as standard press. Put the flowers either directly between the pages or between layers of paper towel. The thicker the books the better. Stack more books or bricks on top of it and let the flowers dry for 2-3 weeks.
Pressed flowers video:
I also made a video showing the entire process as well.
Pressed pansy flowers:
1. Make a homemade press with bulky books for example.
2. Use scissors or flower cutter to cut fresh pansy from the stem, leaving about an inch of stem attached to the flower. It is best to pick pansies from your garden in the late morning so that they are not wet from early morning dew.
3. Place a sheet of paper towel and arrange your flowers on it with flower front facing down. Keeping a distance between them such that they don't stick together.
4. Place another paper towel on top. The paper towel absorbs extra moisture when the flowers are pressed.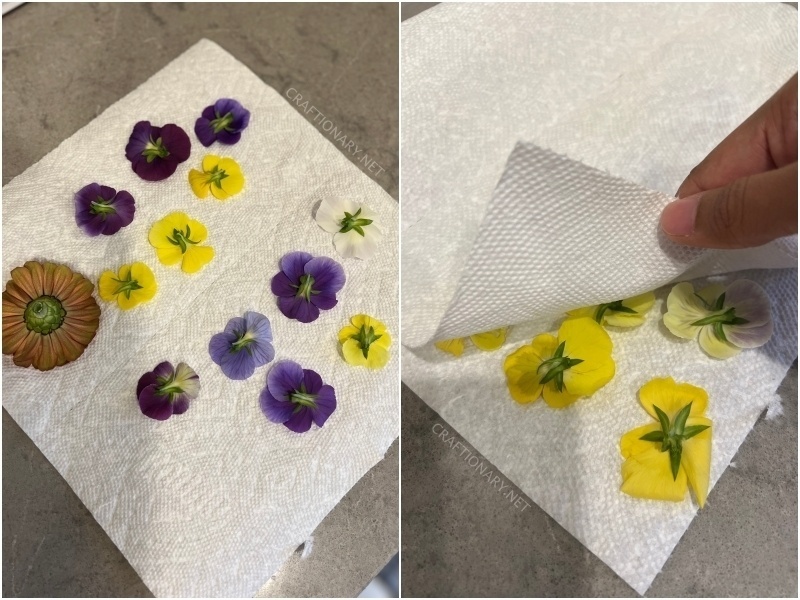 5. You can stack layers of flowers over one another with paper towel as the absorbing and separating layer between them. This way you can press dry lots of flowers at once.
6. Apply weight. The more the weight the better. Use books and other heavy essentials to layer on top.
7. Allow the flowers to naturally dry for 3-4 weeks or till they are paper-like to touch.
8. Check by removing the paper and you can easily tell when they are dry. They should be papery.
9. Style to frame dried flowers and enjoy your real flowers art.
Learn what to do with dried flowers for more fun ideas.
What type of paper can I use to press the flowers?
You can use any paper that absorbs moisture from the plants. Texture paper and paper towels can leave marks on the blooms and leaves.
Smooth paper towel
Newspaper
Tissue paper
Newsprint
Plain white paper
What things can I use as weight to press flowers?
Book stacks
Tools
Exercising weights
Metal sheets
Wood boards
Bricks
How to make pressed flowers frame?
I am using a two glass gold frame from dollarama.
Carefully peel the pressed flowers from the paper and arrange on your choice of frame.
Once you are happy with the desired pattern, make sure to take a picture so that you remember the arrangement.
Remove all the flowers from the frame.
Cut a piece of cardstock or mat board, and use glue stick to make the back of the flower sticky and press it on the paper. You can also choose to directly glue it on the glass. The use of black paper makes them stand out against the background in my opinion.
Make sure to handle the pressed pansies carefully as they are delicate.
DO NOT slide the glue stick on the petals but instead slide the petals on the glue stick. This step is important to reduce friction which tears apart the petals sometimes if the force is more.
Once you are happy with your arrangement, remove the two glass sheets from the frame and glue the paper on the back glass using glue stick. Now sandwich the flowers between the two pieces and slide it inside the frame.
The gold frame with brassy metals brings the classical vintage touch and with time as the flowers age they will have a vintage pressed flowers richness.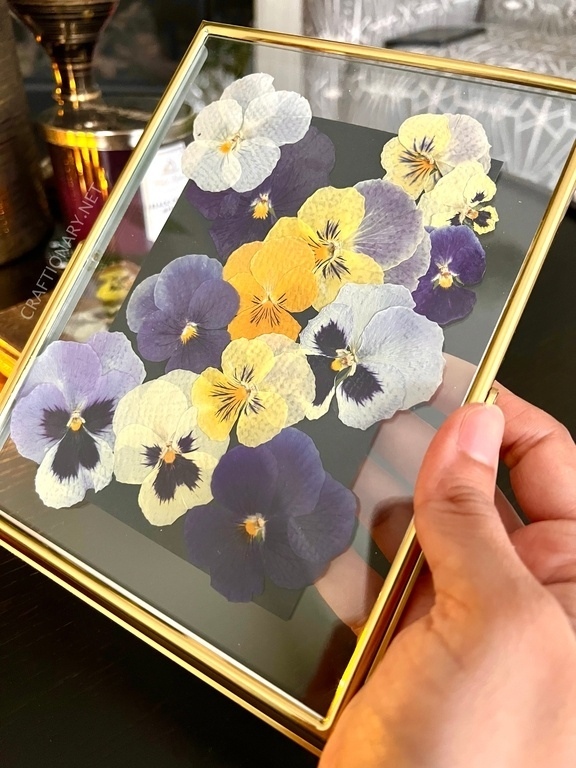 What types of glue can I use with pressed flowers?
You can use art school glue that dries clear, is odorless and colorless. Apply a thin layer of easy to use glue to stick and seal your pressed flowers. Some choices are as follows:
What type of frame to use for pressed flowers?
You can use a variety of frames to make pressed flowers art.
Tips for pressed flowers in frame
I recommend using glue stick as it dries quickly. However, if you plan on using any other form of glue make sure that it is completely dry before you close in a frame. If there is any moisture in a non-ventilated space like an enclosed frame it may result in mold and ruin your project.
Keep them away from direct sun and heat to reduce aging and fading and do the vice versa to increase the discoloration of flowers. Heat can also crack and break the flowers.
Best way to avoid flowers turning brown is to press them as soon as you pick them. However, if they are wet one technique is to immerse them in silica gel crystals in a sealed bag, bowl or airtight container for 1-2 days to dry them out and then press them.
Use mod podge to seal your pressed flowers for years. It protects them from moisture, breakage, damage, crumbling and even degrading.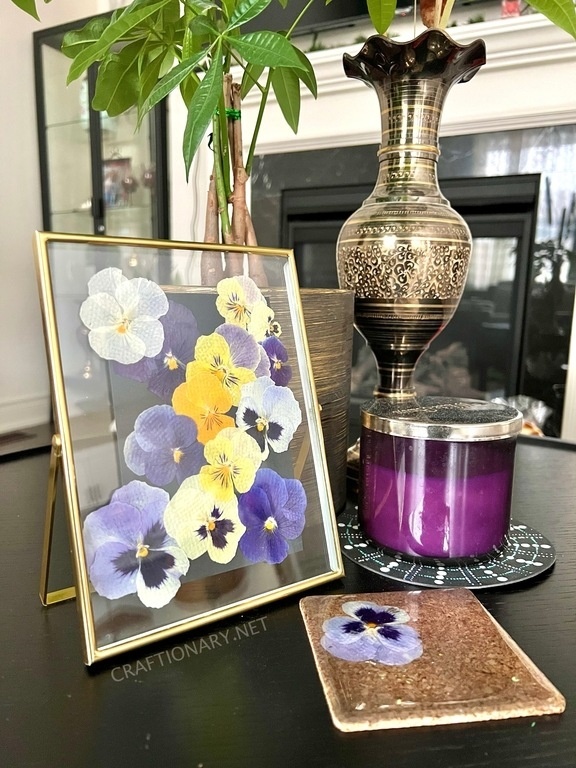 Commonly dried flowers
Air drying methods are usually used to preserve the shape of the flowers, however, press drying is more common for flat drying.
Pansies
Geraniums
Daises – cut circle of paper towel for the bud and another larger circle for the petals to flatten it for proper drying.
Roses – cut in halves to flat dry properly.
Grasses
Ferns
Other foliage
Baby's breath
Bouquets and more
Best ways to display pressed flowers?
Vase or pitcher
Wreath
Jewelry
Canvas or glass frame
Mirrors
Lamps
Journals or personal letters
Greeting cards
Art pieces
Tabletop with glass
Tray
Coasters
Gift wrapping
Phone case
Furniture pieces (learn What color to paint your furniture?)
Terra cotta planters
FAQs
Does pressing flowers ruin books?
Fresh flowers have moisture and pigment. Layer your flowers between tissue paper on either sides of the book page and it will absorb the color leaving your book just fine.
How soon should you press flowers?
You do not have to wait to start pressing your flowers. Freshly picked flowers from your garden or bouquet should be pressed as soon as possible.