This post may contain affiliate links. Please see our full Disclosure Policy for details.
 These clever and unforgettable ways to display plants indoor are stylish for almost any home decor throughout the year. Whether you like plant stands, pots, containers, hangers or wall planters these are creative options for any choice. The plants can be showcased in the house using artificial light, led light or sunlight depending on the type of plant. Decorating with houseplants is fun and rewarding,
It's hard to find that one best way to display plants indoor. These Creative Indoor Plant Displays for home are for all those who are green at heart. Winter is coming! I'm sure everyone's worried about loosing their beloved plants under the thick, frosty, white snow. For the upcoming months their won't be anything green to look at. That is not true, because it is said "Nature Never Goes Out Of Style". Don't let the winter wind chill your gardening heart.
Ways to display plants indoor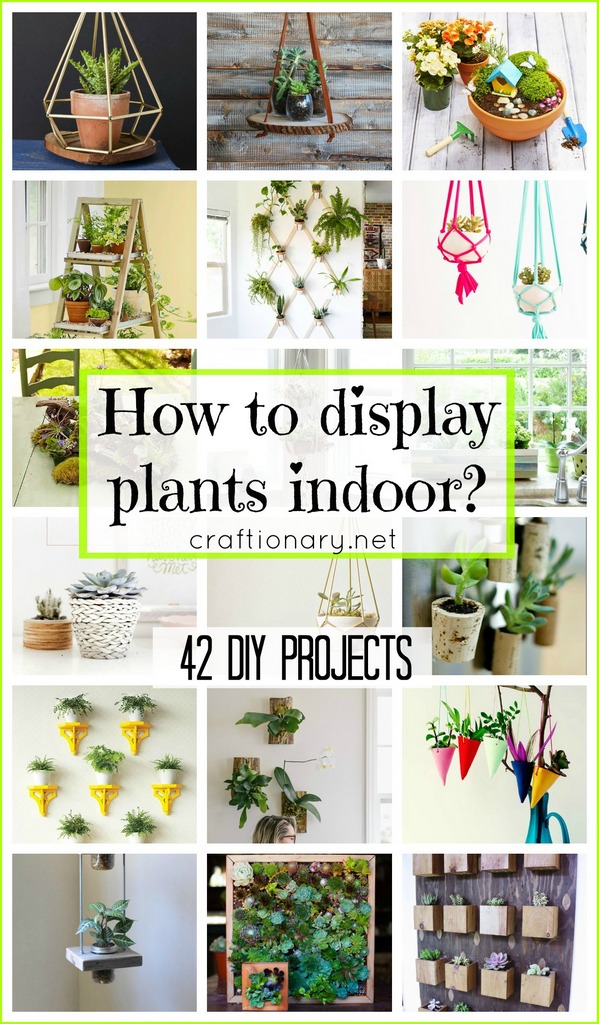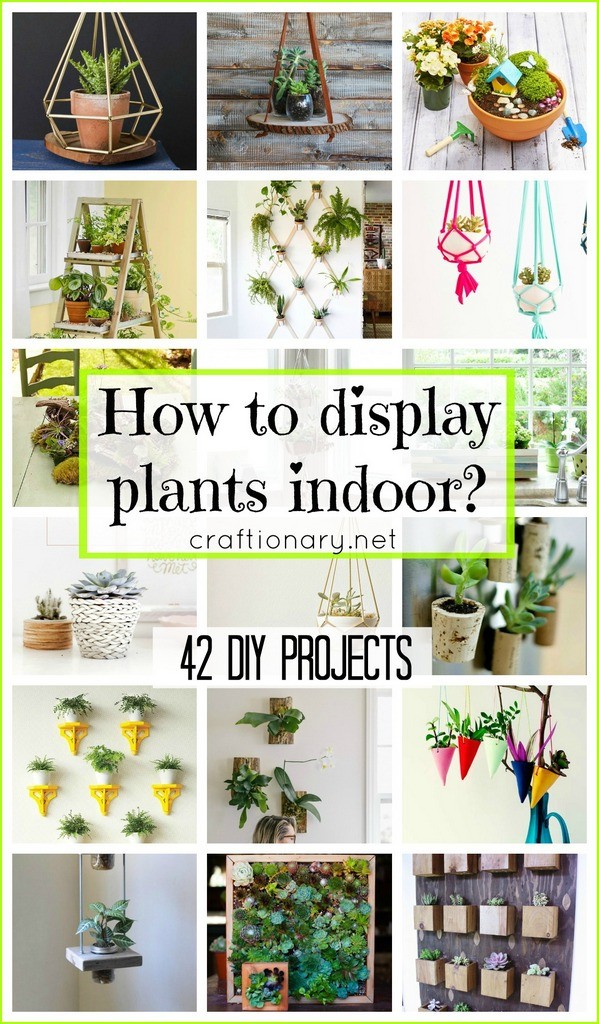 DO NOT COPY, EDIT, SAVE OR PASTE THIS IMAGE. COPYRIGHT OF CRAFTIONARY.NET
TABLE TOP INDOOR PLANT DISPLAYS
Table Top Woodland Garden
This unique DIY indoor plant display takes your table top center piece to a whole new level of green. This winter follow these simple instructions on Table Top Woodland Garden Display and make this cold, white winter into colorful and heart warming winter.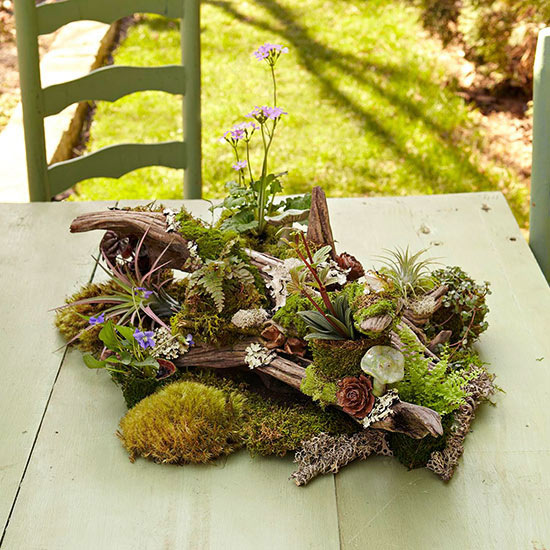 Make Your Own Terrarium
Terrariums bring such beauty into the room and soothes our eyes. Looking at a terrarium makes us think it has to be expensive and so difficult to create the view. Here's a tutorial for you to Create your own Terrarium and make others think the same way.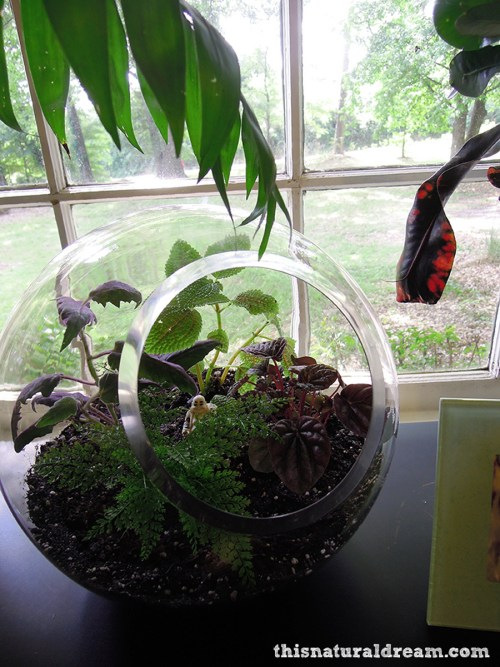 Table Top Foliage
This winter decorate your table on thanksgiving or Christmas or may be even new years eve with a collage of plants that include good old house plants with lush foliage to give your party a leafy touch. Instructions to make this Foliage are given at DIY Table Top Foliage.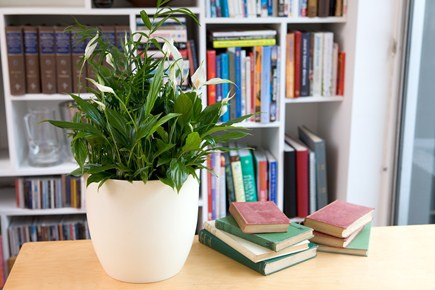 Rustic Rock Plant Display
Recycling and growing plants go hand in hand. If you wish to show off your green thumb in style than decorate your your tables with this easy DIY Rustic Rock Plant Display. The tutorial uses a Pringles box as a base for vase, you can substitute the base according to the availability of the material at hand. More DIY vase ideas to display indoor.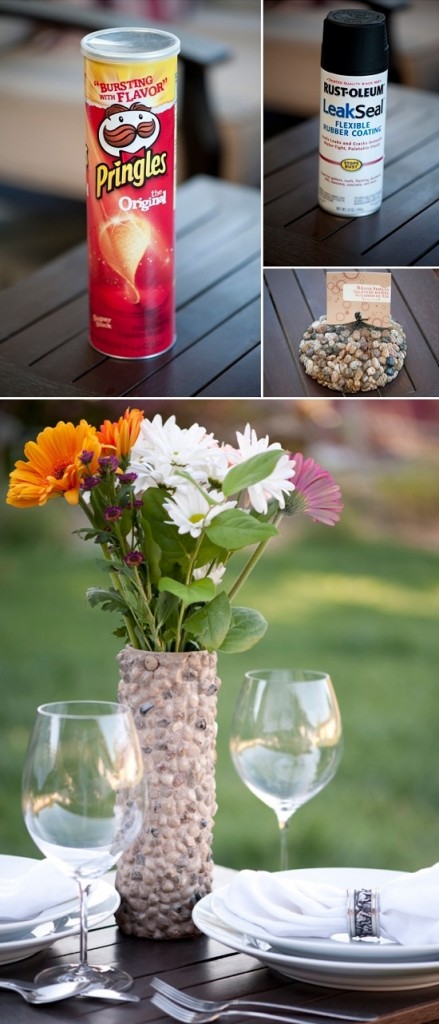 Indoor plant display stand
I love this display idea for plants indoor, especially gives me an idea for improvising an old ladder for decorative and fresh look in the house. You can also make DIY frame plant stand.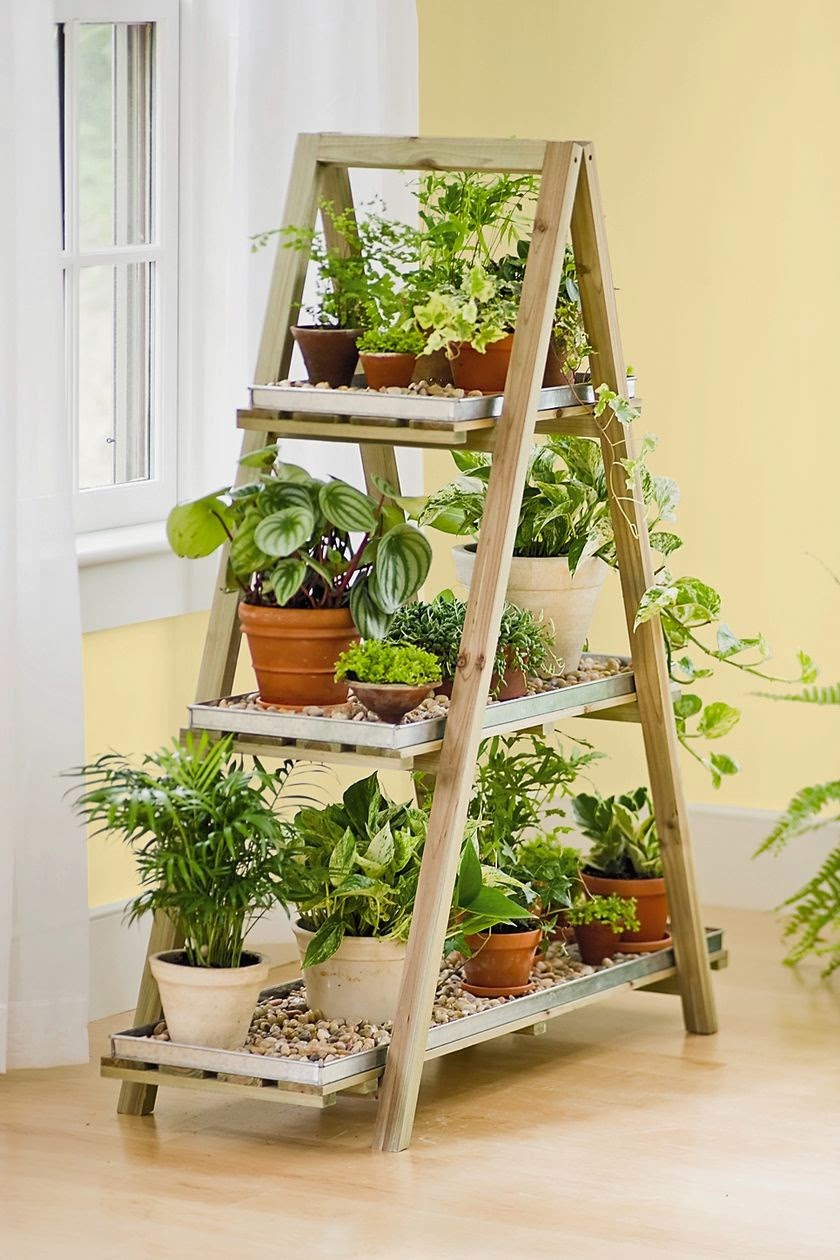 Rope Pot Plant Display
If you don't have fancy planters and you do not wish to spend much on those fancy equipment than this DIY Rope Pot Planter is going to help you solve your indoor plant display problems. Use this technique with rope and yarn to create as many sets of planters as you want to display plants.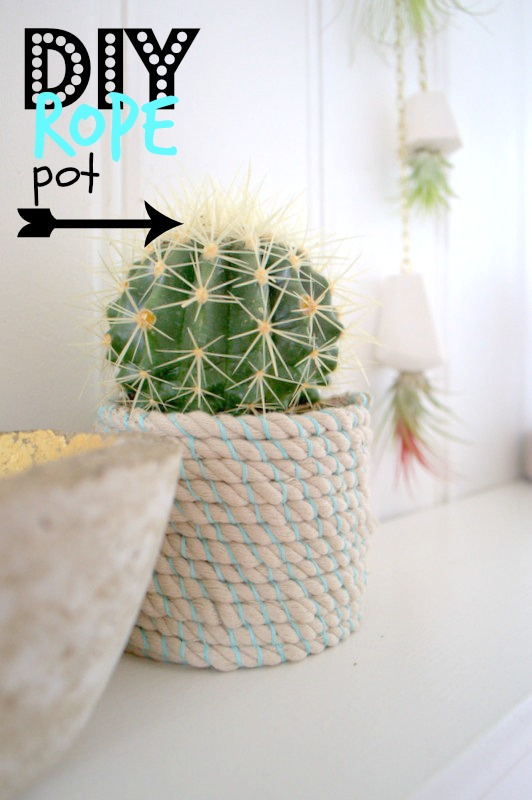 Plaited Pot Plant Display
 Whether indoors or outdoors, it is necessary to keep your pots filled with lovely green plants and blooming flower, but in order for people to notice your plant you also need to decorate your pot. Here's a simple DIY Plaited Pot Plant Display to cover up that rusty red color of your pots using Clay. You can use a different colored clay to compliment your interior.
Mini Tiered Plant Stand
A DIY Mini Tiered Plant Stand is a beautiful way to decorate your front Porch or if you live in an apartment I'm sure a small corner of your apartment needs that soothing touch of blooming plants. Learn how to make this compact sized pot stand with simple illustrated instructions.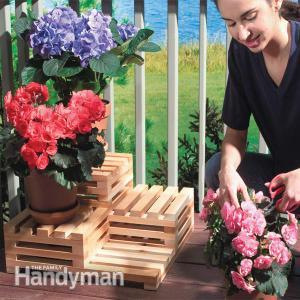 Mini Magic Garden
"Why try to explain Miracles to your kids when you can just have them plant a garden." It sounds so much fun when you find activities that can be done with your family altogether in one place. Help your kids learn and have fun with this DIY Mini Magic Garden tutorial. It involves variations according to your kids imagination.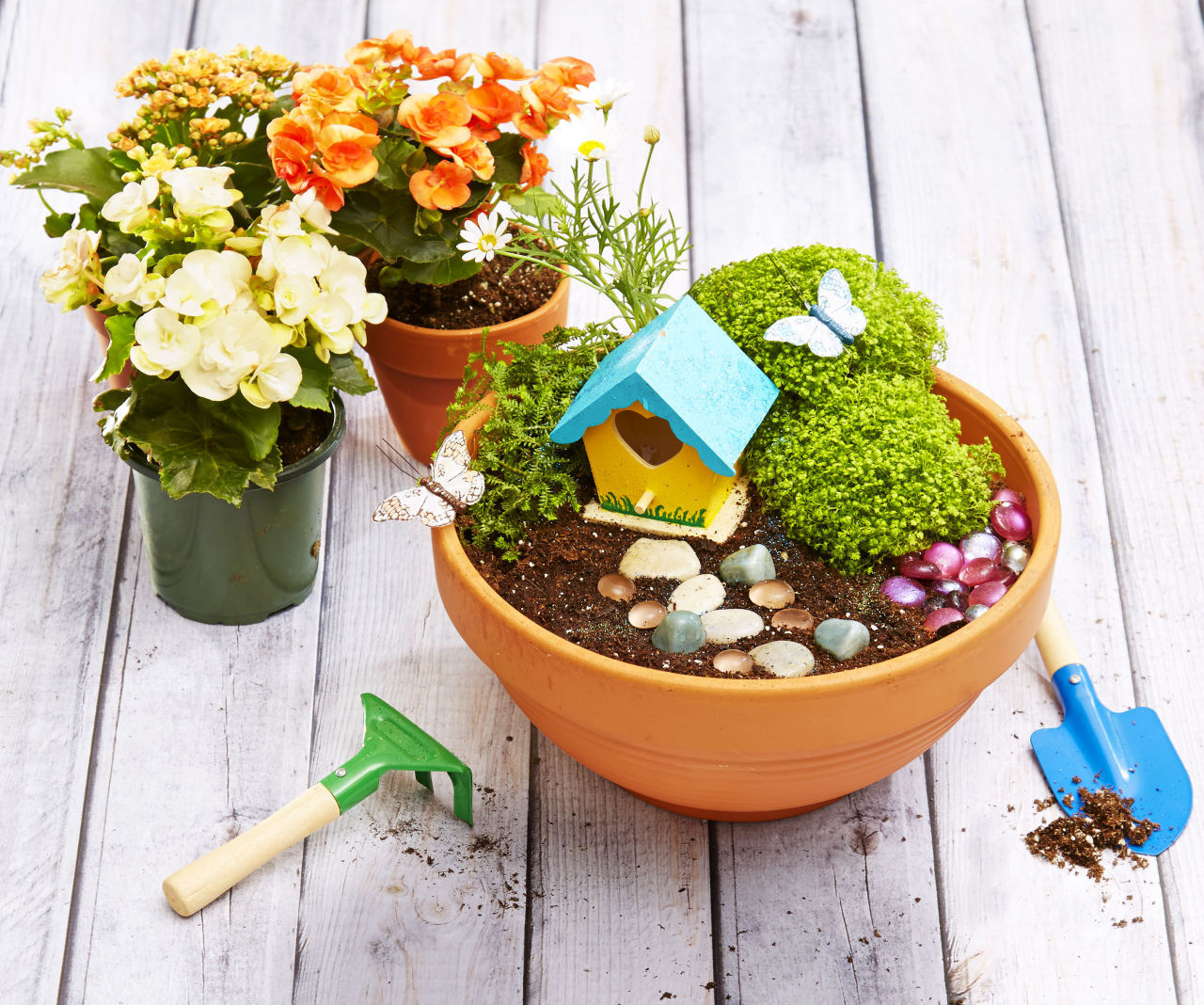 Indoor Glass Case Planter
Make your coffee table center piece from just 3 materials into an expensive looking piece of art with this DIY Indoor Glass Case Planter. All it takes is a glass container, some fern plants and fertilized soil and TA-DA.
Himmeli Gem Plant Cage
If you love to have indoor plants but cannot keep them inside without your kids or pets ruining them, than cage them in an elegant style with this Brass Tubing tutorial Himmeli Gem Plant Cage. Brass tubing is hard to cut and consumes more time but at the end all that effort is worth saving your plant.You can even make a hanging plant cage by suspending the wires from the tip with a strong rope or macrame.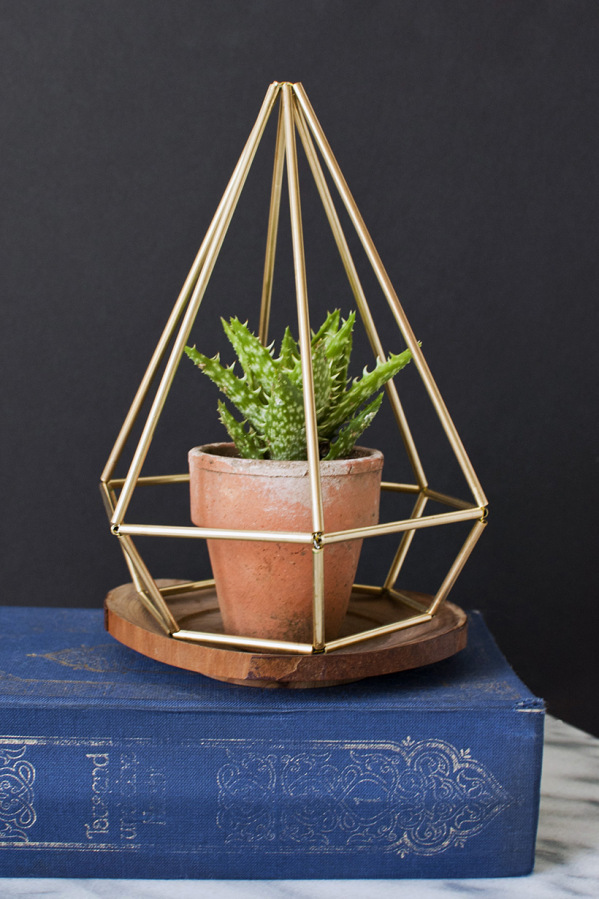 Clothes Pin Table Top Planter
As I said before recycling and gardening are definitely a great combination. This tutorial has used Tuna cans and Clothes pin to make a beautiful indoor herb garden pots, and to make it showcase-able they have given it a rustic antique touch with stain marker and spray paint. To have this visual in your kitchen just follow the link at DIY Clothes Pin Table Top Planter.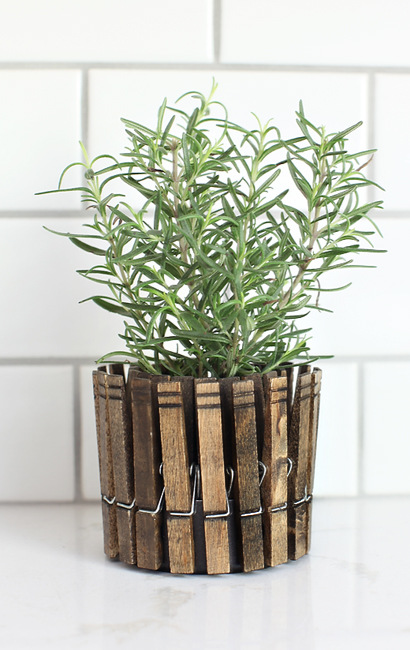 Clay Pot Planter
These cute and cuddly DIY Clay Pots are just the right thing and the right size to brighten up the dull window sill in your apartment, or you can make them as giveaways at your house warming party for your guests. It had no use of heavy tools and it does not involve shopping for expensive material. All it needs is a Clay, a scoop and your imagination to display plants.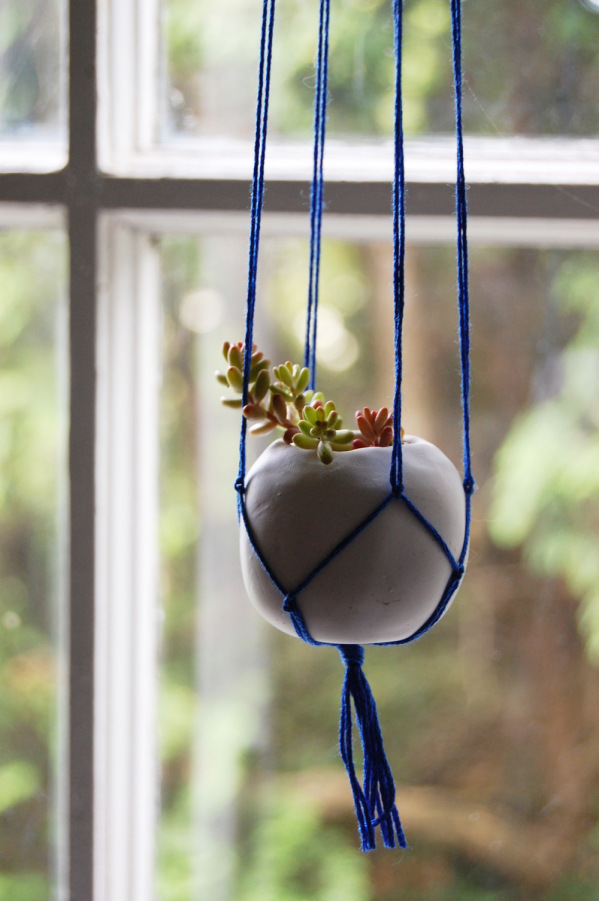 Chic Coastal Style Succulents
This winter make your home into a beach house by using succulents to create give your interior the coastal touch by using Apothecary Jars to display those succulents inside your home. Just follow the steps at DIY Chich Coastal Style Succulents. More fun ways to display apothecary jars and what to fill in them? Here.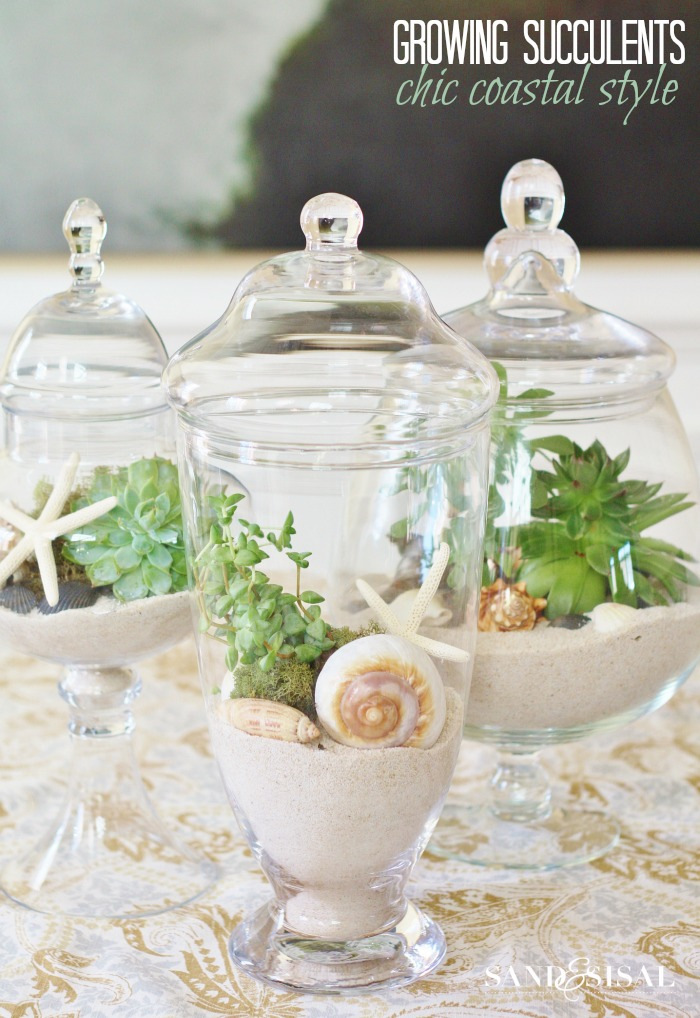 Air Plant Display Box
Air Plants are like a magical being for all the lazy gardeners. You do not need to soil or water these gorgeous looking miracles. But to keep them in your house with elegance you need to be artistic with the planter you use. Use this DIY Air Plant Display Box to create an elegant looking Air plant display.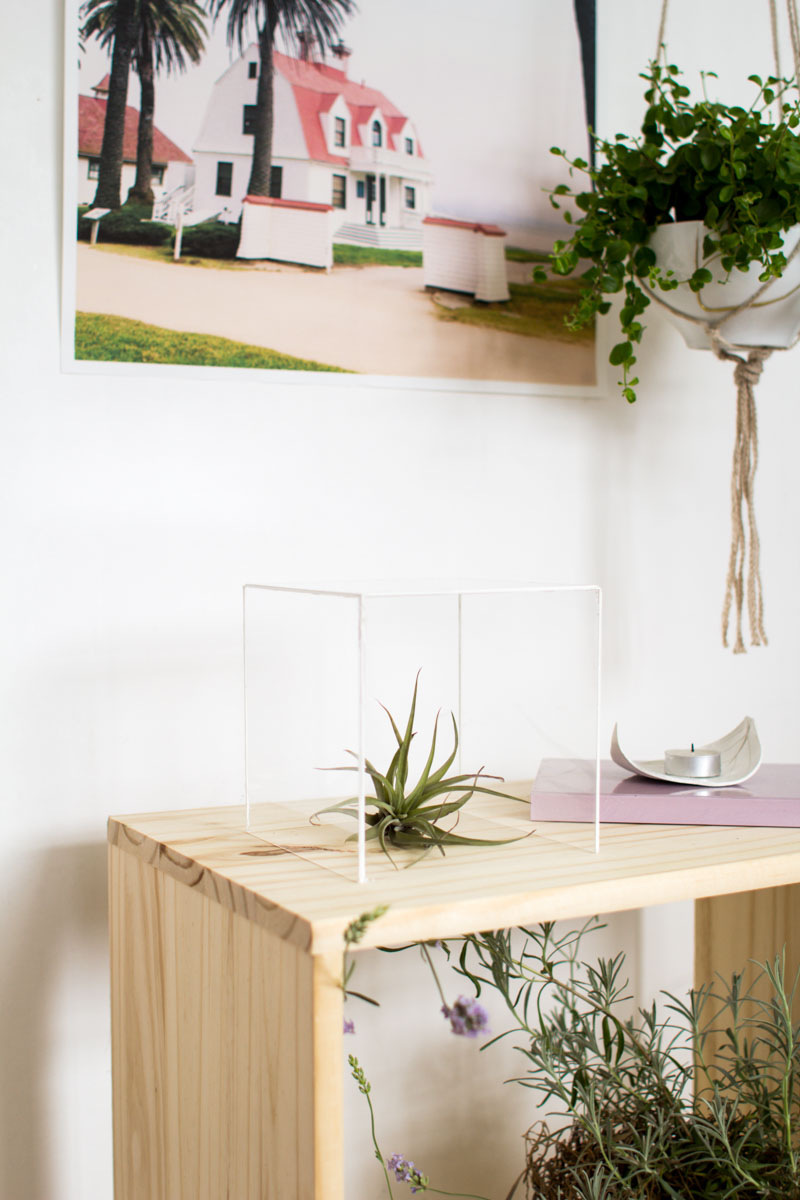 Vertical Herb Plant Display
It is difficult to adjust in homes with small kitchen space and a huge love for gardening . This  DIY Vertical Herb Plant Display is a space saving way to enjoy what you love and have the fresh aroma with healthy life style of your choice. This display uses different sized pots with holes for drainage and a light weight stiff rod to hold the structure together.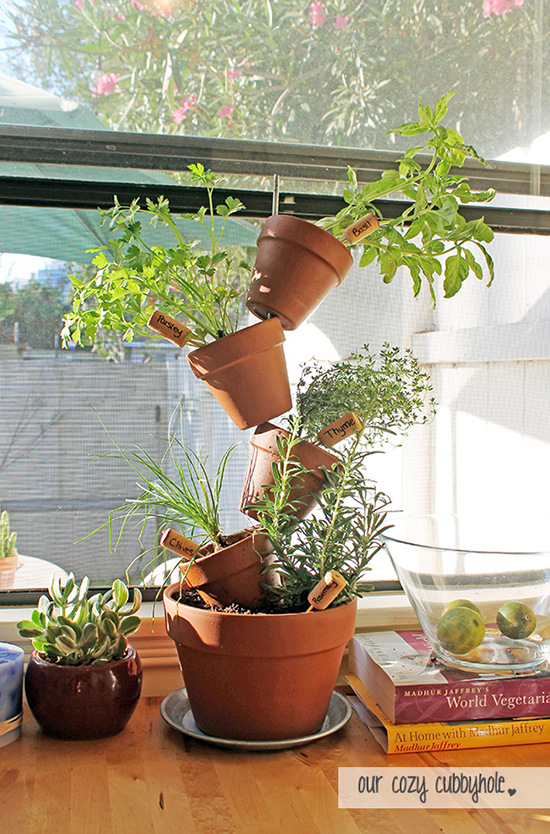 Tire Flower Planter 
Using a Tire in gardening used to be limited to just moaning your lawns. Not anymore though because this DIY tire Flower Planter is used as a substitute for your typical boring clay pots. Even though it seems impossible it is really easy to make them and plus the texture of the tire gives the planter a pretty classy look.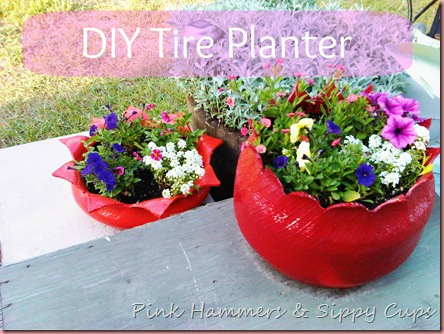 WALLED INDOOR PLANT DISPLAYS FOR HOME
Vertical Vegetable Garden Display
If you have an empty wall in your house and you don't wish to just put up more pictures of your family and you wish to have fun and make that wall useful. than use this Vertical Vegetable Garden display tutorial to learn how to transform that empty wall into a lush green garden. The technique requires a strong firm hand at work so ladies should get help from their fellow male friends.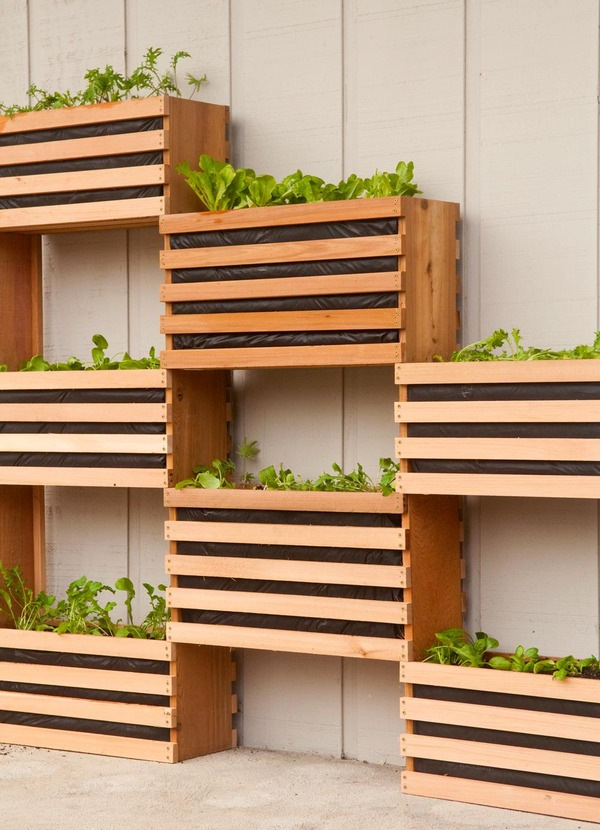 Pallet Garden Planter
If you like gardening  vegetables or herbs and you don't have a huge space to spread them in the ground than use this DIY Pallet Garden Planter to stack them up in vertical columns to have as many veggies as you want and not to worry about the space. The video shows the basic steps into creating the garden however modifications are always welcomed.
Mounted Stag-Horn Fern
People who like to surround themselves with nature 24/7 definitely should try this Mounted Stag-Horn Fern for a change. You can make it at anytime of the day and it only takes maximum 25 to 30 minutes. There is no use of expensive material or heavy equipment, all you need is a Split log, a Stag horn fern and some moss.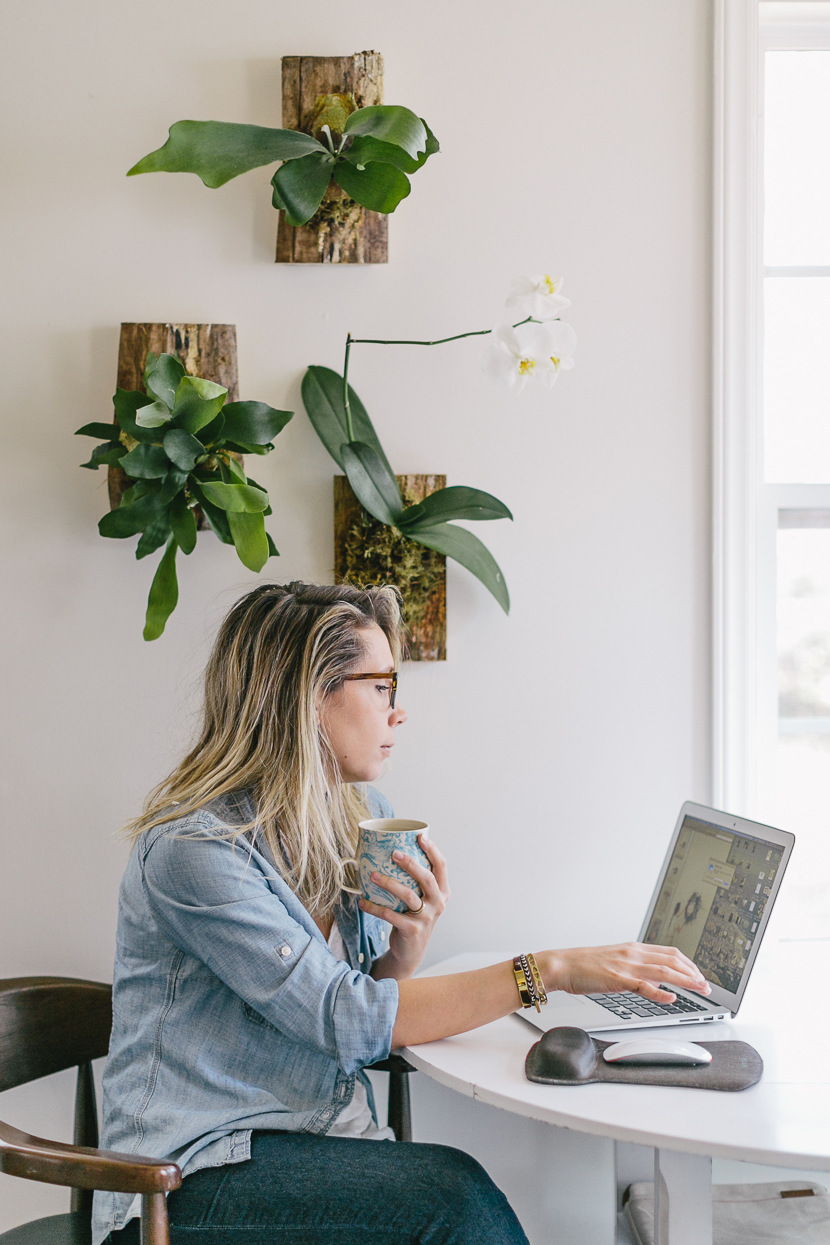 DIY vibrant indoor plant display
Make a statement plant display using wall brackets, so many options to choose from at Ikea, home depot and other home reno store via martha stewart.
(pinterest image- link not found)
Hanging Herb Planter
This mini Garden is portable and can be simple fixed on any wall size or it can even be hanged from the ceiling. It is  easy to make with instructions from DIY Mini Hanging Herb Planter. Wire, fence and hardware cloth are the basic structural requirement to display plants in this planter.
DIY Vertical Garden
Having a garden in house is a nice thing. Having an indoor garden is more nice but having a small succulent garden on your wall is just out of this world kind of mind blowing. This DIY Vertical Garden tutorial has a step by step pictorial instruction on how to create that wonder for your wall.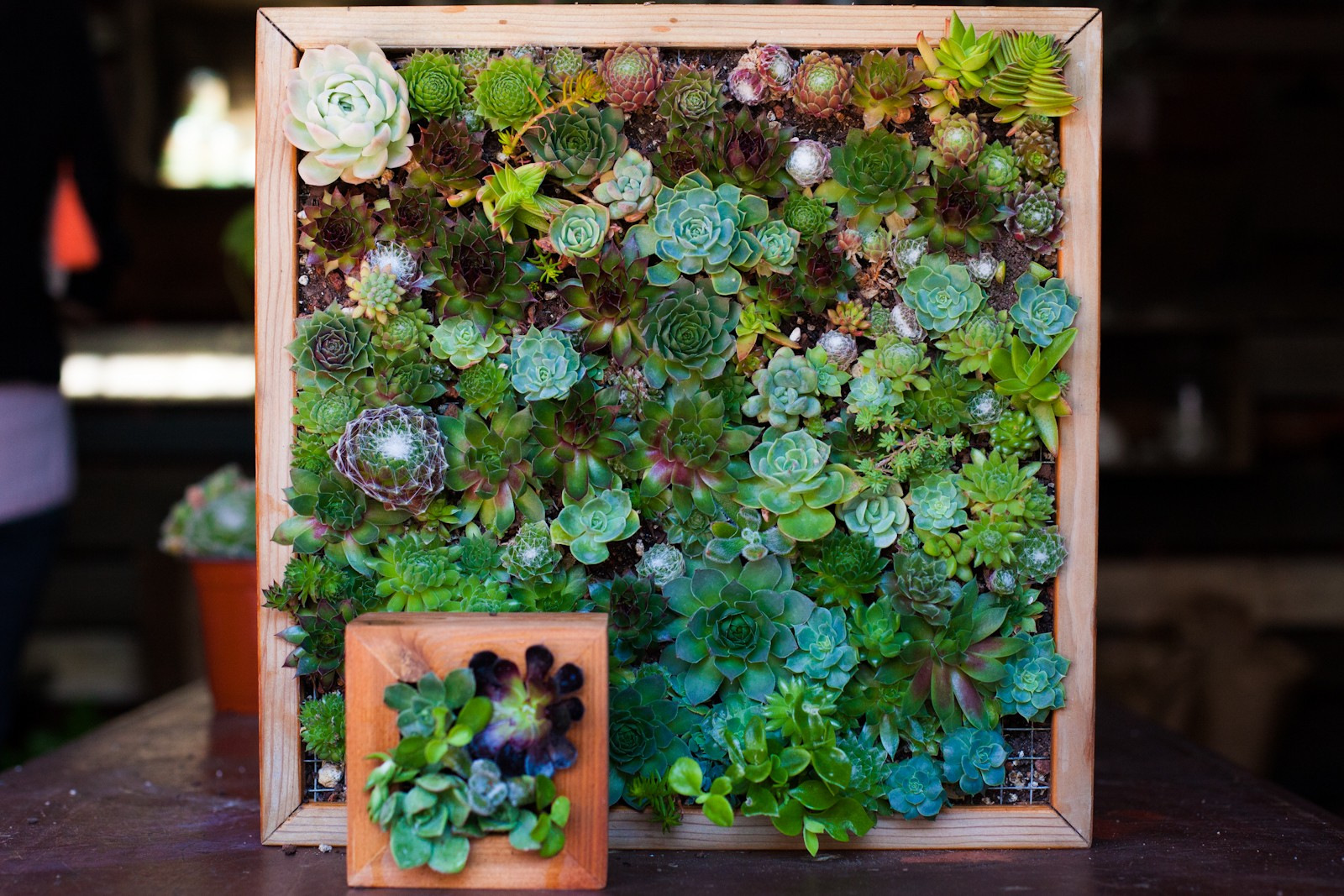 Indoor plant display – trellis wall
A fun project that involves wooden planks for making hanging wall and leather for displaying plants.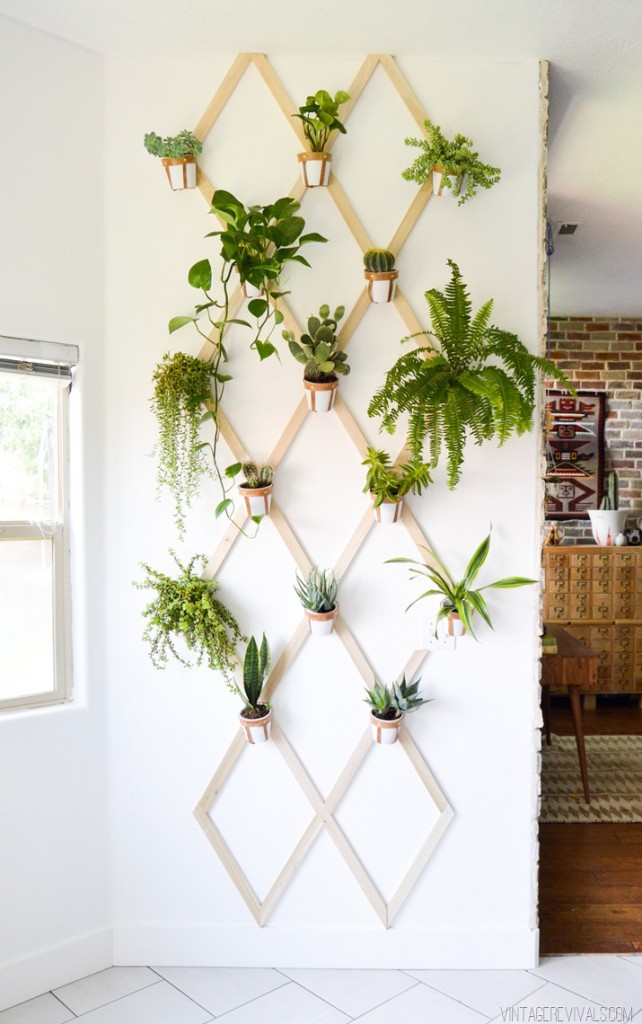 Deck Planter Display
The use of Pipe gutters in this tutorial to create a deck planter with such easy and simple steps is fastest way to decorate your porch or balcony to have that spring flare in the coming winter. Just follow the link at DIY Deck Planter Display.
RECYCLE INDOOR PLANT DISPLAYS FOR HOME
Air Plant Wreath
Since winter is here and well so is time for Christmas coming on our heads here's a DIY Air Plant Wreath. At least now you don't have to worry about your plants dying and leaving everything plain and dull insight. Using the embroidery hoops as a base and air plants as the deco I think your Christmas cheers are going to last longer than others.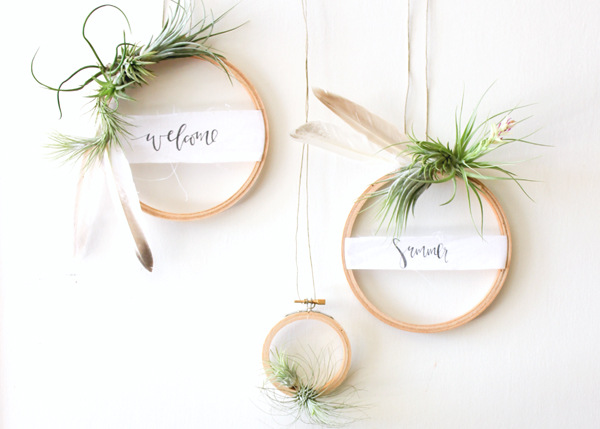 Air Plant Frame Display
Air Plant on the wall. Could you please stay with us from winter till fall. Many Air Plants have been a huge help in keeping the green alive all year round. To respect their hard work how about you mount an air plant on your wall as a trophy with this simple to follow Air plant Frame tutorial. The frame consists of wooden slabs spray painted and attached with nails. Find: 40 Cool Air Plant Display Ideas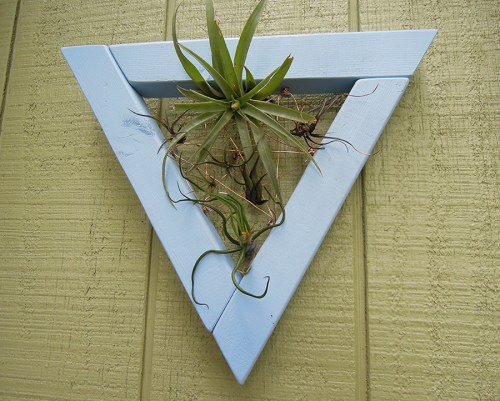 Wine Cork Magnet Planters
The smallest of the smallest planters record has been broken by this tutorial  of DIY Wine Cork Magnet Planters. All you need are wine corks, succulents and magnets and you're good to go.  You can decorate your fridge with these or you can give them away as favor or as Christmas gifts to your loved ones.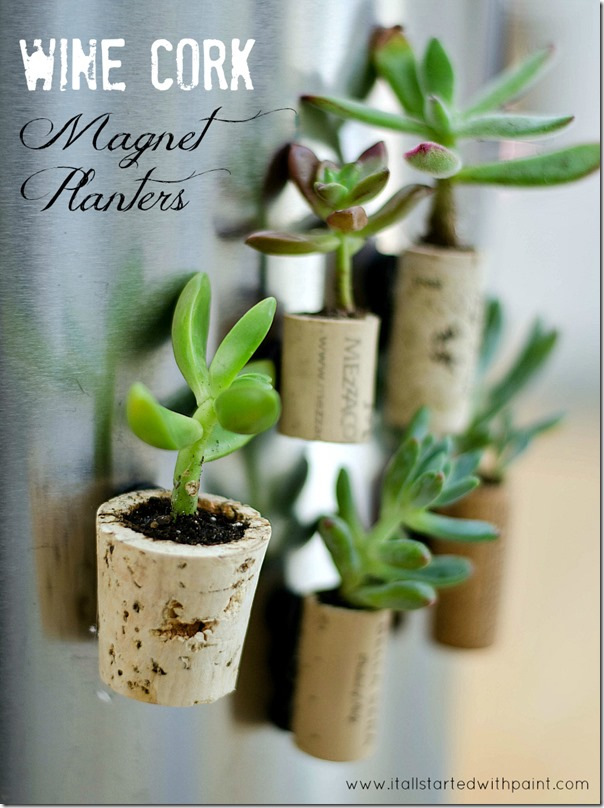 Wall Terrarium Garden Display 
This winter if you're having a party and don't have any idea on what to gift your guests, well this DIY Vertical wall terrarium will definitely brighten up the mood of your guests. It takes only about 15 minutes to make each terrarium to display plants.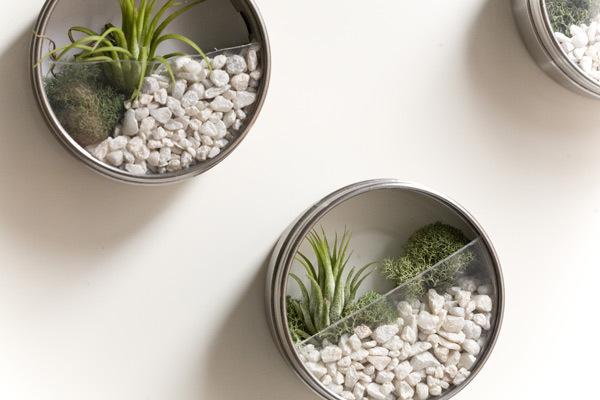 Wood shim window box
Upcycle a wooden box with wood shims colored to your delight. I love the rustic look of these shims to make creative indoor plant display for kitchen.
Wall Garden Plant Display
DIY Vertical Garden Wall is a wonderful interior design with a concept of indoor garden. You can keep it up to date all year round and there wont be a time where you could be bored of having it around. It is a permanent solution to your no green winter blues. the process is lengthy but "The pain you feel now can't compare to the joy that's coming.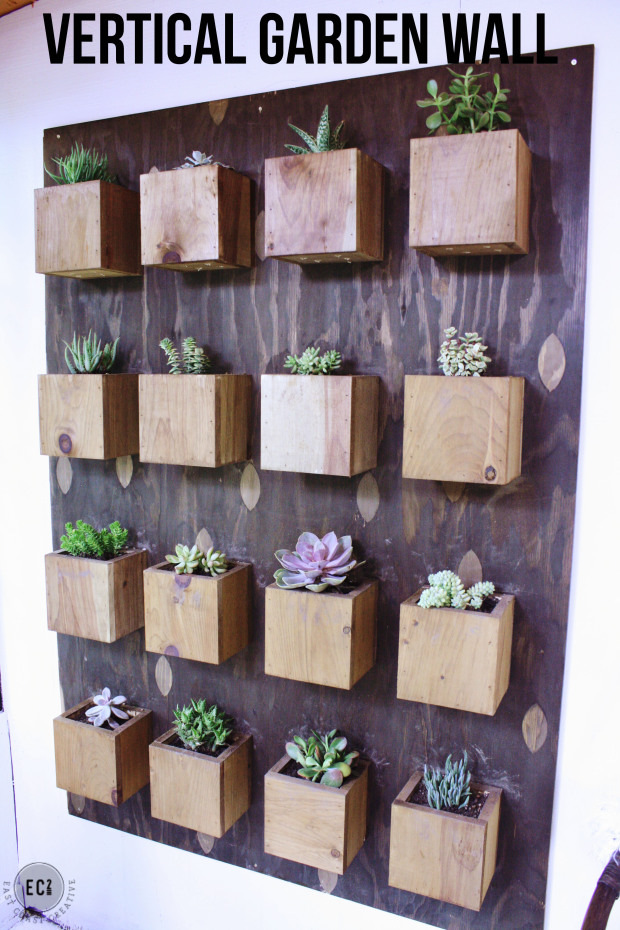 HANGING INDOOR PLANT DISPLAYS FOR HOME
Hanging Clay Pots
If you don't have those flowering plants due to the snowy winter but have managed to save a few leafy plants. You can still create a bright and glowing indoor plant by simply making hanging pots from colored clay by following these easy steps on DIY Hanging Clay Pots.
Hanging Fish Bowl Terrarium
Terrariums a fantastic way to show case your gardening talents when it comes to indoor gardens. To make those terrariums look more exquisite how about you try putting them up in the air. This DIY Fish Bowl terrarium shows you how to make a terrarium into a hanging planter. The idea of using a fishbowl makes the effort a little more easier.
Hanging Flower Ball
So a disco party needs a disco ball in the same way a garden party should have a flower ball. Decorate your house with these lush, bright and colorful flower balls for any party in your house, I am sure the guests will be wowed. Learn the easier and faster way to make these from DIY Flower Ball tutorial.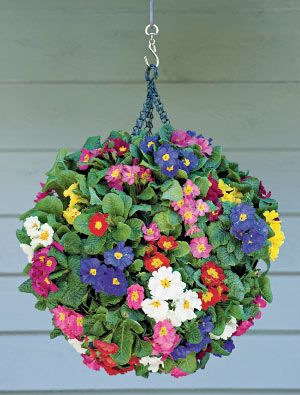 Hanging Wooden Planter
In winters all you gardeners out there are always craving for a sight of that lush green and brown nature view. Now you can create that view in your homes with this DIY wooden creative indoor plant display. 3 simple materials wood, suede strips and curved hanging plant bracket, found in every gardeners storage can make your wish come true.
Hanging Tear Drop Planter
This DIY Tear Drop Planter uses brass tubing to create a tear drop shaped cage for your plant. It is a fascinating way to grow your plants indoor with a very little space in your home.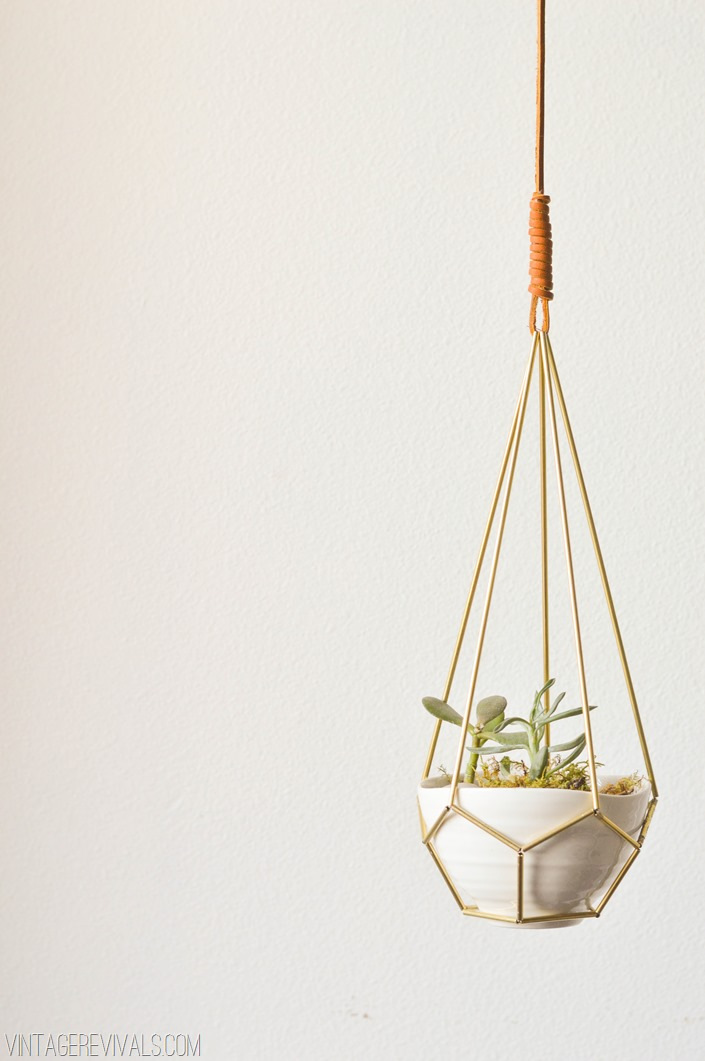 Hanging Succulent Planter
 Learn how to make hanging macram© indoor plant display with this DIY Hanging Succulent Planter Tutorial. It is a quick way to get those plants up in the air. You can modify the planter by using different colored ropes plus if you want you can paint the  pots according to your interior to display plants.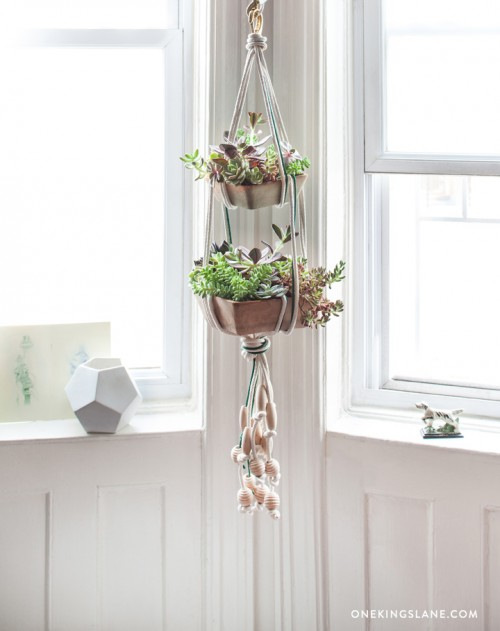 Vertical Hanging Mason Jar Planter
The ever green, ever loving mason jars are back with a twist of nature. Create your very own Hanging garden of herbs with this easy DIY Vertical Hanging Mason Jar Planter. All you need are wooden slices and mason jars with your favorite herbs. In the link go straight down to the 3rd project.
Hanging Air Plant Display
You can do so many creative things to show off your oh so cool Air plant. If you don't have space on your wall or on the floor or even on the table then the 4th option is always the ceiling. Learn how to hang these beautiful air plants from the ceiling with this DIY Hanging Air Plant tutorial.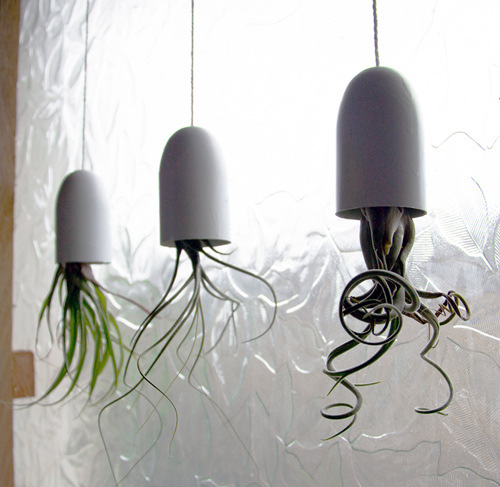 Plant Displaying Ornament
This tutorial definitely has a lot of awesome ideas to decorate the Christmas ornaments, but for the people with a love for plants this Christmas light up you tree green with the no#8 ornament in the list of The Plant Ornament Display. I call it the Moss ornament.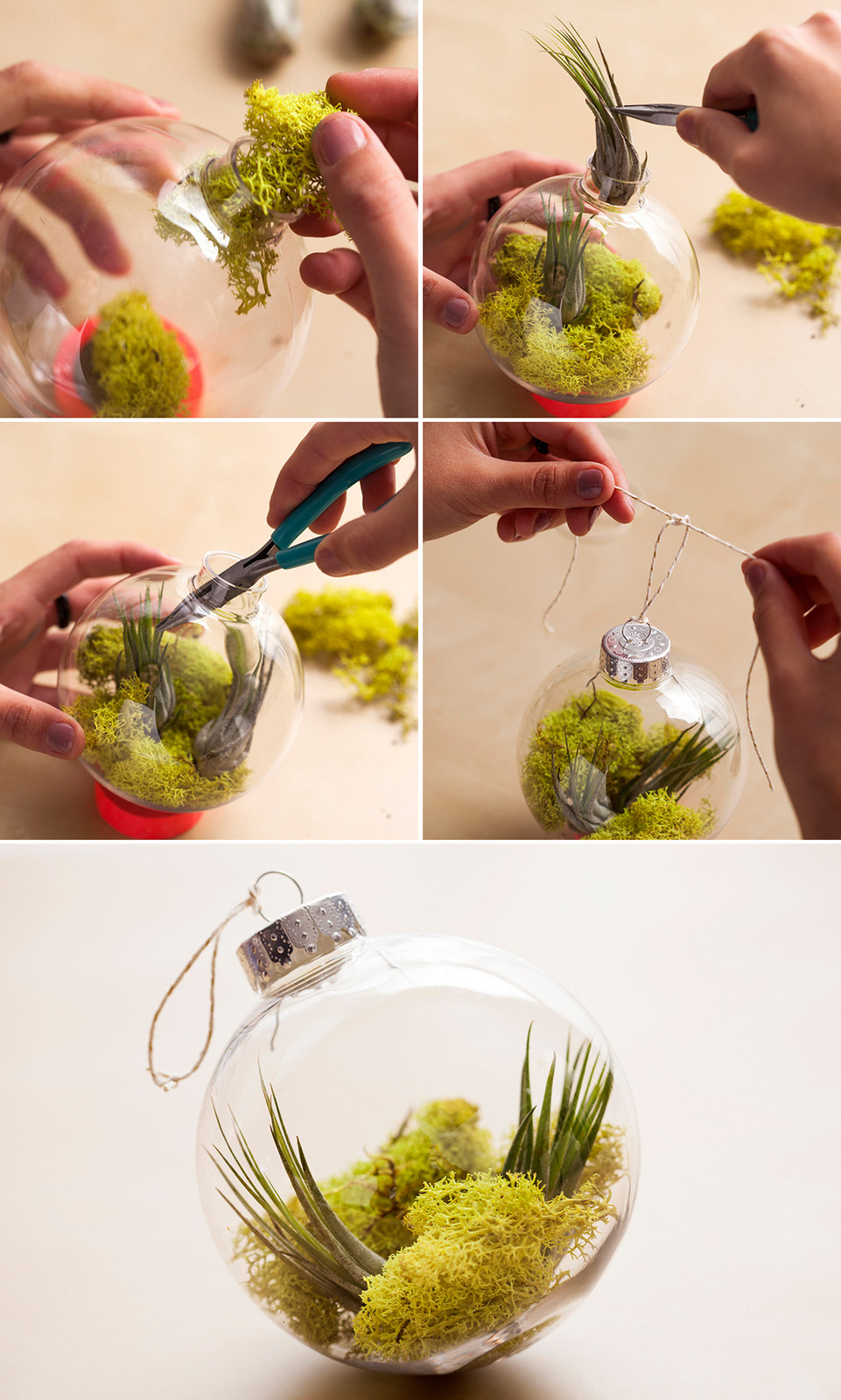 Macrame Hanging Plant Display
A Jersey Knit stretchable fabric is very useful not just to make shirts or trousers, but I guess this tutorial uses it very wisely in making it into a Macrame Hanging Plant Display. The colors bring out the life into the room and the plants well they bring out the life in you.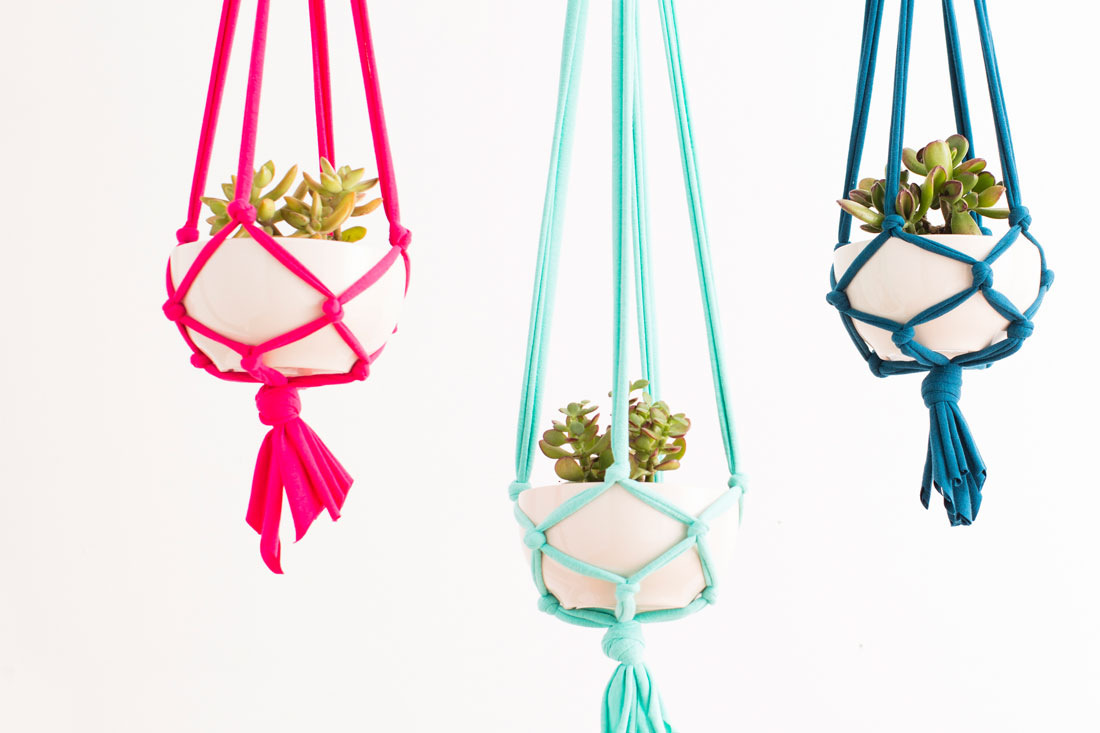 Copper Macrame Hanging Planter
These plant pots looks like Copper Glasses to a naked eye but the secret is hidden behind this link DIY Copper Macrame Hanging Planters. If you wish to make these really very easy recyclable hanging planters than just follow the instructions to display plants.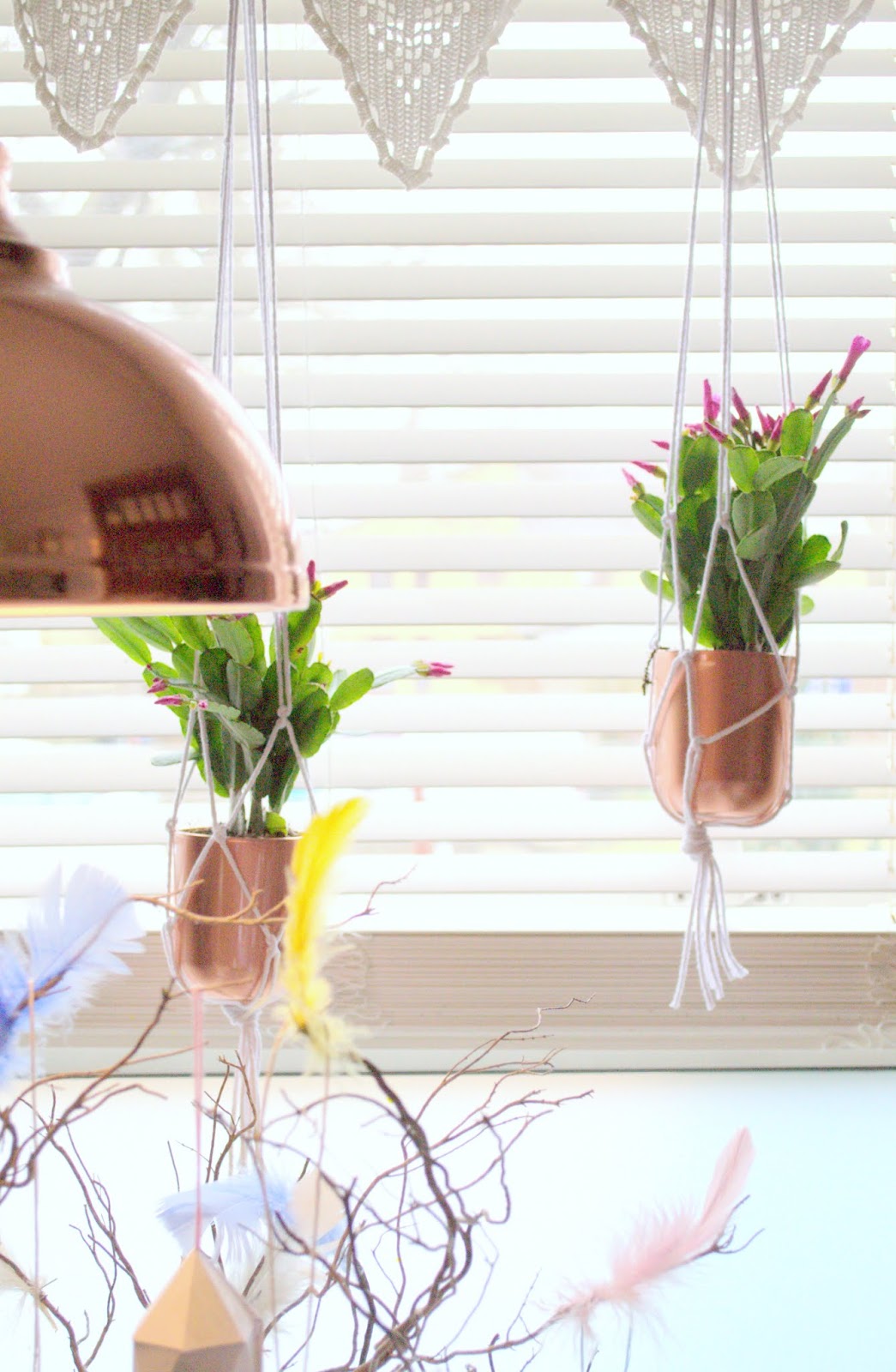 I hope you enjoyed and found these projects useful.
DO NOT COPY, EDIT, SAVE OR PASTE THIS IMAGE. COPYRIGHT OF CRAFTIONARY.NET
You will also like: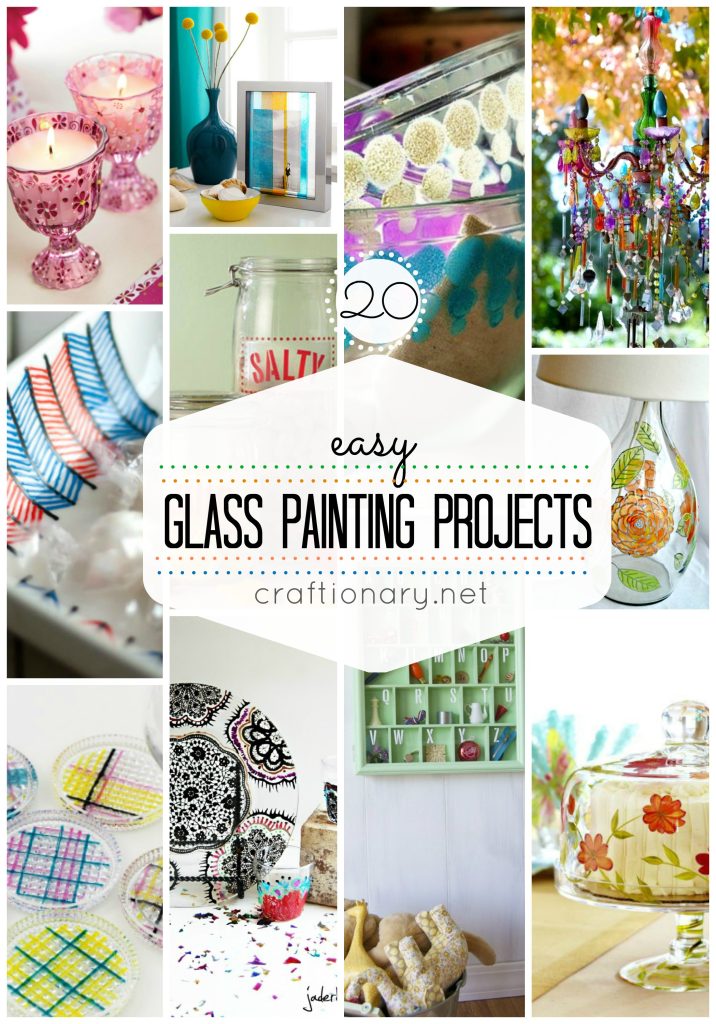 Easy Glass Paintings
DO NOT COPY, EDIT, SAVE OR PASTE THIS IMAGE. COPYRIGHT OF CRAFTIONARY.NET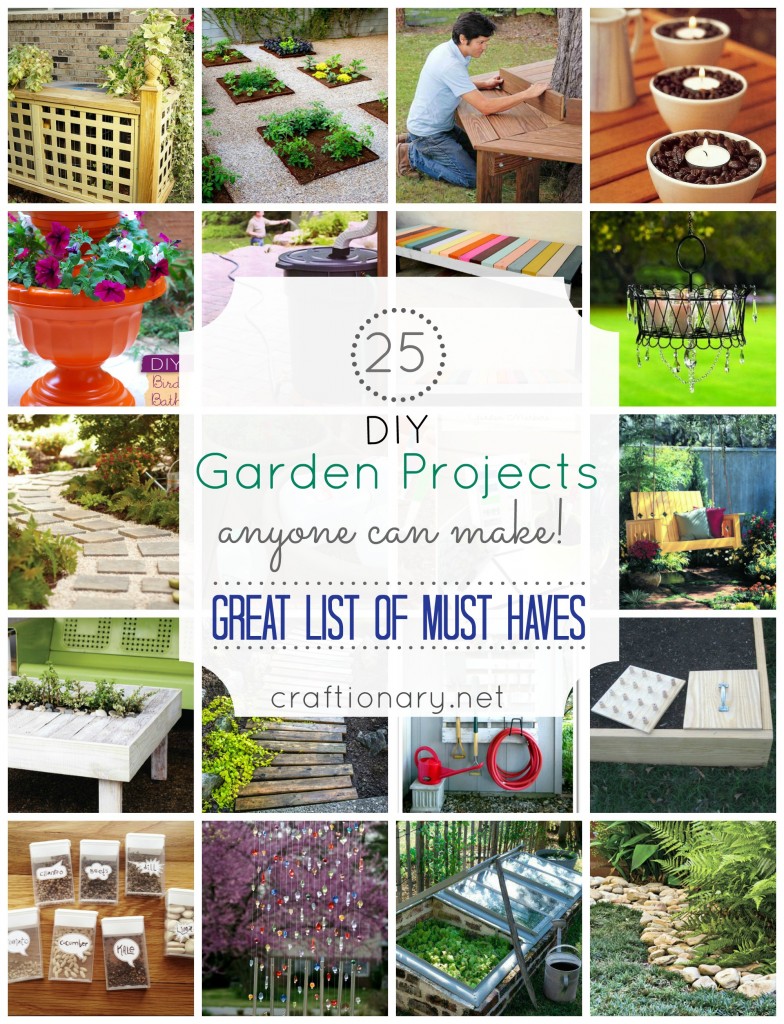 20 Garden projects anyone can make!
DO NOT COPY, EDIT, SAVE OR PASTE THIS IMAGE. COPYRIGHT OF CRAFTIONARY.NET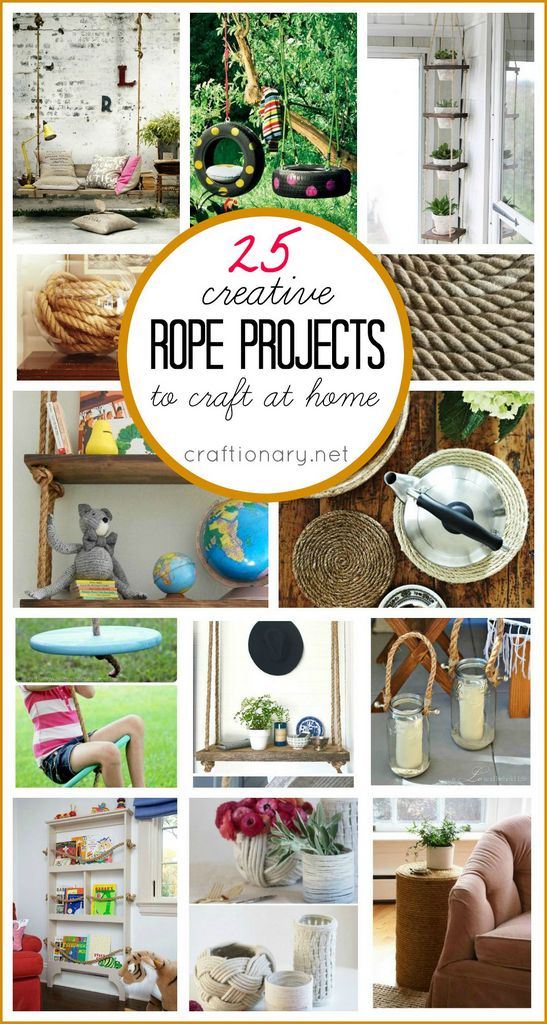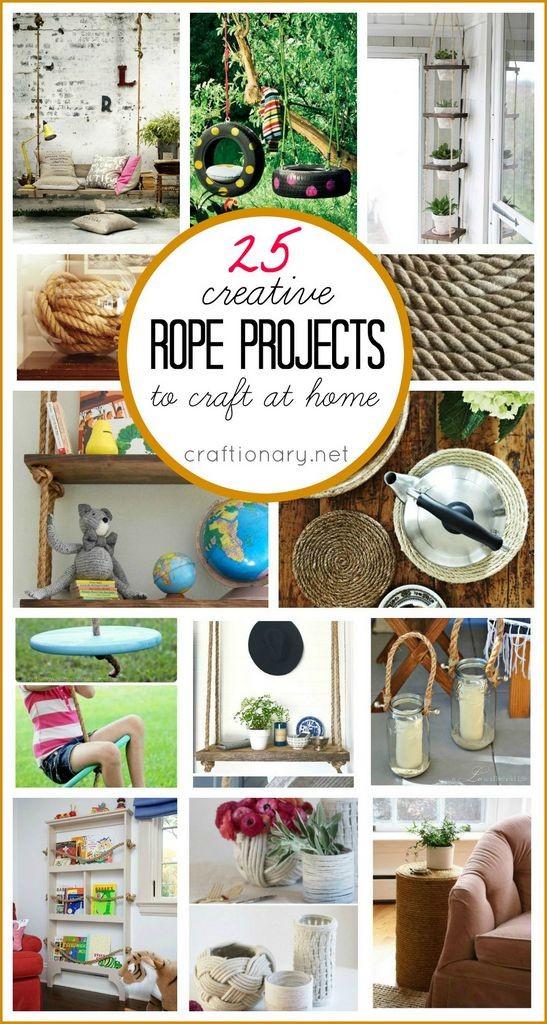 25 Creative Rope Projects for home.

DO NOT COPY, EDIT, SAVE OR PASTE THIS IMAGE. COPYRIGHT OF CRAFTIONARY.NET
Looking for more great ideas?
Are you on pinterest?
These are updated regularly whenever I find unique ideas.