This post may contain affiliate links. Please see our full Disclosure Policy for details.
Make DIY wall decoration with paper that uses two cutout circles and simple folding with pictures and video to make easy origami butterfly crafts in less than a minute. There are endless possibilities for paper wall decor ideas. However, I am sharing paper butterfly as one project to show how paper crafts can be used in different ways for home decor and gifts.
These are fun wall hanging to make for kids bedroom, teenagers, and even classroom projects. So, instead of throwing them for recycling we can use them at home and cherish our creativity.
Before we get started with easy wall decoration ideas to use DIY butterfly decor lets look at how to make a paper butterfly with pictures and a short video in 30 seconds.
Make Easy Origami Butterfly with Paper
As per Oxford, Origami is a Japanese art of folding paper into decorative shapes and figures. This simple 3D-shaped butterfly is ideal for all ages kids and adults. Use this project to teach kids paper folding, have a fun family weekend night or even a Spring school project for preschoolers and kindergartners. I made cute little butterflies for my entryway wall decor where I have displayed my indoor garden.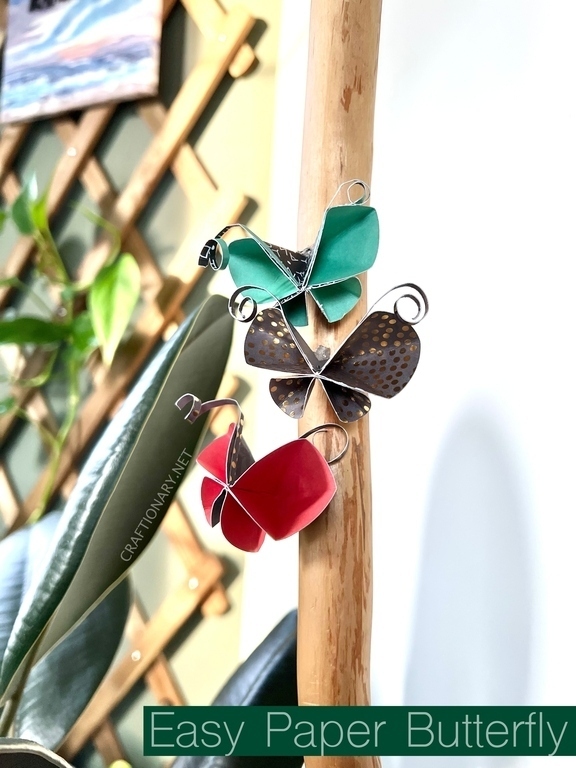 Make Watercolor Butterfly Paper
It is fun to get creative by using watercolor or acrylic pour painting ideas on a cardstock to make your own decorative paper for origami crafts. Scan and use printable paper to produce more prints of paper that you just painted. Watercolor butterfly will have swirls and cool patterns in your color choice. You can make butterfly garland, gift toppers and home decor for walls and table by using varying sizes and colors to create interest.
Origami Butterfly Supplies
Double-sided paper – You can use any decorative plain or designs cardstock paper, scrapbook paper sheets or textures paper pad of your choice just make sure it is double-sided as these 3D butterflies are dimensional. You can also recycle old catalogues, newspaper, and magazines.
Paper circle cutter – You can use scissors to cut the circles but for convenience and neat results you can use any circle cutter for paper. My all time favorite and most durable is by Fiskars with 3 replaceable blades that I own for more than a decade.
Butterfly paper punch – Alternatively, you can also use a paper punch to punch and fold paper butterfly and stick on the wall.
Cutting mat – When cutting paper with blade it is important to cover the surface with a cutting mat such that the surface doesn't get scratches or damage.
Basic Stapler
Floral wire
Glue stick
Glue dots – Use glue dots to stick them on the wall or any surface for decoration.
Easy Origami Folding Technique
It is so simple to make these paper butterflies that you will get addicted to it. You can make hundreds of these in just an hour to cover a full wall or make a wall decoration mural. Here's a video showing how to make paper butterfly:
Step-by-step instructions to make simple paper butterflies:
1) Choose the paper to make your butterfly.
2) Now set the circle cutter to the size you want your paper butterfly wings. The diameter of the circle determines the size of your butterfly wings. The large butterfly wings are 6 inches in diameter and the small ones are 4 inches in the example.
3) We have a pair of circle cutouts ready to fold. Fold the circle in half to create a mountain fold. Than fold it in quarter to score. Now open the second fold and keep it folded in semi-circle.
4) Place the two semi-circle folds over one another such that the large circle is below the small one. Also make sure they align at the opening which is the curved-side. Do not align them at the fold.
5) Use a basic stapler to join the two paper circles. The staple pin aligns with the fold line.
6) You will see four parts of the paper, flip and open them adjacent to the center. Now score the back and center. Shape it into wings and your easy origami butterfly is ready to fly.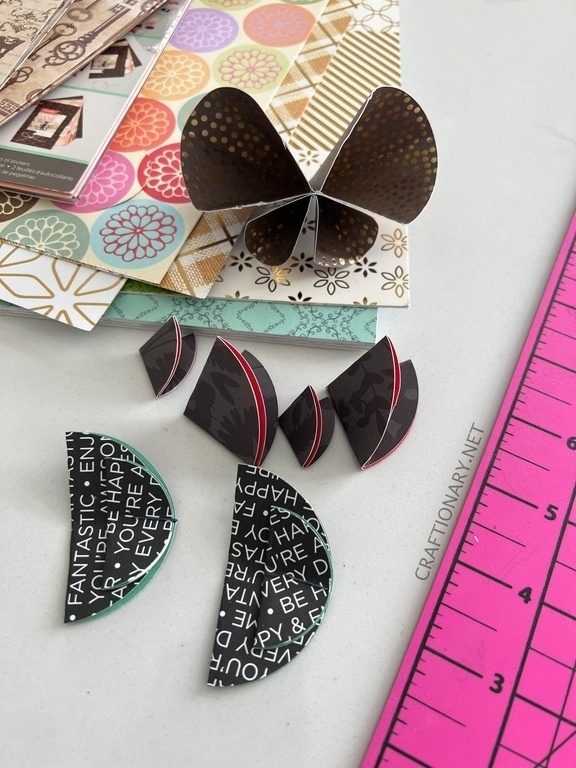 7) Make Butterfly Antennas: Cut small stripes about 6-7 inches in length. Roll it around a thin wire like floral wire like paper quilling. Stick it on the head of the butterfly with glue stick.
These steps are very easy to follow with the paper butterfly video tutorial. You can combine different colors and patterns to make set of wings for your butterfly. It is also fun to make fun paintings on plain cardstock and use it to make butterflies.
DIY wall decoration with paper
In anticipation of flower season, I added simple Spring decor touches to my entryway indoor garden that will last through Summer entryway decor. They look so cute and fluttery. An inspiration is to use colorful papers to add color to your garden.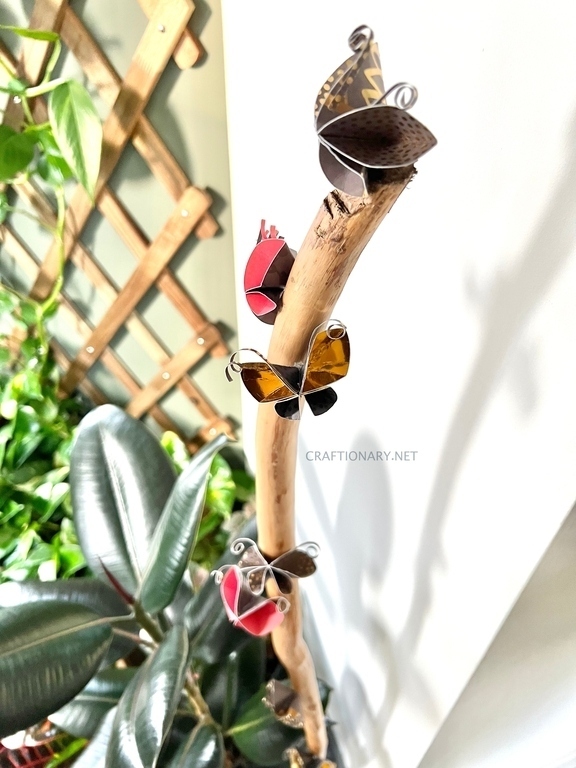 Uses for paper butterfly in home decor
1) Use butterfly wall hanging craft with paper as wall decor. Hang them directly on the wall or use a wallpaper with flowers as background. A tree vinyl wall sticker or even a dried fallen branch would be fun to use as well. Once you have made your easy origami butterfly, you will find lots of cool butterfly wall decor ideas. They make ideal decor for Spring and Summer in garden, living room, kids bedroom, entryway, dining area, infact any space.
2) Make a butterfly garland by simply stringing them on to a thread.
3) Bring life to a boring gift wrap by sticking paper butterfly gift topper with dried flowers.
4) Turn them into butterfly plant markers or decorative inserts by sticking them to a popsicle stick or wooden skewer.
5) Origami butterfly activity will make a fun classroom art project for kids. Those butterflies will make a happy classroom wall decor with different designs and colors.
6) Decorate the top part of a paper bookmark. Cut a rectangle-shaped cardstock to make butterfly bookmarks to give as gift to book lover in your life.
7) Turn an ordinary DIY mirror into work of art by sticking origami butterflies.
8) Bring life to scrapbooks, greeting cards, bulletin board, windows, and more with simple touches like adding paper butterflies.
9) You can turn them into butterfly magnets by sticking a magnet disc on the back for your fridge.
10) Repurpose old frames with burlap backing to make butterfly wall art for your kitchen or girls bedroom.
11) Make a butterfly wreath.
What is the easiest origami for beginners?
These ideas are versatile. Use them with other paper decorations like flowers, snowflakes, fun quotes, and other origami art. You can use origami paper to make origami crane, lotus flower, jumping frog, swan and so much more.
Fun shapes like origami lucky stars, owl, hearts, and necklace will also be attractive on the wall.