This post may contain affiliate links. Please see our full Disclosure Policy for details.
Make Wall Mounted Plant Holder
Today, I am sharing a quick and neat how to make wall mounted plant holder with macrame tutorial. This pictorial instructions is also followed by a video tutorial that is just one minute long.
These can hold all types of plants from houseplants, air plants, cacti, succulents to even flowers for indoor and outdoor gardens. These will also compliment Boho style decor or urban garden home.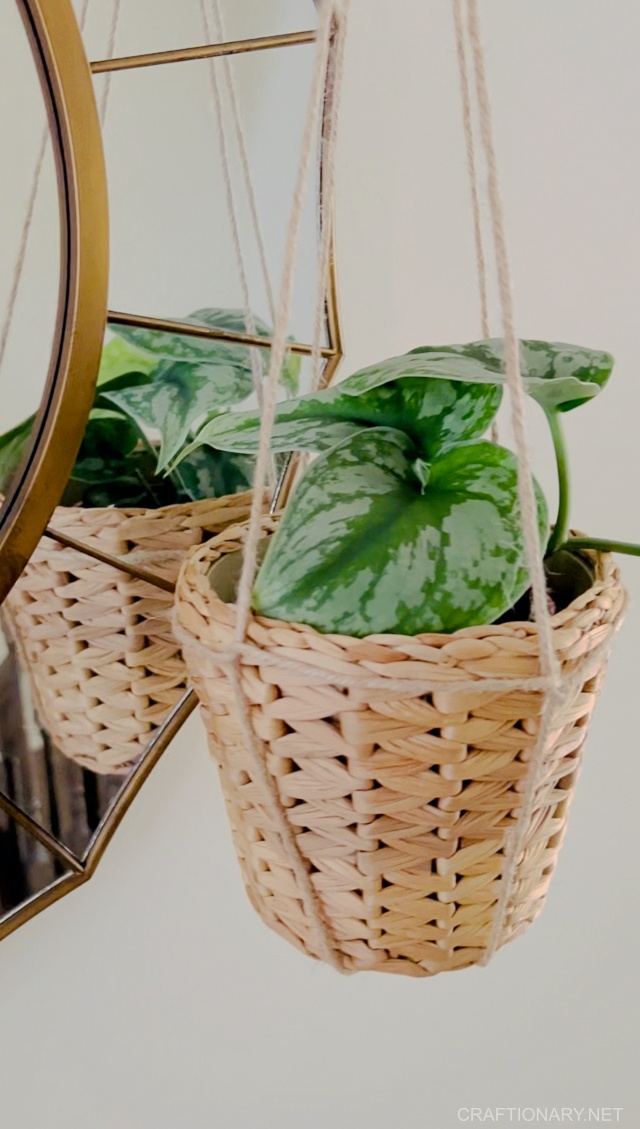 With Macrame plant holder like this one you can turn anything into wall hanging plant holder pot. There is a variety of things you can use to make wall plant holders like macrame plant hangers. These include:
jute
burlap string
rope
embroidery thread
wool
crochet thread
Tutorial to make wall mounted plant holder
Here's the pictorial for your reference to make wall mounted flower pot holder. However, on IG I shared this cute reel video tutorial if you would like to check it out.
An estimate of rope required is as follows:
For hanging a planter 12″ (1 foot) higher from the pot's top surface, you will need 60″ (5 feet) of rope. Cut and make a knot to join the ends. This is an estimate because exact measurements depend on the size of the pot.
Step by step instructions for macrame plant holder
1. Follow the first picture and place the rope as shown.
2. Now place the plant holder as shown in the picture.
3. Hold the top end of the larger circle and pass it through the smaller circle near the pot.
4. Now pull the string back to it's original position.
5. Hold the top end of the larger circle again…
6. and this time bring it over and below the plant holder.
7. Focus your attention on loops A and B.
8. Bring loop A under B such that they switch positions.
9. Now hold loop A (do this on both the sides) and pull it in opposite directions on both sides.
10. You will have macrame plant holder weave as shown in this picture.
Now pull the strings up and set the side loops to the end, middle or top as desired. Your wall mounted plant holder is ready for hanging plants.
Things you can mount on macrame plant holder
You can mount any type of pots using macrame rope. Some choices for wall plant hangers include:
candle holders
ceramic pottery
woven baskets
boho decor pots
straw baskets
rope baskets
vases
and so much more
I hope you enjoyed this simple and cost effective idea to make wall mounted plant stand for indoor houseplants as well as outdoors.
Here are a few more fun ideas I have worked on previously:
Plant wall decor you will want for life
Make plant propagation station
DIY outdoor lights simple and easy ideas for homes