This post may contain affiliate links. Please see our full Disclosure Policy for details.
Create a foyer entrance of fresh air with entryway wall decor using plants. Spice up your first impression with a houseplant garden to enjoy the greens as you enter the house. Style your front door and dress up the space with earth tones and vintage touches. Decorate entryway wall by putting a wooden trellis and artwork in dull gold frames. You can also hang vintage botanical prints in black and white on the walls.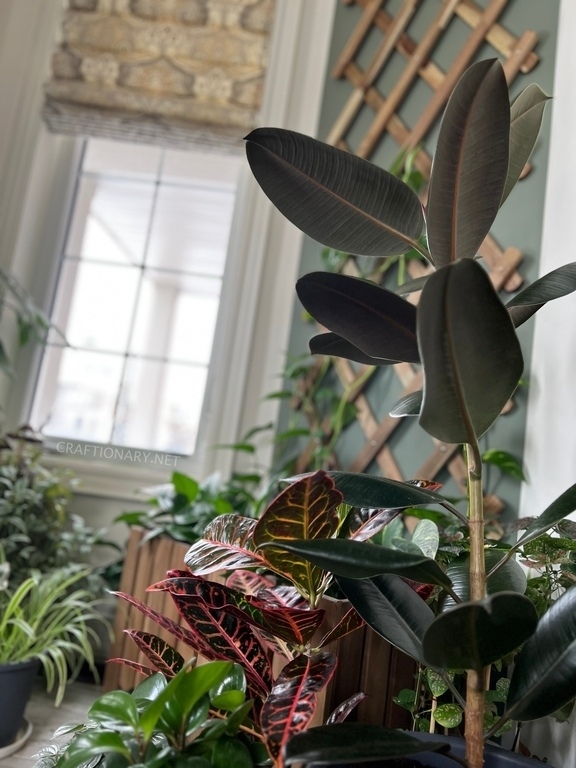 I have a small entryway foyer with large windows on the side walls which creates a bright entrance leading through a hallway into the house. The interesting entryway design makes it challenging to add a console table with luxurious accents like wall mirror. At the same time, the evening sun and windows makes this space person for growing houseplants.
It all started with testing out how plants thrive in this location when I added a DIY planter box filled with pothos. I added a liner and pebbles to prevent water leakage and root rot. After 1 year of successful growth I can confirm this project was a success.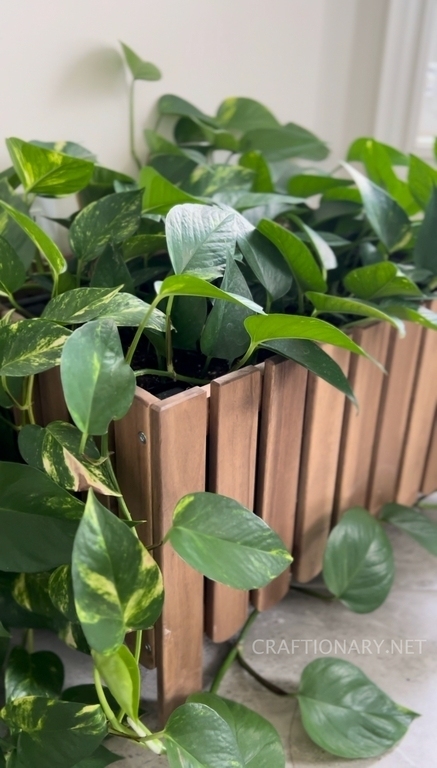 The foyer design is exquisite and adding roman shades from Blinds to Go was the best choice. The subtle colors look stunning with the vintage gold touches and rustic indoor garden earth tones.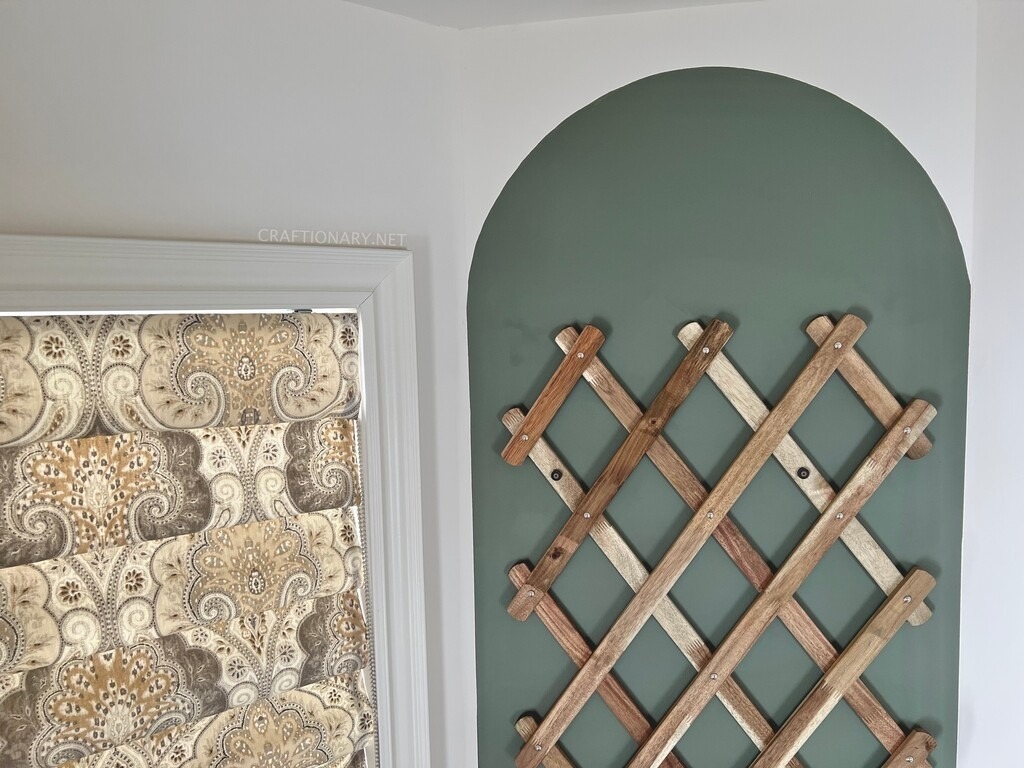 There was an idea of guiding the vines on the trellis once they grow large enough. So, when the time was right this space got revamped.
Here's a before adding the Ikea Trellis as wall decor.
There is nothing that speaks volume than adding a few key elements that are the center of attention in my opinion. The trellis adds that rustic elegance and the crawling pothos a breathe of freshness and happiness. Here's the after adding the Ikea Trellis with painted arch as the background to compliment the decoration on the high narrow walls.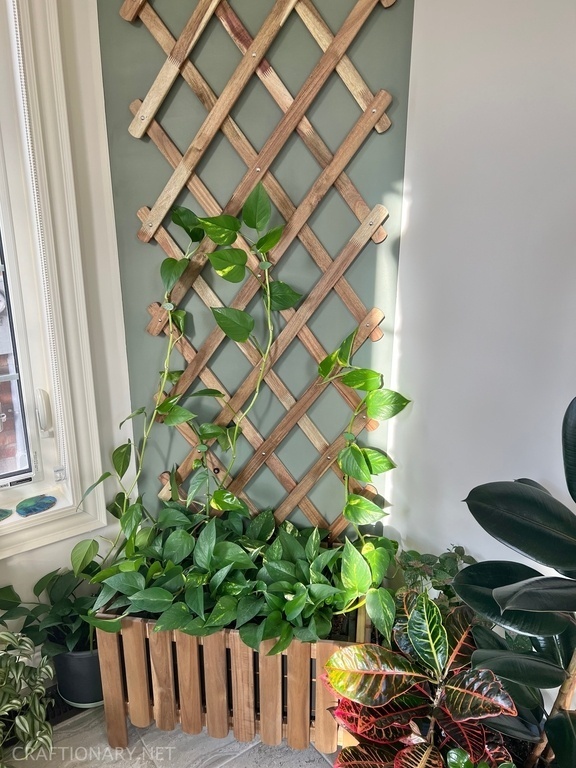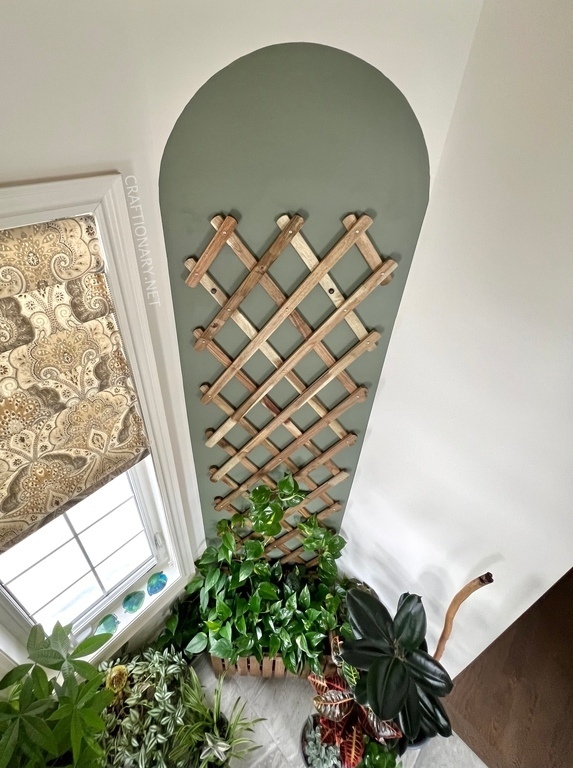 How to chose a wall paint color?
I like to gather all the paint swatches available at home hardware stores for my reference. Carefully, go through each color and select a few shades in the choice of color you have envisioned. Once, you have narrowed down a collection of paint shades, take a picture of each and bring it near the wall to reduce the marked choices. If it gets too hard to chose between a couple of colors consider getting a sample size in those paint colors.
I bought home two sample sizes in Behr Conifer Green (which is the color of the year: 2023) and Behr Hunt Club. In the end, the camouflage and earth-like tone of Conifer green won our hearts. It compliments well with walnut hardwood floors and gray/white tiles in our home.
How to draw an arch on wall?
Painting an arch on wall can be tricky. First, I placed the Ikea trellis on the wall to check how high the trellis goes at the width I require. The trellis is flexible and it can fit various wall widths. I marked the height and used the trellis end as the starting point for my arch.
You will also like: How to paint a room wall perfect the first time?
I used painters tape to carefully tape the edges of the arch.
To draw the arch, I used a simple household trick of attaching the thread to push pin on one end. Then I carefully, marked the center of my pillar and pushed the thumb pin inside. Stretch the thread to one side to measure the radius of the circle and then tie a pencil to the other end. Stretching it out at the radius, mark half circle to make an arch all around.
Easy tips for perfect painted wall arch
The arch was freehand painted using a thin acrylic paint brush. You can also use an angle brush if you can't freehand paint.
Keep wet wipes handy as you paint to immediately remove wet paint if you make a mistake. You can also use it to wipe and smooth the lines as you paint the arch for perfection (if that's what you desire).
I started with the arch at a wrong angle and made mistakes till I got into the flow of things. Best is to have a lot of paint on your brush and continue in the flow. Once you stop your hand may move and you make a mistake. Therefore, even when you stop for the second dip in the paint, start from a little inside of the initial painted arch to get into the flow as you continue.
Don't try to fix immediately as you go just complete the arch. If the arch is not proportional let the paint dry. Reapply the previous paint coat (in my case cream coat). This acts like an eraser. Let it dry for 15-20 minutes. Now start again at certain spots where you messed up.
I found this tip to make a frilled dome with painter's tape if you are hesitant to hand paint the arch you can try this.
Some final touches: I added cute self-adhesive leaf shaped plant clips to assist money plant in crawling the trellis. Should the wooden trellis be installed earlier the plant would have naturally climbed the wood.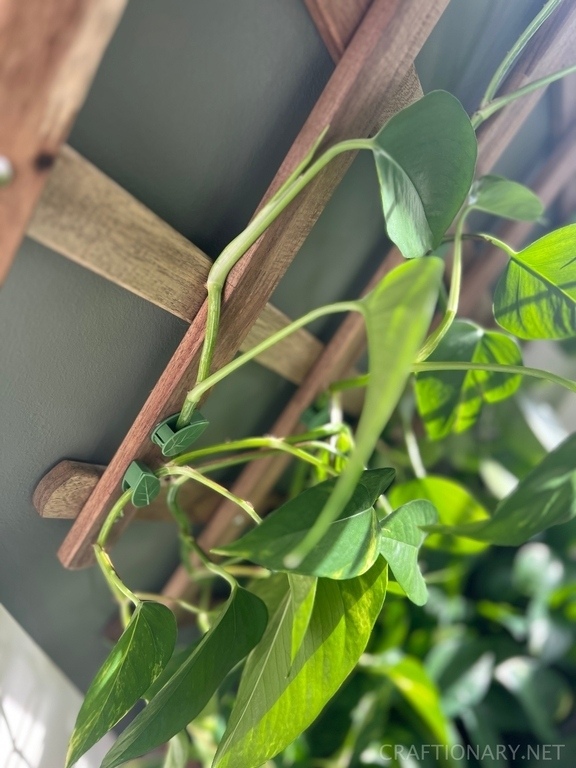 I also love to use neem oil to keep my plants look fresh and vibrant. Simply use a cloth to wipe dust off the leaves to assist them with growth. Neem oil keeps the leaf's surface clean allowing for better sunlight absorption. In a normal house environment, once a month is a good period for wiping the leaves with neem oil or whenever you notice dust accumulation on them.
Dusting the leaves also helps but then the dust comes back sooner than it does with neem oil treatment.
I decided to add complimentary wall art on the adjacent sides of the entrance front door since the foyer is hexagonal. This way the walls don't look over done.
Entryway wall decor with plants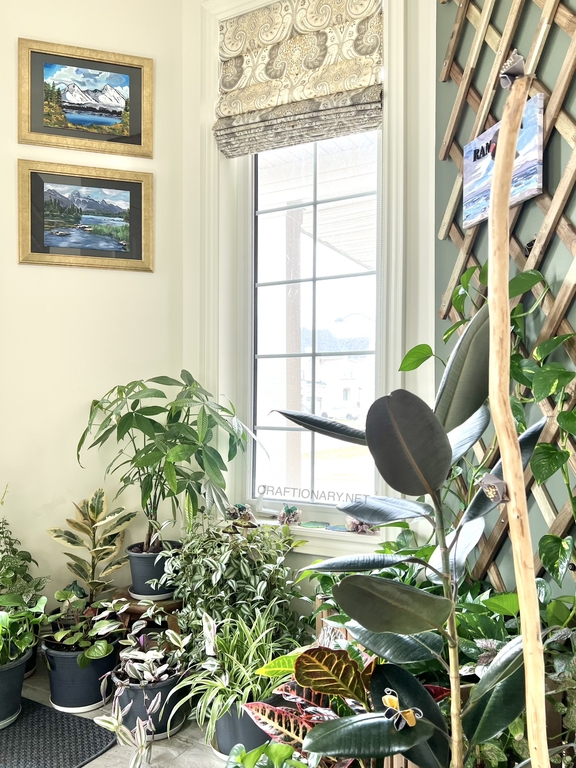 With a small round foyer it is hard to show in pictures how stunning the space looks. But you can imagine entering the house from the door seeing greenery and wooden trellis on the walls with windows on the sides.
As you prepare to leave through the hallway you can envision the entrance door (preferably with a green wreath) with my own hand painted vintage landscape acrylic paintings in gold frames from IKEA on one side. See the close up of landscape paintings.
And a fantastic life-size monstera philodendron resin leaf art in a silver frame on the other side.
Corner entryway garden on the back side of the door as it opens. There is no bench for sitting which I plan to add on other side for assistance but without any storage. The coat closet in the hallway provides good organization space.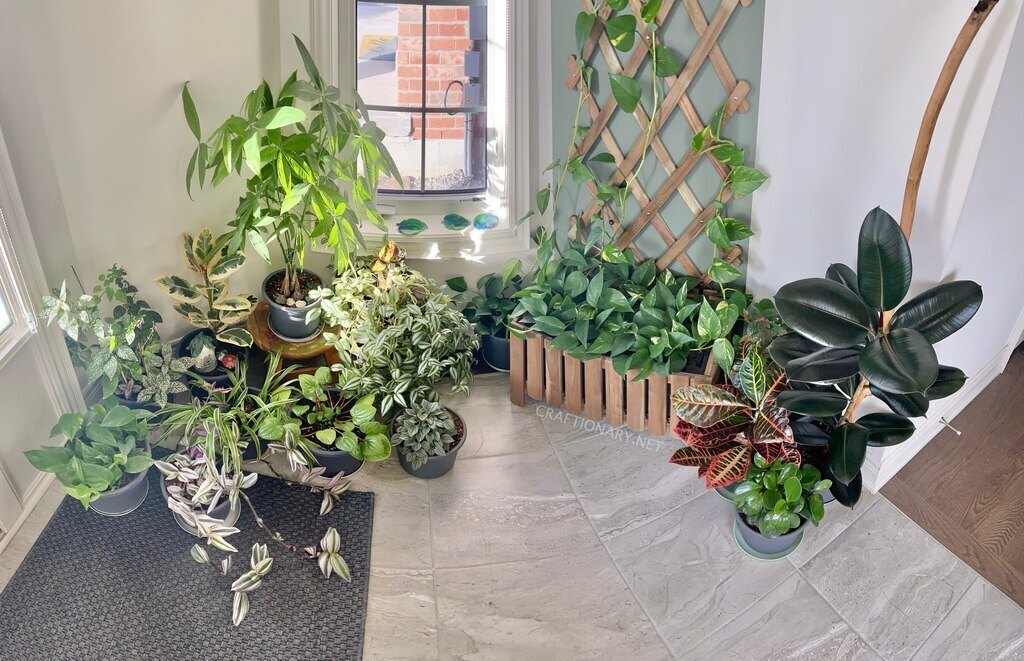 Use garden stools and plant stands to create height variation in the corner plant display. I found cool pieces on Facebook marketplace. I also added small decorative pieces like ceramic mushrooms, and fairy house from Michaels and Dollarama.
Finally, if you missed the DIYs and products shared above, I have listed them below for your convenience:
Ikea Trellis
Behr Conifer Green from Home Depot
Roller and paint brush kit from Costco
Acrylic paint brush size 1 for making a precise hand painted arch
Rustproof nails from Home Depot
I hope you enjoyed this quick DIY entryway decor idea. I would love to hear from you so feel free to leave a comment. Here's a couple of closeups.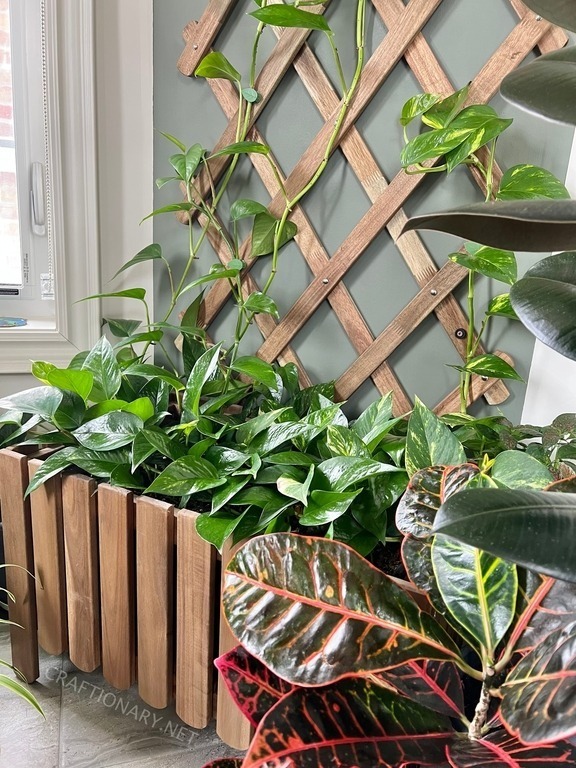 All these subtle but unique choices add texture and color in natural ways which I adore.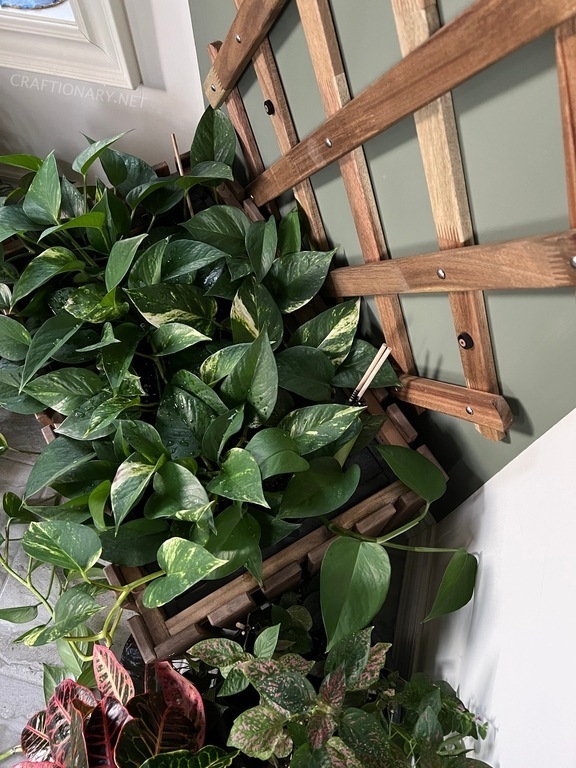 You will also like:
Spider plant stand I bought for my hanging spider plant babies.
Here's a sneak in my breakfast nook garden space with hanging baskets wall decor with plants.