This post may contain affiliate links. Please see our full Disclosure Policy for details.
Learn how to make led cloud wall light that changes color and bring some lighted fun into your life. Sleep and wake up with color changing led lights and enjoy the softness of lights that the cloud offers with this cloud wall light. Cloud wall light is a unique combination of art, lightning and imagination.
A while ago my two boys, who happen to be minecraft fans asked me to turn their room into a minecraft bedroom. They gave me specifications that they want a cloudy sky and green grass just like the game.
We started off with the sky! We painted the two adjacent walls in the room with Ocean Boulevard by Behr. Read this before you paint a room based on our first-time experience.
Now it was time to make clouds. Since, the boys love to play games. Making realistic looking clouds that have thunder lighting, storm and sunny cloudy day vibes would be exciting. These lightning clouds sync with the music to make it more realistic as well.
Make Led Cloud Wall Light
So, I decided to surprise them with DIY Led Cloud Wall. This wall is so much fun to make and seriously addicting! We love playing around with these Led lights and it's so relaxing and soothing to watch the colors especially at night with the lights turned off and fully dark bedroom.
LED Cloud Wall Light Video Instructions
Watch this video tutorial and get entertained by a few cloud effects we tried on Govee lights behind our Led cloud wall.
Now let's get into making this fantastic wall with cloudy sky that lights up!
Will the led cloud wall light get hot or catch fire?
It all started with the Cloud Ceiling trend that I watched and it readily caught my eye! My first concern was are cloud walls a fire hazard?
So, we did a little experiment even though it says LEDs don't get hot. This was for our own peace of mind. My brother has LEDs for years and I asked him to put some stuffing on top of it for about 4-6 hours and see if it gets hot in a safe space! This was done while the lights were turned on for hours.
That experiment went well and tiny light bulbs stayed cold. Next I even did the same experiment with the Leds I bought at home before starting this project! The experiment was a success! Once I completed the cloud wall light I realized that their is are pockets of space between the stuffing and led that allows for ventilation as well.
Update: We are using this cloud wall light for over a year now and once forgot to turn it off at night (on for more than 6 hours) and there was no heat. It stays normal and cool.
Disclaimer: Please note I am sharing this project as a creative idea only! This is my personal experience. For any concerns about Led lights or heat in your space please contact the company.
Comparing Two Led Lights for Cloud Wall
I know Govee has a very strong reputation in making Led lights but out of curiosity I bought another one which had the most reviews and highly rated on Amazon to compare the two.
The price difference between the two was just $10. With Govee being on the expensive side. However, the following is the feature comparison leading to Govee being a clear winner!
Lepre Leds
The strings were good but the remote control was too basic. It came with with only 4 color choices, and a few buttons for features like flash and skip. It couldn't do much in terms of effects. However, the biggest turn off was that the remote would skip working even in the first few times I was trying it! Very low quality! And their is no secondary way to operate the lights!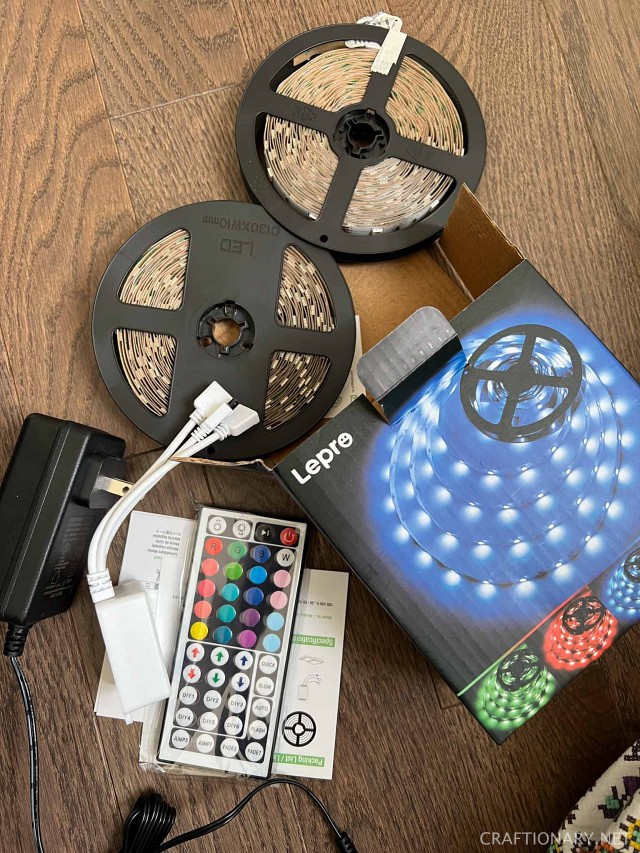 Now where do I start! It's quality is very good. It comes with a switch to operate the lights that connects to the adopter. You can download the app and operate the lights with your phone. This app is outstanding. The number of features, effects and colors are outrageous. You can do so much with these lights and have fun watching them all night long! It comes with sleep and wake up modes which my boys love the most. Update: Using it for 2 years now, not a single troubleshoot.
Some Features:
It is RGBIC led strip light with music sync mode. It is safe to use and has a set timers. You can adjust brightness and make your own DIY modes of lightning to enjoy the wall sighting. It's like Aurora in your home.
Material you need to make Cloud Wall Light
Some simple things that you need to make starry night cloud wall lights include:
Poster paper or cardstock paper
Thumb tacks
Face mask
Level
Gloves (optional)
Instructions to Make Led Starry Cloud Wall Light
Here's the step by step tutorial to construct led cloud wall that lights:
1. Start by making a rough design to guide you.
2. Now following the design use thumbtacks to hang poster paper on the wall. This will act as the border for your clouds. Use level to align the posters.
I used 8 poster papers from dollarama for this project.
It is easy to stick led lights and stuffing to a smooth surface. The paper also aids in keeping the wall clear and clean. You can also easily remove the cloud and place it elsewhere incase you place it on the wrong wall or want to change in future.
LED Strip Lights for the wall
3. Next add led strips onto the cardboard paper. It is a simple peel and stick light.
I used Govee Led Lights from Amazon. The box included 2 strips of 16.4 ft each! If you want more lights buy longer strip lights.
You can also use flexible LED tubes that are indoor and outdoor compatible for this project as well. I saw them at Costco.
You can put it in any pattern that you wish or just random for a design abstract. This is the part where you get creative on the cloud. I wanted it to look like lightning and since lightning is in straight line and random spots in a cloud I went with this pattern. It also creates an A in one spot which made my boys exciting for their initials. Even more fun!
Now comes the only part that will take some time. It took me about 2-3 hours to put all the polyester stuffing on the walls.
IMPORTANT: Make sure your windows are open for proper ventilation and you wear a face mask before proceeding to the next step! If you don't want the stuffing to stick to your hands you can wear gloves as well.
Realistic Clouds for the wall
4. Use spray adhesive to glue the polyester stuffing to the wall. The stuffing is the same you use to fill stuffed toys, soft toys or plush toy. It is also known as fiberfill (fibrefil) stuffing.
I used Eversoft Polyester Stuffing bag of 64oz and Elmer's Craft Bond Spray adhesive from Walmart.
There are two ways to do it and both work just fine.
You can spray the stuffing and press it on the wall to stick. Make sure to hold it in place firmly for a while so that it sticks.
Considerations:
The residue from the spray can fall down on the floor making the floor sticky. You can line the floor with paper or old bedsheets beforehand.
The glue will stick to the led light as well. Not sure if you want that? I wanted to avoid glue on the LEDs, so I used the second method around the LEDs to stick the clouds.
You can spray the wall/ poster paper and stick the stuffing in place.
Considerations:
To avoid glue sticking on the LEDs just incase. As I feel glue forms a layer which is not well ventilated. Spray on the adjacent sides of the strip and press the stuffing in place to cover the led lights.
For the empty spaces I used the first method as it is faster.
Natural looking cloud wall light
Once done the clouds looked pixelated and rectangular. So, I placed some clouds in random places to bring natural cloudy vibes. I also cut some poster paper in round cloud shapes for the sides to make the clouds look round and fluffy.
The completed look is amazing in both day and night. In the day the white cloud looks soothing and in the night the light show is full of excitement.
Cloud Wall lightning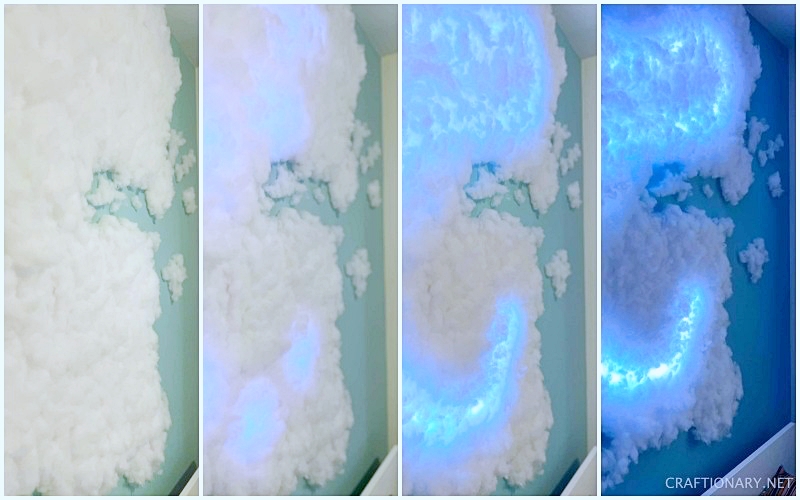 Day Time Cloud Wall

Night Time LED Cloud Wall Light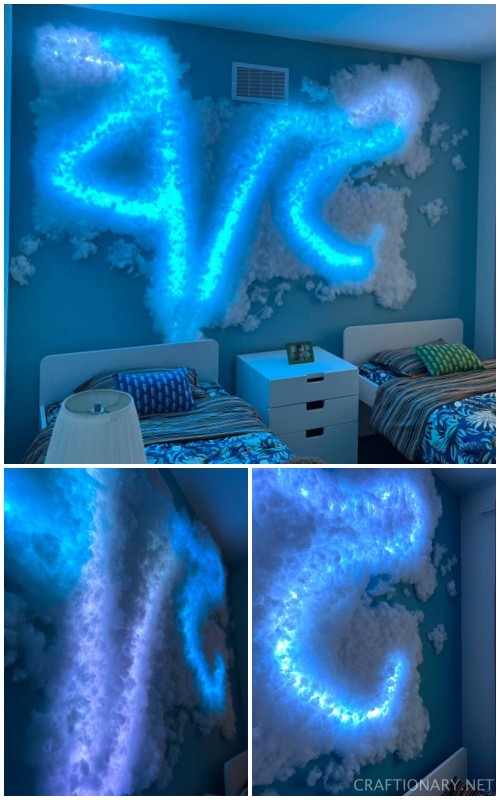 I'll see you soon with the next project. Till next time!
Update: The cloud looked amazing but we thought it needed some more random shape to look cloud-like, at the same time, the lower portion made it harder for the kids to sit with their head and back leaned onto the wall. Therefore, we decided to remove some of the backing and polyester stuffing. I also added a star string light from IKEA. However, these star string lights from Amazon are better and come with a remote controller as well.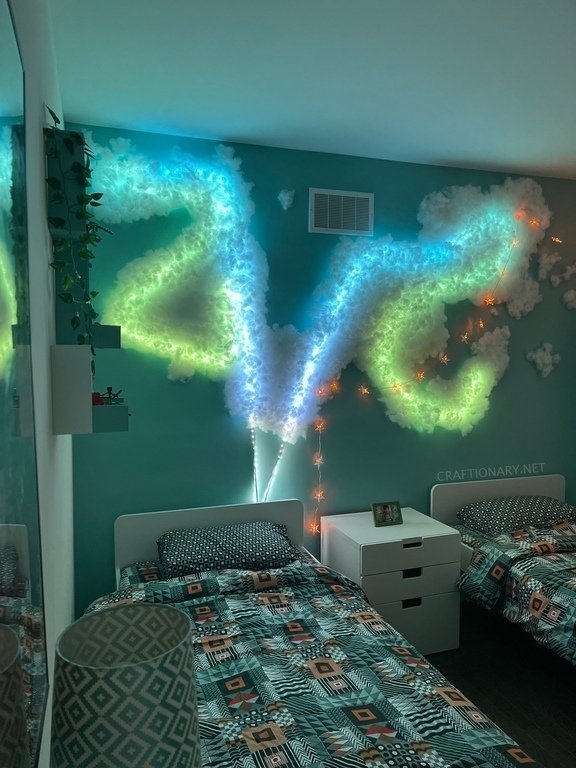 You may also like toddler bedroom that I decorated earlier: