This post may contain affiliate links. Please see our full Disclosure Policy for details.
Find some of the best adult craft kits that will surely become your friends and family favorite hobby kits and they will cherish these gifts and enjoy trying them.
Craft kits can keep you engaged in quality time producing something with your hands and cherishing the result without stressing about collecting the material to produce an idea. It helps you stay productive, try new creative projects, and is proven to reduce stress and anxiety through new skill meditation after a long day. There are many options like woodwork, candle making, epoxy resin, jewelry making, sewing, knitting, home decor, stitching, and many other activities.
You can learn a new craft with low investment and right material. Adult craft kits are the best way to start if you want to adopt some creative crafts as a new hobby but find yourself at a closed end. Use these ideas as inspiration to discover a hobby craft that stays with you forever.
Where to buy adult crafting kits?
There are all sorts of Crafts kits from big manufacturers to small businesses. You can find common to unique options based on your need. The most convenient mediums for purchasing the kits of your choice are from Amazon and Etsy. These two e-commerce stores have an extensive range of crafting kits from every genre possible! We have carefully selected most budget-friendly and easy-to-use crafting kits for adults to help you get started!
If you enjoy the physical feel of new arts and crafts kits, then visit Michaels, Walmart, and Indigo for a wide variety of options. Your local craft store, library and community centers may also have fun options that you might want to check out. These craft kits make great gifts for adults, however, you might also like Unique Handmade Gift Ideas that show you CARE, and Thank You Gift Ideas to Appreciate Kind People. If your receiver is a plant lover you don't want to miss out Attractive Plant Gift Ideas that are aesthetically pleasing like trending macrame plant hangers.
What is the purpose of craft kits for adults?
When buying a craft kit look for options that are related to your interest, and help you create a new craft that serves your purpose. It can be a useful craft that can help you stay focused on the goal to accomplish the craft project, or it can be a fun craft that you can enjoy with your favorite music and snacks.
Craft kits for adults and children are perfect for short attention span as you can normally complete them in a few days. Craft kits are also great for gatherings and do an activity together.
Features to look for in a crafting kit:
Important factors to look for in a craft kits for adults and kids include:
Materials – Look for high-quality materials that will help you get the results you are expecting. You will also be interested in learning if the kit includes all the supplies, tools, or ingredients required to complete the project.
Instructions manuals – Read the reviews to understand how clear and helpful are the directions to accomplish the craft in instruction booklet. Newer craft kits may also offer tutorials and videos on a device or website for subscribers.
Product Reviews – When buying online look for good and bad reviews to set your expectations for the price you are paying for a kit. Pictures of material inside the box and final product are the best product reviews as they provide a true depiction of the product and I always look for those.
Size – Check the size of the final product before buying the kit. It is important to understand whether the original size is as per your expectation and not to small or larger than what you are looking for!
Supplementary materials – Some craft kits may require additional materials to craft a project. If you are new to crafting you might not have them handy. Make sure there are no surprises!
Skill Level – Look for skill level to understand if you are comfortable with the level of difficulty. Most common skill levels include beginner, easy, medium and hard.
Look for online reviews, ratings, and photos before purchasing to better understand the kit and make a well-informed decision.
What are monthly craft kits for adults and where to get them?
Monthly craft kits are subscription based programs that send you new craft supplies each month to create a new project every time based on your interests and hobbies. The art subscription box are valuable if you enjoy trying new art supplies and like to follow a plan. The idea is to provide you pleasure without worrying about finding the right project and gathering supplies. It might not be suitable if you prefer to use your own choice of material and create something you have planned. The idea is to provide you a pleasurable experience and someone else would plan an activity for you based on your preferences. These craft subscription boxes are ideal for adults and kids alike. There are many programs like KiwiCo and We Craft Box. You can also find monthly adult craft subscription boxes on Amazon and mystery project kits on Etsy.
Craft in style subscription box:
Get your monthly craft supplies delivered at your doorstep each month with craft in style mystery box from Etsy.
Adults and crafts crate:
This adults and crafts subscription box comes with all the materials and instructions to craft a new project each month from Amazon.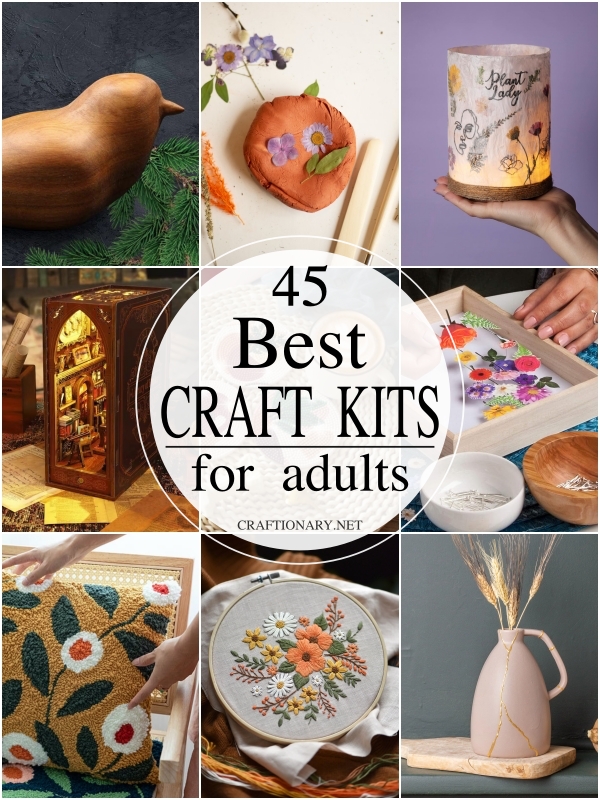 Best Craft kits for adults:
You will find arts and crafts kits that are sold online to fuel your creativity and help you make a choice. These are perfect solutions for individuals who enjoy trying new and different crafts. These include all the materials you require to get started:
1. Flower Craft Kit:
DIY Flower Craft Kit is an ultimate tool kit with relevant tools and materials to help you craft vibrant home decor. Purchasing this kit would not only help you transform your creative vision but would help you produce a personalized masterpiece without any chaos!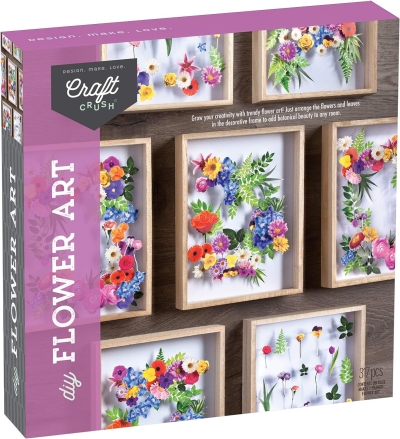 2. String art kit:
String art is a unique arrangement of thread between different points to form various geometrical patterns or pictures. Windmill String Art Kit comes with high-quality floss and metallic wire nails to help you make an ideal wall hanging with your personalized touch.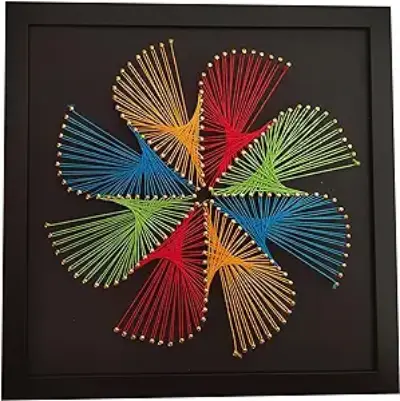 3. Mini Sand Crafts Kit:
This adorable Mini Sand Crafts Kit is just the right dose of minimalist artwork for enthusiasts. Prepare mini accents for your tables, dressers, or desks to incorporate your artistic touch into your home decor. The kit comes with 10 wooden pieces, a plastic spoon, sturdy canvas, 5 plastic containers, 5 pieces of printed paper, glitter, and lots of sand.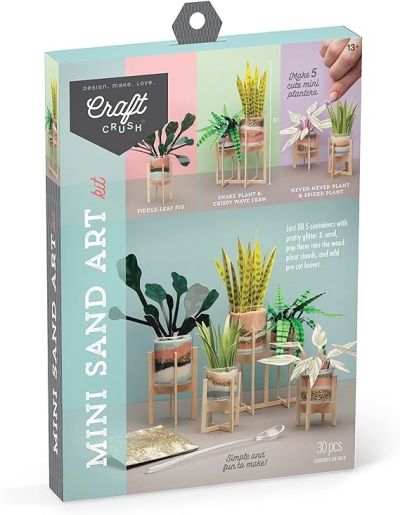 4. Floral Mesh Embroidery kit:
Want to create flawless cross stitches without any prior experience? Check out this amazing floral mesh embroidery kit suitable for creating floral hoop decors and wall hangings. These patterns' intricate details will elevate your house's dull corners.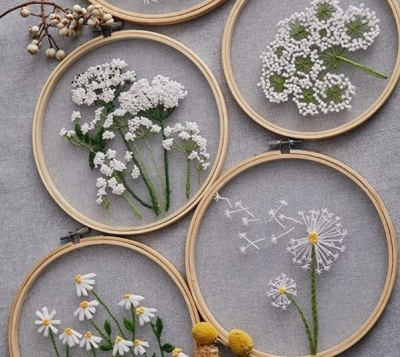 5. Solar Printing kit:
Looking for out-of-the-box gifts for the holiday season? Here is an eco-friendly solar printing kit that is ideal for creating any natural pattern on paper without producing any mess. This DIY kit would be ideal for gardening enthusiasts, environmentalists, botany students, and even teachers!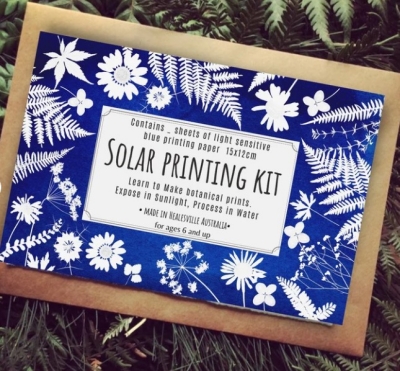 6. Punch Needle starter kit:
This beginner-friendly punch needle starter kit is a compact solution for creating an astounding pillow. The kit comes with fabric (with a pattern), punch needle, cotton yarn, zipper, and cotton threads to create the finished product within a week.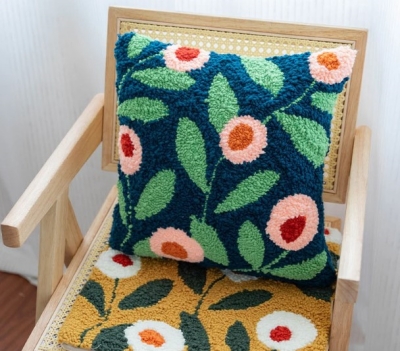 You will also like: Pebble Art Ideas for Home and Gifts
Fun DIY kits for adults:
7. Cloisonne DIY Bookmark kit:
Cloisonne is an ancient traditional artwork using copper or bronze wires. This artwork has been simplified over the years and is available in the form of this amazing Van Gogh inspired Cloisonne bookmark kit. This DIY kit includes all the necessary tools and instructions, thus making it an ideal gift for art lovers.
8. Doorset button starter kit:
The Dorset button starter kit is your ultimate guide for crafting cartwheel buttons. The kit comes with a needle, rings, colorful threads, and complete instructions to accomplish this task without any hassle.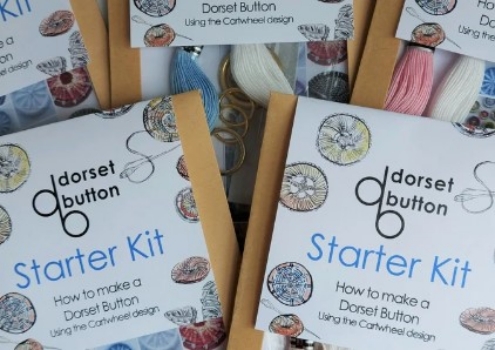 9. DIY Pottery Kit:
The DIY pottery kit is a fantastic gift for people interested in natural material crafts. With five-star reviews, the product has all the necessary tools, dry clay, pressed flowers, and a detailed instructions manual to produce two unique clay cups or vases. The product is made with natural materials and is suitable for all age groups.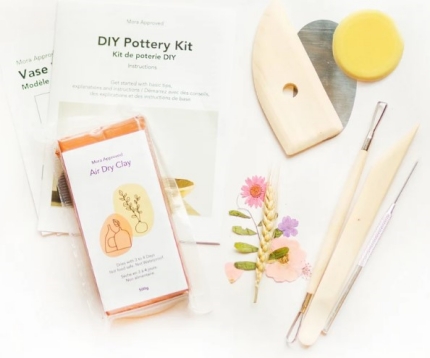 10. DIY Kumiko Kit:
Kumiko artwork is an ancient Japanese art that uses wooden bars cross-laid to form unique geometrical patterns. The DIY Kumiko kit is ideal for people looking for wooden crafts kits. This kit is an affordable, practical, and entertaining way of merging ancient artwork with modern aesthetics and helps to craft a wall decor item in less time.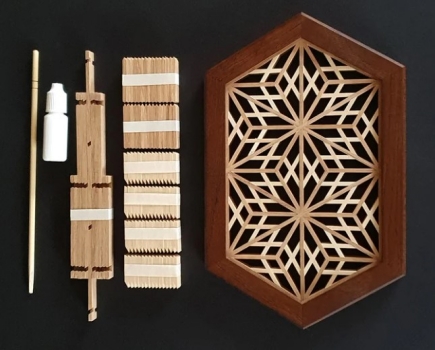 Easy crafts kit for adults
11. DIY Christmas craft kit for adults:
Illuminate your inner decor with rattan craft Christmas stars and garland. Spread your precious love and joy among your family and friends by purchasing this eco-friendly cane garland that produces minimum waste.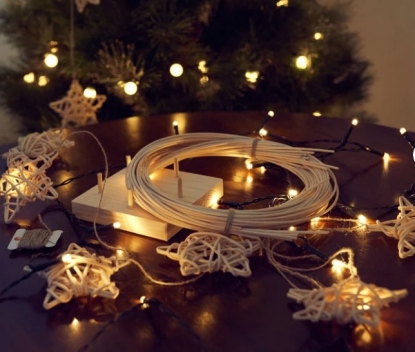 12. Paint by number kit:
Embark on your transformative journey by buying this meditative Amalfi coast display paint-by-number kit. Each DIY kit contains absorptive linen canvas with color tints, paint brushes, hanging accessories, and an instructions manual.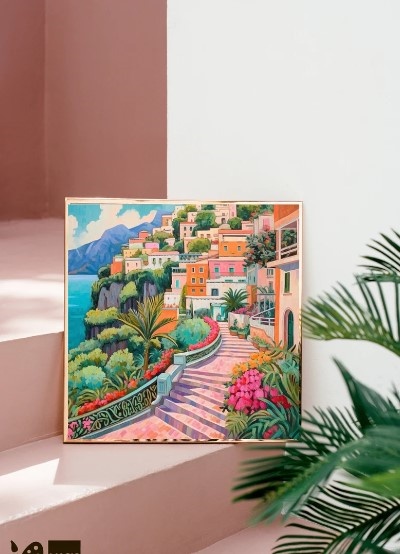 13. DIY paper garden craft kit:
Making 3D floral displays has always been challenging for beginners. Purchase this DIY paper craft kit with a gorgeous garden scene in Doom to complete your collection. This kit includes a crafting knife with extra blades, one printed practice sheet, one dome, wooden pieces to make steps, and wire to connect it with the base.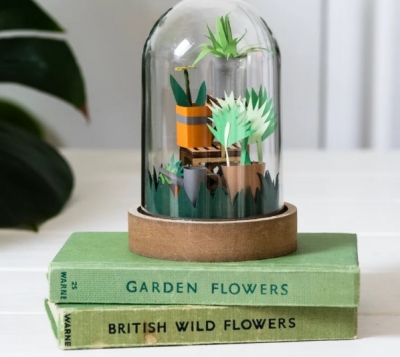 Woodworking craft kits for adults:
14. Boat model building kit:
This wooden ship kit offers a comprehensive instruction manual and guidance to build this elegant boat. The makers offer a lifetime guarantee and would replace any piece if broken or lost.
15. Wooden Dollhouse kit for adults:
This dollhouse kit is a must-buy due to its fantastic aesthetics and fine detailing. The dollhouse follows a 1:24 scale, which is convenient for any space. To complete its charm, the kit includes wood, fabric, LEDs, and paper cuts.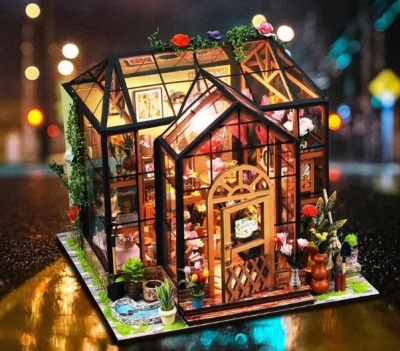 You will also like: DIY Dollhouse Ideas for all age enthusiasts
16. Wooden fantasy airship model:
Here is your chance to embark on an epic adventure with a 3D and easy-to-assemble fantasy airship model. This immaculate puzzle is an ideal gift to keep people entertained for hours!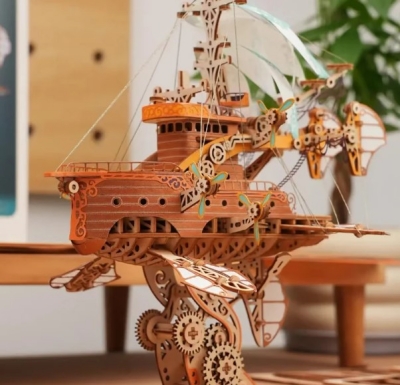 17. Wooden DIY Pinball Puzzle:
Relive your childhood this winter season by purchasing this exclusive arcade pinball puzzle. This elegant pinball kit has 482 pieces and comes with a complete instructions manual to keep you entertained with its realistic feedback.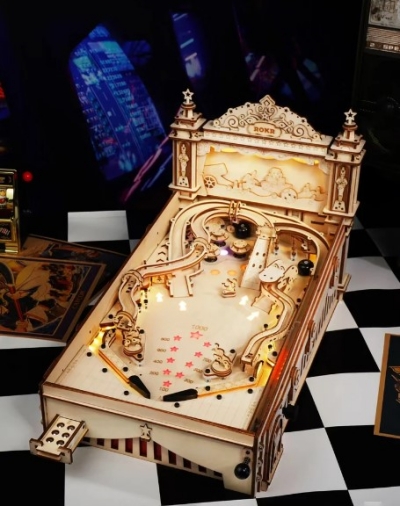 18. Wood carving kit for beginners:
Help your friends master the art of carving by gifting this unique wooden carving kit this holiday season. The kit includes wood carving blocks, birdie cut-outs, cut-resistant tape, a leather strop kit, sandpaper, and beeswax.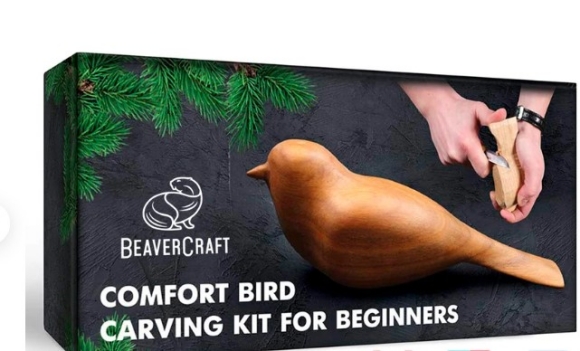 You will also like: Creative Driftwood art and decor ideas
19. DIY Book Nook for adults:
This DIY book nook can rejuvenate your home library by adding personal charm. This DIY kit is all-inclusive and only requires glue and your precious time to complete it.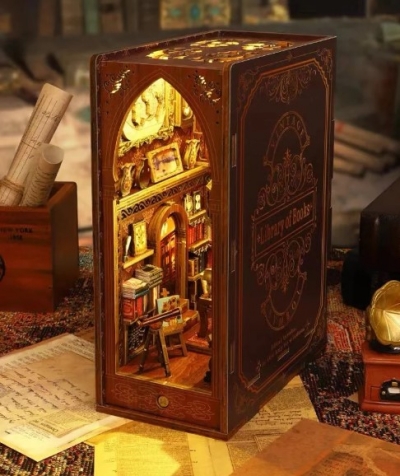 Other hobby craft kits for adults:
20. Stained Glass craft kits for adults:
Don't have time or resources to precut glass for crafts? Here is a stained glass craft kit for beginners that teaches you the skill by making a hummingbird. The numbering on the glass and instructions manual would help you finish it with precision.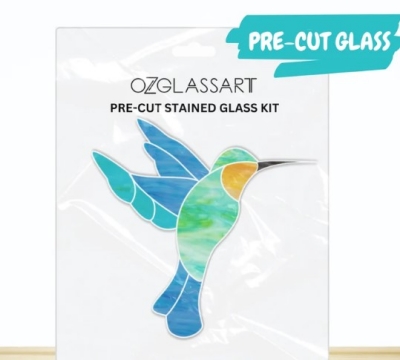 21. DIY Macrame kit for adults:
Macrame artwork is perfect for decluttering your mind, improving focus, and improving motor skills. If you don't know about this art but want to practice it first or know someone who would love it, then this DIY macrame cactus kit is the right choice. This budget-friendly kit includes everything required for making macrame and is perfect for practicing it on a miniature level.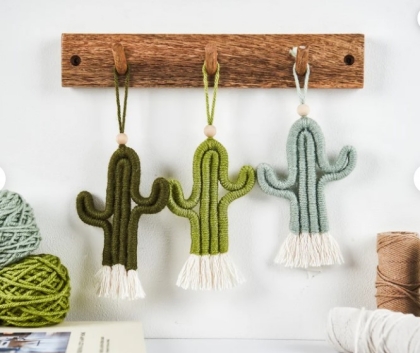 22. DIY mosaic coasters kit:
Have fun with tiles and create DIY mosaic coasters kit. The kit comes in beautiful packaging, making it an ideal gift for children and adults.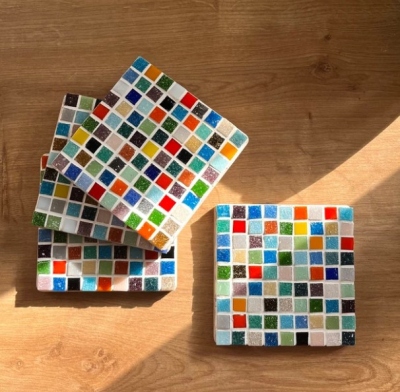 23. Mandala mosaic kit for adults:
Unleash your creative side by purchasing this mandala mosaic kit to entertain yourself for hours. The intricate details and vibrant colors will surely destress you within minutes after a hectic day at work.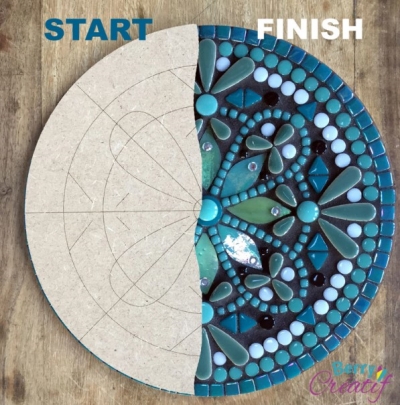 24. Diamond painting kit for adults:
Help your family and friends invigorate their fantasy world by gifting this stunning diamond painting coasters kit or diamond painting art kit on birthdays, anniversaries, and holidays. This kit offers a consummate experience to the crafter and helps them polish their critical thinking and communication skills.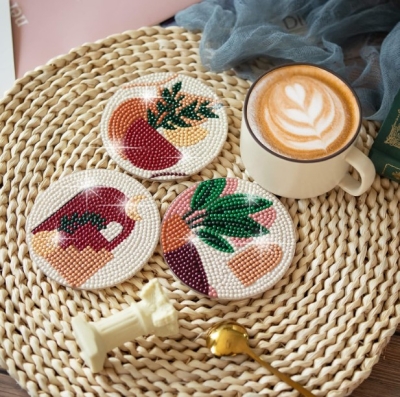 25. Hook rug-making kit for adults:
Commence a new fun and entertaining hobby by purchasing this marvellous latch hook kit. The products are suitable for display on walls, floors, and even sofas. In addition, the kit comes with all necessary items, including crochet, yarn, and instructions.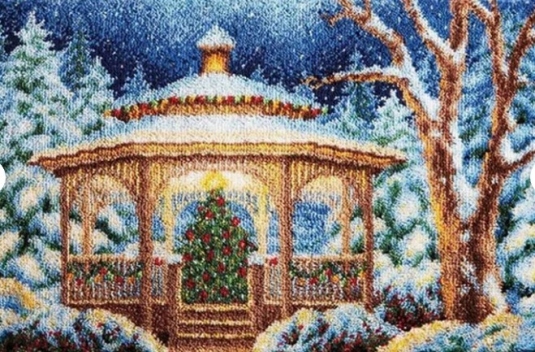 26. Felt crafts kit for adults:
This versatile folk birds felt kit is ideal for making five colorful birds that are suitable for decorative or personal use. Each bird has applique floral patterns with cross stitch details thus make it an excellent choice for craftsmanship.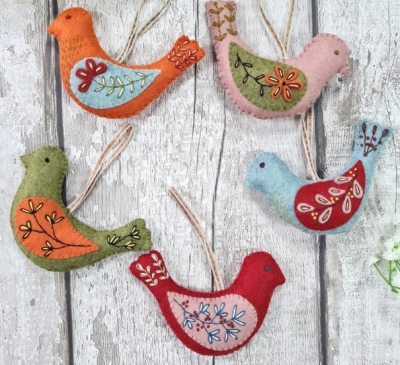 Useful Craft Kits for adults
27. DIY Candle making kit for adults:
Candle crafting couldn't be easier! Purchase this fantastic DIY candle making kit for adults to add your personal charm to your home with your favorite scents. This exclusive kit includes all necessary candle-making items, including essential oils, soy wax, vessels, vials, and dried flowers. Seashells, decorative gemstones, labels, mason jars, and cotton wicks. This would surely make a perfect gift for the holidays!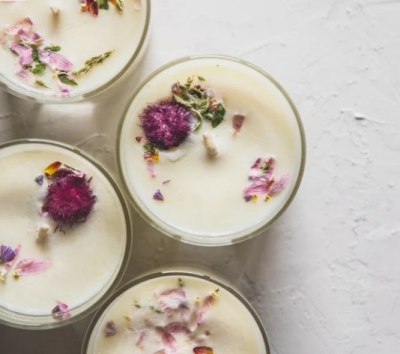 28. Leather craft kits for adults:
Breathe a new life into your crafting adventures with Leather crafts kit that involves embossing patterns and borders on your leather goods.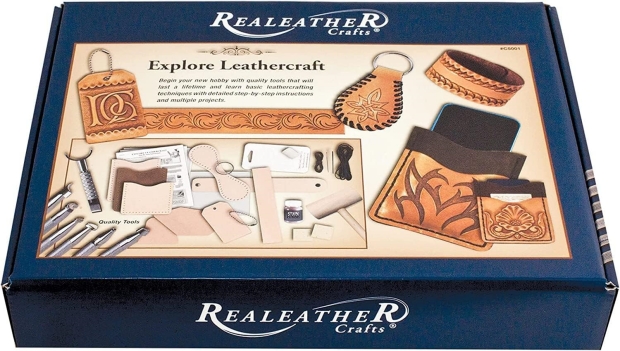 29. Bead craft kits for adults:
This novice bead embroidery kit is everything you could ever wish for! A stunning natural pattern with all necessary beads and crystals will bring you endless delight or serve as an excellent gift for your loved ones.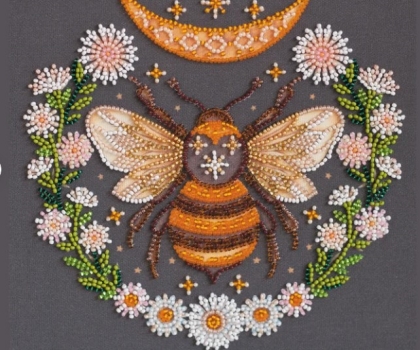 30. Wire jewelry craft kits for adults:
This wire earrings kit suits everyone with intermediate jewelry crafting skills. This kit has all the necessary elements and materials to craft a charming, enchanted pair of earrings for your jewelry collection.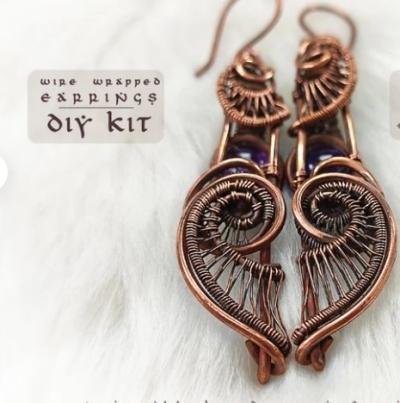 31. Resin crafts kits for adults:
Enter the world of endless possibilities and exclusive designs by choosing resin crafting as a habit. Get this finest Complete resin kit to create resin paperweights with a personalized touch.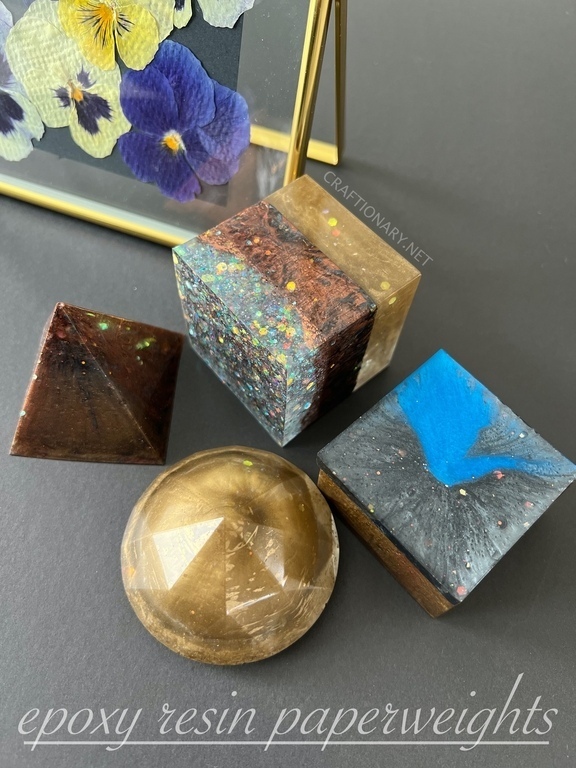 32. Sewing craft kits for adults:
Stitching, sewing, embroidery, and crochet are some of the artworks that have been an insignia of high social status and memory knowledge for these craftsmen. Here are some amazing options for such crafts: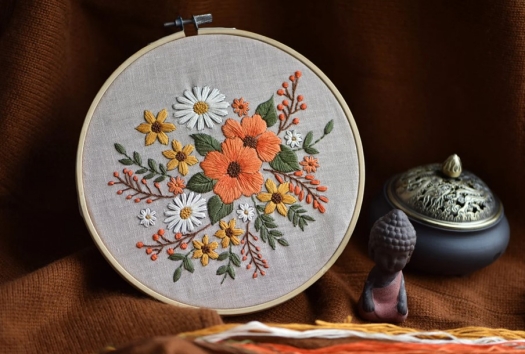 33. Suncatcher craft kits for adults:
Cast a dazzling array of light in your room and inner decor by crafting this magnificent suncatcher using a DIY suncatcher kit for adults with crystals, moon and star.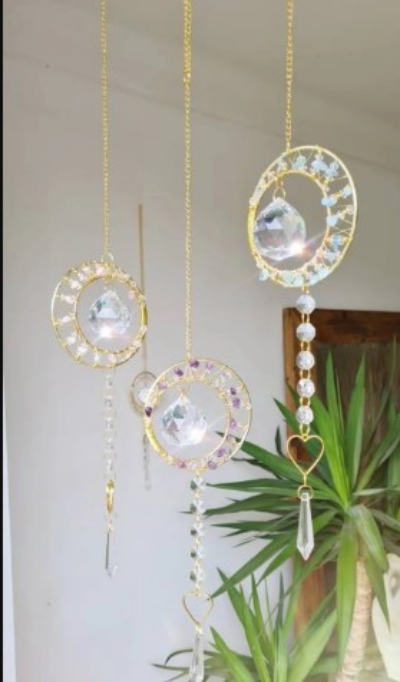 Arts and Crafts Kits for adults:
34. Metal craft kits for adults:
Love mechanics? Here is a fun metal puzzle kit to make a 3D mechanical skeleton robot from recycled metal.
35. Wool craft kits for adults:
Create an aesthetic beautiful wool needle felting project from a wool felt kit and get a sense of accomplishment and joy!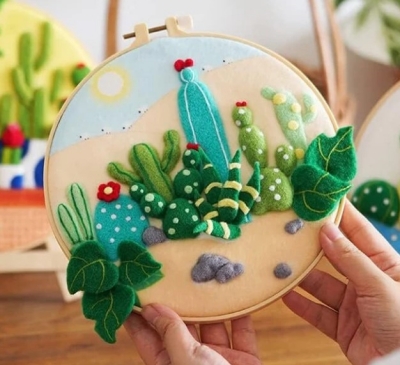 36.  Kintsugi repair craft kit:
Don't throw away your favorite piece of pottery that you accidentally broke. Here is your ultimate life saver: Kintsugi repair craft kit that helps to rejoin broken clay or ceramics by enhancing their beauty. Learn more about Kintsugi Pottery Art.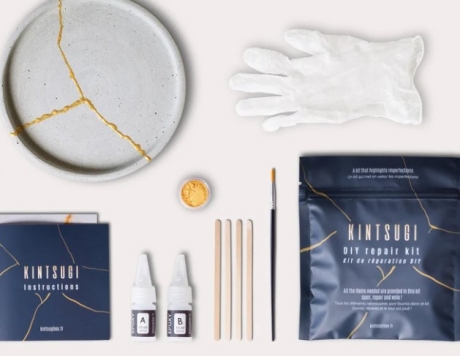 37. DIY origami decoration craft kit:
Looking for a new hobby? How about origami? It helps to maintain a peaceful mind and enhances your critical thinking abilities by crafting the finest origami decorations using this origami craft kit.
38. DIY lantern making kit:
This DIY lantern kit is ideal for engagement with nature and outdoor activities for adults and kids alike. You can find lightweight and natural materials by wandering outside and using those materials for decorating this lantern. It can make a perfect birthday gift for arts and crafts enthusiasts.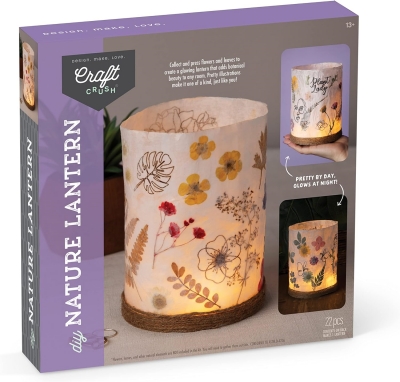 39. Garden markers metal embossing kit:
The embossing kit is an ideal diy garden kit for adults as it helps to mag up to 10 custom tags for your planters.
40. Create your wall hanging kit:
Last but certainly not least on our list of crafting kits is the create your own wall hanging kit, which enables talented people to explore their ideas with complete freedom. What a great idea to personalize your home with convenience.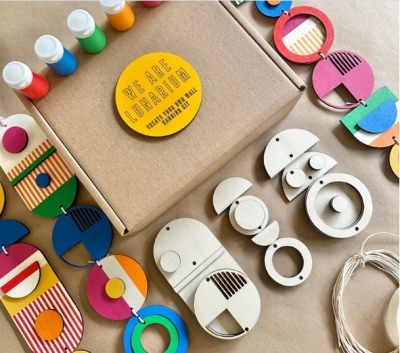 41. Kindness rock painting kit:
Use this fun rock painting kit to play this fun hide and seek game with painted rocks. Simply paint and hide your rocks with beautiful kind messages and spread smiles amongst people who find them.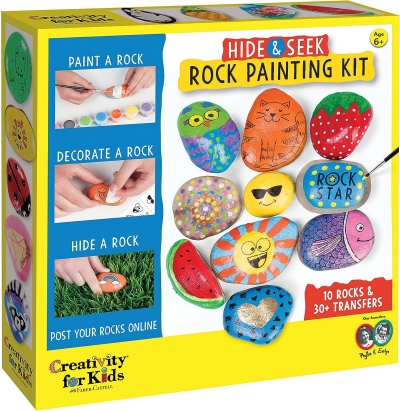 42. DIY Terrarium Adults Starter Kit:
Elevate the look of your indoor plants by using this simple Terrarium Starter kit that comes with round teardrop hanging glasses, moss, soil, growing medium, miniature garden care guide and succulent plant food.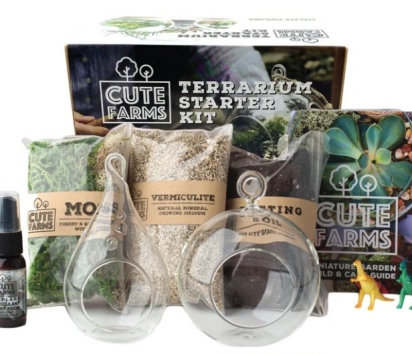 43. DIY soap kit for adults:
Make your own Shea and oatmeal soaps using a handmade soap kit that includes soap base, coconut and lime fragrance, guide and more.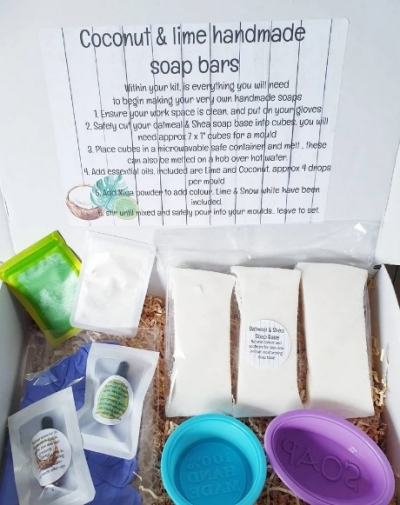 You will also like: Soap making projects with process and techniques.
45. Personalized hand stamped jewelry kit:
Create something that carries your stamp! Try a handmade jewelry kit to add a personal charm to a piece of jewelry for yourself or others.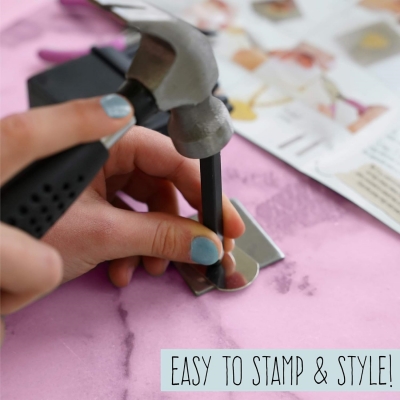 Written by: Nageen Sohail