This post may contain affiliate links. Please see our full Disclosure Policy for details.
Nail String art is a unique and enthralling art style that involves sketching your design and using hammer to nail and outline your pattern. Then fill the sculpture with strings or threads in complex patterns on a supporting material like wood or canvas. You can make two-dimensional and three-dimensional string art motifs.
What is nail string art?
No matter your level of crafting, string art gives countless options for one-of-a-kind and eye-catching products. Nails or pins are used to create the design's outline on a wooden board or canvas as the first step in the procedure. The artwork is skillfully brought to life by carefully weaving or wrapping colorful threads or strings over the nails.
String art ideas provide a contemplative and healing experience for both creators and spectators, making it perfect for personalized gifts, home decor, and event decorations.
String Art Project Supplies and Materials
You will need:
DIY String Art Instructions:
1) Use a printable or drawing as your guide and place it on your wooden board. Use tape on the edges to keep it secured in place.
2) With the help of a small hammer carefully place the nails on the outline of your pattern. Try to keep an even distance between the nails.
3) Remove the paper before weaving the nails.
4) Start by making a knot at the beginning point so that it doesn't get lose as you stretch and loop it throw various nails. Now carefully loop it around each nail to add extra strength and continue moving to the next nail in line. Once you have covered all the nails an outline will be formed with thread. Now start looping it from top to bottom, and sideways to fill in the space with thread as you go.
You can also finish one space before moving to another as you string the design instead of creating an outline first! This decision varies depending on the pattern of choice.
Once you are satisfied with the stringing of art you can tie a strong knot and finish it off. You can also use more than one colored string to complete the project or use a multicolored string.
Nail String Art FAQ's:
How to make templates of string art patterns and designs?
You can create a string art template by printing your desired design, tracing it with carbon paper, or free hand drawing it. Make sure to identify the key points in your drawing, such as corners and detail angles and mark them with a ruler or compass. This will highlight the pattern's structure. Pin the main points keeping even distance between them and start weaving the string art. Make a knot and secure at the starting point and enjoy the process.
You can also use this string art generator to turn any image into a template for your string art.
How to do string art without nails?
String art is a non-nail-based alternative for creating intricate patterns. Use a sturdy base material, a hammer, and small hooks or eye screws to create. Draw or print your desired design, then strategically place hooks or eye screws at key points along the outline. Thread colorful strings or threads through the hooks, experimenting with colors and textures to add depth and flair. This method allows flexibility and adaptability for a unique, nail-free art masterpiece.
How to do string art with nails?
Crafting string art with nails is a captivating and tactile art form. Gather materials like a wooden board or canvas, nails, a hammer, and a design template. Secure the template, hammer nails along the outline, and weave the string back and forth. Experiment with different colors and thicknesses of string to add depth and visual interest. Enjoy the process of creating a mesmerizing string art masterpiece with nails as guiding anchors. Add a wood or canvas panel on the back of canvas for hold nails.
What kind of string should we use for string art?
Choose a sturdy, flexible string for string art projects, such as embroidery floss, nylon thread, crochet cord, or cotton thread for intricate designs. Thicker strings like yarn, macrame rope, cotton twine, or jute twine create bolder patterns. High-quality, durable strings ensure visually appealing and enduring pieces.
What size nails to use for string art?
String Art Nails must be between 1.5 and 2 inches long for string art to be successful and aesthetically pleasing. These nails maintain cosmetic attractiveness while maintaining stability and preventing mishaps. The decision will depend on the complexity of the design and the thickness of the board or canvas. A gratifying and attractive string artwork is ensured by careful consideration.
How to do string art patterns?
Making designs for string art is a fulfilling and entertaining endeavor. On a wooden board, doodle the desired pattern, lay nails along the lines, and then hammer the nails into place. By connecting the string to one nail and wrapping it around the other nails, you may string the design. To add depth and texture, play around with the thread colors and paths. To preserve a neat, even appearance, keep tension. Trim any extra string after tying off the string securely.
How to make words and typographic string art?
Create captivating typographic string art by outlining words or phrases in pencil, securing nails, and choosing the color, and type of string. Carefully weave string around nails, and experiment with colors, textures, and thicknesses. Tie off, trim excess, and display personalized artistry.
How far should you hammer the nails in for string art?
Hammering nails at the right depth is crucial for optimal results in string art. Ideally, hammering nails halfway into the wooden board or canvas ensures a secure fit, prevents protrusion, and prevents accidents or damage to the finished piece.
What is the right way of doing string art?
By drawing a pattern, putting nails there, picking a color and type, and tying a knot, you may make eye-catching string art. Try different pathways and colors as you carefully weave the thread, and then tie it off safely. Take pleasure in patience, focus, and imaginative discovery.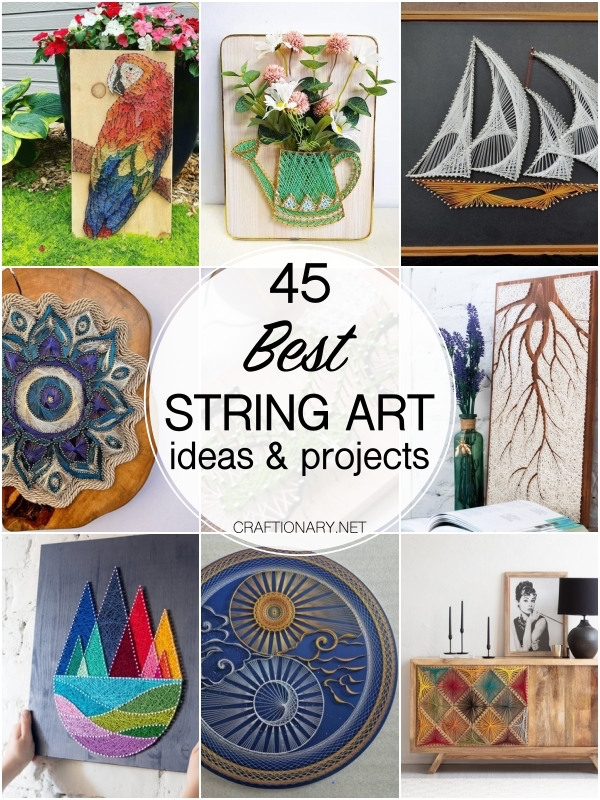 Nail String art ideas are here to guide you on a variety of different concepts that can be stringed. However, this is such a fun activity that you can almost turn any image or print into a work of art with nails and strings. Apart from string art ideas shared here you might love to craft DIY projects like Pebble Art Ideas, trending driftwood art and even Easy Crafts To Do When Bored At Home. Not only are these ideas a good pass time, but a great activity to do with family and friends.
EASY STRING ART IDEAS:
Heart String Art:
Heart illustration showcases low-tech, high-impact art with vivid hues and a clear, uncomplicated string arrangement, making it a statement piece in smaller formats.
Deer String Art:
The finest wall decor you can make yourself is beautiful deer silhouette string art using wood, blackboard paint, nails, twine, or embroidery floss.
Unicorn String Art:
Unicorn string art is a vibrant, whimsical expression combining painting, sculpture, and traditional string crafts. It involves creating a unicorn silhouette, anchoring colorful strings, and adding depth and texture for visual enjoyment.
Guitar String art:
DIY guitar string art combines musical passion and artistic flair. Sketch guitar outline, place nails, and wind and loop strings, experimenting with colors and patterns for a visually stunning piece.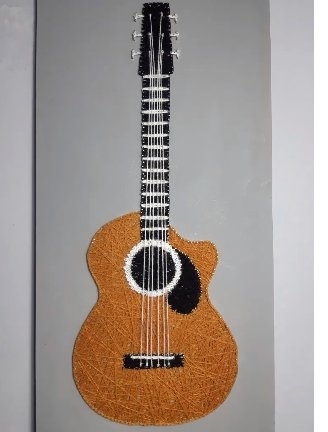 Butterfly String Art:
Butterfly string art is a charming fusion of art and craft, showcasing the delicate beauty of butterflies in flight, symbolizing transformation and freedom.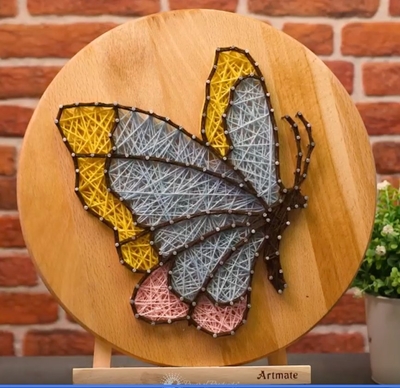 Bicycle String Art:
Bicycle string art adds depth and complexity to living spaces and the rooms of bike aficionados by showcasing vintage bicycles with colorful strings looped and woven around nails. Get the DIY Bike Kit and start creating.
Mountain String Art: – 
Mountain string art is a captivating, artistic representation of majestic mountainscapes, combining nature's allure with creative craftsmanship. It involves intricately woven strings, creating a multi-dimensional, immersive experience for nature lovers and adventure seekers. Get the template
Cactus String Art:
Make this cactus string art craft if you can't get enough succulent crafts. Follow the instructions to make a beautiful plant string art design for your house, which also includes downloading the free printable template. You can also get this incredible cactus wall art.
SIMPLE STRING ART IDEAS:
Sunflower String Art:
With its brilliant, vibrant representations, sunflower string art, which demonstrates talent and craftsmanship, stimulates warmth and happiness in flower aficionados and nature lovers. Create beautiful bouquet with DIY Lavender kit.
Hot Air Balloon String Art:
Get this Hot Air Balloon string art kit to make a whimsical craft using wooden boards or canvas, incorporating colorful strings and nails for a cheerful, imaginative touch in parties and spaces.
Circle String Art:
Circle or spiral string art uses creative design and weaving to create intricate patterns. It enhances living spaces with colorful, intricate patterns, and makes a unique and intriguing gift for those who appreciate geometric patterns. Similarly you can make Mandala string art with this kit.
Zodiac String Art:
A significant and beautiful addition to any environment, zodiac string art is a compelling, meditative art form that expresses harmony, togetherness, and spirituality.
Two States String Art:
Get this Two states string art that represents the bond between two places, symbolizing journey and unity, using wooden boards and nails or pins. This personalized gift captures memories and emotions.
Geometric String Art:
Geometric string art combines mathematical precision with creative design, creating intricate patterns and visually mesmerizing artwork for home decor enthusiasts.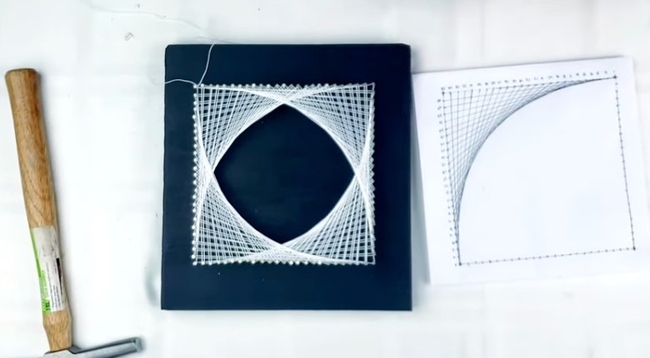 Monument String Art:
With the help of this Eiffel Tower String Art pattern and instructions draw out the outline of the famous Parisian landmark and use hooks or pegs to secure it to the string. This is a great idea to mark memorable travel diaries.
String Art Jewelry:
The trend in crafts and interior design right now is string art. You can now create one-of-a-kind and customized jewelry pieces like brooches and pendants using this approach. An entertaining lesson shows you how to create this striking pendant or brooch using polymer clay, some simple tools, and thread.
BEST STRING ART IDEAS:
Marquee String Art LOVE:
Love string art is a heartfelt, personalized gift that symbolizes the universal language of love, and evokes warmth, affection, and joy, adding beauty and positivity to any space.
Artistic Sun and Moon String Art

Get this Yin Yang string art that symbolizes happiness and delight by strategically placing nails or pins on a surface, creating a visually captivating design filled with vibrant strings, highlighting the art of nature.
Star String Art:
Get this Intricate Star shaped geometric decorations known as "string art stars" made by carefully arranging pins or nails on a wood surface. They can be utilized as solo decorations or incorporated into bigger compositions, and they provide countless creative options.
Sailboat String Art:
Get this Sailboat string art, a nautical art form that displays the grace and beauty of sailing. It entails carefully inserting screws, building a framework, and weaving vibrant strings to give beach cottages and ocean lovers depth and perspective.
Mason Jar String Art:
A beautiful, rustic, Mason jar string art style combines nostalgia with detailed beauty. It entails outlining the contour of a mason jar with pins or nails before weaving vibrant threads to add warmth and charm. Get the flowering can string art kit.
Leaf String Art:
The beauty and complexity of leaves are celebrated in the nature-inspired art style of leaf string art. Capturing veins and shapes requires carefully inserting nails to build a framework and weaving fine threads. This form of art is adaptable and has a connection to nature. Not into making one, you can get this tree roots string art.
Sparkler String Art:
Sparkler string art is a whimsical art form featuring vibrant sparklers, creating a dynamic framework and weaving colorful threads, perfect for festive occasions and installations.
CUTE STRING ART IDEAS:
Whale String Art:
By properly positioning nails, building a structure, and weaving colorful strings, whale string art captures the majesty and beauty of whales. It can serve as wall art, a focal point, or a representation of the beauty of nature.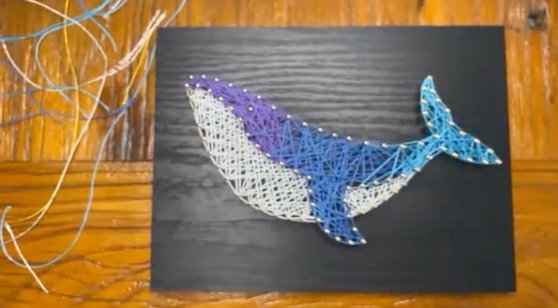 City Skyline String Art:
New York City String Art is a creative and decorative Manhattan art using colorful threads to create intricate designs. You can custom order any sacramento skyline from this shop or make your own with this inspiration.
Rabbit in Starry Sky String Art:
The intriguing string and visual design work together in Rabbit in Starry Sky String Art to create a stunning contrast between the colorful strings and the dark background.
Tree String Art:
Strings and visual design are used to create branches and trunks in tree string art, which is an engaging way to depict a tree.
String Art Horse:
String Art Horse is a complex piece of art that combines the beauty of horses with the usage of strings. It displays grace, strength, and elegance in a variety of colors on a wooden canvas.
Portrait String Art:
Portrait string art with a single thread involves intricately woven portraits, weaving thread around nails or pins, and creating visually stunning artwork with meticulous lines and shading.
Big String Art Wall Hanging:

Get wowed by this Stunning large landscape piece of art handmade with string art by artist Mono Creationz.
Owl String Art:
Cute owl string art is a delightful and adorable decoration for nurseries and bedrooms. It features a cute owl design on a wooden canvas that is embellished with vibrant strings.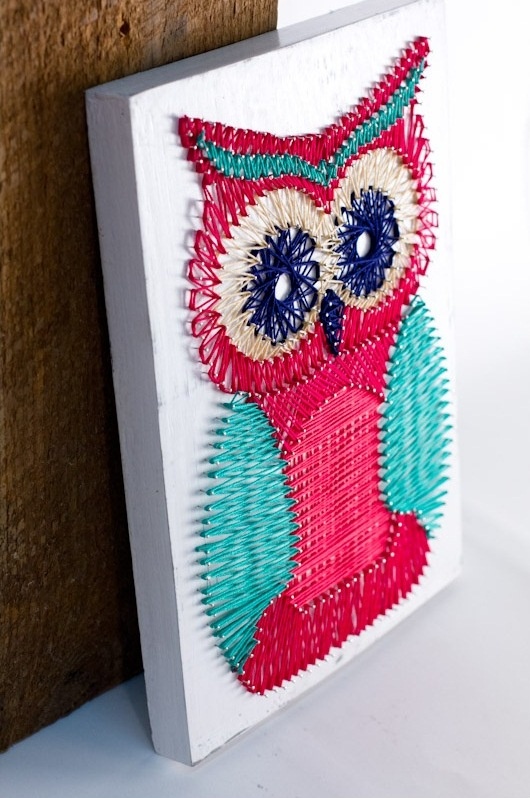 FUN STRING ART IDEAS:
Beach String Art:
Beach string art blends artistry and workmanship to bring viewers to a serene paradise. It depicts island landscapes utilizing nails and vibrant strings on wooden canvas.
Birthday Gift String Art:
Birthday gift string art is a personalized, heartfelt gift combining creativity and thoughtfulness, featuring colorful strings woven between nails on a wooden canvas.
Macaw String Art:
Get this macaw string art on reclaimed wood made with wire and colorful strings. Colored threads are weaved and packaged as a unique gift or for display on shelves and walls.
Snowman String Art:
Crafting a snowman out of strings on a wooden board is a visually appealing way to make a delightful, unique, and holiday decoration that can be used by people of all ages. Get the kit to make beautiful snowflake string art.
String Art Furniture Piece:
Bring a touch of unique taste to an old piece of furniture with string art. Just like this minimalist antique sideboard that will look extraordinary in your living space or dinning hall.
CHRISTMAS STRING ART IDEAS:
"The Cross" String Art:
"The cross" on a wooden canvas symbolizes Christian cross design, symbolizing unity, sacrifice, and redemption, with contrasting colors and textures. It evokes faith, hope, and reverence. Use this cross printable template to guide you.
Christmas Ornaments String Art:
Use Nails and strings make elaborate patterns and designs with this Christmas ornament string art kit, enhancing the holiday season and making enduring memories with loved ones.
Christmas Tree String Art:
Christmas tree string art makes use of vibrant threads and nails on board canvases to create an entrancing pattern resembling branches and ornaments, which adds a warm, personal touch.
Gift String Art:
Use this template to make Christmas gift string art.
Christmas Wreath String Art:
Use Christmas Wreath String Art Template to create holiday decoration using strings or threads in wreath shapes on a wooden base, using classic holiday hues.
Vibrant String Art Gift:
Get this exclusive bright mandala string art kit for teens and crafty adults.
HALLOWEEN STRING ART IDEAS:
Spooky String Art:
Nails and colored thread are used to make spooky string art, which frequently has supernatural, Halloween, or horror themes.
Pumpkin String Art:
Beautiful Pumpkin string art kit captures autumn and Halloween with strategically placed nails, creating a framework, and weaving colorful threads. It adds depth and character, perfect for Halloween parties, displays, or seasonal art.
Bat String Art:
For Halloween celebrations, bat string art on a wooden painting decorated in rich blacks and purples evokes a spooky, nocturnal atmosphere.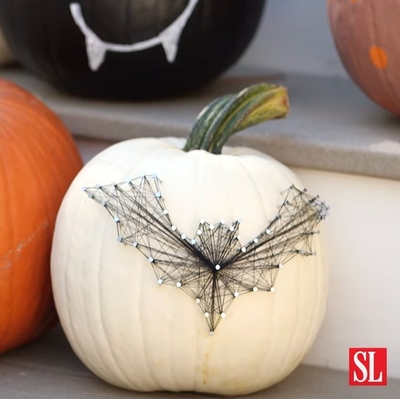 BOO Halloween String Art:
Bold letters and eerie strings in Halloween-themed colors are used in the "BOO" Halloween string art, which is created on a wooden canvas using nails and pins. This imaginative decoration gives your house or gathering a touch of enchanted Halloween magic and handmade artistry.
Jack-O Lantern String Art:
Jack-O Lantern string art is a spooktacular art form using nails and pins on a wooden canvas. The artist skillfully arranges nails to outline the classic Jack-O-Lantern face, creating a warm, eerie glow.
Author: Sarah Samad