This post may contain affiliate links. Please see our full Disclosure Policy for details.
What is driftwood and how is it used in driftwood art and decor ideas to make a variety of driftwood projects that are unique and expensive. Make driftwood crafts to sell from your handmade items store.
The word driftwood is coined by combining two words, i.e., drift and wood. The pieces of wood that drift with the currents and are cast ashore are known as driftwood.
Driftwood washes the shores due to wind, waves, or tides. Most people associate driftwood with the ocean only; however, it is abundantly found by lake sides and rivers. As driftwood stays in the water indefinitely, its exposure to the sun is also generous, ultimately resulting in this wood's bleaching.
The uses of driftwood are immense. Depending upon the type of driftwood involved, it is used as fuel, base for sculptures, and other craftsmanship.
Driftwood
Sources of driftwood:
Wood becomes a part of the water due to storms, Tsunamis, or other natural activities. During harsh climatic conditions or storms, driftwood accumulates on the river banks and beaches that washes back into the water if not collected.
Lets get started with frequently asked questions about driftwood:
Why is driftwood so expensive?
From exotic hardwood to ordinary wood pieces, driftwood is not cheap. The driftwood market is a niche market. Natural and manufactured driftwood require sufficient conditions, such as submersion of wood in brine water for a particular time and exposure to sunlight before usage for a refined finish. Similarly, the cost of collection and sourcing, curing, shipping cost, and cleaning for removal of unwanted bacteria, algae, and other microorganisms add to its value.
What is the color of driftwood?
The natural shade of driftwood is a warm brown with a grey undertone.
Cleaning and maintenance of driftwood
How to clean and maintain driftwood?
1) There are various methods for cleaning driftwood. For instance, driftwood for aquariums can be cleaned without using chemicals or disinfectants. Use distilled water soaking method to remove impurities from driftwood. Remove macro debris from the wooden piece using a sturdy brush. Then, soak the wooden piece in a large container or tub filled with distilled water for two weeks. The water should be replaced once it becomes dark. Remove this wooden piece from the water after a fortnight and let it dry uninterrupted at a dry place.
2) Another convenient method of cleaning driftwood is through the disinfecting method. In this process, an emulsion of one part bleach to nine parts of water is used to submerge driftwood in a large container or tub. The piece is kept in this emulsion for 3-4 days, whereas the container is regularly filled with clean solution daily. After this time, driftwood is removed from the water and dried in a low-humidity environment. This process is not suitable for aquariums due to the use of bleaching agents that are harmful for aquatic life.
Can I pressure-wash driftwood?
Pressure washing is also a convenient method to remove impurities from driftwood; however, one must be careful as one might break the fine detailing of the wood during this process.
What happens when you boil driftwood?
Boiling driftwood is a highly beneficial process. If you want to reduce the curing process, boiling driftwood is the best option. Place driftwood in a large container with boiled water to remove tannins fast. In addition, driftwood helps in the sterilization process by removing and killing algae, fungal spores, and other contaminants.
How long to boil driftwood to remove tannins?
The time required for tannins to leach out of driftwood depends on the age, size, moisture level, shape, and type of driftwood involved. Medium-sized driftwood might take 30 minutes to 2 hours, whereas large driftwood might take several days to remove tannins from it altogether.
How to preserve and sanitize driftwood?
One can use boiling, bleaching, and submergence methods to sanitize driftwood. Once done, one can use several sealants to preserve and seal driftwood after a thorough cleaning, such as:
Mod Podge clear acrylic sealer ( for reducing rotting and prolonged driftwood life).
Orange beeswax furniture polish and conditioner (to produce natural and chemical-free products).
Tung oil aka China wood oil or Danish oil (for prolonged protection from liquids)
Wood wash (to create a thick protective barrier against contaminants)
Teak protector (preserves, stains, and seals the wood while protecting it from UV radiation).
How to store driftwood safely?
Do you have surplus driftwood that you collected during your last visit to the beach and are worried about how to store it? Then one must place those pieces in an air tight polythene bag to avoid exposure to contaminants after careful cleaning and sterilization.
Get Driftwood
How to make driftwood?
Driftwood is only readily available in some places. In addition, the high purchasing cost also makes it challenging to acquire. This problem, however, can be solved by converting ordinary wood into driftwood.
Materials required for this process are:
Dissolve washing soda in hot water and add driftwood to water in a large container. Submerge wood in this solution for 48 hours. The wood will become soft and it will be easy to remove its bark with a wood brush. After removing the bark, dissolve 1 cup of bleach in 7 gallons of water and leave wooden pieces in it for 2-3 days. Once the discolortion has taken place its time to use sandpaper to even out the surface for a finer texture and rustic touch.
Where to buy driftwood?
You can buy raw driftwood from Amazon and eBay from certified sellers. You can also buy driftwood from various SME sellers such as DIY Driftwood.
How to get driftwood for free near me?
The best and easiest way of getting driftwood for free is to look for it near river banks, lakes, and seashores. Sometimes, these valuable pieces can be found in swamps as well. Following the instructions, you can also find sun-dried wood in nearby public parks or forests that can be converted into valuable driftwood.
How to prepare driftwood for an aquarium?
Preparing driftwood for an aquarium is a simple task. Remove macro debris from the wood by using a clean brush or scrub. Use distilled water soaking method to cure wood. One must not use any chemical or bleaching agent for aquarium driftwood as any residue might contaminate or poison the entire aquarium.
DIY Driftwood art and decor
What cool things can you make from driftwood?
Driftwood is a valuable resource that can be extensively used for crafting beautiful and practical projects. One can craft fantastic items such as driftwood coffee tables, hangers and displays, wall art, frames and mirrors, sculptures, lamps, and aquarium decorations. This article will help you craft all these items without burdening your pockets.
Is driftwood safe to bring home?
Driftwood is a highly safe natural material for crafting. However, it should be thoroughly cleaned and inspected for insects before bringing home.
What can I make with pieces of driftwood?
If you are left with pieces of driftwood only, you can still showcase your productivity by making mosaic wall art decor, wind chimes, letter displays, wreaths, seasonal decors, candle stands, etc.
What is the best glue for driftwood?
Gorilla glue is most suitable for driftwood art and crafts projects.
How do you prepare driftwood for crafts?
To prepare driftwood for crafts, it should be soaked well in washing soda and water to remove unwanted tannins and impurities from the surface. The wood should be left in the water for 12-24 hours for best results.
Do you need to treat and clean driftwood before crafting?
It is critical to completely clean and prepare driftwood before crafting as it might be filled with insects, pests, algae, fungal spores, and other harmful microorganisms. Treating driftwood before use would prolong its life and become a better crafts project.
How to hang driftwood art on the wall?
Despite weathering and curing, driftwood sculptures and crafts are heavy and require additional hanging care. For this purpose, it is vital to mount these articles on the wall using a cleat system. Cleats are interlocking solid metal channels that effectively distribute the item's weight throughout the channel. Meanwhile, lightweight items can be hung on the wall using ropes, mounts, hooks, nails, and heavy-duty glue.
Driftwood Projects
Here are some of the most in-demand and trendy driftwood articles that you can craft and buy: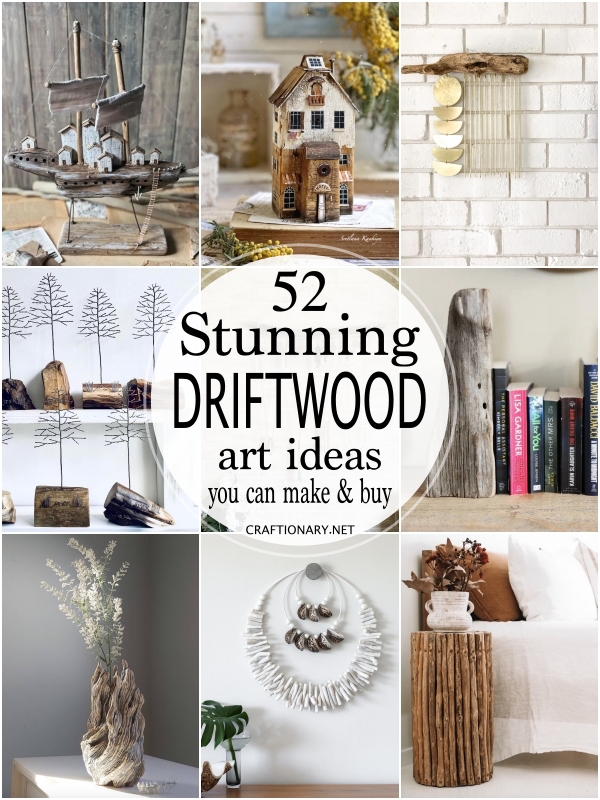 Driftwood clock
Check out this amazing DIY Driftwood clock by Sustain my crafts habits to adorn your living space. Its simple design, washed out log appearance and use of natural materials makes it a perfect choice for your living rooms and hallways.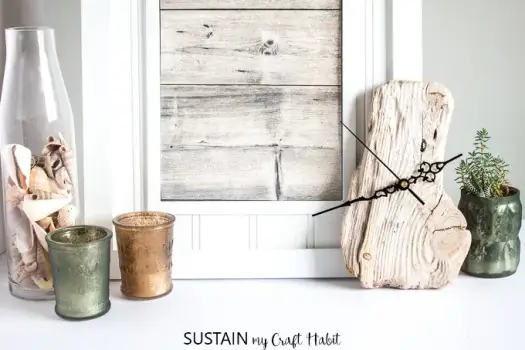 Another fun take on constructing a clock with driftwood by artist Odun'z.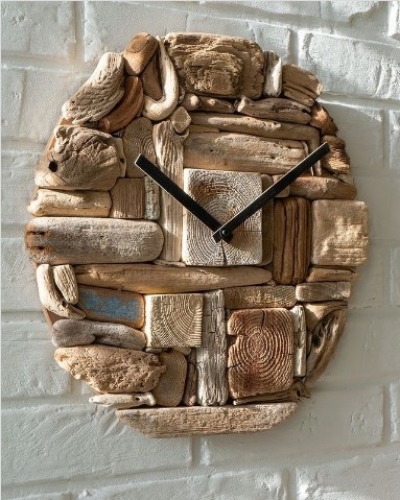 DIY Driftwood Wreath
What is better than adding a farmhouse style driftwood to your door for a beautiful display. Mark Narsan Sky adds a touch of paint to make it look vibrant and happy.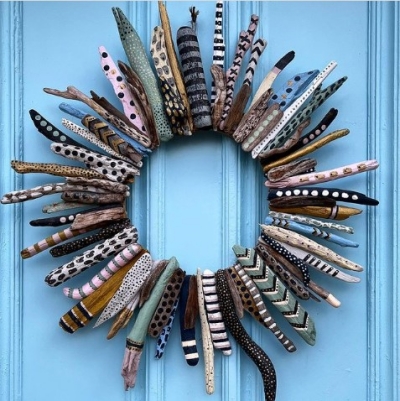 Another cool idea is from Harper and Wilde to hang driftwood on a wire wreath.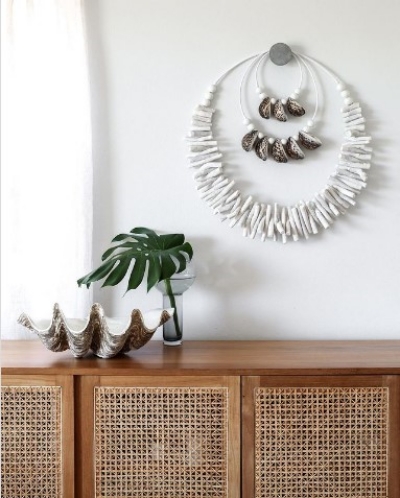 DIY Driftwood Lamp
This one is my personal favorite! Craft this bespoke table lamp if you want to create a high end product for your house. Create a majestic driftwood lamp by following this tutorial by Just Call Me Home Girl. You can also repurpose any old or broken lamp by following this technique.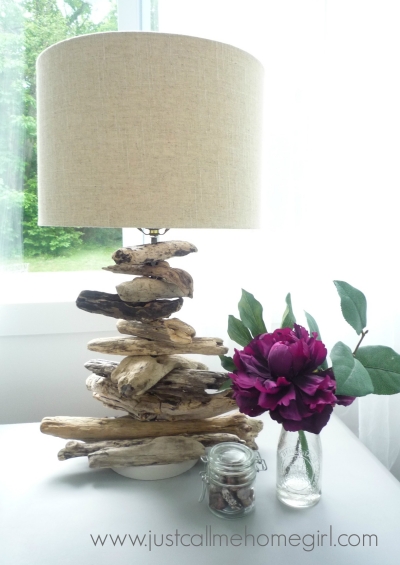 DIY Driftwood plant hanger
If you want to save space while adding botanical touch to your room, then this tutorial is the right fit for you. Craft this simple yet creative Driftwood Plant Hanger to add Boho charm to your house.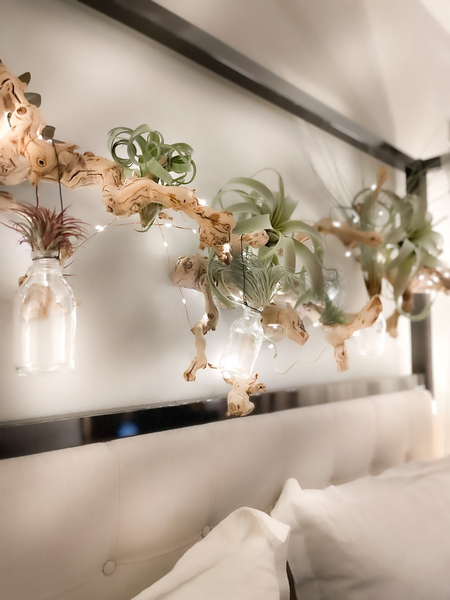 DIY Driftwood Vase
Vases are never out of fashion. One can craft various types of driftwood vases by following this tutorial by Sym Anola.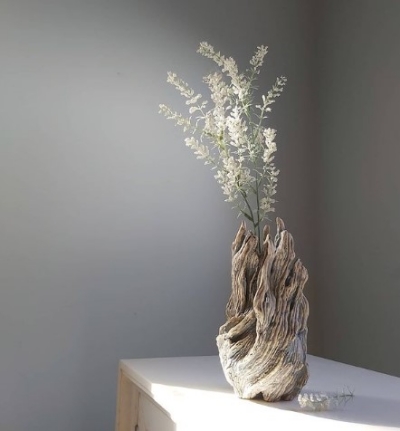 Driftwood Wind Chime
Add Feng Shui to your house by crafting a driftwood wind chime following this tutorial by Homemade Heather.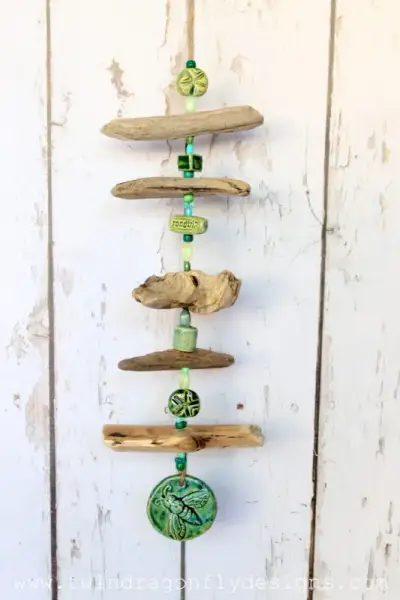 Driftwood Jewelry Hanger
With just a handful of supplies, this multipurpose jewelry hanger by Just Brit Co is a fun project. It is aesthetically pleasing and looks splendid on the wall.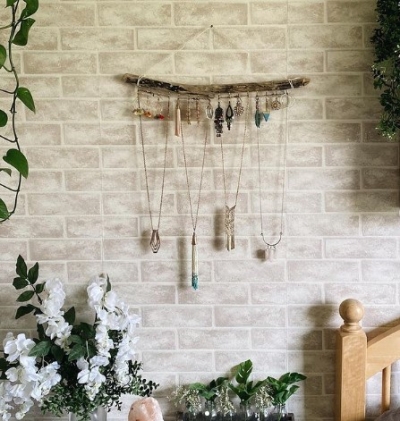 DIY Driftwood Wall Art
Craft this exquisite yet easy driftwood wall art by following this step-by-step guide by Natural Crafts and Recipes. This DIY is ideal for repurposing supplies such as wooden frames.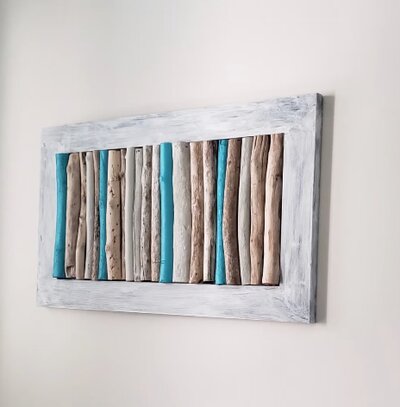 Wire Trees on Driftwood Blocks

Add a wow factor to any ordinary living space by displaying this unique driftwood block wire art.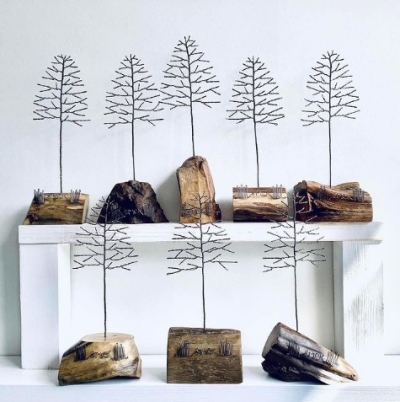 DIY driftwood letter
If you collected several sizes of driftwood while visiting the beach but are uncertain how to make the best use, follow this DIY by The Happy Housie to create a beautiful letter display.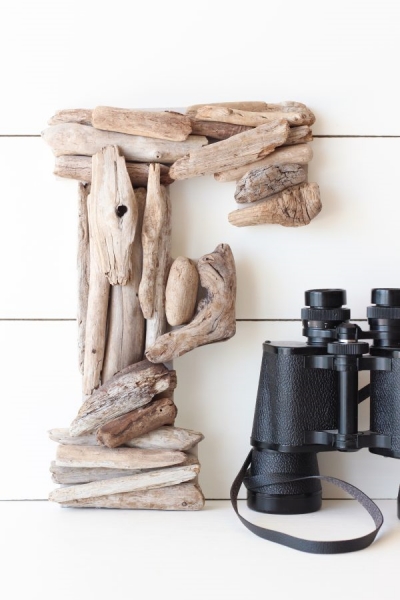 DIY driftwood succulent planter
Selecting the correct type of driftwood according to your space is essential to create a better display. Here is a creative DIY by Succulents and Sunshine for inspiration.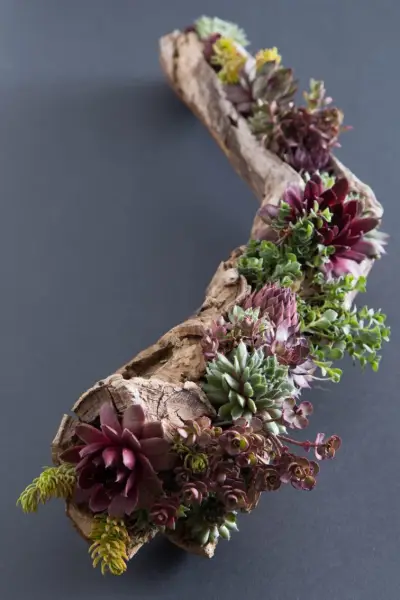 Vintage Driftwood Crafted Ship

This artist has turned driftwood into a handcrafted piece of excellence with details to make a historical ship.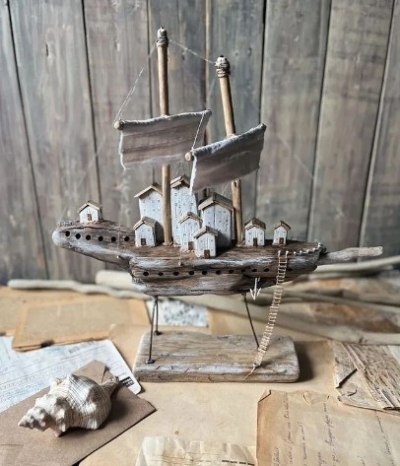 DIY Driftwood Sign for home
If you love adding beachy vibes to your house, this DIY tutorial is just for you. Start decorating your home with driftwood right from the door! Follow this tutorial by Make and Takes for crafting a minimalist and trendy door sign.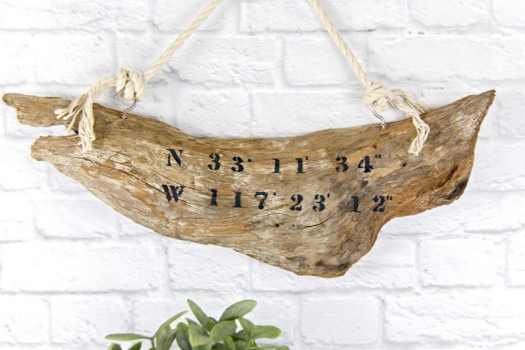 Driftwood mirror frame
Craft a cost-effective and eco-friendly mirror display for your home by gluing driftwood barks on a cardboard base with mirror in the center. I love this display of mirror and lamp made with reclaimed wood.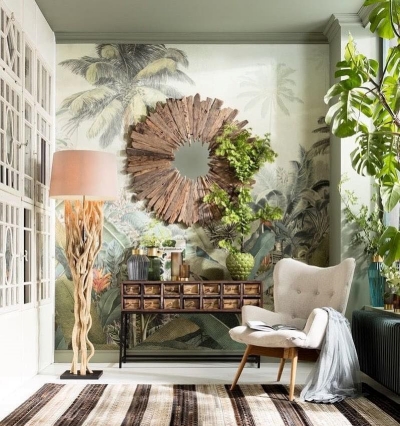 DIY Driftwood Orb
Driftwood is ideal for displaying your Nautica love in your house while adding rustic Charm to your living space. Here is a simple yet elegant DIY to make an orb with driftwood by Made in a Day.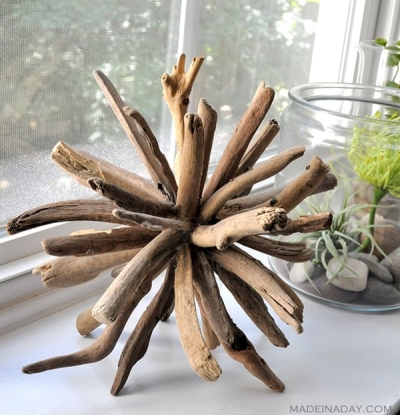 Driftwood Centerpiece
This fantastic contemporary centerpiece is just what you need for your table! Try this unique DIY by Julep.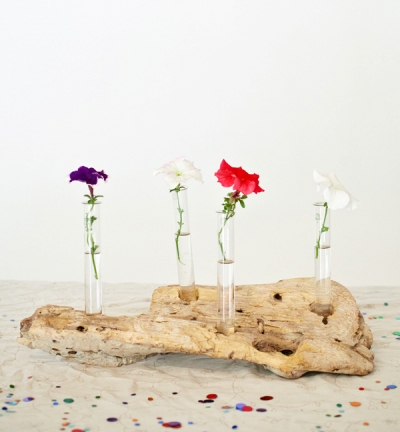 DIY Driftwood Coffee Table
Driftwood furniture not only looks classy but is durable as well. If you want to add a unique and high-end product to your living space, try crafting this beautiful coffee table by following this tutorial by Boy Kalikot.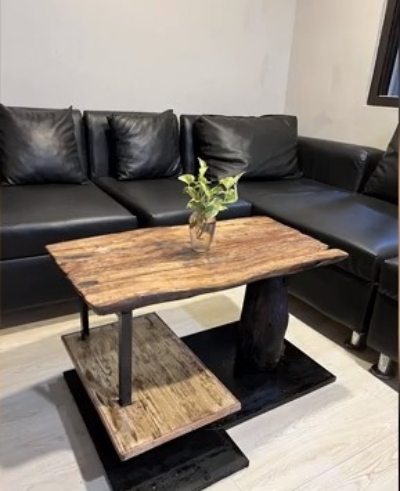 Driftwood Christmas Tree
If you want to experiment with something seasonal and different for Christmas, try crafting this unique Christmas tree made with driftwood by Craftionary.
Even more extensive is this rare find collection of driftwood used to make a life size Christmas tree.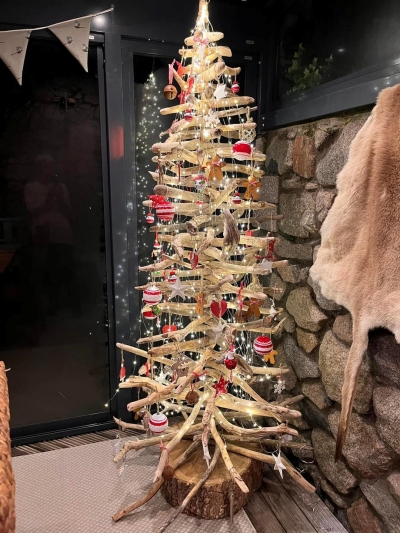 DIY Driftwood Shelf
The most feasible material to craft a floating shelf is driftwood. Its rustic charm adds more character to the wall. In addition, one is able to craft a multipurpose storage shelf cost-effectively. Here is a simple tutorial by Hawk Hill to help you achieve this goal.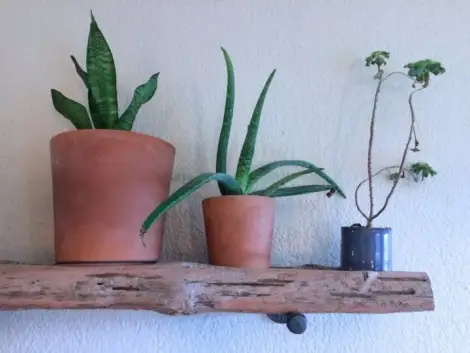 DIY Driftwood and Brass Frame
Here is your chance to craft a minimalist wall hanging using driftwood and brass with inspiration from Sacha Jacobsen!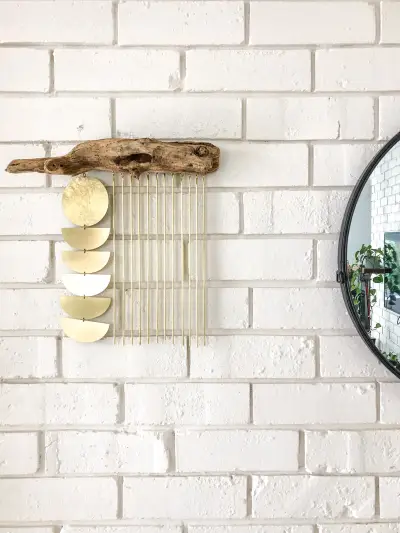 Driftwood bookends
Add these sophisticated natural bookends to your office or library.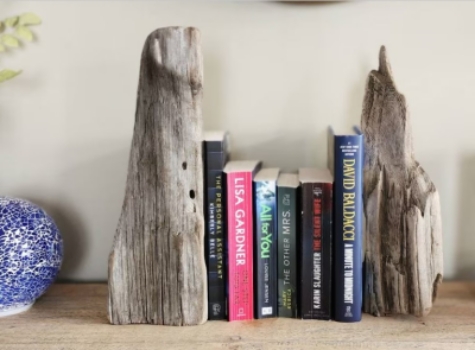 Vintage Driftwood House

Cute, old, and victorian style driftwood house is a must buy for miniature vintage collectors! Add this adorable art piece to your collection today!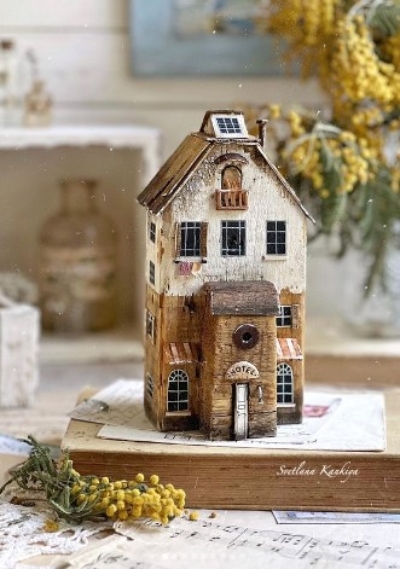 DIY Driftwood Coffee table
Want to use a colossal driftwood piece without altering its original form? Charleston Crafted has a complete guide to transform driftwood into a beautiful coffee table with a glass top.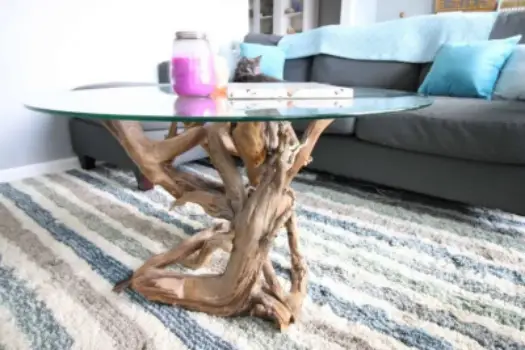 Driftwood and plants vase fillers

Add rustic flair to your house by filling glass bowls and vases with vines, air plants, and pieces of driftwood. Numerous pieces of round driftwood have been repurposed to create this display that is an ideal projection of neutral shades.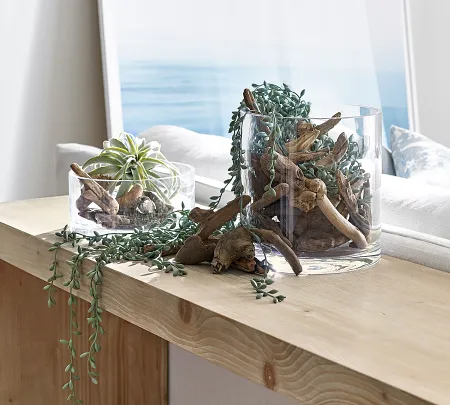 Driftwood bench
The garden and lawn decor are incomplete without a bench. If you cannot fit the right-sized bench for your outdoor space, try crafting this minimalist driftwood bench by Vits DIY Station.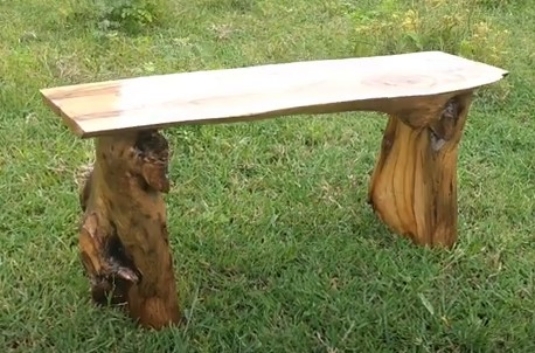 If you do not have time for crafting driftwood projects but want to add this amazing material to your home, purchase the items from the articles below.
Large driftwood mushroom wall art

Purchase this distinctive driftwood mushroom wall art to add a rustic charm to your living area.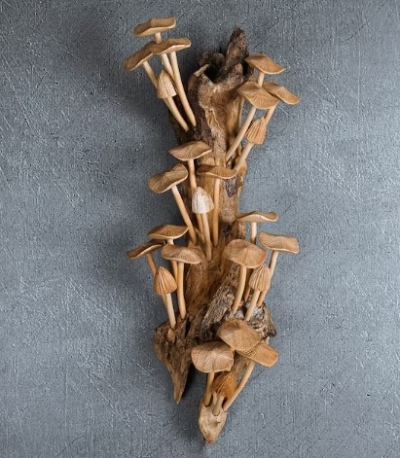 Stained glass cacti display on driftwood

Bring the Warmth of bright sunny days inside your home with a unique stained glass cactus, agave or succulent on driftwood.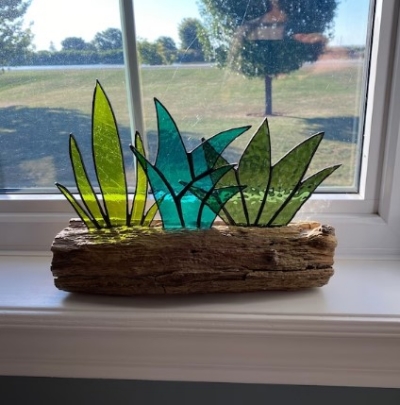 Coastal style driftwood art
Bring coastal style to your home by purchasing this stunning multilayered coastal style wall art. Hundreds of recycled driftwood pieces have been arranged in a floral pattern that projects different shades of natural driftwood.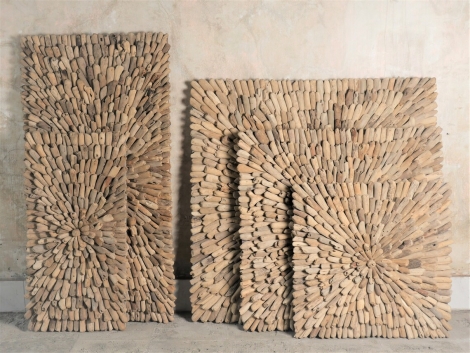 Driftwood Wreath
Wreaths are never out of fashion. A stunning driftwood wreath is ideal for adding more sophistication to your house.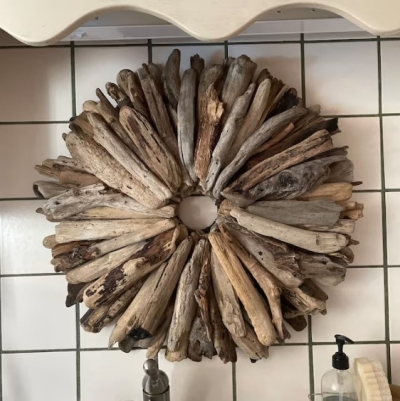 You can also display air plants and sea shells with driftwood.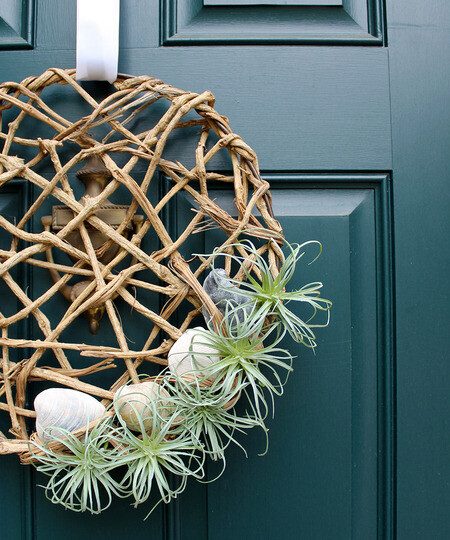 Abstract driftwood sculpture
This beautiful abstract driftwood sculpture is an indispensable artwork that can beautify any home or living space!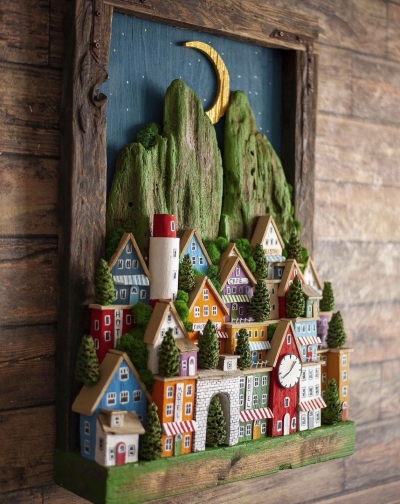 Set of three Modern wall art
Contemporary wood wall art is ideal for homes, farmhouses, or log cabins. Its unique mosaic design is delicate with the finest driftwood.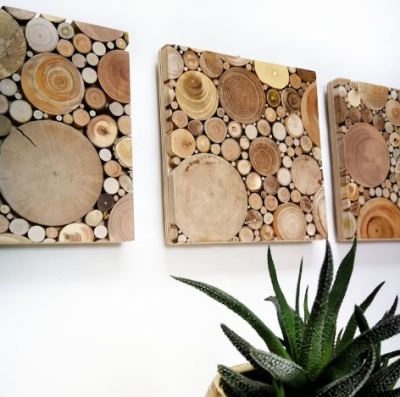 Driftwood floating shelf
Showcase your love for the sea by displaying your coastal collection on these stylish driftwood floating shelves.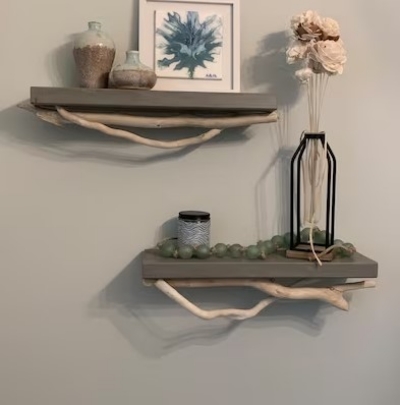 Contemporary Circle Driftwood Sculpture
This natural driftwood tabletop sculpture will be the finest addition to your house. What's more? Its natural finish and refined aesthetics blend well with all types of decor.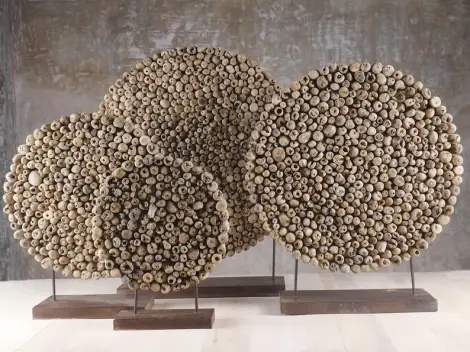 Oval Driftwood Frame Mirror
Buy this intricate Oval Driftwood Mirror for your houses and lodges to elevate their look!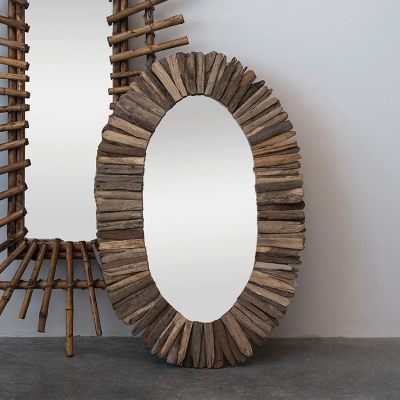 Coastal Driftwood Food Tray

Turn a piece of driftwood you found on the coast into a useful artwork like this coastal food tray that can be used as food dish as well.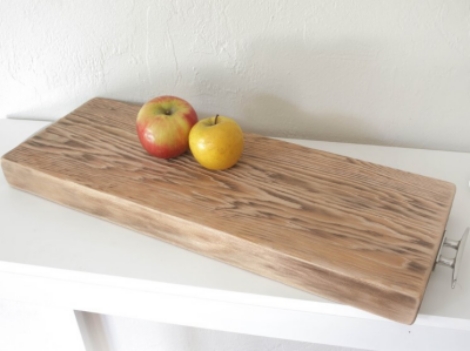 Driftwood Cottages Key Holder
Get this multipurpose Driftwood Cottages key holder for your hallway or staircase to elevate its appearance. This cute holder can hold items in the kitchen, laundry, and towels.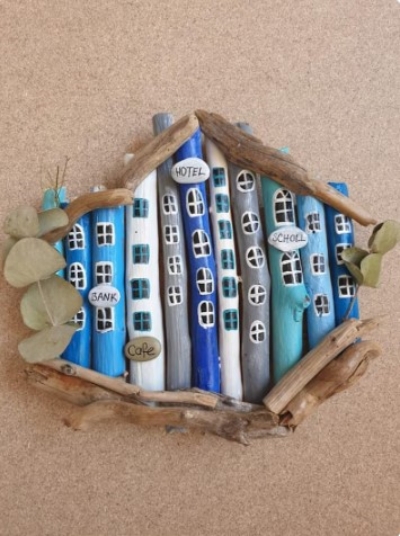 Another beautiful option is this reclaimed wood houses key holder.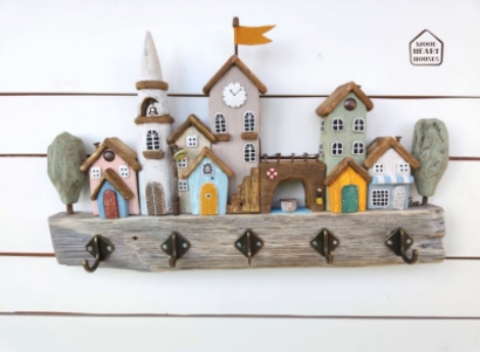 Driftwood Cottages wall art
A unique Driftwood Cottages wall decor is an excellent addition to your accent wall. You can also use it as a night light. This addition to your home will transform your ordinary home into something extraordinary.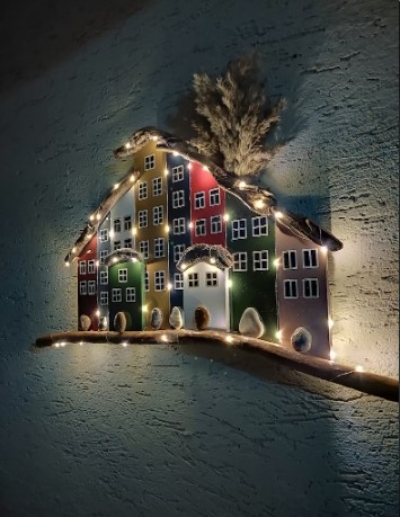 Driftwood Coral Sculpture Decor

Bring your love for coral reef in your cottage or beach front home with these stunning driftwood sculpture that you can display by the fireplace, on the mantle or coffee table.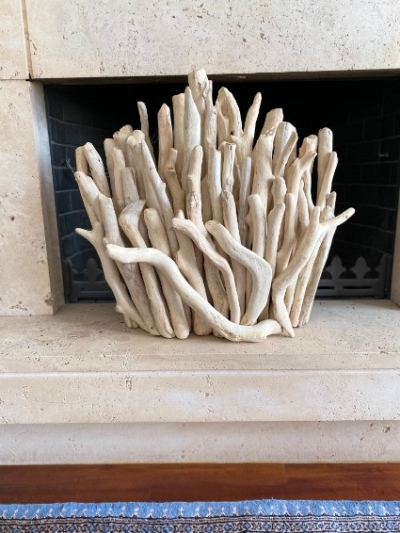 Driftwood hanging garland
Purchase this unique handmade hanging garland that has been curated by joining numerous small driftwood pieces. This garland is suitable for both indoor and outdoor home decor.
Driftwood coastal decor
Are you looking for a perfect gift at the end of your vacation at the beach? Then this fanciable coastal decor is just the correct item for you.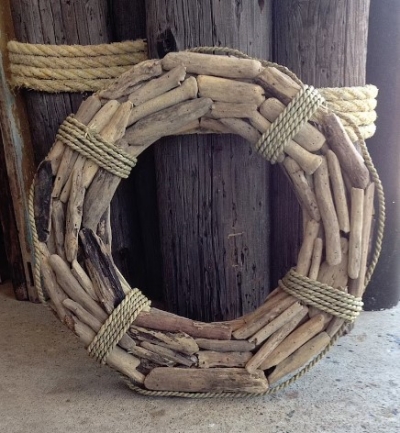 Handmade driftwood old lighthouse
Add this iconic boho driftwood old lighthouse with a small white town on the island in your home office, cottage, or living room to elevate the look and feel of your house.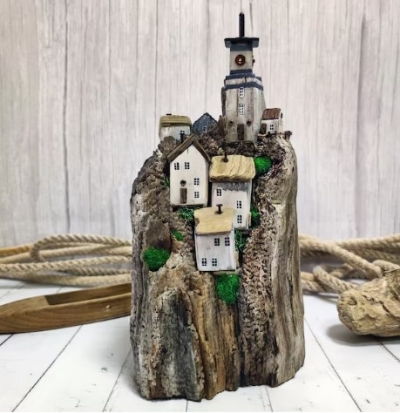 Nautical Driftwood Boat from Greece
This beautifully crafted nautical boat tabletop decor is chic and essential for a contemporary house. Purchase this beautiful item before it runs out of stock!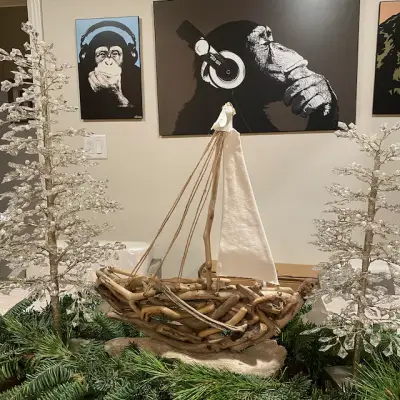 Molten Glass Bowl on Driftwood
A glamorous molten glass bowl aquarium is a treat for the eyes! This fantastic masterpiece looks gorgeous with candles and fairy lights and can transform any corner of the house.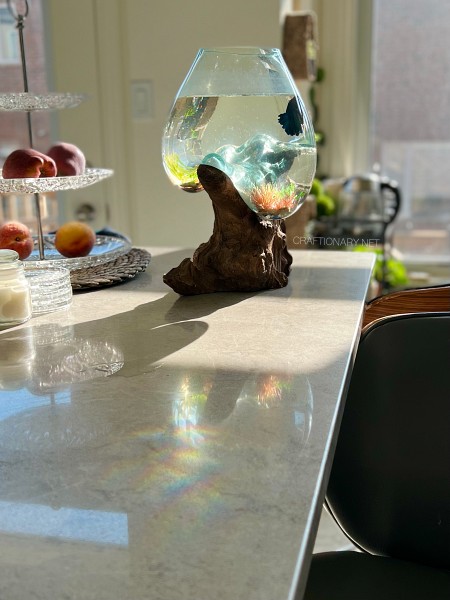 Photo by: Craftionary
Driftwood and brass sculptures
Minimalist, elegant, and space-saving, this driftwood friendship sculpture is a true reminder of friendship, loyalty, and love. Cheers for a great friend with these beautiful driftwood gift!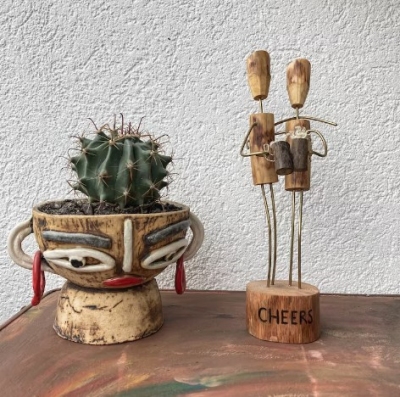 Rustic driftwood vase
Display your favorite flowers using this adorable driftwood vase exclusively made with driftwood.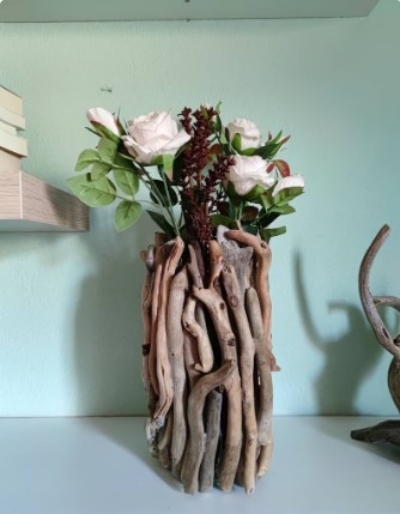 Find more ideas to decorate a vase.
Acrylic painting on driftwood
I love this artist's painted driftwood sign idea on the coastline of South Wales. Turn pieces of driftwood into canvas and paint your art away.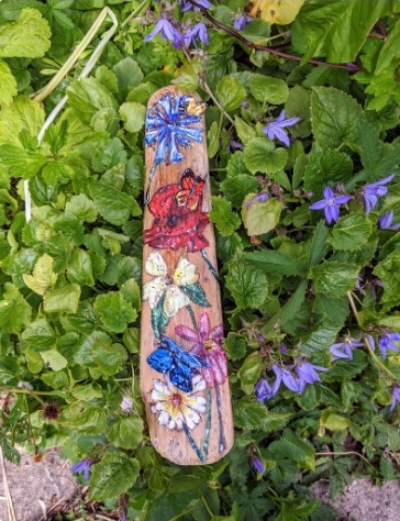 Driftwood tree shelf
Bring nature into your house by installing a natural driftwood tree shelf.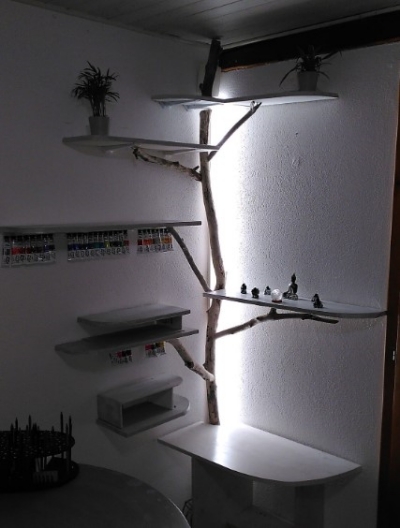 Driftwood side table
Add rustic charm and a coastal vibe to your living space by purchasing this artistic driftwood side table.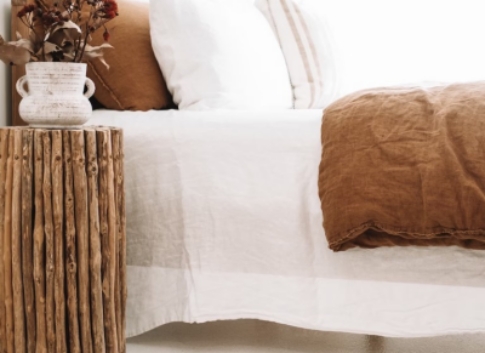 Driftwood Floor Lamp
Create a unique display in your house featuring contemporary art, ocean, and nature in one place by purchasing this exquisite Driftwood Floor Lamp.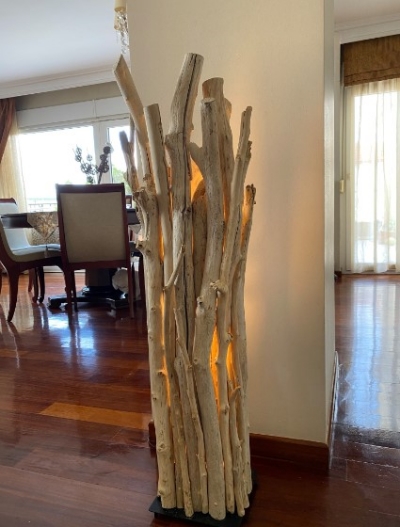 Reclaimed boatwood side table
Crafted with reclaimed wood, this natural driftwood table is a show stopper. Its sophisticated design is ideal for hallways, bedrooms, living rooms, and offices. Its rustic charm will surely brighten up any dull corner of your house.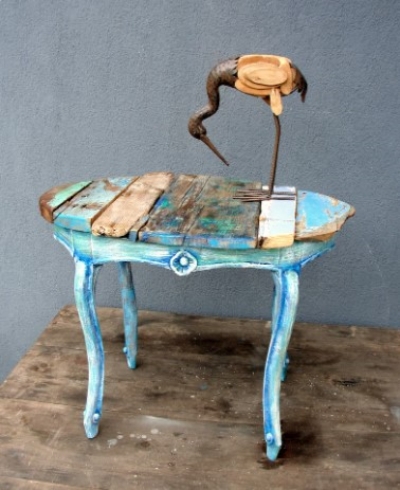 Driftwood Backsplash
Use driftwood boards as backsplash in your home for a natural element that brings serenity.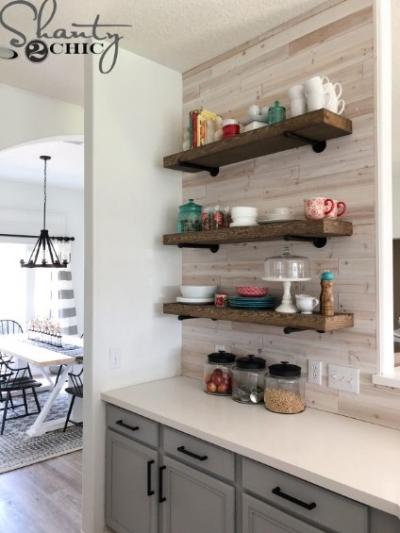 Ladder made with driftwood
From collecting driftwood from the river bank to converting it into a useful ladder, Kebun Bahagia Bersama covers it all.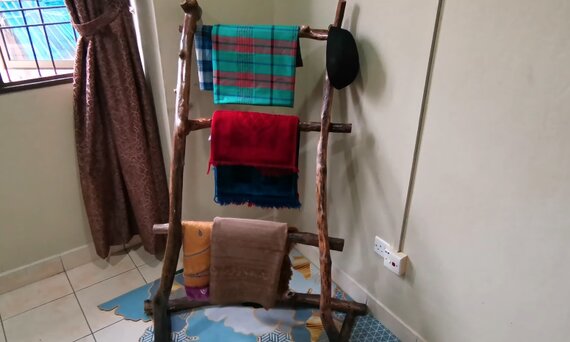 Author: Nageen Sohail