This post may contain affiliate links. Please see our full Disclosure Policy for details.
Thank you gift ideas are a great way to express your gratitude and make a lasting impact. Sending thank-you gifts, even if they are small, means a lot. Sweet treats, personalized gifts, and thank-you boxes are among the examples. Gratitude never gets old.
Let us start with what is most importance: showing the person who has done something exceptional for us how much we appreciate them.
A gift does not have to be large, expensive, or anything else to be considered a gift.
It's a token of our gratitude. I assure you that no matter how insignificant the gesture, it will be noticed by the man or woman. The gift should also be appropriate for the recipient.
All members of society, whether your mother, father, siblings, instructors, coworkers, friends or even your employer, should be acknowledged and recognized for their generosity. In exchange, society would benefit from having their hearts healed with thoughts that there are people who value your kindness.
50 Thank You Gifts
There are 50 Thank you gift Ideas for appreciating kind people.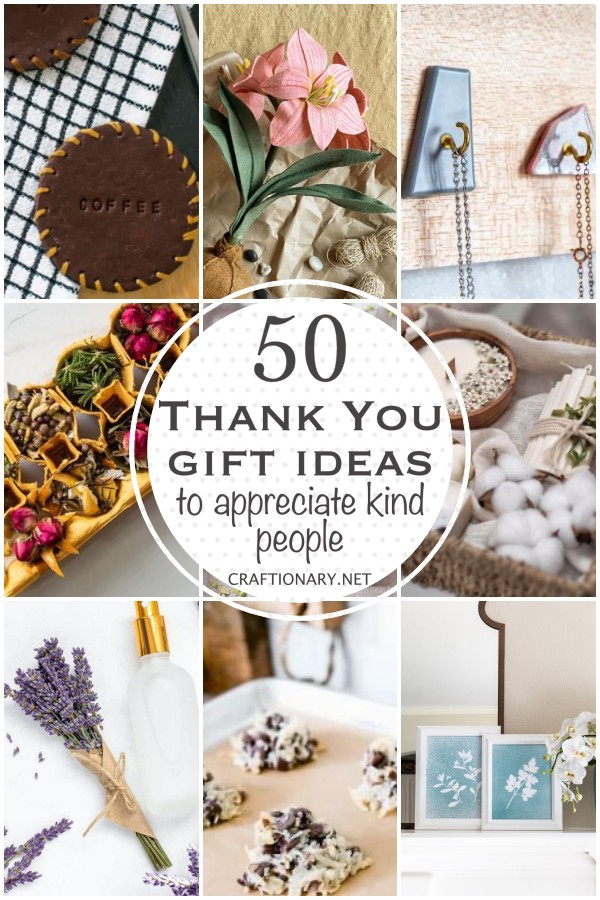 Reasons why one should give a gift?
Your generosity will likely be returned to you at some point in the future, either to the person you gave to or to someone else after you have helped others. Giving to others also affects how you feel about yourself and the recipients of your generosity.
Improves Your Bond:
Giving, whether on the giving or receiving end, can be a way of expressing or instilling gratitude. Gratitude is essential for happiness, fitness, and social bonds. One of the keys to increasing personal happiness is cultivating gratitude in everyday life. It can also boost the positivity of others, in addition to your own. Giving to others has the potential to have an impact and inspire others to do the same, increasing generosity within our network.
Act of Generosity:
According to one study, those who witnessed acts of generosity believed that they would benefit specific people in the future. As a result, each member of a network has the potential to influence dozens, if not hundreds, of people, many of whom they have never met.
Giving can strengthen your social networks and encourage many different people to spread their generosity throughout the network. And don't be shocked if you find that the technique allows you to benefit greatly from a sizable dose of happiness and joy.
50 Thank You Gift Ideas for Appreciating Kind People
Edible Gifts:
Food items are some of the essentials that are cherished by everyone. To make a lovely wreath, decoupage clothespins and attach them to a cardboard ring (included in scrapbook paper). For a truly personalized gift, attach tea bags, warm chocolate packets, spice packets, or seed packets to the clothespins. Numerous spice-rub recipes can be found online. For an easy yet thoughtful gift, combine your spices in a pretty jar with the suggested use. Include the spice packet in an ornamental basket along with a homemade spice present if you want to take it a step further.
Edible thank you gift ideas
Try some of these specific suggestions, which are equally easy to make and easier on the waistline.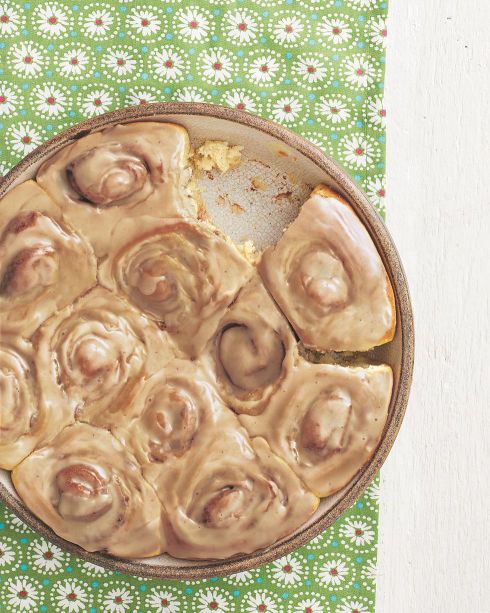 Cinnamon Rolls: Cinnamon rolls make an excellent edible gift for neighbors.
Edible Baskets: The Simple Edible Basket is the ideal edible thank you present for anyone. You could make an ice cream basket or a popcorn basket that everyone would appreciate. It also repays their kindness with this appreciation gift.
Desserts: Desserts are loved by all. As thank you present ideas, you could make brownie desserts or various ice cream desserts. Here's a Chocolate Brownie Dessert by spice bites recipe.
Bouquets: Beautiful and simple chocolate bouquets by spice bites make great thank you gifts.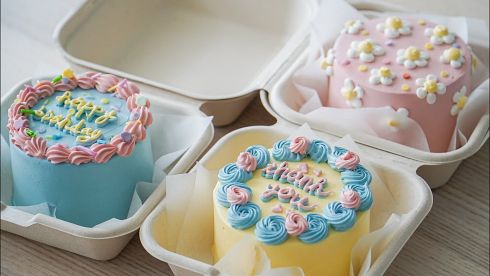 Lunch Gifts: Mini Lunch Box Cakes by Thy Than.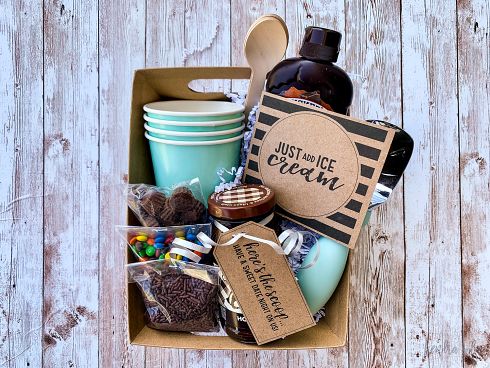 Baskets: Ice-cream gift basket by Kendra John.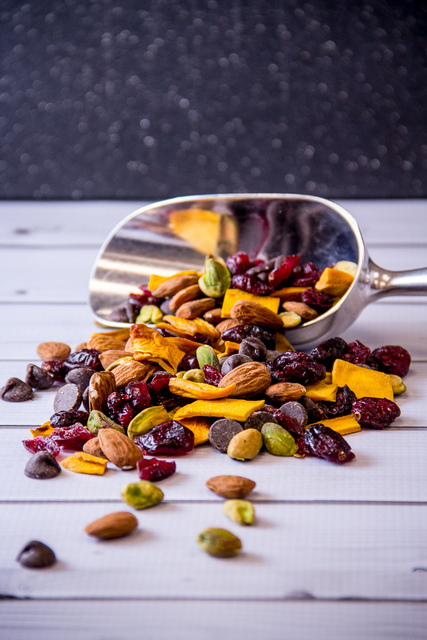 Popcorns: Orange Popcorn Gorp by mid west living.
Snacks: Roasted Nut Snack by mid west living or any trail mix you can quickly mix and put in a glass jar with a cute ribbon bow.
Cake mix: Cake Mix Snickerdoodles by lil luna.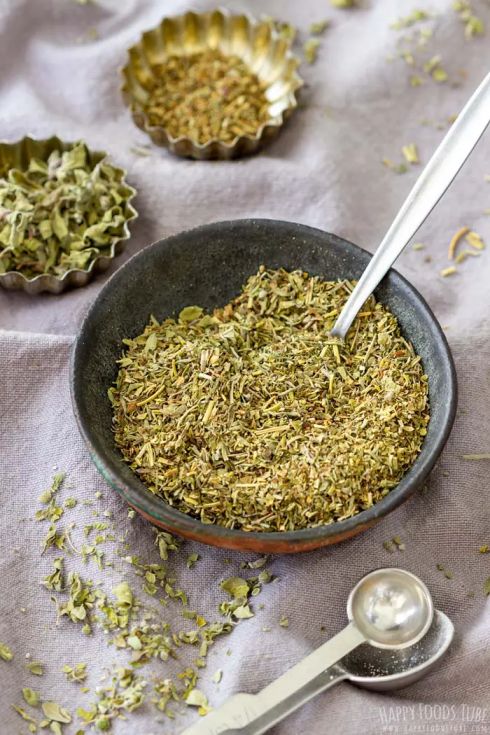 Seasonings: Homemade Italian Seasoning by happy foods tube.
Spices: Spice Blends by spice station silverlake.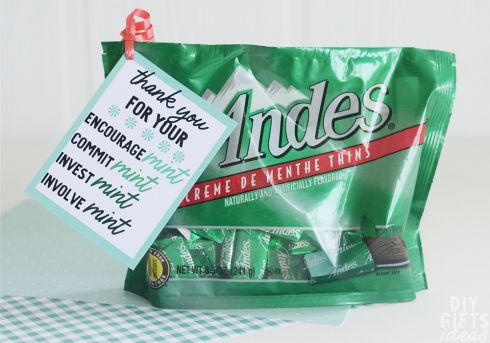 DIY Mint Thank you gift: A cute printable to go with mints by making frugal fun.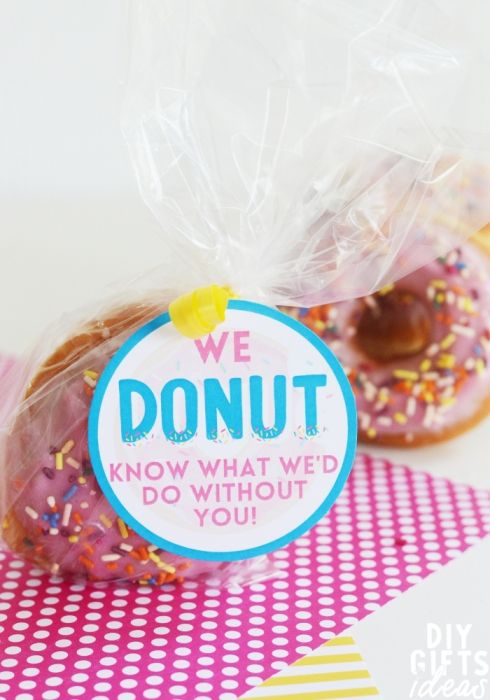 Doughnuts: DIY Doughnut Thank you present idea with printable by making frugal fun.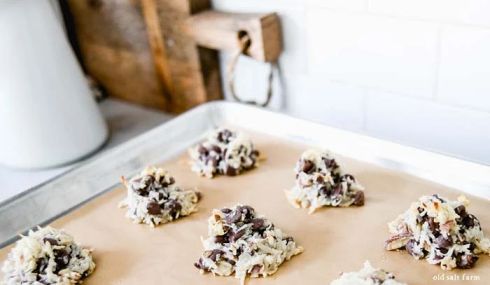 Simple Cookies: 4 ingredient almond joy cookies by old salt farm.
Freshly picked fruits: If you have a garden, the healthiest alternative to give someone is freshly selected fruits, which also make excellent thank you gifts. Freshly picked berries in a small basket with thank you gift tag.
Photographed Stuff:
Photographic crafts make fantastic presents that can be unique, adaptable, and frequently the most treasured. Here are a few original suggestions for you. Make a wreath from picture frames. Small photo frames can be found at craft or dollar stores. Print out your favorite photos on image paper, place them inside frames, and use floral wire to attach them to a grapevine wreath. Using canvas (drop fabric) and image transfer paper, make a unique throw pillow. Use the transfer paper to print out your favorite photo, then iron it onto the pillowcase.
Calendars: DIY costumed calendars are a great gift that can be given to anyone. DIY Photo Calendar Free printable by it's always autumn.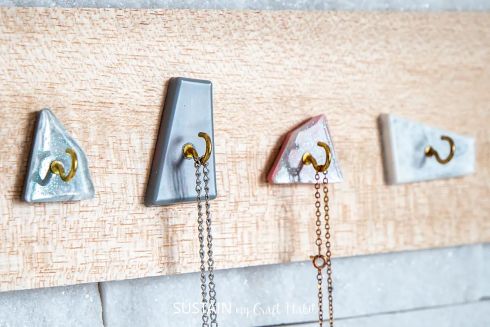 Jewelry Displays: Jewelry displays are the best appreciation present for women. You could make a jewelry display and gift it to your mom, sister, or colleague. DIY Faux Resin Marble Jewelry Display by sustain my craft habit. Can also be used as key holder.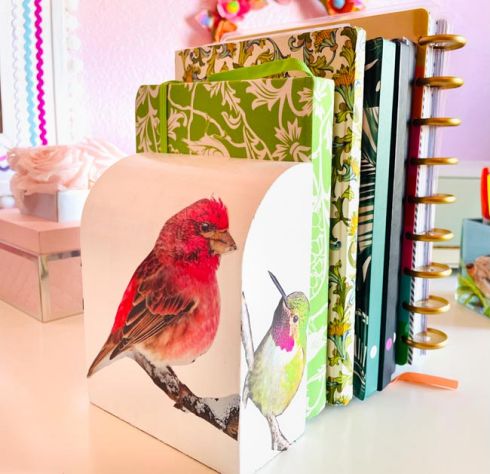 Bookends: Bookends make excellent thank you gifts and are simple to make at home. It would be a perfect thank you gift for your students, children, or anyone who loves books. DIY Bird Bookends by design improvised.
More ideas: Gifts in a jar for handmade gift lovers
Coasters:
Giving and receiving coasters is practical and attractive! Cheap tiles from a home improvement store can be used to make every other short coaster. To make lovely gifts, you can mod podge or stamp those. Last but not least, with a little imagination, a scrabble recreation made on a budget can be turned into some humorous phrase coasters.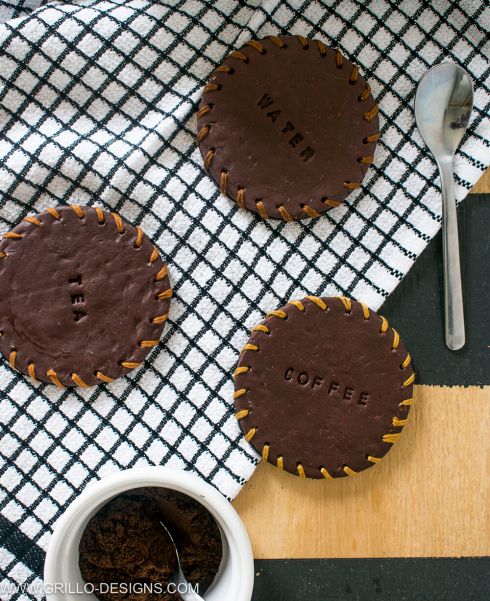 Leather Coasters: Coasters are simple to make and make wonderful presents for anyone. You could make various types of coasters from various materials, such as marble coasters, leather coasters, sewable coasters, and beautiful designs, such as resin pouring, etc. DIY Leather Coasters by grillo and wood coasters by craftionary.
Return their money with an idea: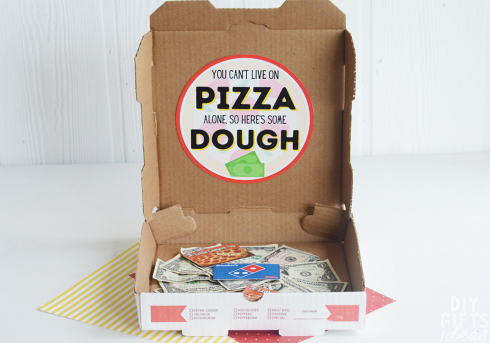 Helping you get through tough times is one of the pure acts of kindness. You should not just give the money back; instead, you should come up with a clever way to give it to the other person. This would partially pay them back for their generosity. They would be recognized for their efforts, and their hearts would grow even more eager to provide further acts of kindness. DIY Pizza Gift for returning Money by making frugal fun.
Present ideas: 20 Gifts for men
Candles: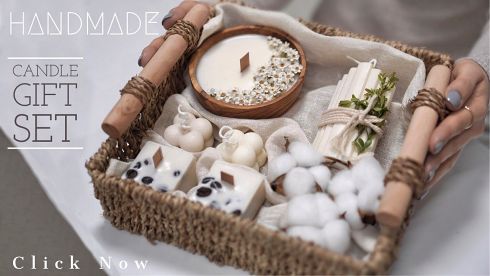 The simplicity with which you can make your very own DIY candles will astound you. With the right materials, you could create a lot of things while also remembering who you are.
Not everyone will have too many of them, but they are reasonably priced and add so much character and heat to an area! Handmade Candle Present Set by Modern DIY and Gel candles by Craftionary.
More ideas: Making Candles – 25 DIY Decorative tutorials for beginners.
Bath and Beauty Homemade Natural Products:
Natural body and hand care products frequently outperform facial or skincare products such as creams, serums, and color cosmetics. Skin-care creams, soaps, and scrubs, on the other hand, are less tailored to specific skin care needs. Who doesn't love a natural, aromatic bathtub gift set filled with body creams, bath oils, and balms? They are less likely to be duds and are appropriate for all age groups.
Consider making your bath and splendor gifts for the special someone in your life who deserves a little pampering. You can easily find recipes for lip gloss, hand-carved cleaning hand soap, sugar scrubs, and lavender sachets online! For your convenience buy them readily from Sephora, Hudson Bay and other stores.
How about combining the store bought with DIY?
For example, by combining colored powder drinks with petroleum jelly, you can turn it into lip gloss which tastes good and gives a tint of vibrant color.
Thank you gift ideas products:

Homemade Shaving Lotions: All-Natural Honey Lavender Moisturizing Shaving Lotion by whole fully.
Flower and skin care baskets: Our mother takes care of us while not taking the best possible care of herself. There isn't much you can do, but you may express gratitude for their kindness by giving her skin care products. Appreciate your mom with flowers and a skincare gift basket. Some basket ideas can include bath and body works gift set, her favorite perfume, and candles.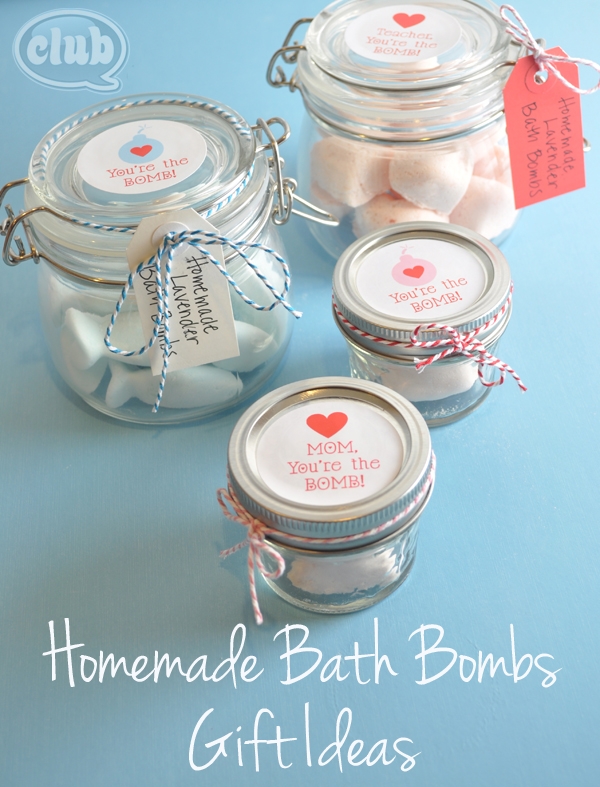 Bath Bombs: Bath bombs are the best present for skin care. You could make them home easily. Here is the tutorial which could help you make them yourself. Homemade Bath Bombs by bath bombs gift.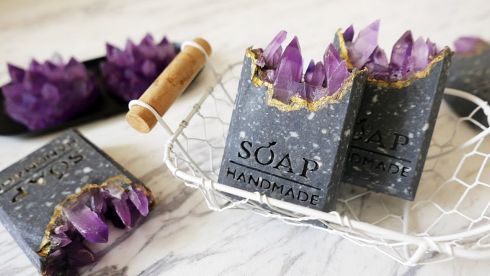 Homemade Hand Soaps: Homemade natural soaps are completely natural and easy to make at home. As a gift, it appears to be quite captivating. Geode Crystal Handmade Soap with cold process by  Yvonne. You will also love these Soap making projects with process and techniques.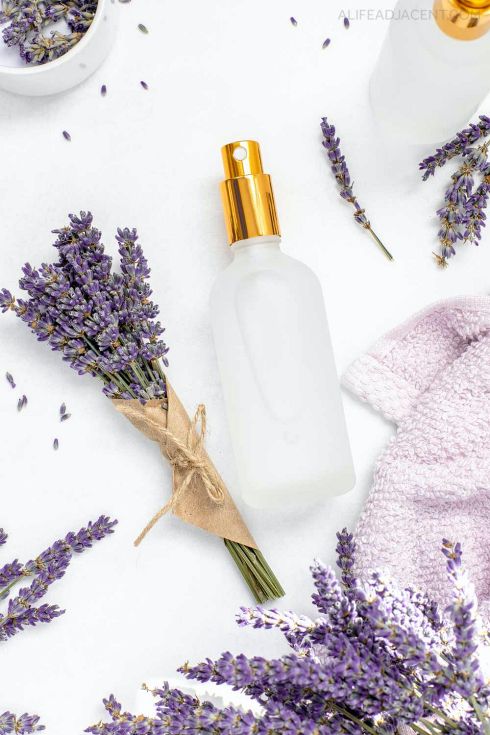 Pillow spray: DIY Pillow Spray for goodnight sleep by a life adjacent.
Present ideas: Special Handmade Gifts for woman
Frames: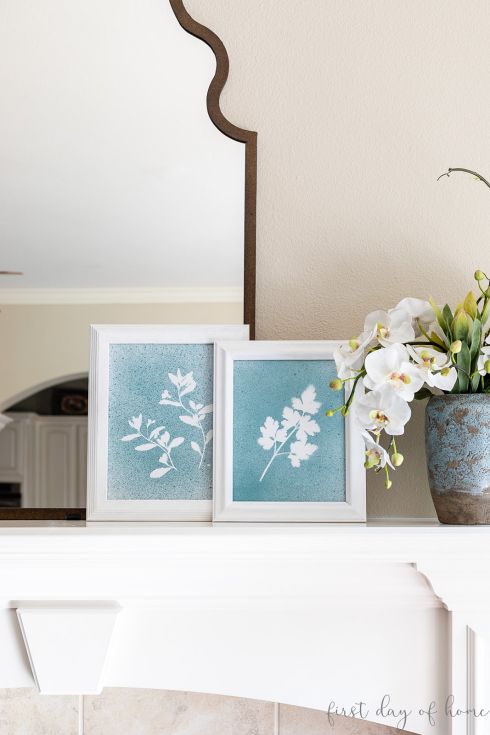 Frames are the most basic and excellent thank you presents for your grandparents, friends, or anyone else. Picture frames make excellent gifts because they preserve a person's entire collection of memories. Different pressed dried plants and flower frames look elegant and could be a modern but homemade gift.
The finest thank you presents for anyone are frames. They make excellent wall hangings, are inexpensive to make and are doable. Pressed Flower Frames made by pressing flowers on paper, spray paint and peel off flowers when dry by first day of home.
Everything in a jar: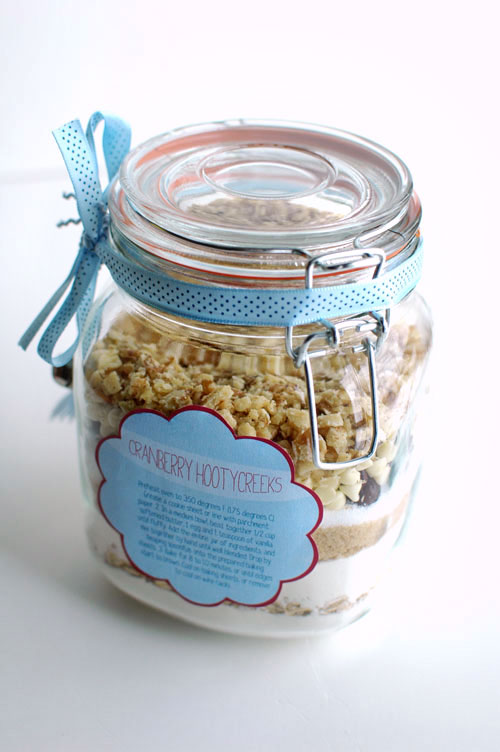 You could combine various items in a jar and give them as a token of appreciation to your friends, neighbors, or anyone who enjoys cooking.
Put cookie mix in a jar and give it to your parents, your friends, or your neighbors so they can bake fresh cookies with convenience. Cookies Mixture in a jar that can be baked with just eggs and milk. There a numerous ideas to make brownie mix, cake mix and even dough mix that you can add to a jar with a thank you gift tag.
Gifts in a jar: Gifts in a jar for handmade gift lovers
Crafts:
Crafters can make home decor, as well as wall artwork and dyes. There are tutorials, craft kits, virtual downloads, and pintables available to make the technique as simple as possible. These can make great presents for your mom, sister, teacher, or boss.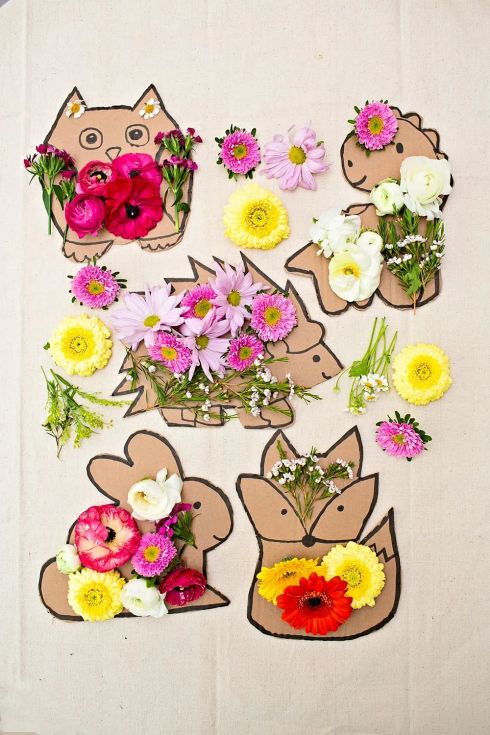 Crafts: Children can best appreciate their acts of kindness via simple DIY projects. For example, you could make animal crafts from scratch, and they would adore animals. Flower animal nature craft gift idea by hello wonderful.
Keychains: A DIY keychain would make an excellent gift for your father, sibling, or husband. When they pick up their keys, they will recall how much you care for them and will leave a smile on their faces. DIY Handprint key chains for Grand Parents by grey house harbor.
DIY Masks: Masks have become an essential part of our daily lives. They go well with many different outfits. Make a matching mask to go with your gift of clothes.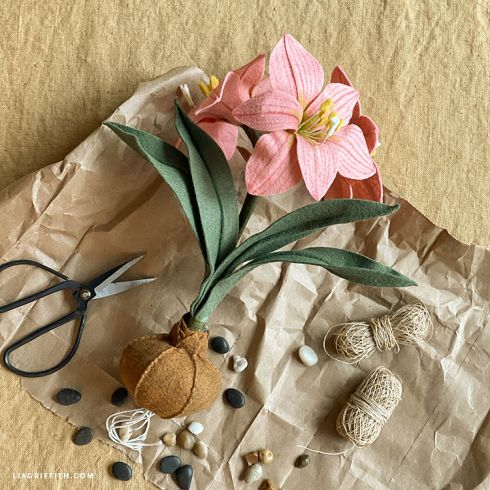 Faux Flowers: Felt Amaryllis with Bulb by lia griffith and bendable burlap flowers by craftionary.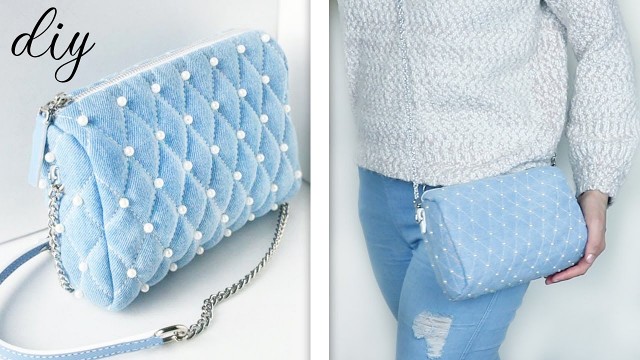 Macrame stuff: Macrame Tote Bags and 40 Handmade Bags and Purses to make.
Toys for Pets: Giving someone their pet's toys as a gift is another way to say thank you.
Pet toys are great thank you gift ideas. You can make some of them at home. Like catnip in macrame, it could be a great toy for cats by dream a little bigger.
Wrap a present: 30 DIY Gift Wrapping Ideas for Holidays
Thank You Cards and Vintage Diaries: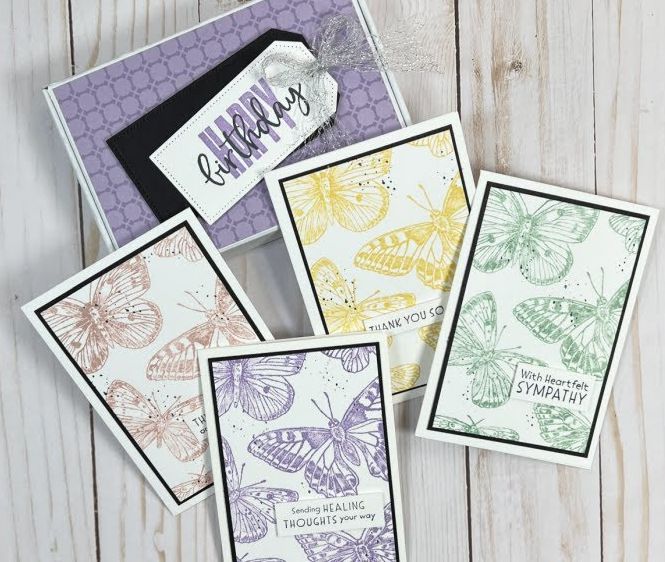 Thank You Cards: Cute Boxed Thank you Cards by Jackie Bolhuis.
Simple Appreciating Notes: Simple handwritten notes can sometimes have an impact on someone's life, and it would be touching if these notes thanked kind people. Appreciating notes photo by Ashley Ortiz on Pinterest.
DIY Jewelry and Jewelry holders: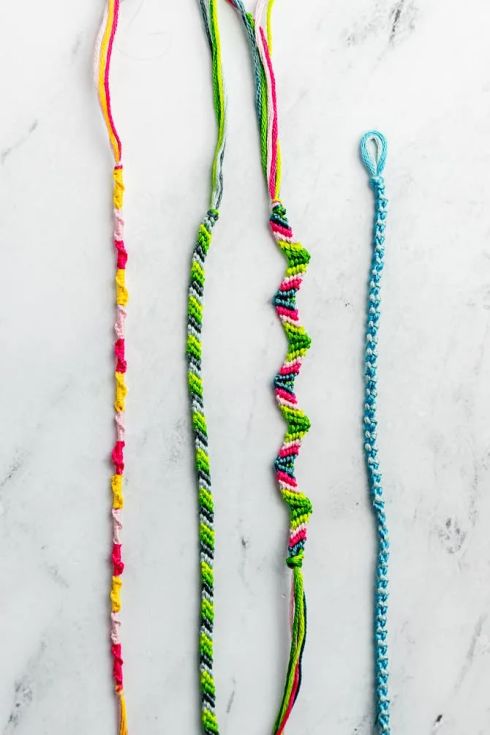 Bracelets: Friendship Bracelets Photo by Sarah Stearns source unknown.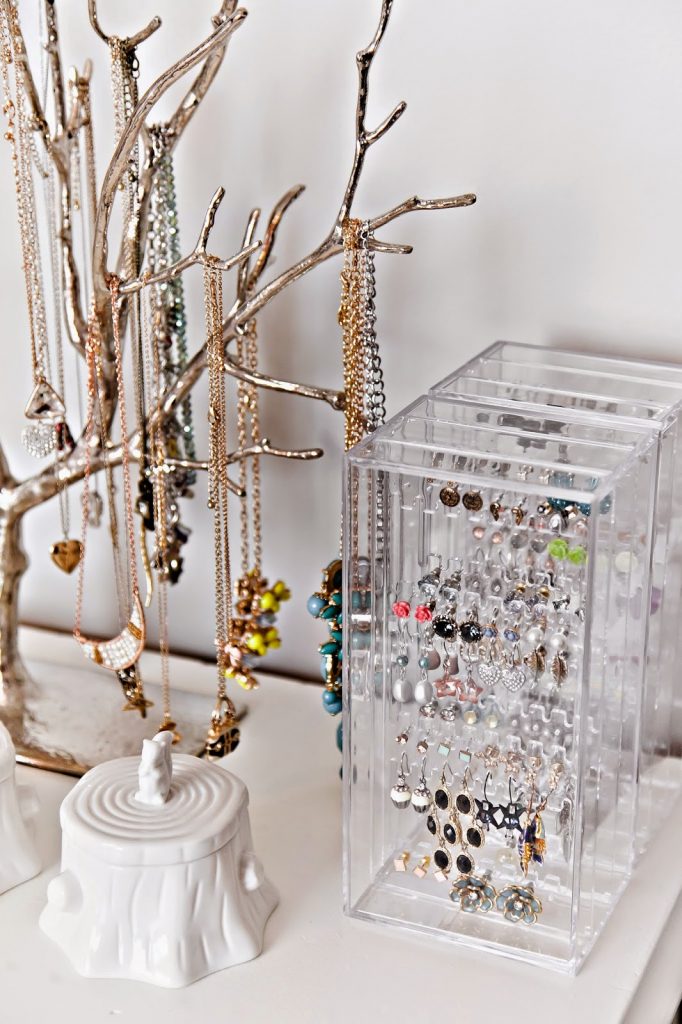 DIY Earrings: Marbled Clay Earrings are very popular these days. You can also include jewelry holder with it.
Gift of acknowledgement: DIY Stress Relief Gifts – Stress Relief kits with printable
Card Holders: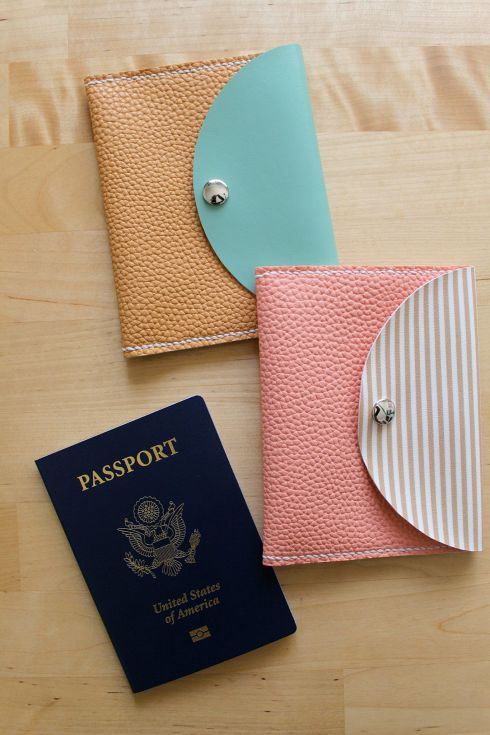 Passport Holder: Free template to make a passport holder by entertain idea.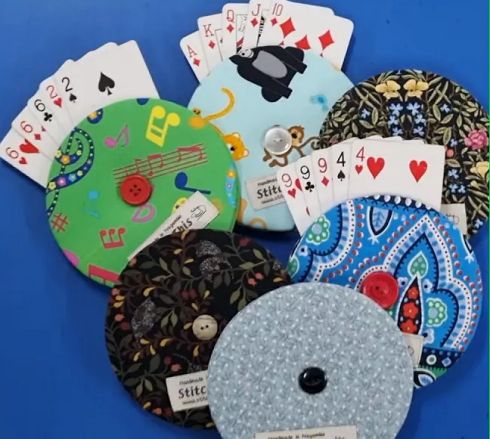 Playing cards holder: A fun idea for board games enthusiasts by Christine.
Gift card wrapping: 15 Creative Gift Card Holders
Painted Thank You Gift Ideas:
Hand-painted t-shirts, caps or mugs are the best thank you gifts for your father, boss, or employee.
Painted T-shirts: Use fabric paints, masking tape or stencils to paint plain t-shirt to gift.
Painted Mugs: There are a variety of ways to paint mugs that you can find to your pleasing but take a look at these 30 ways to paint abstract art and you will want to make these.
Floral Arrangements:
I looked for you small, adorable floral arrangements to give you. It appears to be the ideal homemade thank you present for your friends or coworkers. They would cherish their faces and hearts.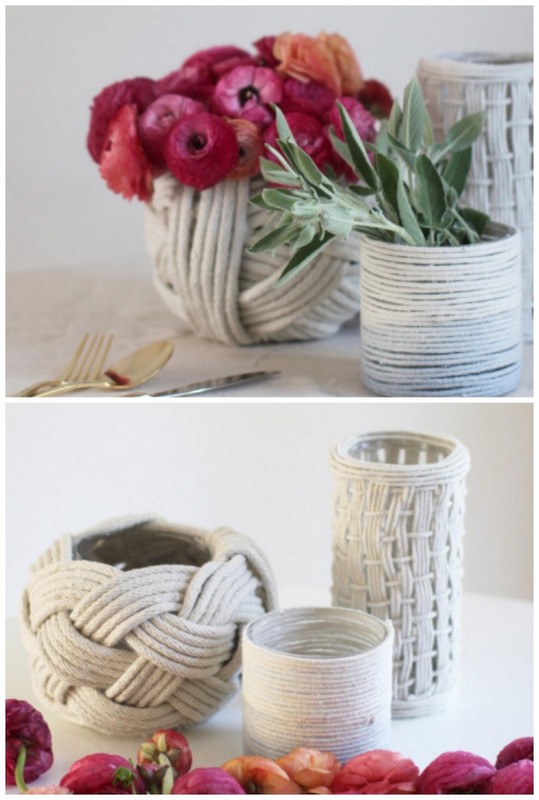 Flower arrangement: Flowers can be arranged in a variety of ways from bowls to vases using unique and extraordinary from floral shops or budget friendly flowers from Walmart and Costco. Take a look at these amazing vases to make your standing-out vase arrangement real quick.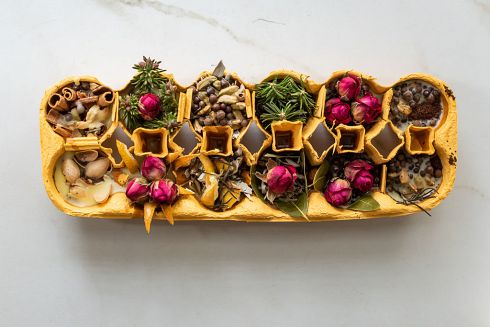 Fire Starters: Gifts of fire starters make excellent presents for hikers, campers, bonfire enthusiasts, and travelers. Aromatic Fire starters by honestly modern.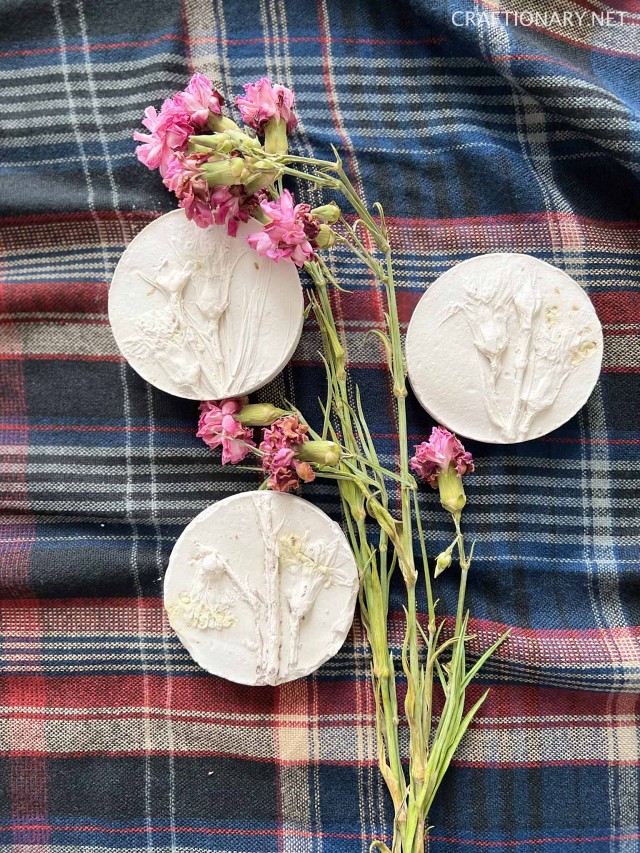 Botanical Casting: Bas-Relief Dried Flowers Casting by Craftionary.
Different Thank You Gift Ideas: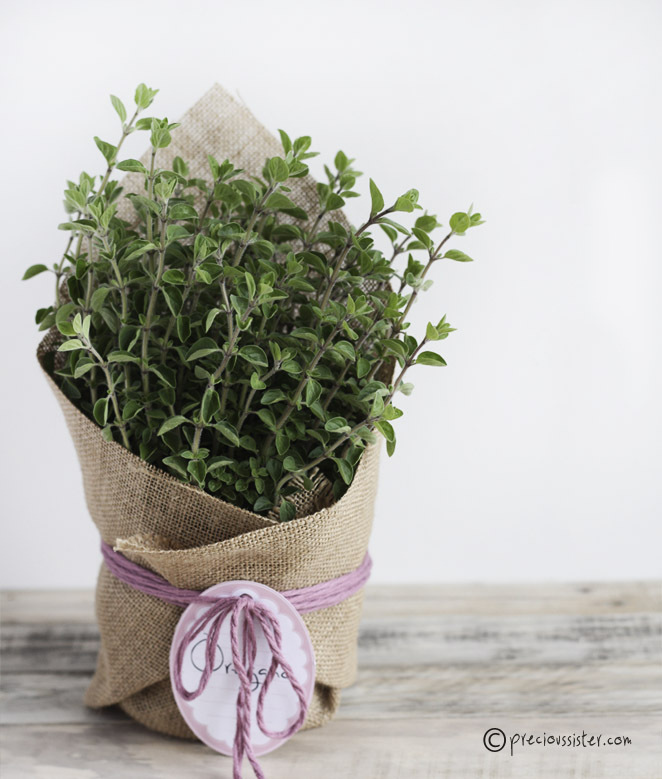 Plant Holders: These lovely plant holders are simple to make and make excellent thank-you gifts. For low maintenance air plants in cute plant holders make easy gifts. Looking for more plant present ideas Attractive Plant Gifts that are aesthetically pleasing will guide you best.
DIY Lap Desks: Anyone who works from home may find a DIY lap desk useful. It is the best thank you gift for coworkers. Lap desk with storage by houseful of handmade.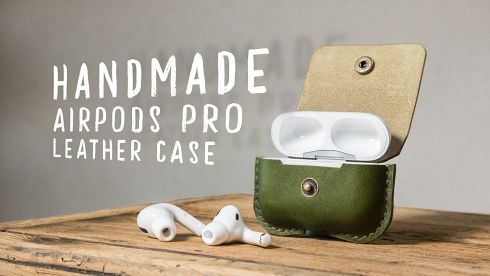 Air Pod case: Different air pod cases look mesmerizing and make them look unique. It is a very elegant-looking DIY gift for any air pod lover. Air Pods Leather Case by totuia.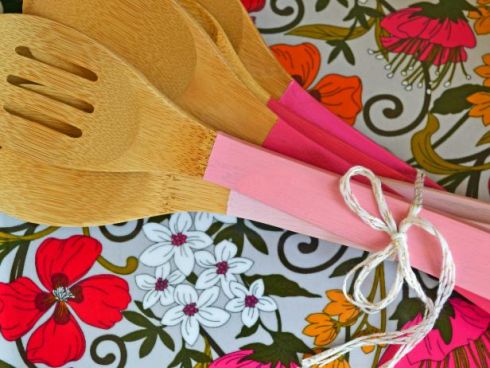 Painted Utensils: If you want to find another way to surprise your mom, consider making a painted kitchen utensil or charcuterie board. This could be a great appreciation gift. DIY painted wooden utensils photo by hgtv.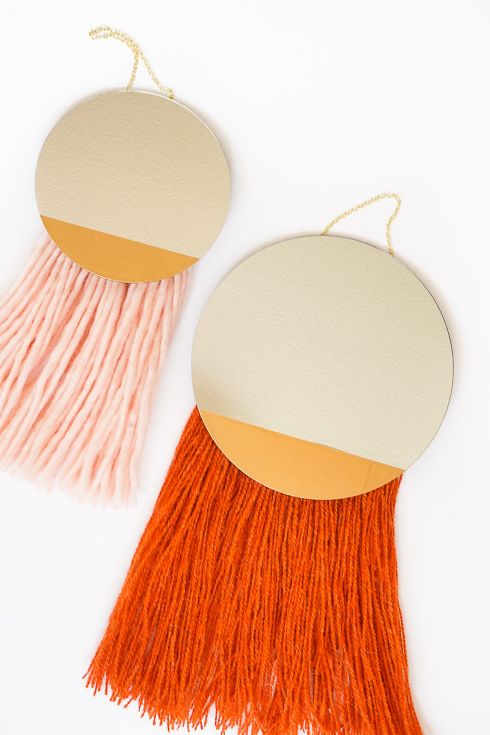 Mirror wall hangings: DIY Fringed Mirror wall hanging by sugar and cloth.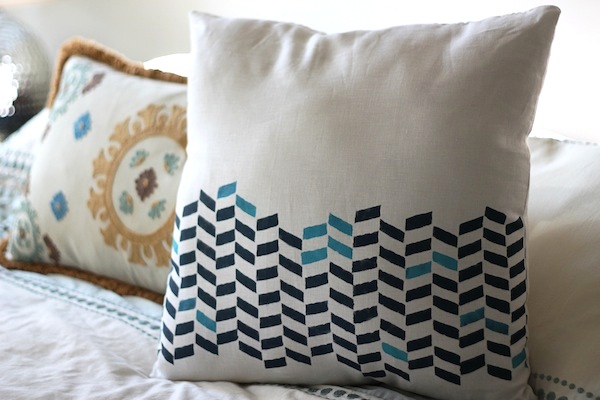 Pillow covers: DIY envelop pillows and 25 easy decorative pillow tutorials. You will also find this Fabric Printing using Freezer Paper interesting to print any image using your printer.
Painted aprons: Hand print aprons or kitchen towels.
Wrapping Up Thank You Gift Ideas
Giving these thank-you gifts to people shows them how much you value their kindness while also strengthening your bond with them and helping to soothe their souls. In essence, this valuable little effort and investment services as a social lubricant and a means of celebrating life, love, and friendship while also helping one to improve as a friend, partner, spouse, employee, and overall person.
Finally enjoy this: Your ultimate gift wrapping guide
Author: Marriam Arshad