This post may contain affiliate links. Please see our full Disclosure Policy for details.
Use these creative DIY dollhouse ideas to craft your own custom doll house with all items and miniature furniture your kid imagines in your home.
The urge to imitate adults during playtime is as old as time, and using child-sized props enhances this effect. Dollhouses can be regarded as the pioneer of pretend and play toys. They help kids recreate, explore and act in real-life situations in inconsequential and secured premises. In addition, they are excellent mediums to impart social skills, develop fine motor skills, and supplement spatial reasoning and emotional intelligence in children. Most importantly, they're ideal gifts and keepsake for any occasion.
Kids, especially little girls, adorn them and love adding their personal touch through dollhouse furniture, doll dresses and other miniature dollhouse items. Let's address a few queries about how to make, maintain, and cost-effectively upgrade dollhouses.
Crafting a dollhouse from scratch can be challenging; however, preplanning the right tools and supplies can help to achieve this goal. Selecting the right accessories, wallpaper, and furniture that complement your chosen theme is important. Hundreds of creative mindsets are currently doing wonders for dollhouses and miniature designs. Ranging from an ultra-modern kitchen to a finely lit living room with lighting, shingles, and lamps, a selection of paints and varnish for a realistic finish and the attention to detail by creative artists elevates their work. One can take inspiration and craft these miniatures on a budget. What's more? You can even initiate your own small-scale business by mastering the art of miniature!
DIY Dollhouse Items for less
Here is a complete list of DIY dollhouse accessories to create your own dollhouse or for your miniature business.
How to build a DIY dollhouse?
Build a custom dollhouse with house design and different crafting skills. The choice of relevant tools, materials, and floor plans defines the dollhouse projects. One can use cardboard, plywood, and poplar boards to make the dollhouse structure to construct a doll house with rooms and architecture of any style whether modern or victorian. There are some fundamental steps for each dollhouse:
Make a supplies list: Its important to have everything ready before initiating the project to avoid any interruptions.
Build a doll house frame: Select a feasible scale to make a steady frame for your dollhouse.
Flooring plan: The next step of making a dollhouse is setting up the floors at each level. Using a jig saw notch is advised to keep the floor intact and nail it to the frame.
Strong supporting beams: Join sides by placing straight sides outside. Sand down the uneven surfaces for a smooth finish.
Dollhouse details: Craft doors, windows, and roofs by following the guidelines of The Handmade Home.
Can we make a dollhouse from recycled material?
Yes, one can easily make a dollhouse using leftover wood, scrap, fabrics, cardboard, moving boxes, wallpapers, recycled cereal boxes, plastic bottles etc. Choose to revamp a thrift store dollhouse or reclaimed dresser, we have the right inspiration from littlehands.explore.
What is the best wood for making a dollhouse and its furniture?
Bassword is the best type of wood for making a dollhouse for experts due to its softness. Balsa is also good for beginners for crafting initial projects on a budget.
What is the most common size of a dollhouse?
A scale of 1: 12 is the most common size of dollhouses for children. Other standard dollhouse sizes include 1:6, 1:16, 1:24, and 1:48. it should be noted that custom-made dollhouses (especially antiques) may also have other varying sizes.

Please note: In this scale (ratio), one inch on the scale model or miniature is equal to twelve inches on the original object being made.
What are dollhouse walls made of?
Dollhouse kits and miniature structures are made up of medium-density fiberboard (MDF), Baltic birch plywood, or basswood sheets.
Should I paint my dollhouse before assembly?
If you are using a dollhouse kit, you must stick to the manual as it carries complete guidelines for the right time to paint it. If you are building your own dollhouse from scratch, then it is better to prep and paint the interior of the house before the exterior. It helps to paint before assembling especially when working with intricate patterns. You can use acrylic paint or latex-based paint. Use superfine sandpaper for a final look of your dollhouse before painting and apply sealer to prevent scratching.
What kind of glue do you use on a dollhouse?
Wood glue is the ideal solution for joining the edges of a dollhouse.
What to use for the dollhouse floor?
There are a variety of doll house flooring options ranging from vinyl, mini wood flooring, and laminate flooring that provide the most refined finish to the flooring, whereas popsicle sticks, hardboard or cardboard pieces, scrapbook paper, or even carpet provide the ultimate finish to a project.
How do you fill gaps in a dollhouse?
Don't worry if you encounter any gaps or hinges during the construction of a dollhouse. Drywall Repair Spackling easily spread over these gaps using ordinary tools to overcome this issue.
What can I use as dollhouse carpet?
Felt or fleece sheets are ideal substitutes for carpets in a dollhouse. You can also paint a carpet on the floor.
Can you make money selling dollhouse miniatures?
If you have the skill and a creative mindset to make a dollhouse, you can sell these projects in physical stores and online. Thousands of craftsmen are earning handsome amounts by crafting unique collectible dollhouses for enthusiasts.
In my opinion buying a luxurious custom dollhouse and making one from scratch are equally expensive. Therefore, get a dollhouse kit or improvise. Some smart and clever use of reclaimed furniture and recyclable materials from dollar store and thrift stores can result in creating a masterpiece of dollhouse for less and you can enjoy with your kids or family while creating one special doll house for decor or play.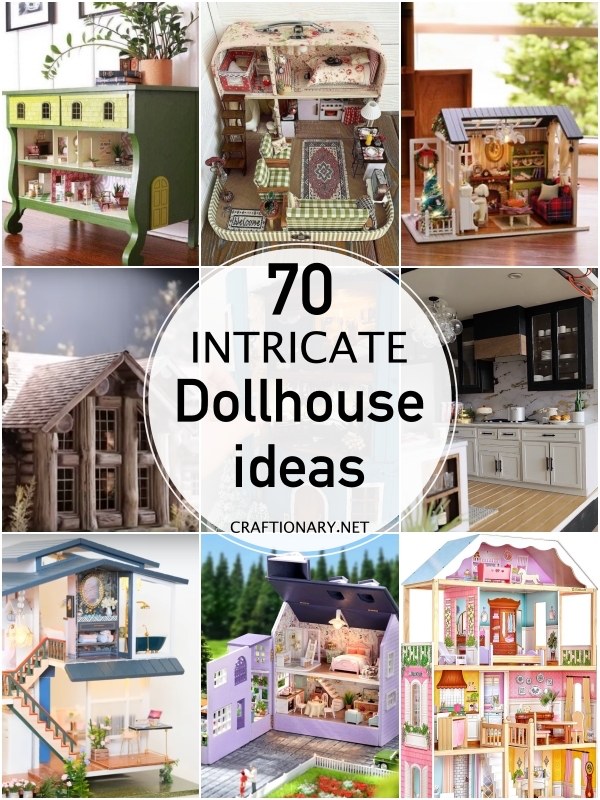 Extraordinary DIY Dollhouse Ideas
DIY cardboard dollhouse:
Contemporary dollhouse from DIY Cardboard Creative, who uses cardboard to craft multiple levels of a dollhouse, including a workspace, living room, and bedroom.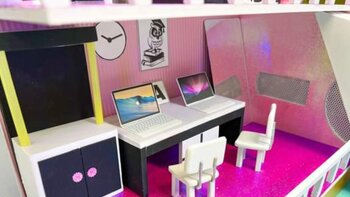 Dollhouse out of cardboard and icecream sticks:
Revamp your playroom with this detailed dollhouse made entirely with cardboard and ice cream sticks. Add faux greenery and props to enhance its appeal according to your needs by Creative Mind1.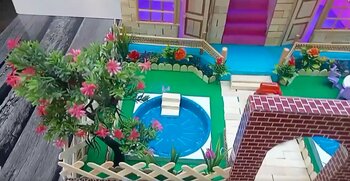 Beginners dollhouse craft:
Try this simple dollhouse with a bedroom, living room, kitchen, and pool by AI Motivation Hub.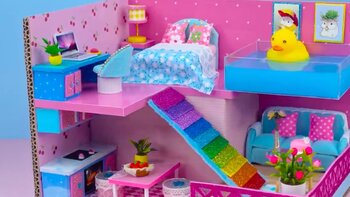 DIY Dollhouse with Bricks and Scrapwood:
Learn to make doors, windows, walls, and the right way to add lightening, scrap wood, bricks, and hinges to a dollhouse by Markhor Shots.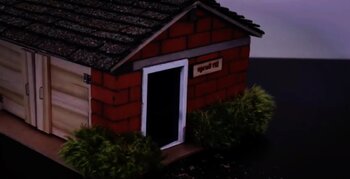 Dollhouse to haunted house:
Covert a cheap dollar tree or a thrift store dollhouse into a haunted house by occasions. by Shakira.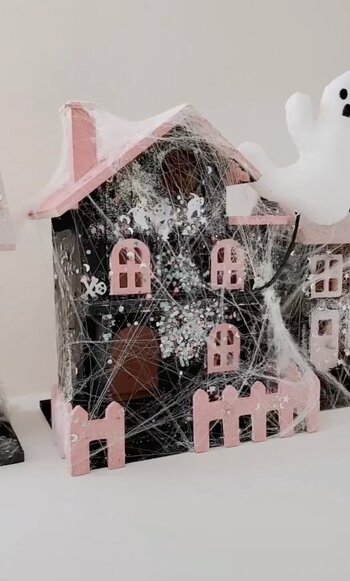 Cylindrical dollhouse:
Build a custom dollhouse for Christmas gift by piabyggerhus.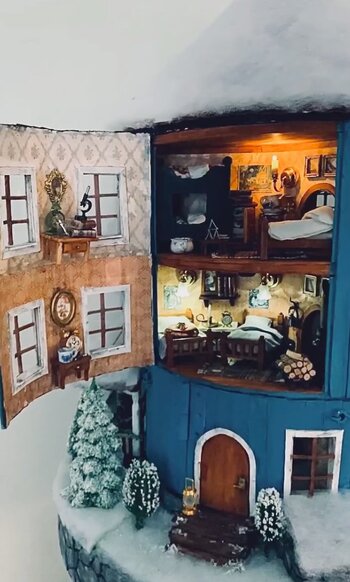 Kawaii Dollhouse:
Japanese artwork and attention to detail inspires unique, adorable, and charming structures like this finest inspiration by Lena Wiese, who uses foam board and printable stickers to complete this look.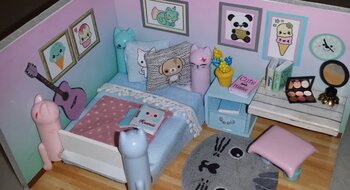 Spray-painted Christmas dollhouses:
Make simple yet elegant Christmas village using dollar tree supplies and spray paint by Minimal_ishmom.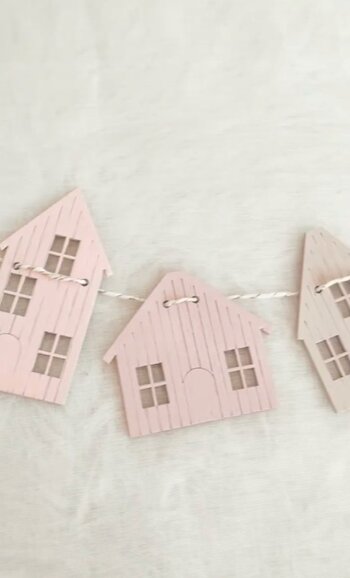 Modern dollhouse:
The use of furniture in rooms, mirrors, functional ceiling fan, and LEDs  by SimplyLivingminidesigns is remarkable.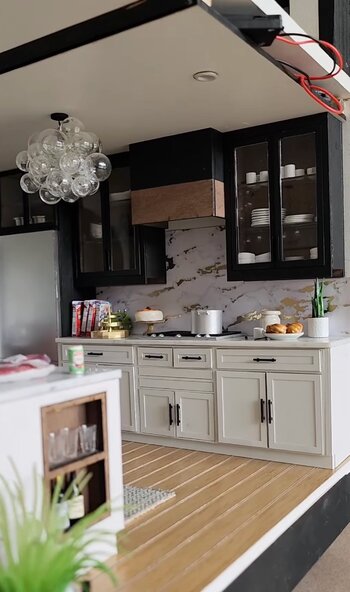 Barbie Dollhouse:

Barbie's Dreamhouse is no place for the bashful. "There are no walls and no doors" Greta Girwig. Create your own bespoke Barbie themed dollhouse by My Froggy Stuff.
Cardboard Village house dollhouse:
Nothing can beat the charm of a well preserved downtown by DIY Hobby.
Dollhouse Coffee Shop by Cocobelly.
Monet Garden Dollhouse Craft by Minature Land.
Modern Wooden Dollhouse:
With no ornate designs, shingles, or metallic roofs, this minimalist modern wooden dollhouse by My Modern Dollhouse is an insignia of elegance.
Doll house projects anyone can craft
Wall Hanging dollhouse:
Small space and budget-friendly dollhouse by Little Vintage Cottage.
Rustic Dollhouse with storage space:
Give your children's room a makeover by combining a dollhouse with a storage space, as demonstrated by lisa.efpunkt.
Firefly Cottage Dollhouse by fireflycottage dollhouse.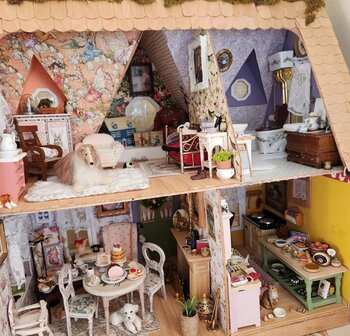 Free DIY dollhouse projects:
One can build a shallow wall-mount bookcase dollhouse by reusing old crates or wooden planks by remodelaholic.
Treehouse dollhouse by Anna White.
DIY Dollhouse Greenhouse by Lena Wiese.
Barbie Room by Simply Living Mini Designs for your dollhouse.
Dollhouse Bathroom by debis mini obsession.
DIY Dollhouse for 12 inches dolls is a huge dollhouse by The Square to Spare.
Dollhouse Loghouse using branches and bark by House and Tree.
Cute Stone Dollhouse:
This technique is different from the rest of the miniature houses as it uses actual stones and Plaster of Paris as an adhesive to support the weight of the building by DIY & Crafts.
DIY Fairytale cob house:
Accomplish your dream fairytale cob house using recycled glass jars, branches, clay, sticks, moss, tree bark, and wood glue. Use LED string lights for lighting by Maryinthefairyland.
Gothic Dollhouse transformation:
Vintage architecture has its own divine charm, which is not easy to attain in miniature art. You can achieve this look by converting a plastic gothic dollhouse into a haunted mason by Vintage Quiet Living.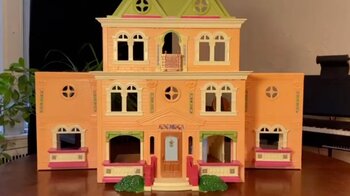 Japanese Countryside dollhouse by Minature With Jenny.
DIY Victorian dollhouse plans:
Victorian art is all about lavishness, grand, ornate architecture, fancy carving, intricate stained glass windows, and old-world charm by Everything Very Small.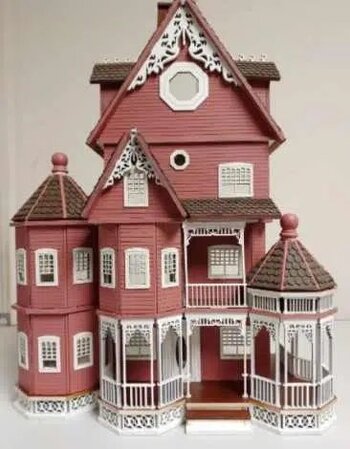 Villa Dollhouse by Minature Land uses a DIY dollhouse kit to craft this beautiful villa with a garden.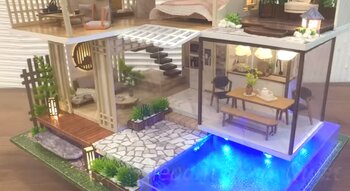 DIY Revolving dollhouse by That Dollhouse Lady convert a three-story rotating dollhouse into a two-story dollhouse.
Lamp Dollhouse by Evan Designs.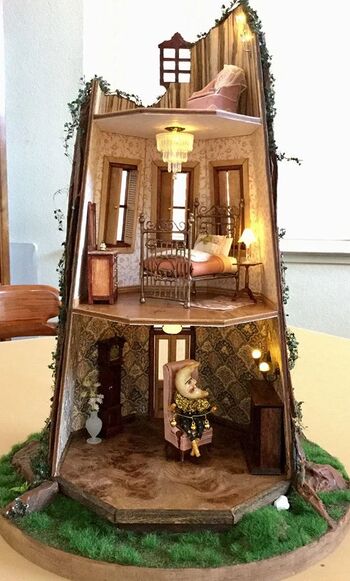 Upcycle Old Dresser Dollhouse by craftionary.

Portable dollhouse ideas
Vintage suitcase dollhouse:
Utilize Grandma's vintage trunk by craftionary.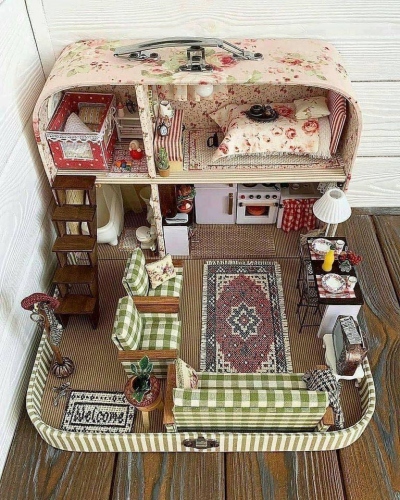 Toothpicks dollhouse by Roy Crafts using toothpicks, glue, and felt sheets to make a realistic dollhouse.
18-inch Dollhouse DIY by Always Dolls which presents a catchy idea to engage American girls in a pretend play game.
DIY Fabric Dollhouse:
One can't simply resist the idea of crafting a fabric dollhouse that is lightweight, easy to carry, and fun to play with sewing pattern by Lele Designs.
DIY Bookshelf dollhouse by Our Little Nest.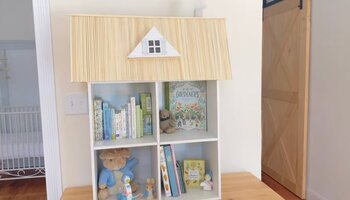 DIY shelf transformation into dollhouse by Vanessa's Corner.
Repurpose Box Dollhouse:

Prodigal Pieces upcycles a cigar box into a portable and easy-to-travel dollhouse. The handmade dolls, curtains, and a mini broomstick add more character!
Cheap cardboard box dollhouse by CBC utilizes old cardboard box, diaper box, or cereal boxes with minimum supplies.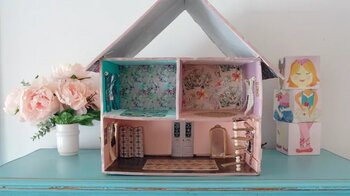 Guitar dollhouse:
Preserve your 1st guitar by reshaping it into a dollhouse by SC with adequate lighting, furniture, and a doll house kitchen.
Recycled bottle dollhouse by Suzimoon.
Dollhouse from Crates by Refresh Restyle with an additional pergola feature.
Mini dollhouses neighborhood by Make It Your Own.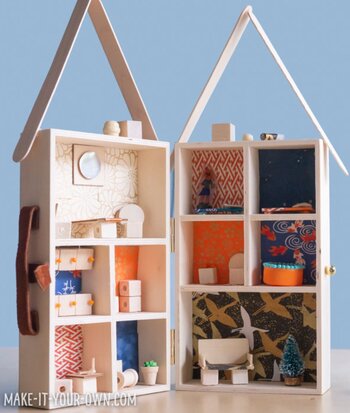 Dollhouse kits
Chinese Wooden Dollhouse Kit from amazon.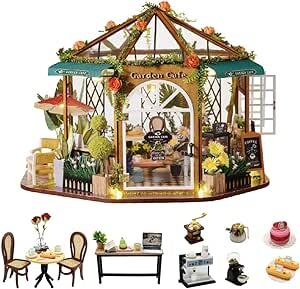 Classic Wooden Dollhouse from amazon.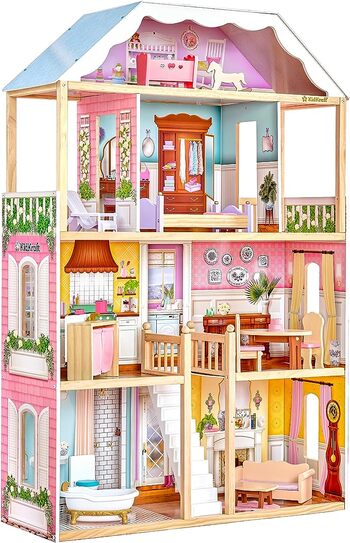 Olivia's dollhouse from amazon is an amazing gift for children due to its compact nature and portable design. The color scheme is ideal for both boys and girls.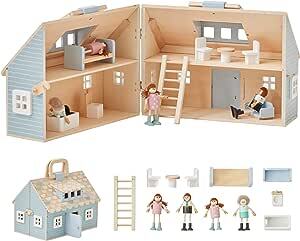 Disney princess Dollhouse from Disney Castles.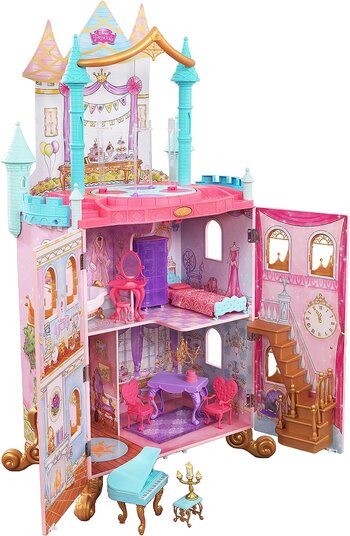 Rome Midnight Alley miniature kit from amazon.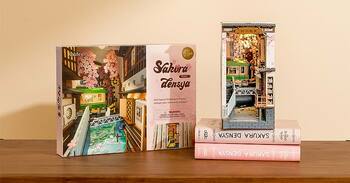 Laser cut dollhouse printable from Etsy.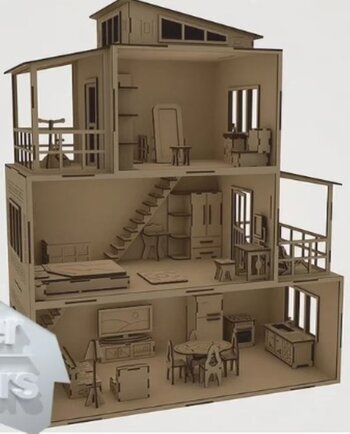 Book Nook Bookshelf dollhouse from Etsy.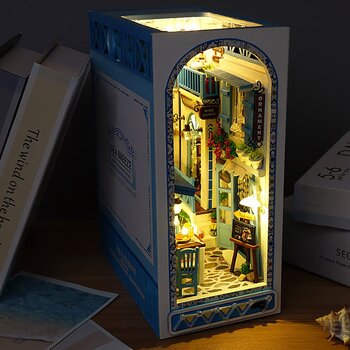 DIY Rose Garden house from Etsy.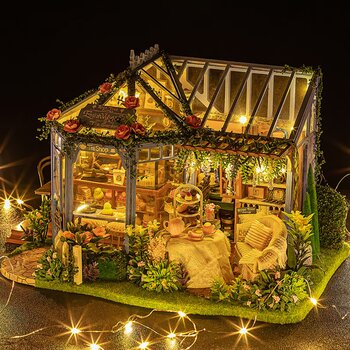 1/12 scale Victorian dollhouse from Etsy.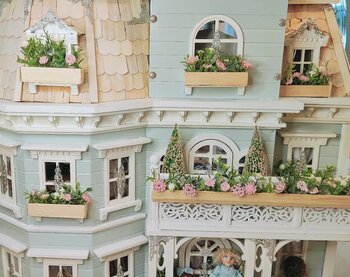 The magic wand dollhouse:
Time to bring Diagon Alley to your home by purchasing this replica of Olivander's magic wand shop from Etsy.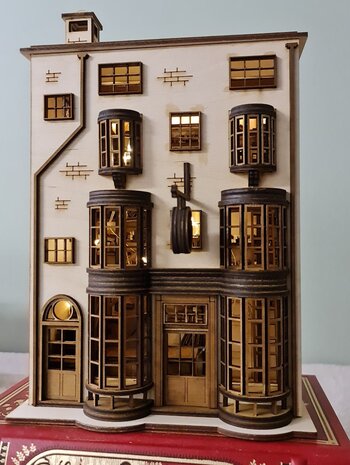 Nesting dollhouse you can stack and pack in a box from amazon.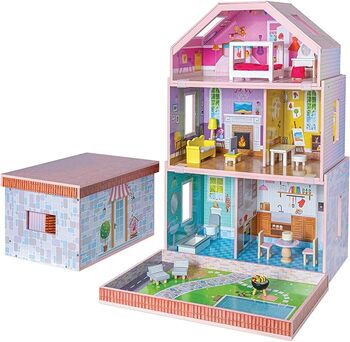 Majestic mansion wooden dollhouse from KidKraft.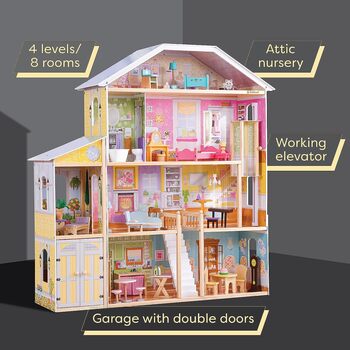 Kit with Wooden dollhouse from Tiny Land.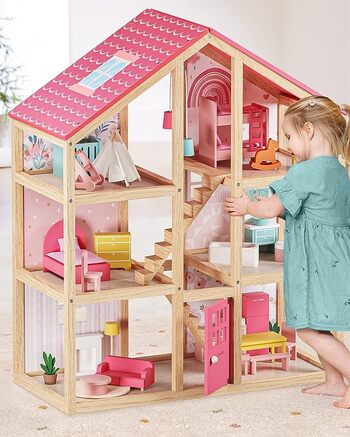 Wooden dollhouse from Robud.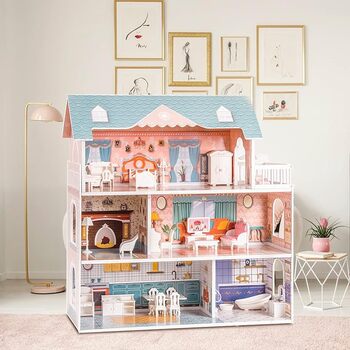 Rooms huge dollhouse from cute stone.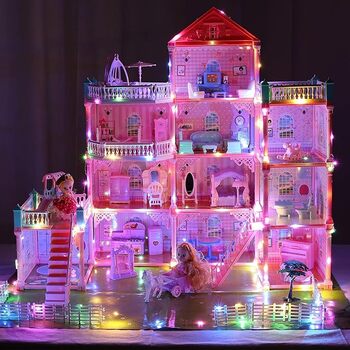 Mini villa with dust proof cover and music box from spilay store.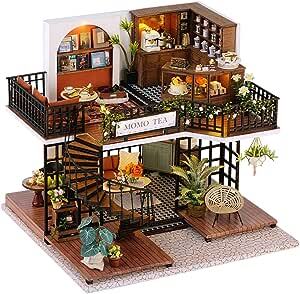 Barbie dreamhouse with accessories from Barbie.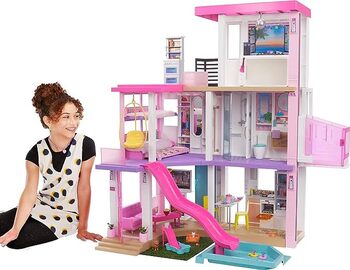 Cottage doll house from KidKraft.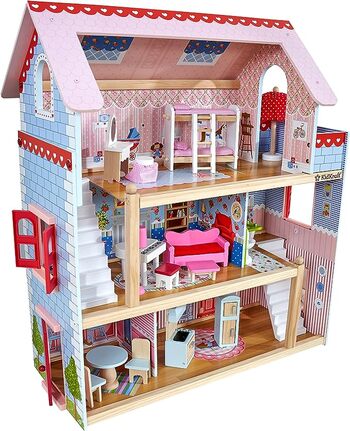 Discover the benefits of Montessori with handcrafted dollhouse from Etsy.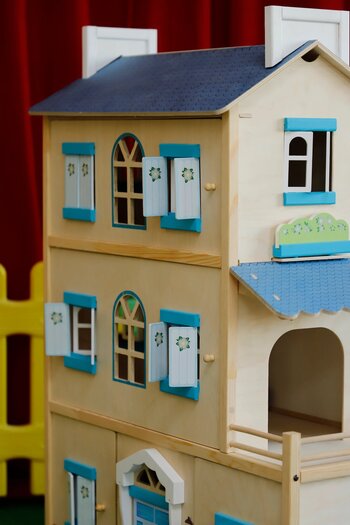 Christmas House Miniatures dollhouse kit from Etsy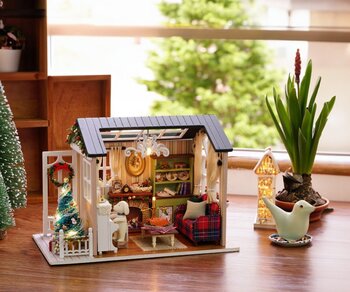 Wooden dollhouse with furniture from Foxford4kids.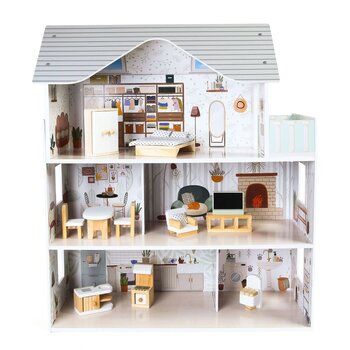 Miniature dollhouse with kit from Kanuzya.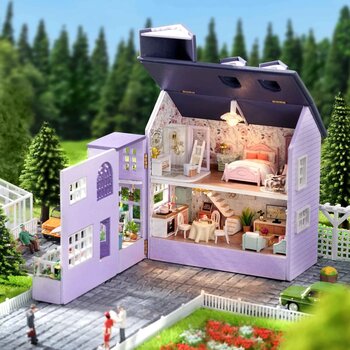 Author: Nageen Sohail