This post may contain affiliate links. Please see our full Disclosure Policy for details.
Pebble art is a unique form of artistic expression that uses the beauty of the natural rock art to produce decorative works of stone art projects and DIY crafts. It includes setting up, arranging, and applying glue to a surface to create elaborate patterns, landscapes, or even three-dimensional sculptures. Pebble art is approachable for seasoned artists and beginners looking for a creative outlet due to its simplicity and adaptability. They make unique gifts for kids and pebble family display on white card stock using different shapes of rocks.
FAQ's
What is pebble art?
Pebble art is a way to express one's creativity by arranging and applying pebbles to a surface to produce pictures, patterns, or scenes. Pebble art is sometimes referred to as pebble art, stone art, or rock art, even though there is no one term that is universally understood to describe it. These phrases cover the artistic method of creating aesthetically pleasing and textured works of art utilizing pebbles as the medium. Pebble art allows artists to express their ideas and incorporate natural elements into their works of art. It can range from straightforward designs to sophisticated and detailed compositions.
What do I need for pebble art?
You'll need:
What kind of glue do you use for pebble art?
It's crucial to use powerful glue for pebble art that can firmly attach the stones to the canvas or base. E6000 is a widely used glue that offers a strong hold and is waterproof and industrial-strength. Gorilla Glue and Aleene's Tacky Glue are easily accessible at craft stores and are good craft glues for pebble projects as well. Fast bonding can be accomplished with hot glue gun and high-temperature glue sticks or krazy glue. Consider glue's drying time, transparency, and suitability for the materials you are using when choosing one. Always abide by the manufacturers' directions for correct application and drying times.
How do you stick pebbles for pebble art?
To adhere pebbles for rock art start by cleaning the pebbles with soap and water. Brush off dirt if required and let it dry. Add a layer of adhesive (such as craft glue or E6000), and place the pebbles on the surface, press firmly, and let the adhesive cure. Apply a protective sealant on top if desired to increase durability.
How do you clean pebbles for pebble art?
Rinse the stones under running water to get rid of any loose dirt before using them for pebble art. Warm up a bucket and add vinegar or mild dishwashing liquid or detergent. Soak the stones for sometime to loosen up old mud. To remove tenacious dirt or debris, scrub each stone with a soft-bristled brush or toothbrush. To remove soap residue, give the pebbles another rinse under running water. Before using them for your pebble artwork, spread them on a towel or piece of paper to air dry thoroughly.
Simple Instructions To Make Pebble Art Pictures
Gather material for your rock art idea
– Start by sketching your pebble art on a piece of paper.
– Gather the type and size of pebbles and rocks for your project in mind.
– You might also need other natural materials or craft supplies based on your idea such as paints, twigs, markers etc.
– You may need to clean and dry your supplies before you start making your pebble art.
– Cut a piece of card stock the size of your picture frame using the dimensions of the paper insert.
Arrange the rocks and mark their positions
– Glue the card stock to the backing of the frame for extra support while working.
– Arrange the materials on a piece of card stock or canvas board till you are satisfied with the pattern and design.
– Now carefully remove each piece and use a pencil to mark its spot.
– Use a pencil to draw the details of your pieces or write quotes.
– Once you are satisfied with all the details you can use markers and sharpies to paint them permanently after gluing everything in place.
– You may choose to paint the rocks and let them settle before proceeding to the next step.
– You may also choose to paint a background on your card stock or canvas before sticking the materials.
Glue and enjoy the process
– Use adhesive of your choice from the recommendations above. Tacky glue is my personal favorite!
– Pick each piece up and dab or layer the flat bottom side of the rock with generous amount of glue. It should be enough to glue the pebble but not too much that it runs and seeps into the card stock and wrinkles it.
– Now place it on the surface and apply some pressure to allow release of bubbles between the two surfaces for firm sticking.
– Hold it in place for a minute or two.
– Continue with the rest of the pieces and let it dry for at least 24 hours.
Assemble and display your beautiful art
– Once the pebble art has completely dried, finish the small details with markers or engraving tools.
– Frame the card stock or hang the canvas.
Now let's look at some cool and creative pebble art craft ideas and projects that will inspire you.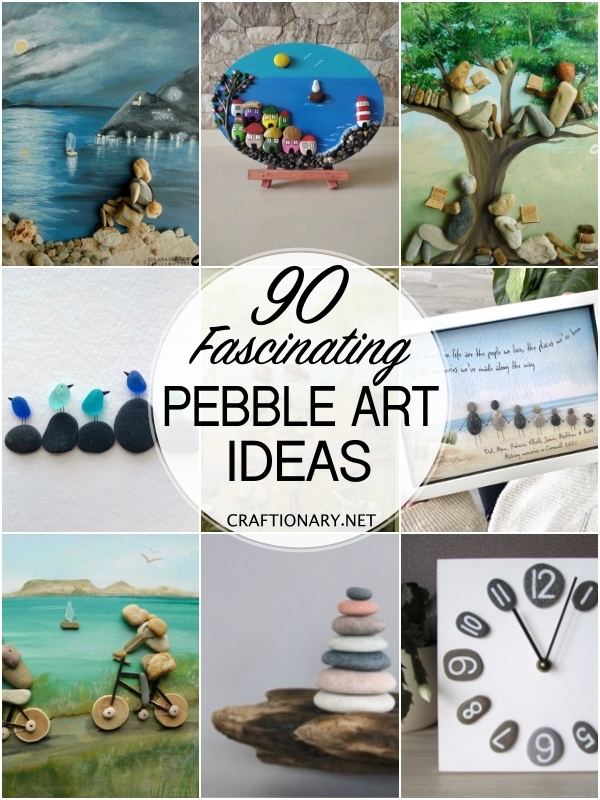 Pebble Art Ideas for Home
There are many pebble art ideas to improve the interior design of your home. Make a family portrait, pebble art scenes, wall clocks, painted key rings, inspiring sayings, pebble magnets for your fridge, or pebble-decorated vases. Pebble wall hangings and candle holders are additional options. Allow your imagination to go wild and use pebble art to enhance your living areas' natural beauty and artistic flair.
Pebble Art Family Portrait
Pebble art family portraits are nostalgic treasures that portray the love and ties that bind a family together. They offer a special and creative method to show and appreciate treasured family memories.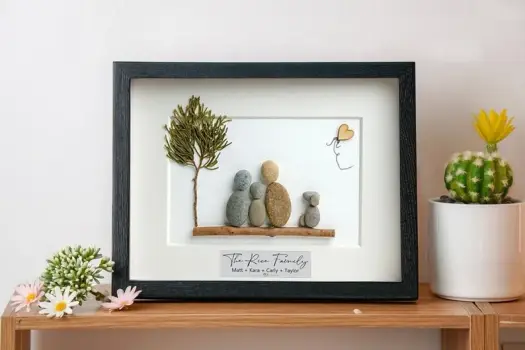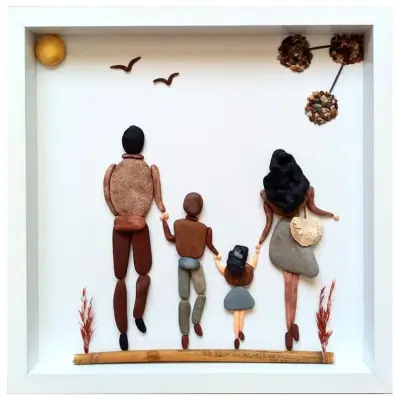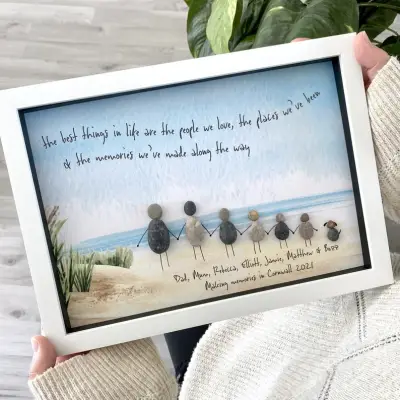 Family Jigsaw Puzzle Art inspiration from You've been framed.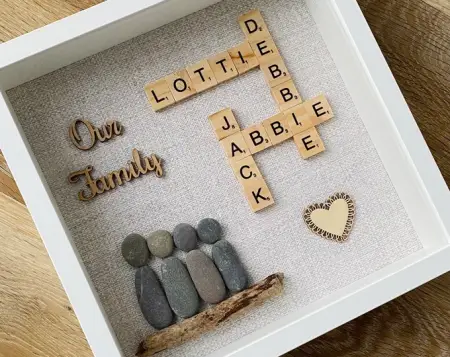 Viking Pebble Family from Etsy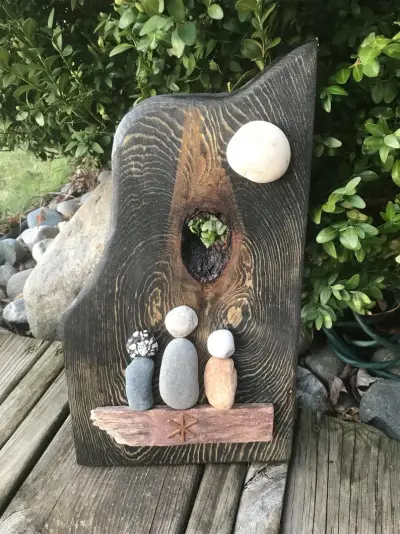 Fishing Pebble Art
Fishing pebble art represents the joy of fishing and the passion for the activity, offering a colorful portrayal of this pastime and generating a sentimental and peaceful ambience in a space.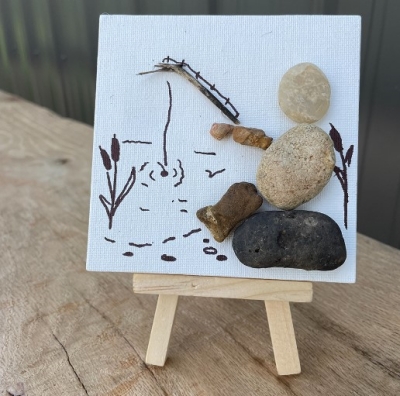 Beautiful Shores Pebble Rock Art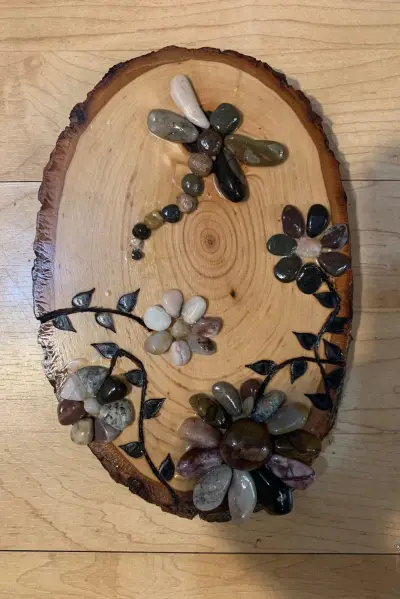 Owl Pebble Art
Owl pebble art is an expression of knowledge, intuition, and protection that gives home decor a natural and spiritual feel while capturing the fascination of these magnificent birds.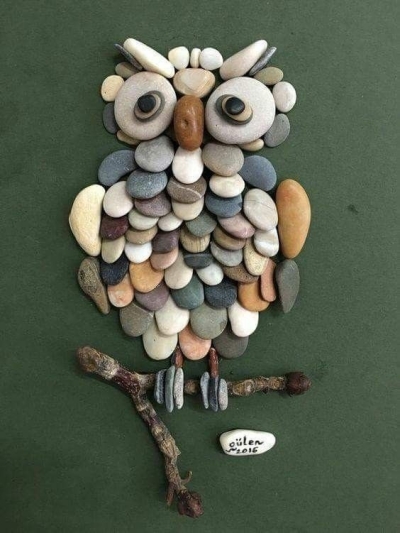 Unknown source
Yoga Pose Pebble Art
Foster a serene and harmonious environment in yoga studios or private areas devoted to fitness techniques by acting as a visual reminder of consciousness, balance, and tranquilly.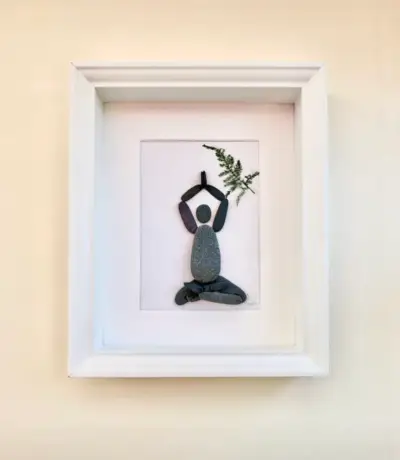 Pebble Letter Decor
Initials, names, or significant phrases are expressed by pebble letter decor, which adds a distinctive and personalized touch to house decor while expressing personal individuality.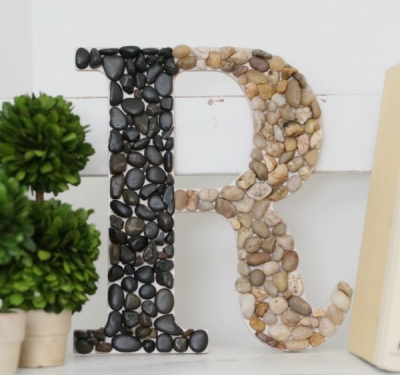 Pebble Tea Light Holder
Pebble tea light holders are aesthetically pleasing additions that offer a rustic, peaceful environment to any room while securely holding and lighting tea lights, fostering a warm, relaxing mood.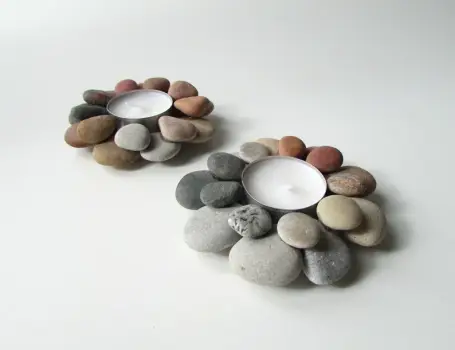 Inspirational word pebble art
Pebbles with inspirational words or phrases are carefully arranged in inspirational word pebble artwork. It provides a visible reminder of uplifting themes, fostering inspiration, support, and a sense of well-being in the space it is situated in.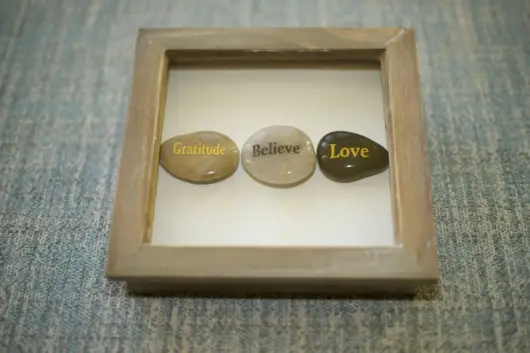 Cute little pebble art for nursery or kids bedroom from Etsy.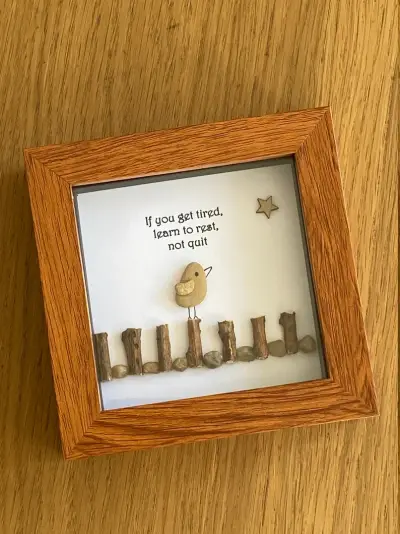 Pebble Table Clock
A pebble table clock is a decorative accent and a timepiece. While offering a practical and fashionable way to keep track of time, it gives a space a touch of nature and organic beauty.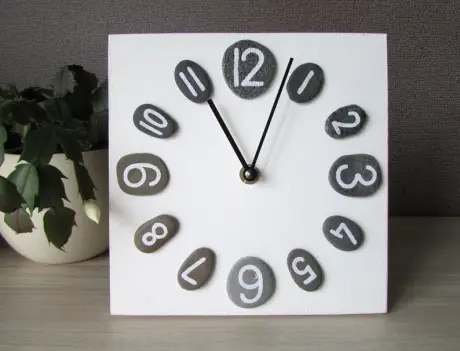 Pebble art of Nova Scotia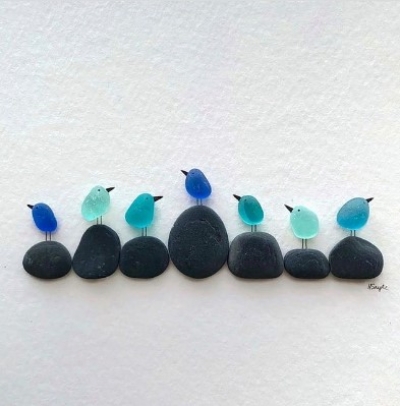 House Rock Scenery
Use a tray to make painted rock scenery to display.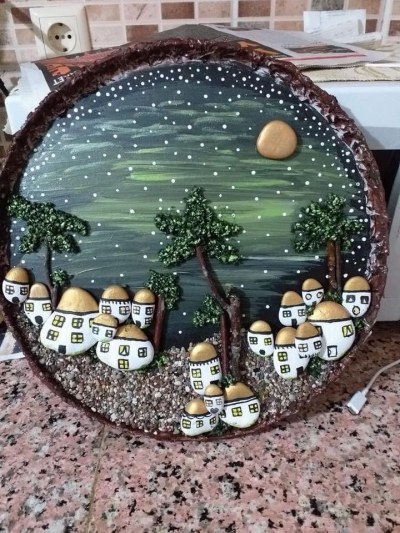 Pebble Art Scene
Paint the background of the canvas to produce visually stunning and significant artwork that conveys a message or captures an idea, arousing feelings and stimulating the imagination while bringing an original and artistic touch to any setting.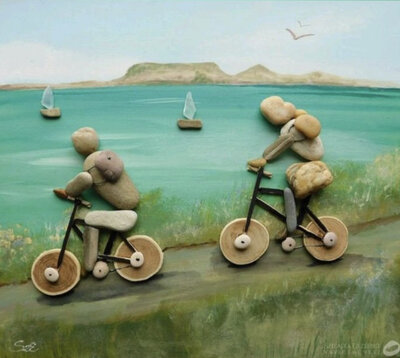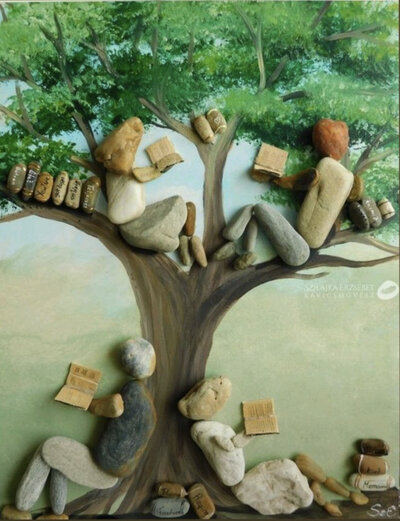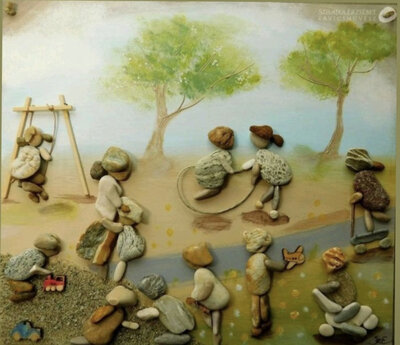 Unknown source
Beach Pebble Knobs
Beach pebble knobs are attractive and practical components for cabinets, drawers, or doors that give the furniture a coastal and natural touch while making it easy to open and close.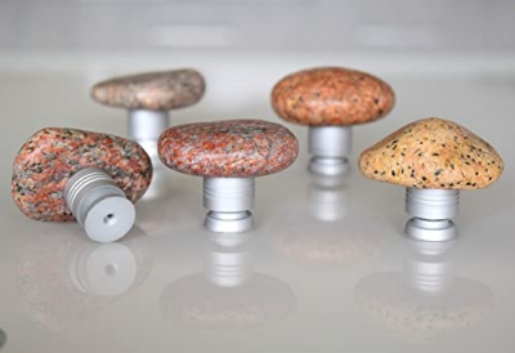 Pebble Lighthouse with Sea View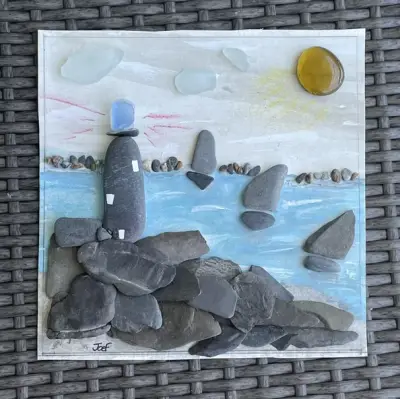 Pebble and Sea Glass Art
You can create this pebble and sea glass art with sea glass, pebbles, a frame and glue.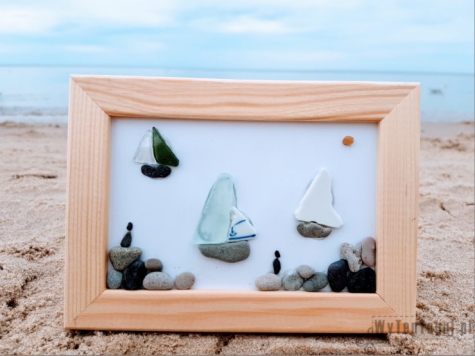 Rock Flowers
Use pebbles to make everlasting flower bed using a collection of rocks from your beach trip.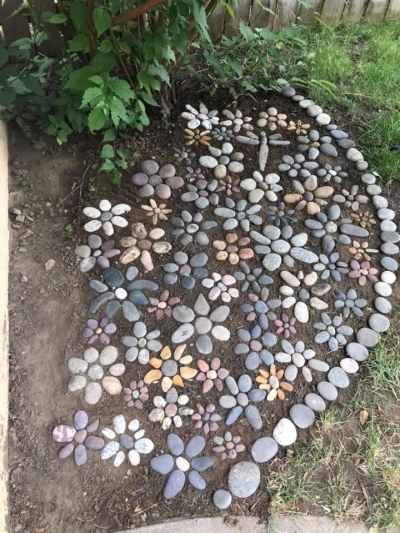 Camping Pebble Art
Camping pebble art perfectly captures the spirit of outdoor adventures. It has pebble patterns that depict camping settings, tents, campfires, or other natural elements. This serves as a remembrance of camping trips and lends decor a rustic charm.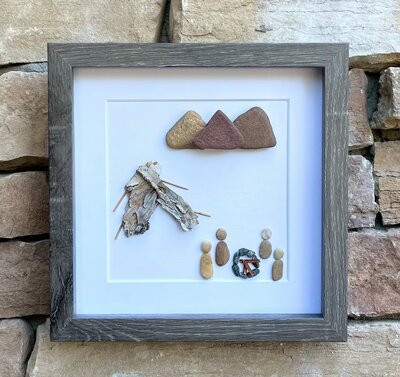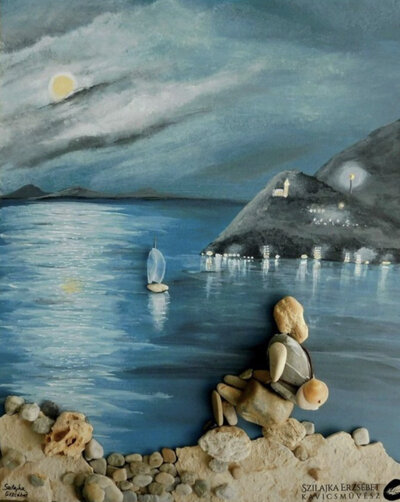 Unknown source
DIY Pebble Art Tutorials
You can create your pebble art through these easy DIY tutorials.
DIY Penguin Pebble Art
Pebble artwork featuring penguins gives the interior design a fun and lovely touch. It embodies the personality and liveliness of penguins, giving any room a pleasant focus and an extra dose of cuteness. Materials you will need include Wood Slice, Pebbles, Acrylic paint, a Paint Brush, a Hot Glue Gun, screw eye pins, Fine Tip Markers, and Ribbon.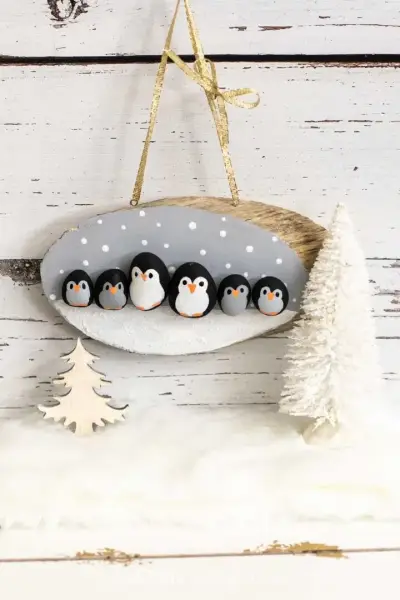 DIY Pebble Art Family Sitting on a Branch
Make this beautiful portrait of a family sitting on a branch. It is a beautiful piece of family pebble art for both indoors and outdoors. The material that you need is
Card stock (we used white)
Pebbles & beach glass
Driftwood & twigs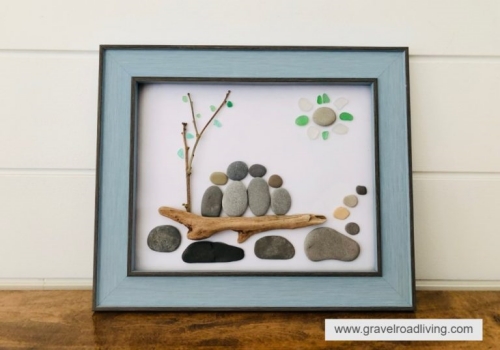 Stone Painting
This wall hanging with painted birds and sticks looks elegant and is easy to make. You will need rope, glue gun, pebbles, acrylic paints, paintbrushes, beads, and twigs.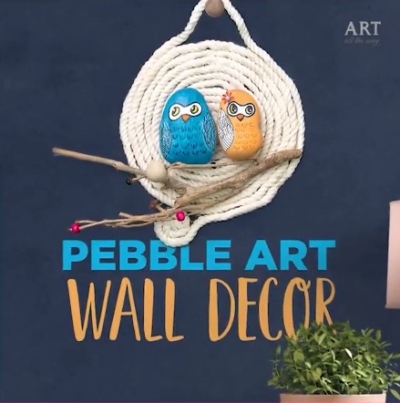 DIY Pebble Indoor Water Fountain
Try doing this simple and inexpensive DIY indoor water fountain project. Your home will benefit from having a little tabletop fountain. Through this tutorial, you can make this beautiful fountain with a watertight bowl, a small solar fountain pump, pebbles, and a remote control outlet switch.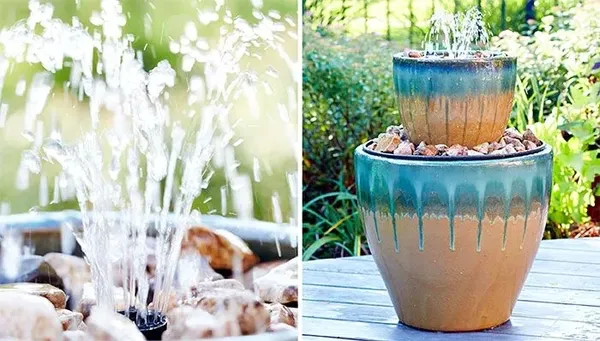 DIY Pebble Art Tree
Pebble art trees reflect the natural world, growth, and rootedness. They provide a tranquil and peaceful atmosphere by bringing peace, earthiness, and aesthetic fascination to any space.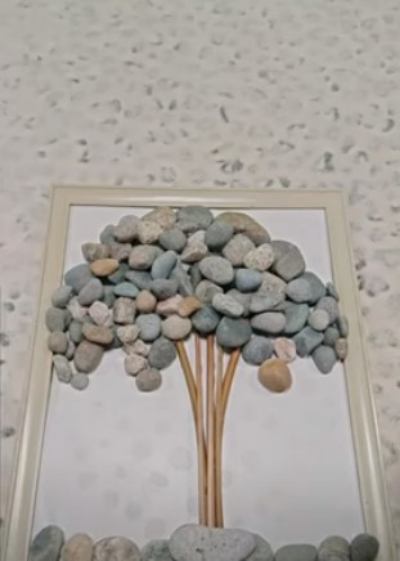 DIY Heart-Shaped Pebble Art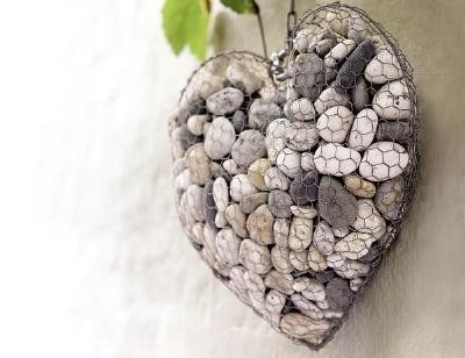 Pebble Candle Holder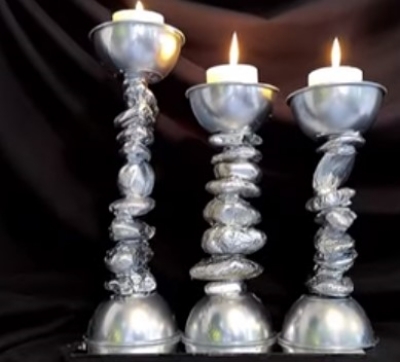 Wooden Keyholder
A mixed media wood slice and painted rocks key hooks from Etsy.
Unique Fall Pebble Art
Use a greeting card or page from magazine or art gallery that you adore as background to create a eye soothing pebble art like this Autumn Stroll from Etsy.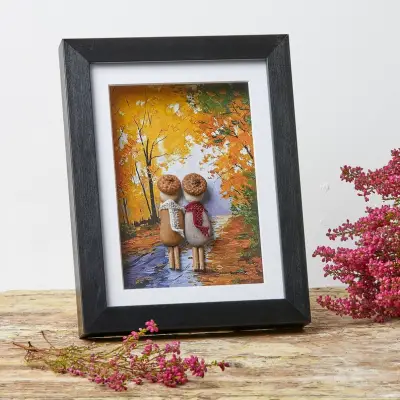 Garden Pebble Art Ideas
Pebble art in gardens gives outdoor areas a natural and creative touch. Its goal is to make a garden more eye-catching and turn it into a captivating and distinctive setting. Pebble art can represent a variety of subjects, such as creatures, flowers, or landscapes, establishing focal points and inspiring a sense of harmony, peace, and connection with nature. Additionally, it permits freedom of expression and innovation in landscape design.
Pebble Birdhouse
Make a mosaic birdhouse with pebbles for decoration.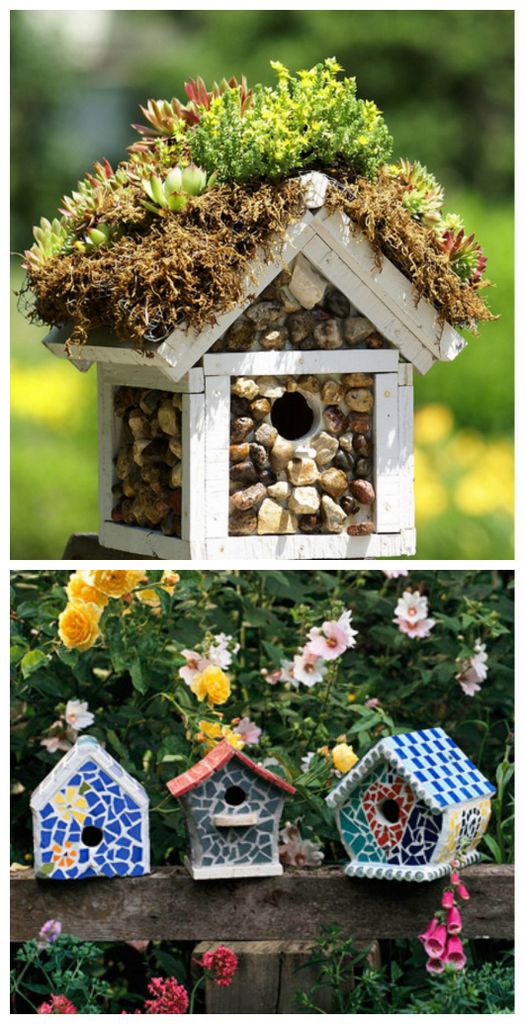 Pebble Planter
You can make your pebble planter vase with rocks and recyclable items.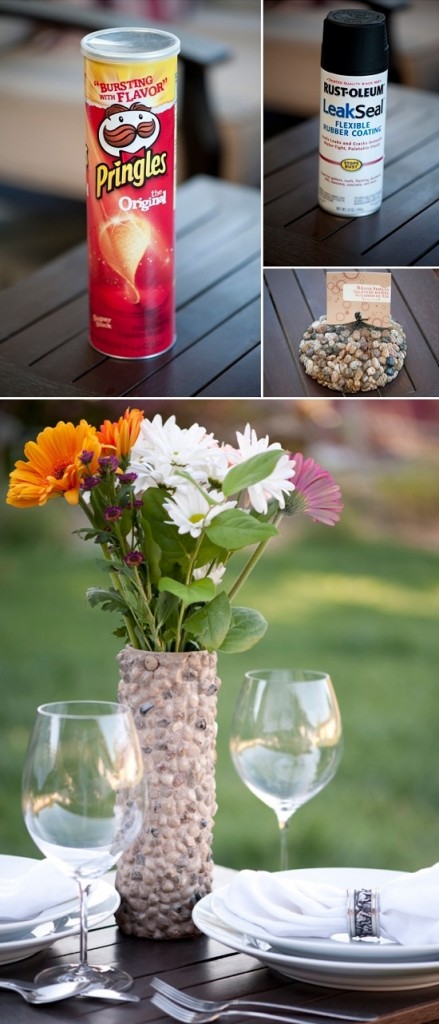 Pebble Mosaic Stepping Stone
Pebble mosaic stepping stones enhance gardens' aesthetic appeal and practicality by offering a distinctive walking path that incorporates organic materials and textures.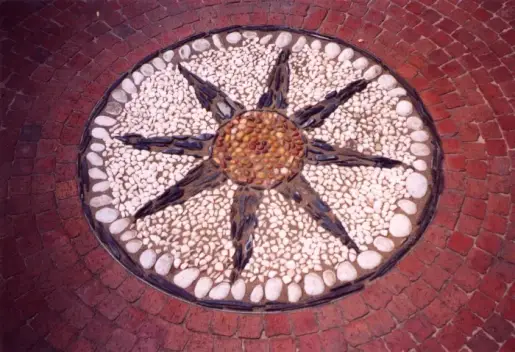 Pebble Mushroom
Paint these adorable little mushrooms from Etsy to make them look vibrant.
Zen Balancing Pebbles for Garden
Zen balancing stones are used as ornamental and meditative pieces in gardens to promote harmony, balance, and serenity while evoking a Zen-like state of mind.
Pebble River Rock DragonFly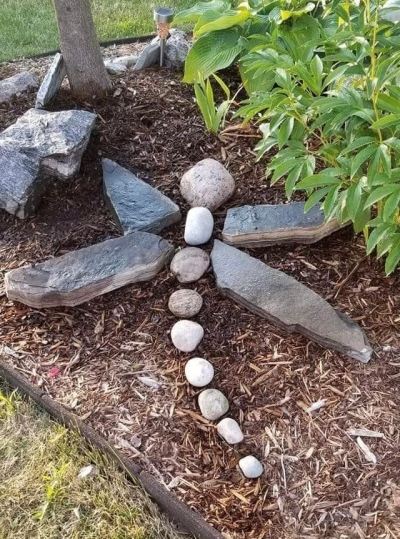 Fairy Garden
A Fairy Garden is a little, enchanted garden with tiny plants, ornaments, and other accessories that creates an amazing and whimsical scene.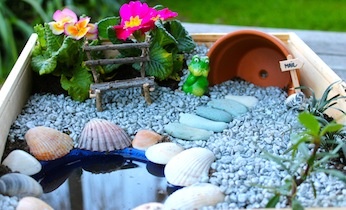 Pebble Edging
DIY Garden ideas creates a beautiful and natural border to mark flower beds, walkways, and other garden features, improving the gardens' overall appearance and organization.
Pebble Cairn
A unique yet beautiful way to change up the landscape in the garden is to build rock cairns. Because of the contrasting hues and sculptural variations of the stones, cairns can serve as a peaceful place for reflection in gardens.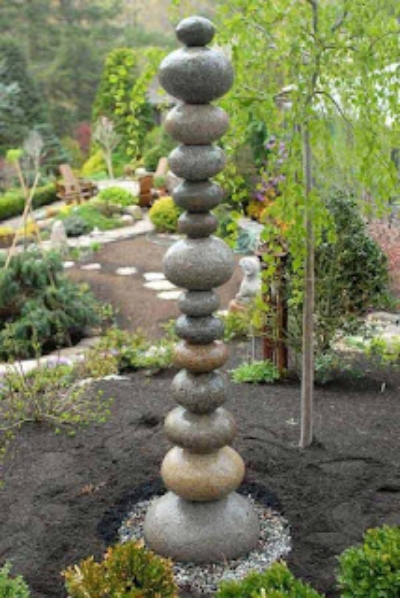 Pebble Art Ideas for Beginners
There are so many ideas for beginners to decorate their homes with pebble art. So if you don't have much experience there is no need to be worried about it.
DIY Pebble Trivet
Trivet is the best addition to your table. It looks beautiful as well as protects your table. It is so easy to make. You need felt, pebbles, hot glue and scissor for it.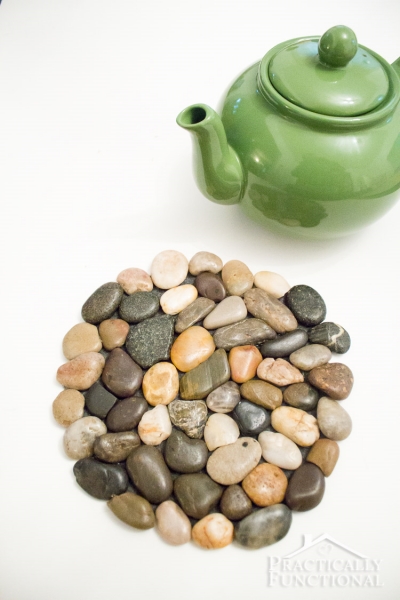 DIY Pebble Bowl
A pebble bowl fulfills both purposes of decoration and use. It serves as a centerpiece or accent item for interior design, adding a natural and earthy touch. To add usefulness to its visual appeal, it can also be effectively used as a bowl to contain small items like keys, jewellery, or potpourri.
Verses on Pebbles
Engraved river rocks with verses and inspirational sayings and quootes that you can customize from Etsy.
Inspirational Quotes on Pebbles
You can also use sharpie to write your own quotes as a DIY pebble art project.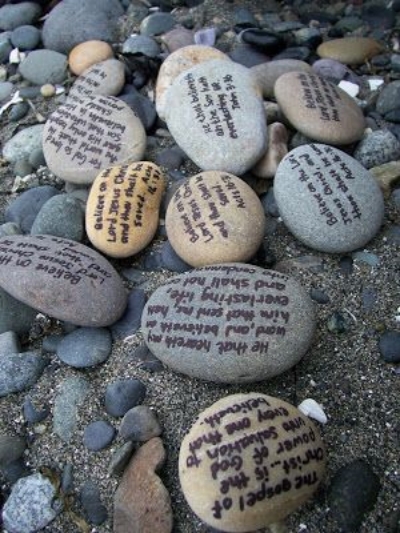 Nature Inspired Pebble Art Wall Hanging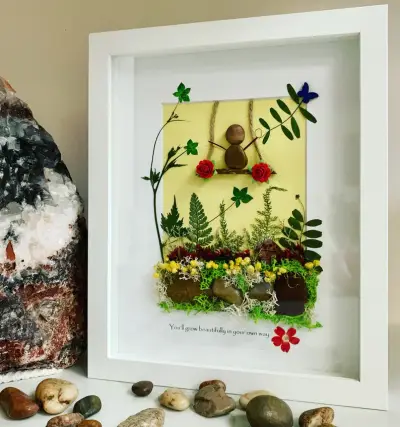 Pebble Friends Art
Cutest birthday gift or girls trip gift for your best friend from Etsy.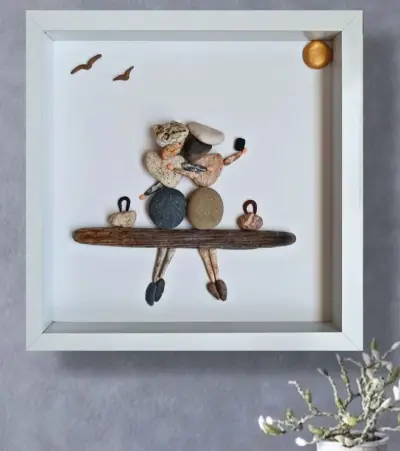 Pebble Sisters Art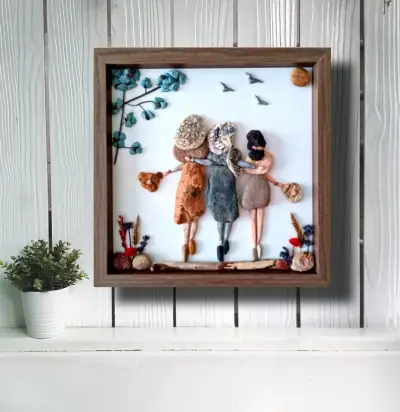 Vintage Pebble Art
Vintage pebble art combines nostalgia and classic aesthetics, capturing the charm and timeless appeal through vintage-inspired designs, creating unique decorative pieces or gifts.
Grapevine Old Looking Wall Art with stones and ink from Etsy.
Pebble Art Flower in Vases
Pebble art with flowers in vases honours the splendour of nature, adds a touch of elegance to the decor, and makes the room feel peaceful and serene.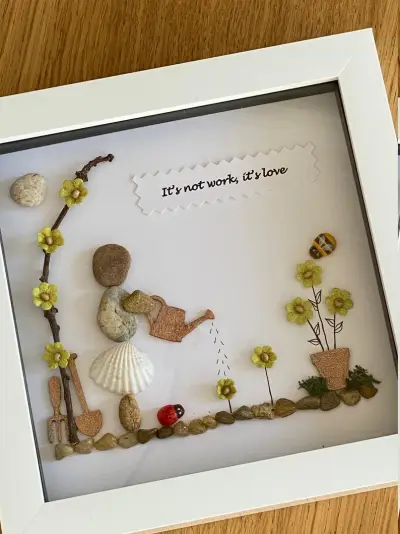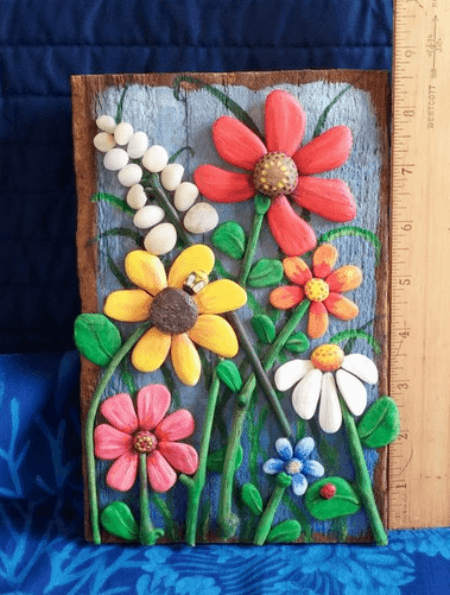 Pebble Art Stork
Stork pebble art is frequently used to create decorative artwork or meaningful presents for honouring birth, fresh starts, family, and caring.
Cute announcement for new baby from Etsy.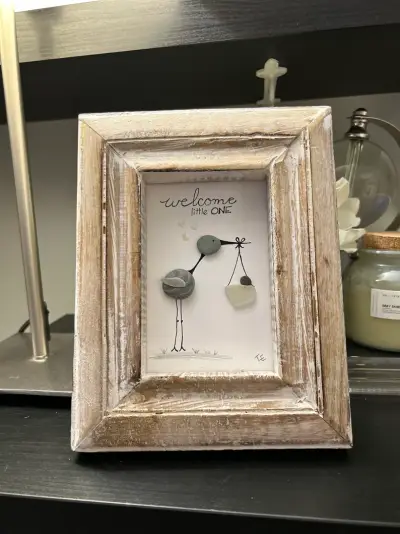 Fish Pebble Art
Fish pebble artwork can add a vivacious and lively touch to interior design. It provides an element of whimsy and nature, acting as a distinctive and eye-catching piece that gives any room life and personality.
White Beach Pebble Lamp
It can provide some calm and natural elements to your interior design. Its natural, textured appearance creates a relaxing ambience and adds aesthetic enchantment. It improves the overall visual appeal of any room by acting as a decorative accent as well as a practical light source.
Beach Pebble Photo Frame
Use a collection of beach rocks to decorate a frame and add your photograph from that trip to make a memorable picture frame with this idea from Etsy.
Patio with pebbles
Make a downspout rain pathway with pebbles and rocks with Backyard Landscaping Ideas.
Cool Rock Art using Pebbles and Stones
I am stunned by these creative pebble crafts to create rock art projects. All these inspirations are from unknown sources, if you happen to know the artist let us know.
Rock birds on the branch art.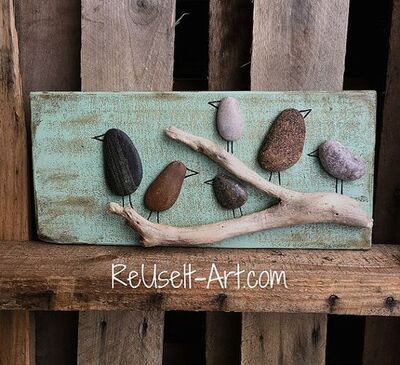 Beautiful cottage scene using painted rocks artwork.
Rock painted landscape painting on canvas with acrylic paints.
Rock tree and flowers landscape art.
Whimsical girl pebble art idea.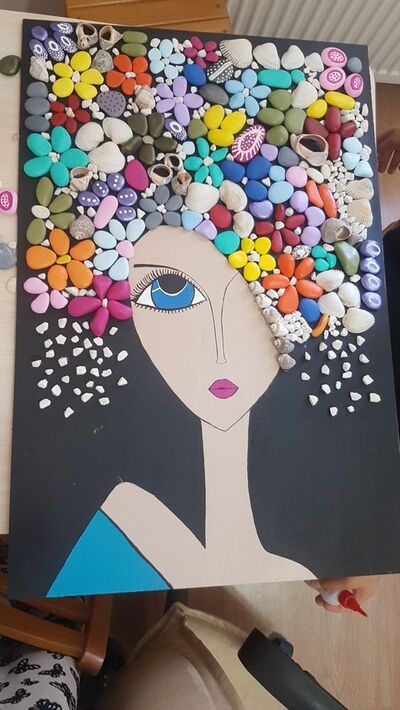 Couple enjoying conversation in a vintage coffee shop rock art idea.
Funny cat lovers wall art on wood slices with pebbles and stones.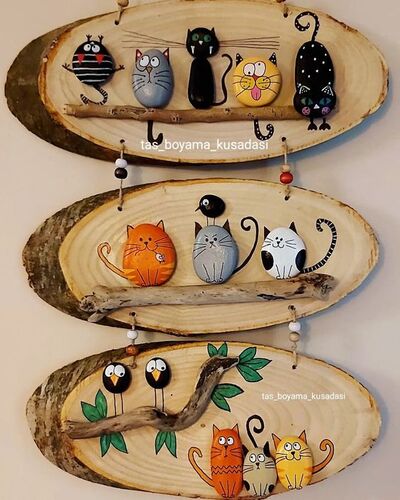 Curly girl cute pebble art idea.
Fishing on the side of the lake pebble wall art.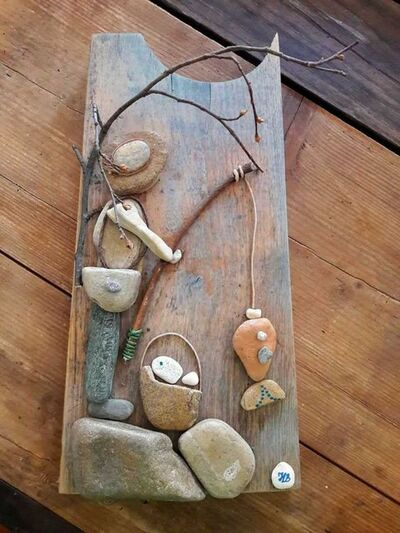 People sitting on the cliff 3D pebble art.
Gardener watering the plants in the garden rock art.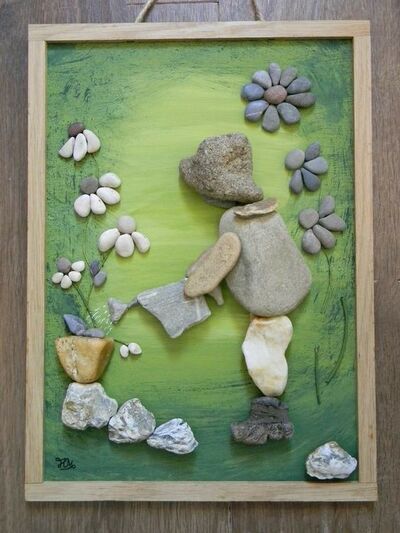 Rock art inspired by Italian over the shores sighting girl photo from the balcony with pebbles.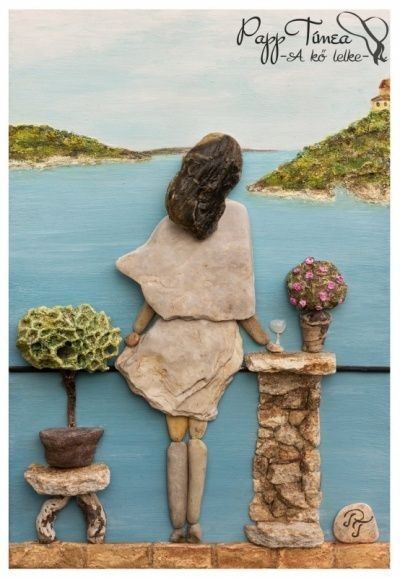 Beautiful flower bed with pink painted rock flowers.
Musician playing music in the streets sketch using pebbles.
Tree Art in the rock pathway using stones and bricks.
Giraffe silhouette wall art using pebbles.
Pebble Family and friends made with rocks.
Scandinavian pebble art on wood slice with windmills and driftwood.
Beautiful coastal landscape pebble art idea.
Couple dating in the moon lit sky under the light of lamp post using pebbles and acrylic paints.
Tree and cottage pebble artwork.
Recycle glass bottle with colorful painted pebble cottages.
Walking in the rain with umbrella mood setting pebble art.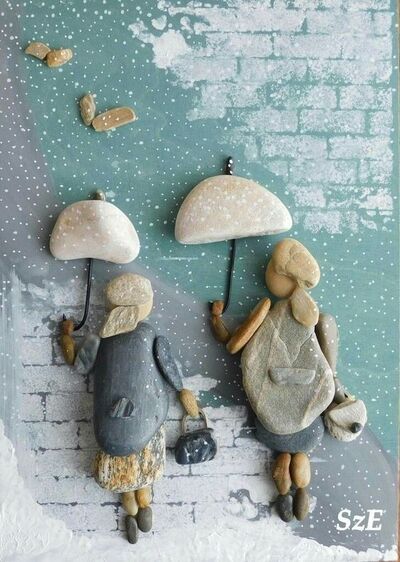 Vibrant setting of rocks and bright colors on wood slice.
Author: Alveena Nazir