I am sharing an easy and cute baby nursery project today.
With our second bundle of joy arriving in February. I am excited about creating baby nursery projects.
Today I am sharing a DIY clay project I made for the dresser. A very easy to make DIY clay vase.
All you need is some clay and a vase to make this project in a few minutes.
Let's see how it looks displayed before getting to the instructions.
DIY Clay Vase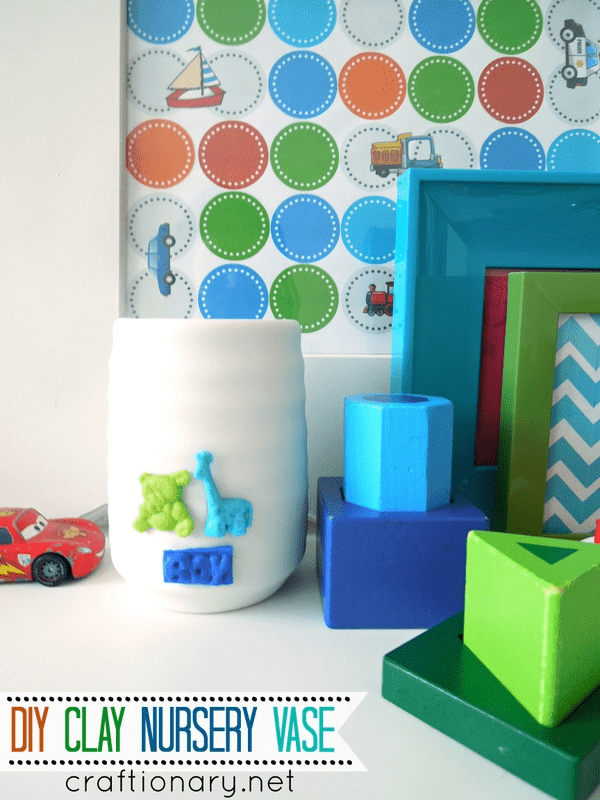 I made these cute clay embellishments using molds. You can also make lots of great things with clay without molds too.
It's just like playing with playdoh. Polymer clay remains workable until you heat it.
DIY Clay Vase  Tutorial
Things you will need:
Polymer clay
Molds
Cutting knives (for shaping)
Oven (for heating)
Hot glue gun (for gluing clay to the vase)
Instructions:
Take a sufficient amount of clay enough to fit in your mold. Now knead it a little to soften it and place on your mold.
Press the clay into the mold. Simply like kids make playdoh shapes.
Remove from the mold.
Use cutting knife to remove the excess of clay. And shape the clay.
Once you are satisfied with the look of your clay art.
Place them in the oven for 10 minutes at 250 °F.
( the above temperature and time is what I used to make mine that are very tiny and only 1.4 inches thick. )
Let them cool down for 30 minutes.
Then hot glue them onto the vase.
That's about it all!
Simple Clay Tips
Perfect Polymer Clay Project Always:
Check your clay art every 5 minutes to make sure it is heating properly.
Most of the polymer clay instructions say heat them in oven for 15 minutes. But depending on your oven it can be done in 10 minutes also.
Place your clay on a piece of foil inside the oven.
Make sure you put it on bake. And mistakenly don't broil it.
Polymer clay remains workable until cured generally from
between 265 °F (129 °C) to 275 °F (135 °C) for 15 minutes per 1/4 inch (6.4 mm) of thickness.
( For best results check the label on your clay package! )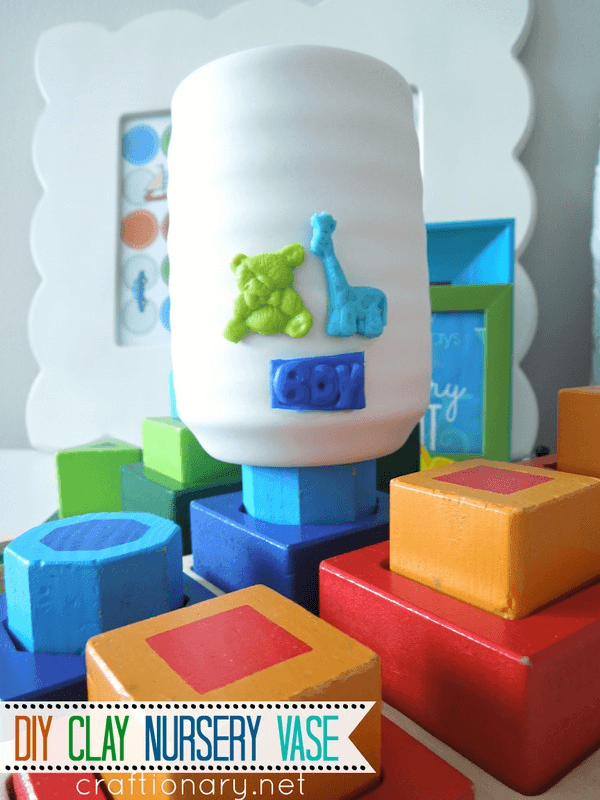 I hope you enjoyed this easy DIY clay vase tutorial.
I can't wait to share the bedroom/ nursery reveal with you.
I received clay products for making this project from wholeport. All opinions are 100% mine.
You will also like: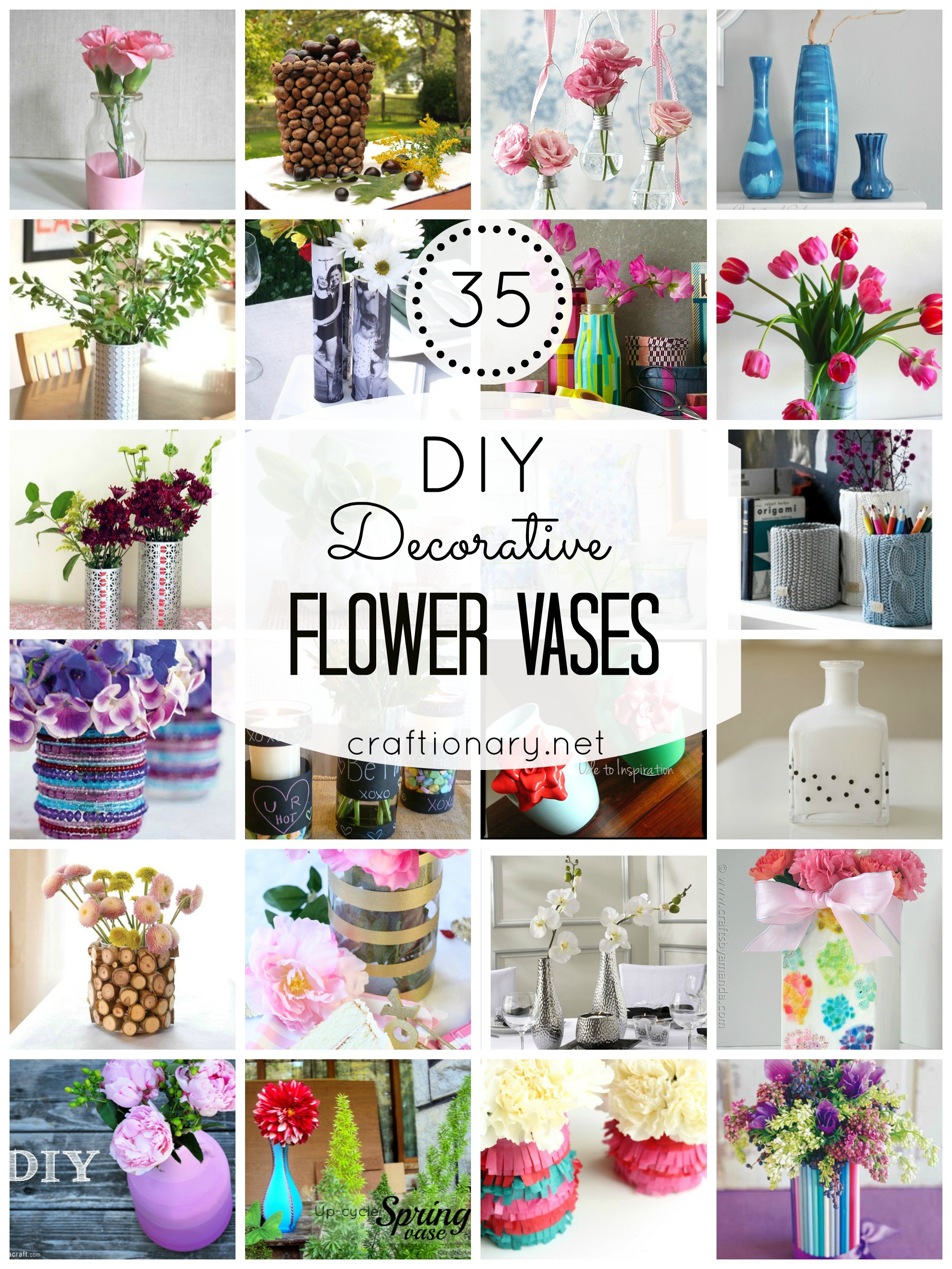 35 DIY Flower Vases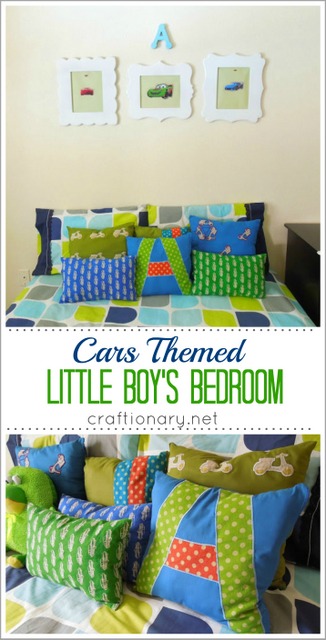 Cars themed boys bedroom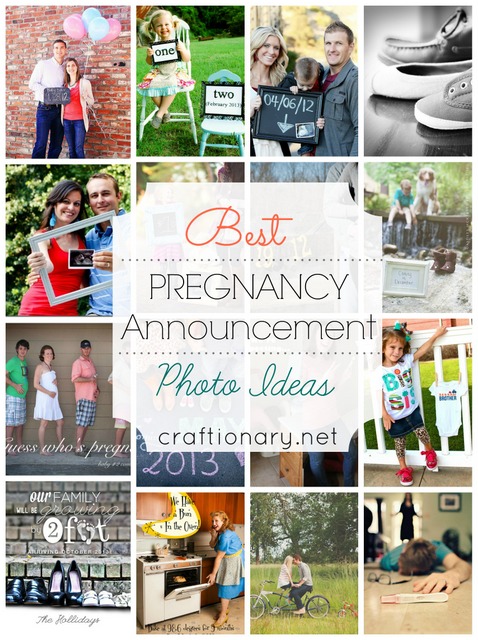 Best Pregnancy Announcement Ideas
Looking for more great ideas?
Are you on pinterest?
These are updated regularly whenever I find unique ideas.