This post may contain affiliate links. Please see our full Disclosure Policy for details.
Find charming small garden ideas that won't break your budget. Revamp your deck, backyard, balcony, patio and front gardens with simple and stunning small space garden ideas.
Houseplants and outdoor gardens with greenery and fresh florals are essential for your emotional, physical and mental health. Reinvent your home, indoor and outside with containers and affordable small outdoor space ideas. You can use raised garden bed to square foot garden for growing fruits, vegetables and herbs. Or grow perennial flowers, bushes and ground cover plants.
Learn how plants can add privacy to your garden with flower boxes and vertical garden. Add flowering art and practical furniture to make valuable sitting space. Consider adding water fountain, zen garden or even a small pond to your little area.
Decorating a small landscape is easy. Before learning about different space saving small plot creative ideas, you must plan for your yard mentally.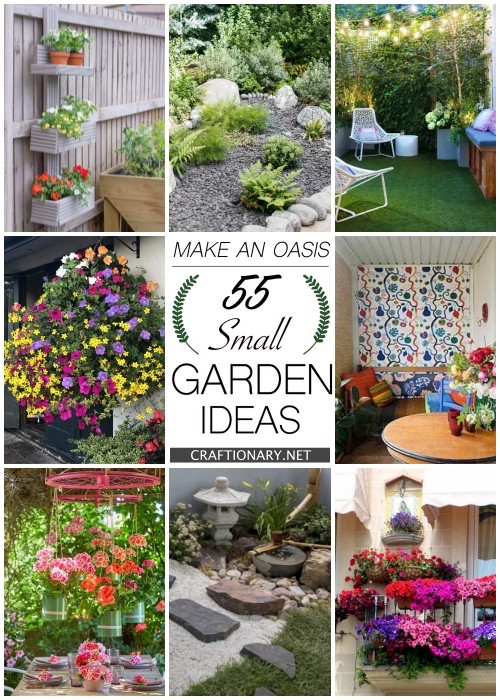 Make an oasis with small space garden ideas
Here are 50 budget-friendly small space garden ideas for beginners who don't have large greenhouses or wide-open outdoor spaces. These are great for anyone who want to grow a garden over a small area design like patio, porch or balcony and purify the air.
Small patio garden ideas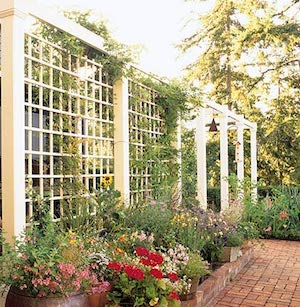 Grow plants for privacy
If you have small outside space, then vertical planting is a good option for you to endure handy with green. Build vertical planter walls to provide a lavish fence for your outside space and have sitting area to enjoy your garden as well. Choose from a variety of fast growing plants that are great for privacy.
Flower boxes on railings
Put your railings to use with flower boxes filled with beautiful foliage. Add some cozy furniture and enjoy your small space porch for rest and outdoor entertaining purposes.

Furniture for small space
Small gardens require planning to add table and chairs to create seating area. You can use extendable tables and foldable chairs (collapsible chairs) or even DIY swing. Consider bright color furniture to make the space look bold and attractive or go neutral for a open-space feel.
Fabric wall planter
Make a blooming wall art with fabric wall planters. Find them in local nursury or hardware store in different sizes and hang one that fits your space just right. You can also fabric wall planter.
Grow fresh herbs
You can find a variety of wrought iron rods and terra cotta planters online. These look equally beautiful for growing herbs indoors or in your outdoor garden. They are great for rental spaces too. Photo by HGTV.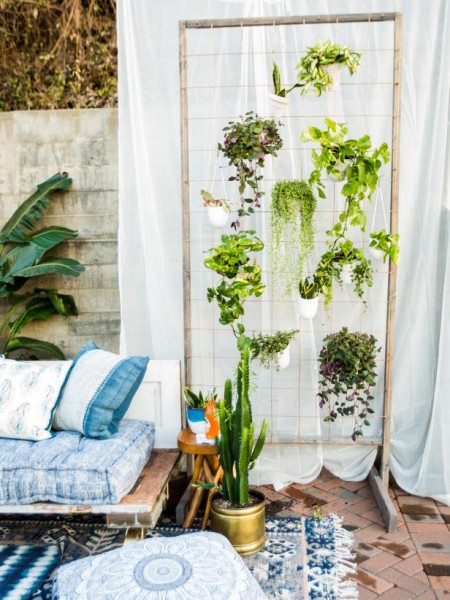 Freestanding plant wall
Even if you have a small deck or patio, you can enjoy the scenery with lush hanging greenery. Use vertical space by hanging potted plants. Your outdoor living space will become private as the plants grow to create a screen with plant privacy wall.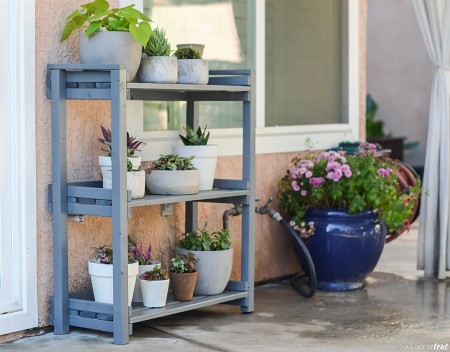 Stack planters on open shelves
Outdoor shelf cabinets are great for stacking and displaying plants. You can also use weather resistant paint and brush a fresh coat on any cabinet to use on in your garden as well. It looks neat and efficient. Add decorative accents like lanterns and garden ornaments to make it look beautiful. If you enjoy DIY you can also make outdoor plant shelf.
Wood slice plant stand
There's something about wood that is so natural and rustic that it makes it whole for a garden. Turn a wood slice into plant holder or a hanging stand. You can also use wood stumps as plant holders on the floor. More great ideas to use wood slices for decor will guide you more about this idea.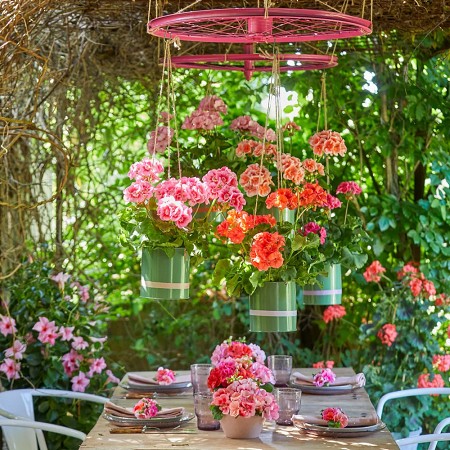 Bicycle wheel garden chandelier
Add a creative touch to your garden by growing a vertical trellis using bicycle wheel chandelier.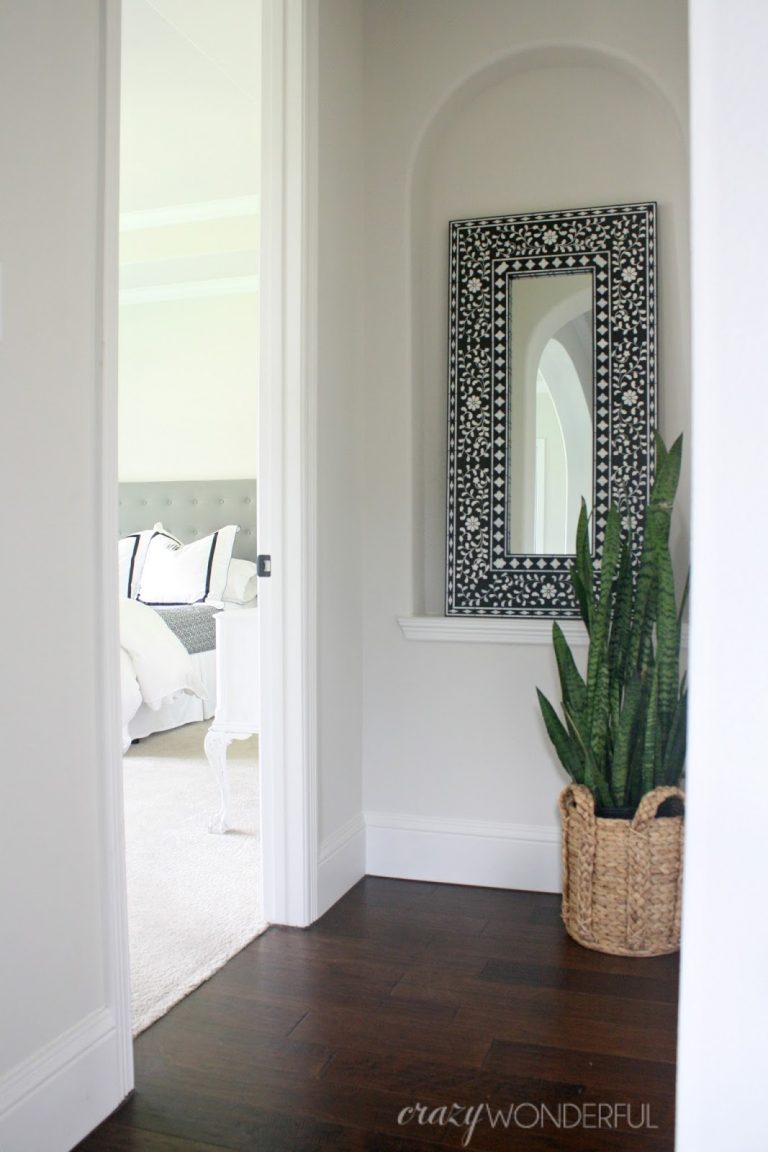 Mirror on the wall
Mirrors not only add decorative accent to any space but make it look larger by reflecting light. You can use large mirrors or a small mirror depending on your preference. A dark space is ideal for hanging the mirror to make it seem open. Find great ideas to make wall mirrors out of old treasure like this painted mirror.
Small balcony garden ideas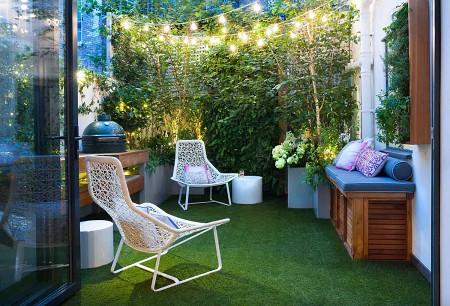 Cover the area with artificial grass
Artificial grass can make a small garden's lawn look lush all year round. Since, the space you are covering is not too large it will not be a costly project. This is an easy project to turn a small space into garden with grass and leafy plant wall or potted plants. Photo by treehouse.
Hang flowers everywhere to safe space
Use pocket planters, flower bags, flower boxes and plant pouches to grow your garden. Hang them on your railing, walls and ceiling with macrame planters. This gives your balcony garden a fuller garden-look while maintaining plenty of space for sitting and enjoying your garden space. Use sun loving plants for sunny areas while Lobelia and trailing Fuchsia work great for shaded areas.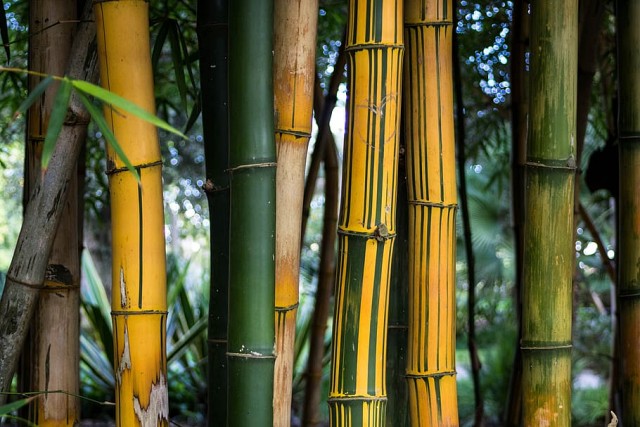 Bamboo corner garden
In a small garden bamboo looks stunning when kept neat. Thanks to its exotic shape and color, it can add depth, height and structure to any garden. Bamboo is a fast growing plant and therefore it will be better growing it in containers.
Recycle Colander Planter
Turn a colander into hanging planter with fresh paint and burlap string for hanging anywhere in your balcony. This recycled colander planter is great for small space garden to grow vegetables like chilies and cherry tomatoes. The holes in a colander are perfect as drainage.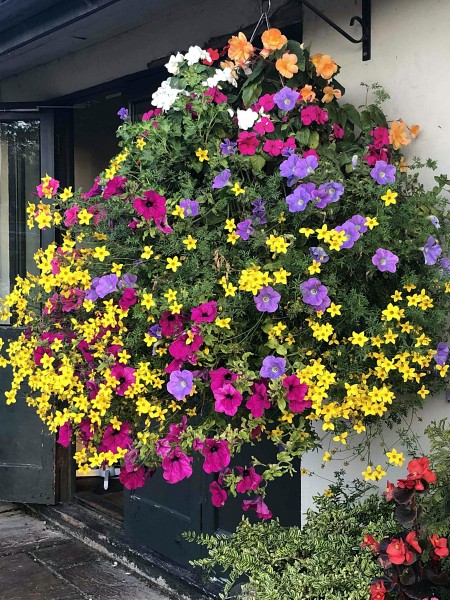 Grow large plants
Instead of growing many small plants, you can go large in your small garden too. Plant few oversized flowers in large pots to bring a burst of color in a cozy space. You can also just grow different colors of one variety for a fuller look like petunias in this balcony garden.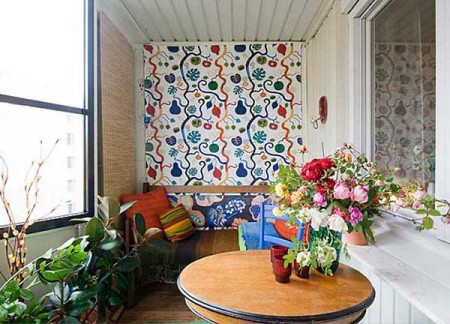 Add color to your garden
A splash of color is a cheap and easy alternative to transform a garden without spending too much on potting. A fresh coat of paint on your fence, walls, garden furniture, pots and even floor is a game changer. Careful coordination of paint colors with your planting scheme is the key. Photo by pinterest.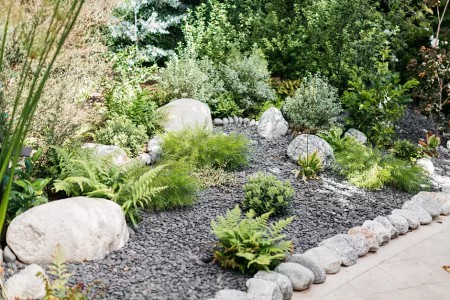 Make a featured rockery
An attractive alternative to pots is a multi-level garden with rockery. This provides best growing conditions for alpine plants. These plants thrive in well-drained soil and like dry environment.
Use trellis for crawling plants
Hang a trellis on the wall and pot climbing plants at the bottom of the trellis. These plants crawl over to cover the wall with greenery. Choose a trellis that adds decorative elements to your small space garden. Learn more about this project and more at how to display plants?
Backyard small space garden ideas
Use raised garden beds
Make a raised garden bed that works for all your garden needs. Use one raised flower bed to plant different plants, save space and increase garden's efficiency. Consider the following for spring season, plant vegetable seeds around tulips and add spring ornamental varieties to it.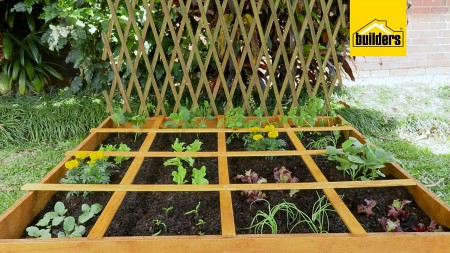 DIY square foot garden
In a small space building square foot garden will produce high yield of vegetables. A square foot garden divides the growing space into square sections forming a grid. Normal 1 foot squares are formed. Vegetables are planted in each section to have a denser vegetable garden.

Create a zen garden
Bring zen in your life with a zen garden arrangement with stones, pebbles and plants. Add details like essential oil diffuser and water feature to your Japanese garden. Find out more on how to make a cozy home? Enjoy the peace and love after a long busy day in your secluded corner. Make a mini zen tray and relax by creating zen patterns in sand with rake or skewer.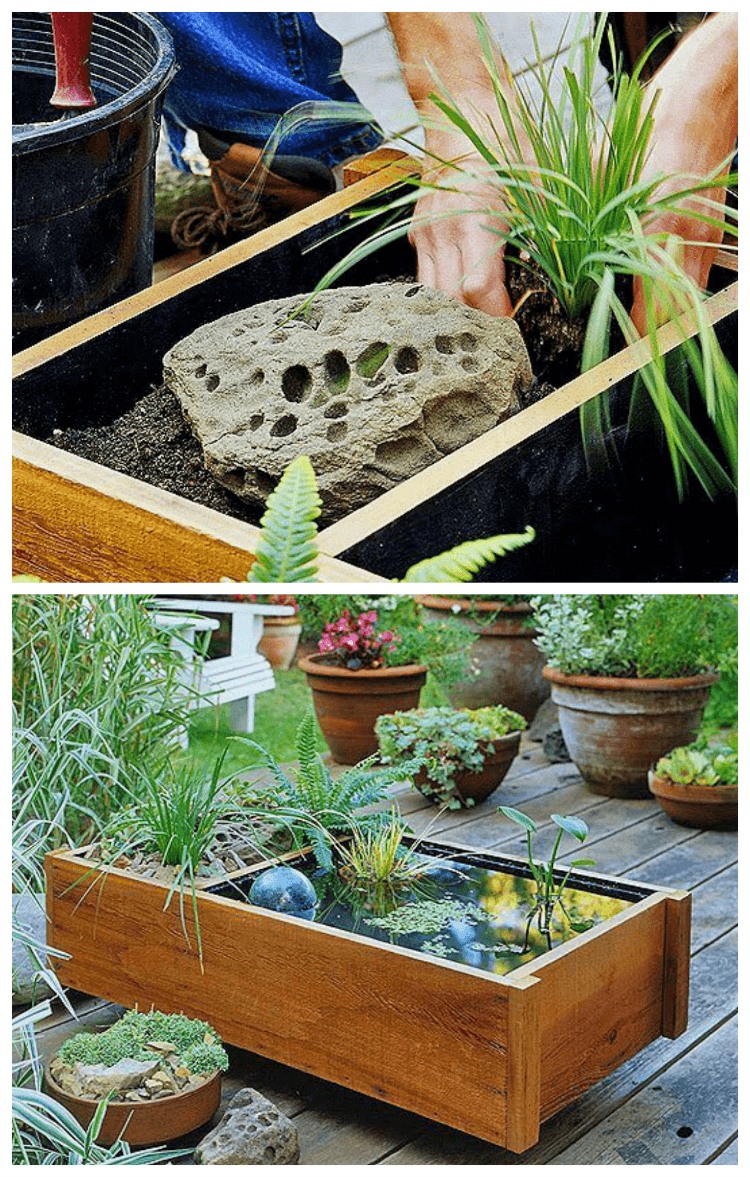 Make a pond
Landscaping ideas are all about creativity. Make a small pond and grow water plants. Turn a thrift store furniture piece into a fun garden with air plants in stones and pond feature. Find more fun water gardens that you can make for your home.

Add water feature
Install a simple recirculating fountain by using pots and circulating system from amazon. You may also want to try something more unique with these fountain ideas for small gardens.
Vegetable garden in a small backyard
You can have a vegetable garden in a small backyard, but you'll have to be clever about how you design it. One such landscaping idea is to build a raised garden bed in the middle by Nature's Realm. It makes the space look different. The paved path along the sides adds to the whole design.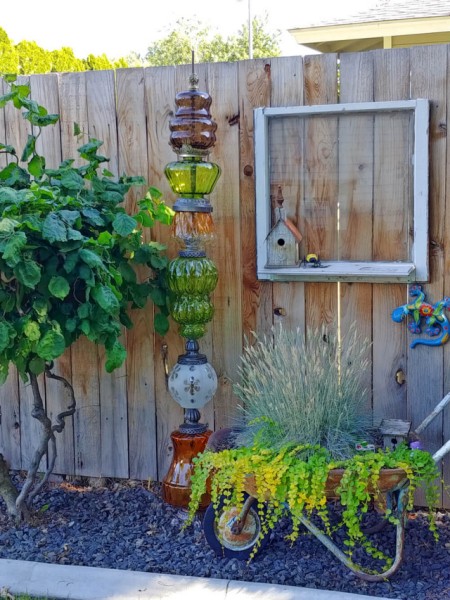 Garden totem from vintage lamps
Make a garden totem by stacking vintage lamps found at a thrift store. Find out more about this project and more landscaping ideas for backyard garden.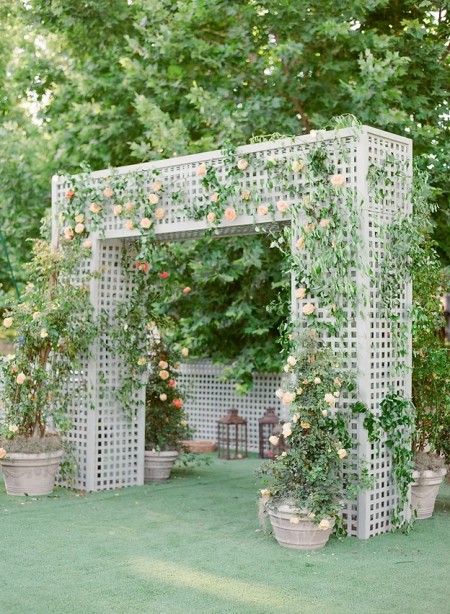 Small space lattice wall
Use a lattice wall or build a lattice arch in your garden. The flexibility of lattice makes it ideal for a variety of purposes. Direct a vine to crawl on it or put potted herbs and beautiful flower shrubs like bougainvillea and let the magic begin. Lattice are also great for growing vegetables. They provide use, beauty and privacy all in one. Photo by spark creative events.
Build a small garden shed
A garden shed is multipurpose. You can use it to organize your garden tools, fertilizers, plants and pots. At the same time it can act as a small house for peace hours. A basic garden shed is too big for a small garden. Consider building one that fits your garden space just right.
Plant herbs in pockets
Hang pocket vertical planters on the fence and grow fresh herbs in your backyard. You can easily get this product from amazon. These are very common for growing herbs and succulents. Photo by balcony garden web.
Vertical garden fence
Make a vertical garden with flower boxes made out of scrap wood. The project here uses decking boards but you can use any wood. This project is beautiful for pallet style garden and is easy to make using the dimensions you prefer.
Small terrace garden ideas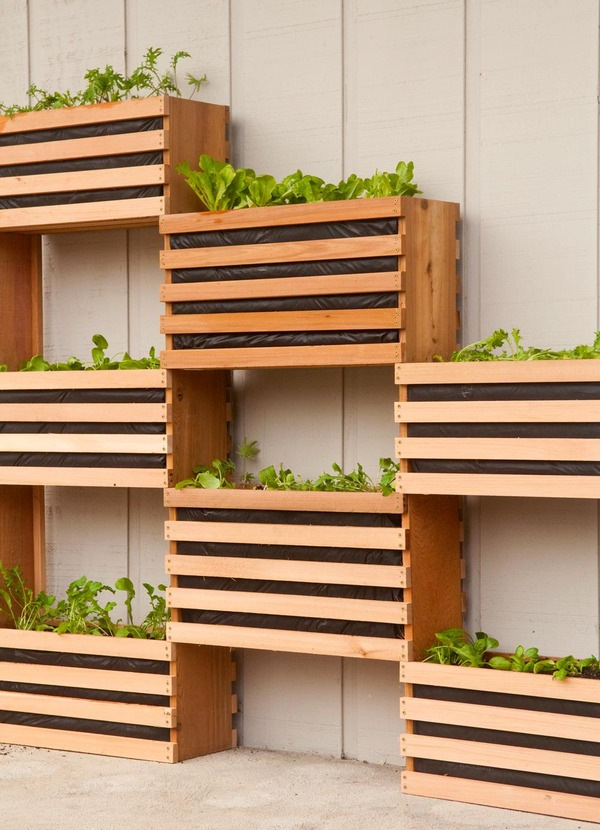 Vertical plant gardens
You don't have to live without flowers, vegetables, or herbs if you have small space. Vertical gardens are your ultimate solution. Free up your space and wow your guests by adding height to your planters and keeping your ground space clear. Find 35 different ways you can make vertical plant garden indoors and outdoors like this vertical vegetable garden.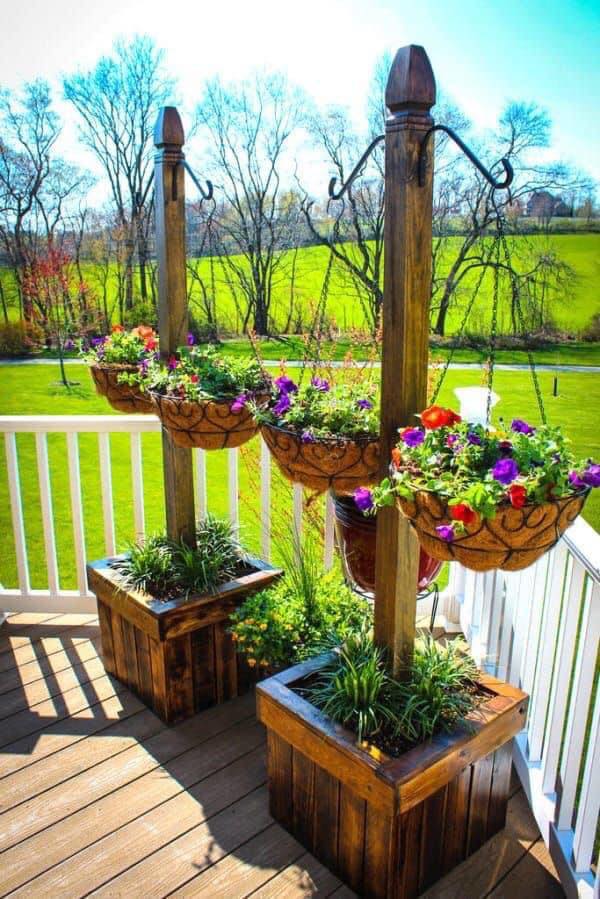 Hanging baskets on the wall
Add two identical hanging baskets on either side of a pole in a sturdy planter to create a symmetrical small garden plant stand that can be moved around. It is balanced and well organized. Find 150 landscaping ideas for gardens.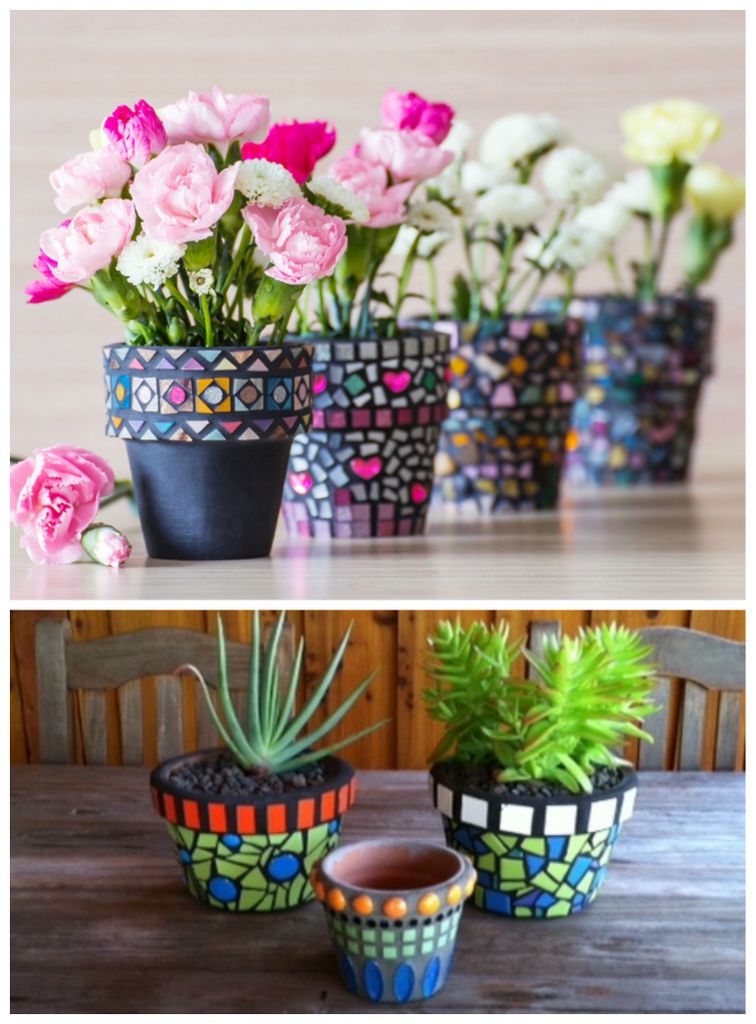 Use decorative pots
In a small garden like patio pots are gardener's best friend. A variety of decorative pots are available in clay pots and ceramic pots. They are versatile and you can group them together to add pops of color to your plant garden. Mix and match colors, sizes, patterns and textures to bring personality in your space. Arrange larger pots at the back and smaller ones in the front for a fuller look. This will also ensure you don't forget to water the hidden smaller pots.
Make a small garden room
If you are not having any space to make a small garden why not convert a room into a garden. Imagine planning for this space as if it's your outdoor space and this illusion will help you imagine your indoor garden oasis. Use bold or neutral furniture, add cozy with pillows, add houseplants that need more sunlight near the window and indirect sunlight lovers away from the window. Use decorative pots and cafe lights. Outdoor string lights are so much to make yourself.
Use shelves to display plants
Give your small garden a decorative look with the addition of outdoor shelving. Whether it's one long surface or a group of various types, outdoor shelves are just as effective for displaying favorite plants, lanterns, and garden ornaments outdoors as they are in.
Circular landscaping
Use circles in designing your small garden space as they help create an illusion of wider area. The broad illusion helps planting beds to continue the design. Consider adding a versatile DIY fire pit to your small garden to make your home cozy.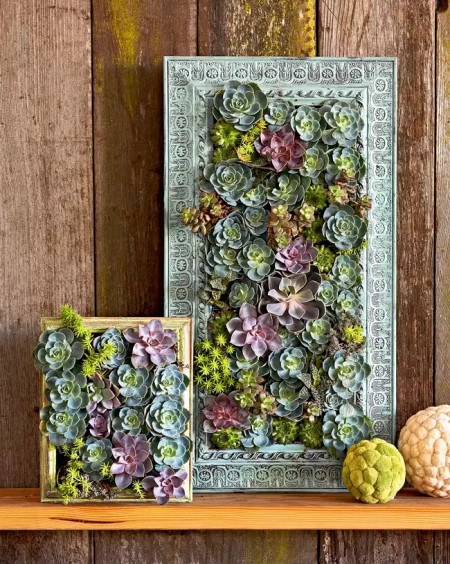 Hang plants in frames
Repurpose old picture frames with chicken wire and paint. Add succulents and moss inisde the frame. Make sure to put the soil in pond liner or plant plastic to avoid water leaks. Beautiful succulent living wall is ready to hang. Repurpose old picture frames in efficient ways.

Use stones and bricks for pathway
Repurpose leftover bricks to make flowerbeds. Stone blocks or rocks to make outline and patterned curves. Learn how to build a brick pathway.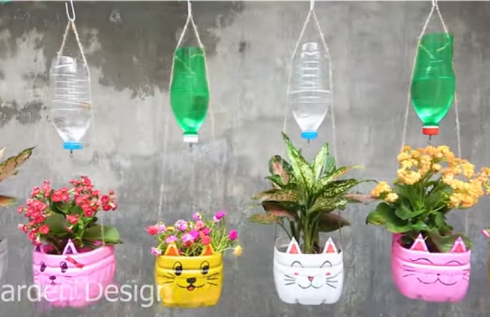 Recycle plastic bottles into containers
Cut the top of each bottle and add gravel for drainage or make drainage holes. Add a coffee filter with potting soil. Now plant your plants and display them. Make sure to add drainage tray to avoid water dropping. Find out more about self watering planters.
Add a bird feeder
It's not always big things that make your garden looks diverse. Boost your garden's atmosphere by encouraging birds to visit with a DIY bird feeder. Birds bring positive energy and happiness in your outdoor spaces. Humming birds are also a great site, consider making a hummingbird feeder.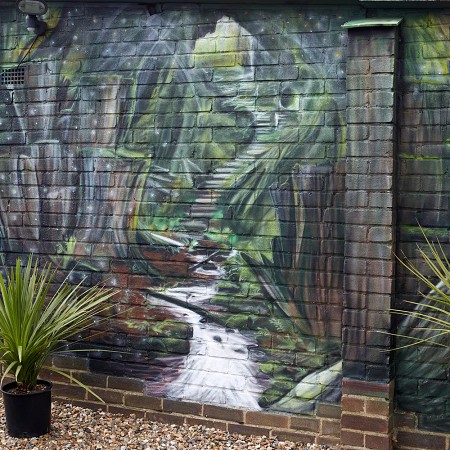 Paint a wall mural
Transform a plain wall in your garden into a piece of art with paint. This can be your next DIY garden project or call an artist to do it for you. Photo by ideal home.
Refresh with cushions
Cushions bring comfort and color to any space. Work with different color combinations, patterns and designs to change and refresh your space. Keep a feeling of warmth even in a shady corner with bright cushions and plants. You can also substitute bulky furniture with large floor cushions for balcony and patio garden. Find ways to make swing for small space garden ideas.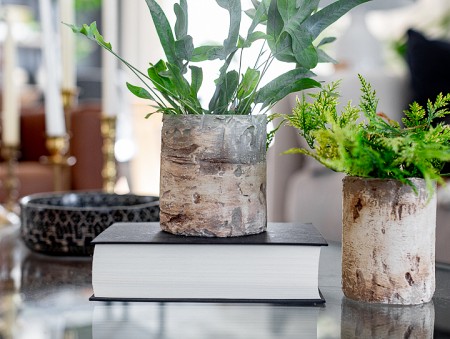 Use food cans as planters
Drill drainage holes in the base of tin can with a drill machine or sharp knife. and a single hole 1.5cm from the top edge. Spray with two coats of paint and once dry, thread wire through the top hole as a hanger. Fill with plants of your choice. Another great project would be to make faux cement planters out of cans.
Hanging canopy for shade
If you have a compact patio garden that's a bit of a sun trap, consider hanging a simple sail-like canopy. It won't take up the valuable space that a parasol would, but still gives you a little bit of safe shade.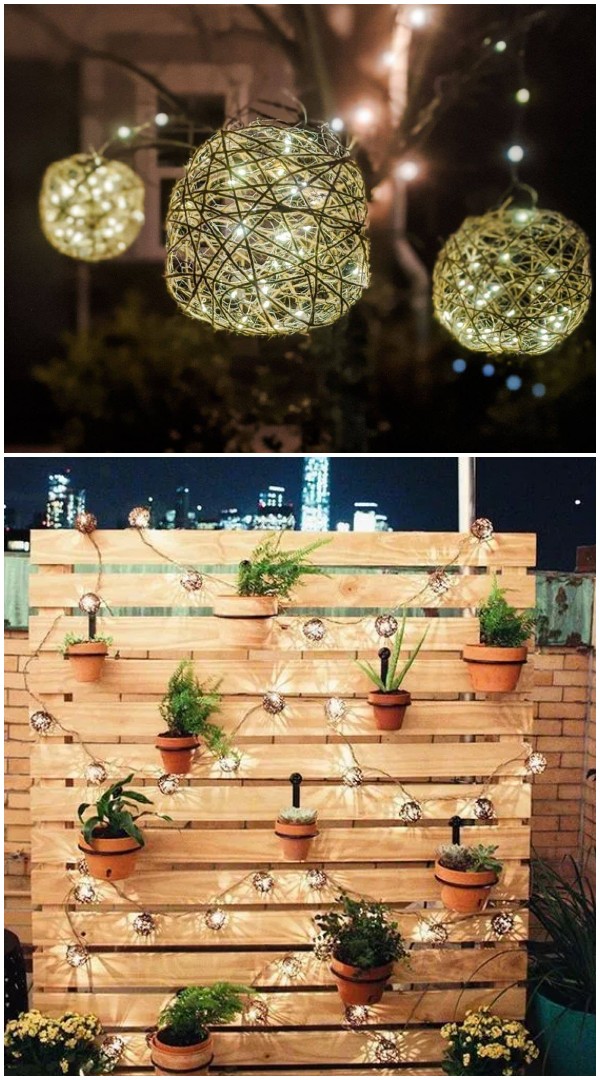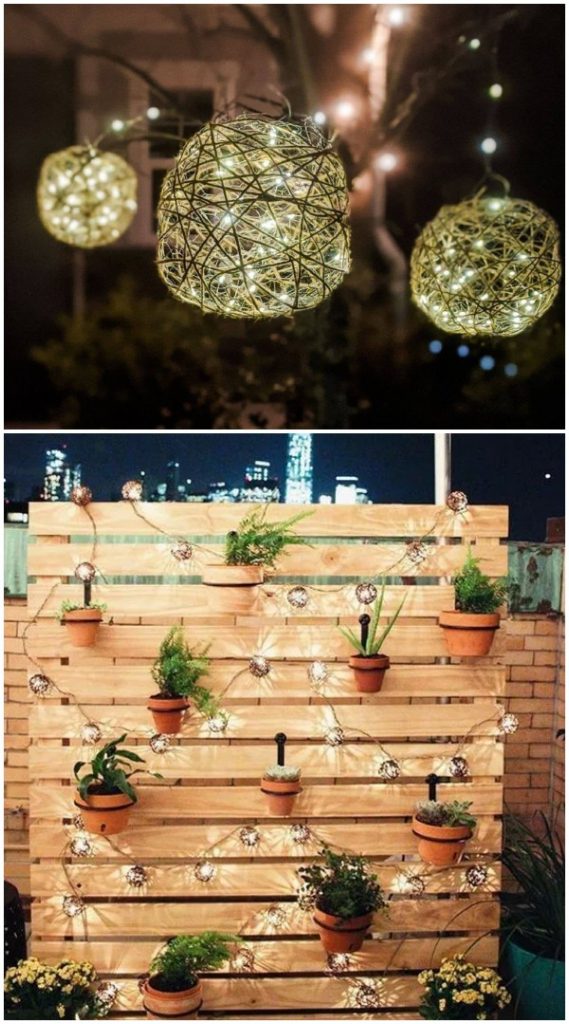 Light up with solar lights
Fairy lights in the garden help to make it more ambience. It is made by using a kitchen staple, an empty jar, and a set of solar-powered lights. These are energized during the day by the sun. These efficient lights will add a soft glow to your garden after dark and don't cost a lot. You will also benefit from how to choose your outdoor lights?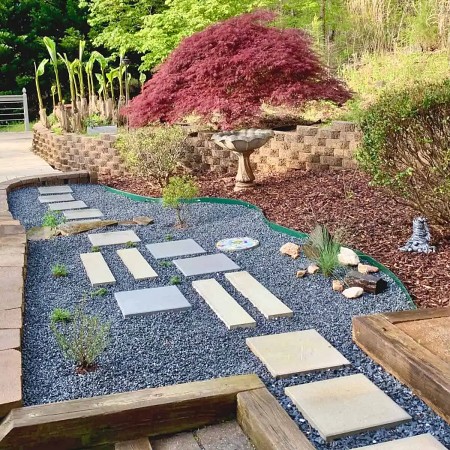 Make a gravel pathway
Use concrete slabs and gravel to make pavel garden path. Interlocking can be costly but you can substitute that idea with this gravel pathway which you can make by yourself.
Small porch garden ideas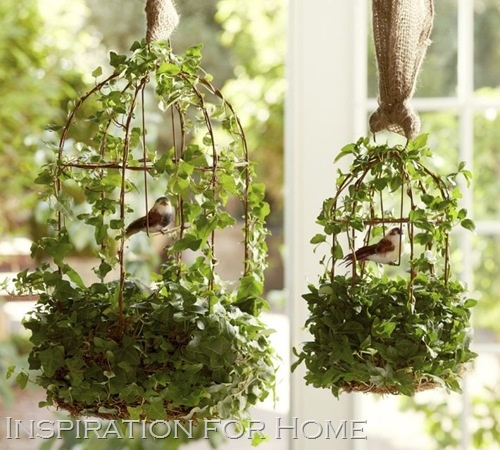 DIY birdcage planter
Make a unique garden by thinking out of the box. Use decorative accessories like birdcage for your vines like Pothos and Ivy. This twig birdcage is hanging with burlap and offers a natural habitat for your plants. Photo by inspiration for home.
Pallet for hanging plants
Reuse wooden pallets and wooden boards as wall hanging for displaying plants. This budget friendly idea is great for growing herbs and small plants in planters. Use cement glue and wood discs to hang the pallet on concrete wall. Here are more great ideas to make mason jar planters. Photo by style me pretty.
Gardening in green house
A greenhouse is not only efficient for large gardens but can also make a useful addition to small gardens. There are a variety of ways you can use it. Here's a few: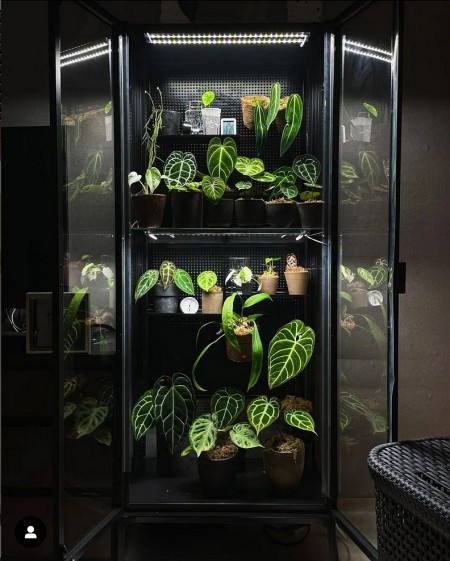 Ikea Greenhouse cabinet
Use ikea glass door cabinets to make a greenhouse for your tropical plants. This is ideal for indoor small garden as well as outdoors. Photo by Arang Memo.
Space green house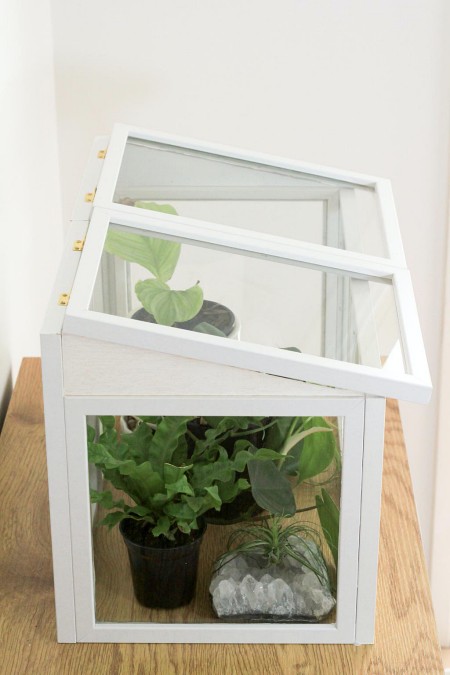 Make a mini green house from old frames. Find ways to repurpose old frames.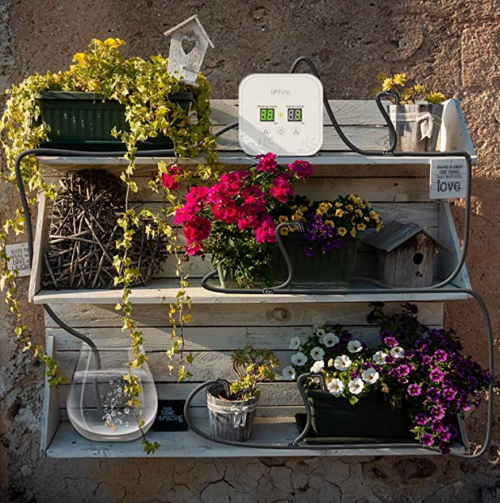 Efficient small garden shelf
One thing that is great about small area is that you can start small with your gardening venture. If you travel often or forget things easily use a self watering system in your small garden. A shelf with plants and watering needs met will not require you to water everyday.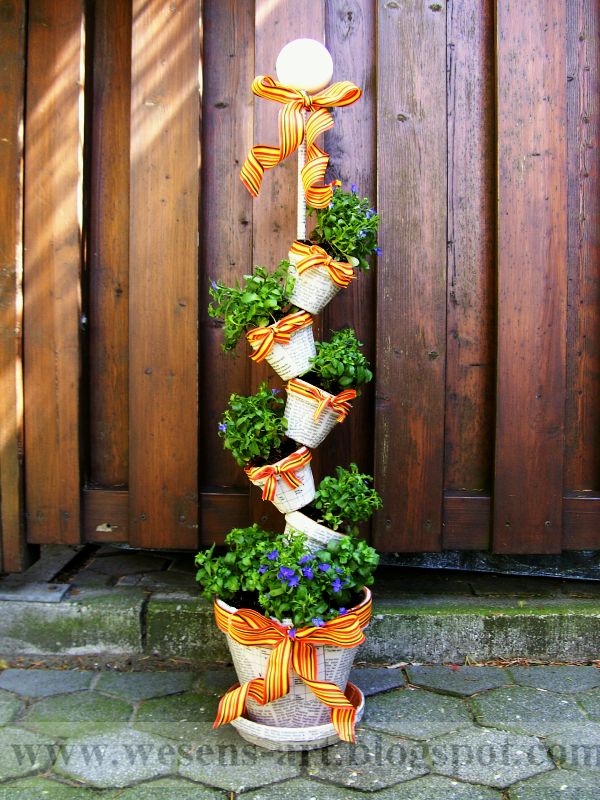 Tower garden for patio
Use vertical space in your patio by growing herbs and plants in a tower garden. Drill holes in terra cotta pots at an angle and pass it through a rod that it pushed into the soil in the larger pot.
Hanging coconut shell planters
It's good for those beginners who want to pursue this hobby with a limited budget because recycling is a good thing, and it's possible anywhere. Using water bottles and coconut shells as planters, you can create a thrifty garden.
Build Topiary garden
These faux topiary trees in backsplash tray make an excellent addition for small space garden ideas in patio or indoors. You can also make topiaries with real plants and grass if you don't mind the maintenance involved.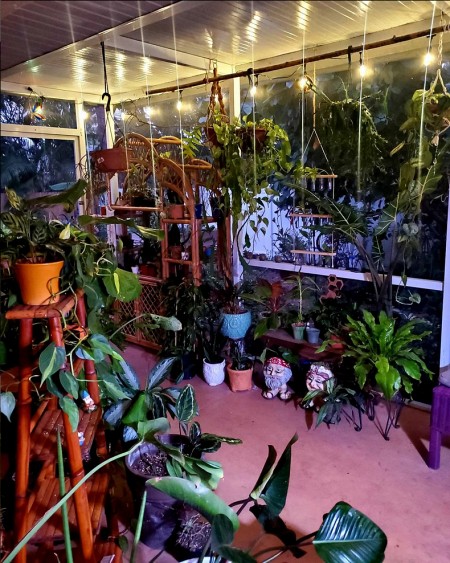 Turn your patio into a mini jungle
For people who love to live larger than life this patio jungle would be the place. Just beware that a condensed patio can attract many uninviting friends too. Grow lots of plants and create a private place that is shaded with plants for privacy. Photo by the blooming idiot.
Author: Amber Saad