This post may contain affiliate links. Please see our full Disclosure Policy for details.
Woven basket plant wall decor
Make a hanging woven basket plant wall decor for hanging artificial or real plants indoor or outdoor for decoration and aesthetics at home. Makes great succulent wall art, cactus wall art or even plant wall art.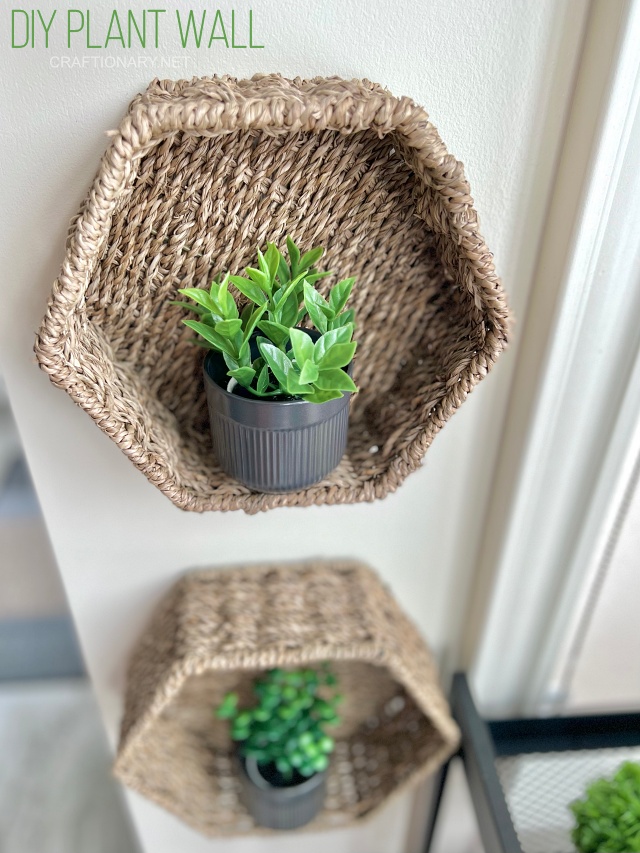 Idea process to make hanging storage baskets wall decor?
Use woven baskets to hang plants for wall decor that adds some charm to your home. These hanging woven baskets made with macrame, jute, burlap, rope and fabric come in various shapes and sizes. The beautiful natural and neutral appeal and color makes them a favorite at home for any decor style. Whether you love urban indoor plants, boho style or farmhouse to name a few popular home decoration styling that trends these days.
A few days ago I came across these hexagon shaped natural woven baskets. They make great choice for organization and decor in any space but I felt the need to hang them on a narrow vertical window wall. I bought a few to see how they look hanging on the wall, and I instantly fell in love.
Next I wanted plant holders or ceramic pots to create flower wall decor. My initial idea was to pot real plants because this wall receives wonderful sunlight in the morning. Another great choice is the succulents. But they all require care and maintenance and I instantly realized maintaining them on the wall would require extra work. So, I decided to display artificial plants for hanging basket plant stand. These make a great hanging kitchen herb garden in a small kitchen space or breakfast nook as well.
I was also curious whether the pots will slide from their spot due to continuous movement on the floor, so I tested it out before buying the ceramic pots. The terra cotta pots will look wonderful against the natural look of these baskets as well. You could also invest in painted clay pots. All these are beautiful choices to make this simply and vibrant woven basket planter for hanging planters and pots.
Now let's get to the part you are here for:
Material needed to make hanging basket plant stand
You will need:
Woven baskets
Nail for hanging (I used thumbtacks/ thumb pins/ push pins)
Ceramic pots
Artificial plants
How to hang woven baskets plant wall decor?
The project is self explanatory. However, I'll share some quick tips to make it easier for you:
Decide and visualize the wall space where you want to display wall baskets.
This will help you know the number of baskets you need for your project.
I measured the wall to decide I needed five wall hanging baskets. And to add more interest I played with the sizes of hexagon baskets.
The baskets I bought have a base ranging from 2-3 inches.
Next you need to figure out hanging plant pots or flower pots. Measure the base of the hanging plant holder. Use it as reference when buying the pots.
Lastly, decide on the best hanging plants. The best is the one which is convenient for you. You can pot real plants or artificial plants. I bought succulent fake green plants and pots from IKEA.
Now measure the length of each basket and mark the wall for even placement.
Push the tacks in the wall and hang the wire baskets.
Place the pots and you are done!
If you are worried about the planters falling consider wiring it to the base of the basket. This can be easily done by wiring the base of planter and then looping the wire underneath the basket base and twisting it together to secure it in place.
Here's a close up view:
Related post: How to make wall mounted plant holder with macrame
Here's a further view of the plant wall:

The full vertical wall decoration using baskets and plants: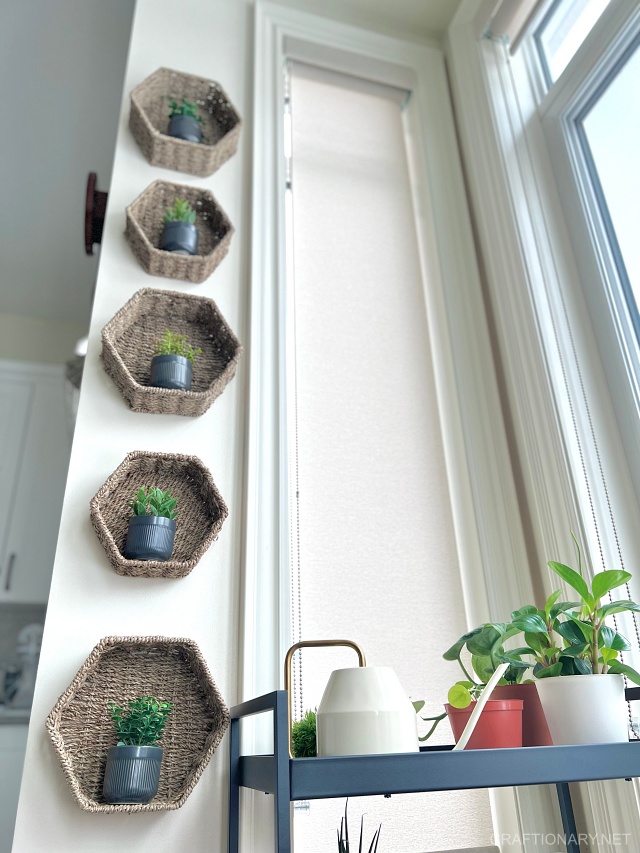 My little garden by the breakfast nook windows:

On a sunny day when the morning sun shines:

10 Best small houseplants for hanging baskets planters
There are a variety of houseplants and flowers that can be potted in the small pots. However, plants that can survive with little care and are easy to grow are considered low maintenance. My personal recommendations for best plants for hanging baskets based on low maintenance and manageable growth are:
Succulents
Air plants
Cacti
Spider plant (Chlorophytum comosum)
Polka dot (Hypoestes phyllostachya)
English Ivy (Hedera Helix)
Spiderwort (Tradescantia)
Chinese money plant (Pilea Peperomioides)
Flaming Katy (Kalanchoe blossfeldiana)
Lavender (Lavandula)
How to use woven baskets for wall decor?
Woven baskets come in a variety of materials and we all love them especially the macrame hanging planters. Having them displayed on the floors, for decoration or organization makes the room look picture perfect and clean. However, these beautiful woven baskets can also add beauty to the walls if used as wall decor. A few other ways you can use these hanging baskets are:
Display clay accent pieces in whites, blacks or even gold as these are trending.
Use them to display kids art or Lego forms.
Place LED/ string lights for magical ambience.
Hang them outdoors and allow trailing plants to trail over them in your garden. Consider adding light in your outdoor garden.
Add these baskets as a feature to your indoor garden with other ways to display plants indoor.
Make a planter box with trailing plants and hang these baskets over the wall as trellis.
Woven baskets make great selection for kitchen garden and growing herbs as well.
Use to grow herbs for a small kitchen.
Leaving them empty to create a gallery wall.
Use to display photo frames for home decor.
Create a preserved moss wall art in hanging baskets background.
Consider using them as hanging storage baskets for keys and wallet at the entry way.
Make a fake plant wall in a small balcony garden wall.
I hope you enjoyed this quick and simple plant wall decor. If you prefer to visual things on video tutorials come by and follow along on instagram where I share video reel tutorials for home projects and crafts.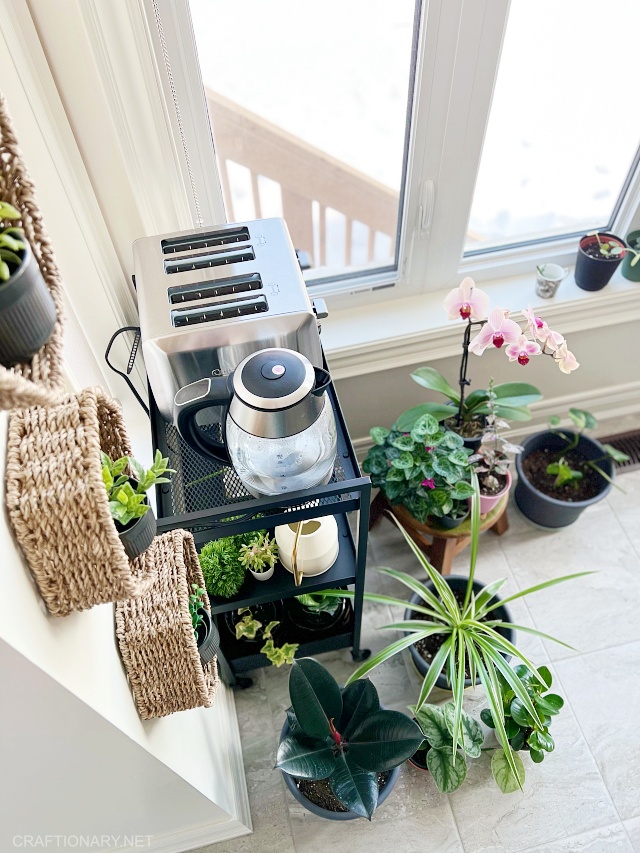 You will also like: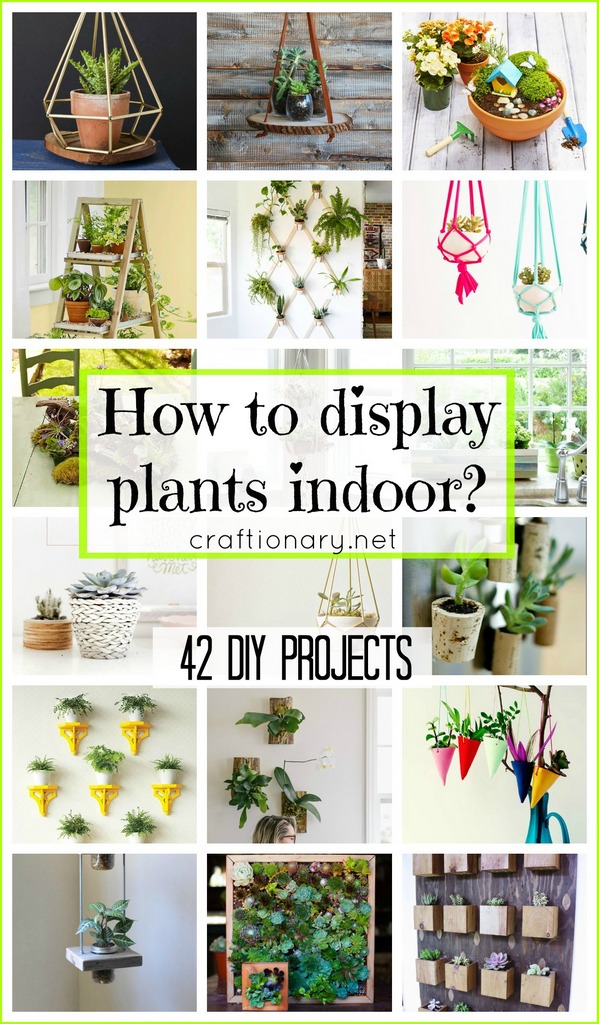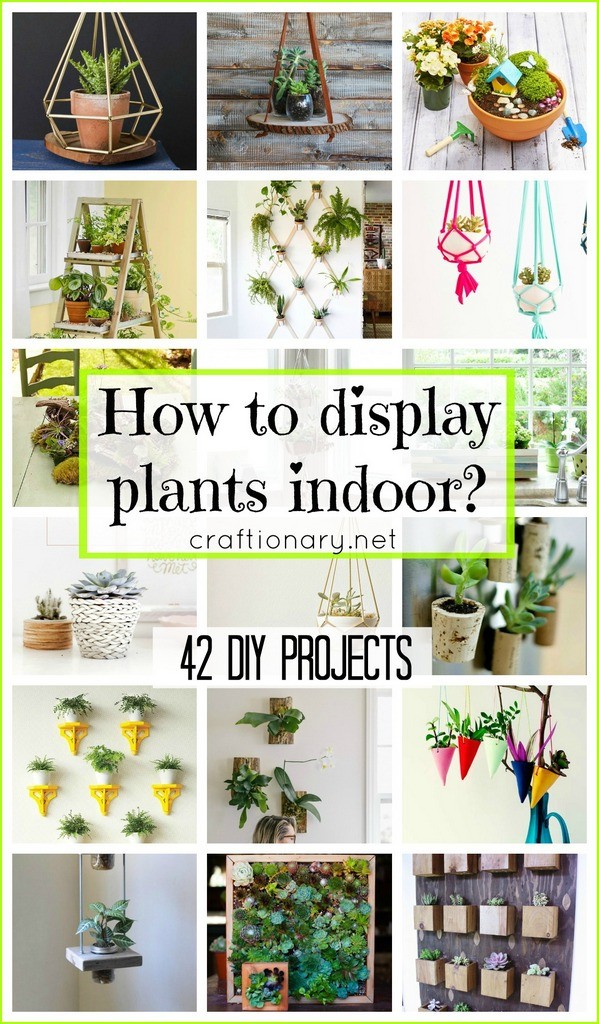 DIY mason jar planters for garden lovers

Make plant propagation station
Hope you would take a moment to pin this image: