This post may contain affiliate links. Please see our full Disclosure Policy for details.
The landscaping of garden defines every home. Many times, homeowners are uncertain about what kind of chairs to put in their gardens. There are so many accents and features you can add to your cozy space. Consider DIY porch swing to add the most comfort and interest. When planning for exterior design make a mood board for curb appeal. This helps bring your ideas to life. Liven up your backyard with swing plans. A swing design can be simple or complex. To help you make a budget friendly decision find 50 best DIY porch swing ideas and plans. These ideas are great for garden, deck, patio, porch or any backyard space that needs practical landscaping ideas.
50 Best DIY Porch Swing Ideas and Plans for your budget
Beautiful porch swing ideas to entertain
How to make a plank swing step by step with hooks and rope via desidiy.
Make 2 X 4 DIY Porch Swing Plan via Jay's custom creations.
Build a pallet swing with leftover pallets by hometalk.
Consider 80 Easy and Cheap DIY Fire Pits to add this feature to the look.
If you happen to have the ideal location for a cedar swinging bench, such as a porch rafter or a tree branch, you need to start making one right once via Jaime Costiglio.
Build your own porch swing with hardwood plywood for deck by Josh Rhodes. Display planters to go with this space.
Is comfort important to you while choosing a garden swing? Then you must install this DIY hanging bed porch swing via Wilker Do's.
Free Porch Swing Plan, this project includes plants for a freestanding frame that sustains weight easily because it is made of thick, robust boards via My outdoor plans. Photo by: Michael Caulfield.
How to make a Porch swing seat via Buildeazy.
Complete the look with 120 Best Front yard and Backyard Landscaping Ideas.
How to wrap a porch swing chair with rope via Porch Daydreamer. Make an efficient DIY planter box that goes well outdoors and indoors and is all seasons friendly.
Porch swing fire pit ideas, the six-sided structure provides four separate swing benches with lots of room for support.
Prepare for summer afternoon breezes with this DIY swing bed. The only additional components you'll need to make the ideal outdoor lounge area are a twin mattress and a couple of pillows since it's built of pallets by the merry thought. Make DIY tents in summer.
Kids porch swing ideas
Recollect how enjoyable these circle rope swings are! Even getting it to swing requires some effort, which is great for physical activity. Any excuse to skip exercise day? If you let your children take part in the production by step by step instructions via bower power blog, they'll love it much more by bower power blog.
For both adults and children, the horse and saddle swing is a huge hit via a spotted pony.
The baby cradle comes with a Scottish sporran, swinging rope, a breathable foam mattress, two fitted sheets, and more by Goods Home Designs.
A tire swing can be made with a tire hung using rope or chain. Make this fun swing at a low cost with tutorial by today's creative life. These garden ideas compliment swings perfectly and anyone can make these.
Have fun creating your own skateboard swing in just 20 minutes, you will need a skateboard, 3/8 drill bit, two metal clamps, and dowel by little bit funky.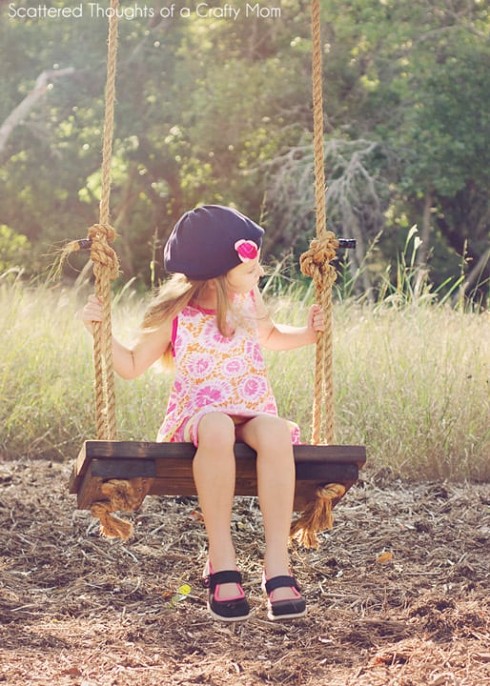 How to make a rustic rope and wood tree swing by Jamie. Those who are less adept with a sawzall will find this project to be simpler.
a 2 by 6 piece of wood at least 6 feet long is required.
1 inch of rope
16 three-inch screws
eight washers
Paint or stain (optional)
Drill, saw, and other ad hoc instruments
Although the aeroplane swing appears complicated, it is cool. It can make the ideal gift for a boy's birthday with instructions by Kistein Dunn.
Recycle swing ideas
Okay, so why not? We've all had to say goodbye to a few worn-out chairs, but whenever there's an opportunity to recycle something, seize it! Chair swing via This DIY life.
DIY platform swing by the naughty mommy. A swing with good space, light weighted and inexpensive. You will need two PVC pipes with PVC 90-degree corners, PVC primer and cement (a.k.a. purple primer), hollow braided poly rope, pop rivets and nylon webbing.
Swinging bed made with a recycled trampoline. Regardless of your age or level of athleticism, trampolines are enjoyable. But what should you do if you have a trampoline that is not bouncy anymore. Here's a fantastic adaptive reuse concept. Convert your damaged trampoline into a ring-shaped swing bed via home and family tv.
Restore and reuse old materials like leftover lumber to make a perfect garden swing from old materials via metal DIY ideas. Learn about the possible 50 Fast growing plants for privacy to best screen backyards.
I must say the easiest idea, is how to make a swing from a Plastic box. You only need three things a rope, plastic box and a knife by playtivities.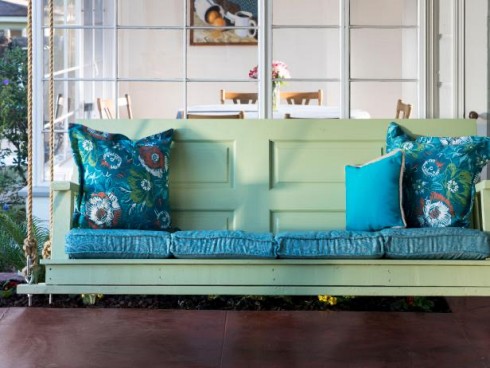 Repurpose an old door to make a DIY porch swing via HGTV with moderate DIY skills. The price of purchasing a pre-made swing is significant and might discourage you from doing so. Making your own porch swing is a simple and less expensive solution by recycling.
Your porch will look stunning with these Vertical plant walls and gardens with design instructions.
DIY porch swings for comfort
A sofa swing is the best option if you're looking for the highest level of comfort. It delivers the comfort of a living room directly into your garden's living spaces. Add some cushions for decoration, and you're all set. You can turn your sofa into a swing via Kiwi wood works. Make your own pillows with these cool ideas.
You may hang your DIY hammock swing between two sturdy trees or at any other safe location by using:
scissors
pins
a cotton beach towel or blanket that is at least 40 inches by 80 inches
leather straps
mid to heavyweight cotton muslin or canvas
rope for hanging the hammock
zip-ties
and linen twine via design sponge.
A DIY canvas chair swing is a fantastic substitute for a swing indoors or for a covered porch or outside structure in patio via A beautiful mess.
Installing an egg-shaped, beautiful swing chair is a good alternative for your garden if you're searching for a decorative swing solution. Add some vibrantly colored, cozy cushions to it. Enjoy this tutorial on how these popular DIY porch swings are created in the factory via manufacturing souls.
You can easily make this beautiful macrame swing with step-by-step tutorial via Tita macramé plus. It looks incredibly comfortable and is the ideal ethnic, boho-chic look for summer. An outdoor space needs great lighting choose the project that works best for your space with these DIY outdoor lights for homes.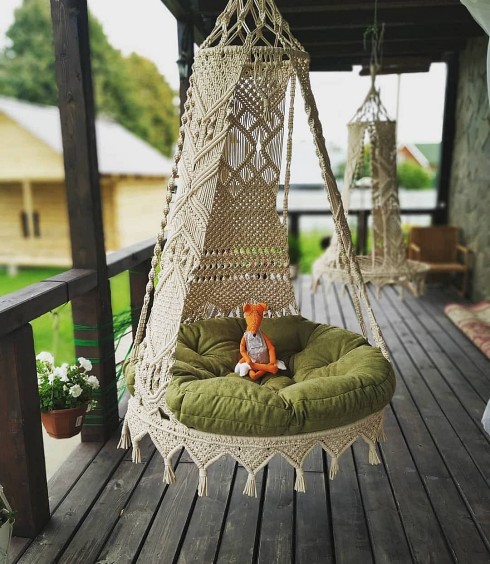 With little more practice of the above pattern of macrame swing you can achieve this stunning macrame porch swing as well. Image credit: unknown. DIY Water Garden will be the ideal feature for this space.
Classic porch swing DIY plans
Double lawn swing and gliders via Woodworking skill. If you want to sit across from someone and chat outside in your garden, this swing is fantastic.
Here is one more tutorial for DIY Pallet swings, the pallet swings are the most appealing item, and you will adore them as well. Pallet swings are incredibly simple to construct and may be designed however you like by the sorry girls.
Wooden log swing can be crafted into a lawn swing. Although the market offers hundreds of possibilities, creating an indoor swing at home will simply give you a sense of accomplishment and personalization. Photo via MA Enterprise.
DIY front porch swings
If you want a shelter on your swing, you will benefit from learning how to build a freestanding porch swing frame via April Wilkerson.
How to construct a swing arbor big enough for three big swings via Simon says DIY. A plant screen on the sides and top of the arbor can be grown to make it look beautiful.
DIY steel porch swing via Hokto. The seat was made of alder wood, while the swing frame was constructed from a 100 x 50 rectangular tube. The steel components have a powder coat finish.
This circular floral swing made with galvanized pipe is so charming. It would be ideal for a bridal portrait shoot as intended in this project. But I feel it will make a stunning addition to the DIY porch swing by Hallmark channel.
DIY simple porch bench swing using 2x4s by Capt. Justin Whaley. No rounded edges or sophisticated tools are required to build a swing this easy. All that you need is one inexpensive saw. The structure can be made using 3 posts and 2x4s. A very heavy chain and heavier timber are needed. Make this affordable and easy DIY swing project over the weekend.
Fun DIY swings ideas
We are transported back to kindergarten with Momtastic's wooden plank swing. This swing is suitable for both children and adults. You will need wood planks to make slat, wooden beads and nylon rope!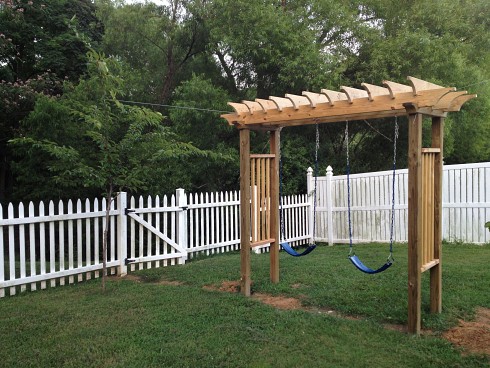 Wicker pergola garden swing via Dark stone castle. Hang a sofa for the porch instead of swings. Add a few pillows to soften the seat.
Make a modern DIY sail rope hammock by Meg Kemner. Compared to a standard hammock weave, this geometric pattern is more durable, and the sail rope offers a great bit of nautical contrast. You'll need:
100-foot sailing rope in a contrasting color
1000-foot skein of hammock rope
1″ wide, 5′ long dowel or bar
scissors or a utility knife
measuring tape, masking tape, and two substantial wall hooks
epoxy (optional)
How to build a DIY porch swing for crib mattress size via 10,000 DIY channel.
Follow the step-by-step directions via hgtv to learn how to build an A-frame modern swing set.
This iron swing is the perfect accessory for anyone looking to add a stunning aspect to their garden or porch by welding metal pieces. This cream swing can use removable pillows for comfort via DIY projects.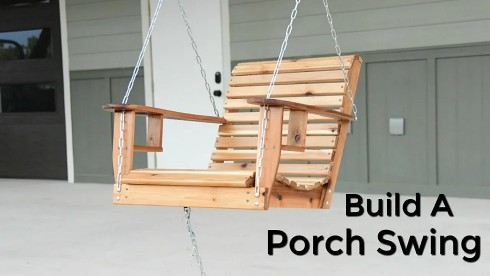 Classic
How to build a single seater porch swing via April Wilkerson. You can place this small swing in your garden or porch to enjoy your individual time. The size makes it ideal for a balcony garden as well.
Adirondack chair swing plans by Keno Po. Two distinct backrests in the recognizable Adirondack design with a table and cup holders in the center.
Simple porch swing plans
A gazebo swing via Rick Hudock. How incredibly gorgeous is this construction! You can make a gazebo swing like this for any space. This gazebo swing can be built in a variety of sizes and hues, with screens for the sides to keep out insects. The size of this swing depends on your outdoor space.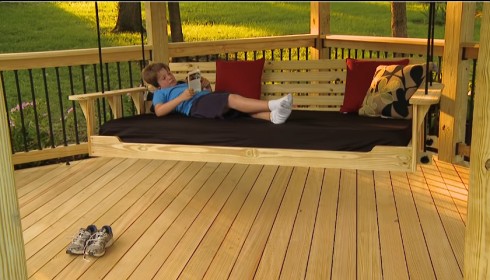 Some great tips and tricks for creating a beautiful pressure-treated southern pine porch swing bed via wooditsreal.
A beautiful mix of colorful padding and wood staves of casks or barrels attached with strings to make swinging chair with reclaimed wood by Angela Missoni. Credit source unknown.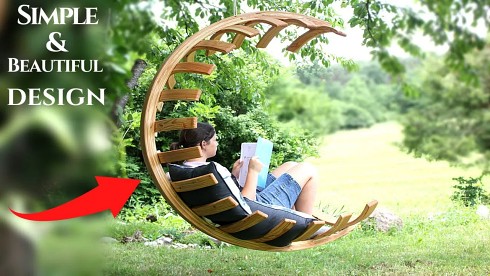 DIY modern curved porch swing chair new design via Slovenian Woodworker. This trendy decor piece can give your garden setup a little flair. The aerodynamics of this plush-cushioned structure can be beneficial for the back.
Therefore, numerous creative garden swing design ideas are available to transform your backyard into a veritable paradise. You can choose the ideal alternative that fits your household after deciding on the material you want to use for your DIY porch swing. Ensure that the furniture and cushion choices complement the swing. Your backyard garden can have a tranquil, carefree atmosphere with a gorgeous swing.
Author: Nimra Yousuf