This post may contain affiliate links. Please see our full Disclosure Policy for details.
DIY bird feeders best ideas. Spring and summer brings back birds home and its rewarding to make bird feeders, birdhouses and bird baths for them in the backyard, garden, outdoor spaces, and porch. These ideas are also great for balcony, terrace, patio and deck. Use these ideas to make that special intention come true for bird lovers.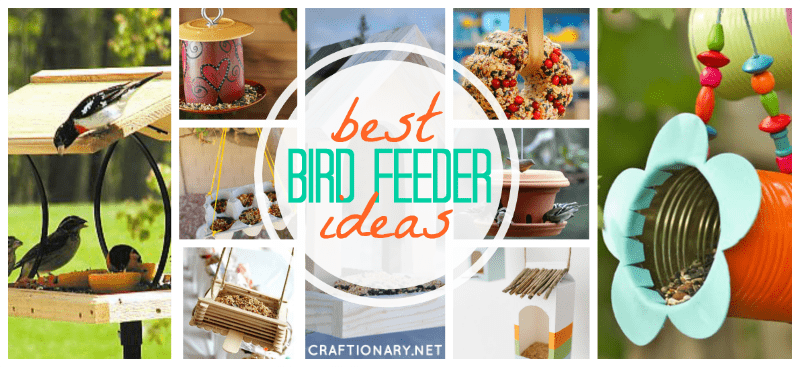 DO NOT COPY, EDIT, SAVE OR PASTE THIS IMAGE. COPYRIGHT OF CRAFTIONARY.NET
When the season changes, birds from all around the world tend to migrate from one pole to the other. Thus on the way it would be tempting for them to have bird seeds (bird food), where they can rest and fill before the next flight. They are a beautiful eye sight too. An amazing way to see new birds that have arrived in our area. You will also love Buy or make DIY hummingbird feeder.
DIY bird feeders best ideas for bird lovers
In this post you will find ideas and fun crafts to make bird feeders for our feathered friends like:
DIY bird feeder
Homemade bird feeder
DIY birdfeeder in less than 3 minutes
Bird feeder wreath
Bird watch build a bird feeder
Tin can bird feeders
Hanging bird feeder
DIY mason jar bird feeder
Jelly jar bird feeder
Make a bird feeder kit
Orange bird seed ornaments
Peanut butter bird treats
Easy pinecone bird feeder
Homemade pvc pipe bird feeder
How to make DIY bird feeder from recycled material
Popsicle stick bird feeder
Recycling DIY milk carton bird house feeder
Kids bird feeder project
Cardboard tube bird feeder
Toilet paper roll bird feeder
DIY flowerpot bird feeder
Make terracotta bird feeder
Egg carton bird feeder
Rope bird feeder
Make tea cup bird feeder
Tin can bird feeder
DIY wine bottle hummingbird feeder
Wooden bird feeder
Changing Tray bird feeder
Make window bird feeder
Make wine bottle birdfeeder
Hanging log bird feeder plans
DIY wood slice bird feeder
How to make bird feed?
Bird feed has specific variety of seeds according to birds. Some ingredients that you can use in bird feed at home that are universal bird food include:
Sunflowers
Safflower
Nyjer or Thistle
White proso millet
Golden millet
Red millet
Shelled and cracked corn
Peanuts
Flax seeds
Milo or sorghum
Rapeseed
Canary seed
Pumpkin seeds
Mealworms
Dried fruits
Sugar water
Bird food recipes
Here are a few recipes that will come in super handy for bird feeder:
1. Natural handmade bird feeder (paste ingredients)
Here's a homemade bird food recipe by DIY Network.
Ingredients:
2 oranges
1/2 cup peanut butter
1 cup rolled oats or corn meal
Recipe:
Mix pulp of 2 oranges with 1/2 cup peanut butter and 1 cup rolled oats or corn meal. Fill the paste in scooped out oranges and hang with string on the trees.
2. Basic recipe for homemade bird seed (dried ingredients)
Wild birds love to eat seeds and this mix will surely attract them:
Ingredients:
1 cup of black oil sunflower seeds
1 cup of chopped plain peanuts
1/2 cup of striped sunflowers
1/2 cup of cracked corn
1/8 cup of dried fruit
Recipe:
Mix the ingredients together and keep in the bird feeder for your flying friends.
What birds are attracted to bird feeders?
The most common types of birds that are smart enough to locate bird feeder in your home are:
Sparrows
Finches
Jays
Cardinals
Buntings
Grosbeaks
Chickadees
Titmice
Woodpeckers
Mockingbirds
Squirrels (they love bird food)
DO NOT COPY, EDIT, SAVE OR PASTE THIS IMAGE. COPYRIGHT OF CRAFTIONARY.NET
DIY Bird Feeder by Erins Creative blog.
Use decorative plastic bowl and plate from dollar store to make hanging birdfeeder.
Drill holes and use nuts and bolts to secure them together.
Use washer for additional support.
Use cord to make macrame braided knot to hang the feeder.
This will make cute porch swing feeder as well.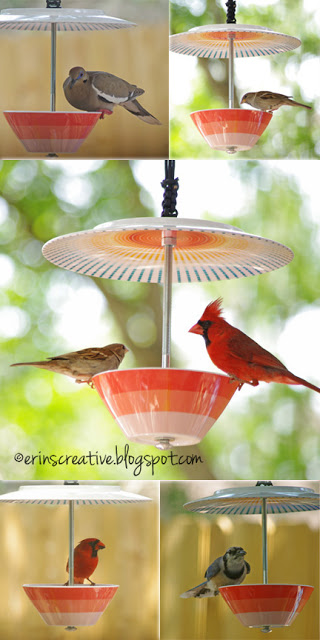 DIY bird feeders with bird feed
Homemade bird feeder by Growing Family.
Make hanging bird feeder with plastic cup, string and bird feed.
Mix wild bird mix with lard, suet or vegetable fat. Vegetarian-friendly feeders will love vegetable fat as mixing ingredient.
You can also add breadcrumbs, oats, sultanas, currants and unsalted peanuts (optional)
Use a spatula or wooden spoon to add in the disposable cup with string inserted into it.
Let it set and then cut out the cup to hang on the tree.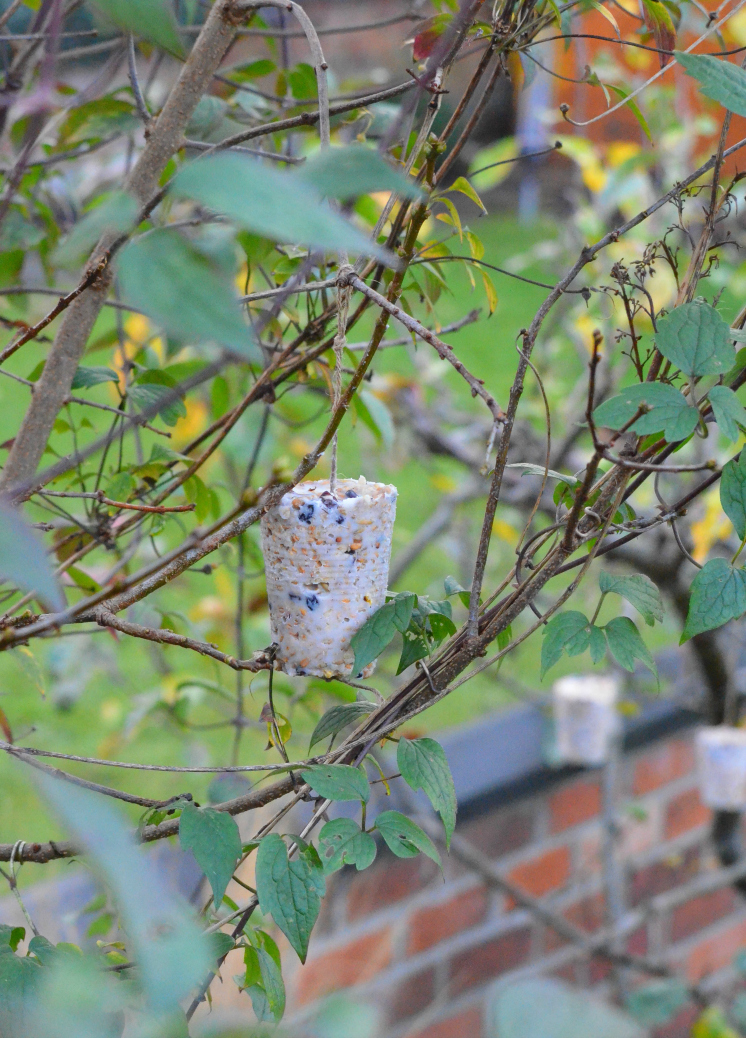 DIY Birdfeeder in less than 3 minutes by 2 Bees in a Pod.
Secure a mason jar with galvanized chicken feeder using copper wire.
Fill the tray and mason jar with bird seeds.
The chicken feeder screws on easily to the mason jar.
Hang it upside down as shown in the picture.
Bird Feeder Wreath by Martha Stewart.
Use bundt pan and arrange fresh cranberries or fruit slices at the base.
In a large bowl combine 4 cups wild birdseed, 1 cup dried cranberries and 1 cup peanuts.
Add melted suet in the mix and use plastic spoon to combine the ingredients together.
Add to the bundt pan and let it set in the refrigerator (or freezer) overnight.
Once hardened, remove from the fridge and unmold to hang.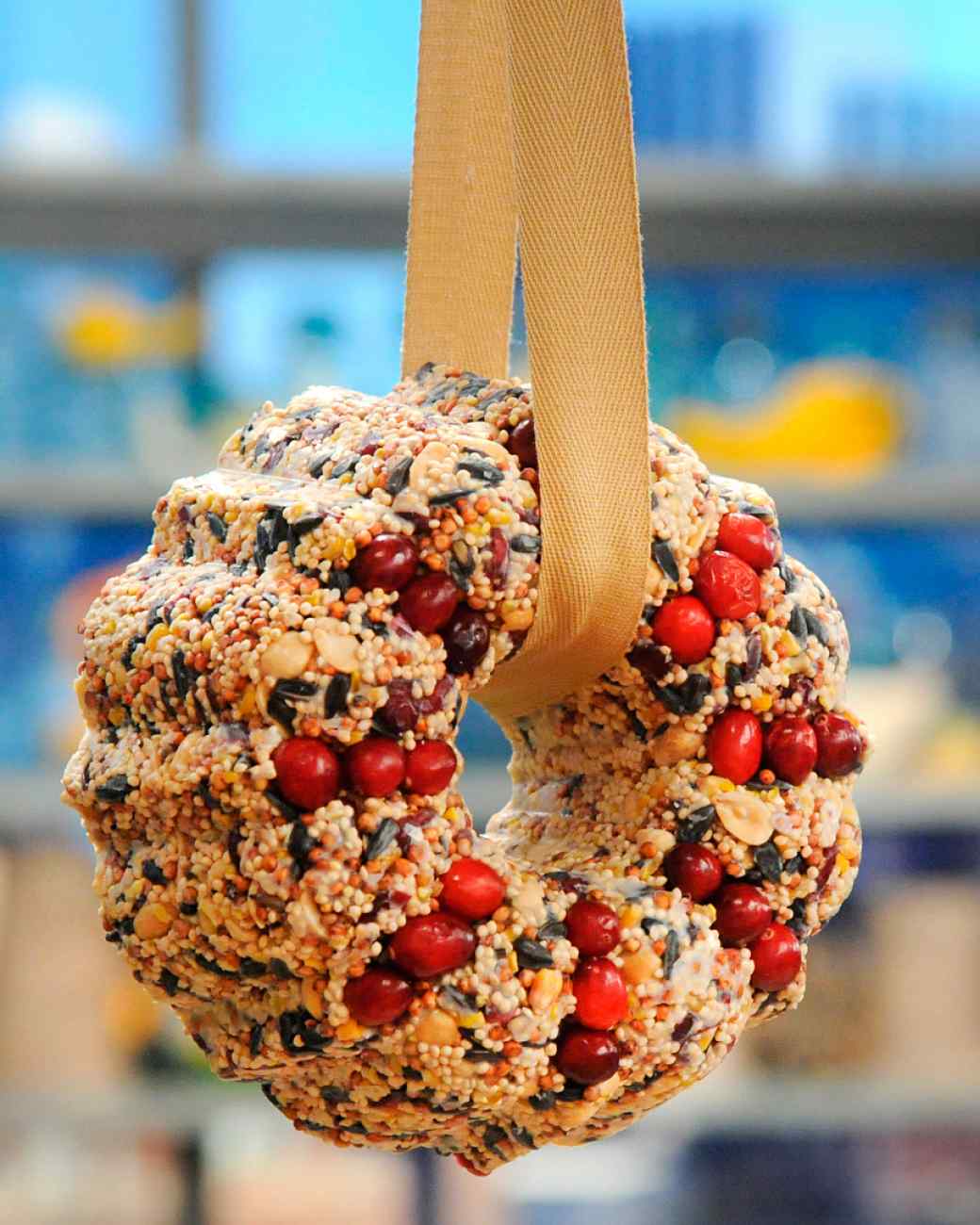 Bird Watch build a bird feeder by Lowes Creative Ideas.
Woodworking tools and unique project enthusiasts this stunning bird feeder is for you to try with full instructions, material and tools details.
This is the simple DIY to make hopper bird feeder.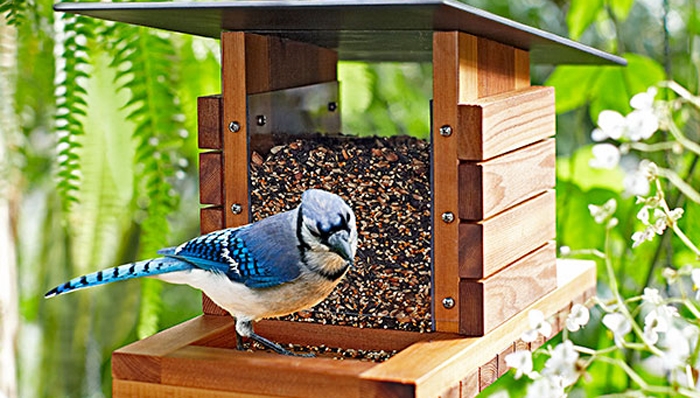 DIY bird feeders out of recycled materials
DIY Bird Feeders by Mom Endeavors.
Recycle tin cans to make bird feeders.
Use wood dowel or chop stick to make stand for birds to rest.
Use ribbon to hang on the trees.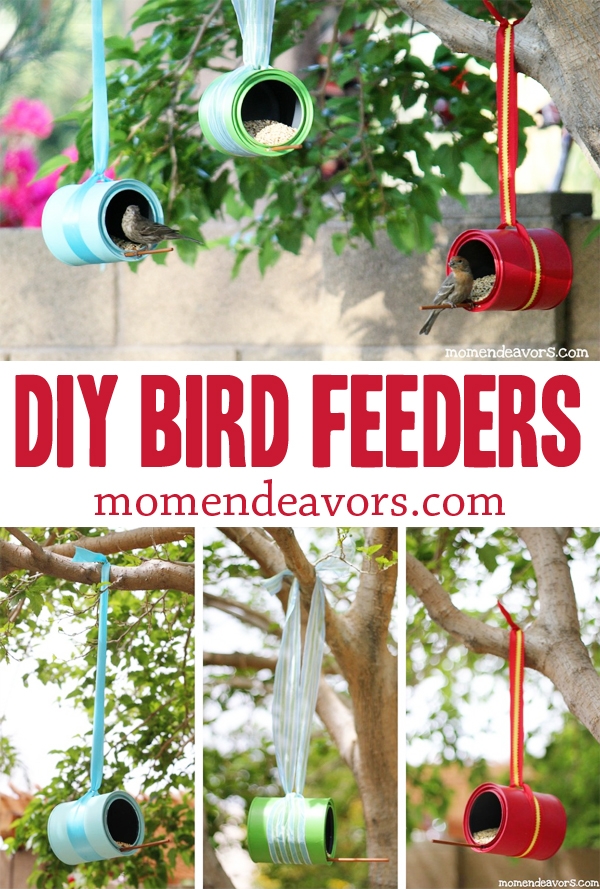 Hanging Bird Feeder by Dremel Weekends.
Use terracotta planters and terracotta trays to make bird feeder.
Paint the clay pots and use strong adhesive or glue to join the pot and tray together.
The tray at the top serves the hanging purpose with a loop and string.
Fill the bottom tray with bird seeds.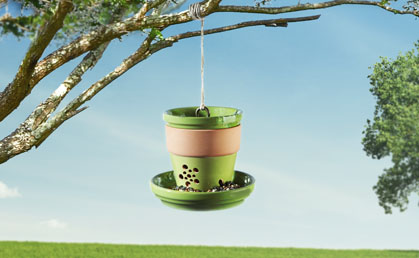 How to Make a Cute Bird Feeder for plastic bottle by Cute DIY Projects.
Cut plastic soda bottle and paint it to make whimsical bird feeder.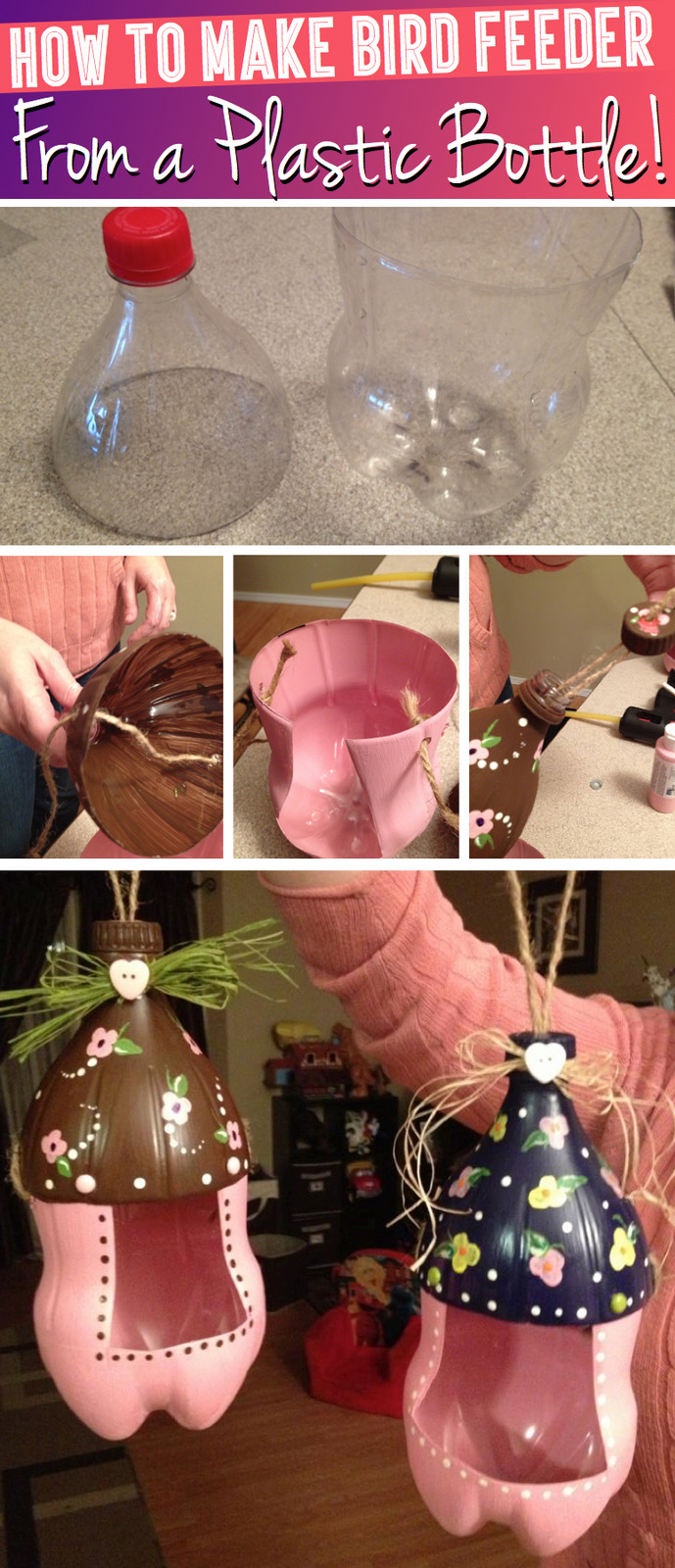 DIY mason jar or jelly jar suet feeder by Rebeccas Bird Gardens Blog.
1 cup lard
1 cup chunky peanut butter
Melt the lard and peanut butter together. The add:
3 cups cornmeal
1/2 cup flour
4 cups birdseed
Pour the ingredients in a mason jar
Hang with a wire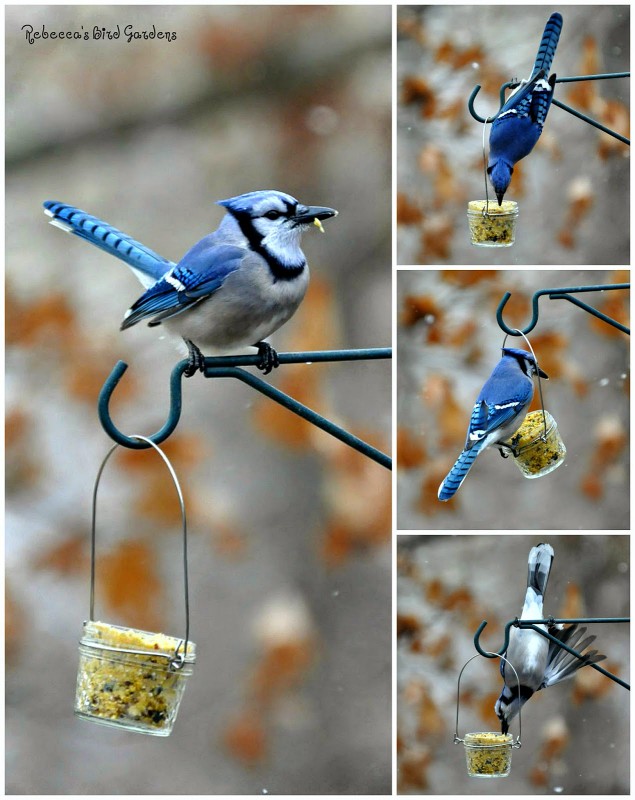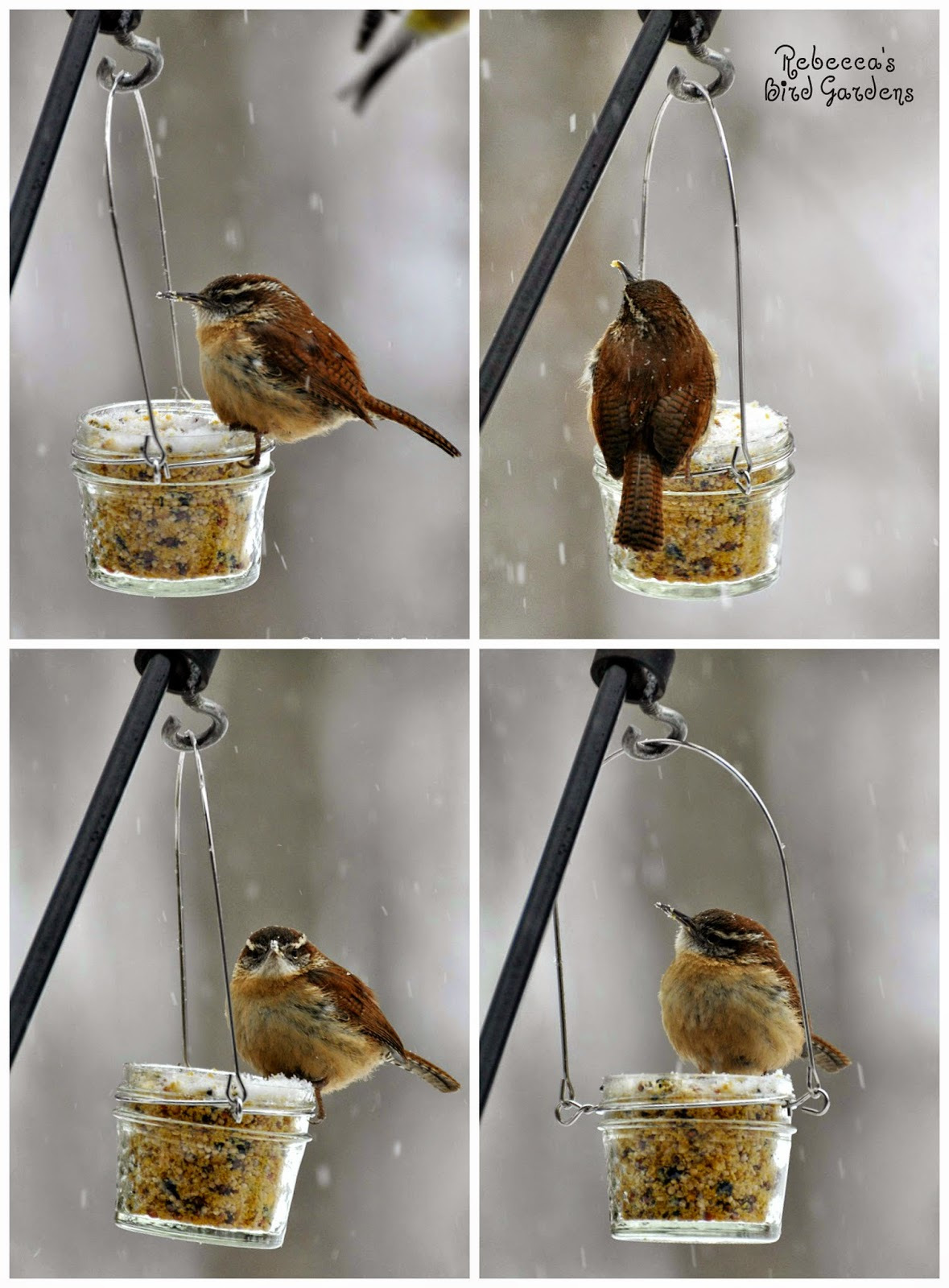 Make a Bird Feeder Kit by Giving Inner Child Fun.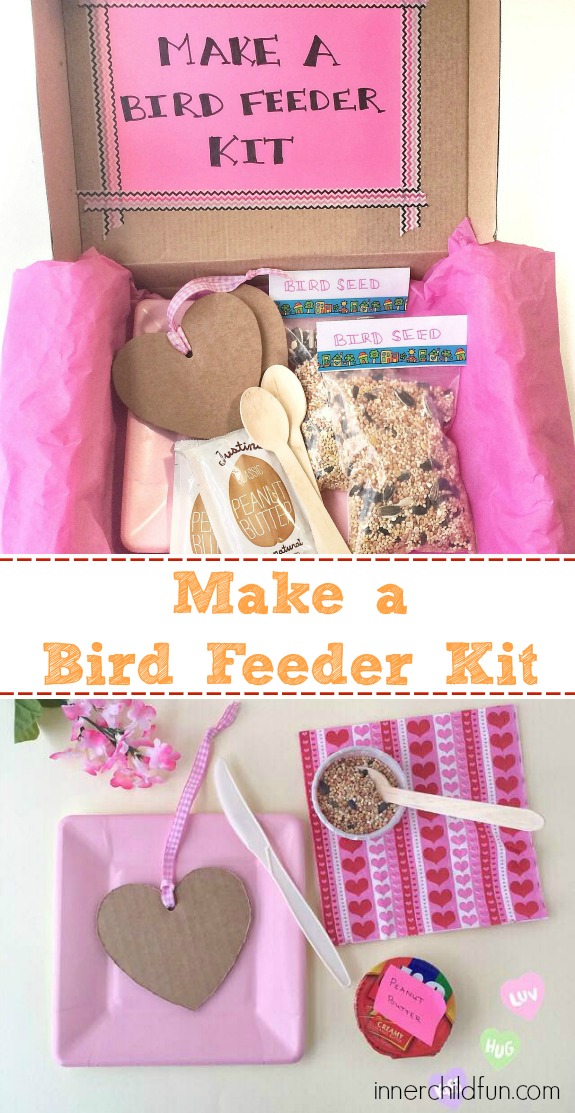 DIY birdfeeders – easy and quick ideas
Orange Bird Seed Ornaments by Stephanie Lynn.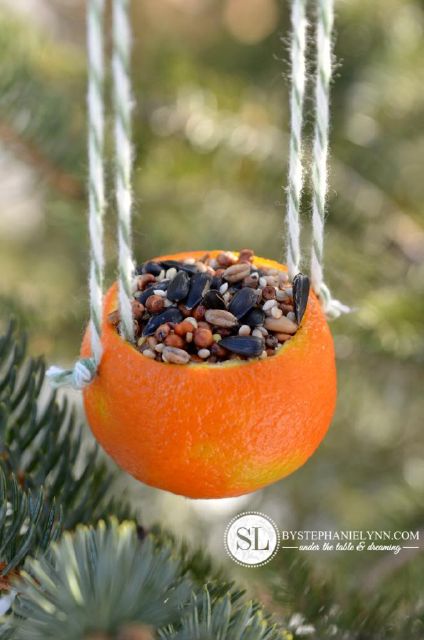 Peanut Butter Bird Treats by Pint Sized Treasures.
Use tin molds or silicon molds to mix bird seed and peanut butter.
Let it set and hang.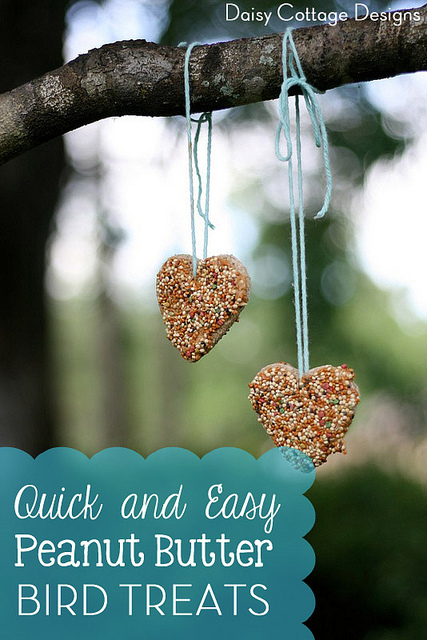 Make Pine Cone Bird Feeder by My Blessed Life.
Combine wheat chex, peanut butter and bird seed.
Use a spatula or spoon to cover the pinecones with the mixture.
Let it set and hang on the trees when the weather is cold.
Peanut butter may melt if the weather is warm.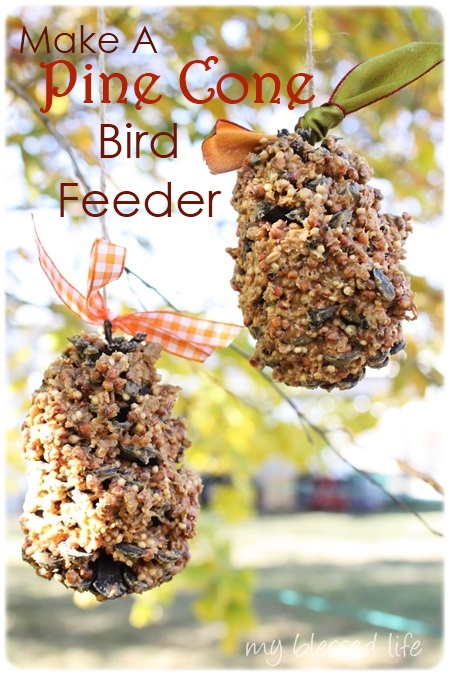 Homemade Pipe Bird Feeder by Birds and Blooms.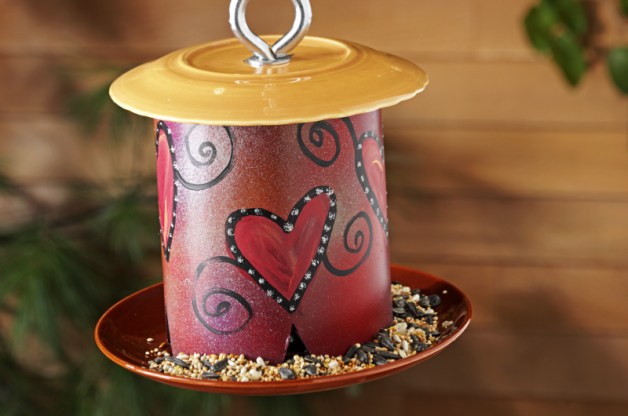 Kids bird feeder craft projects
How make diy bird feeder recycled materials by audubon.
Turn a paper milk carton into recyclable bird feeder with paint and twigs.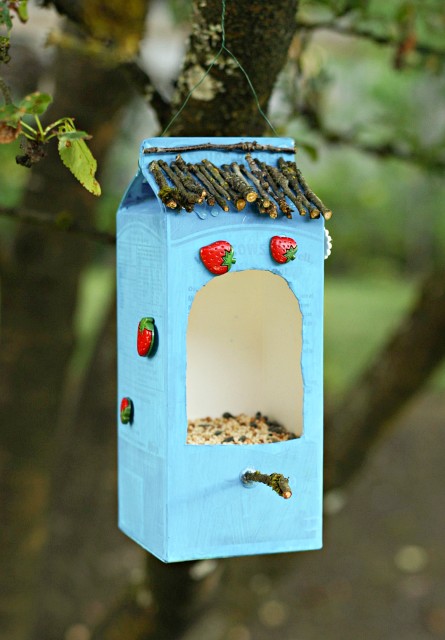 Popsicle Stick Bird Feeders by Tonyastaab.
Glue popsicle sticks together using glue stick and white glue.
Hang with a burlap string.
A wooden tray bird feeder will serve the same purpose.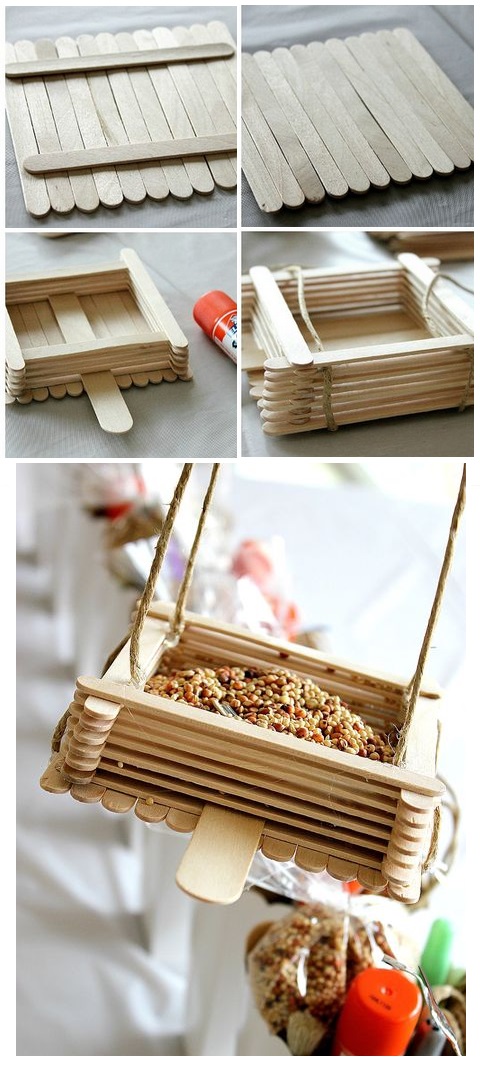 Recycling DIY milk carton feeder by little peanut mag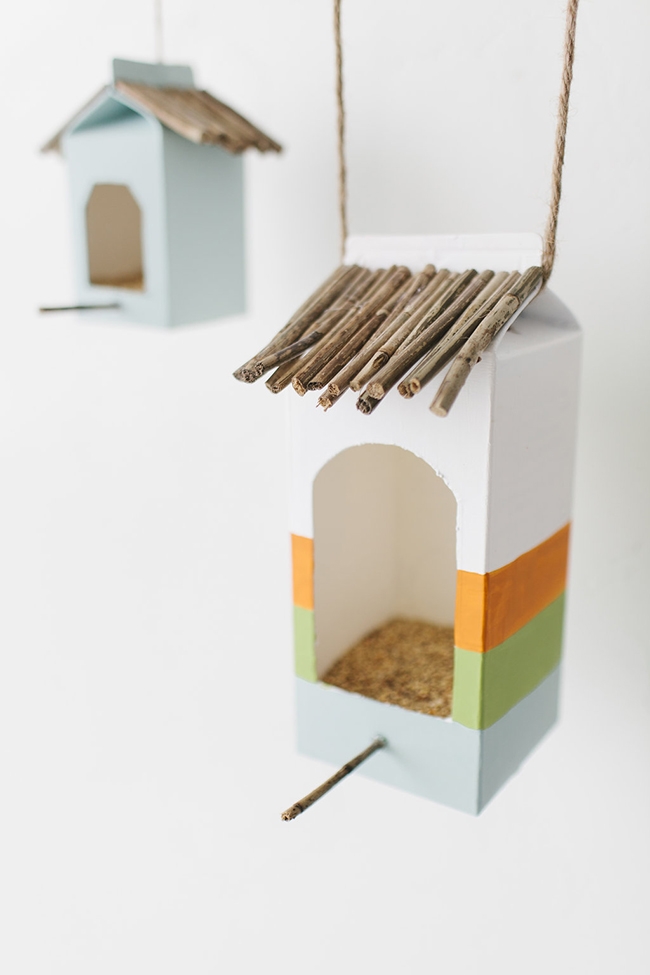 fun and easy diy bird feeder project for kids by honestly modern.
Use empty juice cartons or cereal cardboard boxes and wrap them with duct tape.
Punch holes and loop twine through it to hang the birdfeeder.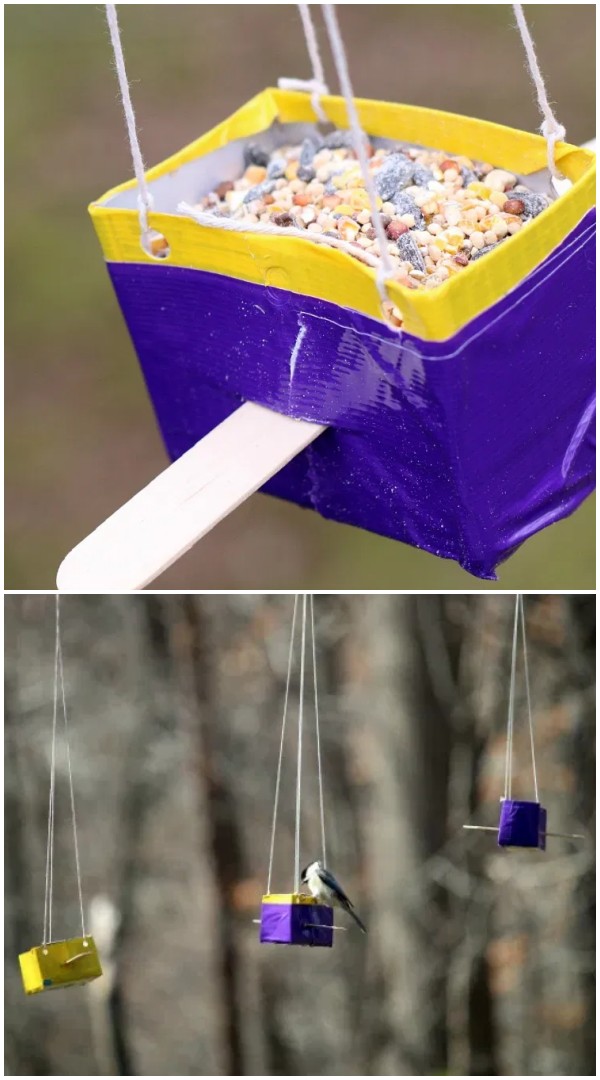 cardboard tube bird feeder by little bins for little hands.
Coat peanut butter to glue bird feed on the cardboard tube.
You can also use toilet paper rolls and foil rolls for this project.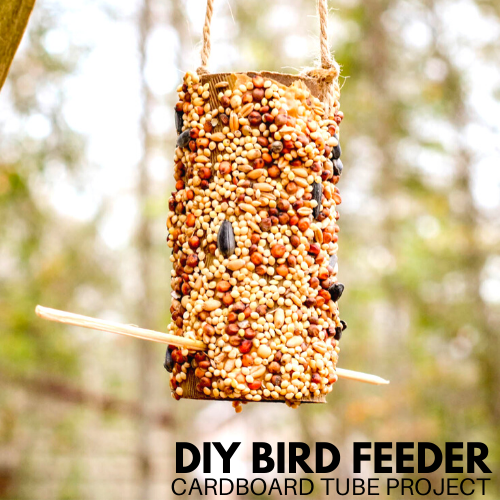 DIY flowerpot bird feeder by the garden roof.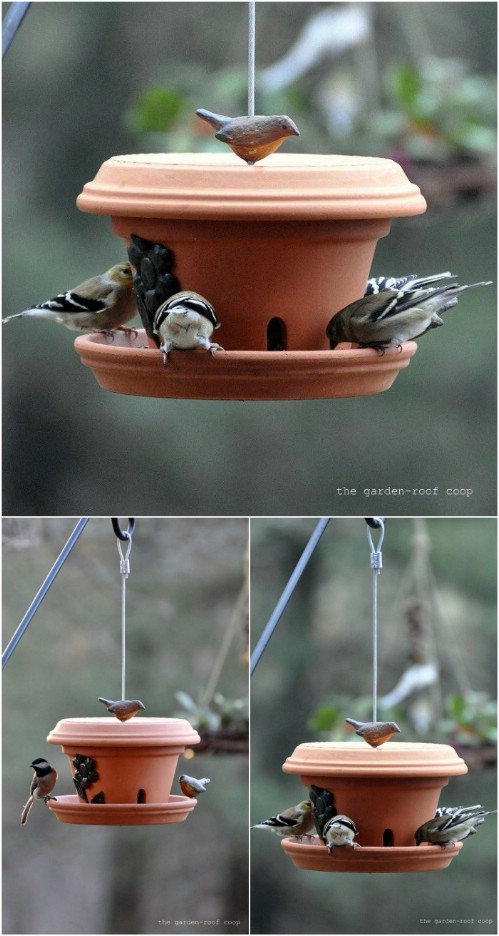 Egg carton bird feeder by the creative cubby.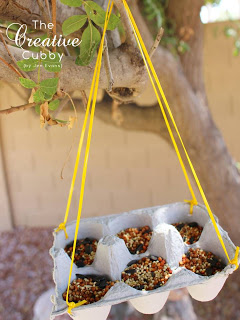 Rope Bird Feeder by Dabbles and Dabbles.
Cover a tin can with sisal rope to make bird feeder.
I am sharing this idea due to sisal rope being a natural element. However, I am not very sure about using metallic items for bird feeder.
Birds like nature and in order to attract them try to use natural material choices.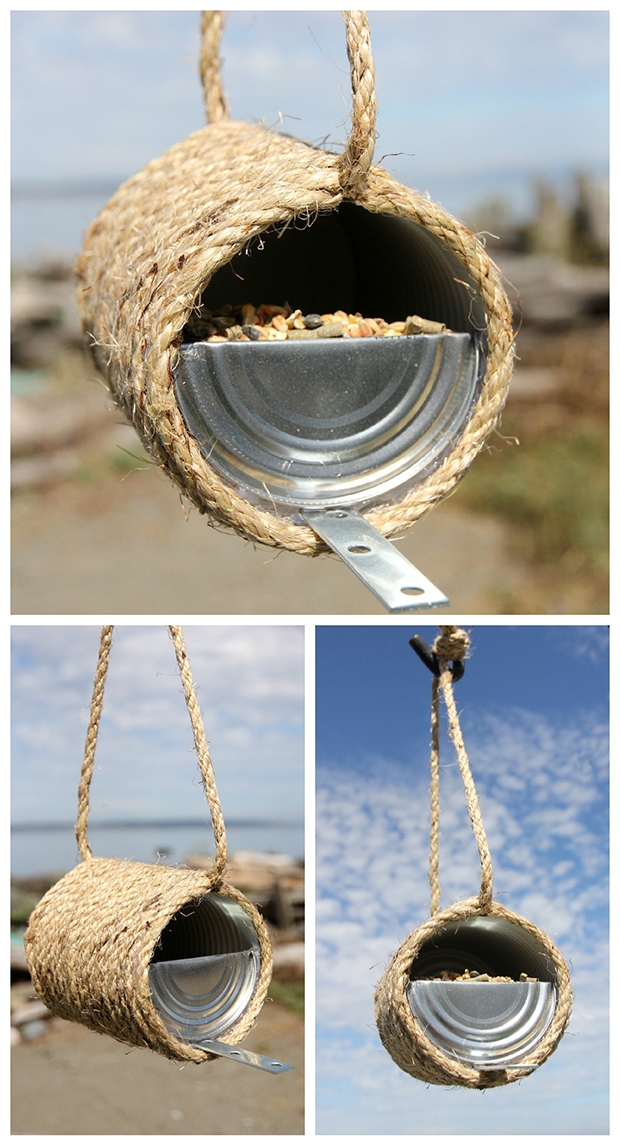 Make tea cup bird feeder by ehow.
Turn a vintage cup saucer and teacup into bird feeder with beautiful chain to hang it. This beautiful decorative accent will be the feature in your garden.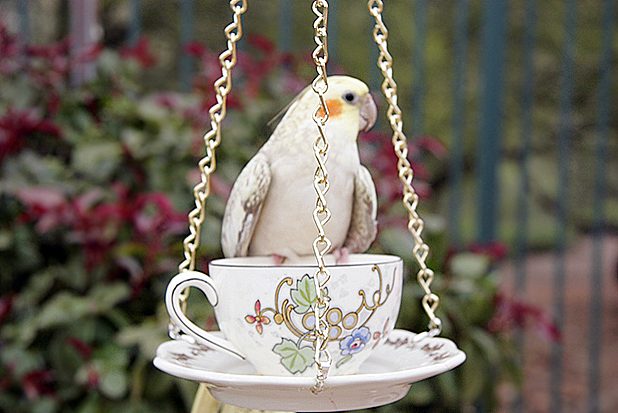 Tin Can Flower Bird Feeder by Birds and Blooms.
I love the use of foam flower to make the tin can safe for birds. This way the sharp edges are covered.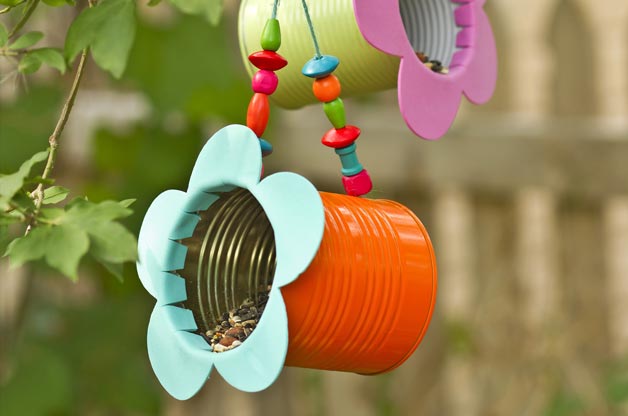 Protea wine art blossoms DIY wine bottle hummingbird feeder by My So Called Crafty Life.
A topsy turvy bird feeder with glass painting.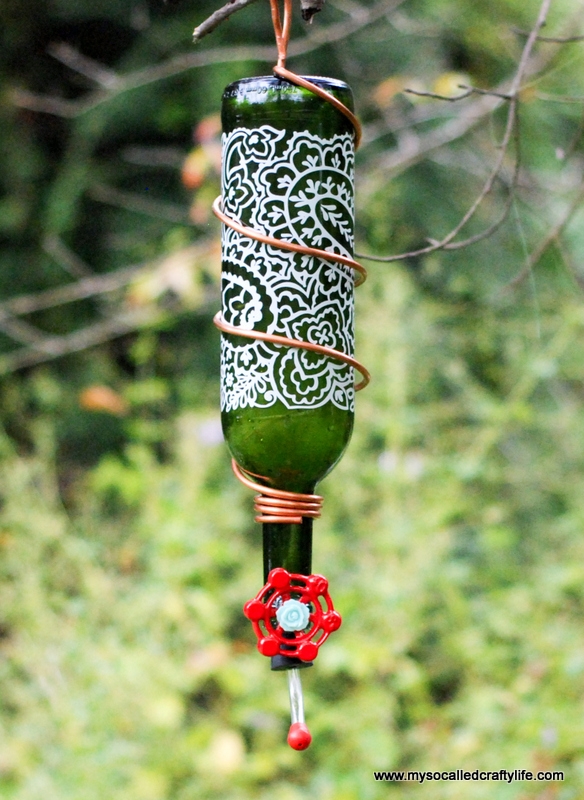 Wooden bird feeders tutorials
Changing Tray Bird Feeder by Song Bird Garden.
Use wood to make shelter and tray in form of a open house bird feeder like platform bird feeder.
Attach it to a post.
This will give the birds an open space to play around and eat food.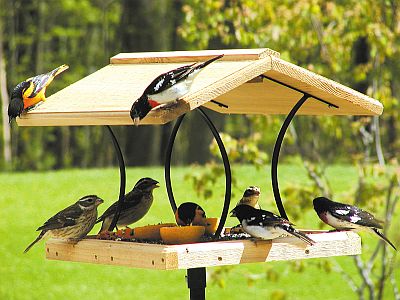 Window Birdfeeder by Ana White.
Make a bird feeder with wood and use suction cups to hang it to the window.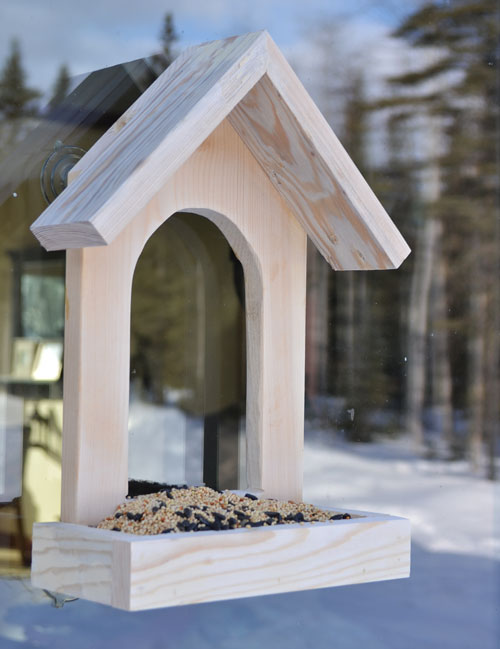 Make wine bottle bird feeder by Down Home Inspiration.
Recycle empty glass bottle or empty wine bottle to make upside down bird feeder with wooden frame.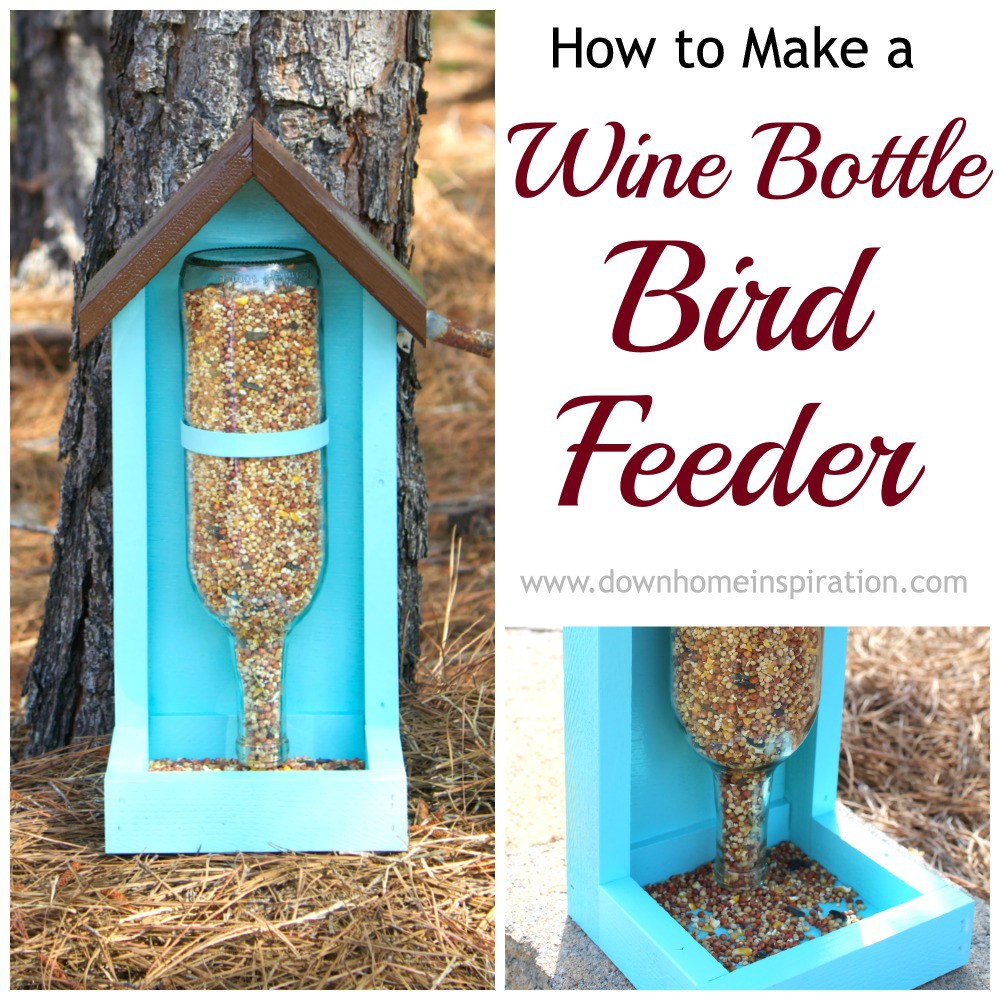 hanging log bird feeder plans by sun catcher studio.
Turn a log into birdfeeder with wooden discs and chains.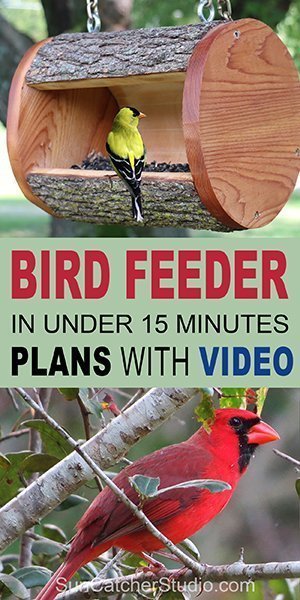 diy log bird feeder by pretty handy girl.
Make this easy project with a piece of log. Drill holes and add bird feed mixed with peanut butter to complete the birdfeeder to hang on the tree.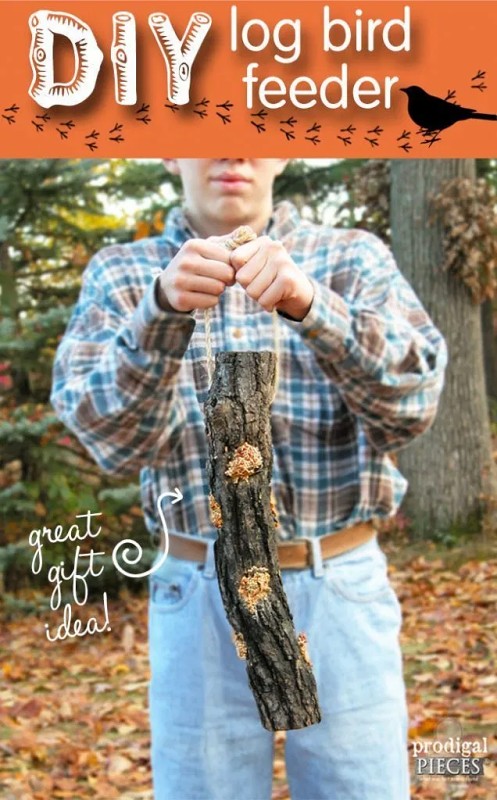 Such pretty ways to make DIY bird feeders. Some links were broken and removed.
You will also like: