This post may contain affiliate links. Please see our full Disclosure Policy for details.
DIY outdoor lights are a simple and easy way to add flare and ambiance to any space. Make your space lively and entertaining with garden lights and outdoor lights. A variety of cafe lights, string lights and even solar lights can be found at affordable prices as well as high price based on luxurious look and styles.
An excellent addition to this magic space will be Vertical plant walls and gardens with design instructions to help you DIY. Consider to add birdhouse and hummingbird feeder as well.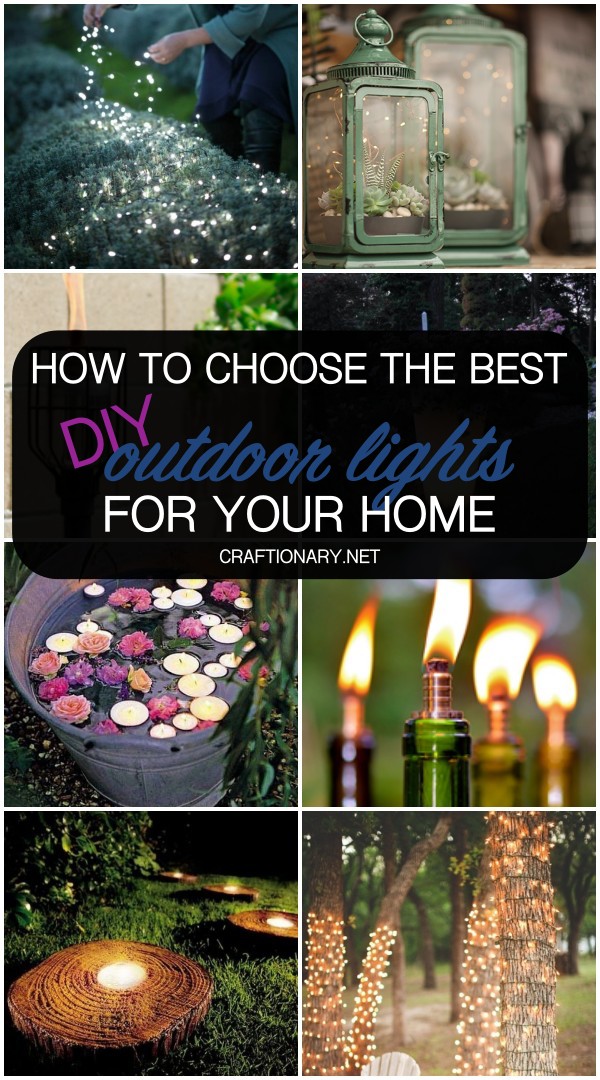 DIY outdoor lights simple and easy ideas
As the days start to get warmer and longer, it's ideal to have DIY outdoor lights set for beautiful nights. Summery sounds and soothing nights under the starry sky are just one best place to spend some quality tea time and have thoughtful discussions. Not only are outdoor lights easy to DIY but they come in a range of elements which I have tried to cover in this post.
Today I am sharing some amazing ideas that are easy to install with a few elements. You might already own the material required for some of these ideas. These ideas are perfect for small size patios and balconies as well as big gardens and backyards. There are a variety of items that add light to the outside spaces, however, so many DIY outside lights are found on the internet that it's hard to choose the project one would like to focus on. Therefore, I have compiled these brilliant DIY garden lights based on material and supplies. This makes it easier to focus on your space and plan accordingly.
What DIY outdoor lights are best for garden and outside spaces?
These include:
Mason jars
Tiki torches
String lights
Cafe lights
Solar lights
Glow in the dark pots and planters
Tea lights or candles
Let's have a look:
1. DIY Candle lights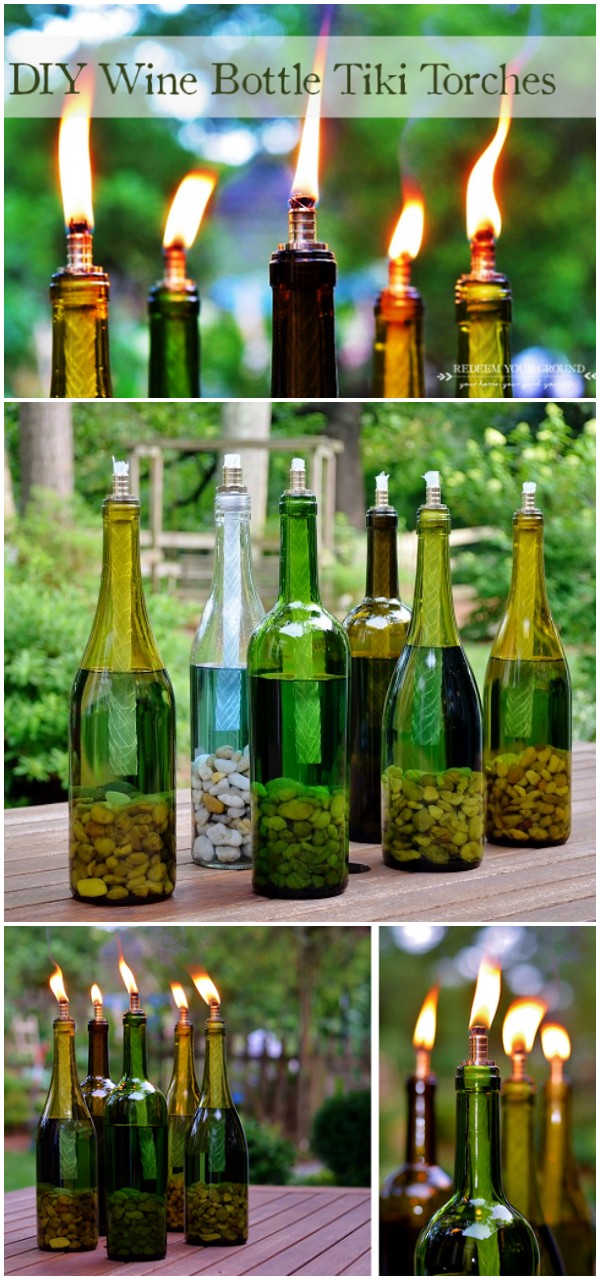 1) DIY wine bottle tiki torch
Make tiki torch out of recycling wine bottles using tiki wick, fuel, gravel and washer by redeem your ground.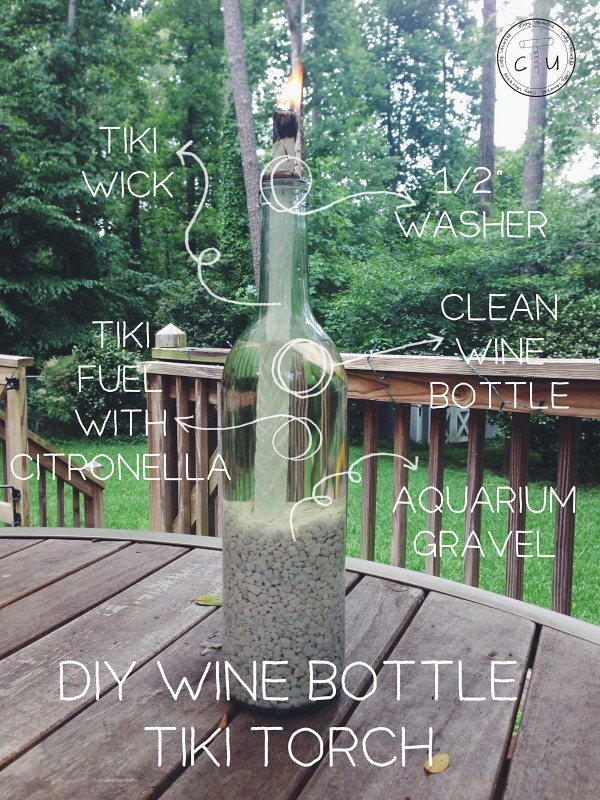 2) DIY tiki torch
I love this great illustration of how a tiki torch is assembled together by cody uncorked. To make a tiki torch you will need:
– Tiki wick
– 1/2 inch washer
– Tiki fuel with citronella
– Clean wine bottle
– Aquarium gravel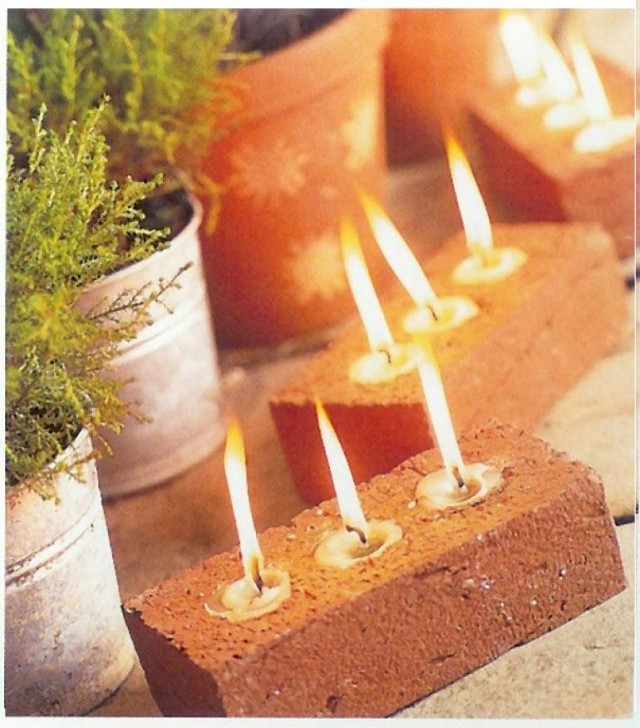 3) Tea lights in old bricks
Drill tea light size holes in the brick to make this easy maintenance light project.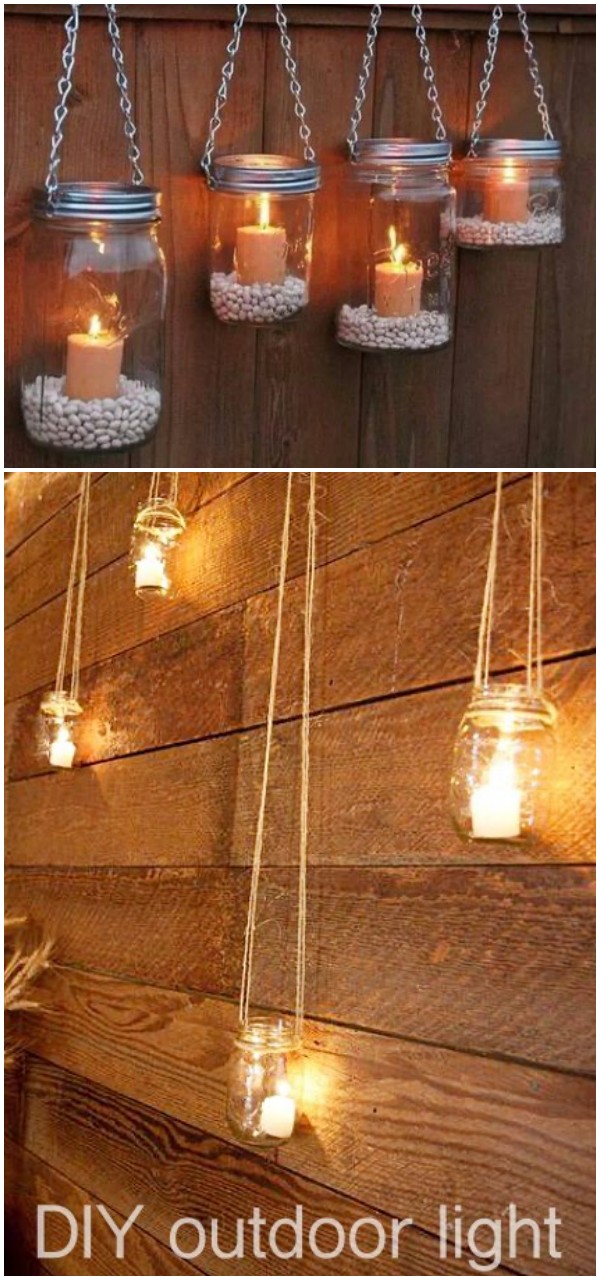 4) Tea light mason jar hanging light
Hanging lanterns along the fence for light in the surrounding. This can be great for lighting a pathway or a narrow passage as well. Some twine to hang and candle in mason jar would do the trick.
5) DIY mason jar with chain and stones
Another great way to repurpose mason jars is to use chain for hanging the jars and aquarium gravel or decorative stones to add some statement to your outdoor light. You can use candles or tea lights depending on how much light is required.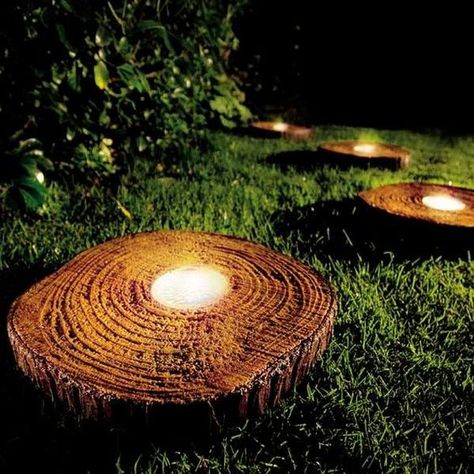 6) Tea light wood disc
Add a tea light to drilled tree slices for an stunning pathway illuminated on the sides. This will also look outstanding arranged around the seedbed in the garden.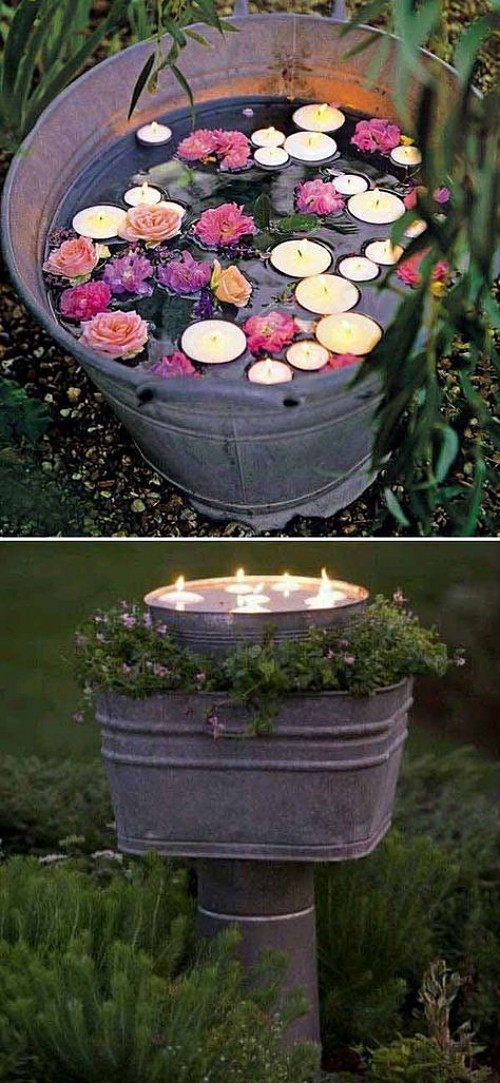 7) Floating tea lights
Floating tea lights with fresh flowers and lotus.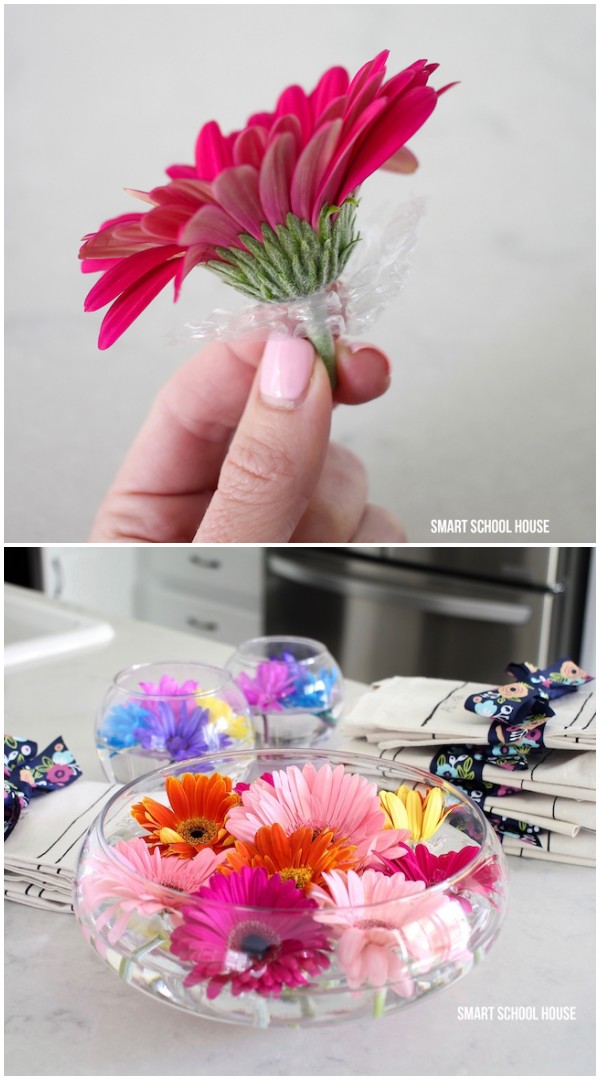 8) Bubble wrap floating flower arrangement
I really love the idea of having tea lights floating in the water, however, if you live near the ocean or in a breezy space you might like a fishbowl for this arrangement. It will keep the tea lights lighted with the wind around. Plus this great tip to use bubble wrap to keep the flowers afloat is handy by smart school house. However, I would avoid bubble wrap with fire around!
2. DIY Pathway lights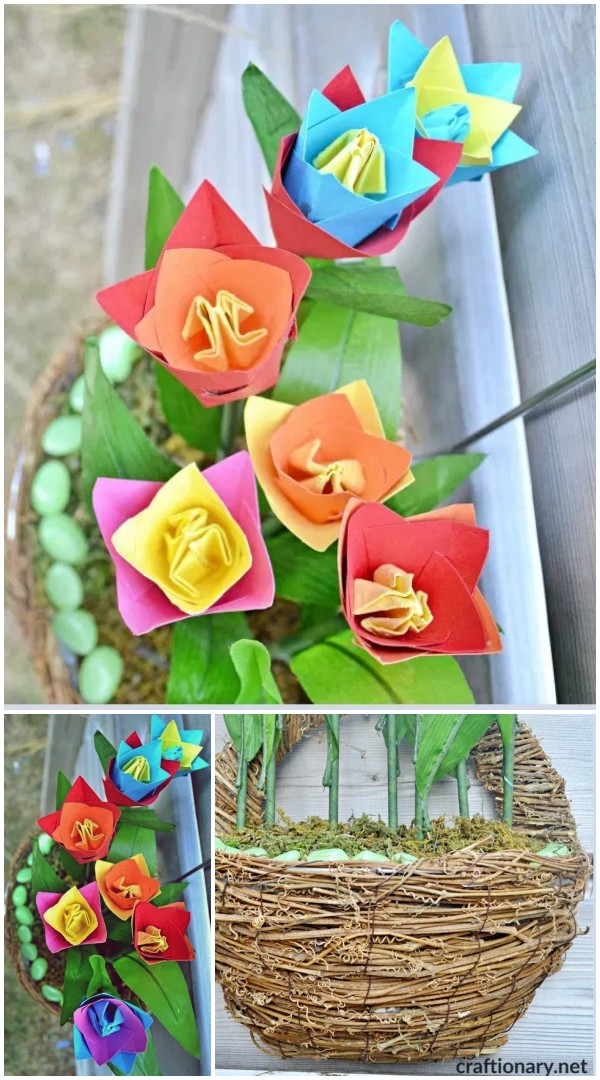 1) Glow in the dark stones
Make a glow in the dark hanging basket by craftionary. You can also use glowing stones to make the edges of seedbed and pathways.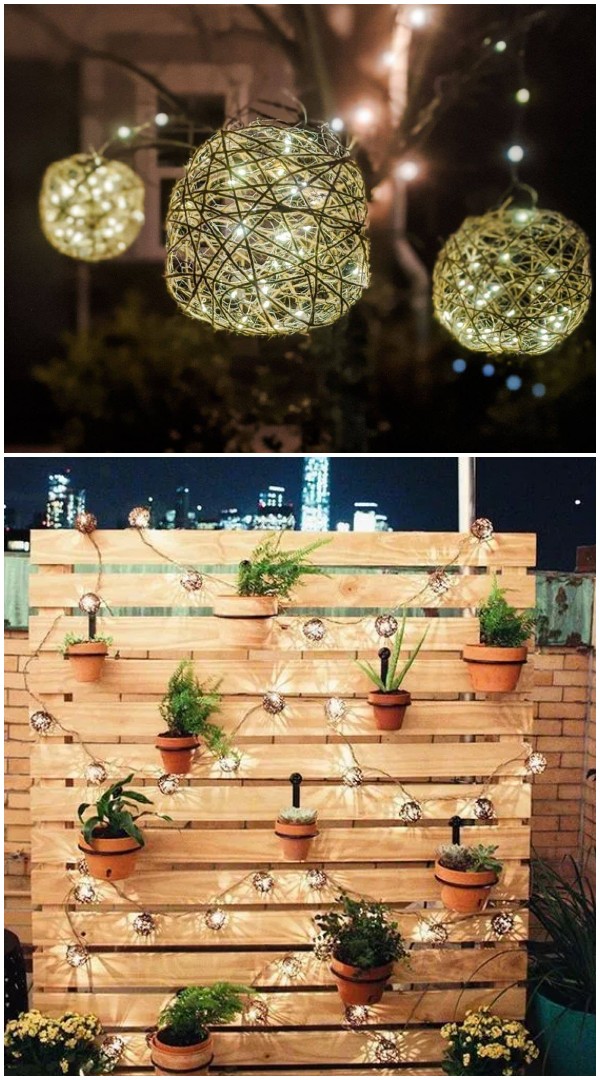 2) DIY light balls
DIY outdoor light balls by crafted by the hunts are made with chicken wire, twine and battery powered lights making it a perfect project for pathways. String them on poles to light up any space.
3) Pallet with string lights
This pallet with lights and planters is a perfect statement piece for patios and backyards of all shape and sizes.
3. DIY Landscape lights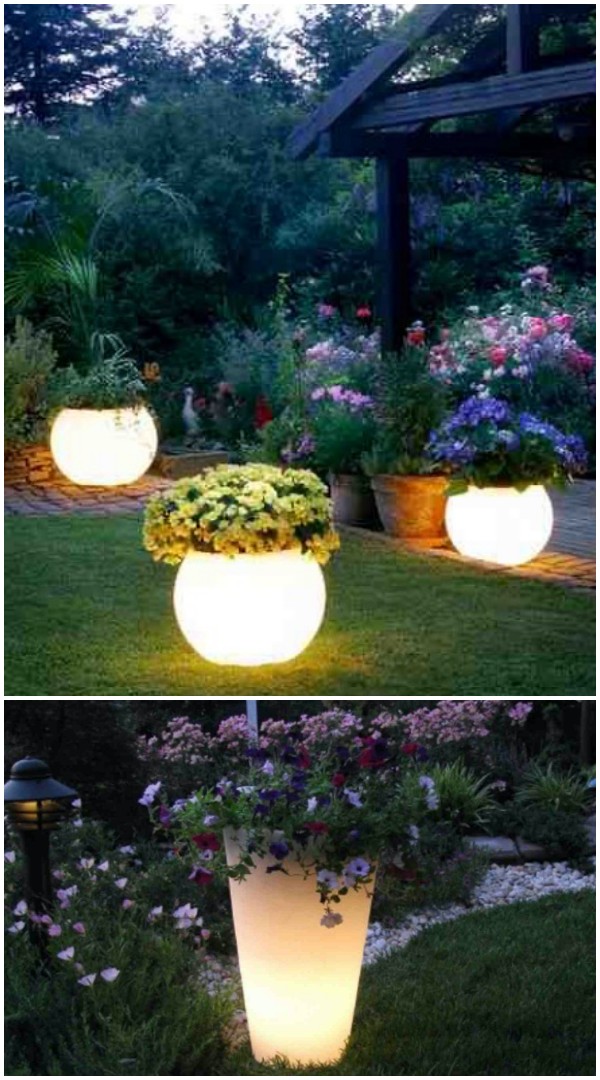 1) Glow in the dark planters
Achieve the glow in the dark planters look using glow paint or purchase them in your local garden store. These are also readily available on amazon and walmart. Image via diyfunideas.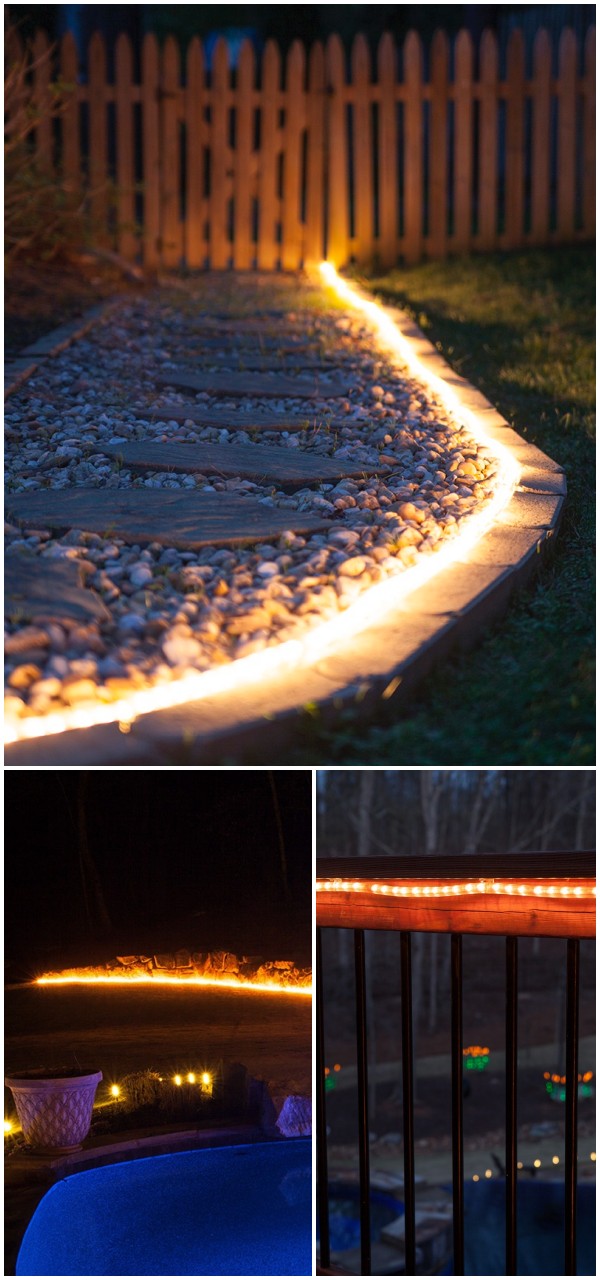 2) DIY rope light pathway
Install a rope light to highlight the pathway. Outdoor lightning ideas using rope light by christmas lights etc.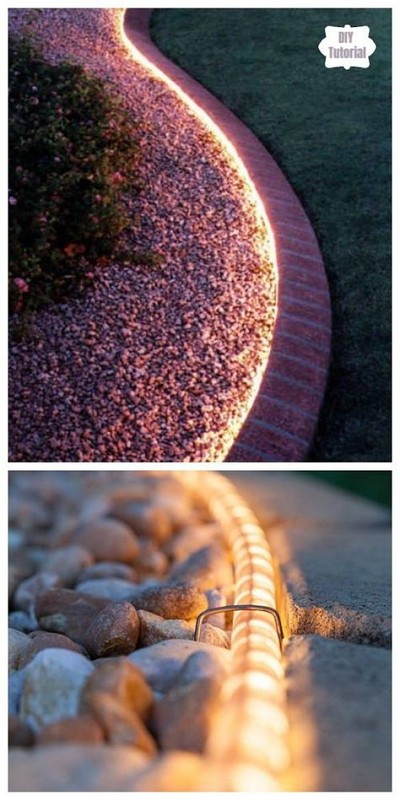 3) Rope light edging
These rope lights are so diverse and easy to install. These are readily available in all hardware and garden stores. Simply use garden staples to set them on your deck, patio stairways, pathway edges or even seedbed sides to create a night landscape.
4. DIY Outdoor lights and lamp posts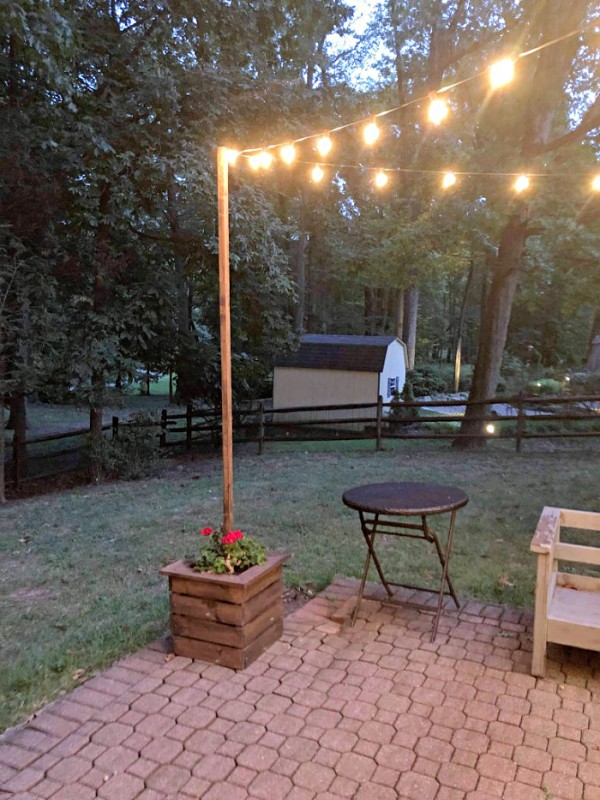 1) DIY string light poles
String light poles by this homemade heaven is perfect for a porch or backyard. Add poles to a planter and string lights for flare and ambiance. If you are enthusiastic you can also make your own planters using wood.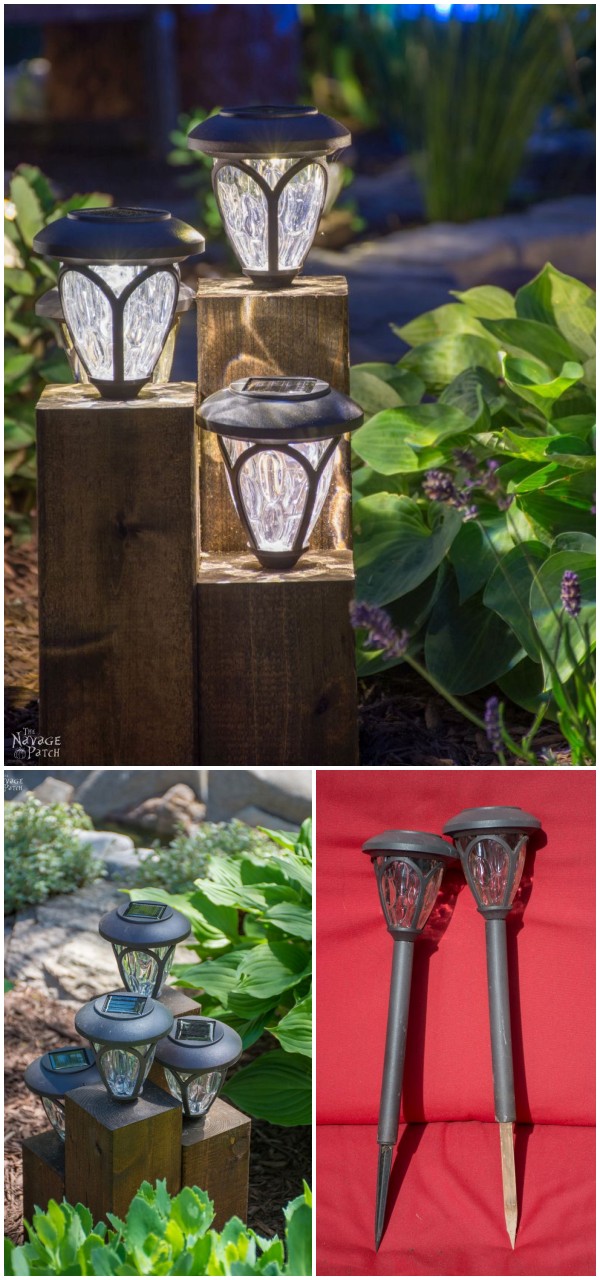 2) DIY cedar cube outdoor lights
Gorgeous DIY cedar cube landscape lights by the navage patch. Make custom sized cedar cubes to fit solar lights for an impressive look.
5. Outdoor string lights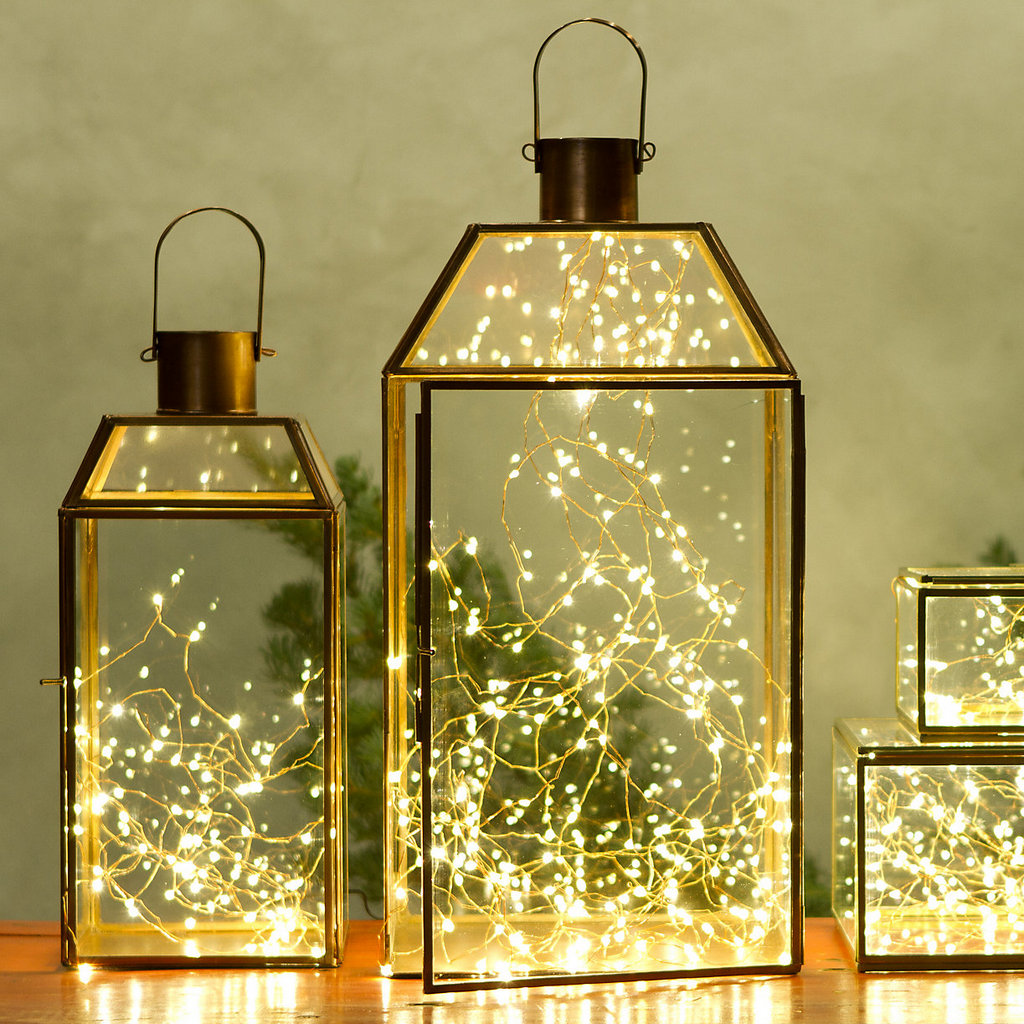 1) DIY string lanterns
DIY fireflies luminaries by craftionary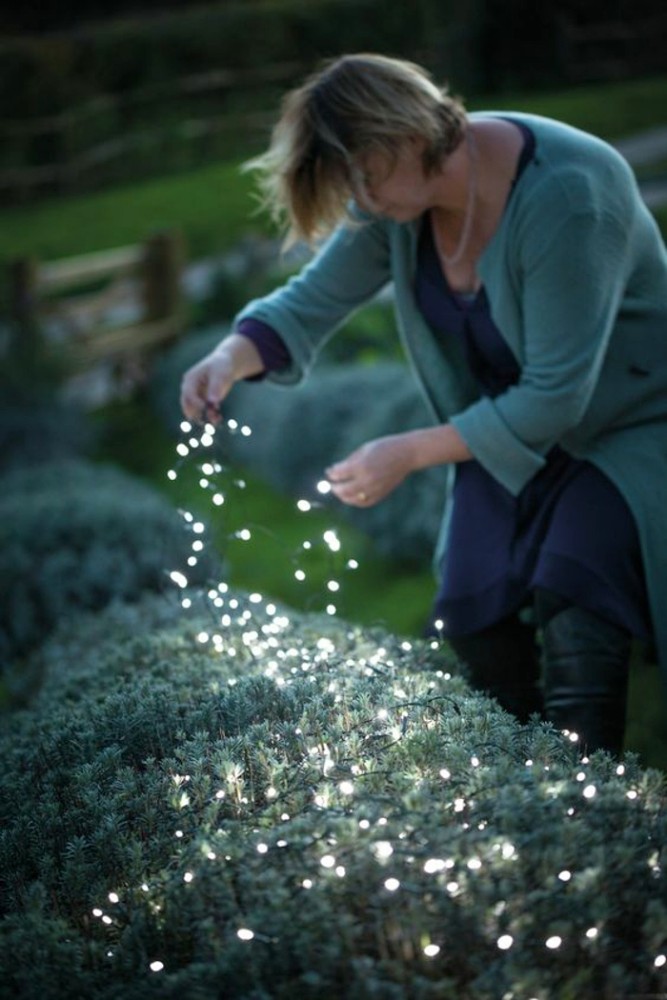 2) Fairy lights magical backyard
Make a fantasy backyard setting with fairy lights spread on the bushes.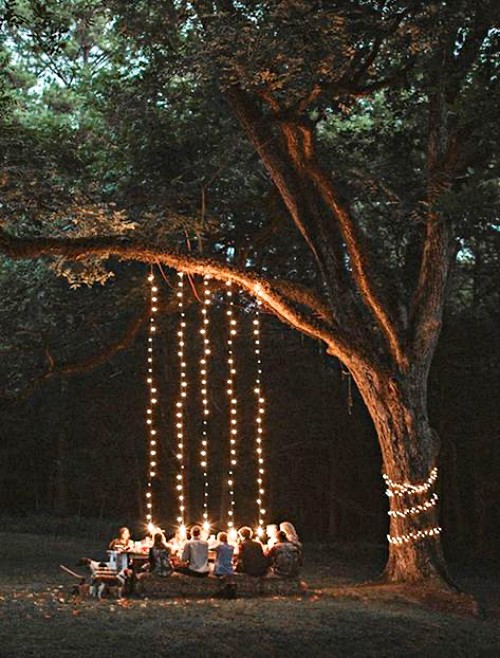 3) Hanging string lights gathering area
Genius idea found on pinterest with no mention of original source to credit. This idea for outdoor dinner under the tree is simple and spectacular. If you have a tree in perfect spot for this scene create a gathering space by hanging string lights from the tree branches.
4) Wrap lights around the tree
Wrapping trees with lights with christmas lights etc. This is a festive idea great for holidays and parties. However, this can also add correct ambiance for short summer nights.
6. DIY Garden lights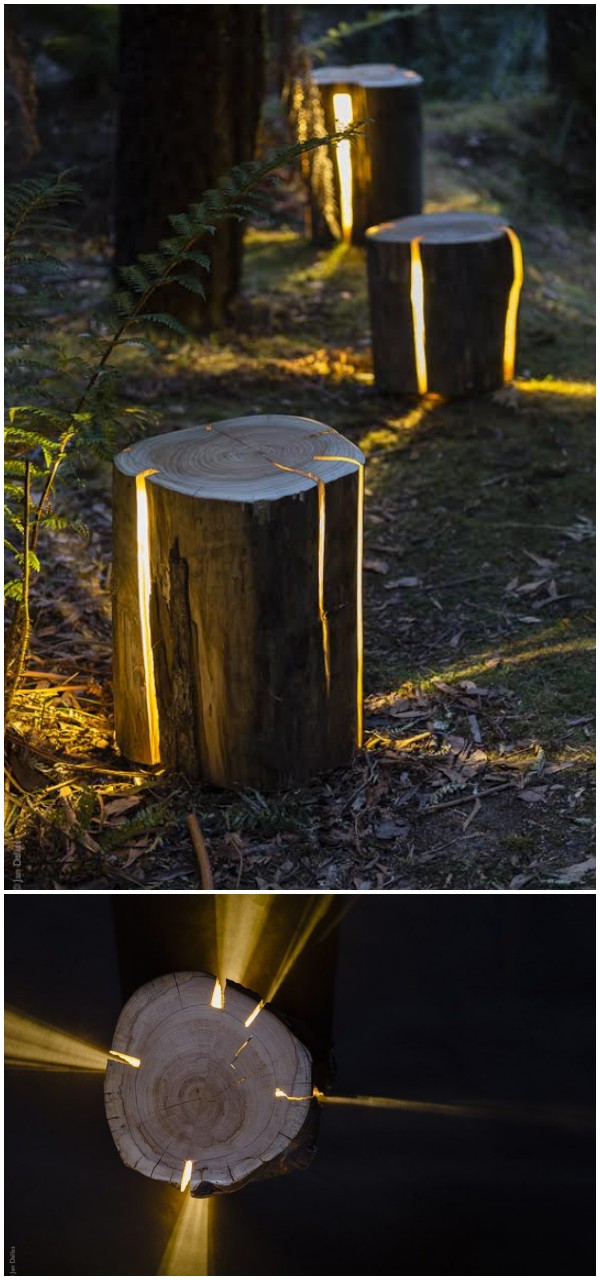 5) Wood log lights
Cracked log lamp range from a salvaged tree stump by helen edwards writes. These DIY wooden log and slice projects will make your home look luxurious and impress your guests at first sight.
6) Tiki torches diy
DIY industrial style tiki torch by pneumatic addict
7. DIY backyard lights and patio lights
1) Tiki torches for backyard
Copper pipe patio torches are made with long lasting copper plumbing fixtures from the home center via my home my style.
2) DIY succulent lantern
Make a magic succulent lantern with strings of wire lights and succulents in a pot with gravel and stones by western coast gardens.
I hope you enjoyed these beautiful ideas. Some original sources could not be tracked and images were found via pinterest. If you know the source please leave it in the comment section.
You will also like:
DIY Water Gardens anyone can make with easy tutorials
Brilliant vegetable garden tips, tricks and hacks for starters
DIY bird feeders best ideas for bird lovers that bring birds