This post may contain affiliate links. Please see our full Disclosure Policy for details.
You will find a variety of plants for privacy in this post. First I have shared some important considerations for choosing the right privacy plants. Followed by privacy screening options for backyard and garden that are characterized as fast growers. You will also find privacy plants that are well-coordinated, screen yard in style, and hide garden boundaries. The list continues with best screening plants for dense green fence privacy, screening grasses, and recommended plants for semi-transparent screen. There are options to screen from above, best vine plants for privacy and plants that make a statement in your backyard.
Table of contents:
Use Fast Growing Plants for Privacy to Screen your Garden/Backyard
There are a variety of ways fast growing plants can be used to achieve privacy in gardens and yards. In overlooked gardens add wood or metal arbors, a gazebo or garden arch and use plants to turn it into a wonderful feature you can adore.
Choose from a variety of fast-growing plants for privacy screening to grow over them and you can enjoy much needed secluded oasis in a year or two.
Fast growing plants for privacy considerations
The choice of plants for privacy depends on the reason for backyard garden screen.
STYLE:
When choosing the fast-growing plants for privacy in your backyard take into consideration your garden style. For example, a classic and neat appearance can be achieved with well-trimmed hedges. Flower hedges look great in a romantic garden space. Trees bring natural feel in a garden and can also be used for a rustic yard appeal. You can mix designs as well. Unconnected fence panels can be placed alongside evergreen trees for a conceptual and artistic space.
HIDE UGLY FEATURES:
Fast growing screening plants are useful to hide ugly features like bins, messy corner, bags of compost, ugly fence, or neighbor's space to create privacy and serenity. A complete concealment works to hide unattractive sights and cover up garden fence ideas.
DEFINE AREAS:
It can define various areas in the garden that are overlooked. Add interest in small spaces like a plain square or bland rectangular plot by creating interconnected areas that can be divided using grasses and privacy plants. Use semi-transparent row of plants to remove harsh boundary in some spaces.
CREATE A PRIVATE PLOT:
Another benefit is to create a private plot with living green wall ideas and water feature ideas. Clever use of trellis fence with flowering plants like roses or clematis makes an inexpensive feature as well. These simple additions make the backyard garden look inviting, larger and comfortably private.
AVOID LONG TERM ISSUES:
When choosing the best plants for privacy and screening that grow fast ensure they don't become invasive. To ensure it is right for your plot check the ultimate height and spread. Plant them in pots and large containers if they grow invasive roots to control their growth.
Based on your reason for privacy in the backyard the following plants will help you come to the decision that works best for your space.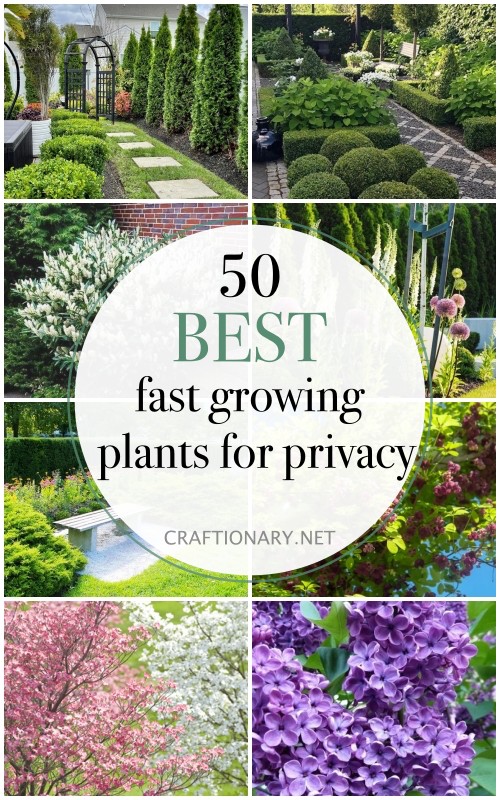 50 Best plants for privacy to grow in your backyard
The following are the best plants to grow for backyard privacy in order of popularity. Each plant for privacy has a whole set of variety, therefore, a few images are shared only. If you would like to see more of the beauty it offers and varieties available in your zone search the names.
1. Arborvitae (Shrub)
Arborvitae thrives in good drainage and dry environment. It grows best in full sun; however, it is hardy plant and survives most environment except extreme heat or extreme cold.
Arborvitae is most popular plant for living privacy fence for many reasons like:
It has thick evergreen foliage.
When properly spaced it creates a dense hedge.
The best tall plants for privacy.
It is cold hardy.
Low maintenance.
Tolerates most soil conditions.
Arborvitae has various varieties from dwarf to giant.
Easily available in most garden centers and home improvement stores.
Choose height and width according to your space for different stature.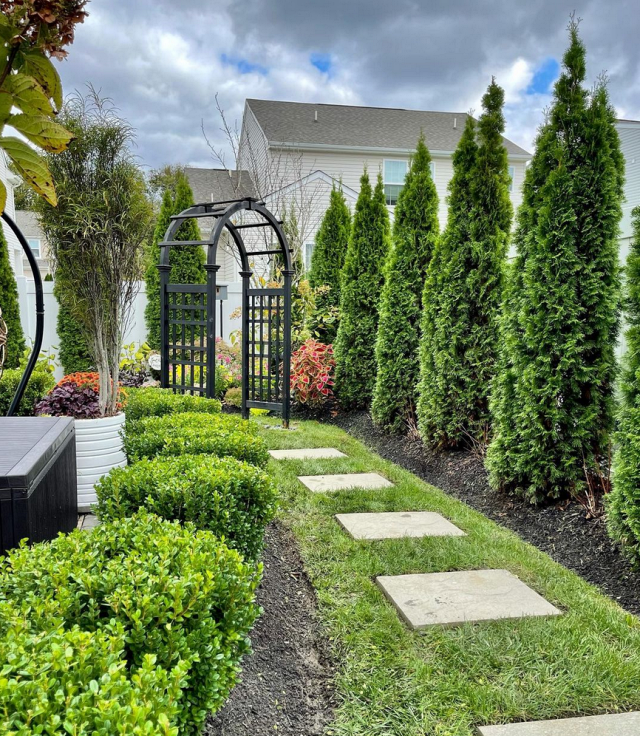 Emerald Green Arborvitae
Emerald Green arborvitae is a good choice for privacy plant in all four seasons and grows up to 12 to 15 feet tall. Image by Good Path Garden.
2. Bamboo
The number one fastest growing plant for privacy is Bamboo, particularly clumping bamboo. It quickly creates lush and exotic privacy screen. For best growth, bamboo requires full exposure to sun and regular water. It is not well suited for dry environment due to its heavy water needs. Some varieties can thrive in partial sun as well.
Some varieties are invasive like the running varieties. Consider picking a slow-spreading or clumping variety. You can keep bamboo under control by planting it in large, raised planters. This article is an excellent read on bamboo.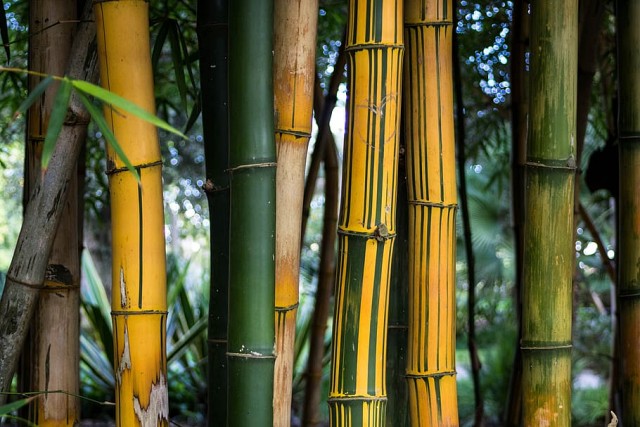 Golden bamboo (Phyllostachys Aurea)
The experts at Squires recommend golden bamboo as one of the top screening plants for modern garden ideas. It offers fast coverage and vibrant golden stem with evergreen foliage. It can grow up to 7 meters tall. Image via pinterest.
3. Skip Laurel (shrub)
Skip laurel is the best choice for garden enthusiasts who enjoy taking care of their plants. It require regular maintenance. The dense evergreen foliage can be achieved with annual pruning and shaping. It can grow into a beautiful 10 feet tall privacy screen.
It offers beautiful white blooms in spring when planted in a sunny area and well-drained soil. However, it is not suitable for all climates and soil types. Make sure to consult with store representatives when buying at your local store.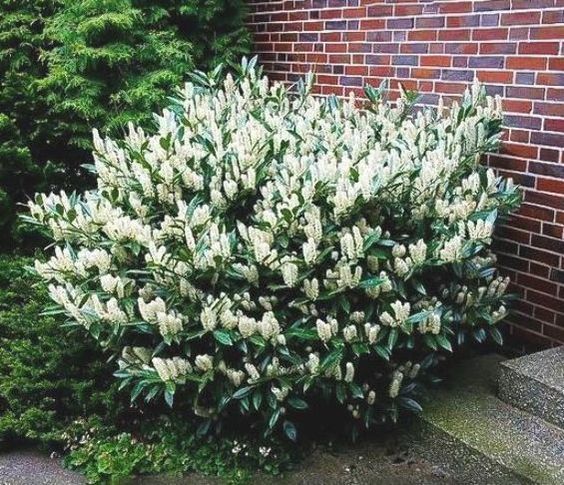 Cherry Laurel (Prunus Novita)
Cherry laurel is an evergreen shrub that shows small clusters of white flowers in early spring. It is a staple privacy plant in many gardens as it is easy to maintain with light pruning and trimming to shape it. This small tree is native to the southeastern United States. However, it is hardy and resistant to cold harsher winters. It can grow from 15 to 36 feet tall or 4 meters in 10 years. Image via pinterest.
4. Privet (shrub)
Another best plant for privacy is the Fast-growing privet. It is a shrub variety with dark green leaves which are semi-evergreen that grows well in partial sunlight. It requires at least 4 hours of uninterrupted sunlight and can survive in partial shade.
In proper care and environment, it can quickly get you privacy. Each year it can grow from 2 to 3 feet in height. Privet requires pruning to shape a few times per year for a uniform look, making it a perfect solo shrub for privacy screening. Grow it as a hedge for a beautiful show of fragrant white flowers in spring from May to early June.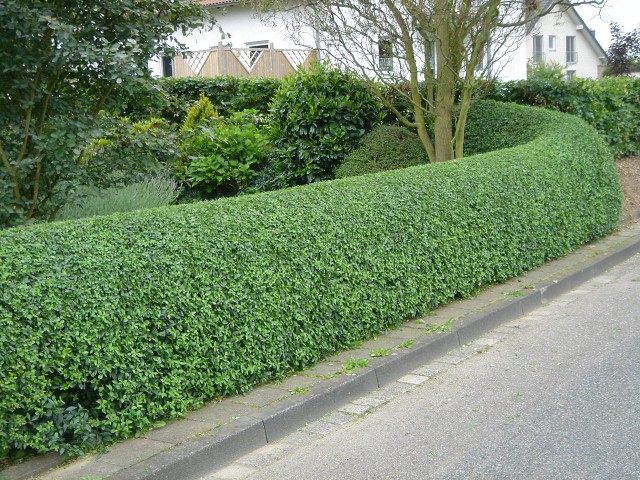 image via best4hedging
5. Holly (shrub)
Holly provides excellent yard privacy and are available in many varieties from tall trees to dense shrubs. It grows best in full sun and partially shady areas. Therefore, a temperate environment suits it the best. Holly is famous for it's bright, dark green foliage and prominent red fruit that it produces all year round. It is one of the best tall privacy fencing that can grow up to 10 feet.
This broad-leaved evergreen offers many different colors ranging from green to variegated to cover various landscaping options. Despite their sheer beauty, a soft-leafed variety that doesn't have Holly's signature sharp, spiny leaves is perfect for homeowners with small children or sensitive hands.
Japanese Holly
Japanese holly is a dense evergreen that grows slowly. It grows black, berry-like fruits in winter. Japanese Holly can reach from 6 to 10 feet tall. It can be invasive.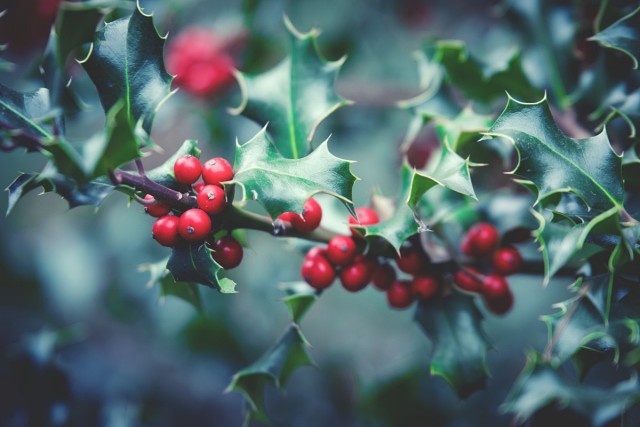 Inkberry holly
Inkberry is durable but slow growing evergreen comparatively and therefore offers a decent privacy as hedge. It is extremely hardy and prefers full sunlight. Inkberry can grow up to 6 feet high. It can tolerate all types of soil.
6. Boxwood (bush)
Boxwood has been commonly used for decoration in formal gardens because it is easy to prune and shape into various forms. It is a slower growing plant compared to other plants for privacy. But it is the best choice for low maintenance and heavy pruning which allows it to be clipped into any design. Boxwood grows best in full sun and cooler climate with average amount of rain. It is deer resistant as well.
It is popular for its deep green plant color but is also available in many beautiful varieties of white and gold variegation. Boxwood also looks beautiful when maintained less strictly as privacy bushes. Freely growing boxwood can grow up to 20 feet tall. It provides rich scenery and lush living wall to protect your yard. You can grow it as a fence or in containers as well.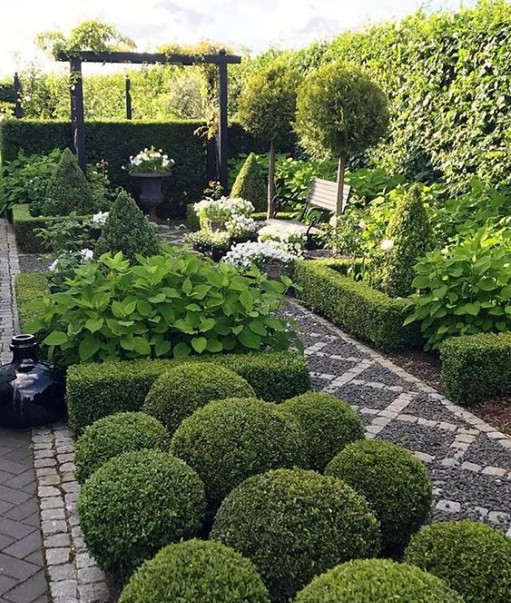 Artificial Boxwood
Artificial boxwood is your ultimate solution for thick and lush coverage without any need to patiently wait for it to grow or provide regular maintenance. There are many options for faux boxwood hedges that are made of high-quality polyurethane. They are reinforced with UV protection for a long-lasting appearance. Real boxwood pruned in circles image via pinterest.
7. Yew
Yew is a robust evergreen plant that has many varieties. Densiformis Yew is the fastest growing yew variety. Yew is a hardy plant that grows best in hot and cold environment irrespectively. It enjoys partial shade. Yew is commonly known for its wide spread and can grow up to 4 ft high. Pruning yew into shape is simple.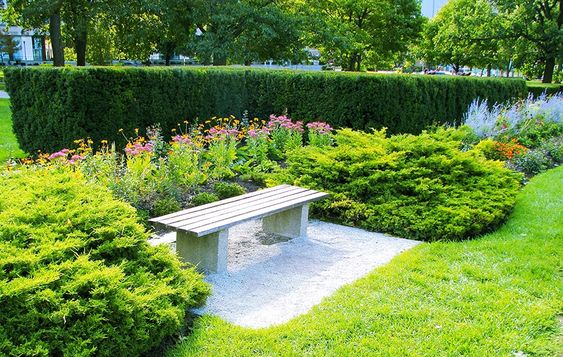 Hicks Yew
Hicks yew may not be extravagant and flashy but they add greenery to your backyard. This makes it a sensible choice for privacy screening and living fence. It offers dense evergreen backdrop for your yard and is low maintenance. Soft needles and red winter berries make it a striking addition to your garden. Hicks yew in the background image by instanthedge.com.
Also read: 35 Vertical plant walls and gardens with design instructions
8. Red Twig Dogwood (tree or shrub)
Red twig dogwood is a deciduous tree or shrub which sheds it's leaves annually. It is a commonly used privacy plant in North America that displays bright red branches when it loses its leaves in fall. It can tolerate extreme climate and wet soil which makes it ideal for long winters and colder areas. Twig Dogwood is a fast growing plant for privacy which can reach 8 feet high and 10 feet wide. It creates an impressive display in the yard with flowers in warmer months.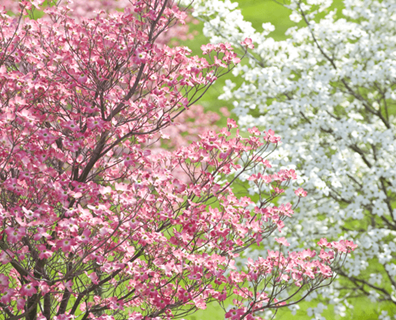 image via davey.com
9. Roughleaf dogwood (shrub)
It is loved for its colorful foliage. It displays dark green leaves during spring and summer and turns rich dark burgundy in the Fall. Roughleaf dogwood enjoys full sun. Roughleaf dogwood is a pleasant privacy plant with clusters of white flowers that have a sweet smell. It is tough and resilient plant which can be pruned into tree or multi-branch shrub.
10. Chocolate Vine (vine)
The dark purple flowers gives it it's name and is also known as five-leaf akebia. It is a fast growing plant for privacy and provides thick screen of green leaves. It grows best in full sun but can tolerate shade as well. In warmer areas it remains green throughout the year.
Regular pruning is required to control it's quick spread. It is a hardy perennial vine that grows vigorously on a trellis or fence. It is native to Japan and Korea and has been naturalized into North American climate.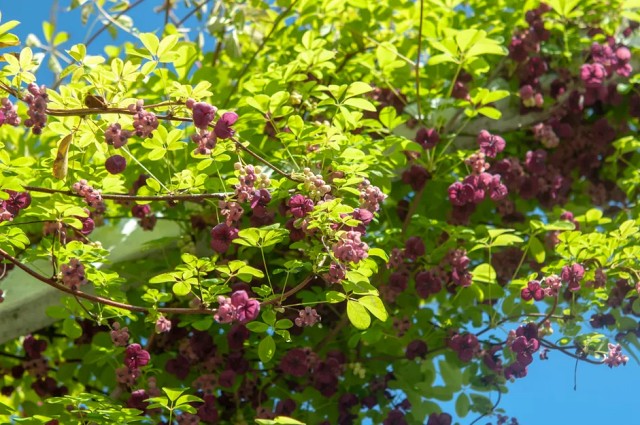 Image via the spruce.
11. Euonymus (shrub)
Enonymus is another great fast growing plant for privacy. It is a shrub with varieties in many sizes and colors from green, good, and variegated. Small white and pink flowers in late summer add to its attraction. It requires full sun and regular watering, however, it can tolerate shade, all types of weather and soil as well. This makes it a low maintenance for privacy hedges with minimum need for pruning.
It can grow up to 4 feet long. It makes a big impact when pruned into a tree shape with it's lush green hedge.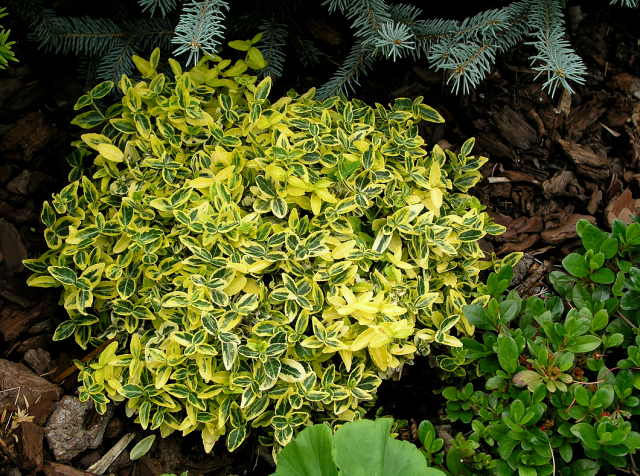 image via flickr.
12. Cypress (tree)
Cypress's tall, slender beauty makes it one of the best privacy trees for outdoor spaces. Leyland is a type of Cypress which is ideal for fast growing privacy. It grows about 5 feet tall every year. However, keep in mind that it is a high maintenance tree.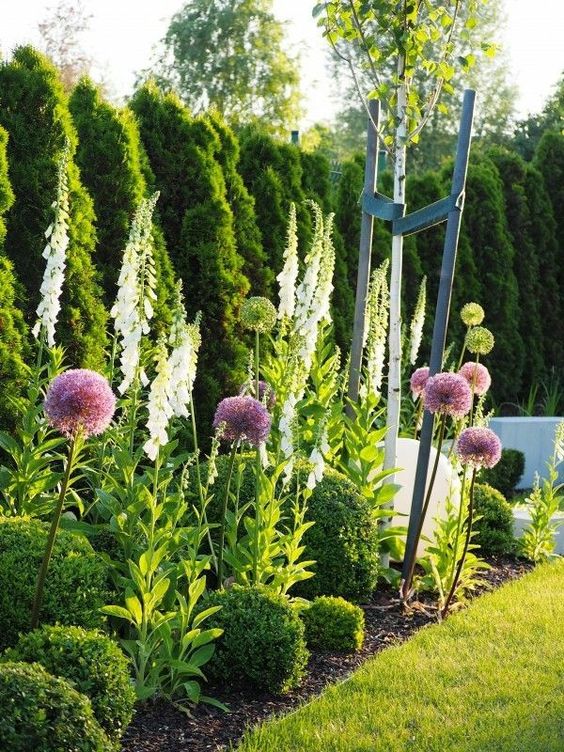 image via pinterest.
13. Lilac (tree)
Lilac is a fragrant tree which can also be planted as a hedge. It's blooms are colorful and scented which makes the ambience lovely. Lilac thrives in full sunlight and requires regular pruning to encourage healthy growth and flowering.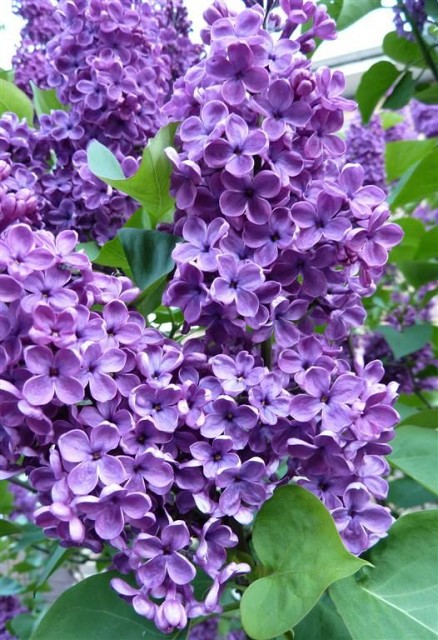 image via pinterest.
14. Butterfly Bush (bush)
The purple flowers on butterfly bush attract butterflies and other pollinators from spring to fall. These beneficial bug hotels are significant for edible garden making this plant an excellent privacy screen for vegetable garden hacks. Most varieties are not invasive and tolerate drought.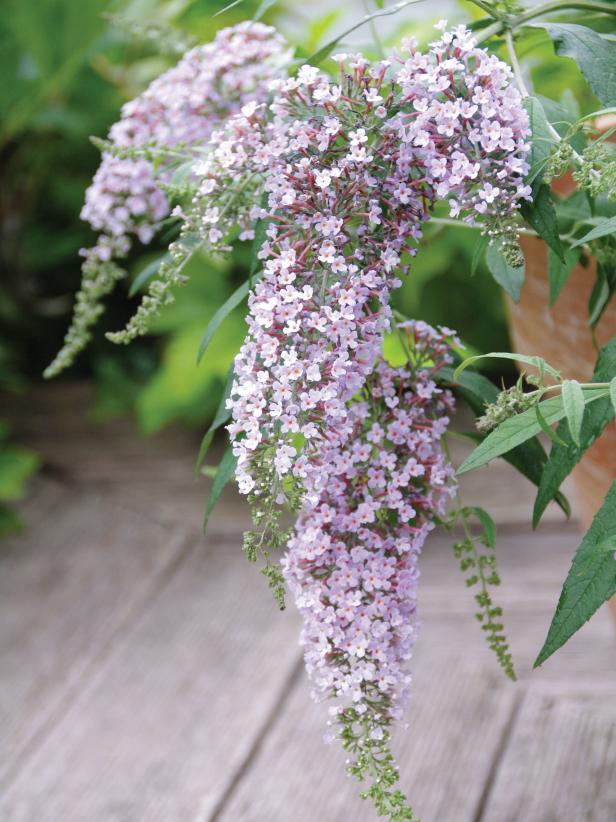 image via hgtv.
Also read: Buy or make DIY hummingbird feeder for your home garden
15. Juniper (tree or shrub)
Juniper is a coniferous tree or shrub. It has several varieties that grow up to 10 feet tall making it an excellent plant for privacy. Some popular varieties include California Juniper, Spartan Juniper and Sierra Juniper. It requires full sunlight and light shade. It thrives in well drained soil and is native to cool temperatures. It's dense foliage is great for blocking strong winds.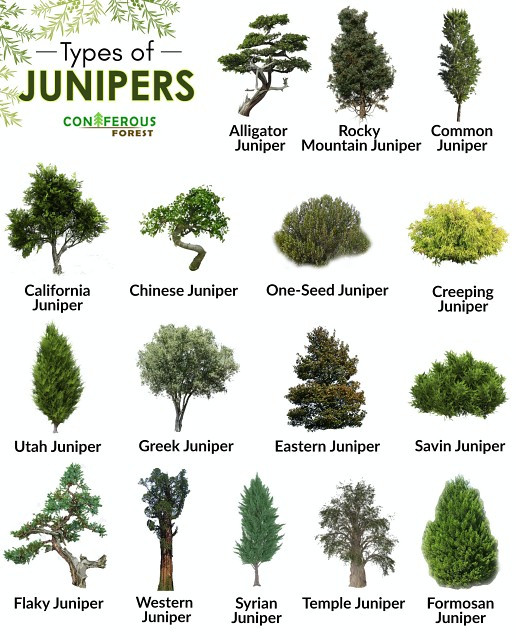 image via coniferous forest.
Plants for coordinated privacy look
Achieve a cohesive look with landscaping and planned hardscaping such that you get a fenced garden with beautiful plants. These perennials grow from 3 to 5 feet high and combine well with other shrubs and trees:
16. Hydrangea (bush)
Hydrangeas are popular in North America for it's cone shaped and colorful blooms. They have large flowers in a variety of colors like pink, green, purple, white or blue. It is usually planted in rows and becomes a focal point readily in landscape design. They don't provide privacy throughout the year as they lose leaves in the fall. They are low maintenance and grow up to 8 feet wide and 8 feet tall. Pair them with evergreens and other hedge plants for year round coverage.
17. Evergreen Azalea (shrub)
Azalea is a fast growing plant for privacy that offers beautiful and colorful rose flowers from spring to fall. It has dark glossy green leaves that turn dark res in the Fall. Azalea grows best in partially shady area with average water. It is a durable plant that generally grows in upright position and provides higher privacy screening.
18. Rose of Sharon (shrub)
Rose of Sharon is a great choice for decorative privacy fencing because of it's long-lasting white flowers. It blooms all summer in full sun with medium water needs. It is low maintenance and grows up to 8 feet tall. Rose of sharon is a deciduous shrub.
The lowest maintenance rose varieties are At Last Rose and the Blushing Knock Out Rose. They are resistant to disease and make wonderful fence line landscaping.
19. Cone flowers
Cone flowers offer beautiful summer blossoms in shades of orange, pink, yellow and white. They grow up to 4 feet high. They look stunning planted in groups in ground or pots and resemble flowering shrubs.
20. Nandina
Nandina is an hardy evergreen shrub with bright green and red leaves. It is a low maintenance shrub that doesn't require regular pruning. It offers a lot of texture and personality in your backyard along with privacy.
Screen your yard in style with these plants for privacy
Bring some out of magazine touch to your yard by including these privacy plants for screening your backyard:
21. Cacti
Cacti may not be an obvious choice for privacy plant but they bring unique sculptural fencing in your garden with modern touch and minimalistic appearance. They can enhance the architecture of a home when arranged in row of varying heights. Cacti grow naturally in hot and dry climate. They can reach a height of 20 feet and look extraordinary charming.
Also read: 50 DIY bug hotels | material and instructions to attract bugs
22. Photinia (shrub)
Photinia is an evergreen shrub with glossy leaves that is aesthetically pleasing and provides ample coverage as privacy plant. It is a hardy plant that grows best in full sunlight and partial shade. It requires lots of water in summer and adopts to most soils.
Cultivate photinia with other greenery such as Dodonaea for enhanced appearance. It grows well on a fence or wall and can add to the visual appeal of your yard. Photinia require regular pruning for healthy and steady growth.
Plants to hide garden boundaries and create privacy
Grow these plants for privacy to hide garden boundaries and create a natural flow of spaces and areas.
23. Norway Spruce (Picea Abies) (tree)
Norway spruce is a hardy tree that enjoys colder climate. It is a fast growing tree and can grow up to 80 feet tall. It looks graceful from any distance with dark green sweeping boughs.
24. Sunflowers (annual/perennial)
Apart from trees and shrubs, there are beautiful tall flowers like sunflowers that can grow up to 15 feet tall. They create a beautiful plant for privacy screen. Most varieties of sunflowers are annual but perennial sunflowers like Jerusalem artichoke and Maximilian sunflower will grow back in season every year and can reach a height of 8 feet. This makes them perfect for deck or patio privacy screening.
Best screening plants for fence privacy with dense green screen
Use these plants to completely cover a fence or wall with thick greenery. This list also includes Bamboo and Cherry Laurel.
25. Star Jasmine (shrub)
Star jasmine is an evergreen foliage and a twining climber. It is a great choice for screening any trellis or wall that is partly shady. Star Jasmine provides dense and even coverage with starry clusters of sweet-smelling flowers in summer. It doesn't lose leaves in Winter but they turn bronze.
It is not a fast growing plant like others and grows about 1 feet per year. However, it is popular for its steady coverage. You can plant it in ground or large pots. It requires frequent watering.
26. Golden Hop (Vine)
Golden hop is a perennial twining climber. It requires a framework like pole, fence, pergola or trellis to wind around and climb up. Golden Hop is a fast growing summer screening plant with yellow green foliage and offers trumpet-shaped flowers. It can grow up to 20 ft in a year. It grows best in full sunlight. For fresh and strong growth in spring make sure to cut back in late winter.
Also read: DIY outdoor lights simple and easy ideas for homes
27. Honeysuckle (shrub)
Most varieties of honeysuckle are semi-evergreen and provide partial screening as they shed leaves in winter. It is a low maintenance plant that thrives in light shade. They can grow from 8 to 10 feet in a year. American Beauty is a popular variety of honeysuckle. It hardy with gold and rose scented flowers that grows 16 feet high in a year.
28. Southern Magnolia (Tree)
These are evergreen trees that are hardy and provide all year privacy coverage. They have thick leaves and beautiful creamy-white blossoms in summer.
29. Pencil Pine (Tree)
These hardy trees are evergreen and can be shaped into any form with regular pruning. Plant them just far apart as they merge together and provide full coverage in a few years.
30. Lilly Pilly
Lilly Pilly has many varieties from dark green to red foliage and flowering hedges. Some varieties are hardy but not all and provide privacy screening all year round. They grow wider and taller based on your choice of variety and are evergreen. They are low maintenance.
Also read: How to display plants indoor? (42 DIY Projects)
Best grasses to use as screening plants
Use these taller variety grasses with feathery plumes and bleachy colors in your backyard for privacy screening. Pot them in containers or ground. They are perennials but you can retain them till February for year round screening.
31. Calamagrostis 'Karl Foerster'
This ornamental grass is tall and upstanding. It makes beautiful feather-like garden border screen. You can plant it in pots and line them up in groups for an even coverage as well. The green shoots turn buff/blonde by the end of the season. It is easy to grow and enjoys full sunlight and regular water. It can grow as high as 7 feet. Calamagrostis requires to be cut down to ground in February. It provides excellent privacy screening throughout the year and looks beautiful covered in snow.
32. Pennisetum
Pennisetum has arching plumes and feather-like flowers. It is also known as Chinese Fountain Grass and is designated as invasive species. It is best when planted in pots rather than ground. Pennisetum grows best in full sun and partial shade. It can grow up to 5 feet in height making it a good plant for privacy in seating area.
33. Miscanthus
This grass has cheerful fountain-like foliage in early summer and changes to subtle bleach-like blonde foliage in winter. It is an easy to grow grass that tolerates most soils and prefers full sunlight. It has many varieties, Miscanthus Sinensis 'Undine' is best known for taller grass variety and Miscanthus Sinensis 'Kleine Silberspinne' for smaller grass variety.
Best plants for privacy to create a semi-transparent screen
Try these plants for partial and semi-private coverage in your yard:
34. Verbena Bonariensis (perennial)
Verbena bonariensis is a perennial that is loved by bees and butterflies for it's tiny purple flowers. It is an elegant and slim upright plant that creates a lattice appearance. Verbena Bonariensis prefers full sun, and tolerates most soils. It can grow from 6 to 7 feet tall in a season.
35. Lavender (Perennial)
Imagine a tall variety of lavender planted as hedge in a raised garden bed ideas creating a semi-private screen of purple color and relaxing scent! Lavender is perfect for growing in dry conditions with regular water until established. They are perennial and will grow back every summer when flowers are trimmed at the end of the season. Popular varieties that can reach up to 3 feet high include Lavandula X Intermedia 'Hidcote Giant' or Lavandula Intermedia 'Grosso'.
Also read: Make Wind Chimes (20 DIY tutorials)
Best plants for privacy for screening from above
In an overlooked garden use these vines and pergola to create best screening. These horizontal plants for privacy are great for private garden that require shade from above.
36. Clematis (Vine)
Clematis is a twining climber that grows by wrapping itself around poles, trellis or wire. It takes time to mature and offer large, blooming flowers in a variety of colors in Spring. It grows well in sunny areas but cannot tolerate extreme heat. Clematis plant that is at least two years old will be good to buy for fast crawling. Regular pruning can make this vine thick to achieve a fuller effect overtime.
37. Climbing Roses (vine)
Climbing roses are a perfect privacy screen for fences, walls, pergolas and gazebos. The most popular varieties include Eden that has pink roses and Joseph's Coat that offers multicolored roses. Rambling rose is also a good choice for fence or a shed with colorful flowers that last for a few weeks in summer.
Vine Plants for Privacy
Vines make great screens for privacy. They can be added with other plants for additional feature and beauty to the wall. They can grow in various directions and can be designed for beauty. Vines are not hardy and require protection in cold. Potted vines can be moved indoors or in shade with cover in winter. Some recommended options are:
38. Ivy (vine)
Ivy is one of the fastest growing vine that can quickly cover your space. It does not like extreme cold and extreme hot weather. Add Ivy to your landscape or fence in various varieties but choose carefully because they are aggressive and hard to remove once planted.
39. Buckthorn (shrub)
Buckthorn is a deciduous shrub or small tree. It has beautiful fern shaped foliage which changes to yellow in the fall. Buckthorn is hardy and can tolerate drought and saline conditions. It can reach up to 7 feet tall.
40. Fan Palm (shrub)
European fan palms (Chamaerops humilis) have fan-like leaves that creates one of the best screen. Palm requires full sun and partial shade and is cold hardy up to 20 degrees Fahrenheit. It requires pruning to stay in shape, however, it looks great when left to grow freely as well. It can grow to up to 15 feet and spread to about 3 feet wide.
Statement Plants for Privacy
Plant low-lying shrubs and flowering plants for featured landscaping and garden design. These don't hide a space but combine well with other dense varieties for beauty.
41. Hosta
Hosta is a low maintenance green perennial that comes back every year. It is available in a variety of colors and designs.
Also read: 25 DIY Garden Projects Anyone Can Make
42. Phlox
Phlox creeps and spreads on the ground with beautiful blooms. This ground covering plant makes an eye popping appearance on fence and is available is many varieties.
43. Lilyturf
Lilyturf is an ornamental evergreen grass that spreads about 2 feet wide and grows about 1 feet tall. Plant it in rows to make a beautiful border that blooms during summer and fall.
Fast growing Plants for privacy that spread quickly
Here are some more ground cover plants for privacy screening that grow quickly:
Aubrieta (Aubrieta deltoidea)
Bearberry (Arctostaphylos uva-ursi)
Big Root Geranium (Geranium macrorrhizum)
Dragon's Blood Sedum
Fern Moss (Thuidium delicatulum)
Firecracker Sedum
Golden Creeping Jenny(Lysimachia nummularia)
Japanese Spurge (Pachysandra terminalis)
Juniper (Juniperus conferta)
Mazus (Mazus reptans)
Moss Phlox (Phlox subulata)
Sweet Woodruff (Galium odoratum)
Trailing Periwinkle(Vinca minor)
Variegated Snow on the Mountain (Aegopodium podagraria)
Wild Thyme(Thymus serpyllum)
Wintercreeper (Euonymus fortunei)
Read more about the fast growing ground cover plants.
How to grow plants for privacy? Step By Step:
1. Choose the right privacy plant.
Chosen a plant that is perfect for your zone and privacy needs based on the considerations discussed earlier. Some plants like Euonymus will not grow much higher when planted alone and are perfect to maintain a semi-private surrounding. While plants like Holly or Arborvitae provide full coverage and privacy.
2. Understand growing conditions in your zone.
When you choose a plant that is right for your zone it results in ideal conditions for growing that plant. For a healthy privacy fence chose a location that fulfills it's sunlight, water, soil, and other needs.
3. Follow plant care instructions.
Follow instructions per labels and consult garden center representatives at your local garden store or home improvement store. Take note and monitor the plant for proper growth and health on regular basis.
4. Prune and trim the plants.
Fast growing shrubs for privacy require regular trimming and pruning. While some plant varieties require less frequent maintenance. Understand your plant's pruning needs and maintain it's shape and form accordingly.
5. Be patient as your hard work pays off!
FAQs
Frequently Asked Questions About Plants for Privacy
What is the fastest-growing plant for privacy?
The fastest growing plant for privacy in the world is Bamboo. Clumping bamboo is the fastest growing bamboo variety and is not invasive. It quickly creates an exotic privacy screen of lush plants. Running varieties of bamboo are invasive and great for pots or large raised planters.
What is the best plant for privacy?
Arborvitae is the best plant for privacy and is commonly used as privacy screen. It is one of the hardiest plant that survives cold. It forms a tall solid wall when planted closely.
What trees stay green all year?
Evergreens are known for staying green all year round and do not lose their leaves. The popular evergreens such as pine, spruce and cedar trees are conifers. Evergreens add a beautiful pop of green to landscape in winter with snow all around.
What is the fastest growing evergreen tree for privacy?
Thuja Green Giant also known as Hybrid Arborvitae is the fastest growing tree which is best evergreen for privacy hedge and windscreen.
What is the most dense evergreen tree?
The most dense evergreen tree is Black Hills Spruce with a deep green color and perfect cone-shape that makes it a statement in any landscape. It is so dense that even light can not shine through it.
What is the fastest growing shrub?
The fastest growing shrub is Forsythia. It is a hardy flowering shrub that blooms in spring and is a fast-growing blossoming hedge.
What is the best privacy shrub?
Chindo Viburnum is the best privacy shrub that provides fast screening. It has dark foliage that is dense and shiny. It grows 12 feet high and 8 feet wide.
What is the best hedge for privacy?
The best hedge for privacy is Emerald Green Arborvitae. It grows slowly and requires infrequent pruning but its extremely dense and tall.
Can you grow screening plants in pots?
You can grow screening plants in pots and large containers for privacy. Dense evergreens like lily pillies and conifers like 'Spartan' juniper can be grown successfully in large containers and provide all year-round privacy.
Which shrubs requires most trimming?
Shrubbery requires regular trimming to keep in shape making it a high maintenance privacy shrub.
Which Shrub is low maintenance?
Willow trees and cactus are low maintenance shrubs that require little to no pruning on regular basis.
You will also like:
Hanging woven basket plant wall decor you will want for life
DIY indoor planter box idea with IKEA plant stand flower box
Make plant propagation station that works without test tubes