This post may contain affiliate links. Please see our full Disclosure Policy for details.
Have you ever been in a situation where you have no clue about the perfect gift for someone? Or you thought of a gift they'd love, but it didn't go quite the way you planned! Thinking of a perfect gift is quite a hard process. You have to decide whether it is going to be useful for the receiver.
Will they love their gift? Or will it be re-gifted to someone else since it's not something they wanted! In simple words a perfect gift every year is not an easy thing. So, I believe for such hard situations a Gift Card is the safest bet. It can be used anytime and is so easy to buy.
Moreover, gift cards are awesome for sending to your Family and Friends, who live far from you. And to sum it all. Gift cards are best for:
Family and friends who are very choosy.
For people who are very busy. And find it hard to go shopping for Christmas gifts.
For people who have Family and Friends who live in other parts of the world.
Today I am sharing some creative gift card holders.
These are fun to make and give an extra special touch to your gift.
Creative Gift Card Holders
1. Sliding door gift card holder for Christmas.
2. Paper gift card holder with a card.
3. Recycle thumb tack boxes into Glitter gift card holders.
4. Cute gift card holder with a box gift and a bow on top.
5. Fabric hanging gift card holder
6. Five minute gift card holder
8. Easy paper gift card holder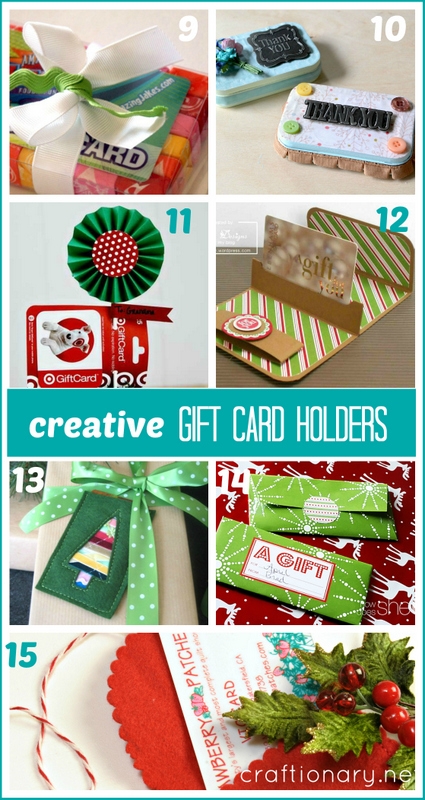 9. Creative gift card holder with candies.
10. Decorative Altoids Gift card tins
11. DIY gift card holder with paper accordion.
12. Christmas gift card holder
13. Ribbon gift card holder with felt Christmas tree.
14. Free gift card holder printable
You May Also Like: