This post may contain affiliate links. Please see our full Disclosure Policy for details.
DIY stress relief gifts are basically simple and thoughtful ideas to help out someone who might be stressed out. Stressful times are overwhelming and small gestures of care, thought or concern of a friend is all it takes to put a smile on their face. Just knowing that someone is thinking about you and that you are not alone doesn't require extravagant gifts always.
Stress relief kit is a cute gift that is intended to express your care and concern and reassure that someone is always there for them. It contain small items that are easy to find and can be presented in many different ways. You can put them in a bag with a ribbon tie or in a small jar accompanied by printable with sayings that helps to cheer up, distract and act as a stress reduction gift.
Why stress relief gifts?
We all encounter such situations which bring anxiety and tension. A few moments of depression coming to my mind are:
moving house
writing an exam
starting a new job or working on a big project
a sleepless mother with a newborn
struggling with an illness
or just having a really bad day
There can be various reasons to cheer up someone and put a smile on their face with a small gesture that speaks louder than the words!
DIY Stress Relief Kit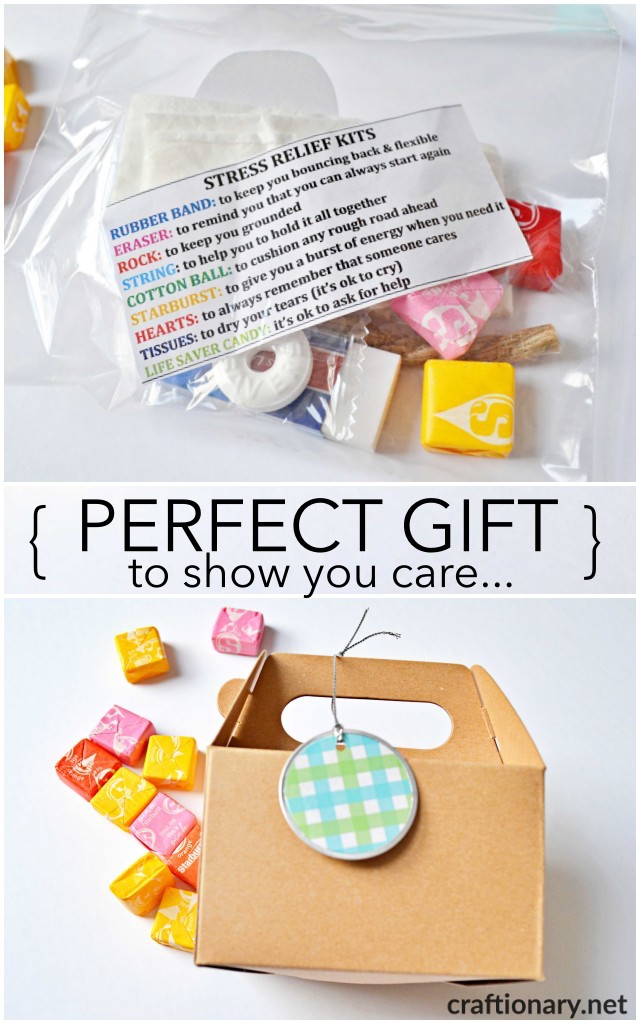 You will need:
Rubber band
Eraser
Rock
String
Cotton ball
Starburst
Lifesaver candy
Hearts
Tissues
Print out
Zipper bag, small jar or paper box
Put all the items in a bag, jar or box with the print out. Tie a small ribbon around and that's it. An easy gesture that is perfect to express that you are thinking about them in this stressful time and hoping this will cheer them up.
Here's a quick video for how to put it all together.
Stress relief printable
RUBBER BAND: to keep you flexible and bouncing back

ERASER:

to remind you that you can always start again

ROCK:

to keep you grounded

STRING:

to help you to hold it all together

COTTON BALL:

to cushion any rough road ahead

STARBURST:

to give you a burst of energy when you need it

HEARTS:

to always remember that someone cares

TISSUES:

to dry your tears and to remind you that it's okay to cry

LIFESAVER CANDY:

to remind you that it's ok to ask for help
Free printable for personal use only.
Anti stress kit items
Make your loved one feel pampered and special. Some items that would make great additions to this kit include:
Essential oils
Tea
Bath salts
Handmade Bath bombs
Handmade soaps
Skin care essentials
Bath essentials
Chocolates
Face masks
Journals
Coloring books
Massage
Spa
Scent plugins or scent warmers
Candles scented or unscented
1. Essential oils
Natural essential oils can help reduce stress and have been proven to contain healing properties that derive from nature like trees, flowers and leaves. It is believed that the smell of essential oils can improve your mood and calm you down. You can complement this kit with an essential oil diffuser as well.
My personal favourite are ArtNaturals Aromatherapy Essential Oils from Amazon. Saje Wellness Essentials is a good choice too. Some of the best essential oils for stress relief are:
Lavender
Eucalyptus
Sandalwood
Jasmine
Peppermint
Rosemary
Tea tree
Lemongrass
2. Tea
Tea is believed to soothe nerves and relax the mind. It is beneficial when someone is feeling under the weather. I personally love David's tea for stress relief. It comes in cute packaging as well.
3. Bath salts
Another great choice is bath salts or bubble bath. Stress can take a toll on your body. It's better to relax those tense muscles and heal your body with salts which in turn heals your mind. Essential oil and Epsom salt together can work wonders. You may also include robe, socks, eye pillows or foot massagers. Other things that go well with bath related gift of relaxation include soaps, bath bombs and handheld self-care devices. Great handmade bath essentials and soaps choices at Lush and The Body Shop.
4. Chocolates
Some chocolates especially dark chocolates that your recipient truly loves would cheer them up big time. Chocolates have ingredients that are proven to relief stress. It also improves heart and brain health and fight disease. Best chocolate brands as per luxatic:
Lindt
Hershey's
Ferrero Rocher
Godiva
Cadbury
Ghirardelli
Milka
Nestle
Toblerone
Mars
5. Face mask or skin care essentials
Face mask would make a lovely addition to the kit and act as a reminder that making time to care for yourself will always bring joy back in life. My personal favorites are single use sachets at Shoppers Drug Mart. Bath and body works and Sephora are great choices too.
6. Journal
Another one is a journal with a pen or other stationery if you like. Sometimes we just stress because we think too much. Writing helps heal and problem solve by making us focus on the matter at hand. Writing down our thoughts also helps get things out of our head and help plan and be more productive. This beautiful gift can act as a reminder!
7. Coloring books
Coloring books can help distract and improve mindfulness. There's various varieties to choose from nature, abstract to architecture and so forth. Adult coloring books are designed to serve the purpose of reducing stress and indulge in a relaxing activity.
8. Massage and Spa
Another great idea is to give a gift card for a relaxing trip to a Spa for massage.
9. Scent and candles
Scents are known to spellbound. They have an extraordinary affect to mind and body. Give a gift of scented candles that have a calm and serene scent.
Some other options include items for hot bath, shower, yoga mat, or even a weighted blanket for comfort. Alternatively, you can buy amazing stress relief kits at Etsy.
Stress relief kit ideas
I also found some amazing ideas that I thought I should share, these include: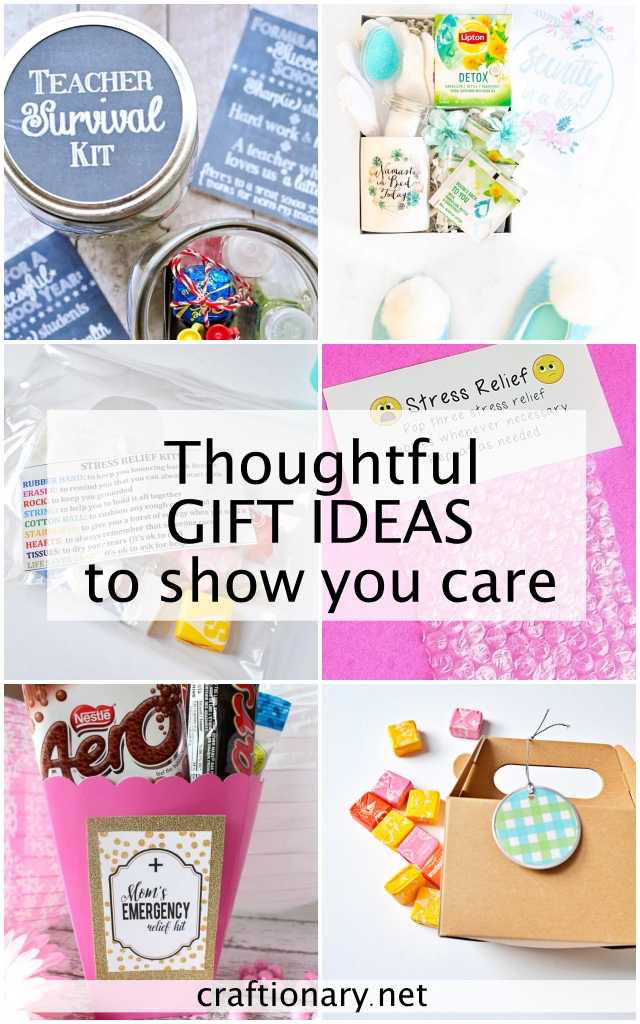 1. Anti depression kit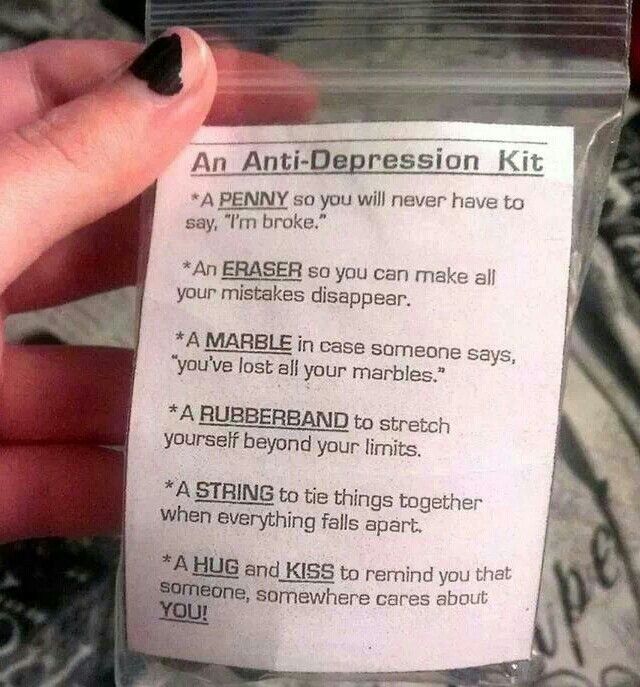 via pinterest
2. Teacher survival kit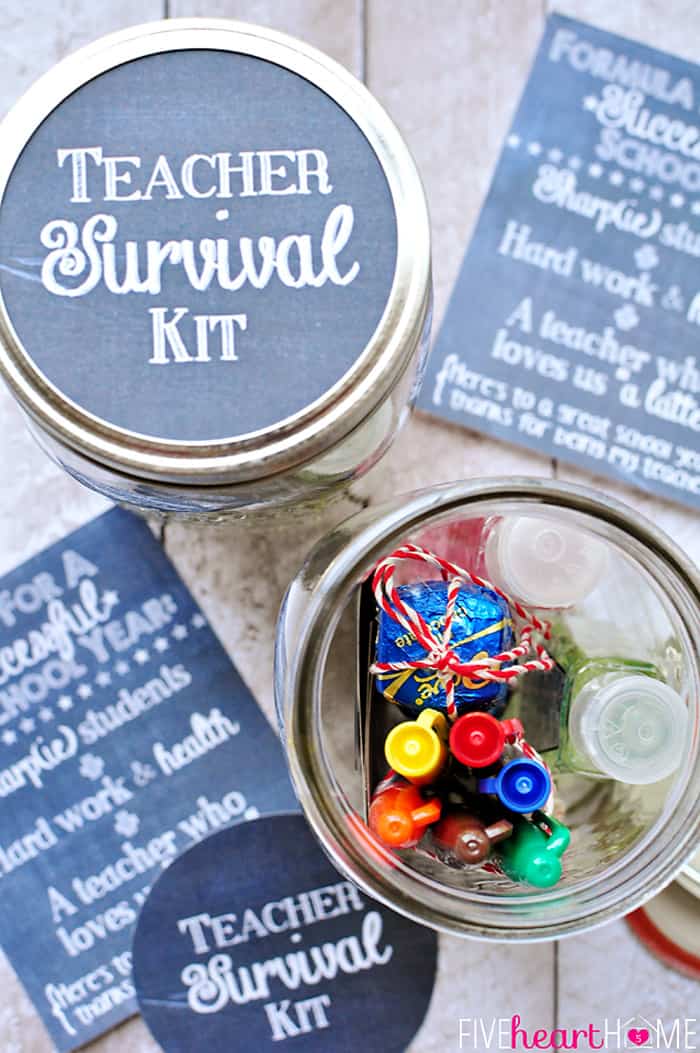 via fivehearthome
3. Business owners survival kit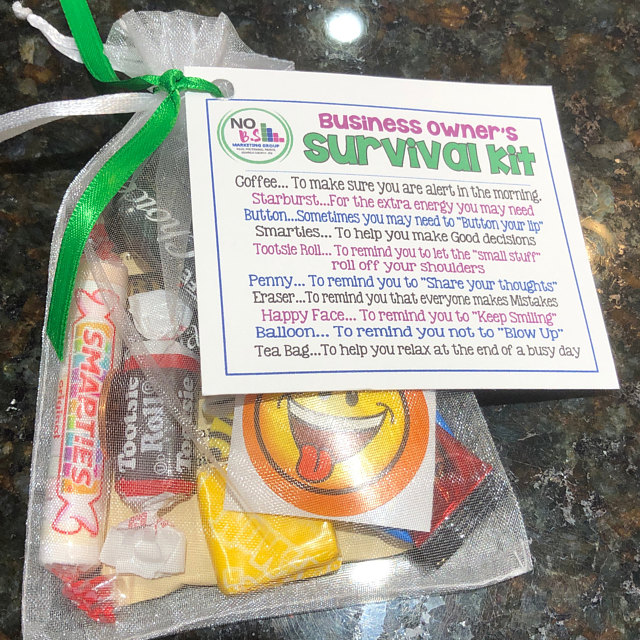 4. Co-worker survival kit
via pinterest – seeking original source
please notify via comment if you know!
5. DIY Stress relief gift
via cutefetti
6. Test taking survival kit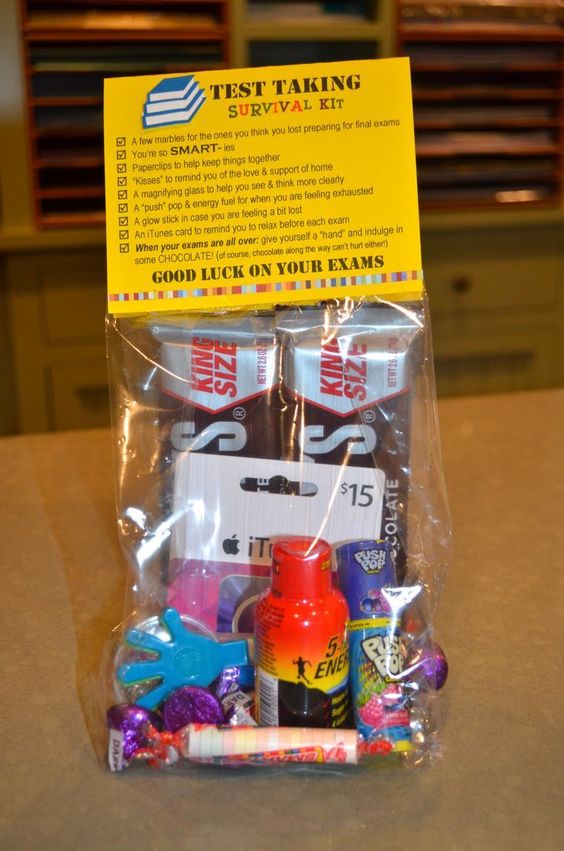 via pinterest – unknown original source
7. Moms Emergency Relief Kit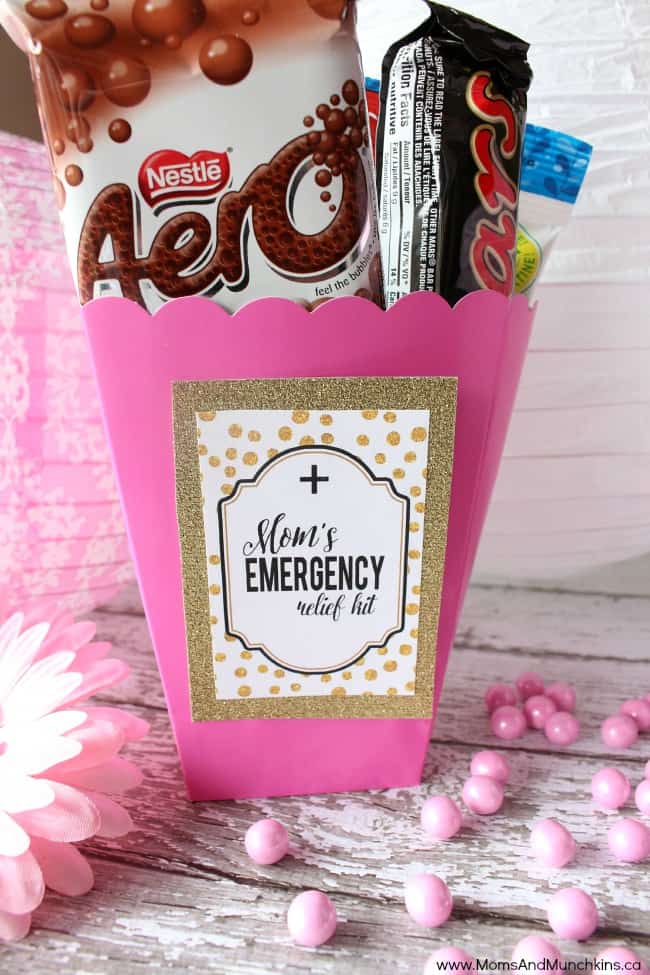 8. New home survival kit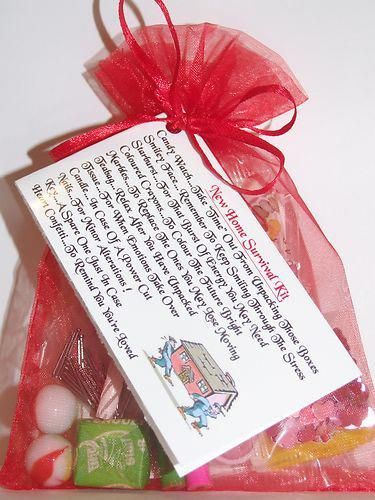 via pinterest
9. Stress relief gift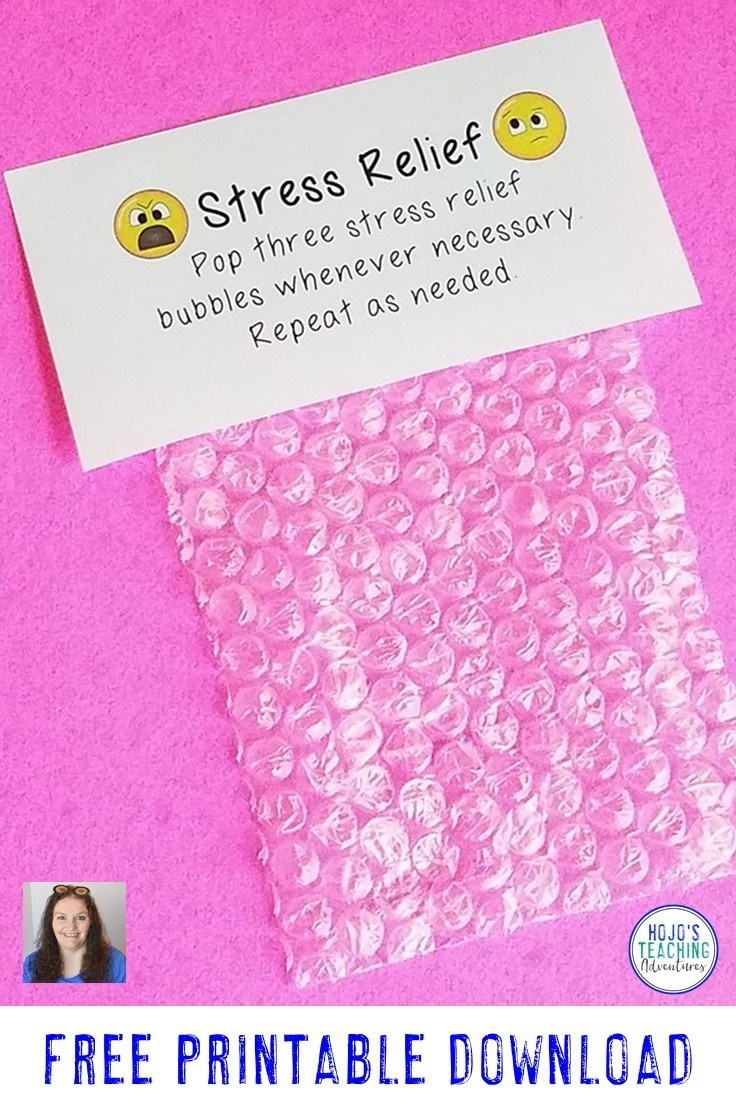 I hope you enjoyed these ideas. You will also like: