This post may contain affiliate links. Please see our full Disclosure Policy for details.
Did you know you could transfer a picture onto fabric with freezer paper and printer! Use fabric printing tutorial to transfer amazing photographs to your cloth using inkjet printer at home. Here the printed fabric is sewn to make decorative pillow. You can use printed fabric to make vintage fabric wall art and print any design or pattern you designed on the software in your computer. Check out this easy step-by-step tutorial.
How to print on fabric using printer?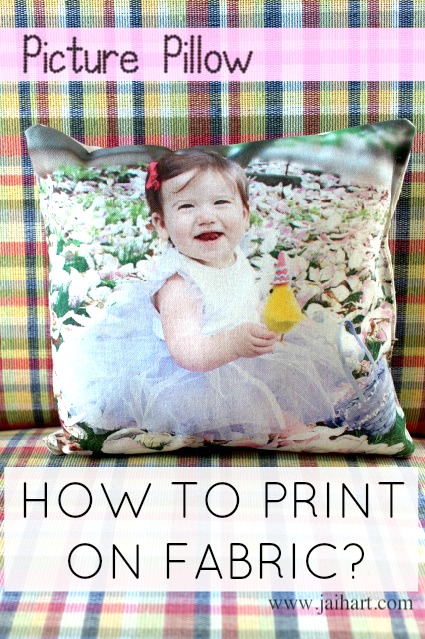 Fabric printing a pillow tutorial.
Our guest today is Jill at Jaihart.
And she is sharing the ultimate adorable project today!
Get ready to smile!
This will make a great Father's day gift.
I was so happy with the way this picture turned out. I knew I had to do something special with it.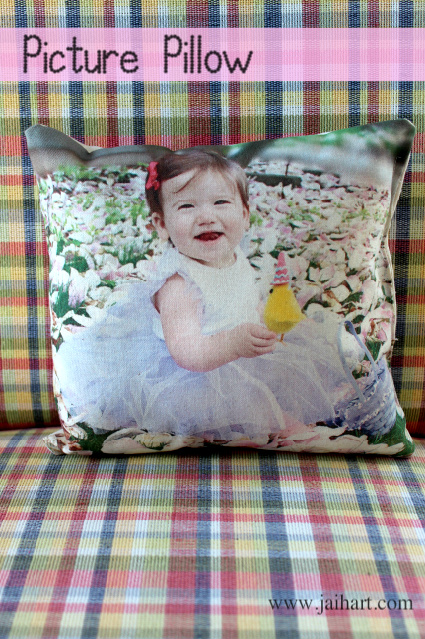 Material for fabric printing
fabric




sewing machine




printer

freezer paper (you can get this at your grocery store)

polyfill or polyester stuffing

Fabric printing using freezer paper
First you will cut two pieces of fabric. And a piece of freezer paper to 8 1 2 x 11 in.
Next you will iron the freezer paper to the fabric. The shiny side of the freezer paper will be down. And you will be ironing the dull side. You won't need to iron that long. You can stop, and check to see if the freezer paper is attached.
Once the paper is attached. You will want to put the fabric and freezer paper in your printer. So that you will print on the fabric. The freezer paper is just there so that your printer has something to grab onto. We're actually tricking our printers to think they're printing on paper! I know how sneaky!
Next you will make the pillow. I put the two right sides together. And sewed around the outside. Leaving about a 3 in. gap for me to be able to turn the pillow right sides out.
Next you will stuff your pillow will polyfill.
You will sew your pillow shut.
Enjoy!
*This is a decorative pillow and it is not meant for playing with or using it to sleep on etc…*
I saw a tutorial on how to print on fabric using Freezer Paper here. So I thought I'd give it a try.
Thank you so much for taking the time to check out my picture pillow! I hope to see you soon!
Smiles, Jill.
Thanks Jill. I love your daughter's smile. She's adorable!
You will also like:
25 Decorative candle tutorials
Looking for more great ideas?
Check out tutorials in the category
PILLOWS
.