This post may contain affiliate links. Please see our full Disclosure Policy for details.
You will find creative bottle cap ideas and bottle cap crafts in this post. There are tons of things you can make with bottle caps whether a smart projects or recycled bottle caps. You will find ideas to make bottle cap table, wind chime, wreath and bottle cap art to name a few. These bottle cap crafts will give you a reason to collect bottle caps.
Bottle Cap Ideas and Crafts
You can use a variety of collectibles for these crafts like wine bottle caps, soda bottle caps, coke bottle caps, metal bottle cap or plastic bottle caps. You can also use your vintage bottle caps collection to display in an artistic way.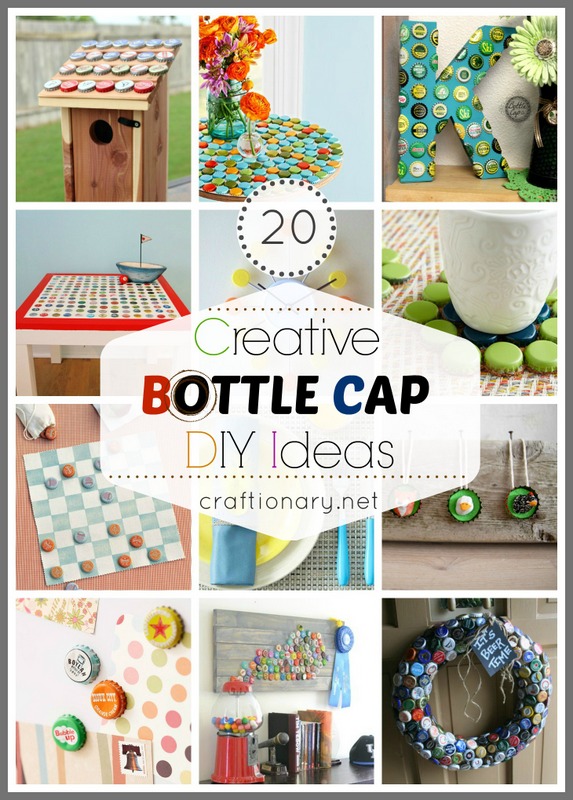 Creative bottle cap crafts
The list includes the following bottle cap craft ideas:
DIY table
wreath
windchime
wall art
tray
table top
necklace
napkin holder
pallet art
magnets
ornaments
garland
checkerboard
photo frame
coasters
clock
candles
birdhouse
letter
flowers
Bottle cap projects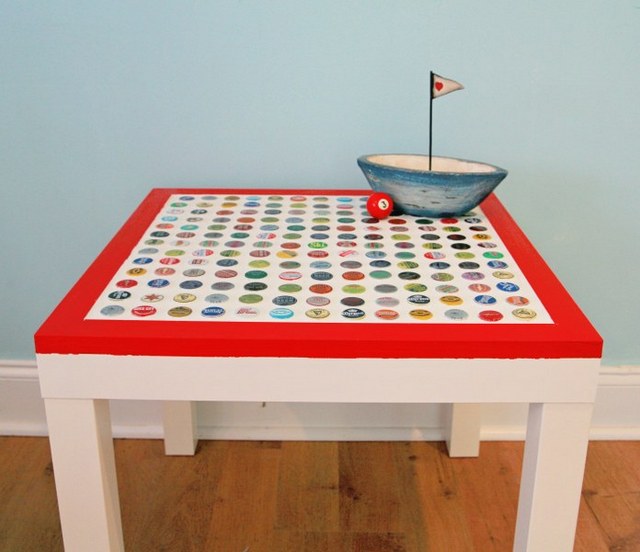 Bottle cap table
Turn a simple IKEA table into chic looking piece with mosaic bottle cap art. Instructions to make DIY cheap and chic bottle cap table.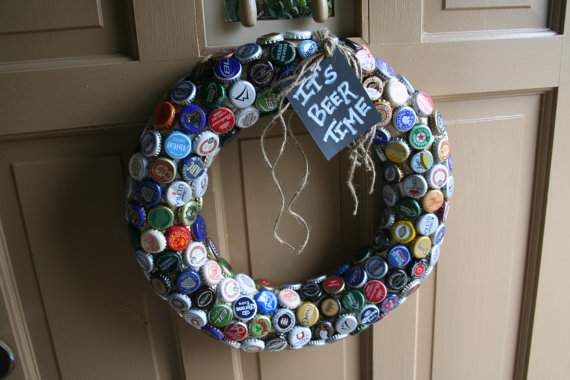 Wreath
Make a wreath for party or man cave.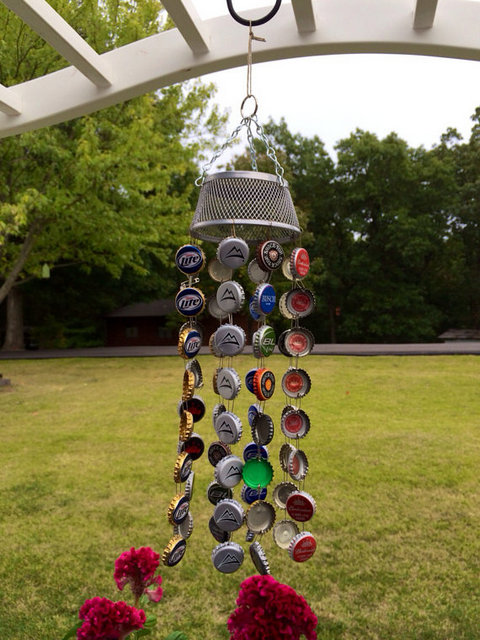 Windchime
Use recyclable materials to make a windchime like this one made with metal basket and bottle caps string.
Bottle cap art
Make this art using caps on wood pallets. This idea was first seen on Etsy.
Tray
Make bottle cap tray by arranging bottle caps and layering it with epoxy resin.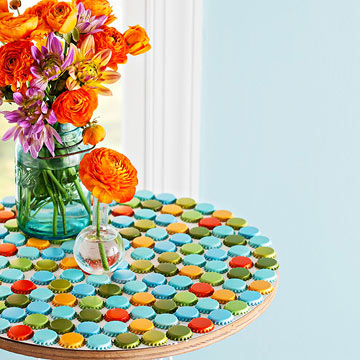 Table top
What's not to love about this colorful tabletop. Prime and spray paint bottle caps. Then affix them on the surface using cement. You can also make a bottle cap bar top.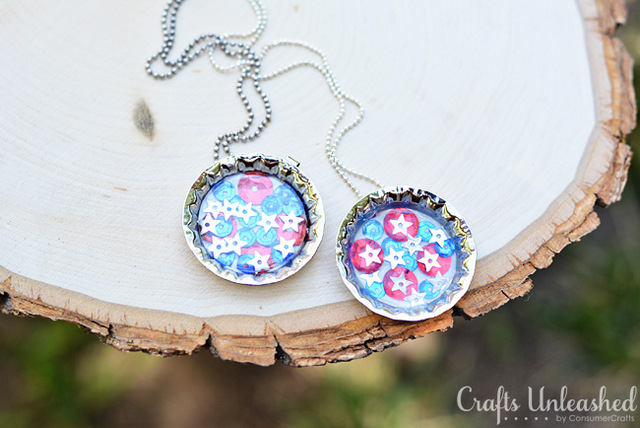 Bottle cap necklace
Turn a bottle cap into a charm necklace with sequins and resins envirotex crafts.
Napkin rings
Love this idea to make holiday crafts with bottle caps. Just like this napkin holder created with stenciled burlap. Glue a cap and feather on top of it to make a chick for Easter dinner.
Pallet wall art
Make a bottle cap state art using wood pallets and a state trace. Ever thought about making a bottle cap machine?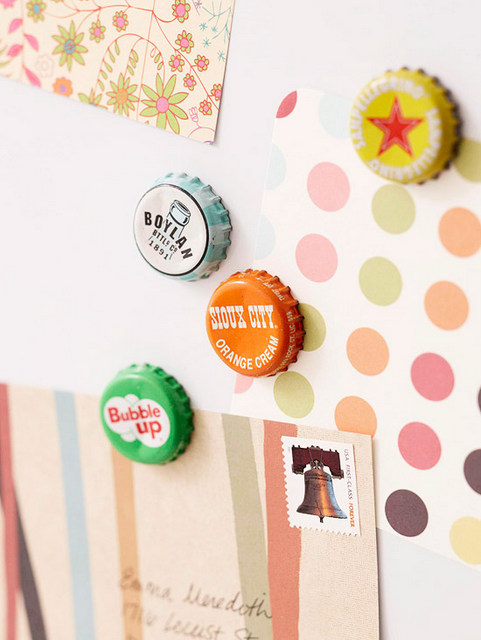 Magnets
Add a magnet to the back of bottle caps to make them magnetic.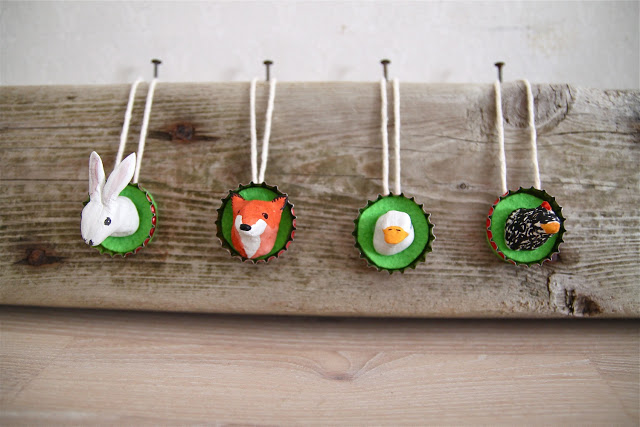 Felt Ornaments
Glue tiny animal faces on felt to make hanging ornaments. Hang them on drift wood with nails to make kids room wall art instead.
Garland
A garland made with twine and chalkboard paint on bottle caps. Great idea for labeling party food and beverages.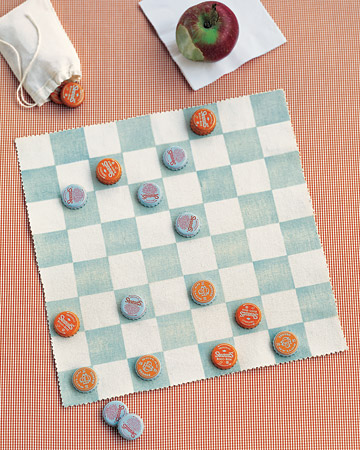 Game tokens
Lost your board game tokens? Use bottle caps as substitutes. You can also make a bottle cap game from scratch like this checkerboard canvas with paint and caps.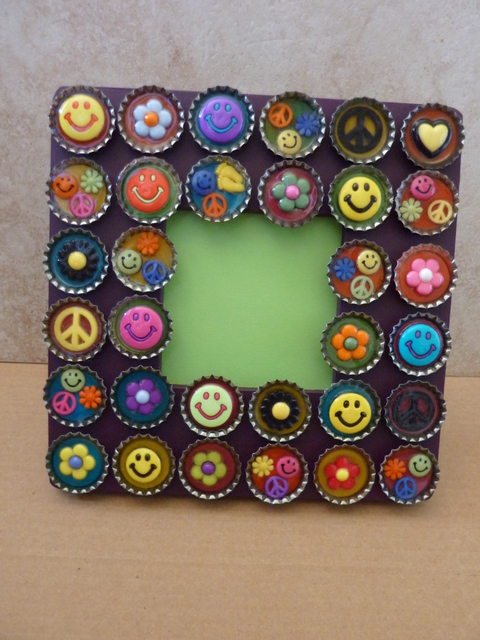 Photo frame
A smiley cute idea for making photo frame. Use buttons, embellishments and paint to decorate bottle caps. Glue them on a photo frame.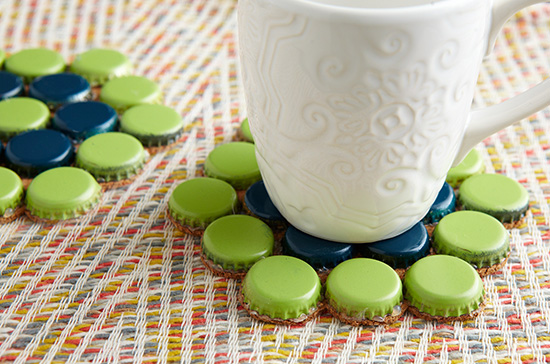 Coasters
Make coasters by gluing bottle caps on cork mats.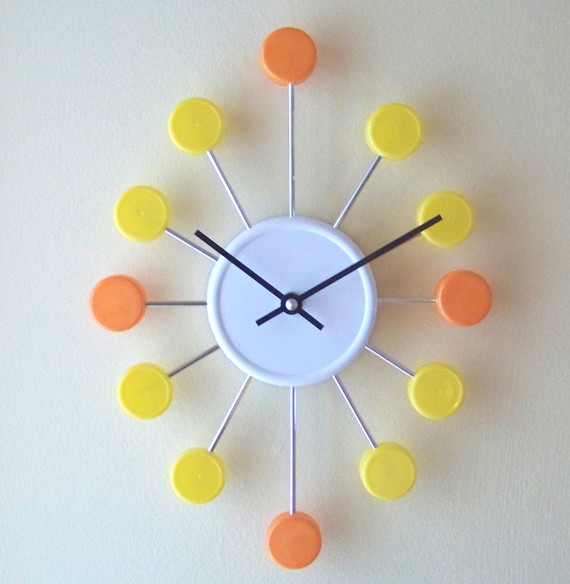 Clock
Make a fun clock with bottle caps and metal spokes. This idea was first seen on Etsy.
Candles
Make decorative candles by recycling caps with candle wax and wick. Find ways to make candles, and a detailed post on how to make gel candles?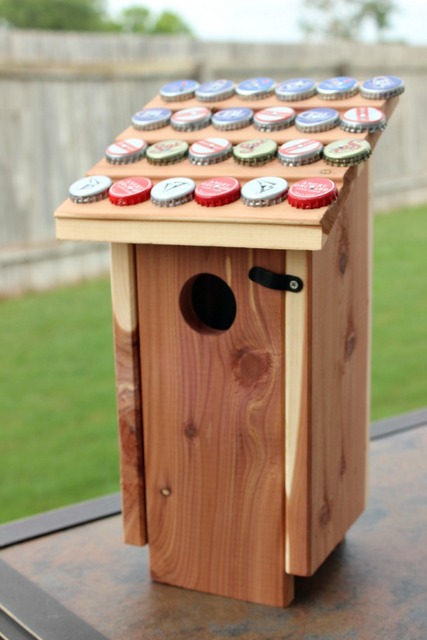 Birdhouse
Decorate the roof of a birdhouse with bottle caps. Find more fun birdhouse ideas to craft.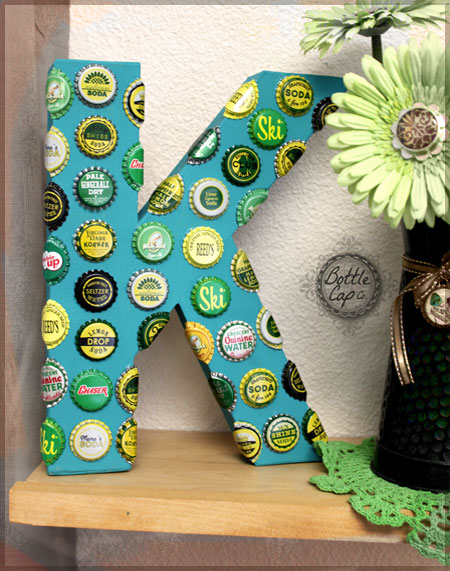 Letters
Hammer and flatten bottle caps to decorate big letters. Make Bottle cap letters using vintage and old collection.
Bottle cap flowers
These photo magnets are so cute for refrigerator and magnetic boards. Print and mod podge photographs to caps and glue a magnetic disc on the back!
You May Also Like:
Make easy and creative decorative letters
Flower vases creative tutorials
DIY Garden Projects anyone can make