This post may contain affiliate links. Please see our full Disclosure Policy for details.
The use of vases is as old as time. Ranging from Greek history to contemporary DIY vases. This ornament can transform any ordinary place into the most attractive corner of your house. However, choosing the right accessories proportionally is essential to master this style game! Decorate a vase to fit your decor sense.
Decorative vases have been trending ranging from different sizes, styles, and materials. These ornamental artists can enhance the overall appeal of any space.
Here we have gathered 60 decorative vase ideas that would not only beautify your house but would be economical as well. Here are two fundamental requirements before buying or repurposing vases:
First thing first, selecting a suitable space for your vase is the most essential task. It is necessary to keep proportions in mind before choosing a decorative vase with an appropriate floral arrangement so that your craft would stand out in the designated place and radiate positivity, creativity, and mindfulness. For instance, there is no need to buy extensively large vases for small corners. Instead, try to incorporate a medium-sized vase with bold and colorful vase filler ideas.
Next, it is essential to keep up with the ongoing trends. The onset of 21 century has also transformed people's choice to decorate a vase. Now people prefer minimalist vase designs with a minimum floral arrangement. For instance, flexible metal vases, unusual geometry, tinted glass vases, and dark-colored or neutral ceramic vases with vintage finishes are the most trending items in 2023. So make the internet your best buddy before selecting your next decorative vase idea.
Where to start decorate a vase?
Now that you have your location and space in mind, here are some cool and trendy decorative vase ideas that can help to achieve your goal! Here is our list of the top 60 DIY decorative vase ideas that can help you to transform your ordinary living space most affordably.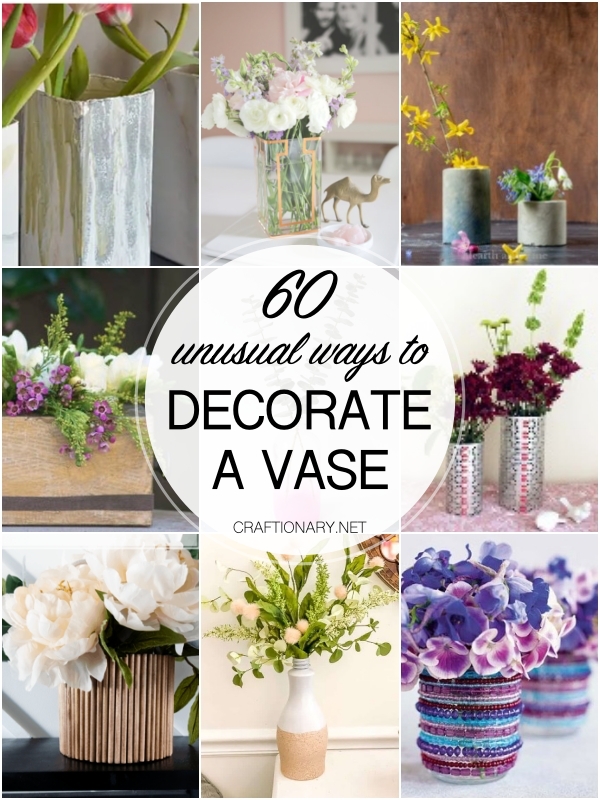 DIY Faux Clay Vase
Try to repurpose your old vase before investing in a new expensive vase. Why spend so much on expensive decor items when you have your creative mind to help you experiment with the best available materials at home. In this way, one can not only gain a high-end product but can help the environment as well. For example, paint a regular vase with baking soda and use chalk and dirt to give it a rustic old touch with this old glass vase designer dupe ceramic vase.
This chic look is trendy and can save you a lot of money. There are many ways to transform any ordinary vase into a contemporary one. Furthermore, this practice can help you spend quality time crafting something new of your choice. What's more, you might be able to sell your vases and initiate your small business.
Ceramic bud vases
 As the name indicates, diy ceramic vase is a small vase that can hold a single stem/ minimal botanical arrangement. It is suitable for storing fresh, dried, and artificial flowers and require minimal space. If you do not want to rely on those glass vases available on Amazon and eBay, you can craft something special for your own self! All you need is a cylinder glass vase, empty glass jars or bottles, an acrylic roller, white clay, brushes, clay cutters, acrylic paint, baking soda, sandpaper, glue sticks and glue gun, and parchment paper.
Mold your white clay with the appropriate thickness and shape (preferred crescents) and bake for 30 minutes. Glue these shapes to the selected vase from bottom to top. Once done, mix baking soda with acrylic paint and paint this vase. This will add a granular finish to your vase and help you to elevate its overall look.
Flower Bud Holder
One of the newest and contemporary DIY trends to fulfill our minimalist needs that caught my attention is the use of wooden and acrylic vases. These can be prepared with little input in the house and are ideal for storing fresh flowers.
In this example, the decorator has used test tube designs suspended on a wooden rack. The decorator has used fresh tulips from their garden along with a fun background to elevate its look. This DIY idea is ideal as it uses fewer fresh flowers and perfectly depicts an economic handful of stems to good effect.
Paint a glass vase
If you already have some clay or glass pots in your house, you can re-paint them and turn them into beautiful masterpieces. One can depict its cultural diversity, creative artwork, and modern decorative designs on painted vases.
Making decorative vases using balloons
It's hard to believe that one can craft stunning decorative vases by using ordinary balloons. However, this is possible and easy for creative minds to implement. Here are some fantastic ideas for using such balloons.
Three core components of this idea are balloons, paper, and glue. Once the base is ready, decorative items such as glitters, acrylic paints, DIY, lace, or plastic flowers can enhance their look.
Easy Mini Vase
Make this modern, ceramic-looking vase in under 30 seconds, and it only requires two materials, a 2'' glass votive holder and a balloon. That's it!
Balloon and plaster vase
Learn how to make a balloon and plaster vase quickly and efficiently, and practice; a beautiful idea of a decorative vase with recycling that you can make to decorate your home or produce to sell and earn money.
Use a suitable balloon, plaster, and newspaper to decorate this vase yourself.
This idea requires red-colored PVA paint, gold metallic paint, and leaf-shaped silicone molds. It is a perfect way to showcase your creativity by gifting it to your friends, decorating your home, or earning money!
DIY perfume vases
Have empty perfume bottles at home? Here is the trick. Clean those bottles thoroughly and place faux floral cuttings in them. These tiny decorative vases are also suitable for dressing consoles, suspended shelves, and bathrooms. Check out the link for further inspiration.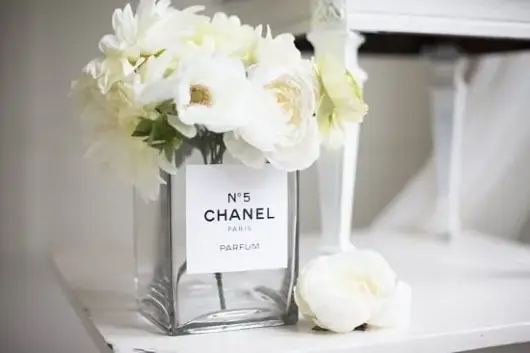 Lampshade vases
If you do not want to discard your old ceiling lamps, then you can easily turn them into beautiful vases. Thoroughly clean the lamps and remove surplus materials (such as cords, bulbs etc.). then add a fresh quote of acrylic paint to the body ,and voila!
Copper tape vase
Using copper tape to make a decorative vase is a fun way to repurpose your old vase with minimal input. You only need an old glass vase, copper tape, and scissors. The next step is to draw a beautiful symmetrical pattern of your choice on the vase and fill it with the necessary decorations. You can also add embellishments such as painted beads, stones, and other copper-toned accessories to elevate its look. The best thing about this idea is that it is simple, convenient, practical, and easy to clean!
Donut vase with cement
Have you been craving this exclusive vase but prefer to spend less on a minimalist design? Then, here is your chance to DIY it yourself! All you need is cardboard, cutters, white cement, sandpaper, acrylic paint, a glue gun, and lots of imagination! Prepare a donut-shaped mold with the help of cardboard and add cement to it. Smoothen out the surface with sandpaper after drying and add additional cement to the crown if required. Then paint the vase according to your style and decorate it with the flowers of your choice.
Anthropologie Minka Vase
Anthropologie Vases are an ideal fit for your corner tables and bedsides. They are one of the trendiest home décor items of 2023! The good news is that your can DIY them by using simple techniques. Here is an example of turning an old vase into an Anthropologie Minka Vase dupe. You only need a glass jar, metal coil, or cord to execute this idea.
Start by cleaning the jar and making a pattern on the jar using coil on it. You can take inspiration for two different ideas from the following link.
DIY shell vase
Who doesn't love fresh beachy vibes? You can add a similar effect to your home by making Boho shell vases. You only need soft polymer clay, a glass jar, some cutters, and rollers. Flatten out the FIMO sheet and draw two shell-shaped patterns on it. Place both sheets adjacent to each other around the glass jar, press, and then bake at 1100 °C for 30 minutes. Once completed, you can easily decorate it with faux greenery.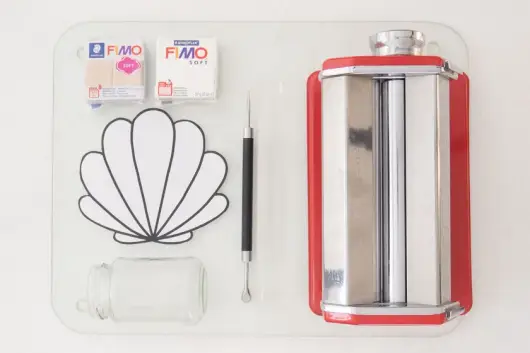 DIY pot that can turn into coasters
The most incredible idea I have seen so far on the internet this year is this fantastic flower vase that can turn into coasters! In this way, this pot not only enhances a table's beauty but helps protect it from moisture!
Apothecary jar floral display
Although this idea falls into a different category than conventional decorative vases, using apothecary jars for floral display is one of the most sophisticated and unique ways to display your creativity. The best part of the idea is that any apothecary jar can be selected for the execution of this idea. Also, you can experiment with fresh flowers partially submerged in water to last longer and maintain visual appeal.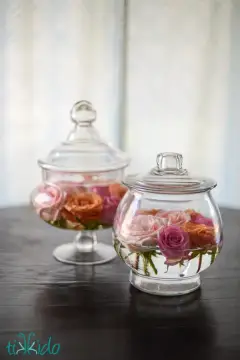 Ombre effect vase
These vases are ideal for welcoming freshness into your home with the most modern painting technique, i.e., the ombre effect. This technique is truly remarkable as it encapsulates ombre and can transform any ordinary glass jar into a masterpiece.
Paint dipping glass vases
Unlike ombre, these dipped glass vases are made with solid-colored blocks and look amazing with minimal floral arrangements.  They can be placed separately or together to enhance the visual appeal of any room.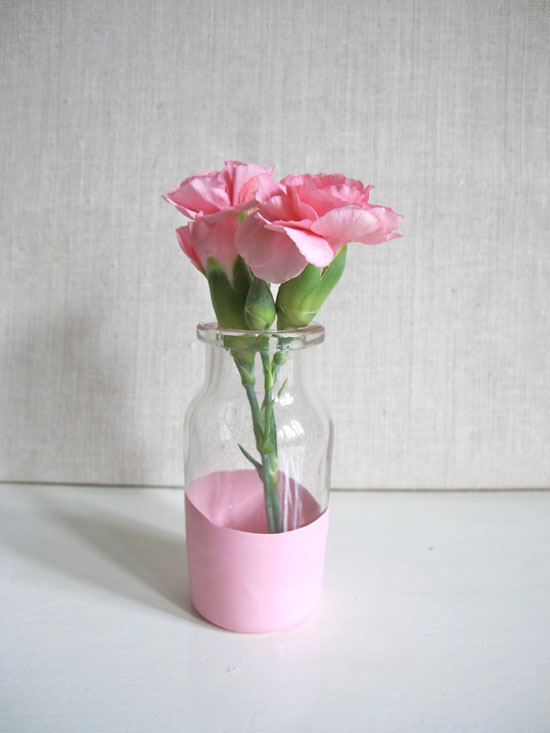 Faux Marble Vase
Another creative way of painting your existing vases is giving them a marble effect. Trust me, this technique can save you a lot of money while providing an ideal decorative solution for your house with peel and stick wallpaper wrap.
Modern wire vase
If you like to explore your creative side and handle tools well, then this idea is an ideal fit for you; however, this idea requires additional care and appropriate tools for execution. All you need is inspiration for a metallic vase that can be prepared using metal wire or buy this one.
Ceramic decorative vases

As discussed earlier, ceramic vases are easy to make and maintain within the comfort zone of your house. They can add sophistication to your mantle of paid with the proper ornaments. Some of the most trending inspirations for summer.
Farmhouse aesthetic white vases
Ideas to decorate a vase with recyclable materials
Jute fabric
Jute vases have always been the first choice for waste recyclers for easy DIY hacks :however, here is an ideal tutorial for crafting stunning jute vases along with jute flowers!
Plastic and paper
This idea represents the utilization of readily available plastic glasses into a recycled vase that can instantly introduce a modern and lavish look to your interior. What do we need? Simply a couple of plastic glasses and a glue gun. That's it! Perks include effectively utilizing the re-using principle that promotes environmental protection, so why not try?
Cardboard and burlap
Design a vase model you want and print it. Then draw the silhouette on cardboard, divide them in half, and glue them around a cylindrical cardboard tube. Finally, wrap the DIY vase with burlap and secure with hot glue as you continue. This technique gives a wholesome look to your interior and beautifies the vicinity at no cost.
Crochet and rope
Use rope and yarn to make these beautiful vases.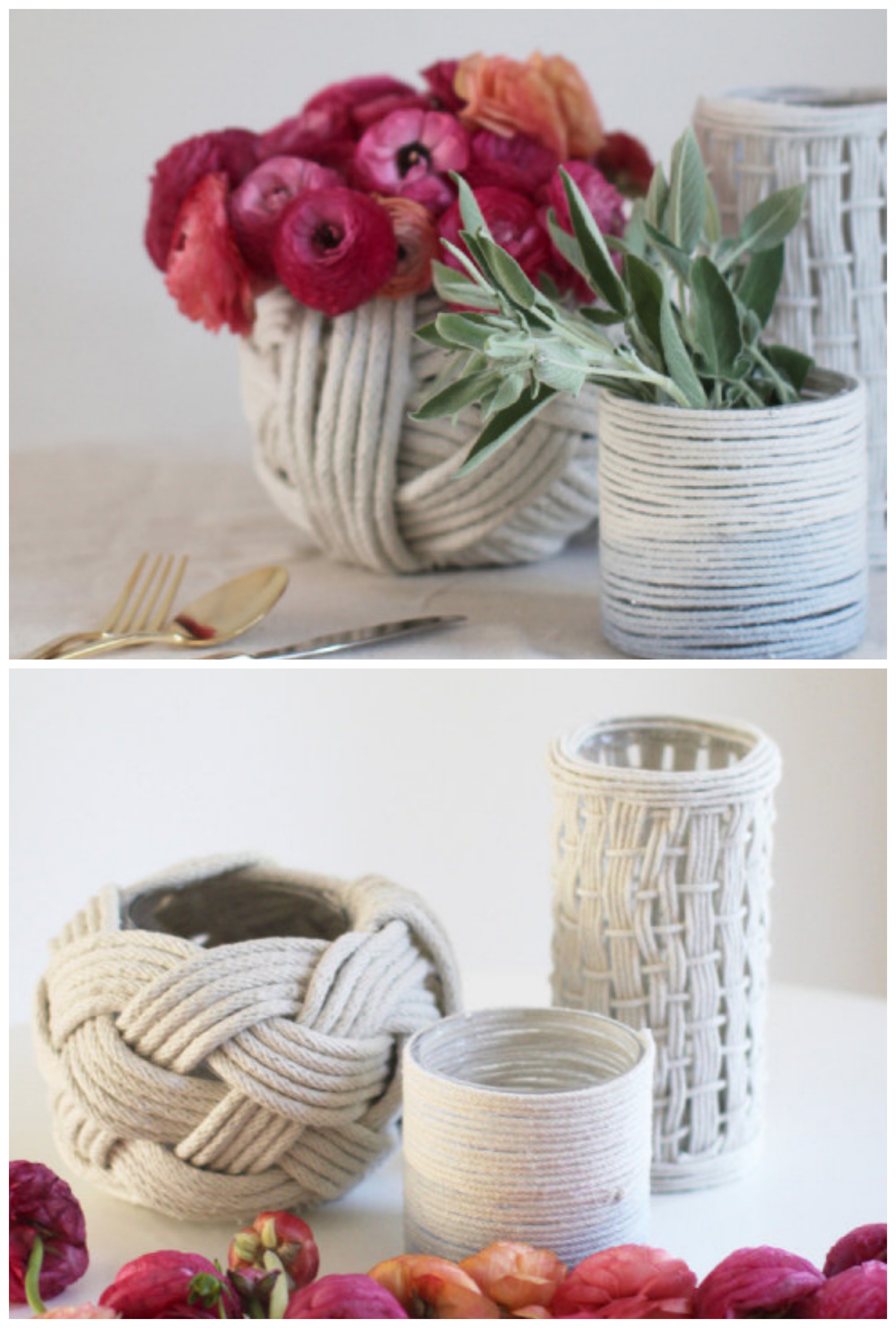 Macrame vases from Etsy.
Pringles and Stones
This DIY flower vase is yet another effective way to convert a readily used pringle container into a beautiful vase. Use plaster of paris and decorative stones to cover a pringle can.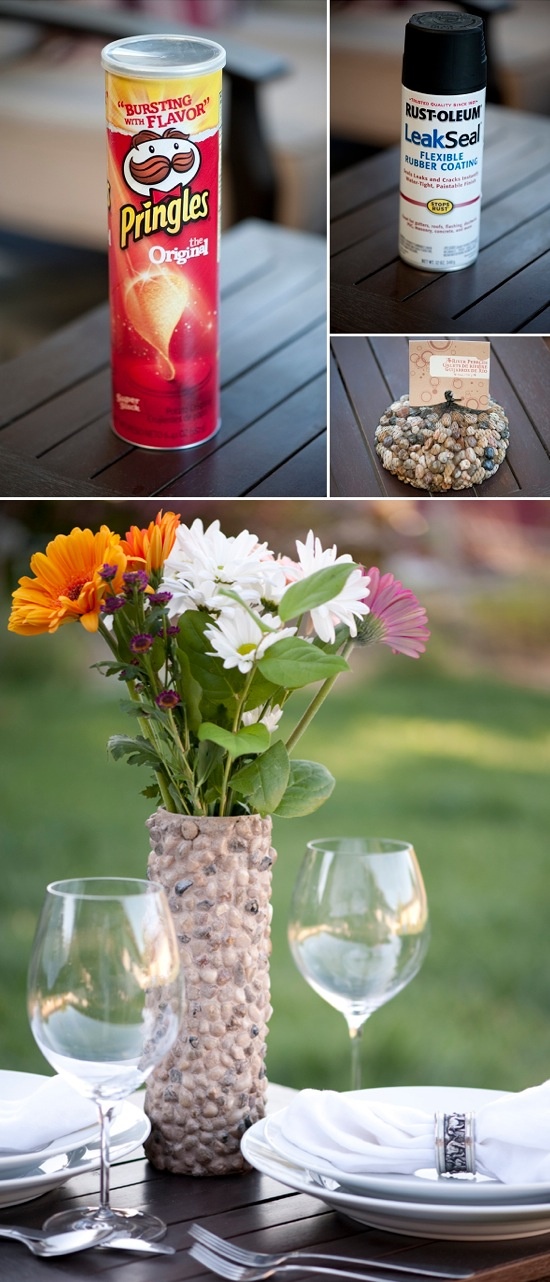 Tissue Box
DIY vintage vase upcycled from a tissue box and newspaper strips, you'll always have a reason to display a fresh bouquet. You only need a Tissue Box, Newspaper Strips, 3 Disposable Cups, Acrylic Paint, and Foam Brush. This would give a very classy look, mainly when using short-stemmed plants.
Light bulb
Using a light bulb for a light vase is another effective way of utilizing the discarded resource. You need a bulb that is not in use anymore and remove the internal system via pliers and beautify it accordingly.
Popsicle stick

You do not need to spend much money to make this craft sticks vase. To make it, you will need popsicle sticks, a plastic bottle, a glue gun, cardboard, scissors, pearls, and decorative lace.
Wood slices
Hot glue wood slices on a thrift store glass vase.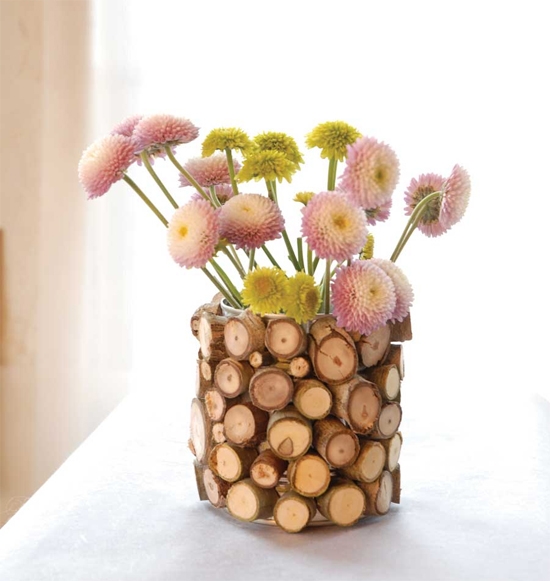 Twigs and sticks
Use double sided tape and twigs or wood sticks to decorate vase and tealight votives for Fall.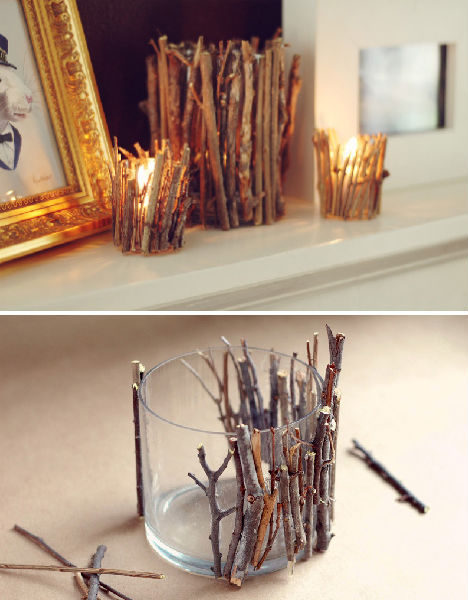 Driftwood
This beautiful driftwood vase can be made quickly with just a few materials required. Arrange wooden sticks to align each other and join them together via glue gun.
Newspaper
You will need newspaper, glue, scissors, and spray color to create this DIY paper vase. Roll the newspaper in a thin-rod-like structure and adorn them to create a vase look with the help of a glue gun and prettify as per choice.
Soda Can
All you need is some soda cans, spray paint and voila from unknown source.
Plastic Spoons
Check out these beautiful plastic spoons crafts. Spray paint mason jar and attach the spoons with handles cut off using hot glue gun. This gives a complete look to your interior.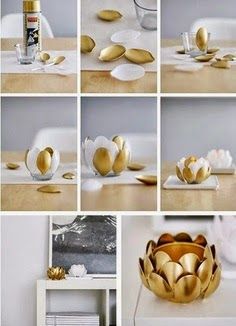 Plastic or glass bottles
Used plastic and glass bottles like shampoo, conditioner, milk, and water are readily available and are meant to be thrown out. But you can transfer those into colorful vases with PVA glue and acrylic paints.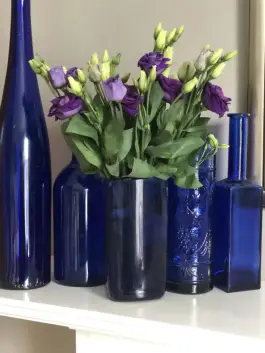 Wooden Plant Sticks
An easy way to utilize wooden spatulas into an elegant plant sticks vase that can be enhanced by using jute or any other ornament.
Acorns

This unique and easy-peasy DIY involves the adhesion of acorns over a usual plastic bottle. Hence, giving it a whole yummy and creative vase look! More from this page below.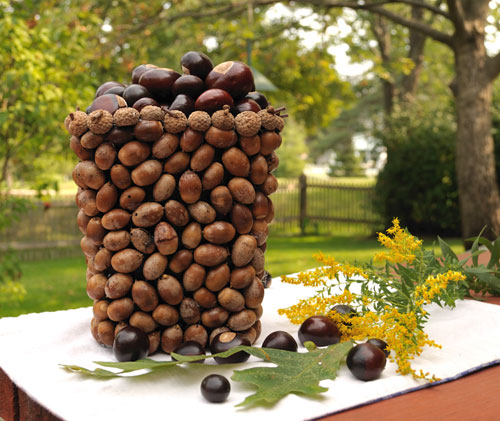 Yarn

Use yarn and glue to upcycle bottles.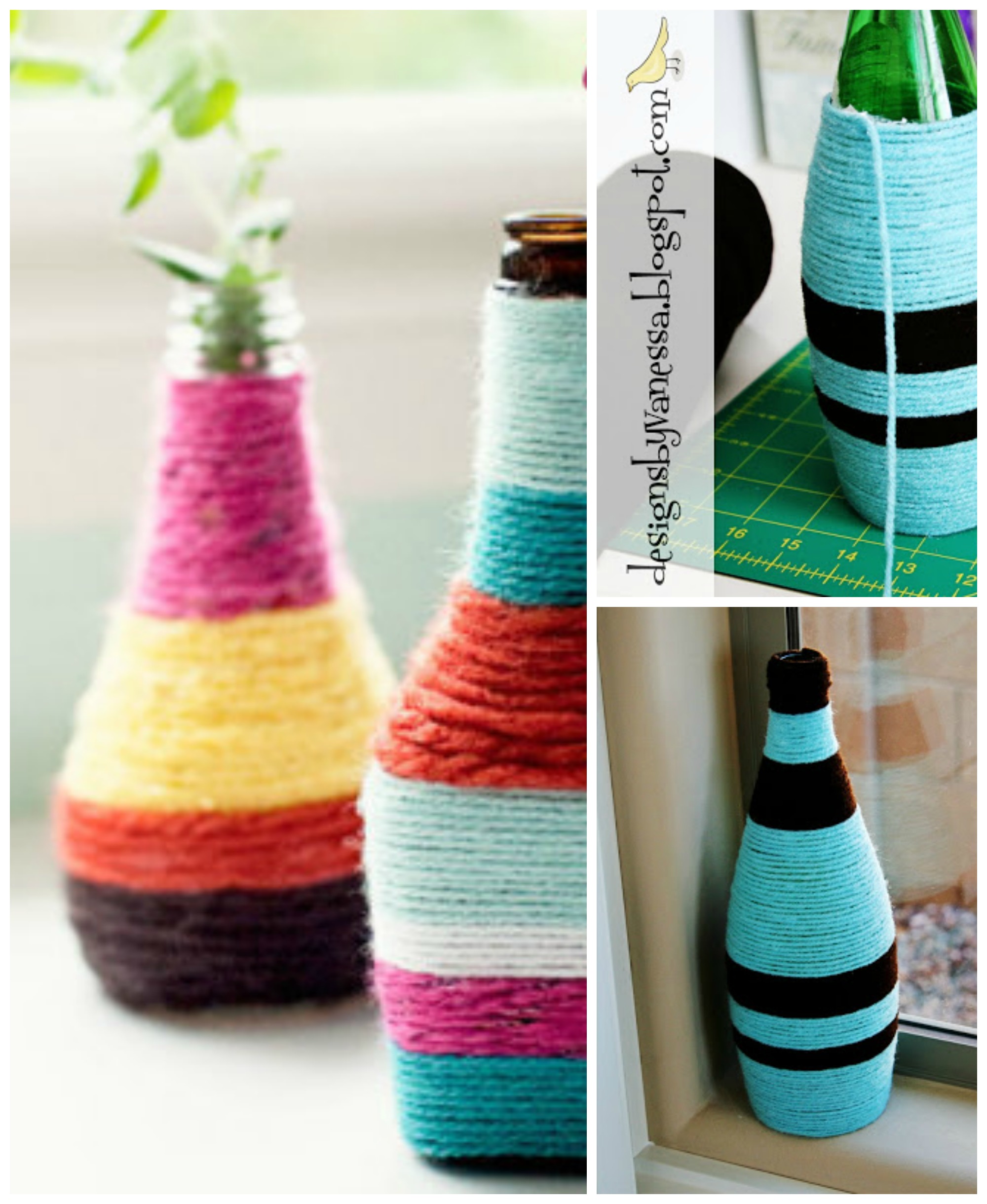 Pennies

Glue pennies to a pringles can and spray paint it. Such a fun project!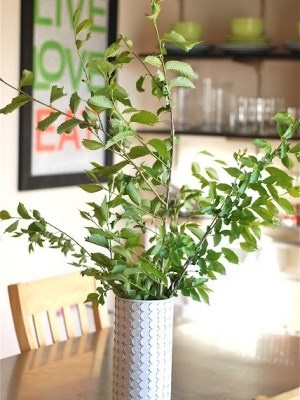 Metal sheets

Use a sheet of metal screen to decorate vases. Use yarn to tie it around.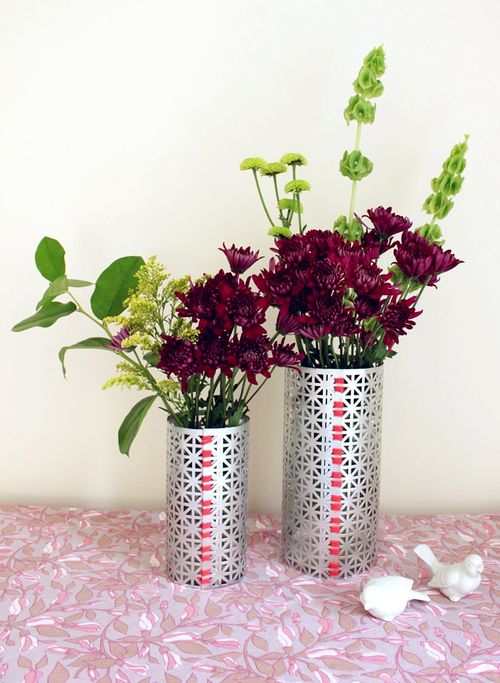 Pencils
Stick pencils onto a vase and create a cute colorful look.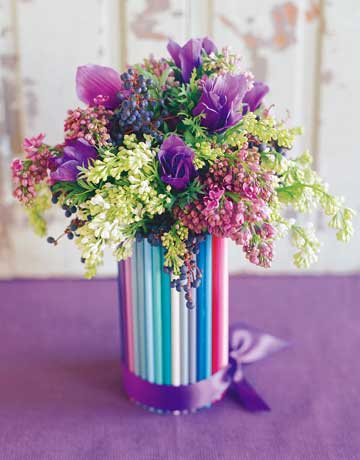 Bamboo sticks

Make this beautiful DIY by using beautiful neon bamboo sticks and give a trendy-chic look.
Paper strips

Cut strips of paper to make fringes and glue them onto containers. This enhances the whole look to next level and gives really vibrant and unique vibe.
Mosaic with egg shells

For this cute DIY vase, egg shells would be used that can be painted by using any food color. Arrange them on vase to make fun mosaic patterns.
Beaded bracelets

This can be made by using elastic bead bracelets that could be encircled around old tin cans or baby food jars.
DIY Holographic Vase

Holographic things are in trend nowadays. An easy way to integrate this into your home at a manageable cost is to put holographic vinyl film around the glass vase.
Concrete Vase with household items
DIY enthusiasts can easily make concrete vases by utilizing any household waste container, filling it up with cement, and shaping it accordingly.
DIY Fluted Wood Vase
A beautiful and classy idea for achieving the trendy look. You just need cylindrical vase and dowels to attain this modern vase.
DIY Jeweled vases
If you are a fan of bling then it doesn't get any easier than these jeweled vases using sheets of peel and stick gems.
Textured Vase with Spray Paint
Don't waste money on high priced home decor. Use texture spray paint to turn this plastic milk carton into a clever DIY textured vase from Pinterest.
DIY Cement Vase
This cement vase can be made by molding cement into your desired shape. Another perk that can be added is adding any graphic you want for unique touch.
Painted vase
Paint the bottle from inside by filling it with mixture of acrylic paint and PVA glue, move around to cover the entire area. Once the entire area is covered with color from the inside, tilt it upside down to remove the excess paint. Let it dry. Make cute polka dots on the outside with holes in painter's tape.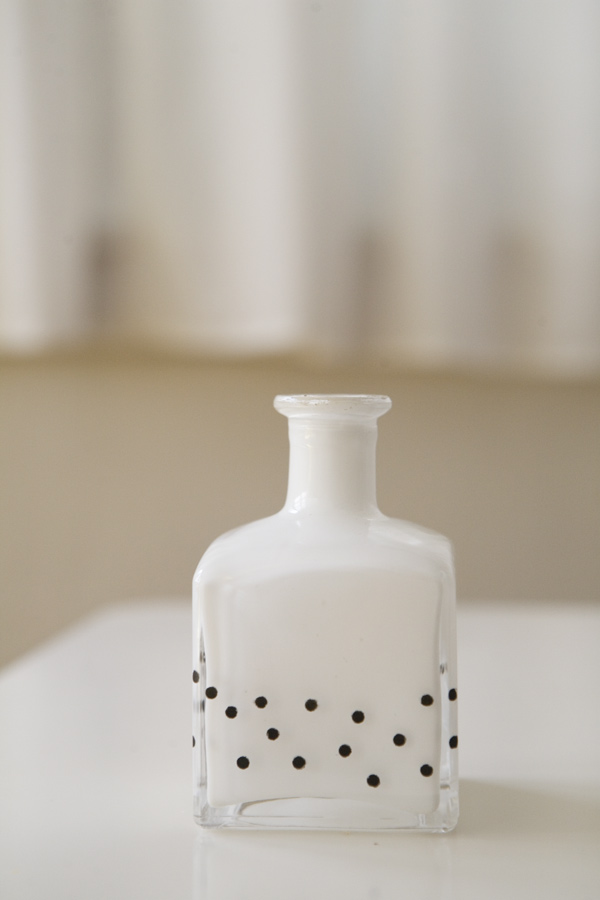 Chalkboard paint vases
Use painter's tape to wrap around a glass jar and then paint. Write fun messages on the chalkboard vases. These also make great handmade gifts.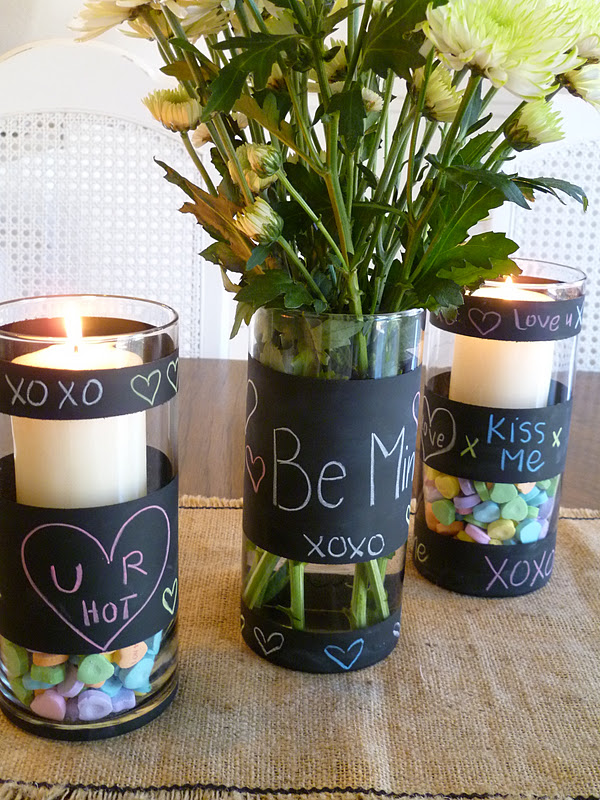 Double Heart Flower Vase
Use this as a surprise or adorn your table; this double-heart flower vase made from cardboard will always be a delight.
Anthropologie Colorado Vases
This simple yet trendy idea helps to transform ordinary unglazed Terra Cotta Vases into beautifully painted vases by using spray paint only.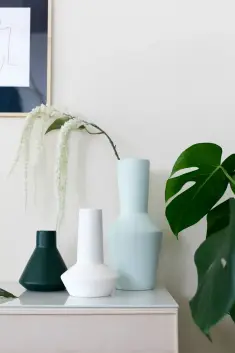 Body parts vases
One of the most unique ways to express your creativity is to make charismatic decorative DIY hand vases by using plaster of Paris.
It is not necessary to spend extensively on home decor. One can achieve this goal by using things from his home. There are countless possibilities for artistic minds to express their creativity. We hope this article has helped you select your next home decor with chic decorative vase ideas. We would love to have your feedback!
Author: Nageen Sohail