This post may contain affiliate links. Please see our full Disclosure Policy for details.
The world has finite resources. These resources are running out quickly with pressing issues like deforestation, global temperature elevation, and climate change. Due to these extreme natural events, every crafter, DIY enthusiast, and interior decorator must devise out-of-the-box solutions to promote sustainable practices like reducing, reusing, and recycling. These practices also help reduce landfills' burden, thus enabling a circular economy. Along with their environmental benefits, these projects like old windows uses and ideas are fun and can help to create valuable products for daily use.
Most importantly, these cost-effective projects can also help start a sustainable business! What a creative way of using leisure time to earn extra bucks! You only need a creative mind, the right resources, and infinite imagination! You will also be amazed by creative uses for old suitcases, old doors, and old picture frames.
Types of Window:
Windows can be divided into different types depending on the design and functionality. The most conventional window designs in old houses include:
Single-hung windows (Windows with vertical sliders that open at the bottom only)
Double-hung windows (Windows with two vertical sliders that open)
Picture windows (provide an unobstructed view of outside)
Casement windows (Swing open)
Bay windows (permanently extend outwards)
Awning windows (swing open vertically)
Horizontal sliding windows (Windows with single or double horizontal sliders)
What are old-styled windows called?
Old houses have impulsive charm and charisma that can transport you to an ancient world. While various features help these buildings stand out, windows play the most significant role in defining their appearance.
Several types of simple old-style windows elevate the architectural designs and worth of the houses. Double-hung windows are the most common and easily spotted in old construction styles. Designed to facilitate air conditioning and ventilation in antique homes, these windows had two window sashes that quickly moved up and down using a counterbalance system. Hardwood and steel channels were the most common material for constructing these windows for residential and commercial buildings. These windows carried stained, colored or bevelled glass for dividing light through them.
Another widely used window style in old American houses is Awning windows. These windows had hinged sashed that opened inward and upwards. These windows were quite common in narrow stair halls, basements, and warehouses due to their design and capacity for ventilation.
Another fantastic example of the design and functionality of windows in old houses is Casement windows that were common in residential and commercial buildings. Casement windows that swing inward are also known as French windows. Steel, brass, and bronze were the most common material for the sashes of these windows. Casement windows have multiple panes covered with stained, etched, bevelled, and colored glass for dividing light.
FAQs
What can I use old windows for?
There are thousands of innovative ways to efficiently use old window. The first and foremost step of efficiently using old window is to organize your existing resources. If you require help, find the best people for this task. Countless deconstruction companies can help you choose the best way to reuse old windows. If you are a DIY enthusiast, it's time to get your creative juices going. One can craft yard fences, decorative walls, mirrors, coffee tables, photo frames, headboards, chalkboards, canvases, greenhouses, and other ornamental articles using old windows.
What can I do with Old Vinyl Windows?
Poly Vinyl chloride (PVC) is a resistant, durable, low maintenance, easily customizable, budget-friendly, and weather-resistant material ideal for windows and doors. Unplasticized PVC is a newer form of PVC free of phthalates and harmful BPA. Windows made from these materials are gaining popularity due to their strength, versatility, and durability. Luckily, these windows are 100% recyclable and can be recycled eight times before losing their capacity for recycling.
The cost of recycling PVC windows is lower as it doesn't require paint and staining before reuse. Furthermore, recycled furniture, frames, shelves, and seasonal decorations.
This article lists some of the most incredible ideas to help you efficiently repurpose old windows in a contemporary style.
Is there a market for old Windows?
Yes, you can easily purchase and sell old, used windows via yard and garage sales. Thanks to the age of social media, you can also order old window from eBay, Etsy, and other e-stores locally. Facebook groups, pages, and yard sales are excellent forums to steal a deal!
How can I get old windows for free?
What can be better than initiating a DIY project with minimum investment? There are several places from where you can get old window for free. Keep visiting your closest antique shop, construction and demolition sites, garage sales, craigslist, and curbs to obtain the most suitable windows for sale.
How to restore old windows for DIY?
Sometimes things go differently than planned. The thrift windows you purchased from a garage sale or picked up for free from the curb might need restoration before turning into a beautiful masterpiece. Do not skip that piece; use your skills and tools to maximize its value. Check the general condition of the window and then apply a suitable process to restore them. Then, remove the glass from it. Use sandpaper to remove putty, paint flakes, and uneven texture from the surface. Fill in the cracks and other problems in the window before repainting. These simple yet effective steps will insulate and seal your old window.
Reglazing old windows:
Reglazing is an important step in giving second life to an old window. This time-consuming but beneficial step not only improves the exterior surface of a window but helps in energy efficiency as well. This step requires a heat gun to soften cured old putty. It is recommended to cover the glaze with aluminum foil to reduce any damage. The next step is to remove old glaze and glass carefully and a wood primer at the end. The complete tutorial for replacing old glazing is available here.
How to open an old window?
Old windows might not come in their best shape. Windows in antique houses are valuable. However, they might be worn off or stuck due to constant use, temperature, and weathering. Look for potential damages to the structure carefully before initiating restoration. Remove unwanted paint that is sealing the window from both sides of the window. Then, wiggle a putty knife between the window and the frame to loosen the structure from all sides. Gently hammer the sides of the window to break the paint seal on the window. Lubrication is also effective in opening a stuck window.
How do I make a project out of old Windows?
Repurposing old windows is not difficult; it requires specific skills, dedication, and a creative mindset to make a handy, innovative, and useful crafts project. Suppose you don't have time and energy to repurpose old window but want to achieve this goal. In that case, various deconstruction companies, auction houses, and artists would be interested in your ancient windows. If you enjoy painting you will love these creative stained glass painting ideas and also DIY wall mirror ideas.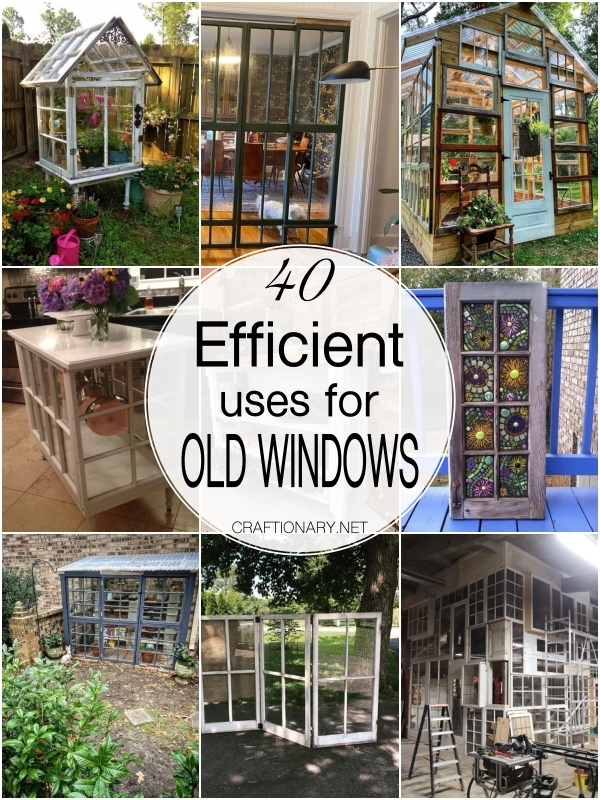 Uses for old windows ideas
If you are a DIY aficionado, you can easily craft many projects out of it. Find the most creative and trending projects of the year listed below:
Kitchen Island

Unleash your artistic taste by crafting this simple and convenient kitchen island using old windows.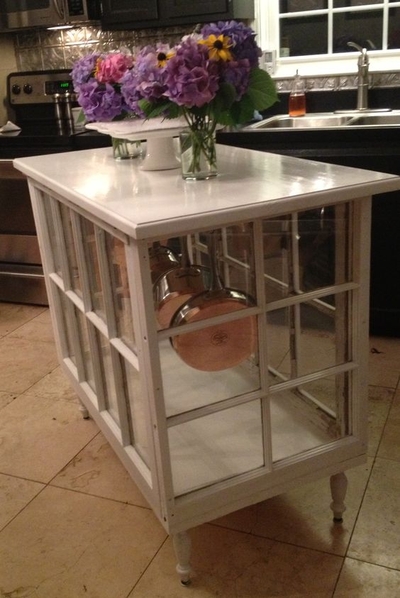 image source: Pinterest
Flower house made with repurposed windows
The best way to support nature is to promote repurposing of old materials to reduce dependence on new things. Check out this fantastic DIY Flower house by Jayne Margaret Photography on their farmland!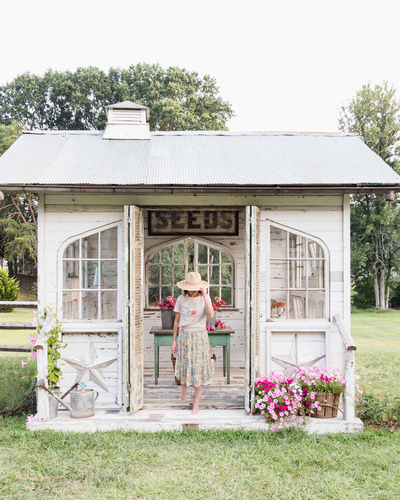 DIY Greenhouse
If treasure from trash had a face, this DIY by Twist my armoire would be the right choice. Check out their unique crafts for creating an aspirational masterpiece.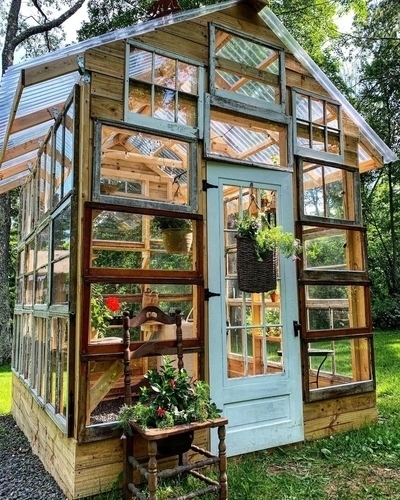 Old window headboard
This unique DIY by Liz Marie would help you elevate the look of a bedroom from ordinary to outstanding in just a few simple steps.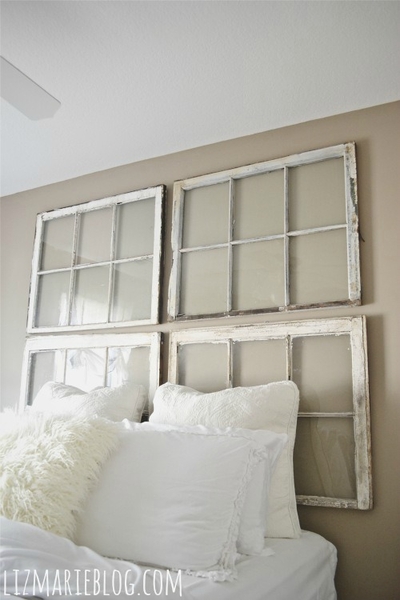 DIY Chalkboard
Chalkboards are fun to work with in schools, houses and play areas. You can create your own Chalkboard with old windows by following a step-by-step guide by Crafts by Courtney.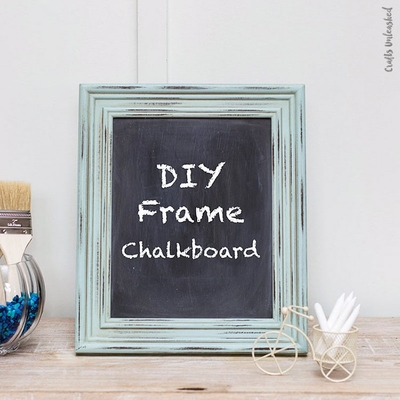 Photo frame from antique windows
Photos are the gateway to the past, and photo frames are the gateway to them. While one photo frame helps you display one memory, here is a fun DIY by DIY on the House that can help you make a timeline or photo collage using old windows.
Room divider
Room dividers can be expensive; however, one can use old windows to craft such projects with minimum cost. Check out this idea by Wye Upcycle. – FACEBOOK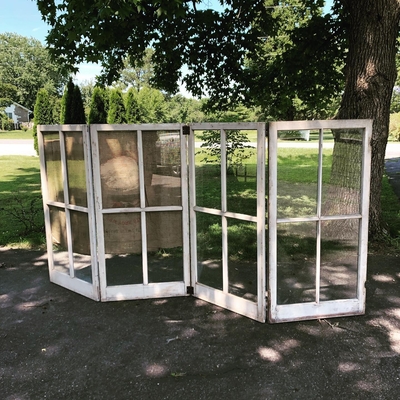 Compact greenhouse
Don't have sufficient space for a big greenhouse? Don't worry; we have got you covered. Here is an excellent idea for a greenhouse for tight areas.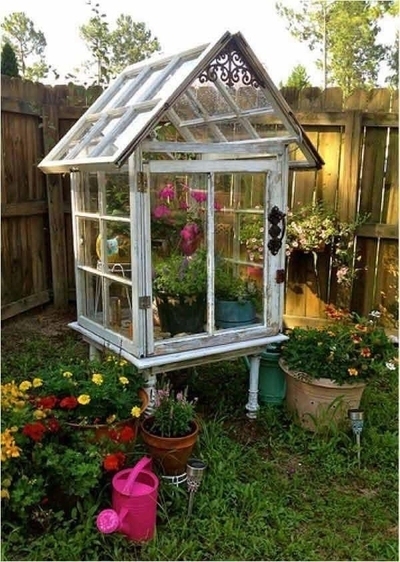 image source unknown
Vintage window decor
The best thing about vintage articles is their timeless charm and everlasting beauty. So, never skip an old window at an antique shop or a garage sale. Here is an outstanding inspiration by Our Green Acres to rejuvenate your boring mantle piece or any corner of your house.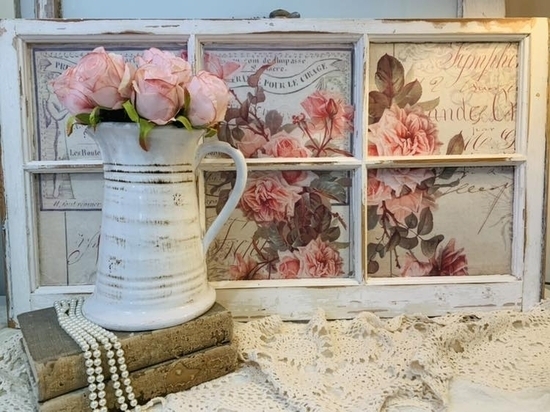 Shadowbox window storage unit
Why waste a durable old window when you can repurpose it into a functional storage unit. Check out the complete tutorial by Ginger Chick Rehab for complete inspiration.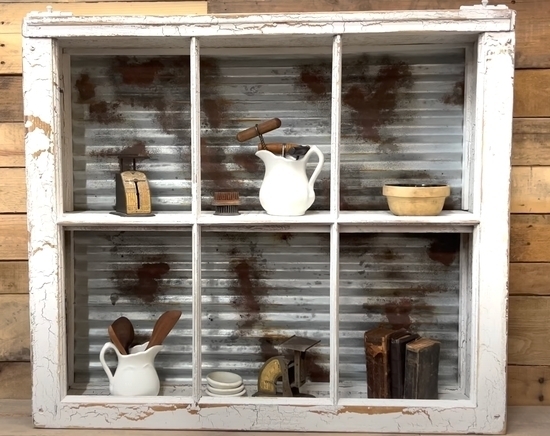 DIY shelf

Creativity is intelligence having fun (Albert Einstein). Have you wondered what is the best combination of old broken windows and other wooden articles? Here is our chosen one by The Greatest Gift Handcrafted. – FACEBOOK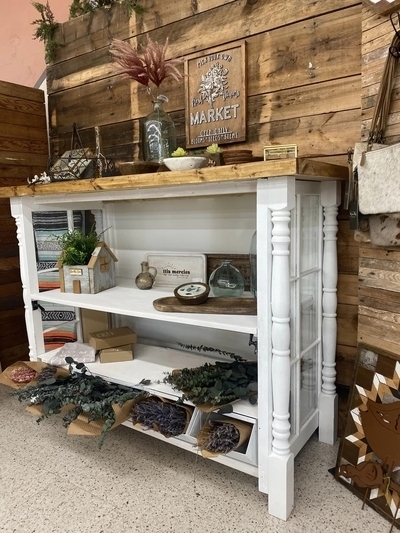 Old Window wall decor
Decorating on a budget is challenging but fun. Check out how Deeda's Crafts and Creations achieved this goal by using old windows. – FACEBOOK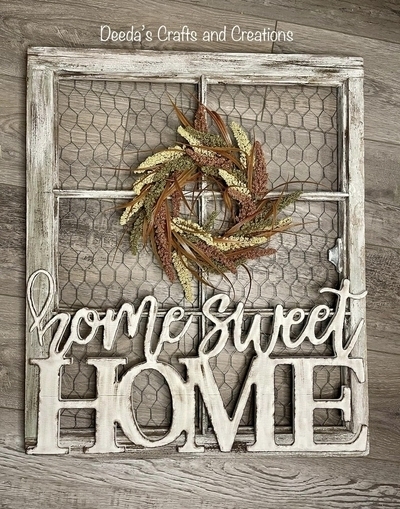 DIY old window garden shed
Organize your gardening accessories using this idea by Laura Liady Gaskins's custom garden shed made entirely from refurbished items.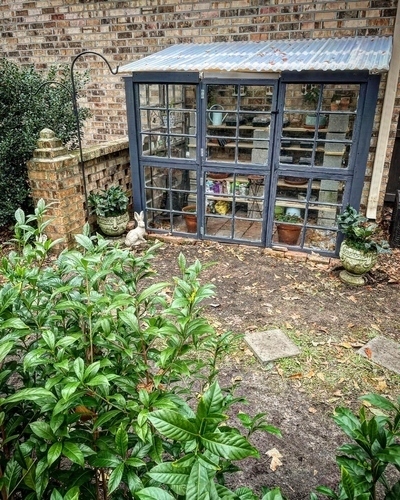 Upgrade workshop

Here is a bizarre idea of creating an entire functional space using repurposed windows by Niek Wagemans.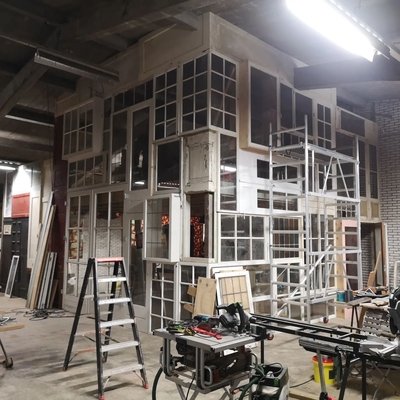 Custom doors
Reinvigorate your aged windows into custom and trendy doors as done by Michelle Nestor Pounds.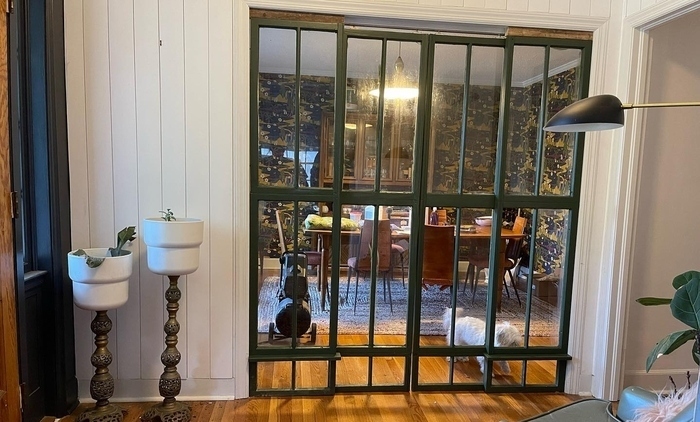 Old Window planter box
Style your garden entryway with a minimalist yet alluring makeover by installing an aged window planter box underneath a refurbished window with mirrors. – FACEBOOK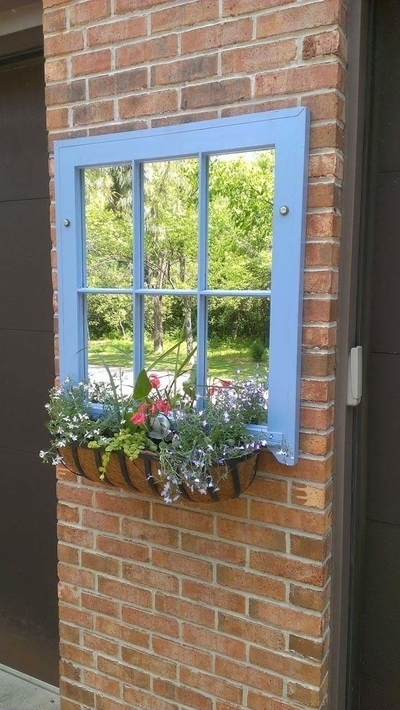 Old window wall hanging
Check out how remarkably Themilkhousedr used old doors and windows for crafting wall decor. – FACEBOOK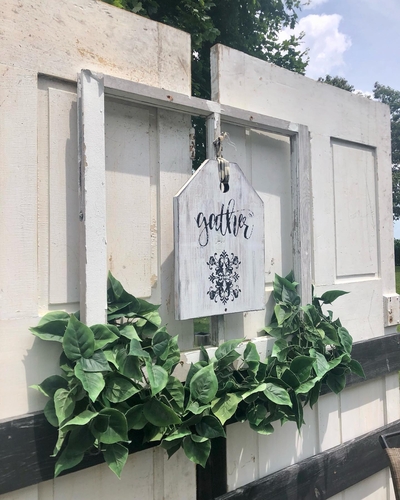 Old Window Mosaic art
Mosaic art is one of the oldest works used to convey stories beautifully. Check out this exceptional glass-on-glass mosaic art by a Oneida Square Public Art & Design student using an old substrate window.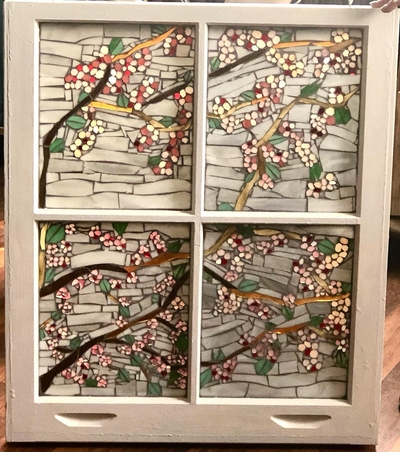 Interested in something more splendid! Then you will love these DIY mosaic crafts.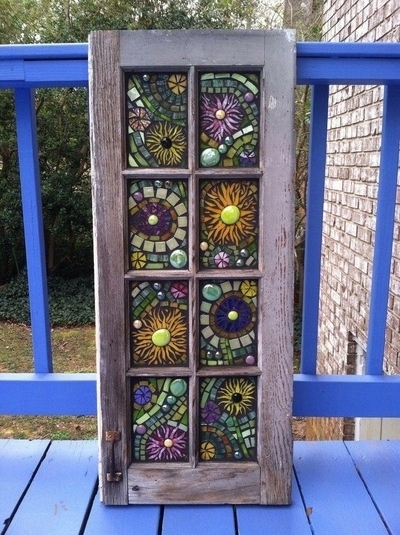 Old Window cabinet
Check out this 8ft cabinet made entirely from salvaged windows by Mustard Seed Home Decor & More.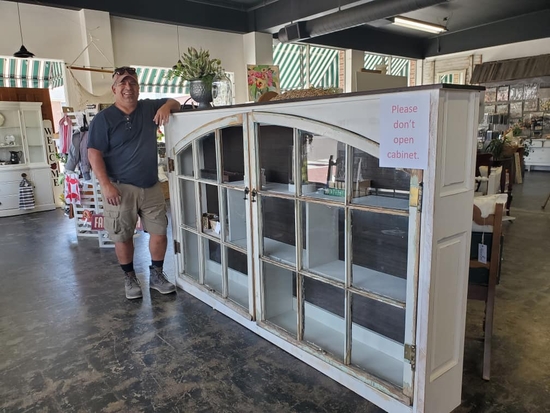 Revamping terrace

Jeanne d'Arc Living shared a phenomenal terrace by Helle Routhe decorated with recycled items only. The most prominent feature of this terrace is its side wall made up of recycled windows!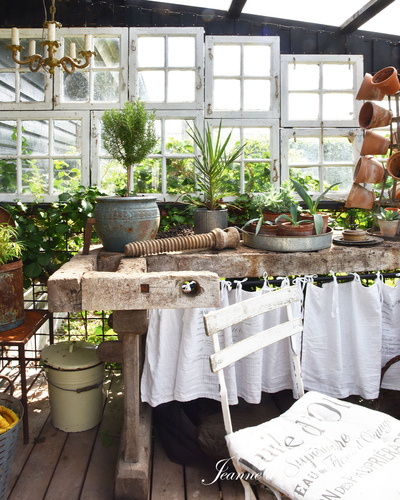 Salvaged glass window artwork
Check out these fantastic depression glass windows with colored stonework by Inner Beauty Decor made on salvaged window.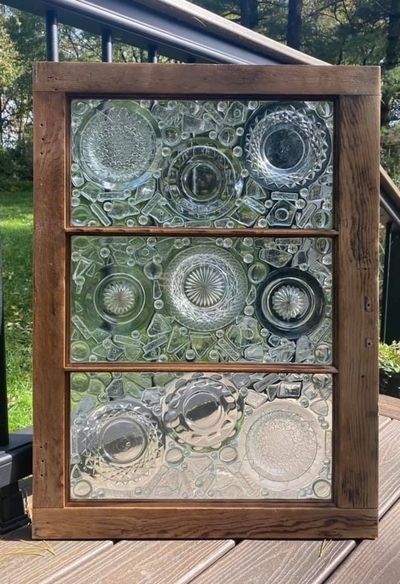 Laundry room Makeover
Every corner of your house deserves your creativity. If you haven't decorated your laundry room yet, here is a marvellous DIY by Cheryl Ann Knab that only uses some paint, an old window, chicken wire, and lots of imagination.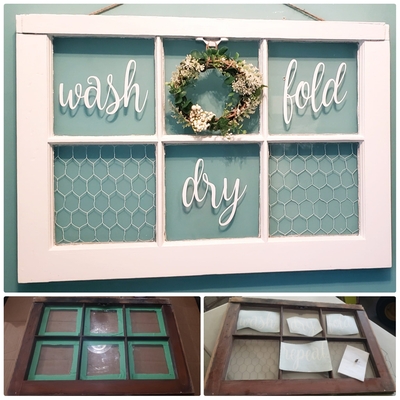 Old window canvas
Old windows with wooden and glass surfaces are ideal canvases to showcase your creativity. Have a look at this marvellous illustration by Salvage Cove.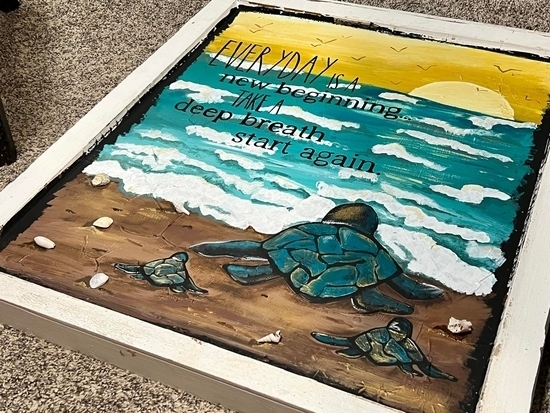 Turning old window into mirrors
Mirrors are the gateway to bring natural light and positivity to a house. They elevate the aesthetics of a house by complimenting it with natural materials and adding a timeless charm to a house. Check out the easiest DIY by Pine and Prospect Home to recycle an old window into a mirror.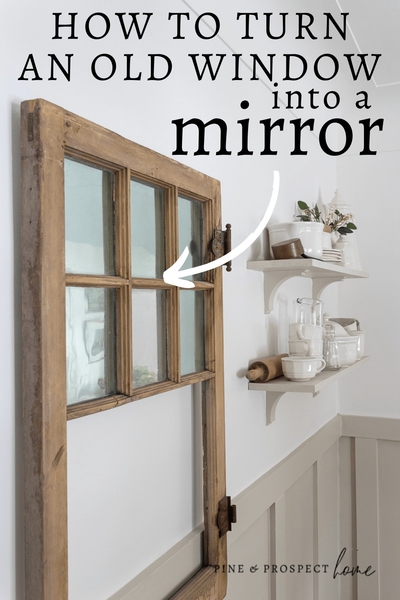 Old Window Coffee Table
The best feature of vintage windows is their durability. This is the reason that they must be reused at any cost. Here is a creative inspiration by Offer Ideas for converting an old window into a modern coffee table.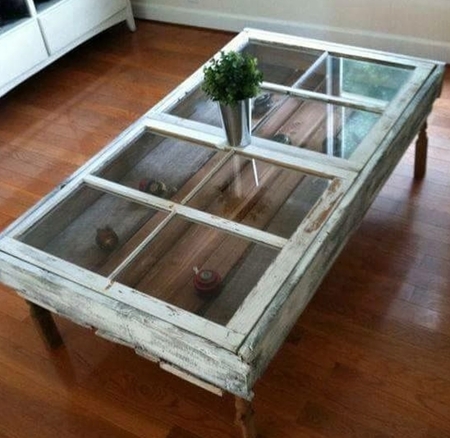 Photo frame

Check out how Holy Hill Farm recycled this old window into a beautiful photo frame using their creativity.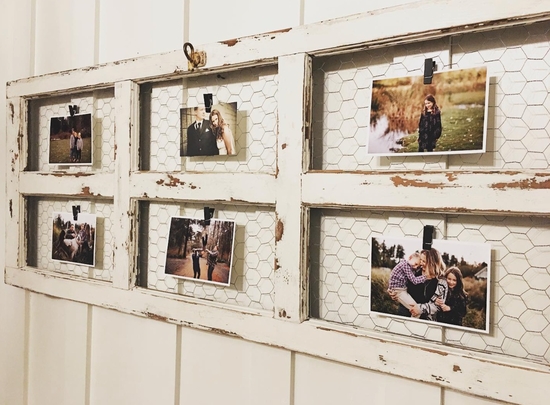 Cold Frame from an Old Window

Cold frames extend your growing and vegetation season during prolonged winters. Here is an interesting and innovative DIY by Some Room to Grow for crafting one for your garden.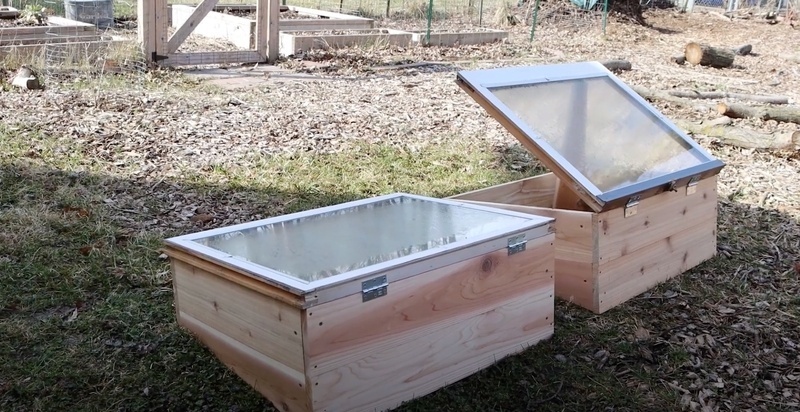 Stunning background for decor
Reimagine your farmhouse by combining an old window with some other props to create a beautiful farmhouse-style display for your corners. Here is an entrancing idea by A Hundred Affections.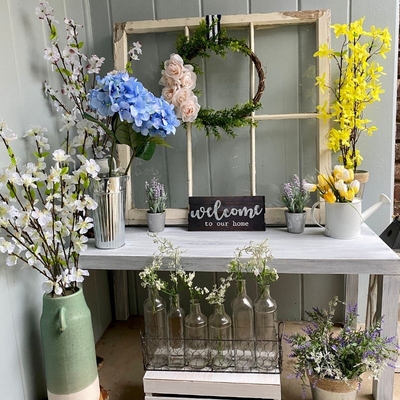 Seating Chart
One of the most innovative recycling inspirations I came across is by Sinclairandcodesign, which features the seating chart for a wedding!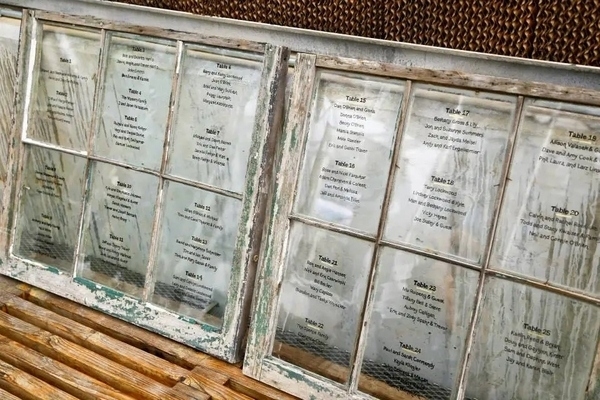 Creative flag display
Flags symbolize unity, solidarity, and a sense of togetherness. You can create a display for your national flag by following this captivating decor idea by Almost 3 Acres.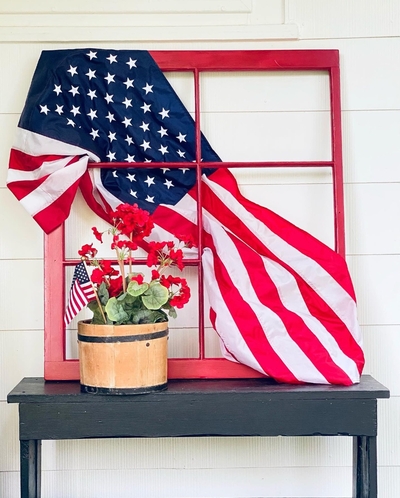 Hallway console

Create a minimalist, crisp, and clutter-free space for your hallway using an old window and turning it into a console mirror. Here is an excellent effort by Holly Castle.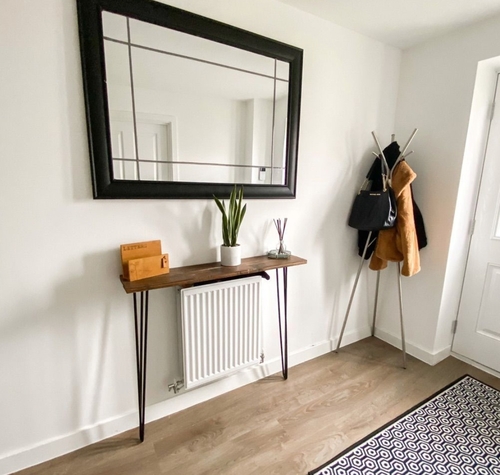 Bench from an old window
Rajni Rao shares how she transformed an antique window into a beautiful bench. The best part about this DIY is that she keeps updating the style and design according to the changes in her ever-changing decor designs.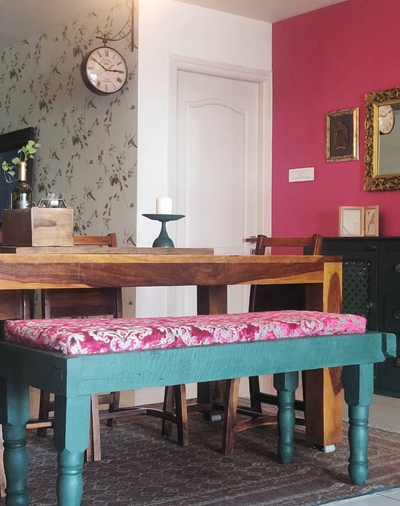 Botanical butterfly sage decor
Hometalk has the right inspiration for converting an old window into a beautiful botanical decor to bring freshness and a down-to-earth ambience into your house.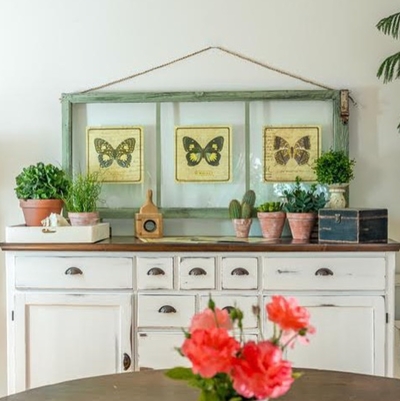 Jewelry organizer
Transform an old window into a hanging jewellery organizer using paint, hooks, decoupage art, and imagination.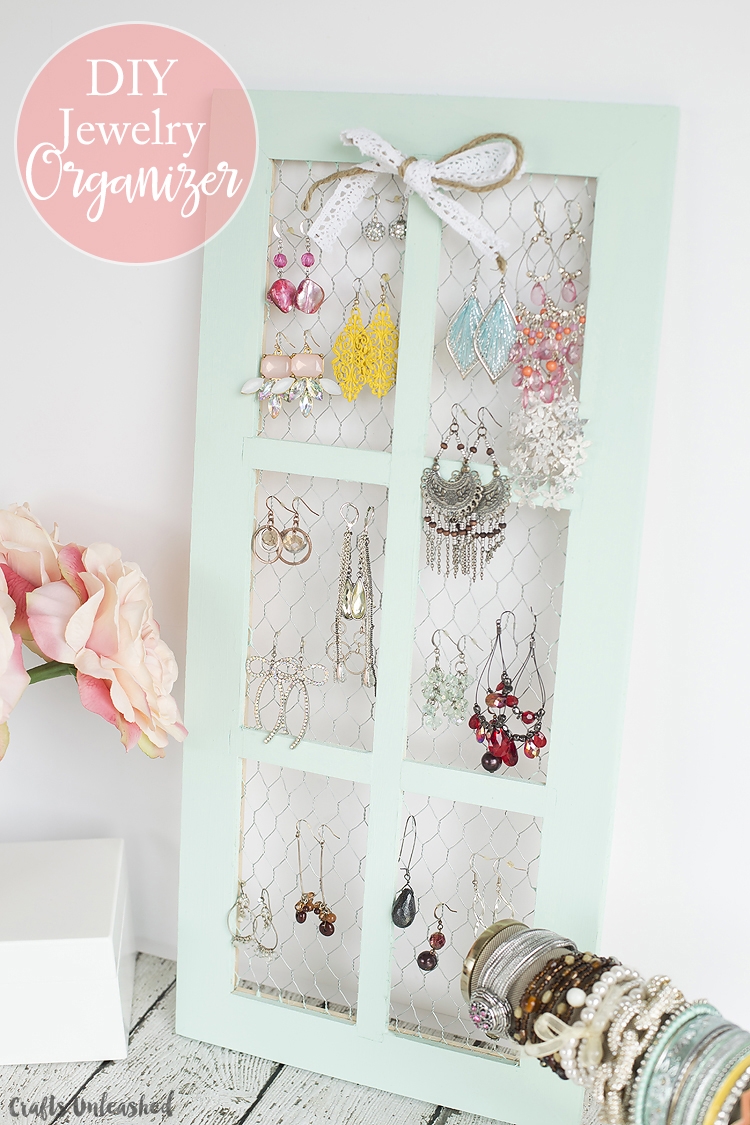 Stencil artwork decor
Recreated designs show how creating a multidimensional stencil artwork on old window is an innovative idea to decorate your wall with your personalized taste. This technique is effective as it is easy to practice and doesn't require perfection.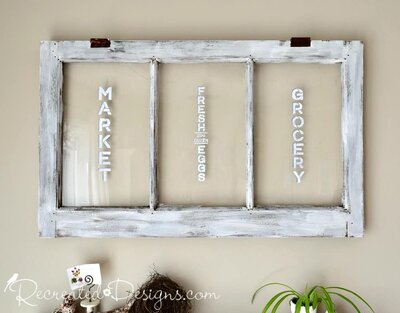 Old Window Shadowbox
Shadow boxes are multipurpose storage units as well as excellent displays for artwork. Check out this inspiration by Confessions of a Serial Diyer who beautifully transformed an old window into a shadow box.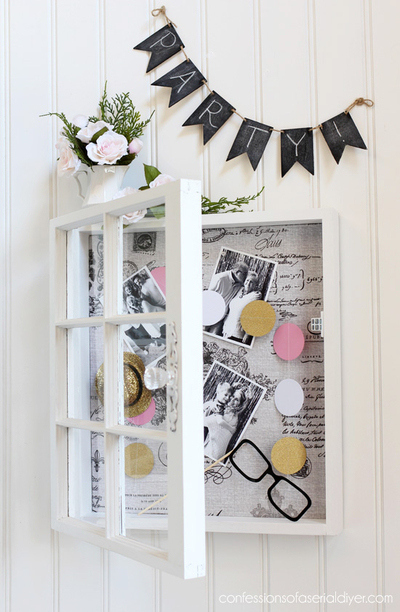 Old doilies decor
Creativity is boundless. Check out how Old Shed Vintage decorated doilies in a restored window and created a masterpiece.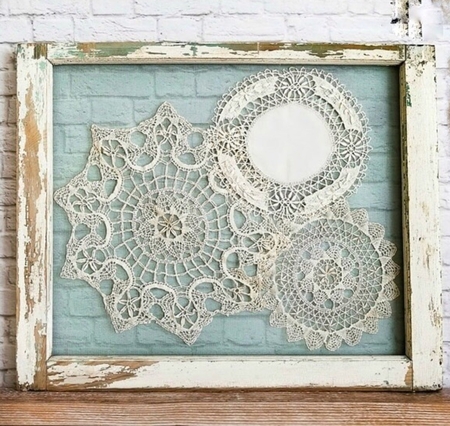 Statement staircase
Make a statement staircase by recycling different windows in your garage by following this unique inspiration by Roman Valley Farm.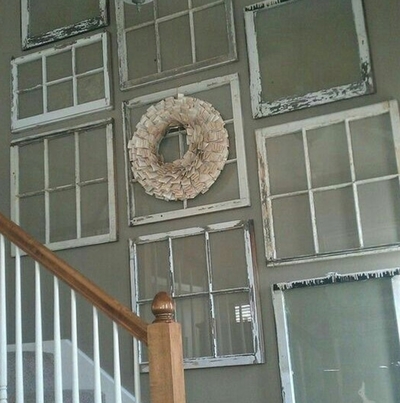 Creative signs
The symmetrical arrangement and proportions of repurposed window make them fit for decoration in any part of one's living space. In addition, they serve as a perfect frame for displaying any message as done by DIY with Sarah.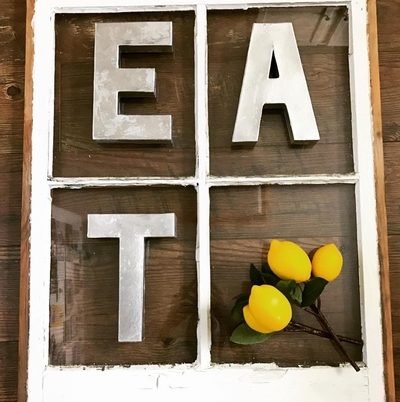 Old Window hanger
Have a look at this amazing transformation of an aged window into a multifunctional focal point of a bathroom by Etto Bey Company. The aesthetics of this piece are remarkable and it serves as a cloth hanger as well.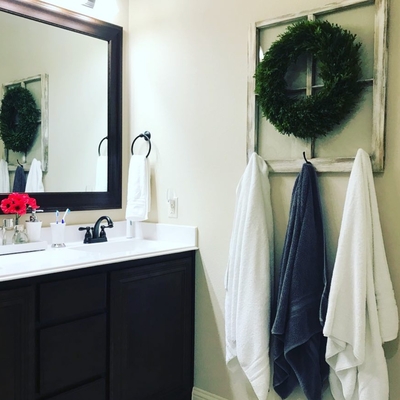 Author: Nageen Sohail