This post may contain affiliate links. Please see our full Disclosure Policy for details.
In every home Kitchen is the most important space. It can be small or large, but always has storage problems due to lack of area to organize. Utilize square footage area and make use of limited space inside a fridge (refrigerator, freezer, or cold storage) with this 30 Fridge Storage Solutions guide. You will find organization ideas with tips and tricks. These ideas include chart, food guide, drawers, hacks, cheap storage shelves, and organizers. It also includes dollar store baskets and cheat sheets to keep your refrigerator mess free, neat and clean for long time.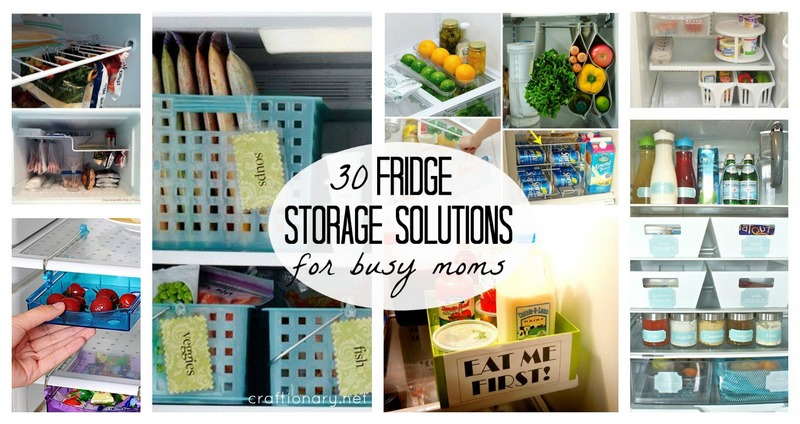 DO NOT COPY, EDIT, SAVE OR PASTE THIS IMAGE. COPYRIGHT OF CRAFTIONARY.NET
Busy Mom's Guide to Fridge Storage Solutions
Tips To Organize Your Refrigerator
Via Shabby Creek.
She shares insights into keeping a section for leftovers in the refrigerator. Consider cleaning refrigerator once a week. Keeping all items for a meal on one shelf helps locating food. Label and use drawers for organizing what they are met to hold. Keep a running grocery list in a convenient location and keep like items together. For better visibility keep taller items on the back and shorter items in the front of the fridge. Label leftovers with date and move shelves up and down as needed.
Ways to make groceries last as long as possible
Learn how to store food in the smartest spots via Life Hack.
Keep it cool by setting the temperature to 45°F (5°C) or below. Any warmer and you risk growing harmful food bacteria.
Check humidity settings on produce, crisper and deli drawers. In order to maintain freshness, each needs to be the correct setting.
Store leftovers for up to 4 days in clear glass containers. You end up eating them sooner when you can see what food is left over.
Don't mix fruits, vegetables, and meat in the same crisper. Contamination leads to spoilage and food waste.
Store milk in a safe zone on the middle shelf. Do not place your milk or quick-to-expire perishables in your fridge doors where temperature can fluctuate.
Store raw meat and seafood on the bottom shelf to prevent drips from contaminating food below. Wrap meat products properly.
Air circulation around food is important to keep it cool. An overly crowded or stocked fridge can create warm spots and cool spaces, leading to spoilage.
Don't slice food until you are ready to consume it or unless you are freezing the lot. Chopped meat, fruit, and veggies spoil faster than whole items.
Before every grocery trip, move older foods hiding in the back of your fridge forward. You'll see what's in stock.
Wipe spills and messes when fresh to keep your fridge tidy and clean. Remove expired items to save space for fresh leftovers and food you'll want to eat.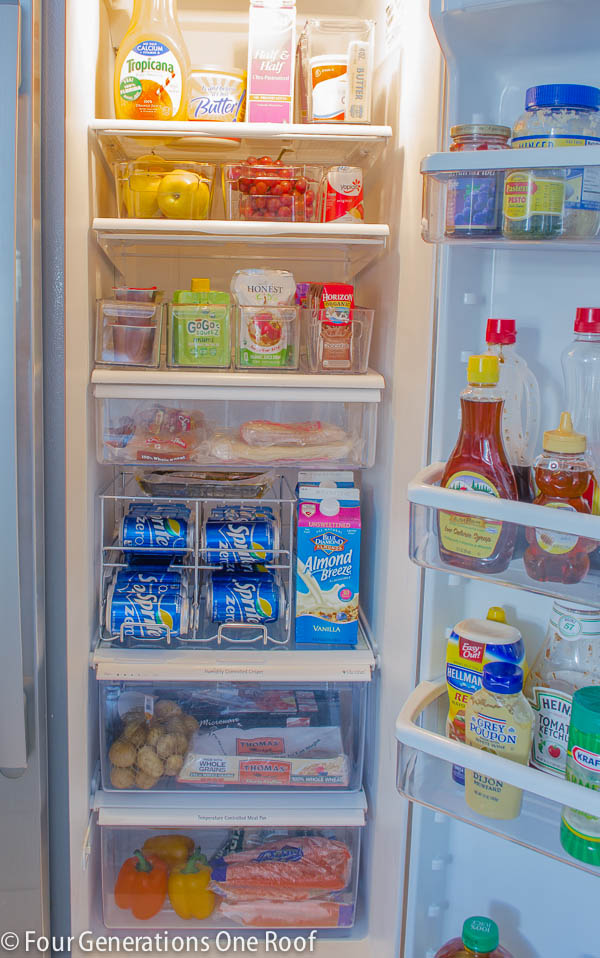 Organize your Refrigerator with storage containers
Via Four Generations One Roof.
How To organize refrigerator drawers and shelves?
Via Real Simple.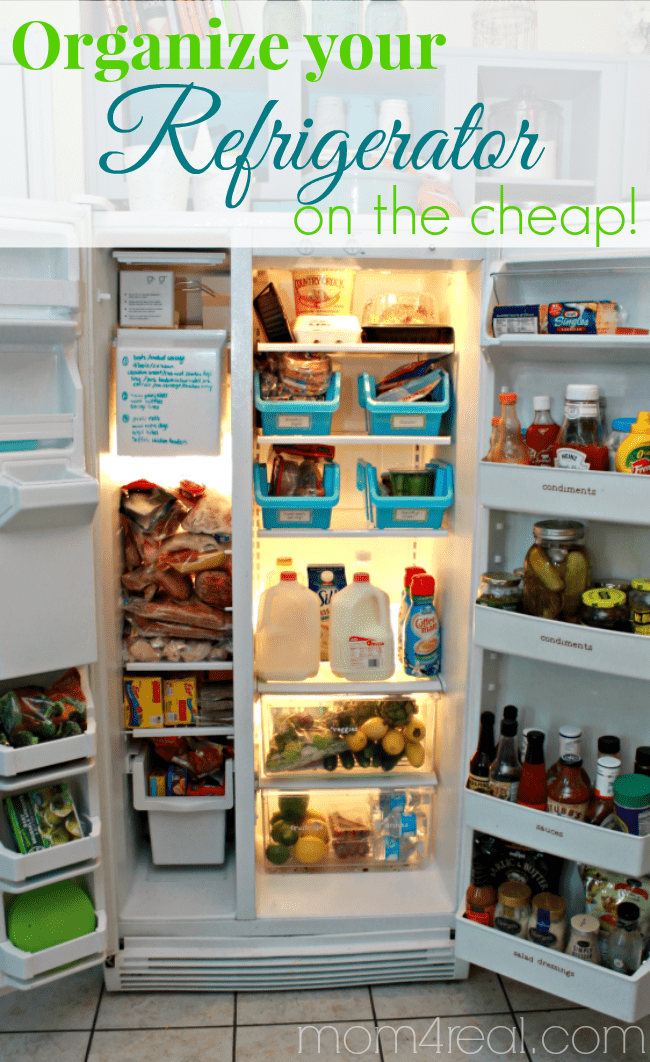 Organize your Refrigerator on the cheap
using baskets and containers via Mom 4 Real.
Refrigerator Storage Chart
Here's an illustration showing the best spots for each food type:
Use top shelf for tall items and eggs. Place milk towards the back where it is coldest.
Middle shelf works best for leftovers, drinks, and ready to eat foods.
Keep raw meat wrapped properly and stored low, and placed on lipped tray to catch drips and prevent contamination in bottom shelf or meat drawer.
Crisper drawers with low humidity for fruits and high humidity for vegetables.
Items with long shelf life like condiments, and soft drinks in door.
Dollar Store Refrigerator Makeover
Use dollar store buckets and trays via The Domestic Geek Blog.
Organized Fridge
Use trays and air-tight lid containers via Home Love Life.
Items that keep your fridge neat
Via Good Housekeeping.
How to clean and organize your refrigerator?
via One Good Thing.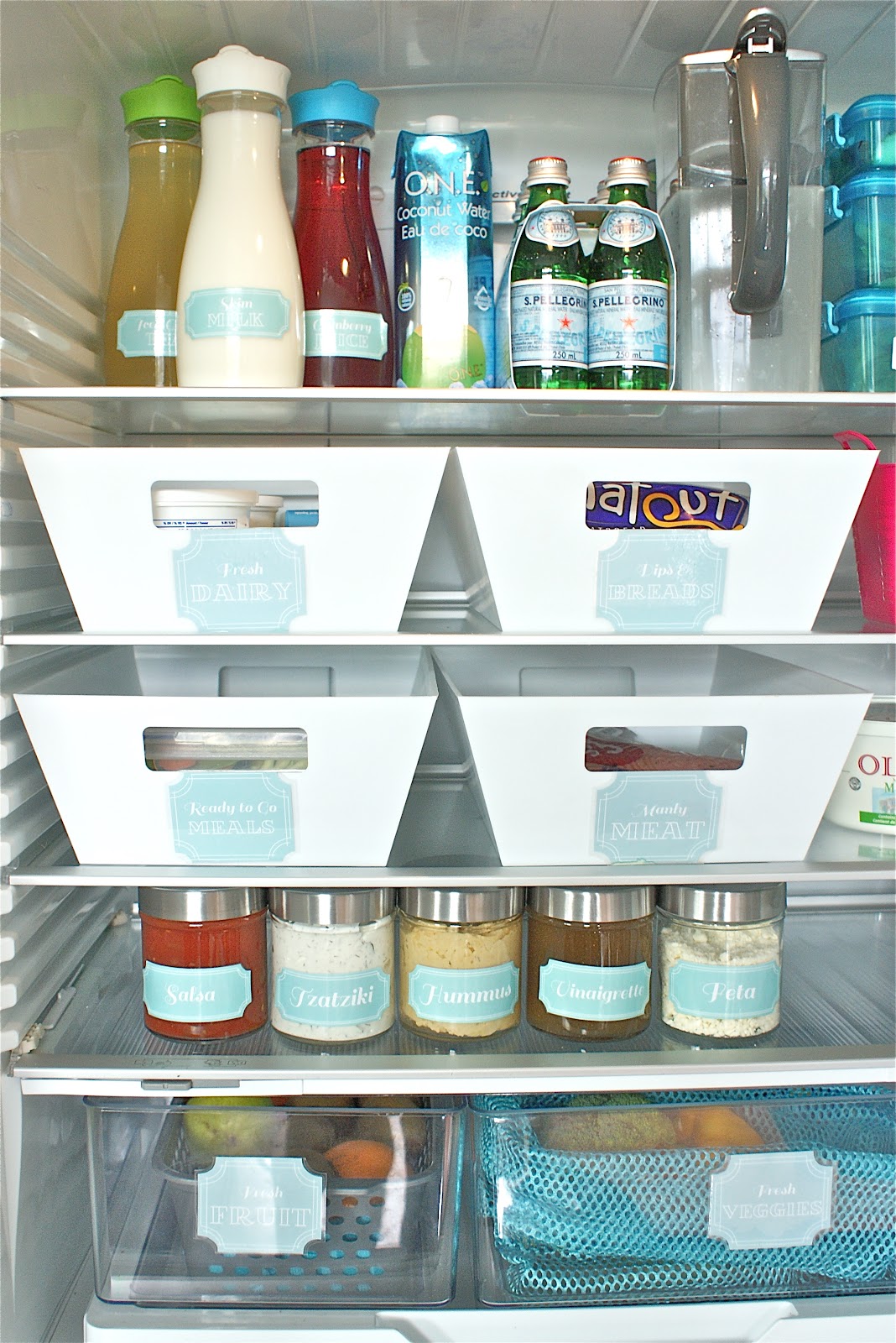 Fridge organizing tips
Use jars, baskets and net to store various types of food.
Fridge Mats made with vinyl placemats
Use vinyl place mats to keep fridge clean via Two Little Superheroes.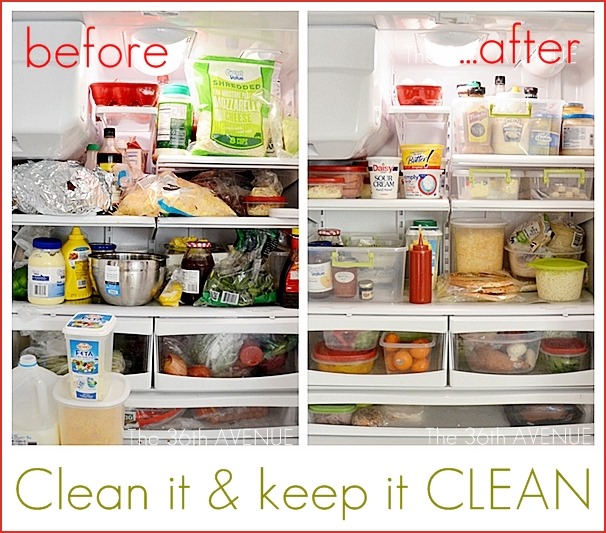 Tips to keep your fridge clean
Using lemon to refresh, wax paper to cover the bins and compartments to organize via The 36th Avenue.
Refrigerator Organization
via Two Twenty One.
How to Organize?
Eggs on middle shelf.
Leftovers on middle and lower shelf.
Milk on the bottom shelf in the back.
Cheese and butter in the door.
Cured meats shallow drawer.
Vegetables in the high-humidity drawer.
Condiments, jams, nut oils, butters and fruit juice in the door.
Fruit only store those that require low humidity.
Raw meat and poultry in the very bottom shelf away from fresh produce.
When to Clean your fridge?
Weekly: Check leftovers, fresh dairy, produce and other perishable items. Discard anything that has spoiled. Wipe up any spills, preferably as soon as they happen. Wipe down exterior of fridge.
Quarterly: Pull everything out. Wipe down the sides. Hand-wash shelves and drawers. Check and toss, if necessary, expired condiments and replace baking soda. Remove plastic vent cover on the bottom front of the fridge and vacuum or wipe down.
Annually: Pull the fridge out from the wall if you can. Vacuum any dust that's accumulated on the coils, as well as the floor under the fridge.
Refrigerator ideas
For deep clean, maintain clean, create food zones and label leftovers via Tidy Mom.
Refrigerator Tips and Tricks
Best Advice Via Grand Parents: While placement is important, Ottusch's number one tip putting like with like. Group similar items together, such as proteins or dairy. You'll not only find everything easier, but you'll avoid losing items to your fridge's black hole.
Point expiration dates upwards and out, where you can see them.
Need more space? Citrus fruits, onions, tomatoes, potatoes, and winter squash don't need to be refrigerated.
Keep things that expire quickly near eye level such as leftovers and milk.
Long Lasting fridge storage solutions
Avoid wasting food
Make an eat me first basket inside your fridge via the kitchn.
Storage accessories for refrigerator
Find a variety of storage accessories for efficient organization in the fridge on amazon, kitchen stuff plus and walmart. This image is via home edit.
Multipurpose Fridge Storage Sliding Drawers
Space saving organization accessory via amazon.
Food list on the fridge
create a content list of whats inside the refrigerator and keep track of what items are needed via chiots run.
Freezer storage solutions
Tips and organization ideas for freezer via the kitchn.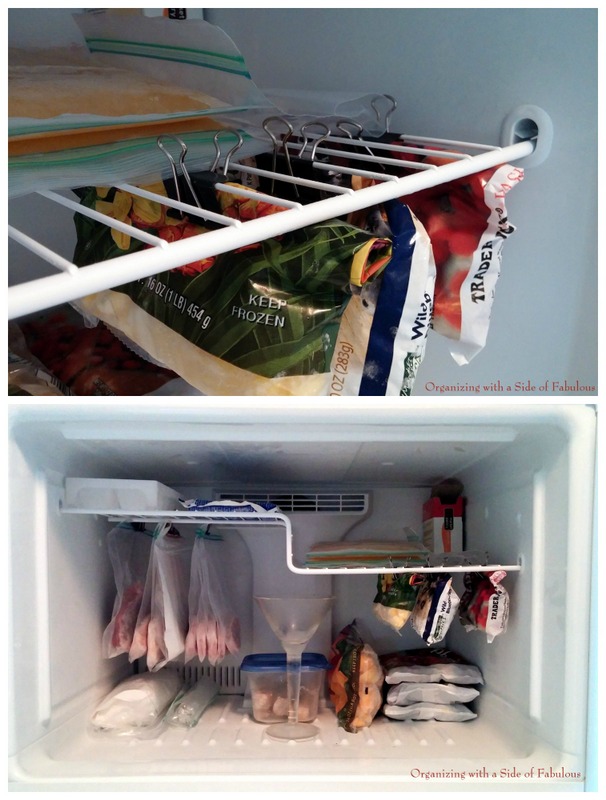 Freezer binder clips space saving tip
via organize with a side of fabulous.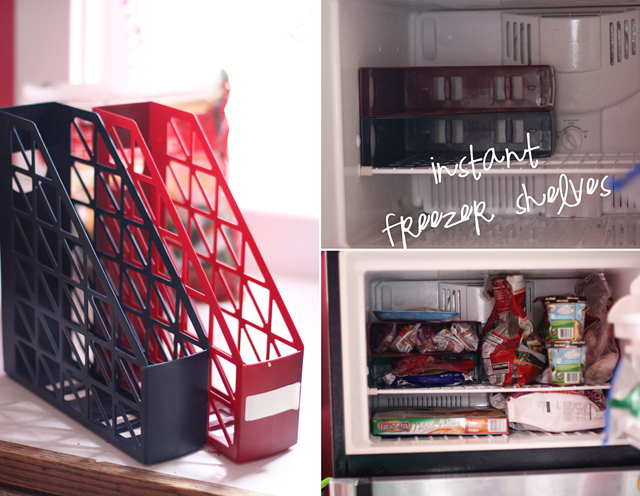 Instant freezer shelves using office organizers
via aunt peaches.

The ultimate list of fridge storage solutions
via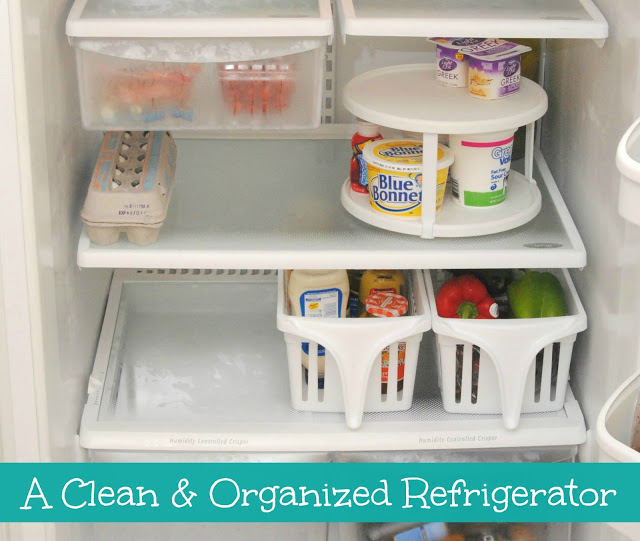 Use lazy susan in fridge
via happy go lucky blog.
 
Tips to organize freezer and fridge
via The Glamorous Housewife.
I hope you enjoyed these fridge storage solutions!
You will also like: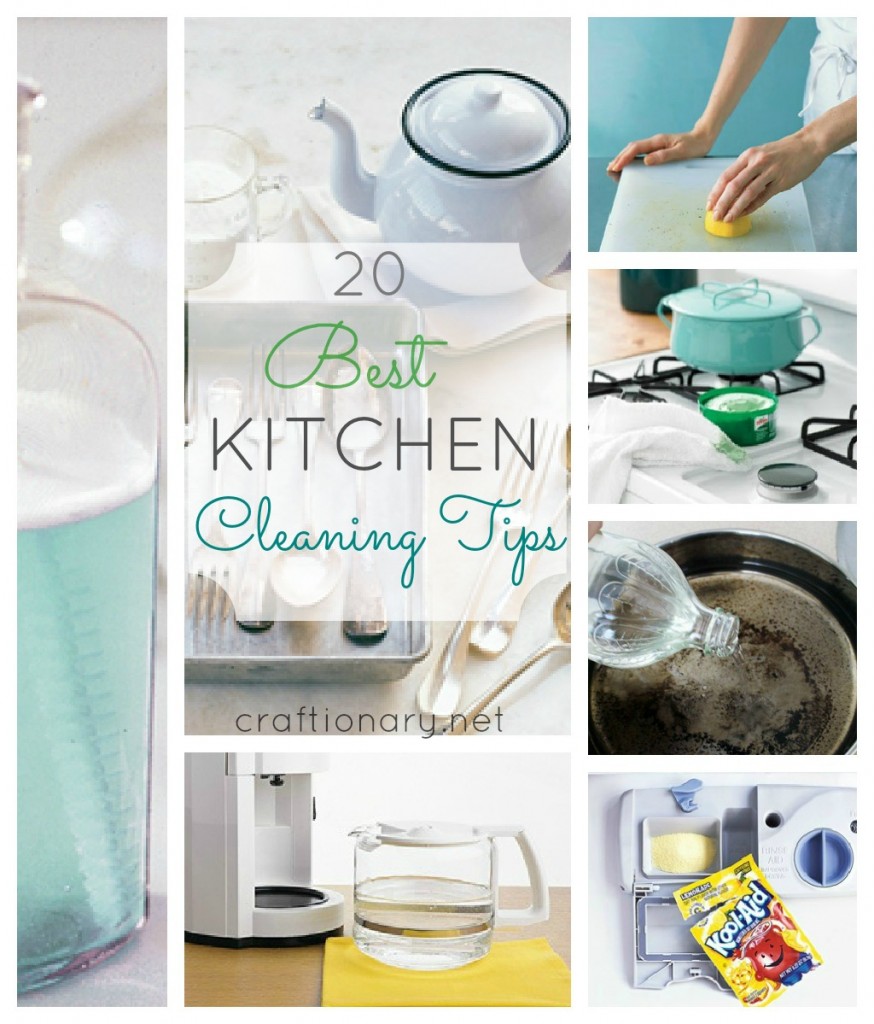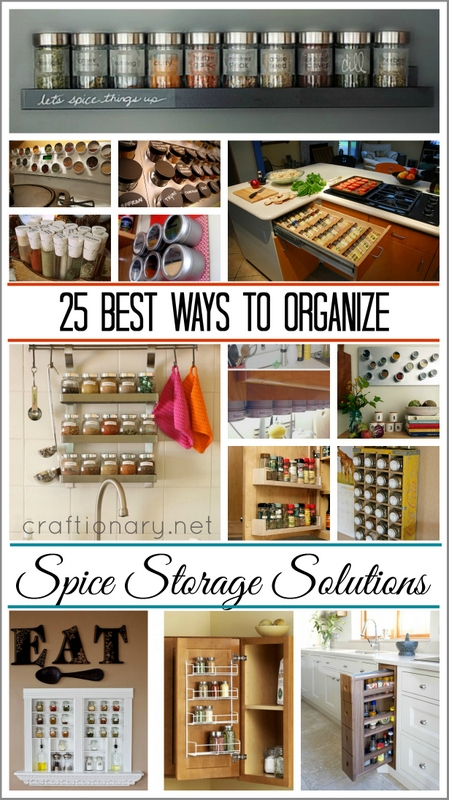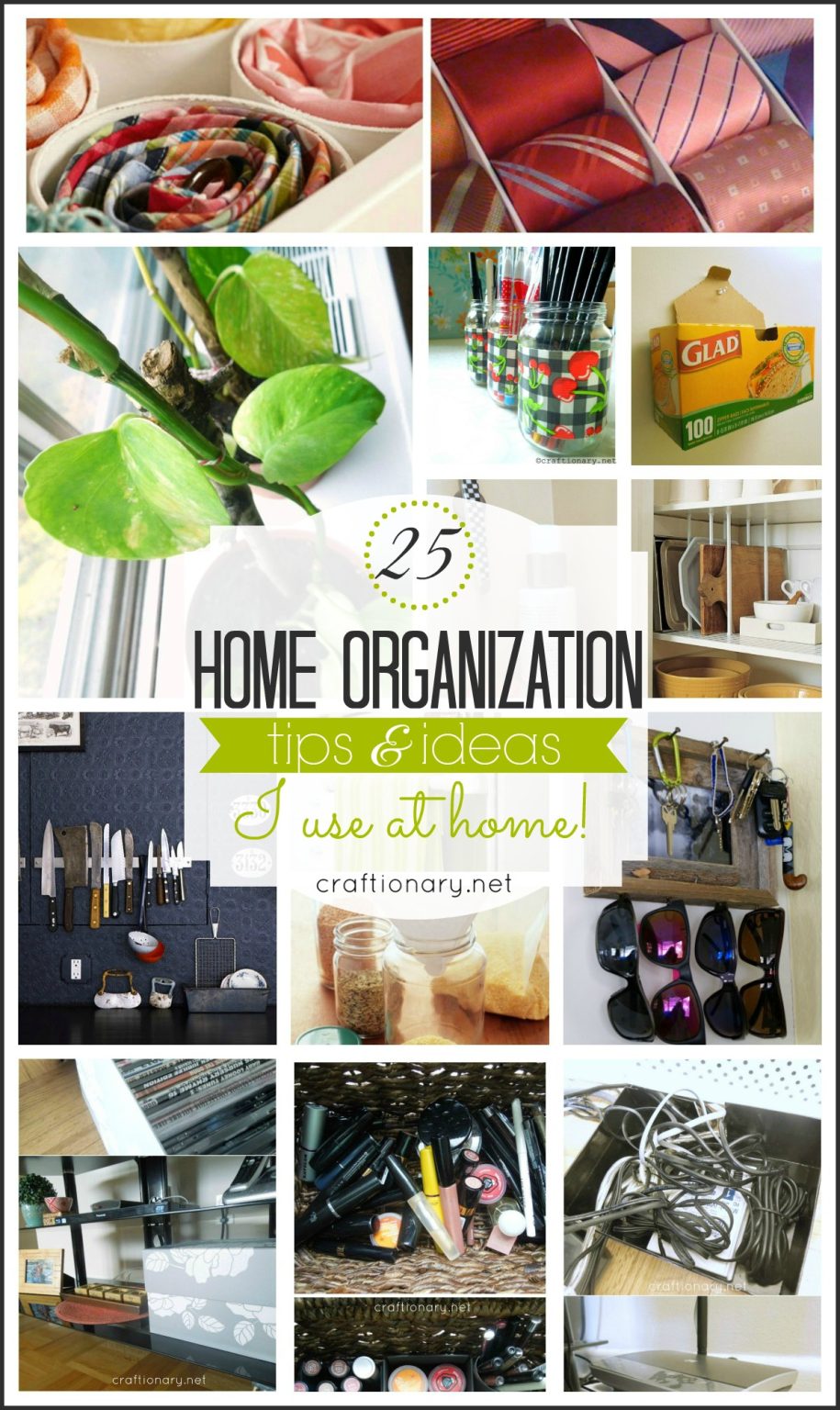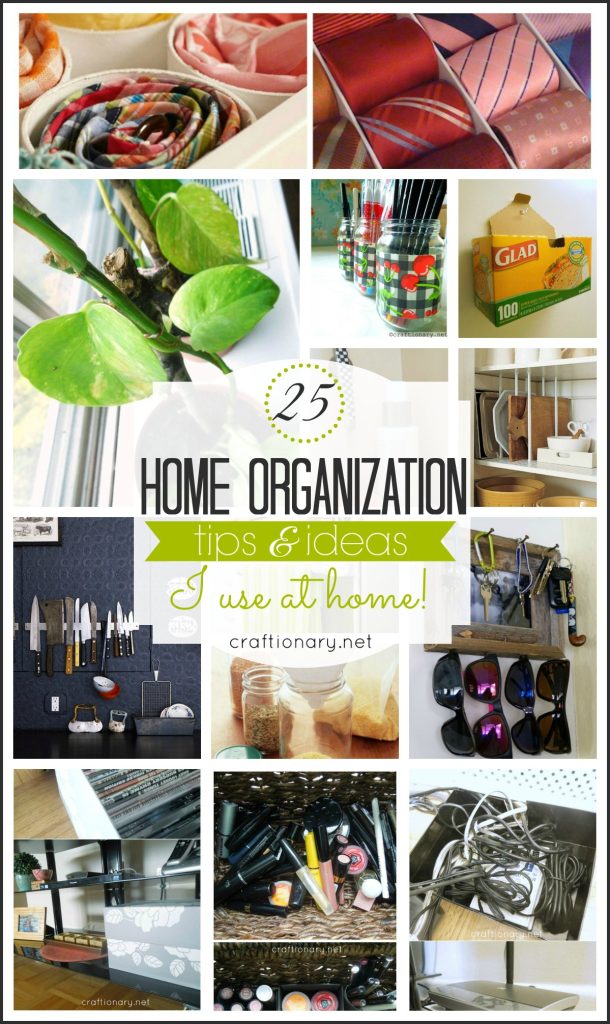 25 Organization tips from my home