This post may contain affiliate links. Please see our full Disclosure Policy for details.
Make DIY leaf inspirations best ideas. Crafts for kids and home decorating projects for Fall (Autumn). You can use fallen maples leaves to make beautiful wreaths. Or use leaves as stamps and stencils to create wall art or kids art projects. Or use leaf as an inspiration to make pillows, trays, jewelry or DIY projects.
I am sharing 19 DIY LEAF inspirations best ideas for crafts and tutorials today.
DIY LEAF inspirations best ideas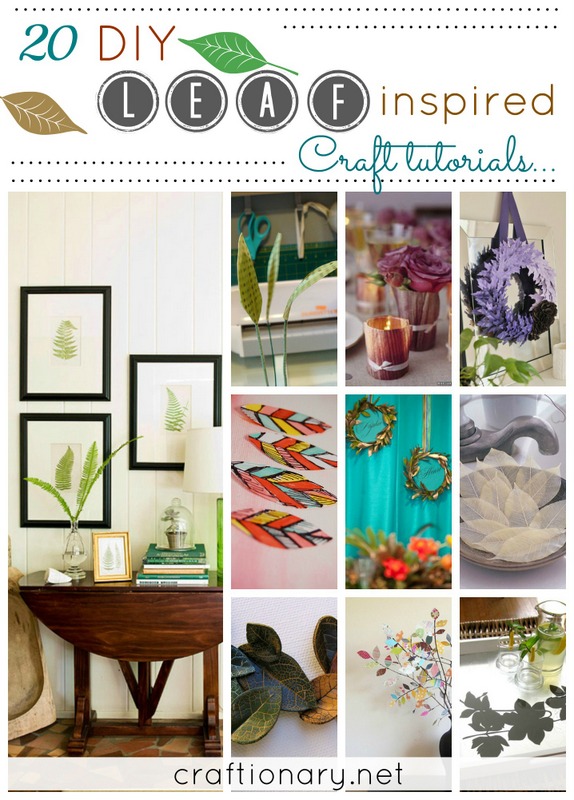 Today's Features
DIY Leaf Inspirations Best Ideas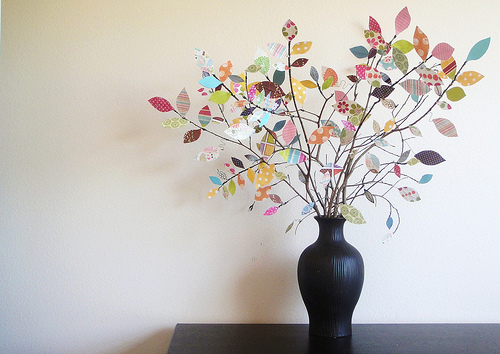 Leaf inspired crafts
Make a Paper Tree, using scraps of different patterns and wire. Easy and colorful centerpiece.
Leaf Stamps
Make Stamps using different leaves following this quick tutorial, Stamping with leaves.
This is such a fun project. Have your kids play and make Leaf Rubbing Paint Mural.
Lindsey at  Filth Wizardry shares a great tutorial.
DIY LEAF inspirations best ideas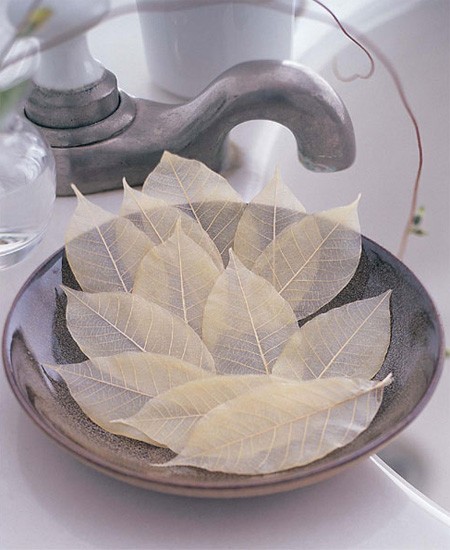 Decorative leaf soaps
Make your guests feel special with these amazing disposable Leaf Soaps. Find tutorial for Soap leaves fun and easy project.
Paper leaf art
Make Colorful Doodle Leaves for decorating boxes, tins and more. Paper leaf art video tutorial.
 Amanda shares a very detailed Headboard tutorial with this Amazing Leaf Patterned Fabric.
How to make leaves with wire!
Flowers look incomplete without leaves. Make fabric-cut (or paper-cut) Wire leaves with glue and wire.
DIY leaf inspirations best ideas
Leaf painted art
A decorative wall art made with Tree branches and cereal boxes.
Stamp pad leaf printing make a wall hanging.
DIY Leaf Wreath
Foliage wreaths for the bride and the groom. I love the combination of blue, green and bronze.
Made with thread and spray paint on a loop.
Tutorial to make DIY Leaf wreath.
Leaf-shaped petal pillow
A very cute Felt leaf pillow tutorial.
Felt Headband
 Make a leaf headband. Leaf headband tutorial.
Leaf Photo Frame
A Bali natural culture, arts and crafts inspired leaf decoupaged frame.
A very simple tutorial to make painted Leaf Earrings.
Leaf covered candle holders
Use corn husk to make decorative candle holders.
Silver Leaf Tray
Make this terrific botanical leaf tray for your home following the tutorial. Find tutorial and more ideas at decorative diy trays for home.
DIY LEAF inspirations best ideas

Botanical Specimen Frame
Botanical plants gives such a serene and peaceful effect. Collect botanical plants and make a statement on the wall.
DIY Leaf Wreath
A wreath with spray-painted maple leaves. Maple leaf wreath.
Make Leaves
Make Leaf Skeletons for fun projects. Like Frames, Jars and Glass decoration.
Leaf skeleton art is made by gently rubbing the leaf with salt and sponge to remove the upper layer.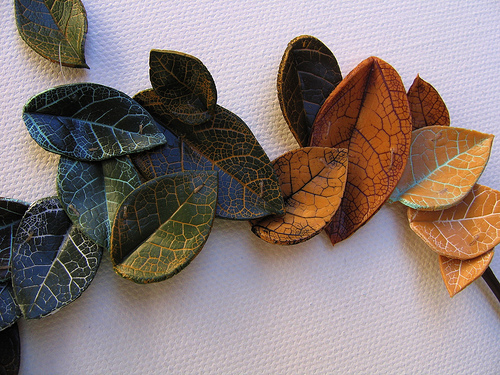 Clay Leaves
Make surprisingly realistic leaves with Clay and acrylic paints. A fantastic tutorial to make DIY Clay leaves.
Looking for more great ideas?
Check out tutorials in the category
FALL
.
Are you on pinterest?
These are updated regularly whenever I find unique ideas.