This post may contain affiliate links. Please see our full Disclosure Policy for details.
Making a lovely Christmas centerpiece for your dining room table will enhance everyone's memories of the occasion. Additionally, tablescapes and centerpieces let you show off your artistic side. Use different Christmas ornaments and decorations each year to create a fresh look, or concentrate on an accent color that will pop against a neutral background. We can be grateful for the unique times we have with our families.
The holiday season can seem to go by quickly with all of the gatherings, parties, shopping, and decorating. Since, the highlight of the holiday season for many of us is hosting a large meal for friends and family.
Here are some inspirations for Christmas centerpiece ideas that can help you. You will find cheap Christmas centerpieces for a budget that you can DIY as well as luxurious Christmas centerpiece ideas with stunning products to decorate your dining tablescape for Holidays and enjoy the dinner with your people.
63 Christmas Centerpiece Ideas
DIY Christmas centerpieces
Let's start with this bowl filled with glass Christmas balls Boho Christmas decor looks stunning. Faux botanicals in neutral colors whirl around, covered in fluffy, sparkling snow, giving your Christmas a cozy, creamy feel.
This lovely DIY Christmas Centerpiece for dining table is also an easy idea. It is made with three stacked baskets and can easily be changed to look festive for Christmas. Autumn included flocked greenery and red berries in addition to Christmas pine branches. On top, place a white pillar candle from Walmart and pinecones and walnuts collected from the yard.

This DIY snow globe ornament is another creative and inexpensive Christmas centerpiece that looks fantastically vintage. There are three different designs available: globes, domes, and bell-shaped cloches. Inside, a variety of miniatures can be used to create imaginative scenes. You can use dollar tree items to make one. You will also like these 15 Best DIY Snow Globes Ideas.
Small Christmas centerpieces for dining table
All you need are some wintry stencils, craft paint, and a plain canvas cloth in order to create your own festive table runner. Painted Table Runner with tiny trees creates a wonderful evergreen scene.
Candy-colored paper cone trees make an inexpensive and incredibly fun centerpiece for any holiday table. Get the Snow Dotted Cone Trees at A Kailo Chic Life. Also check out these fun Modern Christmas Tree Holiday Ideas.
Want to infuse your table with a little color? Create a stack of rainbow gift boxes that you can then arrange down the center of your table. Get the Rainbow Gift Box Table Runner at A Kailo Chic Life.
What could serve as a cuter Christmas centerpiece than this adorable DIY snowman vase? Make a snowman vase centerpiece  with painted terra cotta vase and cardboard hat with faux greenery.
Christmas centerpieces for dining room table
The Tabletop Tealight Holder is the perfect table centerpiece for Christmas. With spaces for three tea light candles, you can add a warm glow to all of your winter festivities. This rustic tea light holder features snow-dusted pine cones, snowdrop flowers, and branches, each in a festive white color. Buy Them at Wayfair.
A perfect Christmas centerpiece is a mix of red and white blooms, lush greens, and rustic pinecones. Gold taper candles provide a warm and inviting Christmas glow. This simple festive centerpiece with white lilies and red roses adds a classic touch to all of your holiday gatherings. You can get one from your local florists like 1800flowers.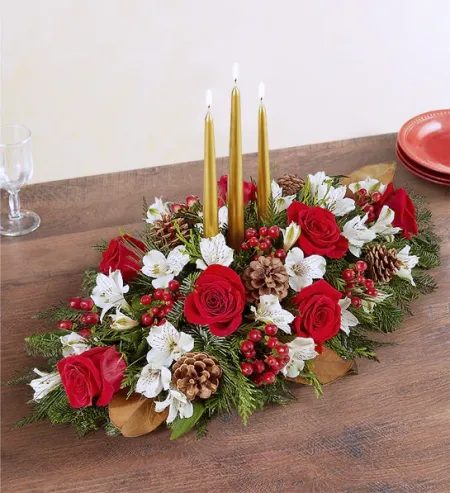 Reindeer Christmas centerpieces
The silver and green French Christmas centerpiece decor by  Cedar Hill Farmhouse  is stunning. Oversized silver ornaments set on a mini boxwood wreath elevate the place settings. The gleaming silver-studded deer adds a sophisticated touch.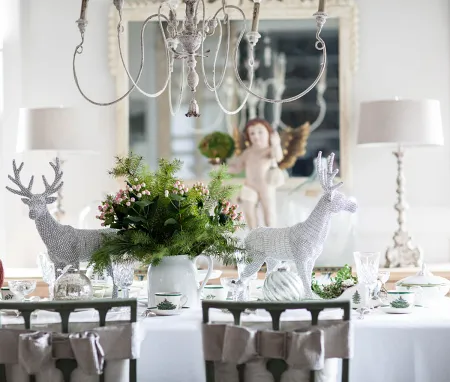 Even though it is not "traditional," this Christmas Centerpiece for table captures the spirit of the holiday. Festive Christmas table decor uses modern candle holders with sparkling silver candles. Winter colors for this tablescapes include metallic, cold blues, greys, and whites. A metal deer centerpiece would be the perfect finishing touch to your decorations. You can buy one from Wayfair.
Gold Christmas centerpiece
This lantern's charming artwork depicts a starry night over a street lined with townhouses. There are also Christmas trees, wreaths, and classic cars. The image is created on glass with a gold decal. This lantern can hold a standard tealight or a small pillar candle and has a metal handle. Buy this one from Marks and Spencer.
Golden Christmas Centerpiece: These lovely pre-lit tabletop trees will add a heavenly glow to your table setting. This festive appearance is designed by Emily Henderson that feels incredibly elegant, add a green table runner and tapered candlesticks. You can shop similar Gold Trees at Wayfair for much less.
Rustic Christmas centerpiece ideas
Consider a champagne-colored Christmas centerpiece instead of the traditional red and green. Candles and ornaments bring holiday tablescape to life.
This rustic Christmas centerpiece decor featuring polka dots, a Christmas Centerpiece decoration idea by Leslie. This centerpiece decor can be made with handcrafted pine cone trees and a centerpiece bowl of red berries, stems, and Christmas pine picks. 35 DIY Christmas Ornaments is a collection of stunning ornaments made with various materials.
This beautifully engraved wood slice would look great on your coffee table or as a centerpiece. It makes a lovely keepsake to bring out year after year, engraved with a festive Santa's Sleigh with Reindeer design and personalized with your family name. Buy this from Etsy.
One of the best items is this adorable petite dried floral bouquet centerpiece. Also works well as a stocking stuffer. Can be used as desk or home decor, a Christmas gift, or table decoration in a bud vase with natural everlasting dry flowers. Buy Holiday Season flower arrangement from Etsy.
Christmas Centerpiece Lanterns
Blue Snowflake Christmas Centerpiece lantern from Etsy.
Elegant Christmas centerpiece idea which you can buy from Bed Bath and Beyond . This Christmas Centerpiece Decoration includes a gold mini bottle brush reindeer figurine, a 60-inch flocked garland with white and gold Christmas ornaments, and a terrarium-style LED Christmas lantern.
Green Christmas centerpieces
Elegant green topiaries arranged with white poinsettia planters Christmas Centerpiece in vase that matches the candlesticks by bhg.
Moss with topiaries and a bowl filled with green ornaments. Use a tree shaped cone and cover it with moss and hot glue ornaments to make this beautiful tall ornaments centerpiece.
Tie your own fir garland with fairy lights to make Christmas decorations for tables and doors. Get the instructions to make a fuller table runner for dining room.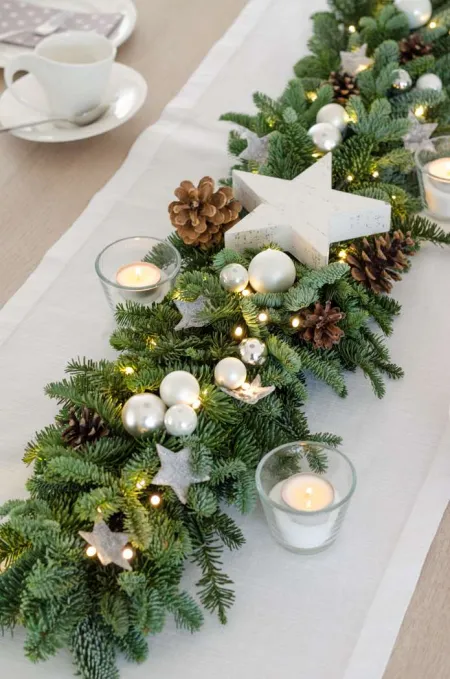 Green and silver Christmas centerpiece decoration by The savvy succulents from Etsy. Holiday floral arrangement in wooden carved bowls makes great hostess gift as well.
Make this or you can buy this elegant Christmas Centerpiece made with faux arrangement and pillar candles from Etsy.
Large Christmas decorations with greenery in a floral foam inside a sleigh planter from expressions of the home.
Handmade Christmas centerpieces
Beautiful wooden star LED light Christmas centerpiece with birch and berries hot glues inside the star add a natural touch to it. You can make your own or from ebay.
This unique branches in a vase poinsettia Christmas table design is so unique. Hang tea lights and berries and arrange poinsettia on the table to give the tree centerpiece effect.
Wooden snowflake winter centerpiece decor from Etsy.
Small Christmas Centerpiece Idea from zevy joy.
White twig tree advent calendar with hanging houses make beautiful red and white Holiday centerpiece.
Make a gnome centerpiece to bring good luck and happiness with health in the year to come for all the members on the dining table.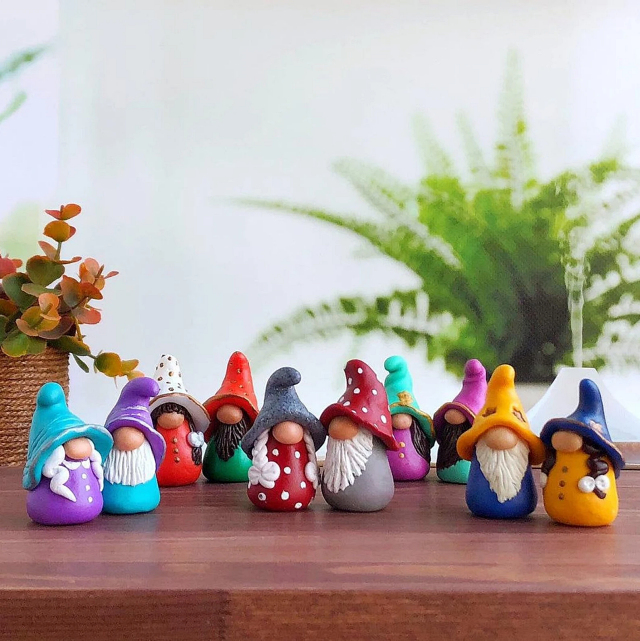 Simple Christmas centerpiece ideas
DIY vases filled with tree branch trimmings can be used to make creative candle holders for your Christmas table decor.
Use these vases-turned-candlesticks to create a simple Christmas tablescape. Everything you need for a beautiful table is clear glass vases with painted fern and pillar candles.
You don't have to use red and green decorations every time just because it's Christmas. This French Country Farmhouse Christmas dining room table setting looks stunning when it is layered with macrame table runner, garland and twinkle lights.
DIY Candy cane vase and Christmas poinsettia table decoration. You can find fresh poinsettia at local grocery stores like Walmart and Costco for a great price. You can also make these adorable flowers with nylon poinsettia tutorial.
This lovely Christmas cloche centerpiece is simple to make with only a few supplies. Place the Christmas village pieces under a dome with a string of battery-powered lights. Add a wreath and a tray for a more upscale look at a lower cost.
This gift box centerpiece idea is a traditional yet unique DIY project. Learn how to make these mossy presents for your Christmas dinner table with floral foam and moss roll. Read your ultimate gift wrapping guide and find inspiration for Gift Wrapping for Holidays.

Traditional Christmas centerpieces
With a variety of mercury glass Christmas tablescape accessories that beautifully reflect the warmth and glow of burning candles, you can make your table sparkle and look luxurious. Shop Mercury glass tealight holders at Amazon or learn to turn anything into mercury glass with spray paint.
If you're looking for an alternative to the traditional pinecone trees, this tree-shaped centerpiece will add more holiday cheer to your decor. The battery-powered item illuminates your surroundings by lighting up and giving your holiday decorations a polished look. Buy from Marks and Spencer. You can also use mercury glass spray paint to give this effect to ordinary glass.
Christmas Centerpiece with white pine candles and garland for an easy table decoration. Consider these white candles that resemble Christmas trees. Of course, given their naturally photogenic appearance, you won't want to light them.
How about adding a lantern to a candle holder to make it look even more festive like this Beautiful Christmas decoration.
Get in the spirits with the country Christmas tablescape with a truck loaded with snow covered Christmas trees. Do you enjoy decorating Christmas Mantels for Holidays?
Mason jar Holiday centerpieces
With these adorable mason jar Christmas centerpieces inspired by a vintage farm house, charm your guests this holiday season! The perfect centerpiece for decorating your home or office space or for entertaining. Buy from Etsy.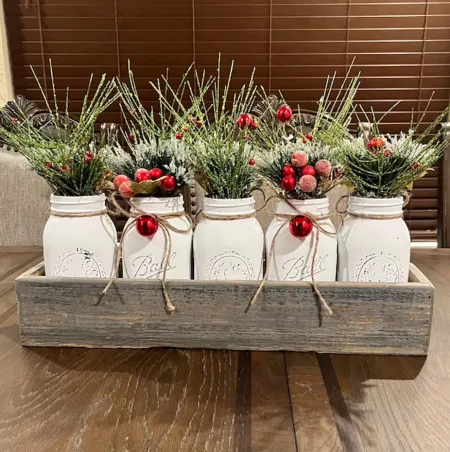 This elegant Christmas Centerpiece includes Lazy Susan tray cake stand and greenery on LTK.
This DIY Rustic Christmas Centerpiece is the rope detailing, with a touch of tin for farmhouse style centerpiece, also implies a fondness for all things nautical. Nutcrackers, on the other hand, are always welcome.
Pink Christmas centerpiece
With the help of this blush-pink garland, create your very own winter wonderland. We couldn't think of a better way to spruce up the season. This item is perfect for a sideboard or mantelpiece. Buy from Cox and Co.
Lighted Christmas centerpieces
With this shimmering lighted centerpiece with bottle brush trees, you can give your holiday decorations a new color palette. Buy from Wayfair.
Warm white LED artificial branch tree with lighted birch tree for home party festival wedding decor, table tree lamp excellent centerpiece for the space. Buy from Wayfair.
This breathtaking winter fantasy of ethereal white branches and pinpoints of light in a glass cylinder with glittering ribbon bands provides warmth and illumination for a winter evening's meal. Buy from ebay. Do you like to celebrate and make things festive with string lights too? Check out these 20 DIY String Light Projects that are so fun.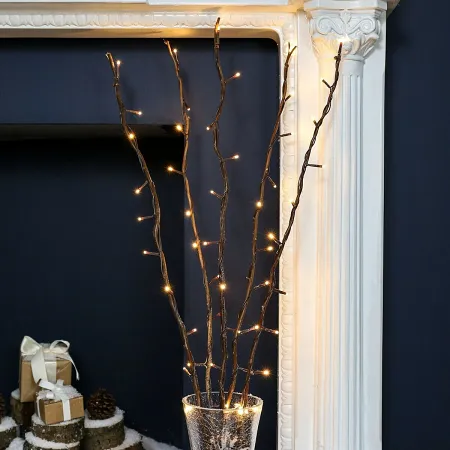 Flower Christmas centerpieces
Faux Amaryllis Composed floral Christmas centerpiece from Pottery Barn.
White and silver poinsettia Christmas centerpiece from Etsy.
These floral bottlebrush trees are an untraditional take on the classic Christmas centerpiece, making them ideal for adding a pop of color for Boho lovers and those celebrating in warmer climates.
Elegant Christmas centerpieces
A lovely simple Christmas centerpiece to dress up your dining room. Perfect as a display for your home's decor or for your Christmas table. Buy from Etsy.
Brass and glass globe Christmas Centerpiece from West Elm.
Add a glamorous crystal vase and white elegance to your centerpiece with glass rocks from dollar tree or glass beads to turn simple glass into crystal. Image source not found. 92 Extraordinary Christmas garland ideas will guide you to make festive garlands for any decor style.
Easy Christmas centerpieces
Christmas Joy Berry Floral Arrangement is ideal for decorating your Christmas Centerpiece. Buy this JOY Christmas centerpiece from Wayfair.

You can buy this Gingerbread Christmas Centerpiece from Etsy.
I love this idea to arrange snacks with beautiful crockery to display blue Christmas centerpieces. This collection features elegant royal check serving pieces for hosting.
Vintage Christmas centerpieces
A red and green plaid runner surrounds this dining room table, which is surrounded by silver trees and pine branches. A woven placemat, a white plate, a napkin with a holly pattern, and a miniature wreath are included with each place setting. Christmas sleigh table decoration with book pages snowmen and vintage tin vase adds feature to this decor.
Rustic tray centerpiece includes a close-up of the miniature flocked trees and tiny burlap bundles displayed on a wood tray as the dining room table centerpiece A votive candle is placed in the center of the Christmas centerpiece on the table, which is surrounded by a tiny wreath and small wood cottages.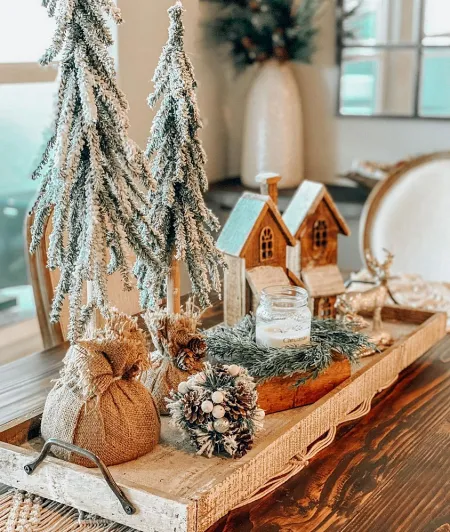 In this open-plan home, a small round dining table sits beneath a black metal light fixture. Each location has black chairs that are adorned with a white plate, a white placemat, and a patterned napkin. A small pine tree centerpiece is supported by a wooden box in the center of the table with personal ornaments hanging on the trees. This is a reminder for gratitude for the people we have in our life. Great idea for Christmas centerpiece that can be displayed for Thanksgiving as well.
A polished dark wood dining table with miniature pine trees and red Christmas centerpieces. Each place setting has a white plate with a pattern on it, a white cloth napkin draped over it, and a pine sprig for decoration. The ceiling-mounted light fixture is surrounded by garland and a large wooden tray filled with ornaments matching your Christmas tree with brass candle sticks makes a stunning Christmas table setting.
White Christmas centerpiece
The Christmas centerpiece on this table is a vignette of a white Christmas Centerpiece village with delicate white snowflakes hanging above it. Evergreen branches and pinecones are scattered throughout the centerpiece. Christmas village looks stunning in various decorations.
You will also like: 82 Holiday Outdoor Christmas Decorations Ideas
Use these Christmas table centerpiece ideas and create festive tablescapes and centerpieces to show off your artistic side. Use different Christmas ornaments and decorations each year to create a new look, or focus on an accent color that will stand out against a simple backdrop. They also help to improve everyone's memories of the event.
Author: Marriam Arshad