This post may contain affiliate links. Please see our full Disclosure Policy for details.
How to make nylon flower rose? I am sharing a very easy tutorial to make nylon flower rose with step-by-step instructions. The details from making a rose bud to shaping the petals to form a nylon rose are with pictures. I have tried my best to make the tutorial understandable. This nylon flower rose is a result of my own trial after studying a natural rose and counting it's petals. Some people also refer to nylon flowers as stocking net flowers or pantyhose flowers.
Nylon flower rose
Make nylon flower rose
THINGS YOU NEED:
Ring size 6

White and red stocking net (or any color rose you desire to make)

Floral tape

Nylon thread

Stem wire

Wire

Plier

Napkin/ tissue paper

All purpose school glue/ glue stick
For complete nylon material information see NYLON MATERIAL.
GET CRAFTY:
Cut the napkin in half and then fold it to form the bud of the rose. Apply glue on the napkin, place the stem wire on it, at one end and roll.

Keep shaping the bud while wrapping. Stick the end when you're finished.
See the picture below:
Now wrap the white/ red stocking net over the bud 2 or 3 times.
Follow the instructions for making petals and assembling the flower in the post Basic Nylon Flower.

Thread a petal to the bud and shape it; as shown below: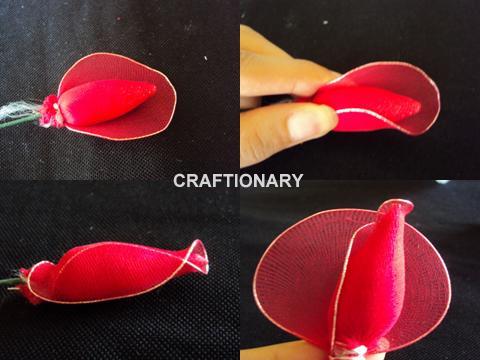 Now thread all the remaining petals; in the order 3-4-4.

Meaning 3 petals gathered around the bud closely, next 4 petals a little opened and then the last 4 petals completing and forming the rose.
Wrap floral tape around the wires.

Shape the petals to give the rose a final touch.

Now join the leaves. Roses are incomplete without leaves.

And place them in your vase.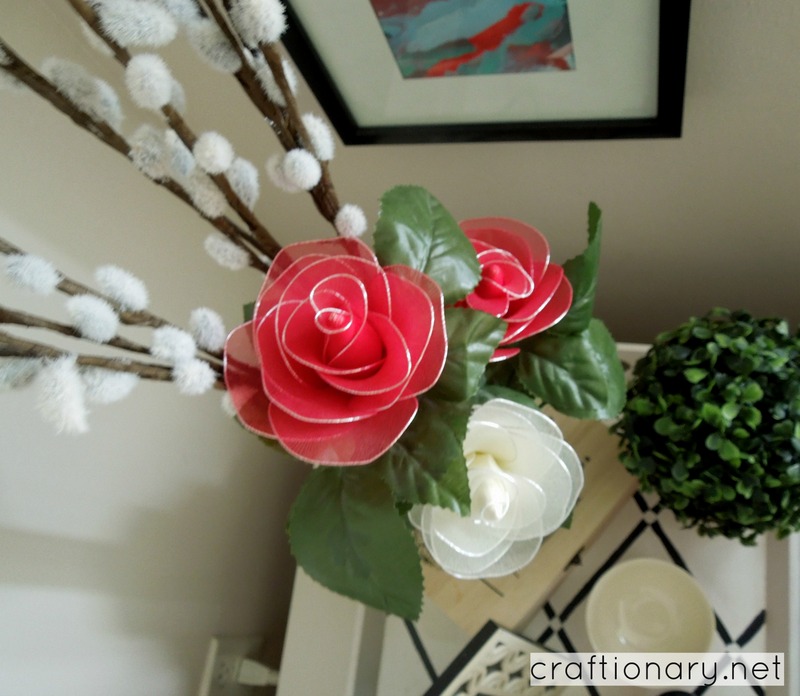 I hope you enjoyed this easy nylon flower rose tutorial.
A lot of people ask me about nylon flowers. You can find all the information about material and more HERE.
More tutorials on Nylon Flowers. Find tutorials to make all the flowers you see in the image above.
You will also like:
Spring burlap flowers
.
Ribbon flowers tutorial
Make nylon tulips (tutorial)
Looking for more great ideas?
Are you on pinterest?
Updated regularly whenever I find unique ideas.