This post may contain affiliate links. Please see our full Disclosure Policy for details.
When you know how to play with cards, you can turn the table on your side. Similarly, if you know how to be creative with balloons you can simply transform any boring party decor into an impressive themed event. Balloons are not only for kid's birthday party but also make adults party bright. They can easily put a smile on anyone's face regardless of their age, gender, and class.
Here you will find fun birthday balloon decoration ideas as well as simple balloon decoration ideas. There are ideas with helium balloons as well as balloon decorations without helium. You can hang a balloon on the ceiling or make a balloon arch with how-to instructions. Decorate with balloon bouquet or make a balloon garland for entryway. Create an incredible balloon centerpiece for table decorations. Add a touch of excellence with balloon place cards.
Balloon decoration ideas for any party
Make a balloon backdrop or hang balloons upside down to transform the plain balloon into a glittery masterpiece. Use these ideas to decorate with balloons for happy birthday party, anniversary or any other event at home. You can use bright colors of the balloon to give a warm look to your room. Or go elite with metallic colors and classic black and white balloons to give a certain vibe to the room. Either way has the potential to look extraordinary.
Here you will find 60 different DIY balloon decoration ideas for any occasion or party. We have you covered from hanging ceiling balloon decoration ideas to helium balloon decoration ideas. Ideas for long balloon decor to wall balloon decorations. These ideas can be improvised into any theme or party whether indoor or outdoor, happy birthdays or weddings, dance parties or graduation ceremonies, gender reveal or surprise party. You will also learn how to make a balloon sculpture or balloon columns.
Happy birthday balloon decoration ideas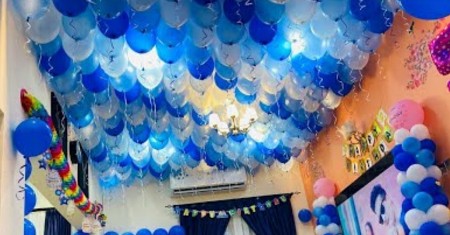 Floating Balloon Ideas without Helium
Looking for ideas on how to create floating balloons without helium? Fill air in your blue and white balloons and stick the balloons to the ceiling with double-sided tape.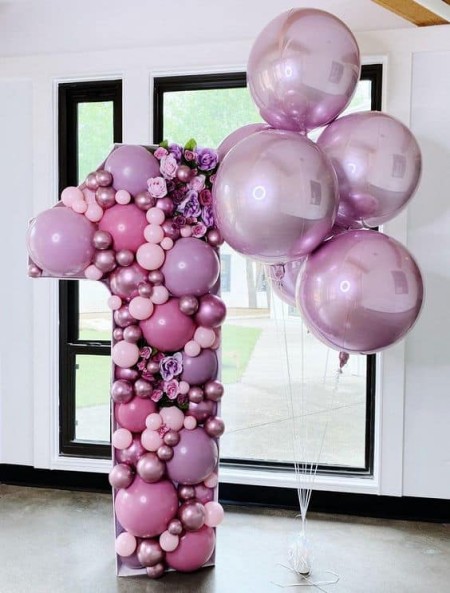 Mosaic balloon number
The idea of mosaic balloon number is easy and budget-friendly. Fill a cardboard number with pink and purple balloons.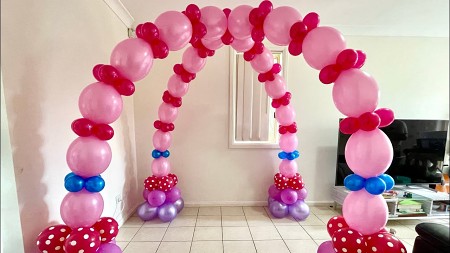 Gazebo balloon without stand
Make a gazebo balloon arch without stand with pink and red balloons.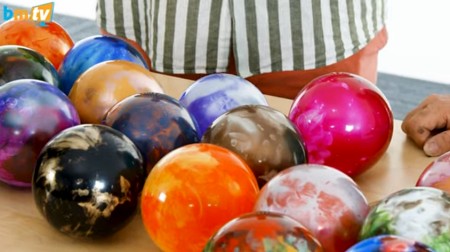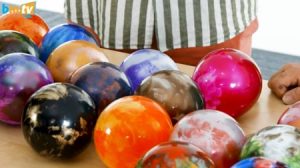 Marble balloons
You can create stunning marble balloons with acrylic paints. Use colorful balloons and stretching tool to open up the balloon. Put a drop of paint, move it around and blow air using air pump.
Stage balloon decoration ideas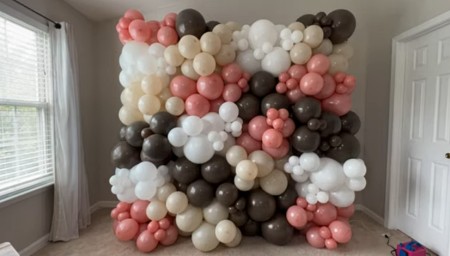 Balloon wall mural
Make a balloon wall for the backdrop with white, pink and brown balloons. This is the easiest way to make an organic balloon wall for indoor or outdoor events.
Mini Balloon Arch
Make a mini balloon arch by attaching white and blue balloons to a foil balloon or bubble balloon. This is the easiest way to attach balloons.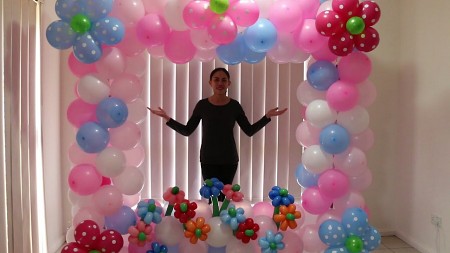 Balloon picture frame
Make a picture frame for your party with a bunch of pink, blue and white balloons. It is suitable for any occasion by simply changing the color scheme and use of balloon flowers.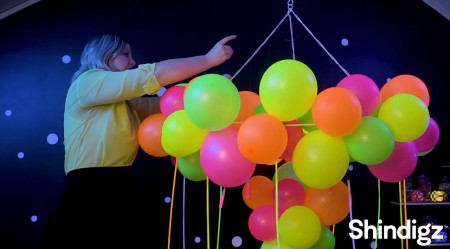 Balloons chandelier
With a balloon chandelier, you can add a pop of color and glam to any birthday party. Fix the cluster of neon balloons to the fan or attach it to the ceiling over the dining table. They will float over your head while you rejoice and enjoy a splendid meal. Add glow in the dark lights for an extra layer.
Cute balloon decoration ideas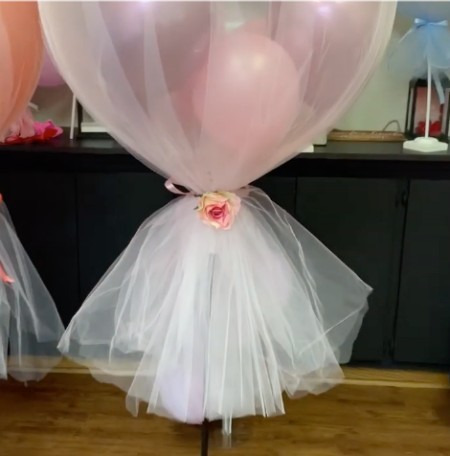 Giant balloon wrapped in tulle
Make large tulle balloon on a stand for your next event. This will add a touch of elegance to your bridal shower, wedding, and girl birthday party. It will also make adorable centerpieces with easy instructions. Find tulle fabric projects to go with this idea.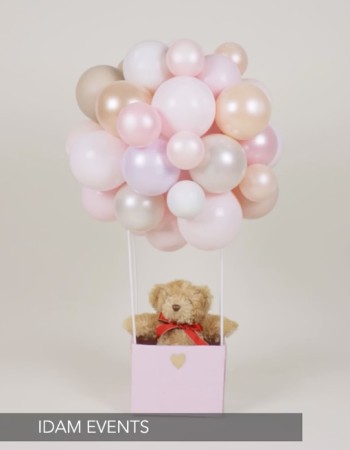 Hot air balloon
A cute DIY hot air balloon centerpiece or table decor for your party. The material used is simply balloons, ribbons and baskets. It's best for birthday party or baby shower.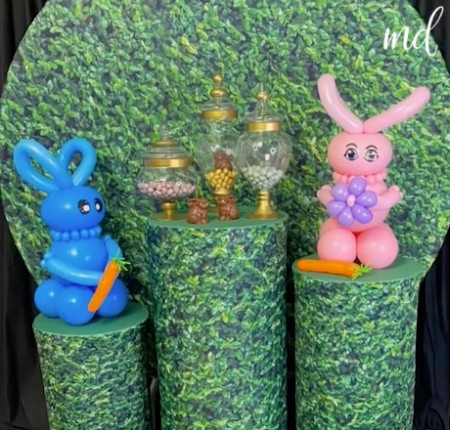 Balloon bunny decoration
Little one birthday party with balloon bunnies. You can use it as centerpiece for your table as well as Easter balloon decoration. Find Easter bunny crafts to compliment this idea.
Small balloon decoration ideas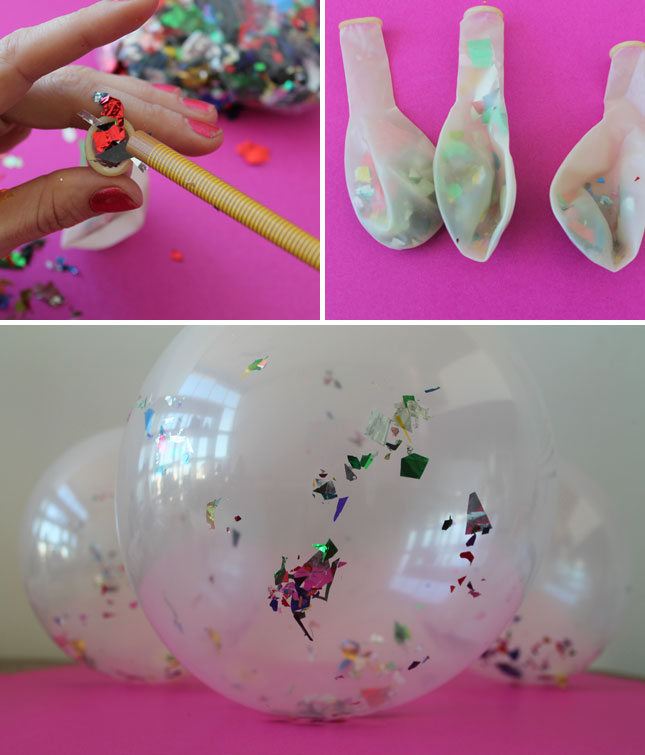 Confetti balloons
This idea is perfect for any party. Take a big-sized balloon and fill it with confetti or glitter. Once you have put in the confetti, inflate the balloon, and put it on the top of the table where the birthday cake will be cut. Once you cut the birthday cake, you can burst the balloon and the confetti will fall out. Learn more about this idea and more fun Last minute DIY balloon ideas.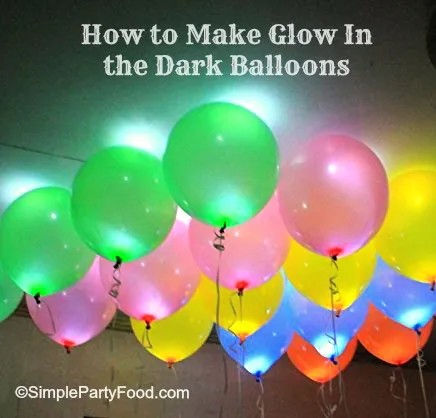 Glow in the dark balloons
To make glowing balloons you must take glow sticks and insert them into the balloons or take LED balloons and attach them to the ceiling. You may place balloons on the outside of the house or make them float into your pool.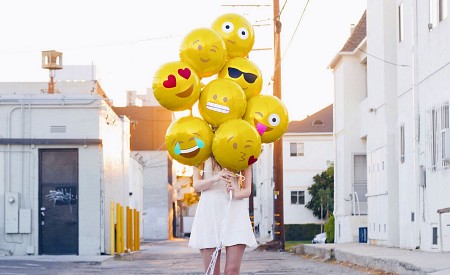 DIY Emoji Balloons
Are emojis still popular? Inflate the balloons and tie them with a string. Draw smiley faces on chart paper and cut them out. Stick them in the center of the balloon. Alternatively, you can draw on the balloons with markers. Metallic balloon emoji add funkie effect at your parties.
Flower balloon decoration ideas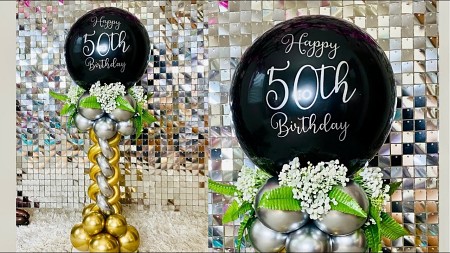 DIY balloon centerpiece
Surprise your peer, parents or spouse who just turned 50 with black, silver and gold balloons in metallic tones balloon centerpiece for happy birthday. This idea works for any age.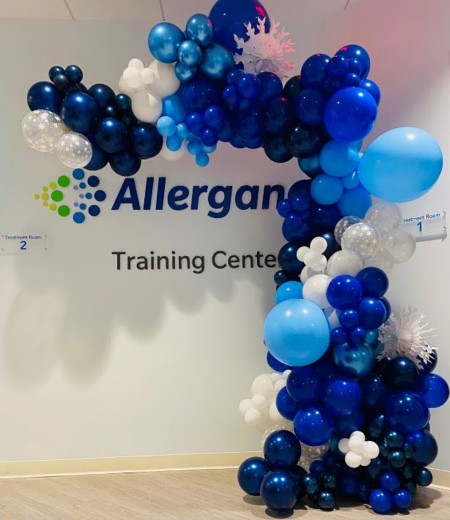 Office balloon arch decor idea
Balloons are not only used for birthdays, anniversaries, or Christmas celebrations. But these are also used for corporate events and office party decoration. This balloon arch uses blue balloons.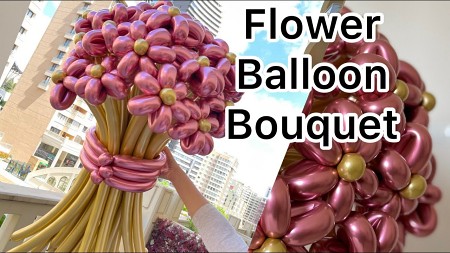 Balloon Bouquet
Easiest way to make flower balloons using DIY flower balloon bouquet. This flower bouquet can stand as a centerpiece and make cute gift with gold long balloons and pink small long balloons.
Valentine balloon decoration ideas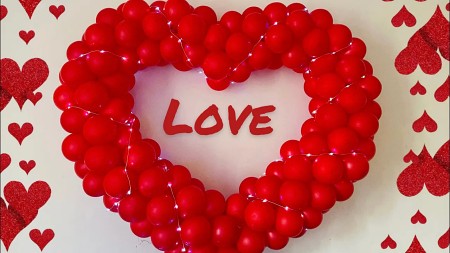 Heart shape balloon garland without stand
A bunch of red balloons and heart shaped garland transform the whole setting and make it looks more romantic and lovely. This heart-shaped garland can be used in wedding bedrooms and anniversary parties. It also also adorable for room valentine balloon decoration ideas.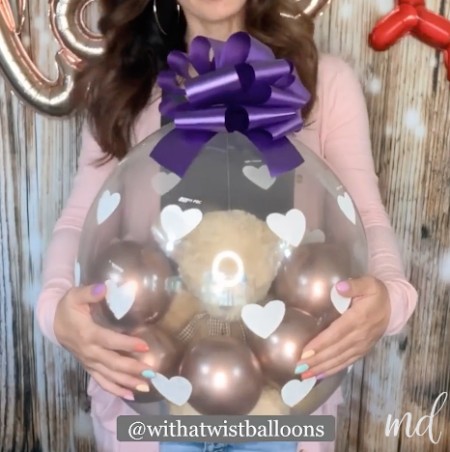 Stuffed balloon gift
Stuff your gift in a balloon to present in a special way with transparent large balloons. You can make it by yourself with a few things.
Hand lettered valentine balloons
Write on balloons with lumocolor permanent marker. Turn any occasion into festive event to surprise with a personalized gift. This will make a big impact with heart messages. Print and display this tree of hearts to go with this red and white balloon decor.
Surprise balloon decoration idea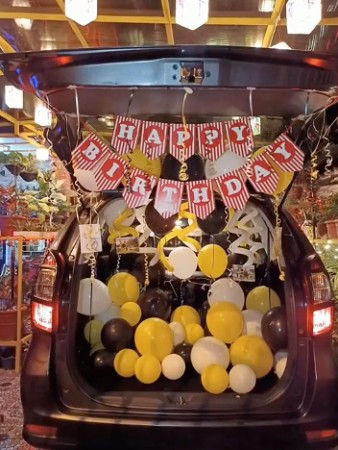 Car balloon decoration ideas
The plus point with balloons is that they are not limited to party halls and event rooms. A car surprise that reaches the birthday person instead of calling them over. Use black and white balloons with contrasting yellow balloons.
A balloon arch is used to spotlight the entrance, doorway, dance floor, head tables, inauguration, opening of a new business and stage for birthdays, weddings, parties, bridal and or baby showers, or at any entrance of a store because it brings color to any space. The balloon arch transforms a normal room into a vibrant masterpiece that impresses your guests. There are different types of arches you can make by using balloons of different colors and sizes.
Balloon arch decoration ideas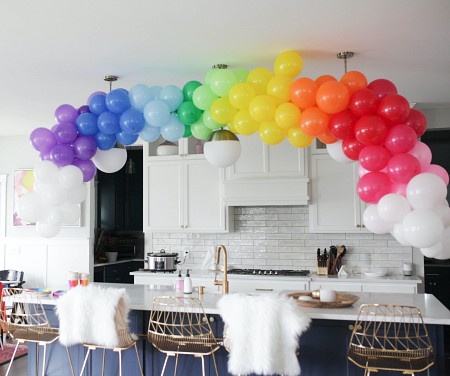 Rainbow balloon arch
Decorate a party with a rainbow balloon garland. Use a thread or fishing wire to tie the colorful balloons and make it look like the balloons are floating in the air.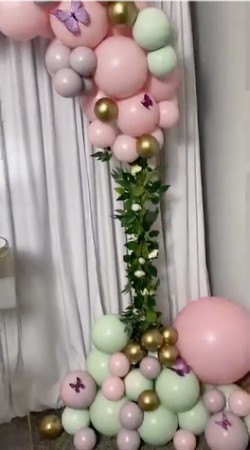 Pastel balloon arch
Use greenery and pink and green balloons to make pastel balloon arch which doesn't look like a big round of balloons only.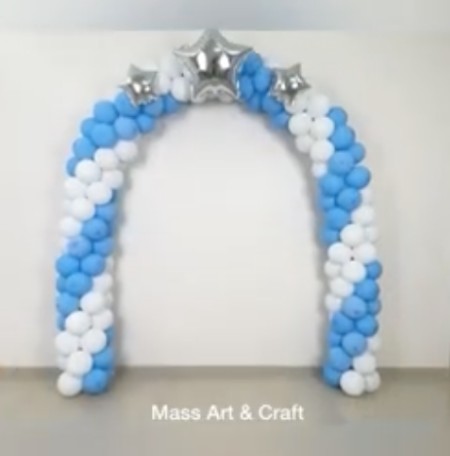 Spiral balloon arch
It's an easy and nice pattern of spiral balloon arch for a table, backdrop or entrance. These are perfect for Christmas, Halloween, or birthday parties. In this idea, you can use two, three or four different color balloons of the same sizes that are interlocked into a spiral pattern.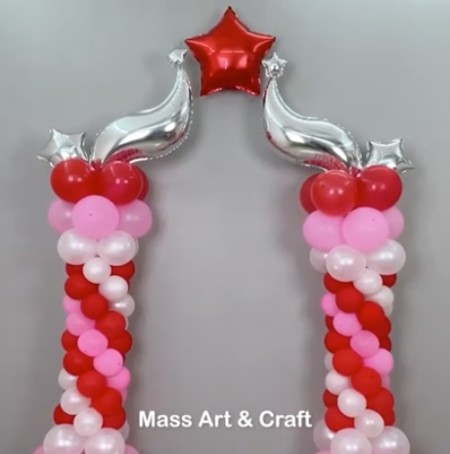 Star balloon arch without stand
Make star balloon arch decoration with a combination of standard balloons of different sizes and foil balloons of star shape.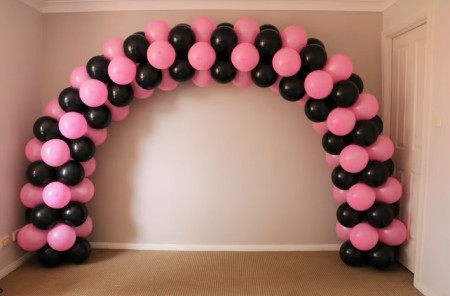 Diamond pattern balloon arch
Learn how to make a balloon arch without stand. You can use specific patterns of balloons and different sizes to make balloon designs with pink and black balloons.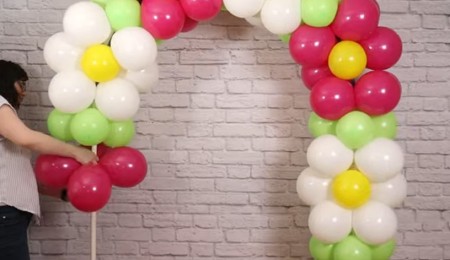 Flower balloon arch
Use white, red, yellow and green balloons to make balloon flower arch. In this arch, you have to learn the technique of combination of color and pattern to interlock the balloons. You can use this for backdrop and table arch.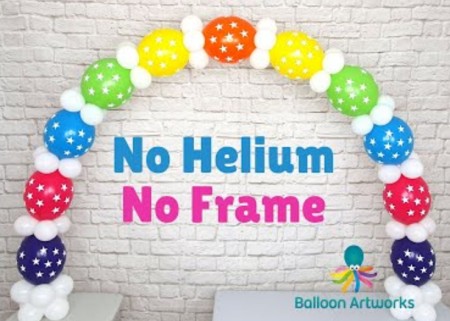 Linking balloon arch
Make an easy link balloon arch with air filled balloons and no helium. This arch uses no stand and no frame. It is easy to make especially for beginners. Commonly used for indoor events and table arch.
Christmas balloon decoration ideas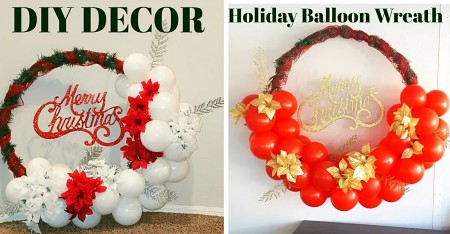 Christmas balloon wreath
You can make a Christmas wreath with the help of red and white balloons. Find winter wreath ideas for your entrance.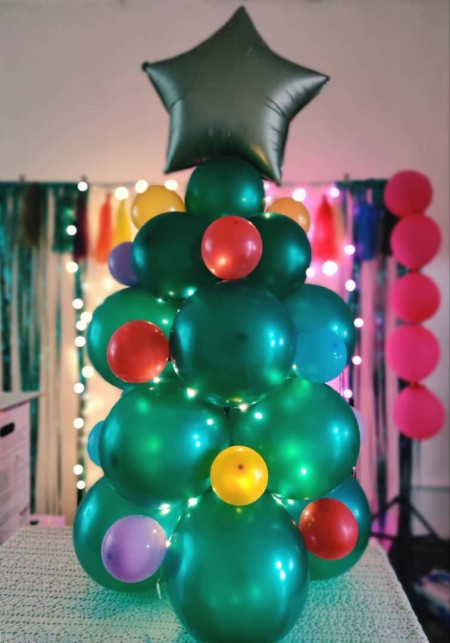 Christmas balloon tree
Thinking to skip the idea of Christmas tree due to its cost or small space storage problems yet want to get into the spirits of the season. Then you don't have worry make a Christmas balloon decorations that looks like Christmas tree with green balloons and colorful small balloons as ornaments.
Halloween balloon decoration ideas
Balloon ghosts
Decorate your indoor or outdoor space with white balloon ghosts for Halloween.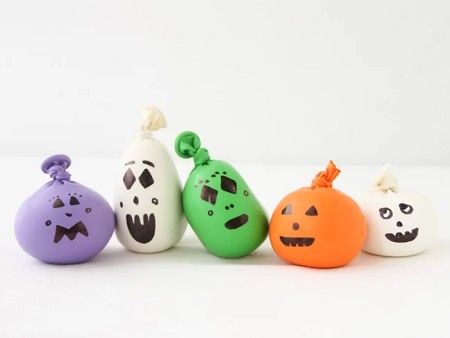 Mini Halloween pumpkin
Make Halloween pumpkins with white, green, orange and purple balloons. Fill balloons with sand and decorate with a marker. Find ideas to carve pumpkins and paint pumpkins.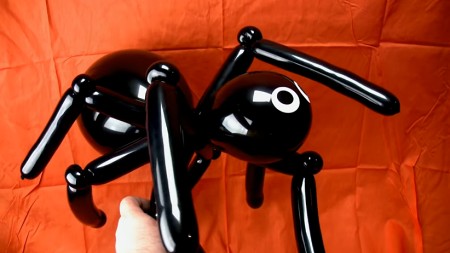 Halloween giant spider balloon
You can spice up your Halloween decor with the addition of this halloween giant spider balloon with black balloons.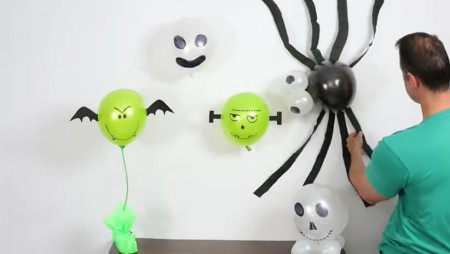 Balloon monsters
Make balloon monsters with the help of green, white and black balloons, markers, or crepe papers. You can use streamers and balloons too.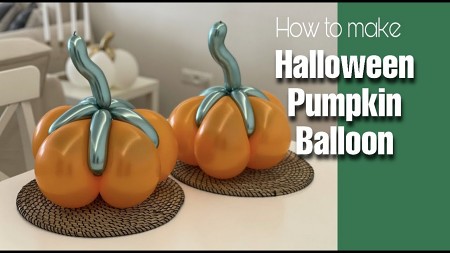 Halloween pumpkin balloon
Make Halloween pumpkin sculpture with the help of balloons. It's an easy idea to enhance your decor for Thanksgiving and harvest season with orange balloons. Place them on the table or hang them. This Thankful Tree Free Printable for Thanksgiving is ideal to go with it.
DIY Halloween balloon witch
This DIY witch's cauldron will make anyone stop and look for the witches. Find more Witch Halloween Crafts to go with this theme.
Theme birthday party at home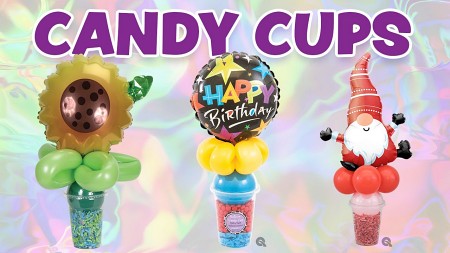 Balloon candy cups party favors
Excite kids with return gifts or goodie bags in balloon candy cups on your next birthday party.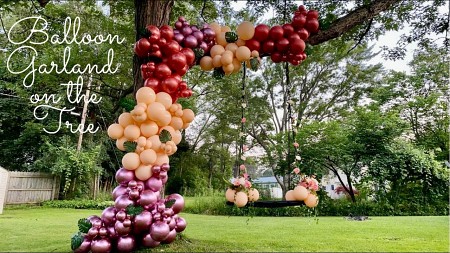 Outdoor balloon decoration setup with tree
Plan an outdoor party with this DIY organic balloon garland on the tree. This outdoor balloon setup is perfect for birthday in the park and even backyard birthday parties. Use metallic shiny balloons in red, purple and peach colors.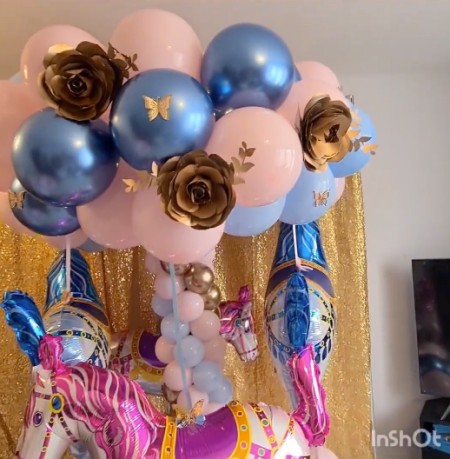 Balloon carousel
Balloon carousel brings the festive vibes with pink and blue balloons. Make by hanging foil balloon horses to a bunch of balloons.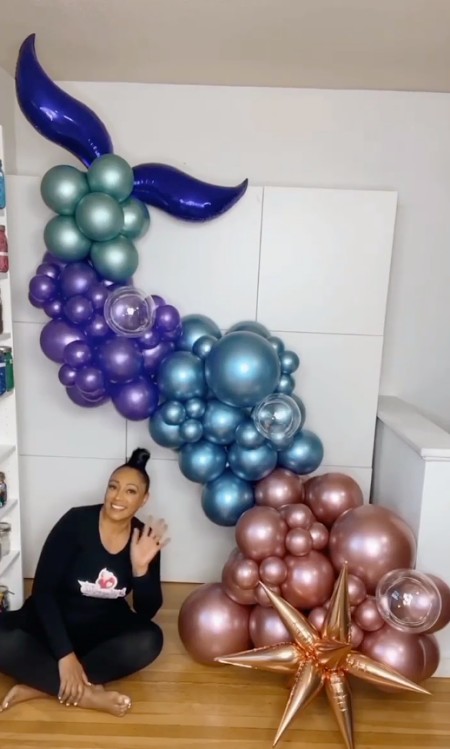 No frame balloon decoration idea
I am sharing this mermaid garland to share this genius tip to make balloon decor without a frame or stand using tape on the tiles or wall.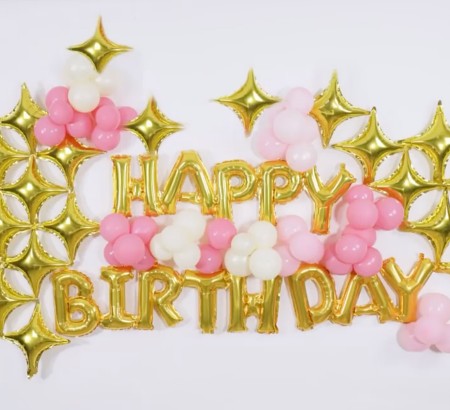 Star point wall
This star point wall brings a golden touch to your event decor with gold foil balloons and pink latex balloons.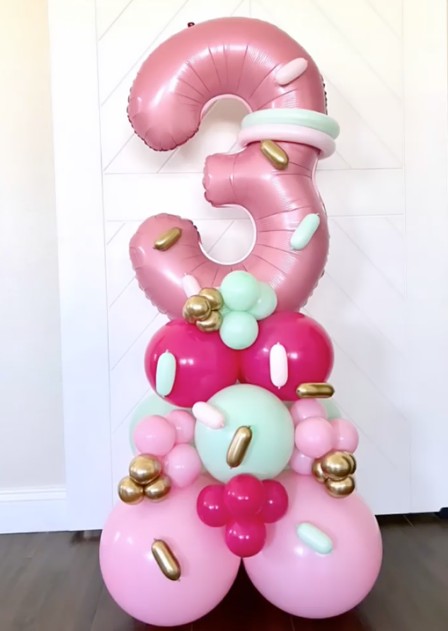 Number marquee
Make number marquee balloon decor for happy birthday with age to stand out as a piece with latex baloons and foil balloon number.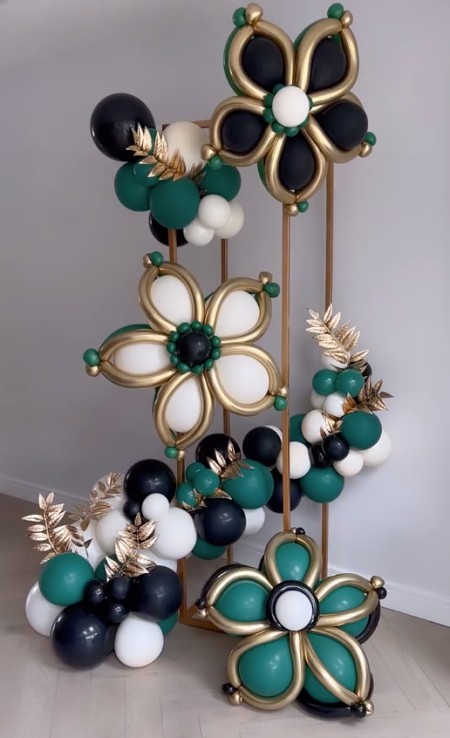 DIY balloon flowers
Balloon DIY flowers are simply jaw dropping. They do require balloon art expertise but shout stunning everywhere. Balloon flowers can add party decor to any event. You can hang it or place it anywhere. You can also use them for the aisle in your weddings. Use long balloons with latex balloons in black, white, gold and green colors.
Bridal shower party decor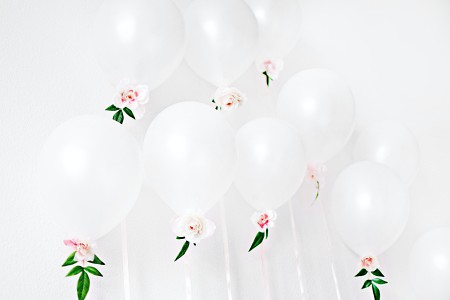 Floral balloon decoration idea

These easy-to-make floral balloon decoration ideas fits any occasion especially bridal shower and anniversary.
Table balloon decoration ideas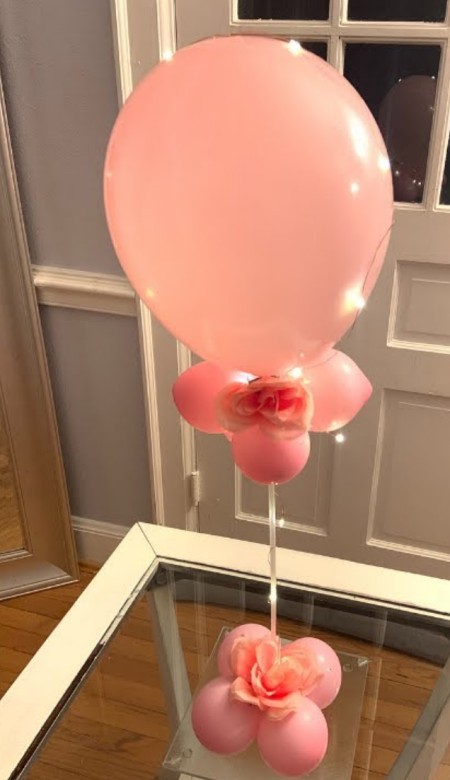 Balloon table stand
Learn how to make a simple balloon table stand. Use it as a centerpiece for your guests table.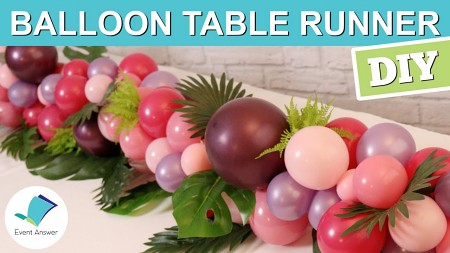 Balloon Table runner
A balloon table runner with faux flower incorporation to complete the look with purple, pink and red balloons.
Balloon cake stand ideas
This sports theme cake stand shares the possibility of decorating your cake tray with balloons. Hang garlands and bunches of green and gold balloons to make a ballon cake stand. Imagine the picture perfect cake cutting ceremony with themed football balloons.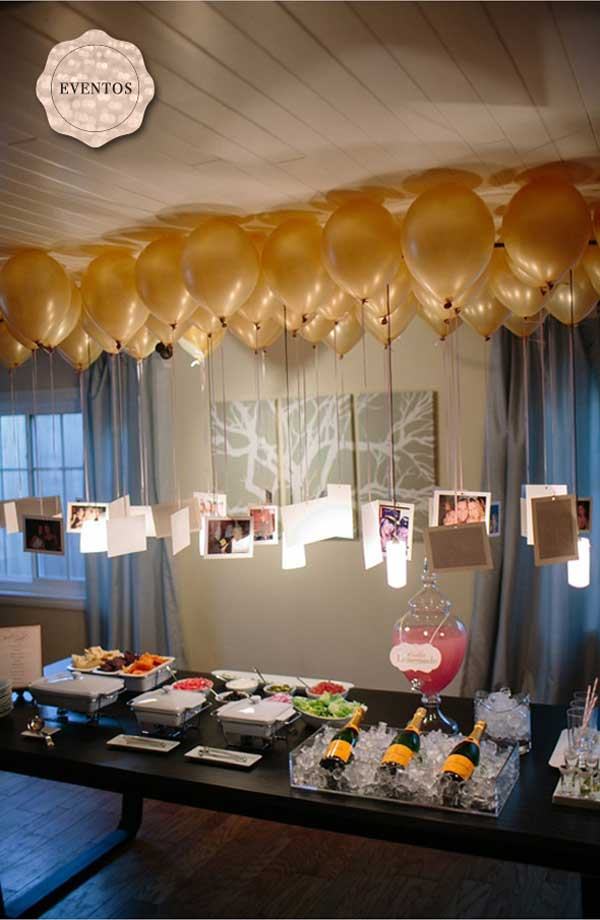 Balloon chandelier for wedding
Hang your memorable photos with the latex gold balloon strings over the table. Find this and more last minute DIY balloon ideas.
Baby shower balloon decoration ideas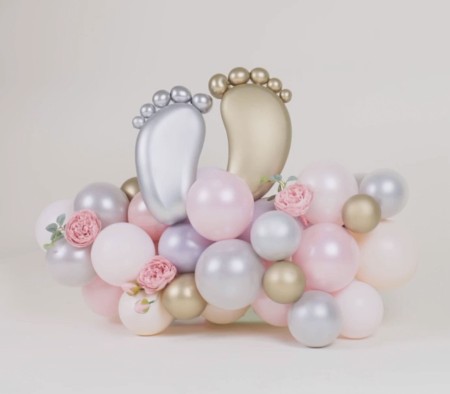 Baby feet balloon
Lovely balloon baby shower decor or gender reveal party idea with silver and golden balloons.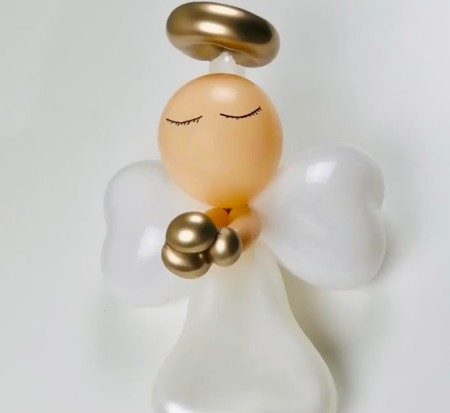 Make Balloon Angel
A DIY baby angel is perfect for baby shower, Christmas, and gender reveals parties.
Gender reveal balloon decor
Gender reveal balloon drop bag
Use as a banner or backdrop at your party. Balloon drop bag that keeps everyone anticipating.
Gender Reveal Backdrop and balloon columns
A gender reveals party with balloon decor is loads of fun. Hang a bunch of pink and blue balloons with fish wire.
Baby shower balloon backdrop
Make baby shower decoration at home with this pink and blue heart shaped balloon backdrop for a change.
Gender reveal party magic balloon
This is the best idea to reveal the gender of your baby and easy to make with transparent balloons.
Pool party balloon ideas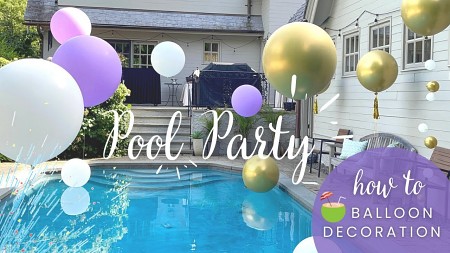 Pool party decoration idea
Find pool party balloons ideas with useful tips.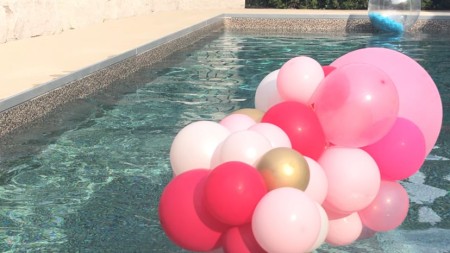 Balloon garland over the pool
Make a floated balloon garland for your outdoor house party.
Graduation Balloon Decoration ideas
Graduation balloon yard stake
Celebrate this achievement with the neighbors by staking graduation balloon yard stakes in your front yard with large foil balloon numbers.
Graduation Balloon Column Stand
An easy balloon column idea without stand which is best for graduation, birthdays, and new year eves.
Balloon Column Decoration Ideas
Balloon Column Arch
Make a column or arch using this Balloon party idea without a stand.
Balloon column without stand
This DIY no stand balloon tower with fishing wire is good for indoor party. Due to windy conditions it might not be ideal for outdoors. Use gold and blue balloons.
Author: Amber Saad
You will also like:
Superhero Birthday Party (free printables)