This post may contain affiliate links. Please see our full Disclosure Policy for details.
Game On – Video Game Birthday Party with printables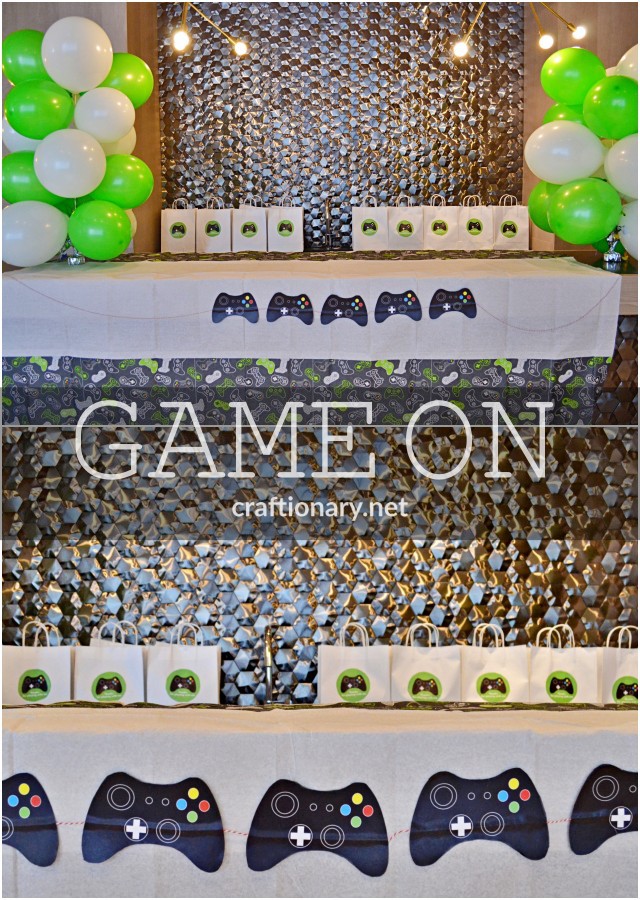 How to host a Video Game Birthday Party at home?
Our boys had a great time celebrating their GAME ON Birthday with their friends on Family Day. The Video Game Birthday Party was inspired by their excitement around gaming on XBox. So, we decided to party with a twist.
Game On Themed Birthday Party Includes:
Today, I am sharing some really cool ideas that are sure to rock your kids birthday party. You will find video games inspired cake, food, kids activities, kids party games and the best FREE PRINTABLES.
Where can I find video game party supplies?
It all started with our trip to Party City and Dollarama. After searching through the Party City store, we finally found a few GAME ON party supplies. These ideas inspired me and I ended up buying the remote controller table cover and tattoos only. You can also find great stuff on Amazon if you are little on time. What I missed is this pull string controller pinata. They didn't have it in my nearest store.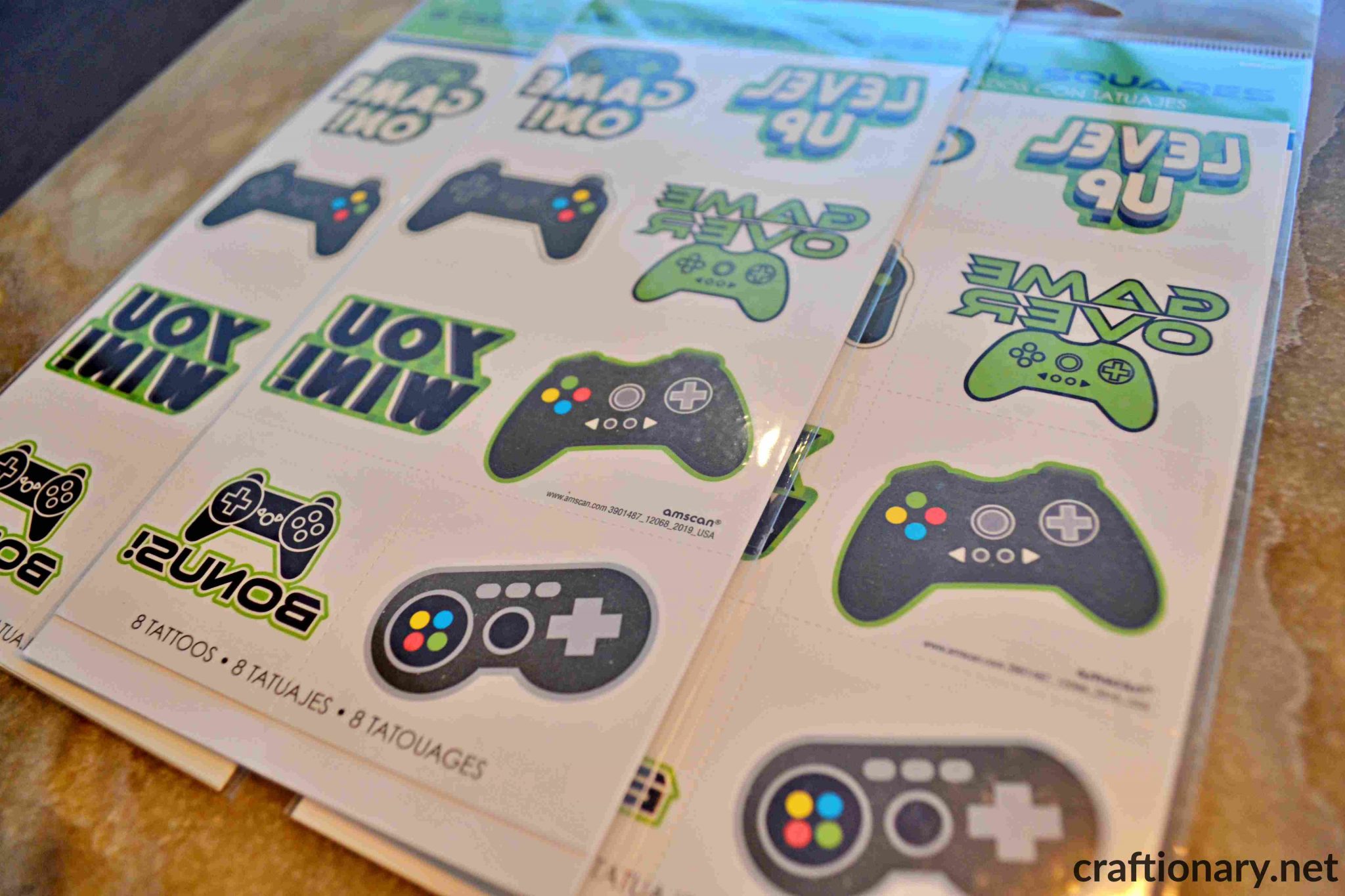 What age kids can have fun with Game On Birthday Party?
To be honest, it was quite challenging to host a boys birthday party which can entertain kids ranging from age 5 to 12. But we did manage to get even the adults involved! Yay!
Game On Birthday Party
Let's get started:
(1) Video game controller banner
Make this cute video game controller party banner with thread and free printables. The complete video game printable party set can be found at the end of the post.
(2) Game On Food Bar
We served nachos with corn and remote controller custard as the guests arrived.
Video game nachos with corn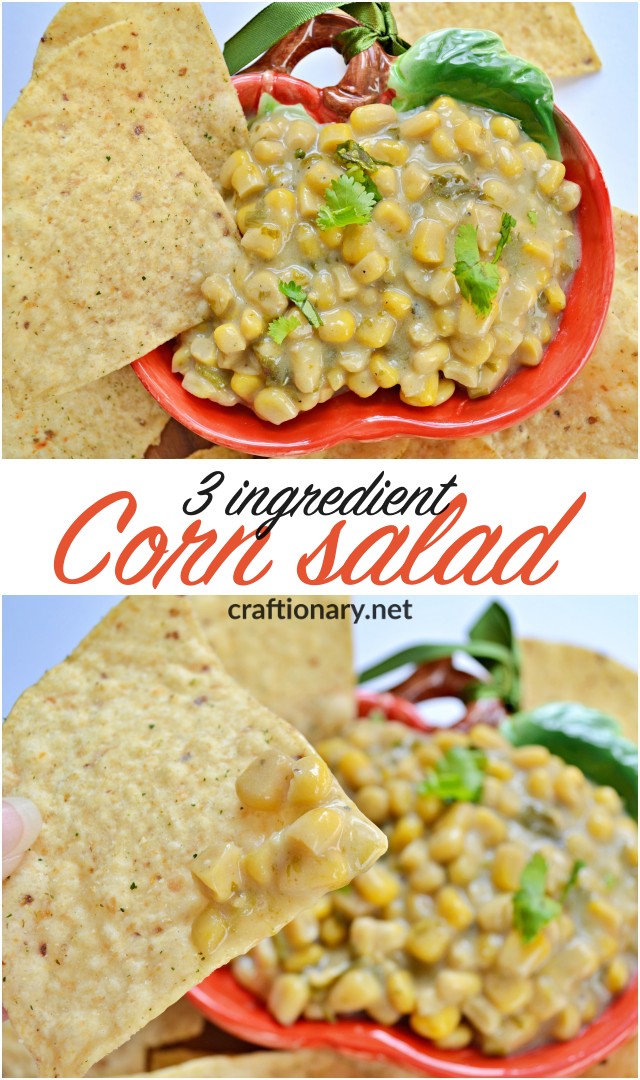 A simple no cream, 3-ingredient corn salad served with lime and jalapeno nachos. Find details and print the recipe Corn Salad Recipe.
Remote Controller Dessert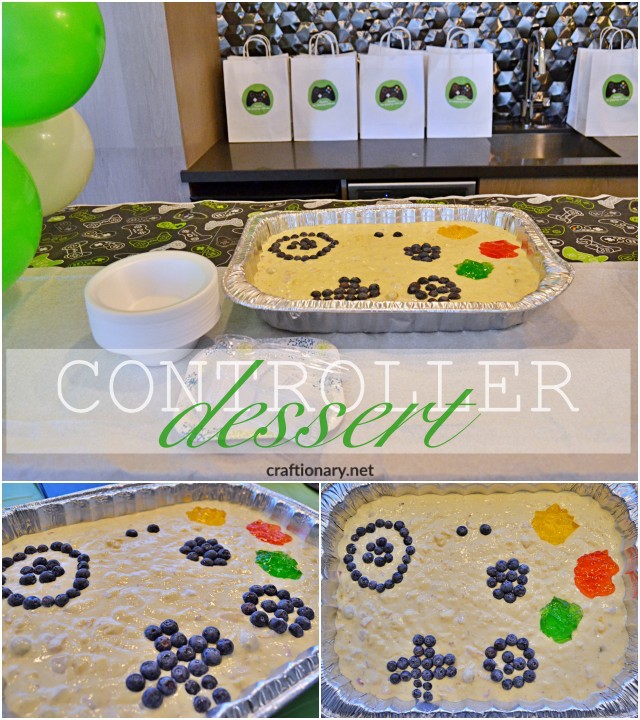 A vanilla custard with fruits and jello topped with blueberries and jello.
(3) DIY Balloon Towers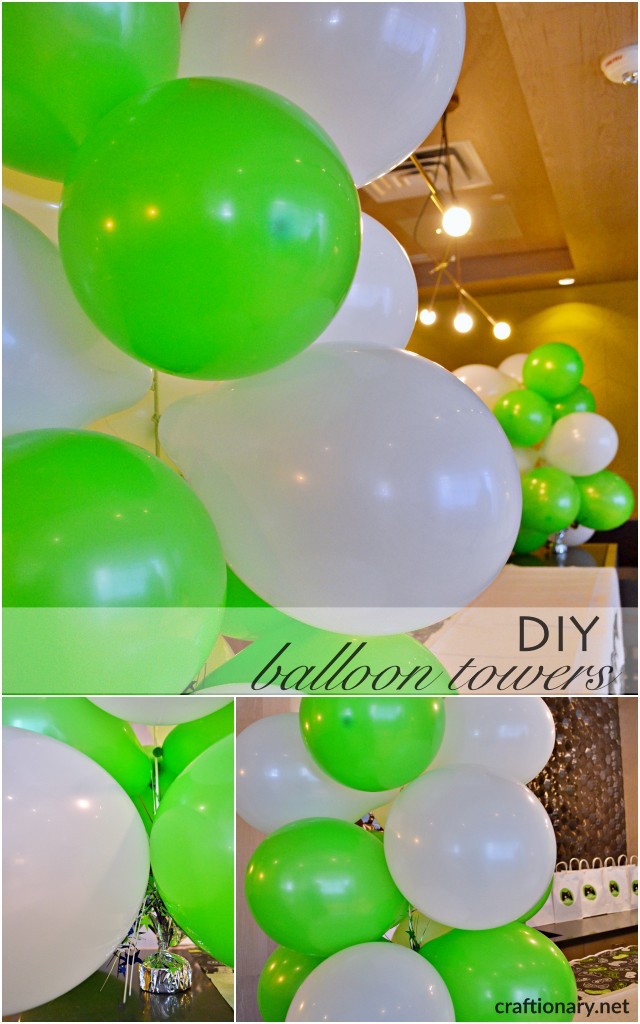 Create these amazing balloon towers for your birthday party. All you need is weight, 30″ skewers, thread and balloons. I bought all my supplies from dollarama. Just stick the skewer stick into the weight and tie balloons around the stick with a thread.
You will need 15 balloons for each tower. Start by securing the thread on the skewer and spin around for extra strength. Then take each balloon and spin the thread around it's end tight enough to avoid any space between the skewer and balloon. Start by threading 4 at the base, 4 more over the base, 3 on it, another 3 and 1 to top. You can do this one night before the party. That's it! Super easy and makes a big impact.
(4) Video game controller activity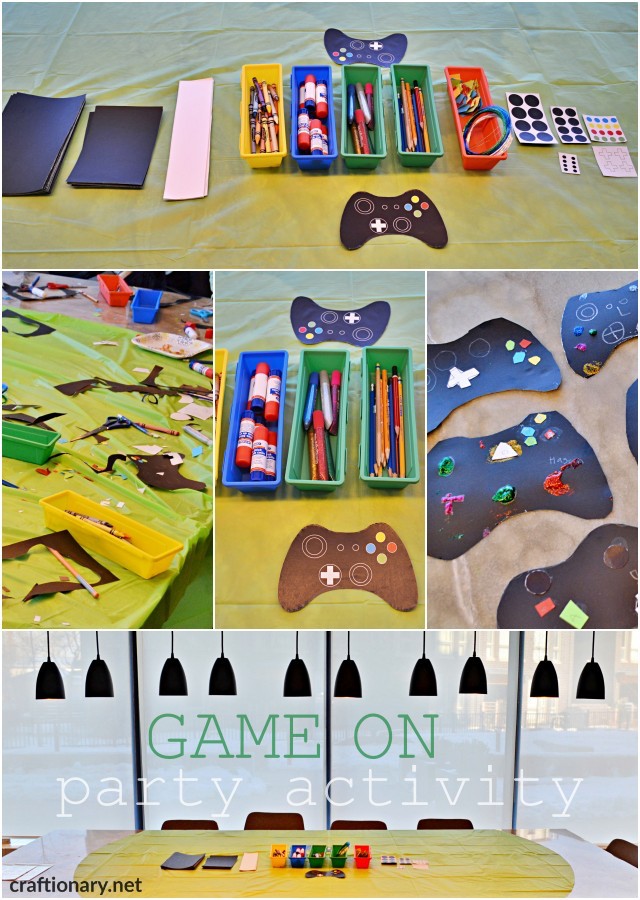 The first thing we did after munching on some snack was the Video Game Party Activity. Super fun for kids to make their own remote controller. Supplies needed for this activity are as follows:
-Poster paper in black and white
-Glue sticks
-Paper scissors
-Printable remote controller parts (included in party printable set)
-Pencils
-Glitter glue (optional)
-Crayons (optional)
(5) Video Game Cake
A super delicious marble cake with mousse filing XBox cake. We love to use sparklers they bring it attention and joy to the party as the cake arrives.
(6) Minute to Win It Games
We played two fun games in which we made two different groups based on age. The little kindergartners and the big 10 year olds. All the kids had fun playing these games.
Chopsticks Marshmallows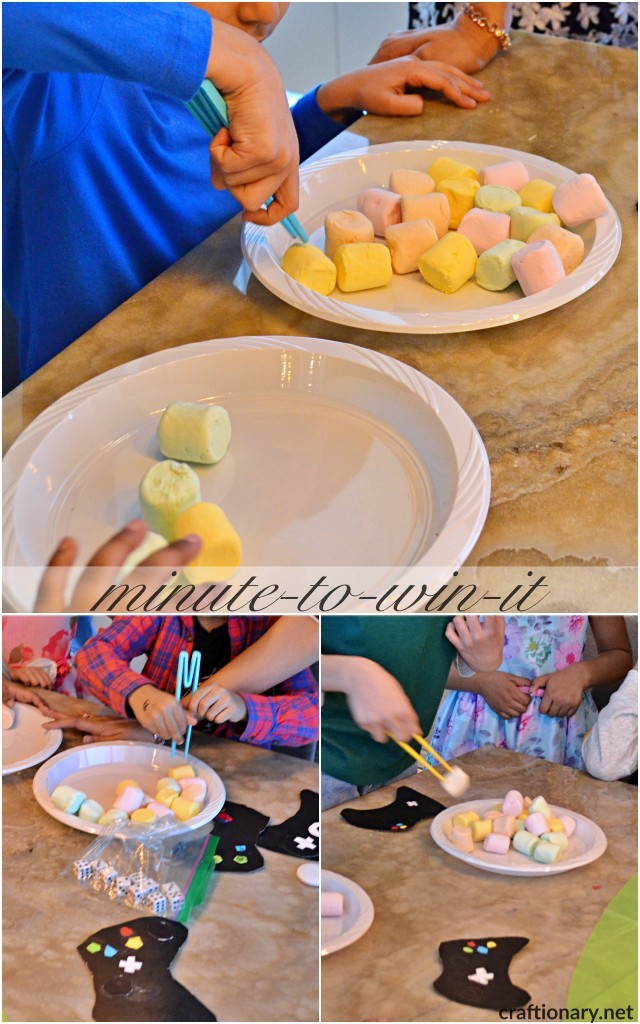 Kids were asked to pick marshmallows with chopsticks and drop in the second plate. The one with the most marshmallows in the second plate in a minute wins. Kids had a little treat after the game.
Popsicle stick dice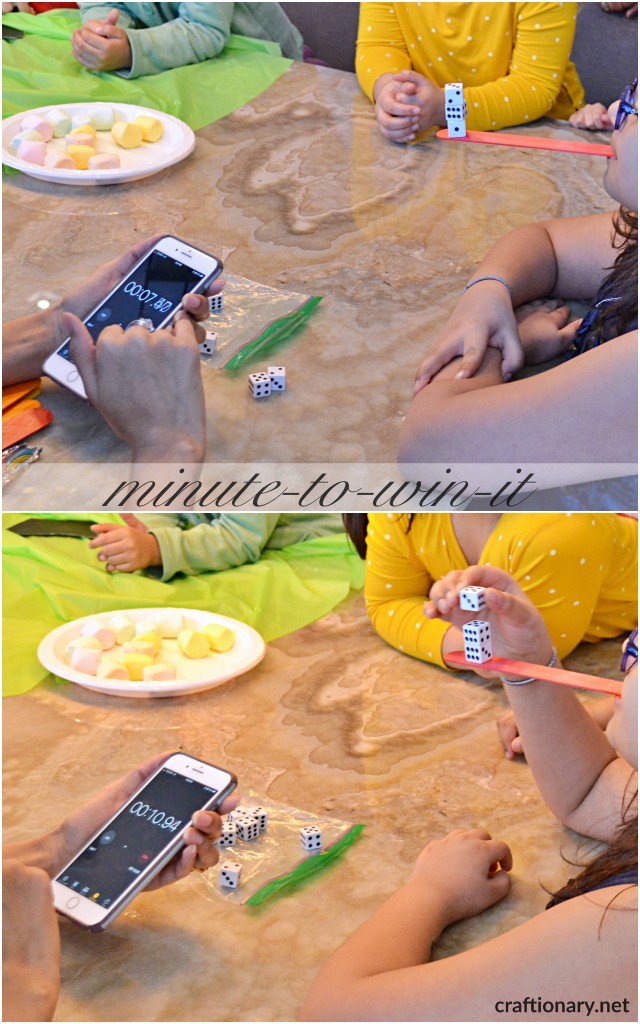 A bit challenging but super fun. Kids were asked to balance dice on Popsicle stick as they make the tower. The one with the highest tower balancing when the timer stops wins.
(7) Video Game Party Favors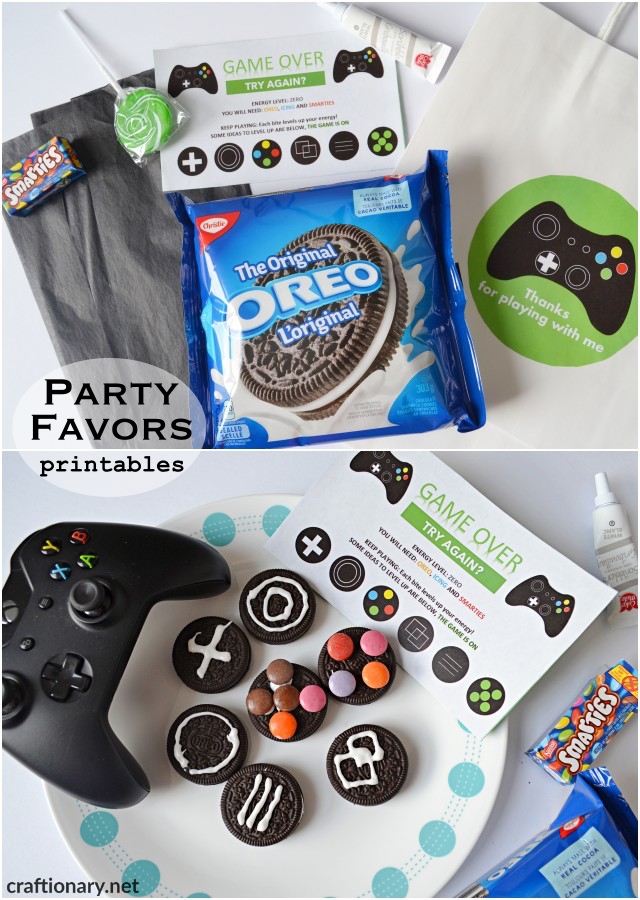 Lastly, the kids were given Oreo cookies as party favors. I had been searching for video game party favors that are not just a few little toys you play and throw. I looked everywhere trying to find something that works for all age kids and finally it hit me.
Here's a short video of kids having fun with their party favors after the game is over.
These goodie bags comes with free printable you can find in this post at the end. It includes the circle on party favor as well. You will need Oreo cookies (cause they are black like remote controller), white icing and smarties. You can also use MnMs. I have also included a printable with MnMs for those who would like to make the switch.
Our boys and their friends had a great time partying. Let us who what you think is the best part about this party. We also have a quick video. Check it out:
(8) Video Game Printables
Print these video game controller and party favor printables for your personal use ONLY. These are not for commercial use.
Printable Game On Party Package
You may also like:
Best food bars and food stations for parties
Do you like these ideas? Do you have some great video game party ideas? Share your birthday party with us and we would feature you on Instagram.