This post may contain affiliate links. Please see our full Disclosure Policy for details.
Dust Proof Martial Arts Karate Belt Display
It's been a few years that my son's Martial Arts Taekwondo Belts have been packed in a bag and lying in the storeroom! It always crossed my mind that one day I will make a DIY Martial Arts Belt Display for him. But then life happened and Karate belt display was out of mind and out of sight!
Today finally I got a chance to execute the plan! I was looking online for ideas to build Karate belt holder. I found KidKraft Martial Arts Belt Holder at Amazon and Hatashita Desktop Karate Belt Display to be creative ways to display karate belts and certificate display. Even Etsy, Ata Belt and Century Karate belt display were some good online shop options.
But they were missing one crucial factor of keeping the belts dust free! Since, these belts will not be used but are a keepsake I would like them to stay clean and displayed in a case on the wall.
I decided to build one using shadow box frame! I found a perfect photo display box frame at HomeSense and bought it home. Its dimensions are 16×20 and all the belts fit in perfectly with the black belt on top! It's depth is 5 inches allowing enough room to fold and display the belts.
You can use this Martial arts belts display as holder for old karate belts, Kung Fu belts, Judo Belts, Taekwondo belts, Jiu Jitsu belts, BJJ belts etc.
How to make karate belt display case?
To make a Karate belt display that is free from dust you need the following:
Material and supplies needed for Taekwondo belts display
Martial arts belts
Thread
Needle
Foam backed frame board
Fabric
Push pins
Instructions to build Personalized Karate belt display
To make a custom martial arts belt display:
1. First make sure your belts will fit perfectly in the frame box.
I had to display 11, make sure martial arts belt display 12 according to your needs. This frame box can also accommodate 10 belts martial arts display with little space in between to makeup for extra space. You will need a longer frame to hold 14 level Taekwondo belt display.
2. Open the frame and take out the base board. Mine came with a foam frame board covered with fabric. However, you can cut the fabric of your choice to foam board size and glue it to it. Another, trendy choice is burlap. Let it dry!
How to fold Karate belt for display?
3. Now fold the belts one by one ensuring the folds are within the frame's width.
4. Use thread and needle to sew a knot at the adjacent sides of the belt with a vertical stitch! By vertical stitch I mean push the needle from the bottom to the top and then swing it back from top to bottom and knot the stitch at the bottom. This way the stitch is invisible at the top.
5. Continue to fold and sew the belts till all the belts are folded and ready to display!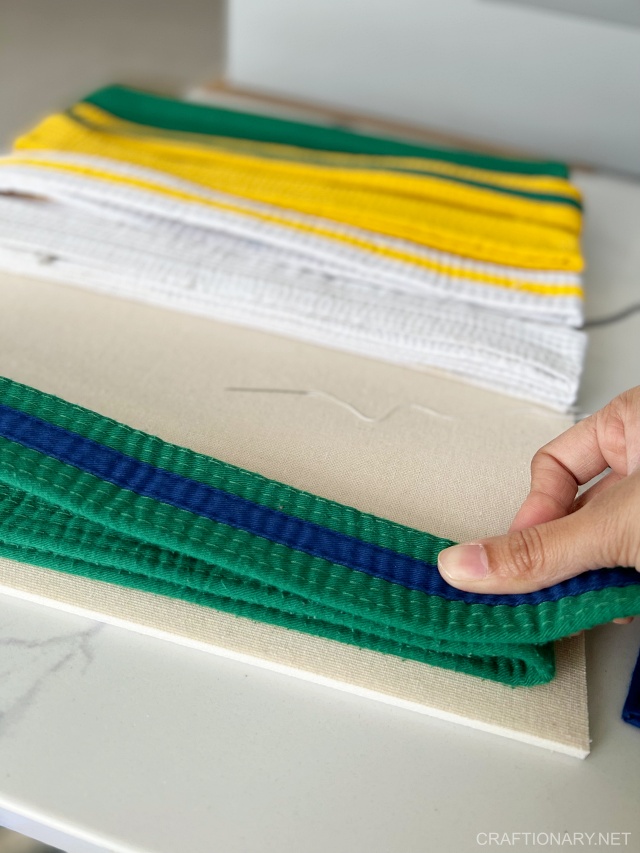 QUICK TIP FOR FOLDING KARATE BELTS:
Use a cutting board to help you push the needle inside the belts. Hold the belt on the two adjacent sides of where you poke the needle into the belt and apply force in the direction of gravity as if you are pushing the needle's non-pointy end into the cutting board. The force will move the pointy end of the needle through the belt's fabric with ease.
How do you display old karate belts?
Here's how you store DIY Martial arts belts:
6. Place the black belt at the top and use push pin on the two adjacent sides to attach the belt to the frame board in place!
7. Now repeat the pinning of belts in order from top to bottom one by one till all the belts are placed in position and pinned.
8. Put the frame board in glass box and close it!
9. The black belt display is ready to be displayed on the table or hung on the wall!
What is the order of belts in Karate?
In Karate there are 6 belt colors: white belt, orange belt, blue belt, yellow belt, green belt, brown belt and black belt. All belts besides the white belt can have dashes to indicate further progress.
What is the order of belts in Taekwondo?
In Taekwondo there is a slight difference. There are 6 belt colors: white belt, yellow belt, green belt, blue belt, red belt and black belt. All belts can have progressing belts horizontal center line to indicate further progress.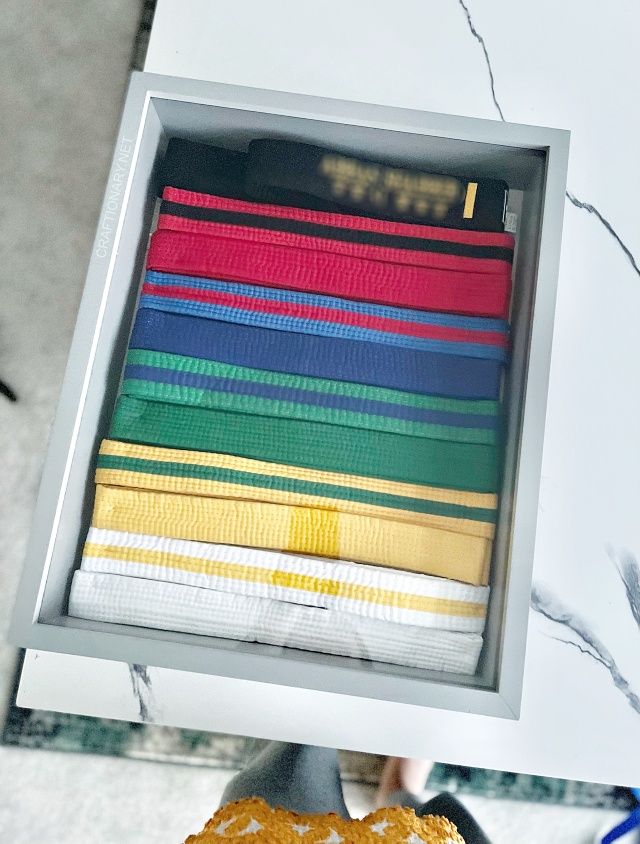 Creative ways to display karate belts
There are many ways you can display the karate belts based on your preferences. Some karate belt display ideas include:
Make a karate belt rack: Use curtain rod and hang the belts with Karate knot on the rod.
Karate belt slat rack: Buy a wooden slat hanging rack which has allocated slots for each colored belt.
Make a karate belt board: A board with slots like a bookcase to roll and fit each colored belt.
Karate belt display tube: Roll the belts and fit in a cylinder shaped transparent glass or plastic tube with a lid on top.
Desktop karate belt display: Roll the belts on a tissue paper type large wooden holder and display on the table.
Martial Arts belt display slots: A wooden case like a CD holder to hold rolled rounded belts.
Taekwondo cyclinder belt display: You can buy one online and fold your belts to display in it.
You can hang it besides the Martial Arts certificate in the kids' room or play area for them to be proud of their achievement! This was a simple project, and it made the jumbled-up belts have a home which makes so much sense!
Update about kids themed bedroom
This is first of the projects we are working on to create the kids themed bedroom based on Minecraft!
Hope you will come back to see our progress as we make LED lighted clouds for the blue sky next! Hoping to get the paint this weekend!
Till next time take care and stay creative!
You will also like:

Best ideas to display kids art