This post may contain affiliate links. Please see our full Disclosure Policy for details.
Superhero birthday party for boys and girls themed after avengers and marvel comic with free printables and easy ideas to decorate on budget. I am so excited to share my boy's fifth Superhero birthday party. The party was based on the avengers theme and includes free printables. I love to create easy projects to decorate, so I came up with these ideas. The kids loved playing pretend superheroes and saving the world from the bad guys (villains) with theme based fun games.
We will cover these ideas for the superhero birthday party:
1. Table decoration
2. Food ideas
3. Photo booth and props
4. Super game ideas
5. Free Printables
This post is going to be photo heavy. Let's get started:
Superhero birthday party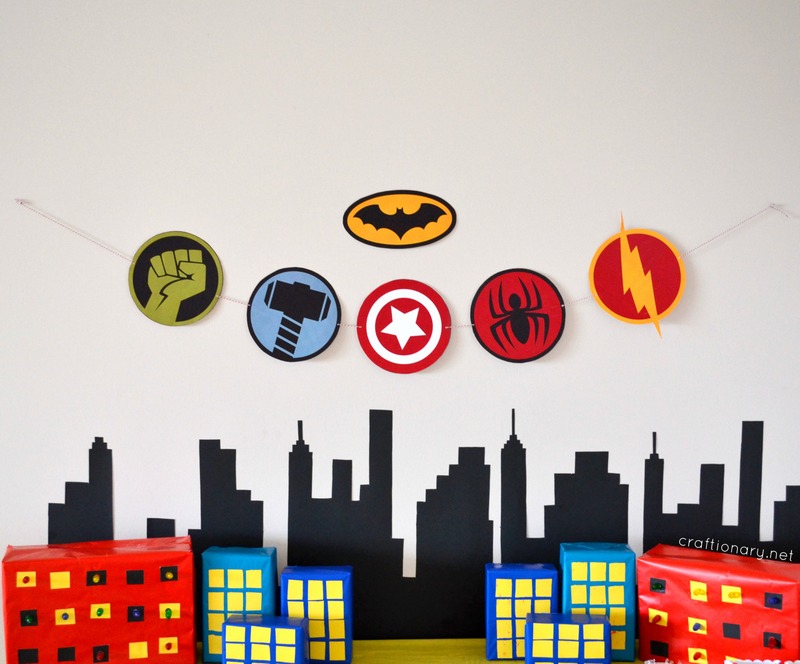 I love how it all turned out and on the budget too. With a few cardboard boxes, cereal and cookies containers the buildings came to life. And printables and poster paper were used to create banner and night time skyline.
Recycle boxes into buildings
Poster paper skyline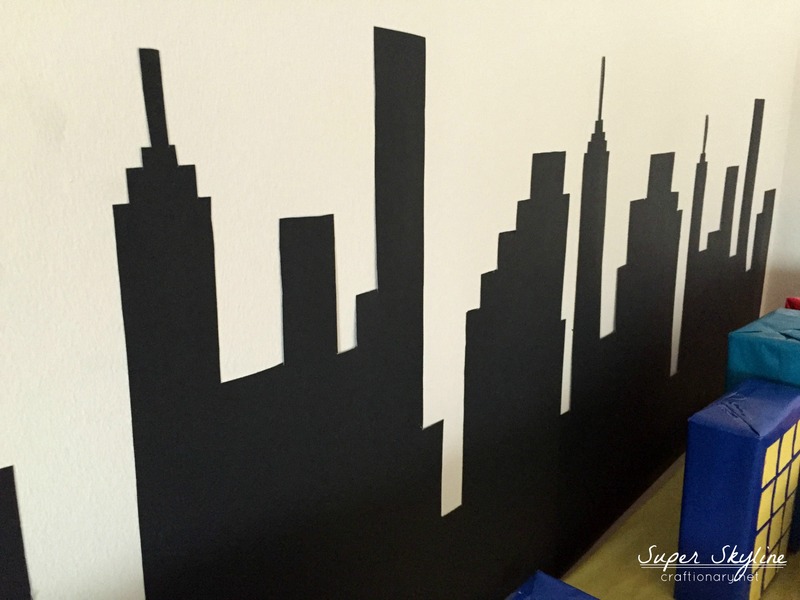 The DIY lighted buildings were a perfect addition to the theme. The kids especially the birthday boy was excited and surprised when we bought the candle lighted cake into the dark room only in the presence of glowing buildings on the table.
Find the tutorial DIY lighted buildings.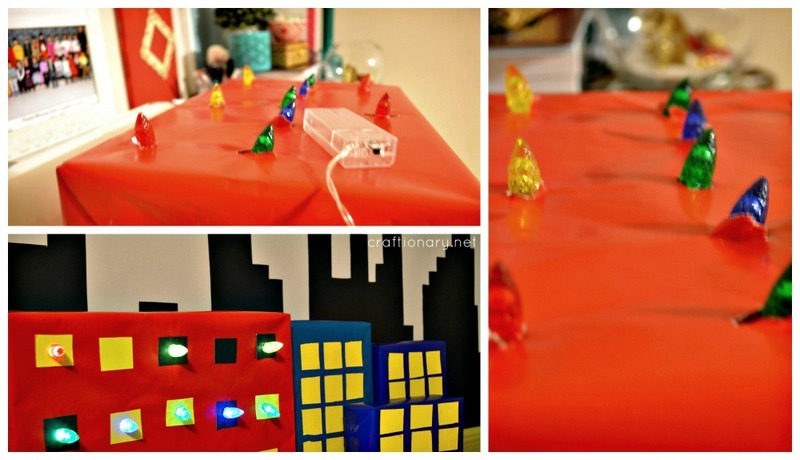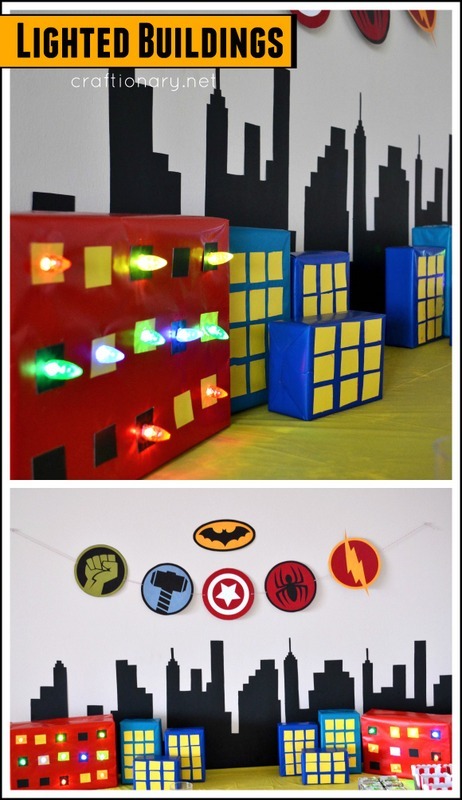 Superhero food
For the food, I thought about easy superhero themed ideas that kids love to eat as well.
Superhero cape jelly cups
Find the tutorial superhero cape jello cups.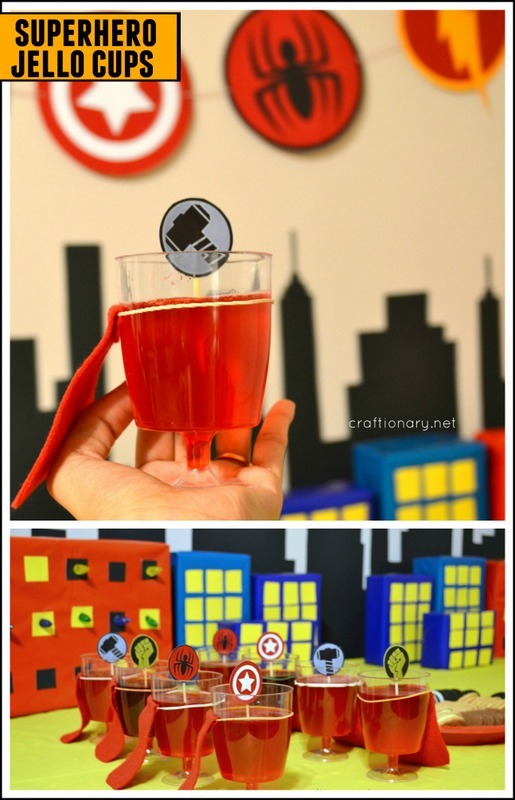 Comic wrapped juices
You can find tons of comic wraps online. Since, I am not sure about their copyrights so I can not share the link for the one I have used. These juice boxes got an extra flare with this quick comic wrap.
Super popcorns
Popcorn bags customized with superhero popcorn tags. Free printable!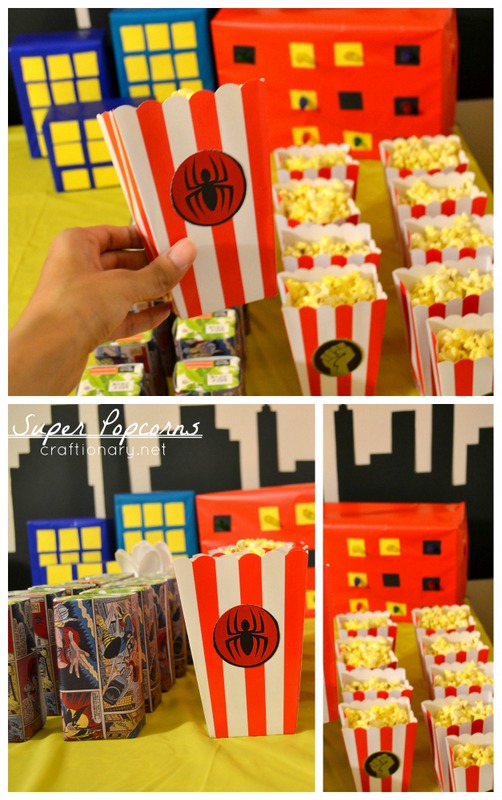 Kitkat candy wreath
This candy wreath made with cardboard cutout ring and chocolate stuck with double-sided tape was very popular amongst the kids.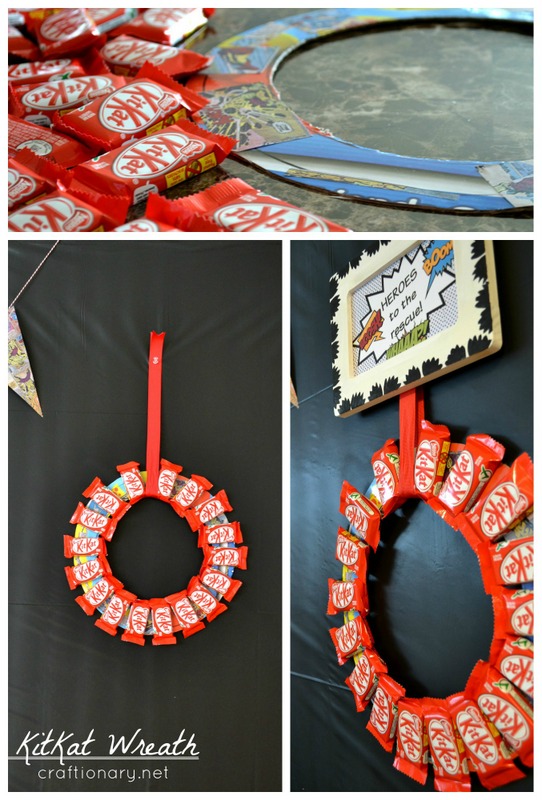 Avengers birthday cake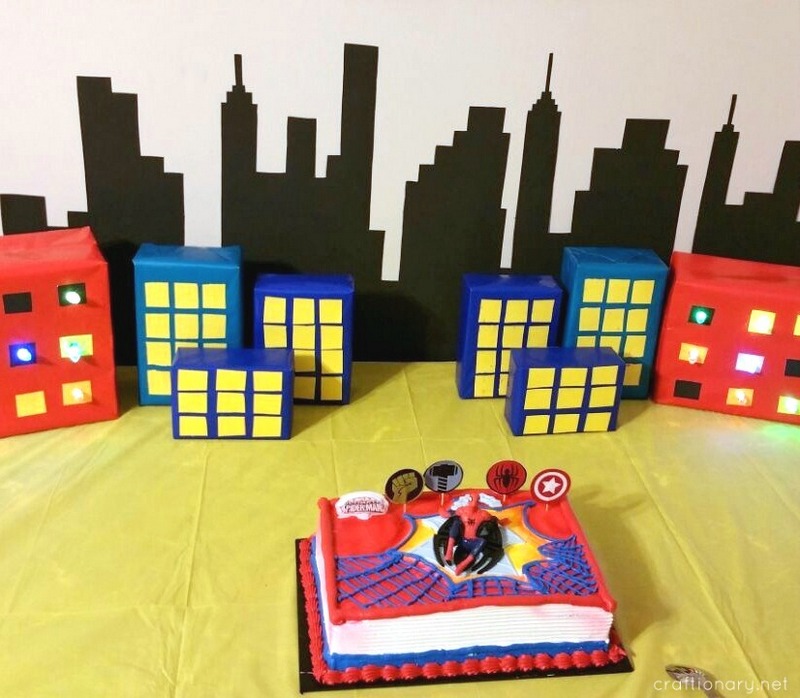 Here's how it all looked displayed together.
Superhero Photos
Every party needs a fun space to take beautiful pictures. I created a night sky photo booth with comic pennant and cardboard box buildings.
The background is a black table cover hung on the wall with double-sided tape.
Comic pennant was super easy to create by taping comic paper triangles on the twine.
For the buildings I used pamper boxes. They were a perfect size for the photo booth.
Photo booth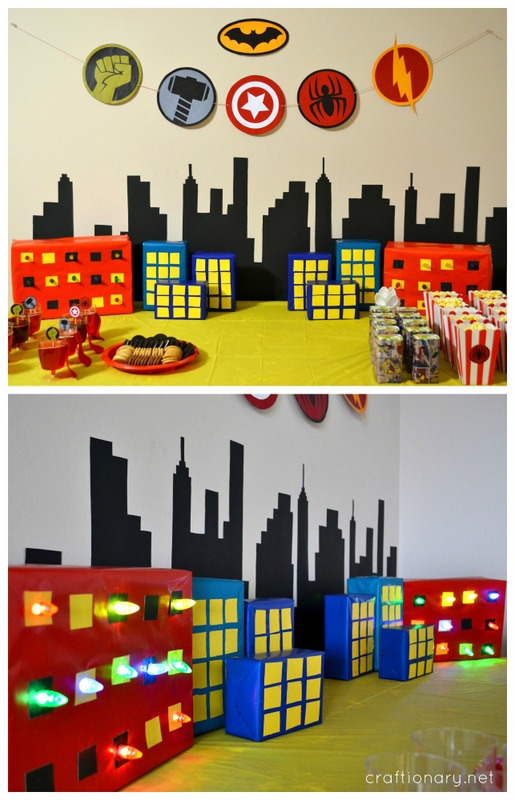 Superhero photo props
You can print this superhero photo props collection.
Free printable photo props 1 and photo props 2.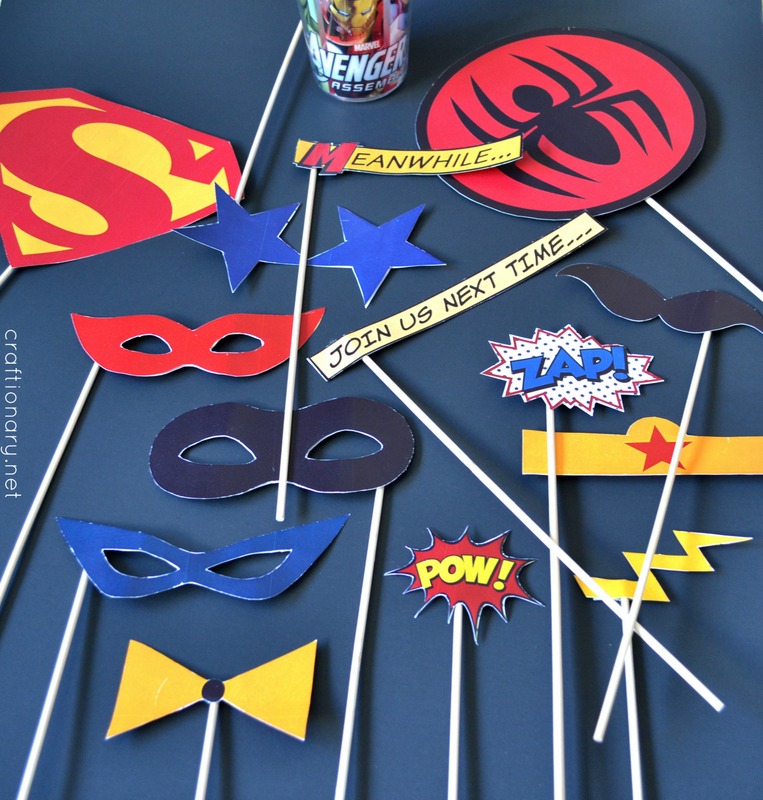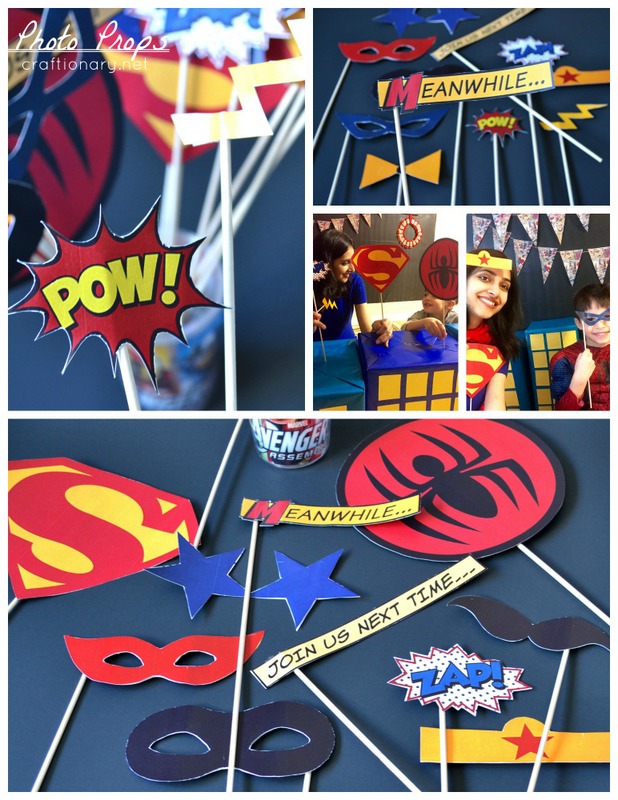 Superhero Party games
A party is incomplete without party games. I came up with some exciting games that are quick and easy to create.
Ball in the hole
I wrapped a cardboard box with brown paper. And used sharpies to free handedly draw on it.
Then I used some comic paper cutouts and stick them on it. The idea was to give the illusion of a building being smashed.
You can also print the 4×6 size printable for game sign.
 Decorate your superhero mask
I bought some masks and stickers from party city. And the kids enjoyed decorating their masks.
You can also keep glue, crayons, paper and more crafting supplies to keep kids entertained.
4×6 size Free printable game sign.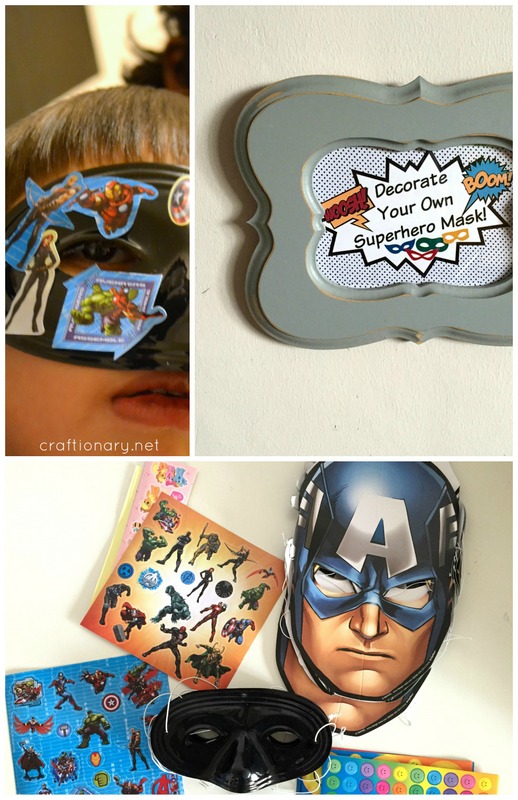 Super bowling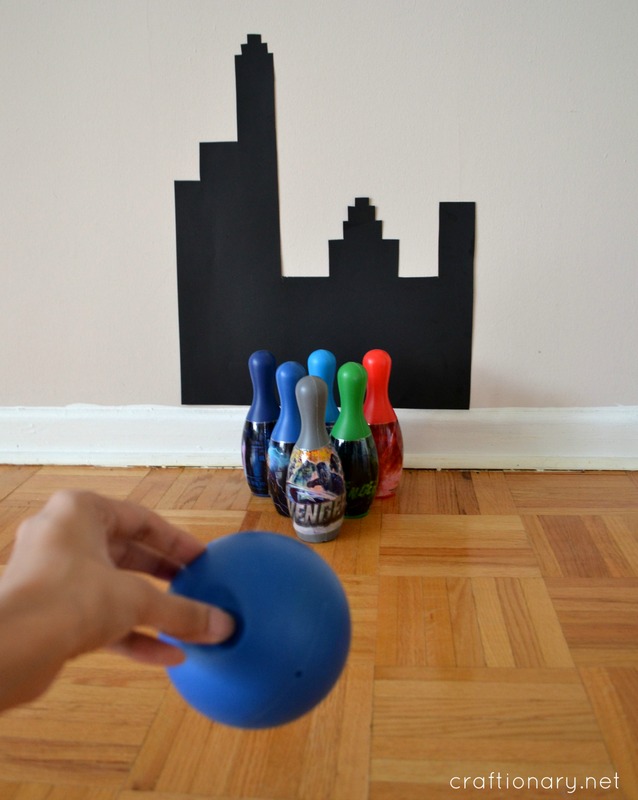 Superhero party free printables
Printable large banner – large
Printable cupcake toppers
Superhero circles – small
Printable popcorn toppers
Superhero circles – medium
That's about it. My son is such a big superhero fan, that I ended up using these decorations in his room after the party.
You will also like: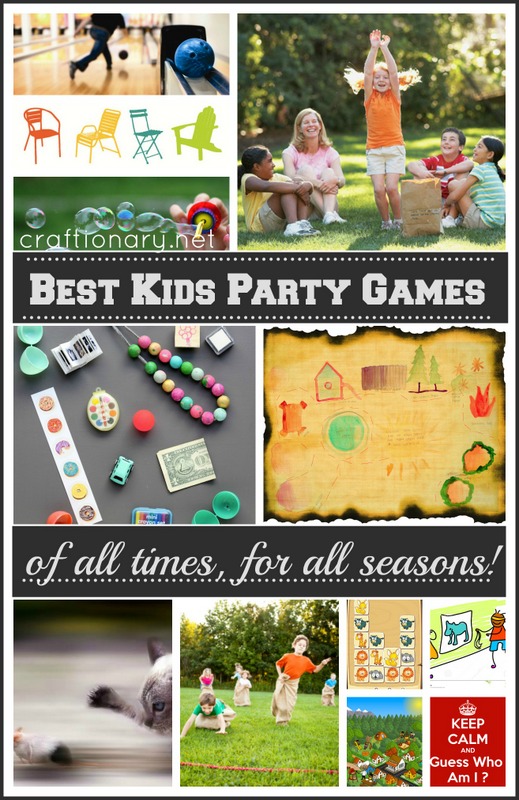 Great party games for kids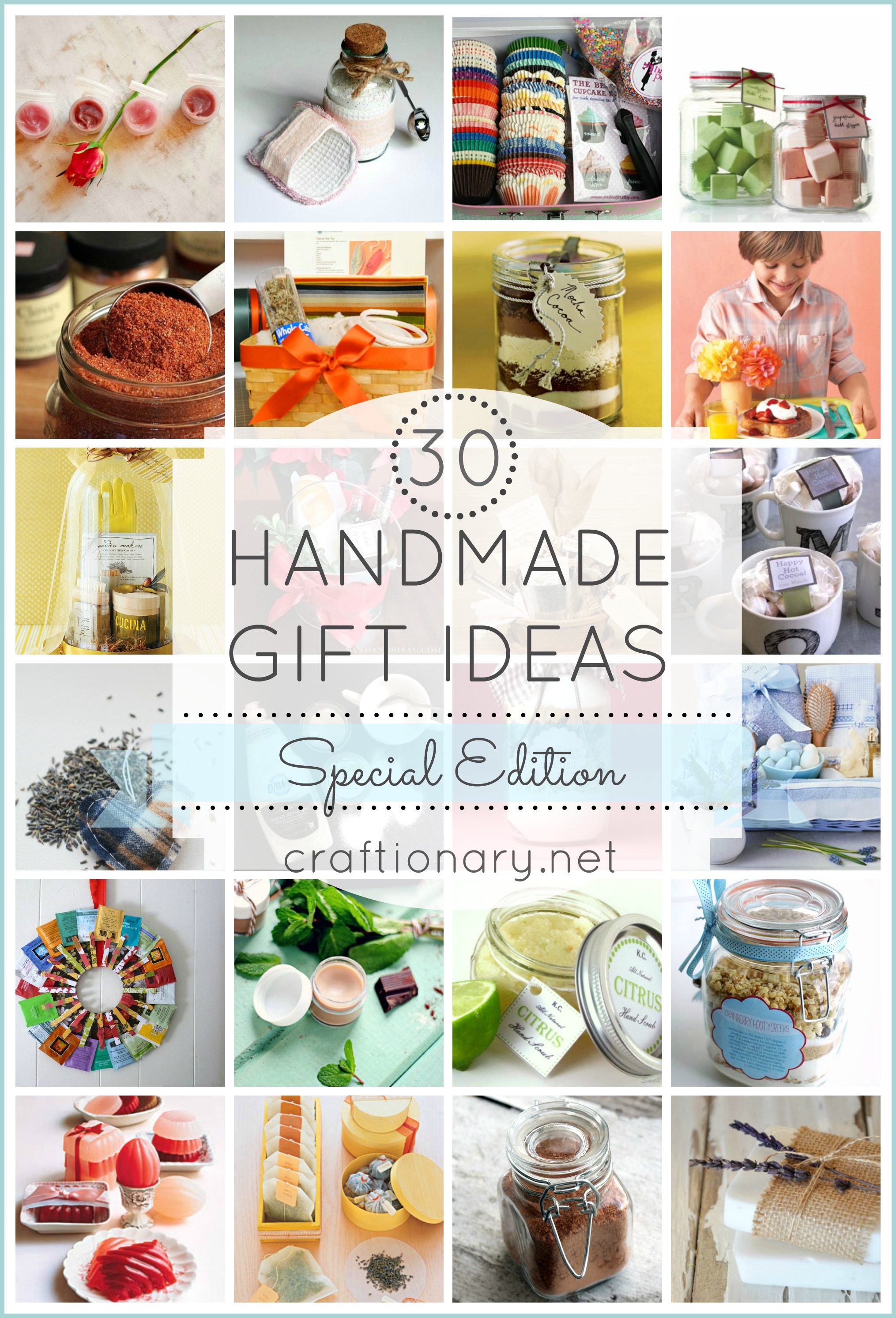 Special gift ideas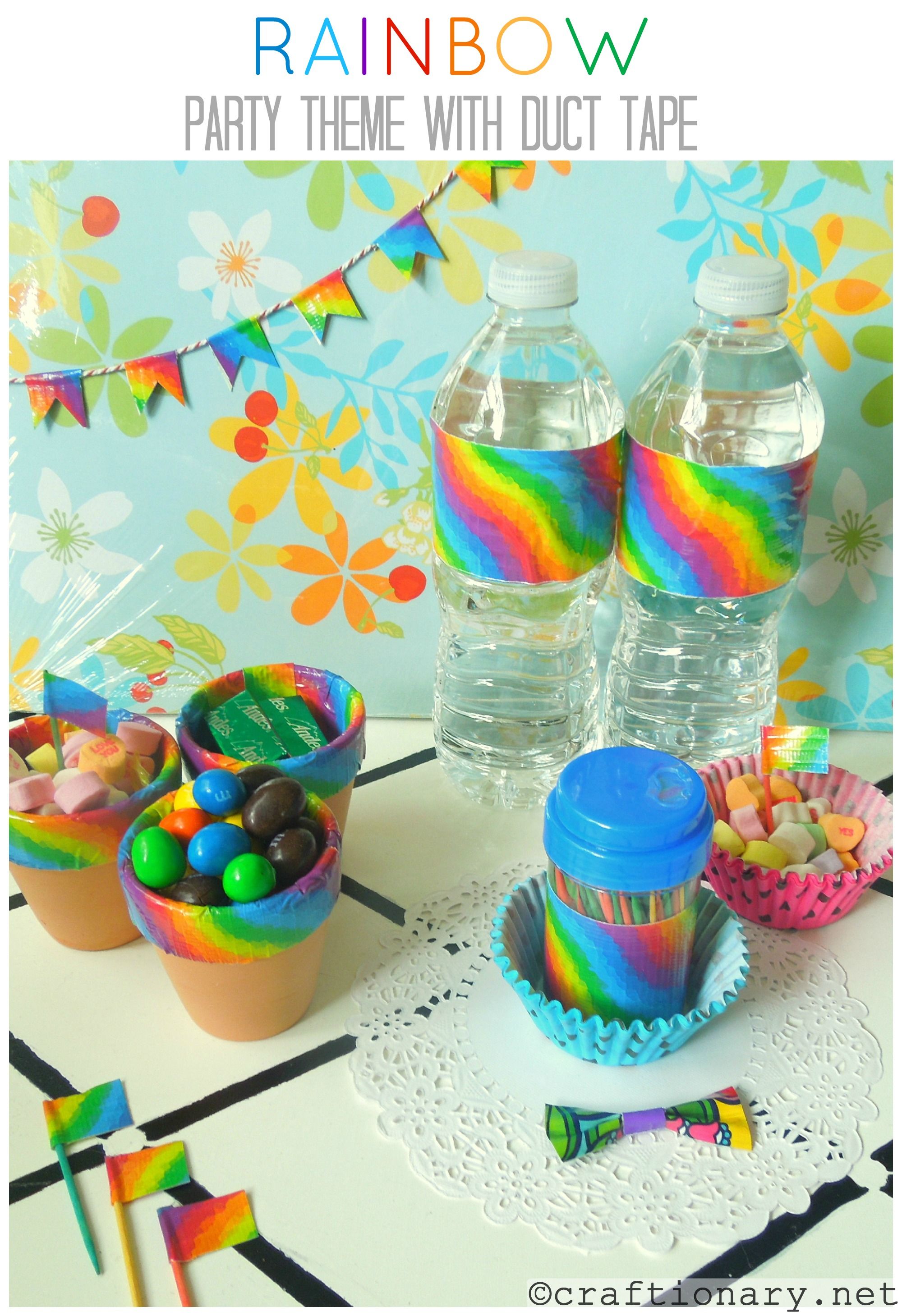 Duct tape rainbow party
Looking for more great ideas?
Check out tutorials in the category
PARTY
.
Are you on pinterest?
These are updated regularly whenever I find unique ideas.