This post may contain affiliate links. Please see our full Disclosure Policy for details.
Yet again, it's that time of the year! The best time to try pumpkin painting designs because it's the height of pumpkin season. Pumpkins have an impact on the Autumn season because they are a traditional harvest symbol. They are frequently used in rural areas and at festivals as Fall decorations. The entire family can participate in the simple and enjoyable activity of carving a pumpkin or painting. Here are some suggestions for original, humorous artworks that can be created using the numerous patterns that a pumpkin can create. You can use paints, paint brushes, and sharpies to name a few to decorate pumpkins without carving.
90 Best Pumpkin Painting Designs and Ideas
There are numerous lovely designs to choose for no carve pumpkins. Some people prefer to keep things simple by using only a few stripes or polka dots. Others enjoy using their imagination to create something more difficult like Raven or flowers. It's all up to you! One thing to consider is the size of your pumpkin. Make certain that your design will support the floor.
Let's learn about the pumpkins before we dig into pumpkin painting designs.
Types of Pumpkins:
What kind of pumpkin you are going to choose will shape your idea for your project when you first start thinking about pumpkin paint designs and ideas. These pumpkins come in a wide range of colors, sizes, and shapes, including miniature varieties.
The following is a list of 13 commonly used types could be helpful when creating iconic projects.
For Carving Project:
Jack-o'-Lantern Pumpkins
Connecticut Field Pumpkins
Howden Pumpkins
Small Pumpkins
Jack Be Little
Baby Boo
Casperita
Hooligan
Bumpkin
Wee B little
Naturally Colorful and different types of pumpkins
Rouge Vif D'Etampes
Jarrahddle
Kabora and the Kakai
Blue Lakota
Galeus d'Eyrines
Long Island Cheese
Fairytale
Black Fustru
Cotton Candy
Artificial Pumpkins
metal
plastic
glass
ceramic
Learn more about the pumpkin varieties in detail if you are interested.
Types of Paints used:
To decorate your pumpkin, you can use a variety of paints. Here, some of them are mentioned.
Acrylic Paints
Spray Paints
Oil Paints
Paint Markers
Chalkboard Paints (for matte finish)
Kids-friendly washable paints
Latex paints/House paints
Find more details on best paints use on pumpkins.
How to clean the pumpkin
Many people love to paint their pumpkins instead because it saves the hassle of carving pumpkin ideas and can prolong a pumpkin's life for decor. However, you can clean the pumpkin. Key steps for cleaning pumpkins:
Remove the pumpkin's stem.
Use a sharp knife to cut a hole in the top of the pumpkin.
Scoop out the pumpkin's guts using a spoon or spatula.
Rinse the pumpkin with water and allow it to dry.
Paint the pumpkin with your desired design.
Alternatively you can cut a pumpkin from the bottom like we did last year.
Steps to clean your pumpkin for Carving:
With a few simple tools and these how-to instructions, you can quickly prepare a pumpkin for carving. Apply one of our free printable stencils to your Halloween pumpkin to personalize it.
Step 1: Cut hole in the bottom of the pumpkin:
If you've ever carved a pumpkin, you've probably removed the top and cut a circle around the stem to remove the insides. However, we think that the secret to carving the ideal pumpkin is to start at the bottom rather than the top. Additionally, doing this will help your pumpkin live longer.
Cut a hole in your pumpkin about the size of your fist, being careful not to make it too large so that it is visible when you stand the pumpkin up.
Create a tiny triangle-shaped notch by making two cuts after you've finished carving a circle, starting at the circle's edge, and facing the pumpkin's center. Use the notch to pull the remaining portion of the circle away from the pumpkin.
Step 2: Remove the pumpkin Guts:
After you've removed the bottom half of the rind, it's time for the fun part: scooping out the pumpkin's interior.
While reaching inside with just your bare hands would certainly be effective, we have some tips for anyone who doesn't like the feeling of squishing pumpkin guts between their fingers.
Use a large scoop.
You can find tools with serrated edges in some pumpkin carving kits, or look around your kitchen for a large, semi-curved item like an ice cream scoop.
Utilize a metal scoop. Plastic scoops and spoons may break if they are used too firmly.
Use a small knife, such as a paring knife, to scrape the sides of the pumpkin to separate the inner rind from the remaining guts.
Step 3: Scarp the inside of the pumpkin clean
Return to the inner rind of the pumpkin and thoroughly scrape it clean after removing the stringy interior. By doing this, you'll be able to make a smooth, clean cut into the pumpkin to begin carving a design into it.
After cleaning out the pumpkin, wipe down the interior walls with water and bleach solution. You can prolong the enjoyment of your carvings by using the bleach mixture to prevent rotting.
Steps to starting your pumpkin painting project:
Choose the Right Pumpkin:
A flawless pumpkin, especially one with no rotten areas, will make an excellent painted pumpkin. You can include flaws or other elements in your design if you want. If not, find a pumpkin with shallower ribs so you can paint on it more easily.
Prep Your Pumpkin:
Before you begin painting your pumpkin, you should prepare the surface. Always wash your pumpkin before beginning any pumpkin decorating techniques. To clean it, use a sanitizing wipe or a soft cloth with mild soap. This will provide a clean surface for painting as well as remove any bacteria that may hasten the rotting process.
Seal Your Pumpkin:
It's not necessary to seal your pumpkin before painting it, but it does help to give you a good painting surface. Apply a sealant to your pumpkin using a brush or an aerosol. Even though it might not necessarily keep the pumpkin intact, it might make painting easier. There are various ideal pumpkin paints, depending on a few factors.
What Kind of Paint to Use on Pumpkins:
When decorating pumpkins with your kids, choose washable paint to lessen your stress about the mess! If it's just adults, acrylic or spray paint are the best options for painting pumpkins because they won't crack. Puff paint can be used for more intricate painting, such as creating a lacy effect. You can also use chalkboard paint if you want something a little different!
Use the Proper Brushes:
Although pumpkins are sturdy, their skin can still be damaged if you're not careful. Avoid using brushes with stiff bristles when painting pumpkins. Use sponge brushes or brushes with softer bristles to prevent causing scratches or other damage to the pumpkin's skin.
Plan your design:
Consider how to paint a pumpkin after finishing all the preparations. Others prefer to plan on time, while some people prefer to decorate on the fly. You should already have an idea of the painting style you want to use on your pumpkin. You can execute the ideal design with the help of a plan. Before carving your design into your pumpkin, trace it with a pencil.
Seal your pumpkin again:
To protect your painted design, spray your pumpkins with a clear craft sealer. This coating will protect the pumpkin's surface from the elements, which is especially important if your gourds are displayed outside. Allow the sealant to dry completely.
FAQs Pumpkin Painting Designs
What is the best type of paint for painting a pumpkin?
Acrylic paint is popular as it dries fast and is easy to use. You can use pouring painting techniques. They could be wiped out easily if a mess is created.
How do you stop paint from peeling off a pumpkin?
Apply a coat of clear craft sealer spray on your pumpkin craft. Let it dry. It would protect the pumpkin paint from the elements, especially when placed outside.
How long would your pumpkin craft last?
It could last for 2 weeks as it rots very fast.
How could Prime help you with pumpkin painting?
A coat on the pumpkin protects it, and it helps your color look brighter, and fewer paint coats are used in the last.
How to stop a pumpkin from rotting?
Another way is to make a mixture of water and a few drops of bleach and spray it daily like you water your plant, but in a minimal amount, just a spray. This would help the bacteria stay away from the pumpkin. Unfortunately, pumpkins rot fast due to moisture loss in them. DIY pumpkin sprays are available on the market, which keeps them from lasting long.
Can You Paint Straight onto A Pumpkin?
Of course, you can. Just give your pumpkin a light cleaning to get rid of any dirt or other impurities that might affect the paint. Avoid being too rough to avoid damaging the skin. Apply a protective coating over it both before and after painting if you plan to leave it outside in the rain and sun. If not, painting straight away without that extra step is perfectly acceptable.
How long it takes to paint and dry a pumpkin?
Remember this when painting your pumpkins: you might be tempted to use more paint than you need to avoid having to add another layer. On the other hand, when you take what appears to be a shortcut, you typically end up needing to spend more time being accurate or regretting the outcome greatly. When drying, paint that is too thick may drip and leave random runs of paint.
A blow-dryer can be used to speed up the drying time of paint so that layers of paint can be applied immediately. Paint that is too thick may drip and leave sporadic runs of paint when drying. Try not to smear the paint.
Can you use washable paint on pumpkins?
Without a doubt, you can use waterbased paints. If pumpkins are to be stored indoors, washable paint could be applied to them. Before and after using the washable paint, seal them if you plan to use them outside. Otherwise, the paint will flake and rub off after being exposed to rain and sunlight for a long time. For this, clear spray paint can be used. It is important to note that it is completely dry before you start to paint over it. Before sealing it in, make sure your paint is completely dry.
Pumpkin Painting Ideas for a pumpkin-themed color scheme
A palette of pumpkin tones might be very adaptable. You could pass for traditional hues like orange and black, or you could use other color combinations to be imaginative. Paint your pumpkin in shiny colors like purple, green, or blue if you want it to face out. You might also try painting patterns on your pumpkin. Paint your pumpkin in metallic colors like silver or gold if you want it to have a more cutting-edge appearance. Using glitter paint will allow you to add a little sparkle to your pumpkin as well. You can paint your pumpkin with just one color if you want to keep things simple. Although white pumpkins are very common.
Pumpkin Painting Traditional Designs
If you want to stick with traditional pumpkin carvings, you have a lot of options. You can make a traditional jack-o-lantern face, but you can also get creative with other spooky styles. You could also use paint to make a more complex design. To create a monochromatic look, use black and white, or orange and green for a festive color scheme. If you're feeling particularly daring, you could carve a pumpkin in the image of your favorite artist.
Alternatives to carving for nifty pumpkin painting designs
By applying fun and festive paint designs to your pumpkin, you can still create a stylish appearance. You can go with something straightforward, like polka dots or stripes. You could also use your imagination and take on a more challenging task. Make sure your design is manageable for the paint and materials you've chosen to use.
Pumpkin Painting Designs and Ideas
There are so many pumpkin painting ideas and designs out there, and it can be hard to know where to start. But we're here to help! Many pumpkin painting ideas for kids, adults as well as No carved pumpkin painting ideas and designs are displayed in this section. We've gathered 75 of the best pumpkin painting ideas and designs for you to check out, so you can find the perfect one for your next project. From cute and simple designs to more intricate and complex ones, we've got something for everyone.
Halloween pumpkin painting designs
Decorate with Glitter Pumpkins by the inspiration board.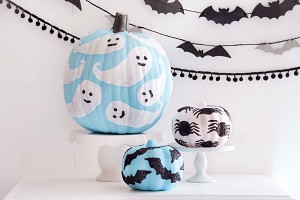 DIY Luxe Studded Pumpkin by my sweet savannah.
Customizing Pumpkins by Ajay.
Copper Pumpkins by Wilshire collections.
Spooky Message Pumpkins by country living.
Paint your pumpkins by folk art crafts.
Evil eye painted pumpkins by roaming nola.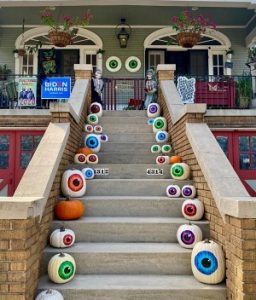 Mercury Glass Pumpkin by Lisa Goodwin DIY. Find more things that can sparkle with mercury glass mirror paint.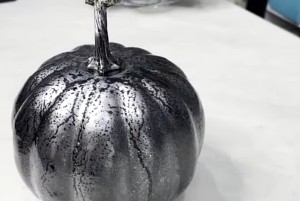 No carve pumpkin ideas
No Carve Pour Art Pumpkins by dream a little bigger. You will be fascinated by these acrylic pour painting ideas.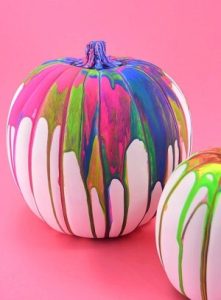 No carve watercolor pumpkins by Tara skinner events.
Hand painted faux pumpkins by Katie Herman art.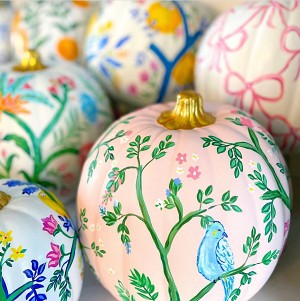 Vintage painted pumpkin by Chris Jean Guenat.
Blue and white pumpkins by lady and tucker home.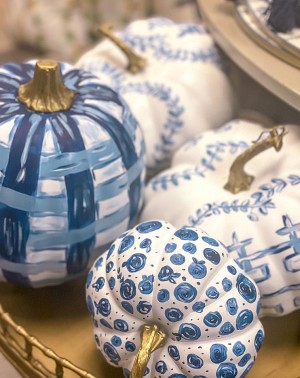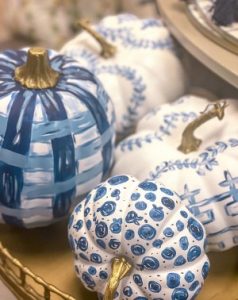 Confetti pumpkins by Emily Nichols art.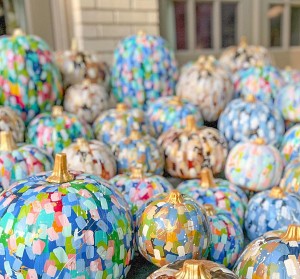 Colorblock pumpkins by color stories by stacia.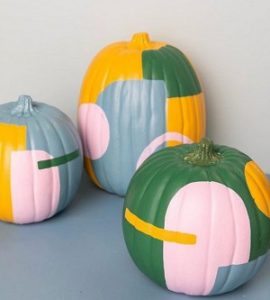 Farmhouse pumpkins by Samallen creates. You will also like to complete the home decor with farmhouse decor ideas.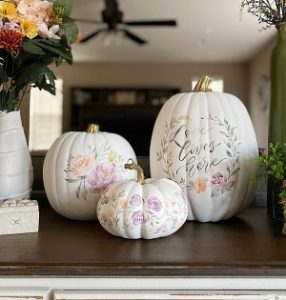 Cool pumpkin painting designs
Constellation Pumpkin Luminaries by Lia Griffith.
Blue Porcelain Craft Pumpkin  craftberry brush.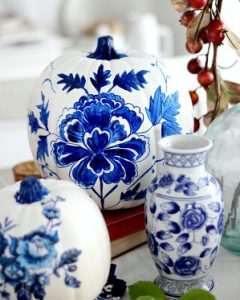 Emoji Pumpkins by made with happy.
Disco Ball Pumpkin by club crafted.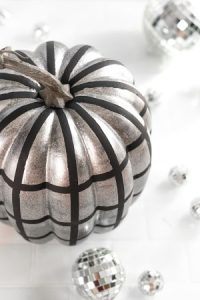 Star Wars Pumpkins for Fall by DIY candy.
Mod Podge Pumpkin Decorations by mod podge rocks.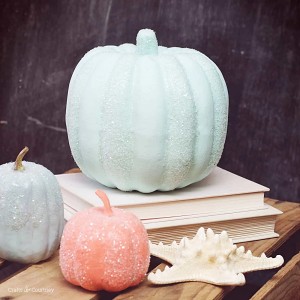 Sharpie Painted Pumpkins  by Caroline Simas.
Painted Flowers Pumpkin by mauve and me.
Beautiful Painted pumpkin by red dolly swim.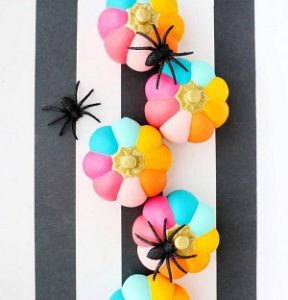 Add twinkle lights to painted pumpkins by Tina Ponte.
Small pumpkin painting designs
Desert Oasis Painted Pumpkins with cacti by we the dreamers.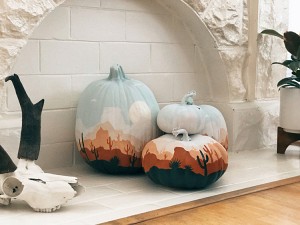 Drip Painting Pumpkins by mom dot.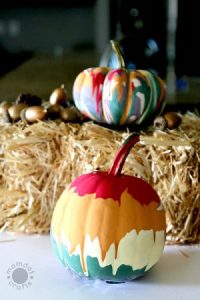 Painted Fingerprint Pumpkins by handmade Charlotte.
Buffalo Plaid Painted Pumpkin by Amanda Berkley floral.
Bookshelf Tree Pumpkin by country living.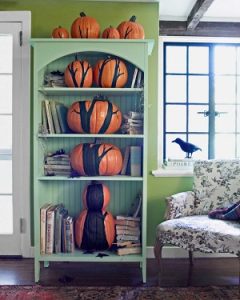 Whimsical painted gourd designs by Liz Harry designs.
Scary pumpkin painting designs
Pop Art Pumpkins Inspired by Roy Lichtenstein by dream a little bigger.
DIY Vintage Clown Pumpkins by crafting cheerfully.
Bewitching Halloween Pumpkin by HGTV.
Frankenstein Pumpkin by fun money mum.
Touch of tacky color and pattern for the Halloween pumpkin by decoist.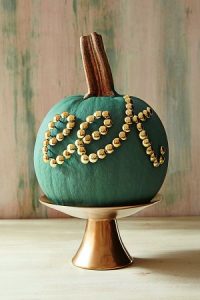 Night Painted Pumpkins by the joyful jungle.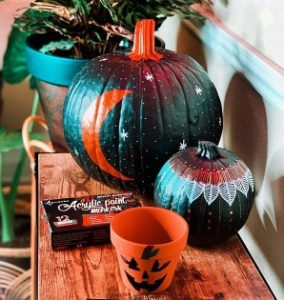 Easy pumpkin painting designs
Textured and layered marble painted pumpkin by funky butterfly creations.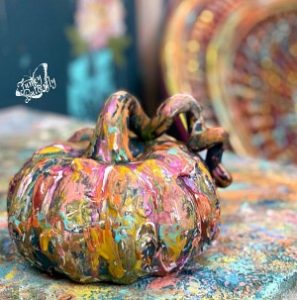 Coastal Pumpkin Decorating by Jackie Jones team.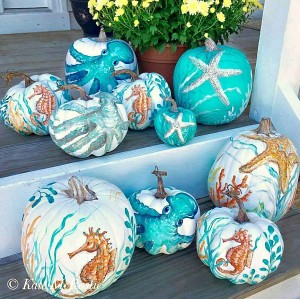 Polka Dot Pumpkins by sea kettle.
Colorful Embellished Pumpkins by at charlottes house.
Tomatohead Fortnite Pumpkin by desert chica.
Teal Succulent Pumpkin by our crafty mom.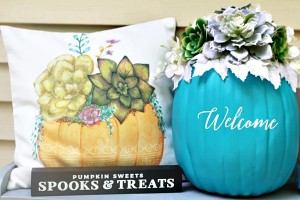 Princess Carriage Pumpkin by alnisa art.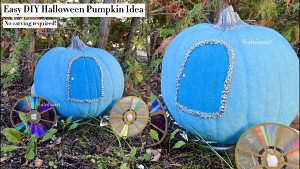 Drip Painted Pumpkins by gift of curiosity.
Face pumpkin painting ideas
Spooky Painted Ghost Pumpkins by Jenna Sue design.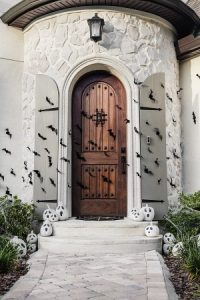 Painted Ghoulish faces and spooky pumpkins by testors.
Ghost Pumpkins by see Lindsay.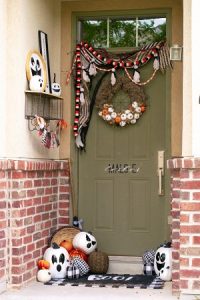 Paint your pet on pumpkin with this Puppy painted pumpkin by hungry nike.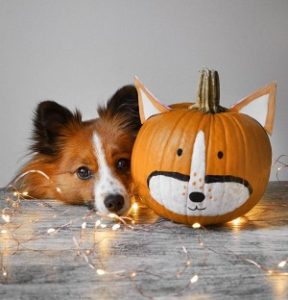 Easy Owl Pumpkins with sunflower seeds by bhg.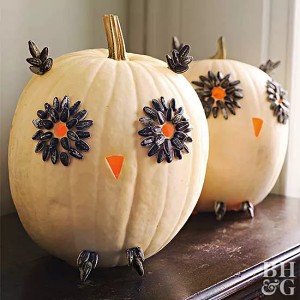 Harry Porter Painted Pumpkin by Macdonald's playland.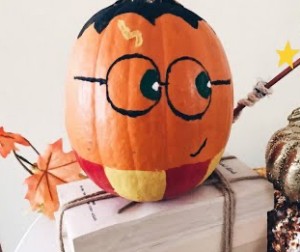 Pennywise Halloween Pumpkin byD&K.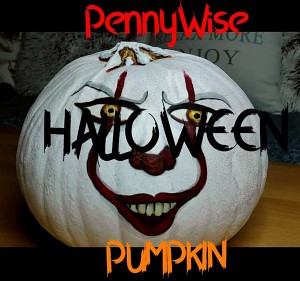 Pumpkin faces by snappy tots.
Pumpkin painting ideas for adults
Mud cloth Pumpkin inspired by Shibori.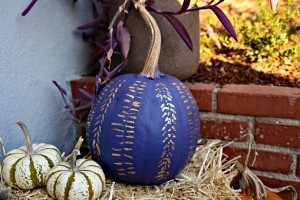 Pumpkin Pour Painting by Chad Gifford.
Practical Magic House Pumpkin by hey atlas creative.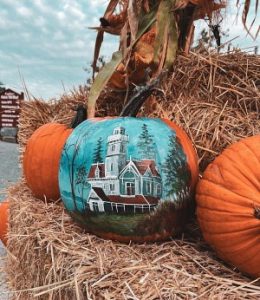 Boho floral pumpkin painting by girl upcycled.
Raven pumpkin by lotus and night shade.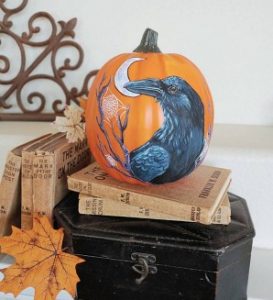 Owl painted pumpkin by lotus and night shade.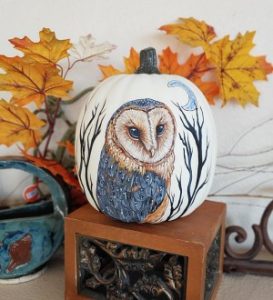 Painted Pumpkins with glittered stems by aunt peaches.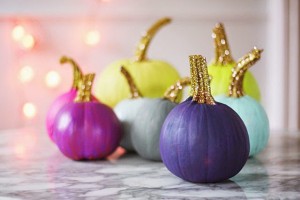 Spooky Day of the dead pumpkin by lou stine art.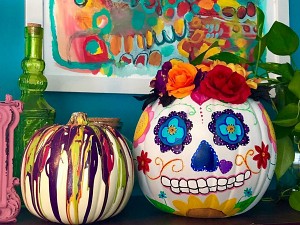 DIY 90s Patterned Pumpkins by akailo chic life.
Glow in the Dark Pumpkins by color made happy.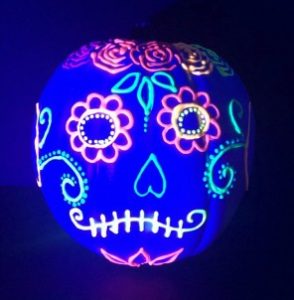 Painted Pumpkins and add vinyl by Angie Holden.
Pippa painted pumpkins by home style dreams.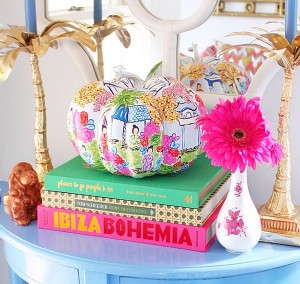 Pumpkin painting ideas for kids
Vincent Van Ghost Pumpkin by read write color.
Candy Corn Pumpkin (source unknown).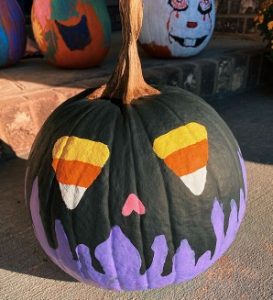 Cherish Cat Pumpkin from Alice in the wonderland.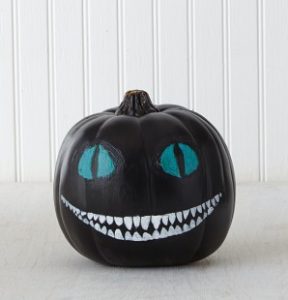 Leopard Painted Pumpkin by uncommon designs online.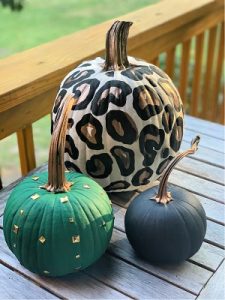 Colorful Pumpkins by tippy taylor.
Rainbow Pumpkins for the porch by the house that lars built. How to make a rainbow has 50 fun ideas to try.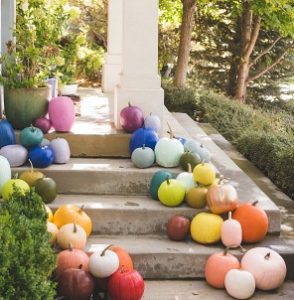 Pizza Halloween Pumpkins by atta girl says.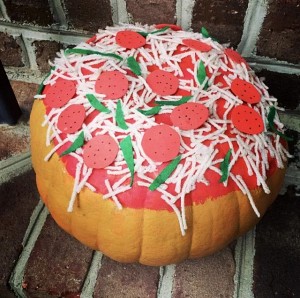 No Carve Unicorn Pumpkin by fun money mom.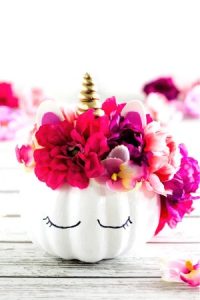 Geometric pumpkins by simply she.
Pumpkin Camper by color made happy.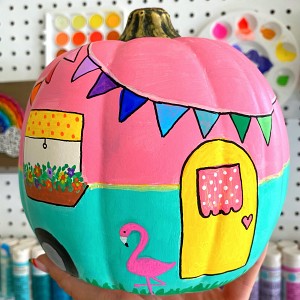 Gold Splatter Painted Pumpkins by akailo chic life.
Beauty and the Beast Pumpkin by the farm girl.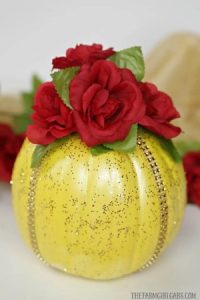 Star Wars Inspired Porg Pumpkin by as the bunny hops.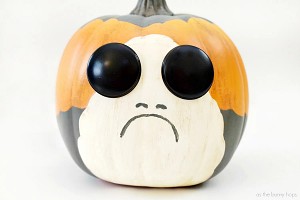 Happy Hued Halloween Pumpkin by Annie Selke by annieselke.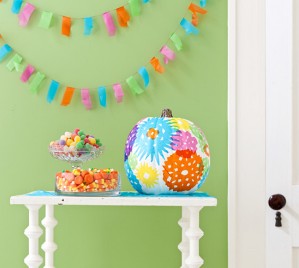 Mandala Pumpkins by plaid. Learn more about mandala art (coming soon).
Pokemon Pumpkins by happiness is homemade.
Funny pumpkin painting designs
Spongebob painted pumpkins by creativity for days.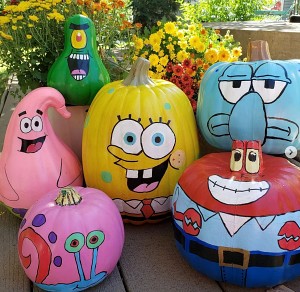 Pink Pumpkins by DoodleMoo.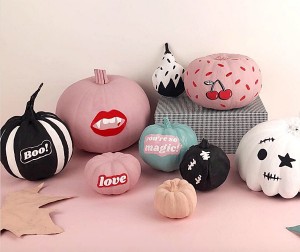 Local grocery store Painted Pumpkins by Halloween daily post.
White Pumpkin Painting Designs
White Painted Pumpkins for garden lovers by mucky ducky designs.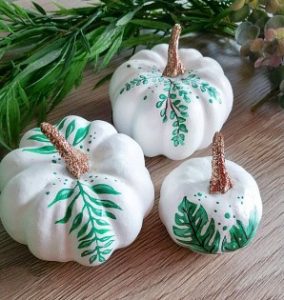 Painted white pumpkins by Shannon Kirsten.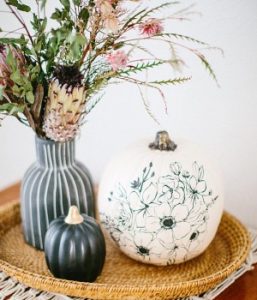 Solar system and constellation pumpkins by craft smith co.
Easy pumpkin painting by new build to home.
These were some of the most impressive pumpkin painting ideas I could find online for you. Enjoy the upcoming autumn and Halloween. Take inspiration from these concepts and designs for yourself and to inspire others.
Author: Marriam Arshad
You will also like:
90 Cool Pumpkin Carving Ideas to try this Fall
Halloween outdoor pumpkin decor idea
Thankful Tree Free Printable for Thanksgiving