This post may contain affiliate links. Please see our full Disclosure Policy for details.
Make Cute Easter bunny crafts for Spring. Who's up for some serious cuteness today? I am sharing the most adorable 20 Easter Bunny Crafts. Ideas to make Bunny wreaths and Easter rabbit party favors. Make bunny jars and Easter Rabbit arts. All sorts of creative bunny crafts. Use cute Easter bunny drawing, cute Easter bunny clipart and pictures for these ideas.
So let's start:
20 DIY Cute Easter Bunny Crafts for Spring
How to make Cute Easter Bunny?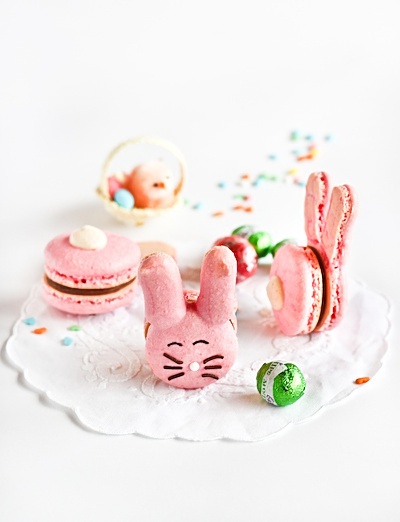 1. Easter bunny cookies
Cutest cookies on the block.
Make Easter rabbit macaroons. You can also follow the instruction to make cookies with ears.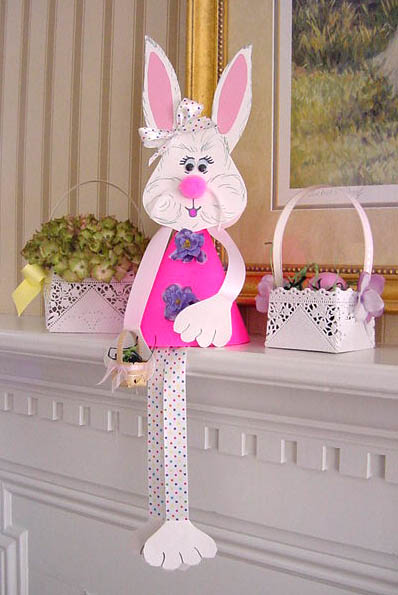 2. Make paper Easter bunny
Make hanging paper rabbit for decorating home.
You can download the free template from google.
3. Make Easter rabbit buckets
The bendable ears, rick-rack whiskers and fluffy little tails. Make the canvas bunnies look cute!
Wondering you sewing ability are not that strong? Like me!
You can use fabric cut-outs to decorate dollar store buckets too. Just follow the cuteness your way!
4. Easter bunny goodie bags
Make sleepy Easter rabbit party favor bags.
Bunny goody bags
5. Make Easter party cones
Great for filling party snacks. I love how they have sticks too.
I wish these bunnies came with a free template.
But they can be easily made. Just cut the bunny face. And glue or punch into the cone.
6. Bunny Wreath
Super cute package of adorableness.
A bunny Spring Wreath. The bunny is pushing a wheelbarrow filled with Easter eggs.
The bunny can be made by gluing paper petals. You can use foam board or cardstock for base.
The eggs are glittered. And the rest of the items can be found at craft stores.
You can buy this one at Etsy.
Spring Wreath (unavailable)
7. Painted Easter Bunny
Paint and make faces on clothespin.
These cute Easter bunnies can make a pretty garland. Or may be a planter.
8. Bunny face and paws printable
Print these cute bunny free printables. And use as top and base of your package.
You can do this with any handmade gift. Add a bow and fluffy tail to complete.
9. Easter bunny jar
Add ears to a mason jar with Happy Easter tag to make it sweeter add marshmallows and a cute card.
10. Make a Spring bunny wreath
Use 4 wreaths in different sizes to shape like a bunny. Add your favorite embellishments.
You can find this one on Etsy.
Rabbit wreath
11. Bunny folded napkin
Fold the napkin like a bunny. Great table centerpiece and place setting. This will look adorable in Spring and Easter.
You can find step-by-step instructions to fold these bunnies.
12. Easter table treat favors
Cut bunnies out of paper. You can use all sorts of beautiful patterns. These colors are so spring-like.
Stable the bunnies together. And fill them with your favorite treats.
13. Easter Bunny Crafts garland
Cut out cute bunnies from paper. Or felt or fabric etc.
Sew them together to make a cute Easter Garland.
14. Felt bunny ears
Turn pink and white felt into bunny ears.
Sew the bunny ears and glue to a bobby pin.
Cute idea for kids.
15. Make bunny art
Cut pieces of fabric to make a bunny.
Sew them onto a fabric. And stretch over an embroidery hoop.
Easter bunny embroidery hoop art. Fun idea for spring and baby room decoration too.
Easter bunny embroidery hoop.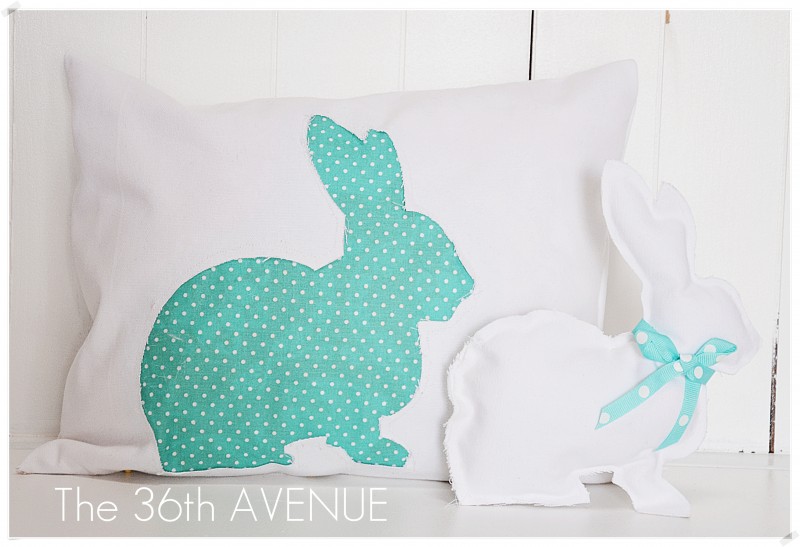 16. DIY Bunny pillow
Make an Easter bunny pillow. Cut the bunny and sew it using reverse technique.
I love how she put the cut-out bunny into use as well.
17. Make rabbit jars
A simple addition can do all sorts of magic.
Just like these jars with bunnies. Simply spray paint and stick on the jar lids.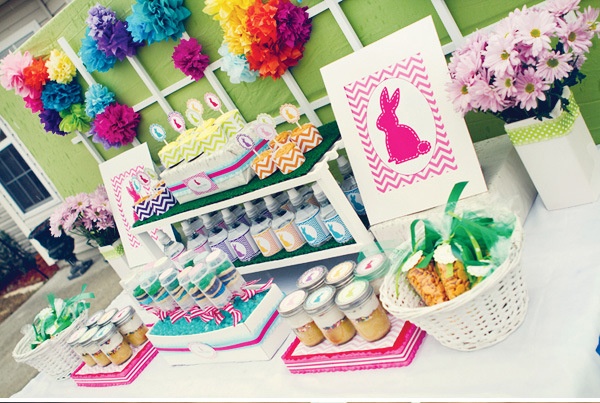 18. Cute Easter Bunny Pictures
Lots of colorful paper pom poms to decorate the background. And rabbit printable dessert table ideas.
The party printables are not for FREE. But are easy to make with Easter bunny clipart.
I hope you enjoyed these to make Easter rabbit projects for Spring. Please note some original sources are unknown. If you come across them please leave them in the comment. We would gladly update it!
You will also like:
Looking for more great ideas for Easter?
Check out our category
EASTER
.
Are you on pinterest?
You may also enjoy the Easter & Spring and Easter Eggs Boards.
Updated regularly whenever I find unique ideas.