This post may contain affiliate links. Please see our full Disclosure Policy for details.
Make popsicle stick easy crafts animals fun activities for kids and children at school and home with teachers and parents for hours of boredom. Popsicle craft is so versatile you can use glitter, stickers, beads and even playdoh for your ideas.
Today I am sharing a collection of popsicle stick crafts animals. There are tons of kids crafts that can be made with icicle sticks (or lolly sticks). I hope you will be inspired to make your own craft animals buddy and enjoy playing puppets or displaying them. These are great for easy and mess free dollar store crafts and a good creative day with the little ones. Preschoolers, toddlers and kindergartners will all enjoy these crafts. For kids who love to paint make popsicle stick art using this concept I have shared below. All you have to do is make a canvas with popsicle sticks and let the kids play and enjoy painting.
Add a magnet on the back and you can stick them on the fridge or magnetic board. A thumb pin and you can push it into the cork board. These ideas comprise of kids crafts for seasons. You will find children craft ideas for Winter, Spring, Summer and Fall.
Popsicle stick crafts animals for kids
You will find ideas to use basic craft supplies to make popsicle stick crafts like forest animals namely bear, raccoon, fox and squirrel. Sighting them on a walk in the neighborhood park or driving on the road is common and kids can associate with them closely. They get excited when they see them and making them would be a fun activity. Nothing is easier than using popsicle stick crafts for such projects.
Christmas is another great occasion for kids at school and at home to get creative. Involve kids in a craft activity to make popsicle stick Santa Claus, Reindeer (Rudolph with red nose) and Snowman (Olaf from Frozen). Since, it is winter time take advantage of Aquatic animals and make penguin, polar bear, seal and walrus with popsicle sticks as well.
Moreover, birds are amazing to craft as well. Why not use popsicle stick crafts to make them as well. Use craft feathers and some bright interesting colors and you will have your very own peasantry with farm animals, birds, and so much more all made with popsicle stick crafts. Make a picket fence and  a farm house and it's ready to play and interact with a story book, pretend play and even a doll house substitute.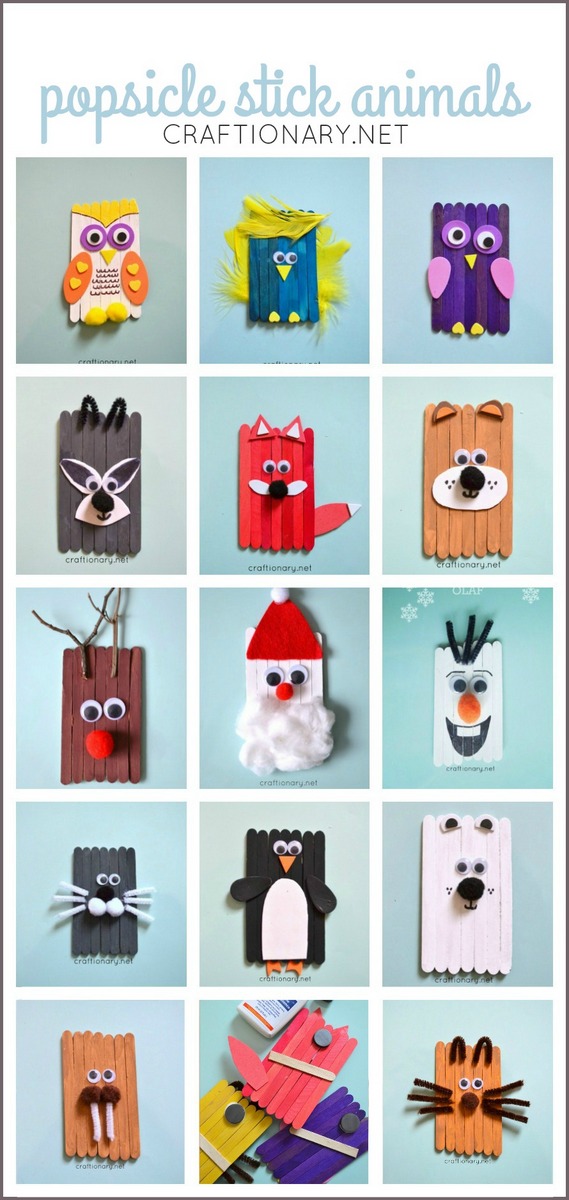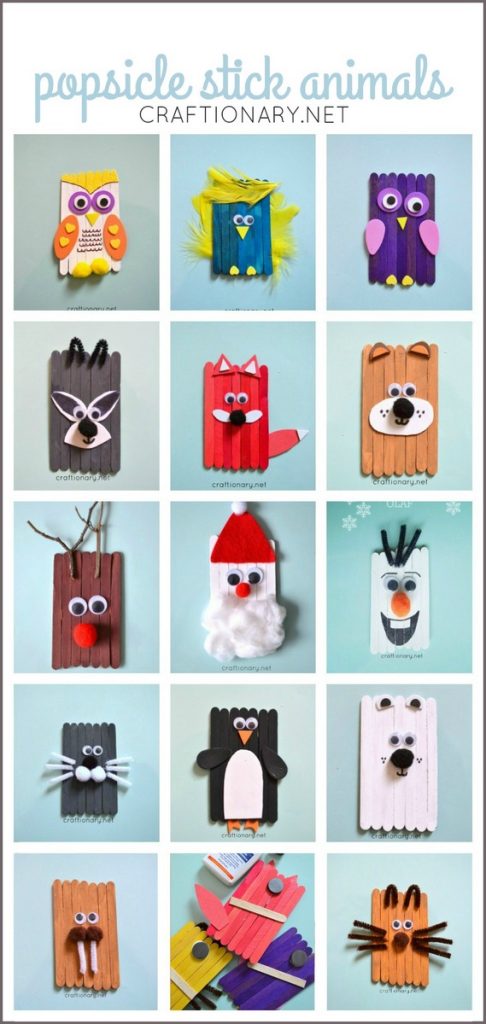 Popsicle stick crafts video instructions
There are tutorials to make popsicle stick DIY bear and DIY raccon ideas in today's post. You can follow these ideas to make a variety of crafts and activities for kids.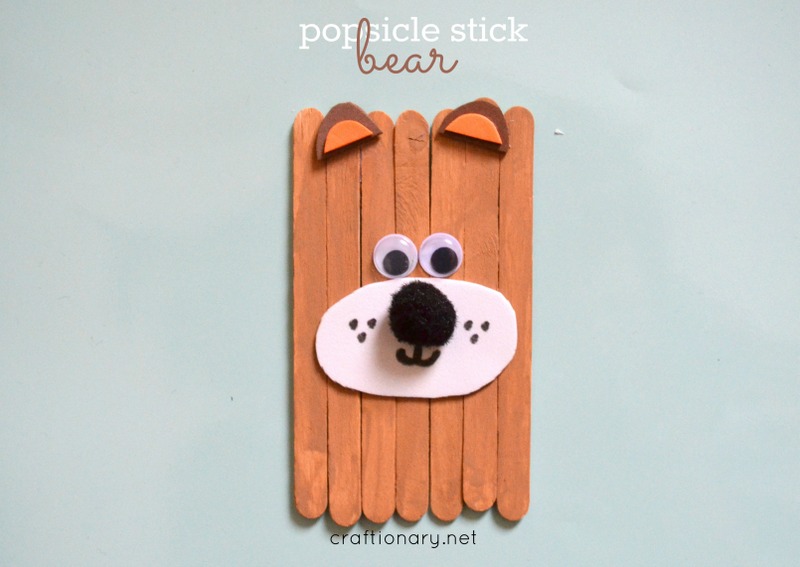 DIY Popsicle Sticks Bear Tutorial
To make this grizzly bear you will need the following materials:
popsicle sticks (aka craft sticks)
googly eyes
foam sheets to make some shapes for the bear's face
Acrylic paint and paint brush
White glue or glue stick for sticking things together
Pom pom
scissors
sharpie for adding details
All these craft supplies are easily available at craft stores. Find these for cheap at dollar store and dollar tree. Super simple project for kids with adult supervision for cutting foam sheets and glue the sticks together. Kids safe scissors are handy as well. You can also find all these supplies in the craft sets available at Walmart and Dollarama instead of buying them separately.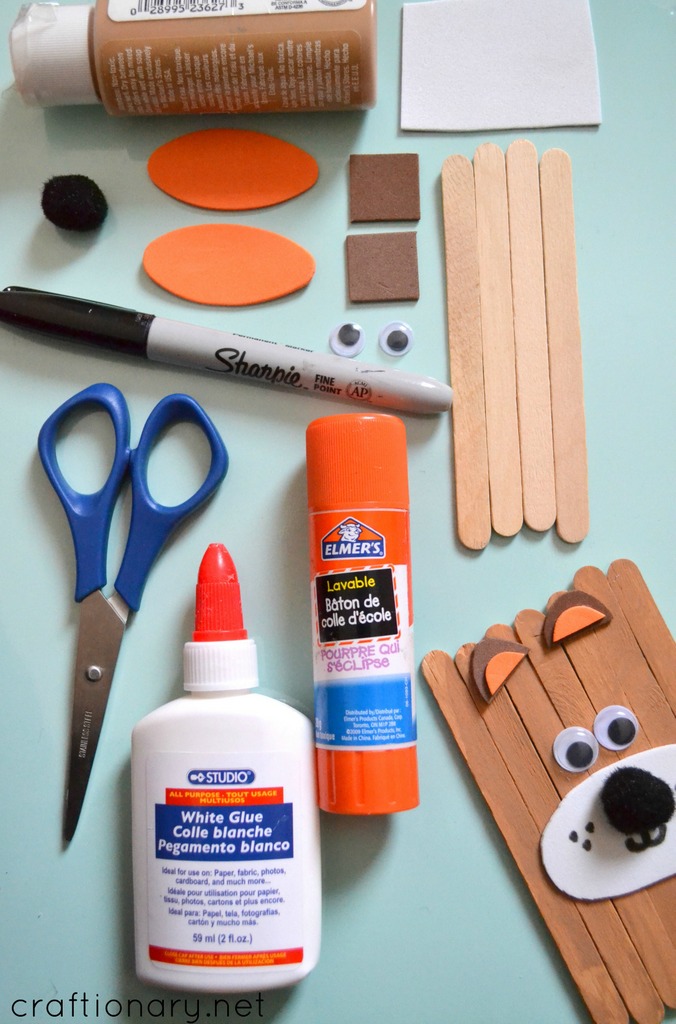 Place 7 popsicle sticks aligned together vertically and use two sticks (enough to cover the width of these sticks together) to join them together using glue gun horizontally. For photo illustration of this process click here.
Turn it upside down and while it dries you can paint your craft sticks. To make the bear use brown acrylic paint and gently brush the sticks. You can use a foam brush to dab and cover the surface with paint as well.
Since craft paints are water-based they dry very quickly. You can use a blow dryer to dry it faster too. But it really isn't necessary.
Use foam sheets to make ears by cutting them in semi-circles. One large brown foam semi-circle and one small orange foam semi-circle sandwiched together make cute bear ears. Cut a white oval shape out of foam sheet for the bear's mouth.
Now it's time to decorate and make a popsicle sticks crafts. Gather all your supplies and get ready to glue them on. I used hot glue gun as it dries fast and is a strong adhesive. If there are young kids involved you can also use regular school glue or white glue and glue stick instead.
Stick the ears on the popsicle sticks at an angle with each other as shown in the picture at the top. In the center add two googly eyes followed by white foam to make the mouth. Add a black pom pom at the middle of the two eyes and press it firmly till it sticks.
Add the details with a black sharpie pen and enjoy your creation. Your popsicle sticks grizzly bear is ready to go.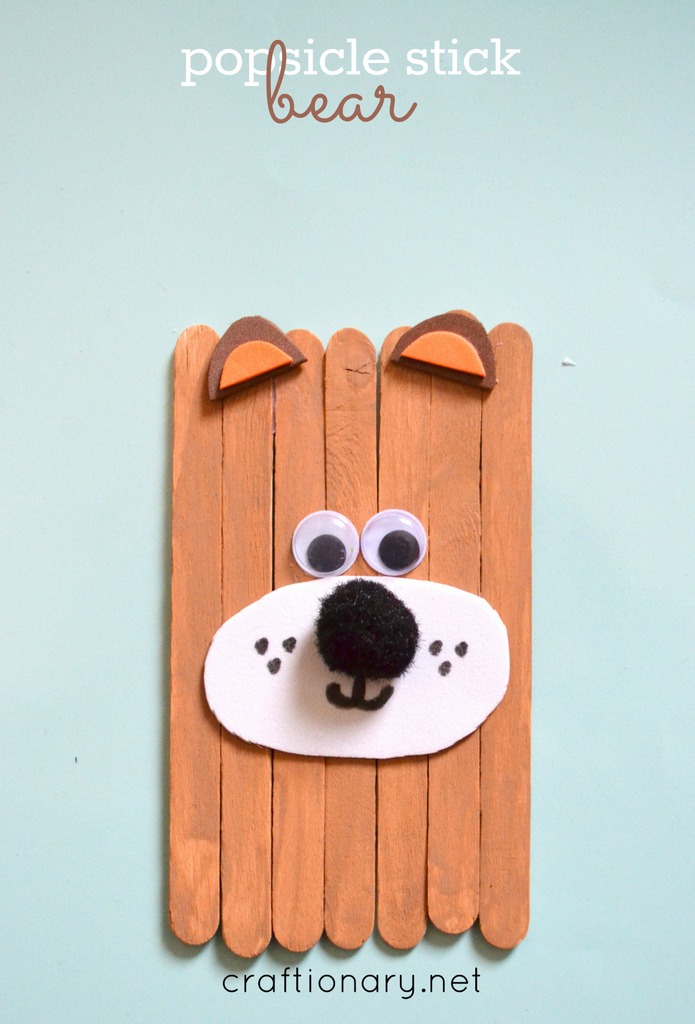 Next up let's make another popsicle stick animal that is most commonly sighted in the streets especially if the garbage is left open.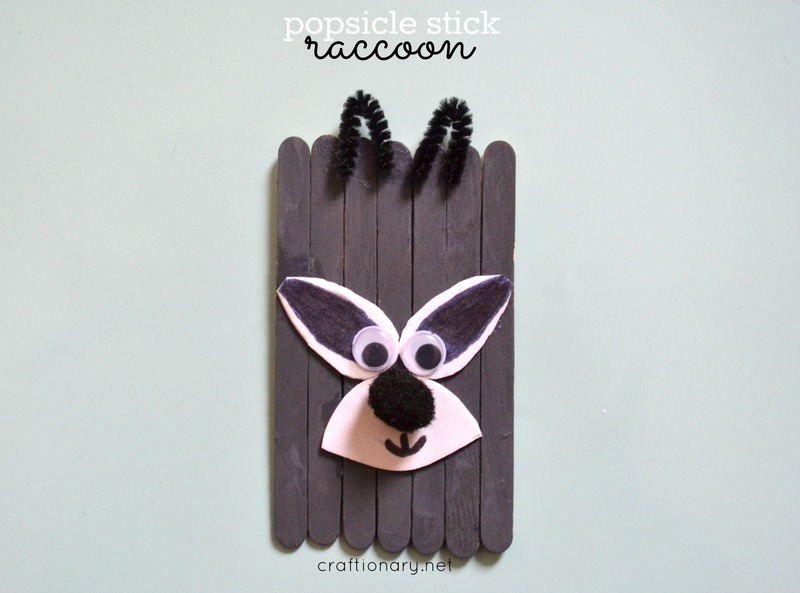 To make popsicle stick raccoon you will need the following materials:
popsicle sticks
foam sheet only white – you can use marker to color the eye part and add a smile.
googly eyes
Acrylic paint black and white (mix them to make grey – good mixing color learning as well)
glue stick/ white glue/ glue gun (whatever suits you)
Pom pom
scissors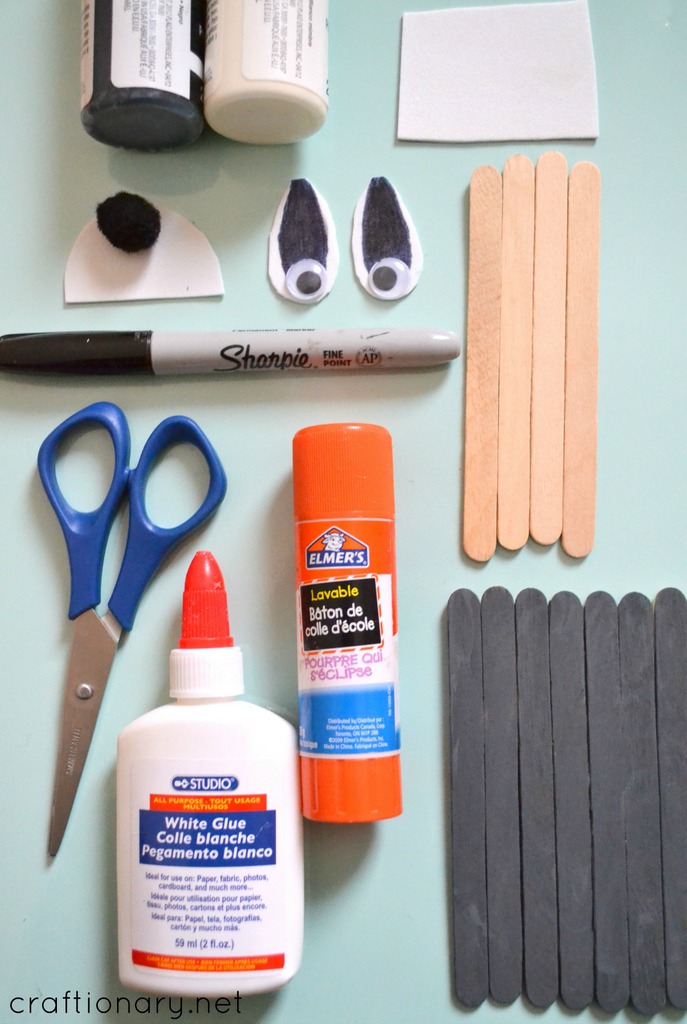 Glue the sticks together. Here I have used 9 popsicle sticks, however, you can use as many or as less to make your face. You can also cut the sticks in half to make it less longer. Ideally this is an appropriate size.
Paint the surface grey with acrylic paints. Cut white foam sheets in petal shape with a pointy end on one side to make the eyes and a semi-circle for the mouth. Glue the googly eye on the wider end of the eye cutout and mark lines starting at the outer end of the goolgly eye towards the pointy end of the foam sheet. Color in the space with black or grey sharpie or washable marker.
Glue the pieces on to make the raccoon's face and add pom pom and mouth to complete the look.
Cut two 4 inches long pipe cleaners to make the ears. Twist them at the center to make them pointy and glue them on the top. You might want to use glue gun as it takes more time holding it in place with glue stick or white glue.
If you like a detailed pictorial with instructions on how to make these animals, you can find it HERE.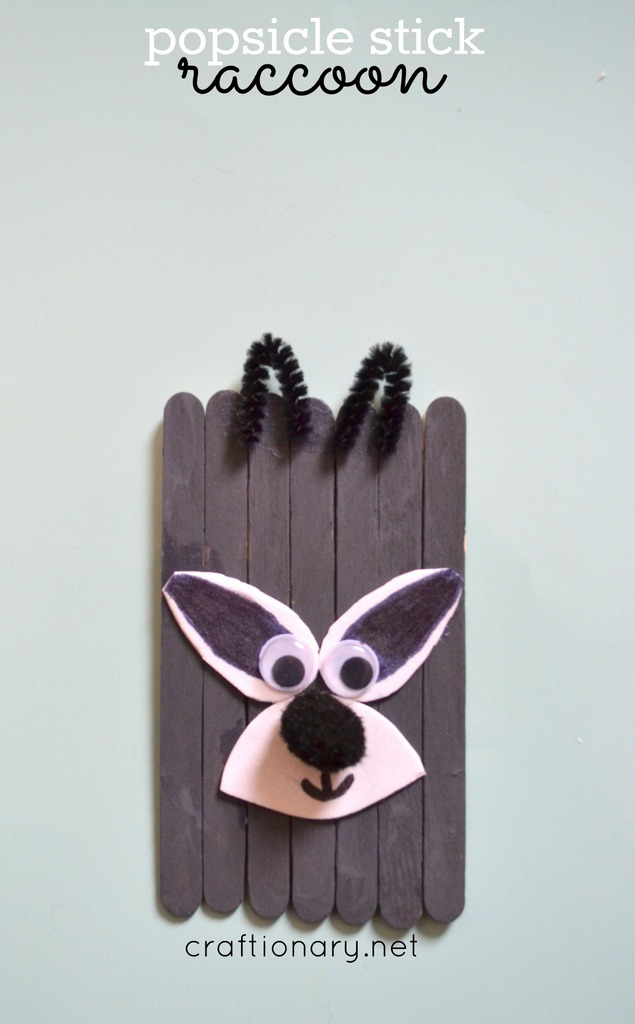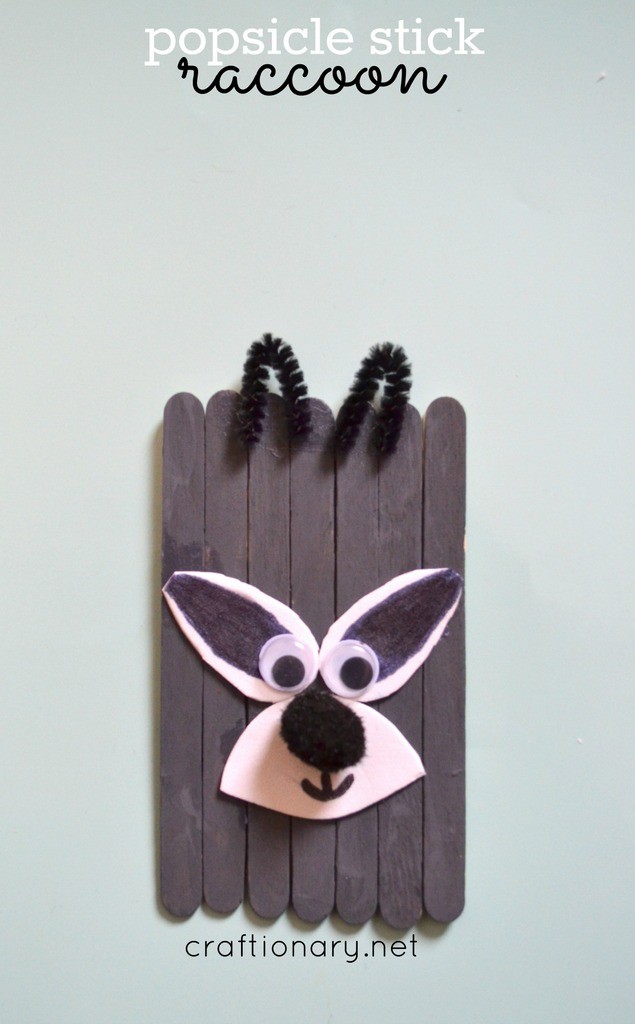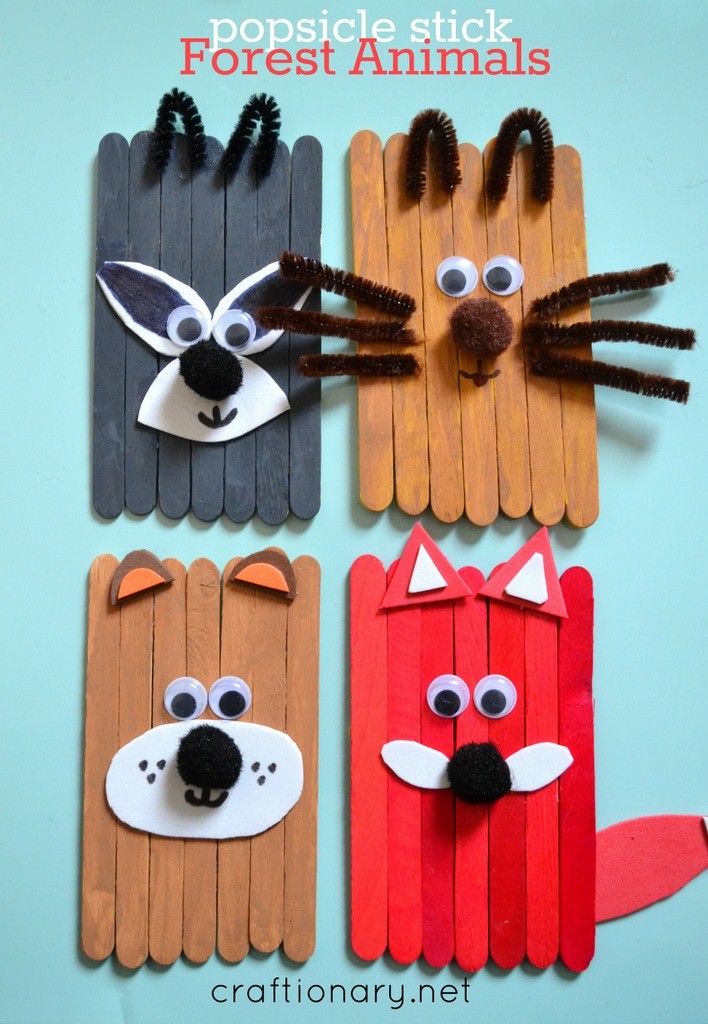 Fall Popsicle sticks kids crafts
Here are some more cool ideas to use popsicle sticks to make Fall animals:
Make popsicle stick fox and popsicle stick squirrel crafts. Use red paint and red foam sheet to make tail and ears for the fox. Conversely, brown pipe cleaners to make a squirrel.
Winter Popsicle stick animals crafts
Some more fun ideas are to make Popsicle sticks artic animals ideas. Here are the instructions to make popsicle stick polar bear, popsicle stick penguin, popsicle stick seal and popsicle stick walrus crafts.
These ideas are great for teachers to craft with kids at school in pre-school and kindergarten years.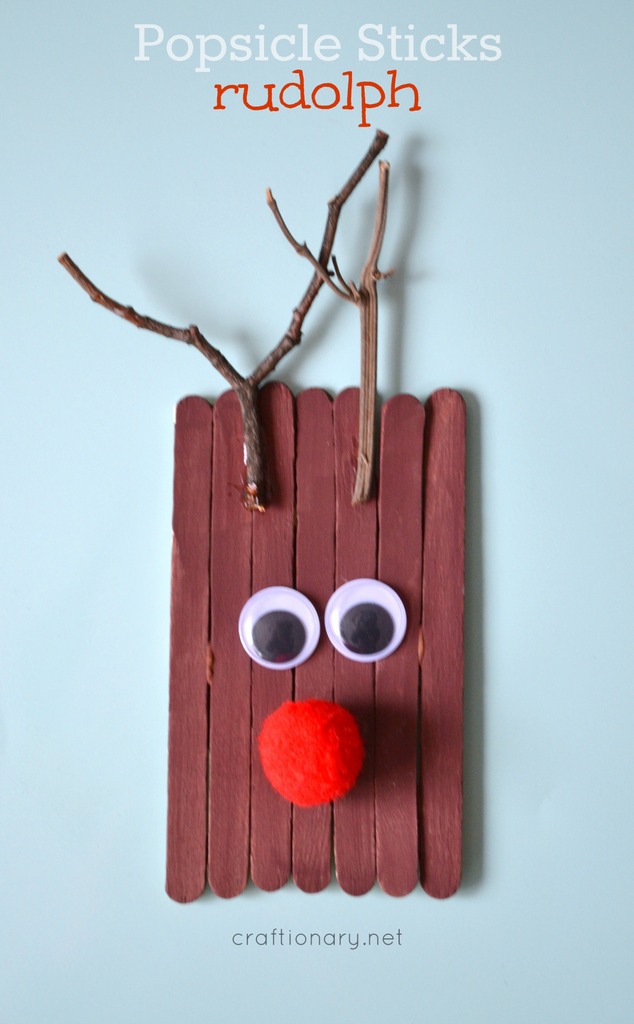 Rudolph kids craft
Make Popsicle stick Rudolph with twigs as antlers and red pom pom to make reindeer. You can add a cute smile to make him happy as well.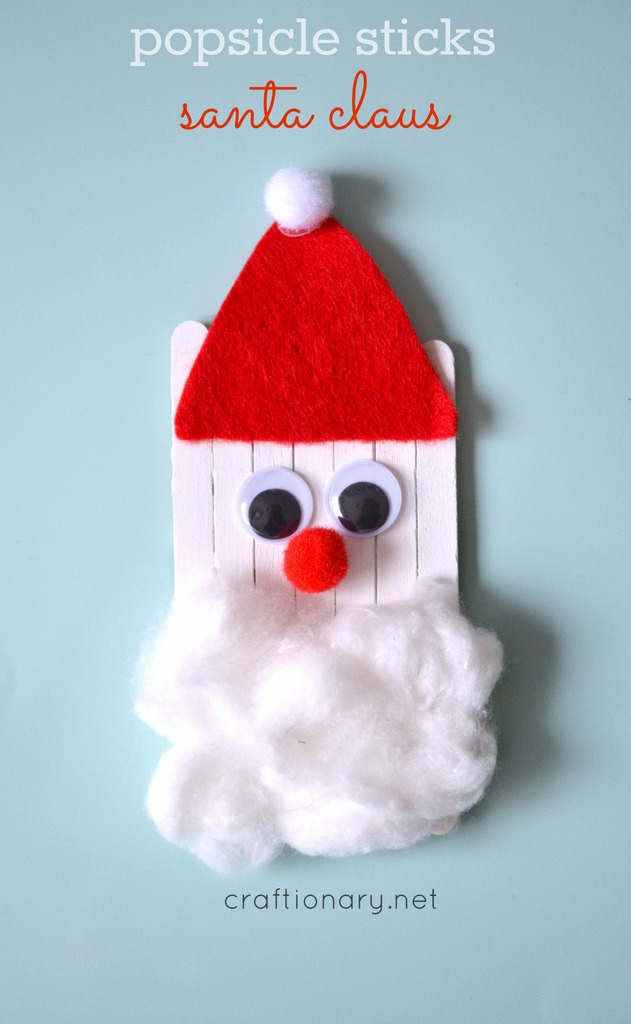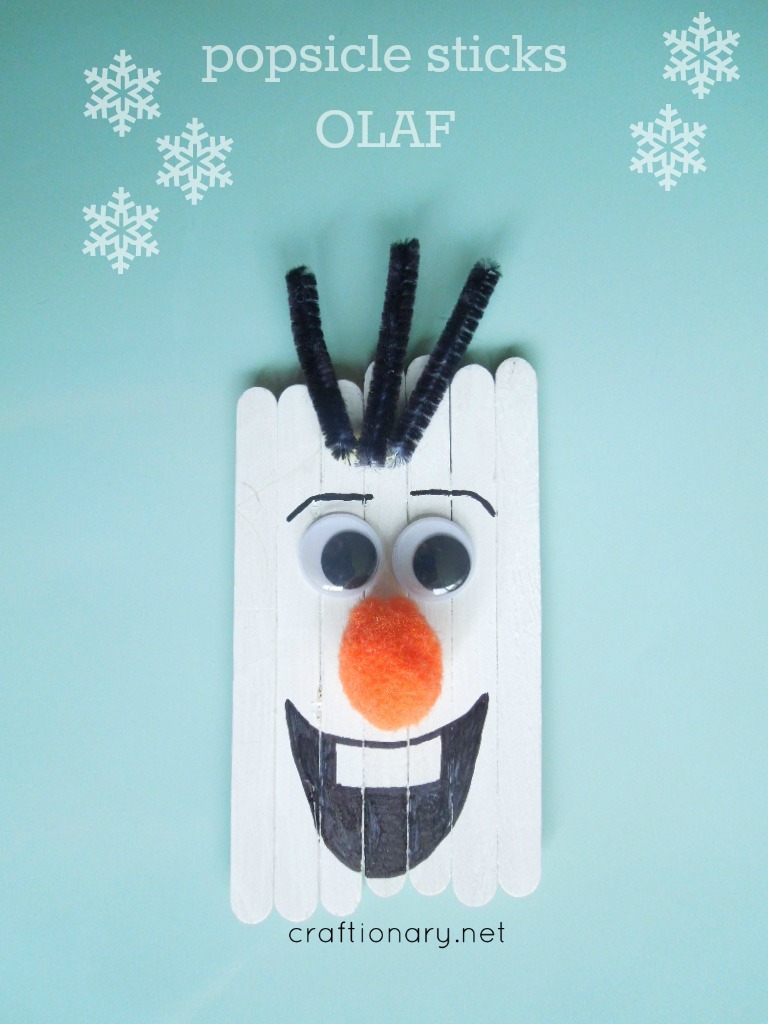 Snowman kids craft
Popsicle sticks Olaf with orange pom pom nose and a big happy smile is all you need to cheer up this season. This snowman is evergreen. Find more ideas to craft snowman.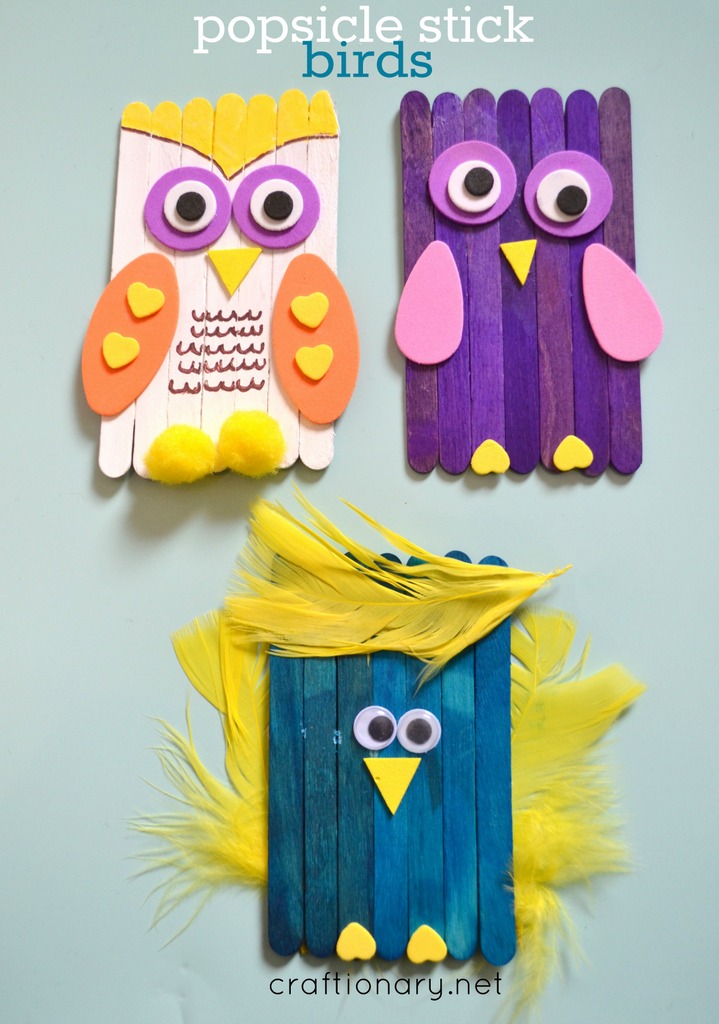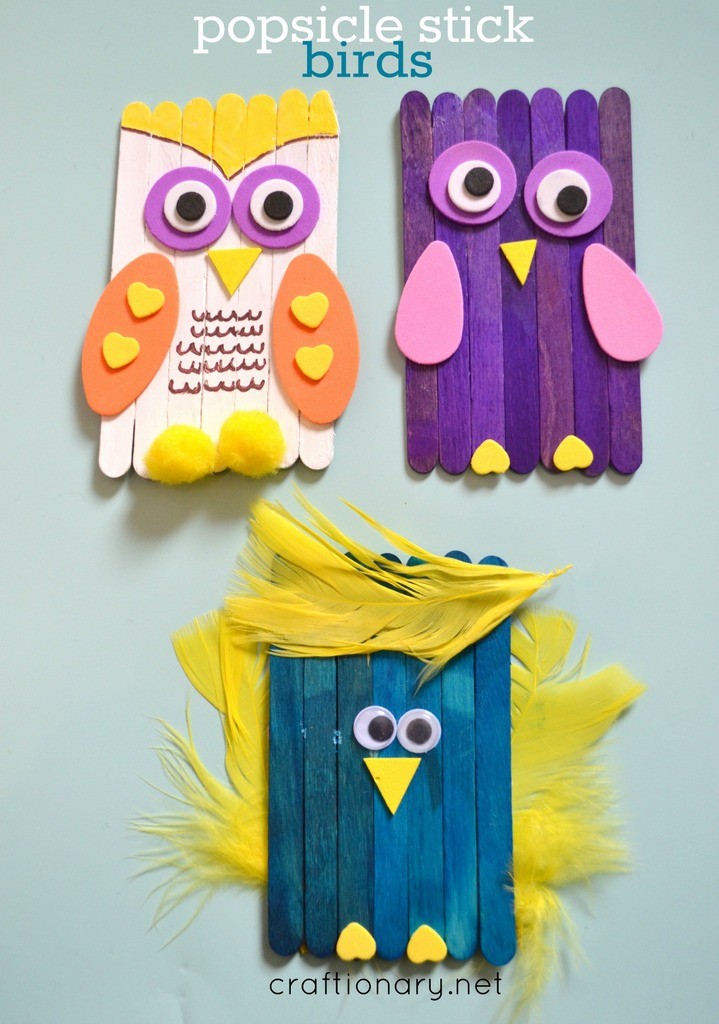 Spring Popsicle sticks birds crafts
DIY bird craft using popsicle sticks is a all season craft but the spring has the most affection. Especially, in spring the birds migrate back to the cities where winter is unbearable for their survival. We can clearly feel the difference when the bird song is back in spring and the flowers are blooming.
It is the best time to teach children about the birds and these popsicle stick birds an ideal activity. Use craft feathers and some fun to make silly owl crafts and other varieties of birds that are commonly found in your area.
The fun part about these popsicle stick animals is that you can add a magnet behind them or stick a thread on the back and they are ready to display.
I hope you enjoyed these inspirational ideas to create:
Easter Popsicle stick crafts
Make peeps, Easter eggs and cute bunny crafts using icicle sticks. That is on my kids wish list for now. These are great for making Halloween crafts like spiders, ghosts, bats and pumpkins to name a few.
Find the popsicle stick animals collection, HERE.
Do you enjoy pinterest inspirations? You might like Kids fun and activities board, where I share my favourite ideas for children.