This post may contain affiliate links. Please see our full Disclosure Policy for details.
These pom pom spider craft are a result of my son asking me to decorate home for Halloween. The only thing associated with this holiday that he doesn't like are the creepy crawlies. And especially spiders! So, I thought why not make spiders that are cute. This way he can see the not so scary side of them.
DIY Pom Pom Spiders
An easy and cute Halloween craft. Use pom poms, pipe cleaners and google eyes to make spider craft with kids at school or home.
These spiders are not only cute but terribly easy to make! You can also make them with your kids. And they can get involved creatively through colorful pom poms.
My boy loves them because of those bigger than usual googly eyes. And he enjoys scaring us around the home with them.
Let me show you how to make spider craft?
Halloween Crafts
Make Cute and Easy Spider Craft
You will need:
Pom poms
Pipe cleaners
Google eyes
Needle and thread
Glue dots
Sharpie
Cut pipe cleaner into equal lengths to make spider legs.
Sew four pipe cleaners on a pom pom. Make sure you do it tightly, so they don't move around.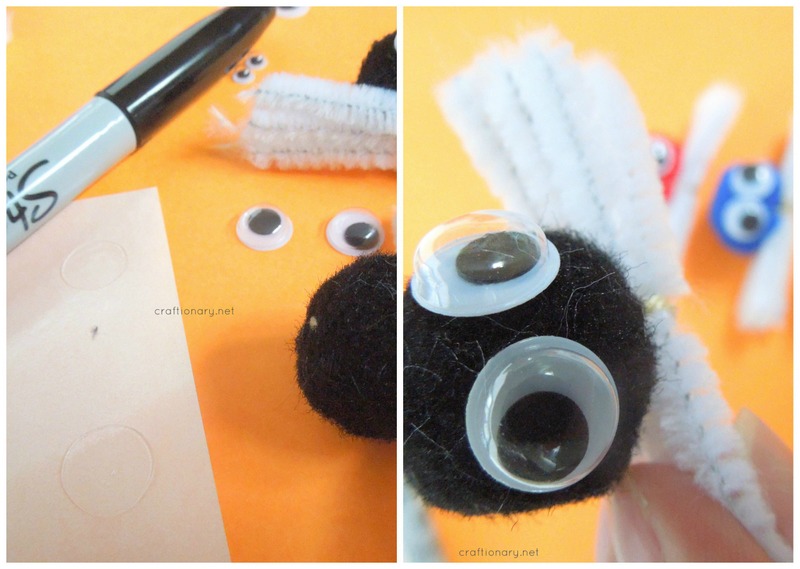 Now place a glue dot on the back of each googly eye. And press it into the pom pom.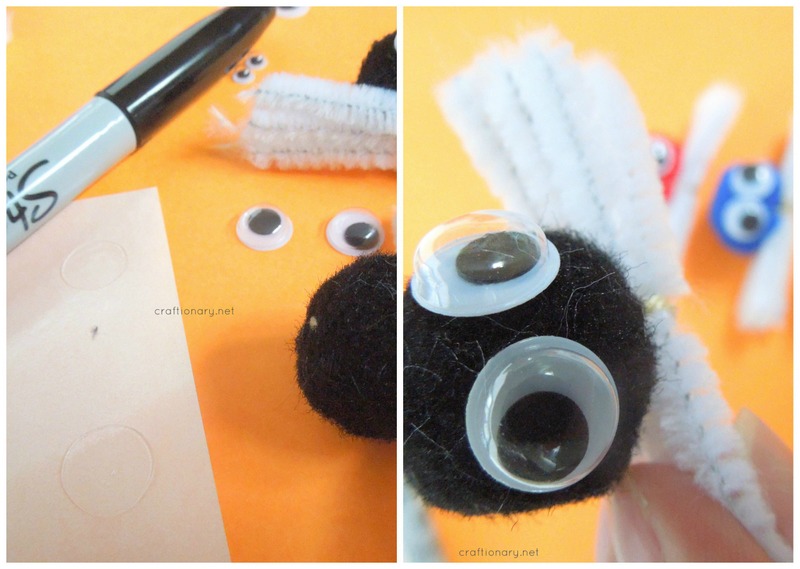 However, black pipe cleaners can give a natural look to the spiders. I used white pipe cleaners.
Bend and shape pipe cleaners to look like spider legs.
And with a sharpie, color the pipe cleaners black.
I am loving the natural hairy look on spider's legs that is enhanced with sharpie shading.
I used doily to make a spider web. Pumpkins and pine cones to complete the look.
You can find Free Halloween Printable Art that plays confuses your mind.
I hope you enjoyed this cute and easy Halloween craft. Make your own pom pom spiders and enjoy playing with your kids.
You May Also Like: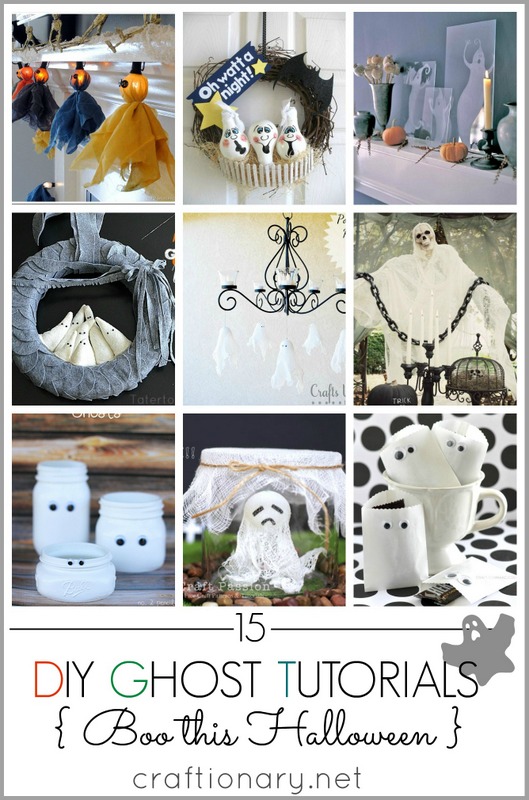 Check out our category HALLOWEEN PROJECTS.
Follow craftionary on instagram for latest updates.