This post may contain affiliate links. Please see our full Disclosure Policy for details.
There are so many ideas to decorate outdoor pumpkins for Fall and Halloween. If you search for pumpkin carving ideas or pumpkin painting ideas you get tons of ideas. But when I asked my kids how they want outdoor pumpkin decor, their idea was simple they wanted to carve out pumpkin faces. One wanted to carve a scary pumpkin face while other was interested in a cute pumpkin face. He said he wants to carve a Jack O Lantern.
They also want to visit Dollarama for some cheap Halloween supplies that can add element of scare to their front porch Halloween pumpkin decor. In Dollar Tree and Dollar store you can find inexpensive items similar to Dollarama Halloween materials like faux spider web, insects, ghosts and net. The things my kids decided to compliment with the pumpkins.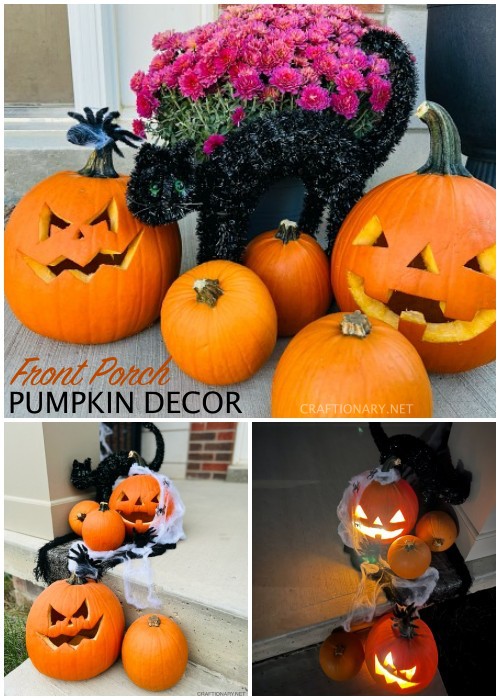 Halloween Outdoor pumpkin decor
The outdoor pumpkin decor that we have shared is for people who are looking for cheap Halloween front porch decor ideas and pumpkin decor ideas that are easy and decent. There is lots of family fun involved in this pumpkin decoration with kids. We went together to pick pumpkins from the superstore and then bought some supplies together. Next we carved the pumpkin.
How to carve perfect pumpkins the first time?
So here's a super simple way that is sure to give you the perfect carved pumpkins that you desire! You will need a sharp knife, thumbtack, and a printable template (get any you like from the internet). If carving is your thing you can get kids friendly carving tools from amazon but we like to use things we have at home.

First I washed the pumpkins in the sink which I filled with water and vinegar. This removes all the undesired things that can cause infection.


I then wiped the pumpkins and let it dry.

Instead of cutting the pumpkins from top, I cut it open from the bottom to clean it from inside. This way the stem stayed intact and we used the bottom part as pumpkin holder. If you remove the bottom part it will stay tilted from its original position.

You can also coat it with a layer of wax to prolong it's life but we skipped this part.

Next the boys searched for pumpkin face templates and chose their respective ones to print.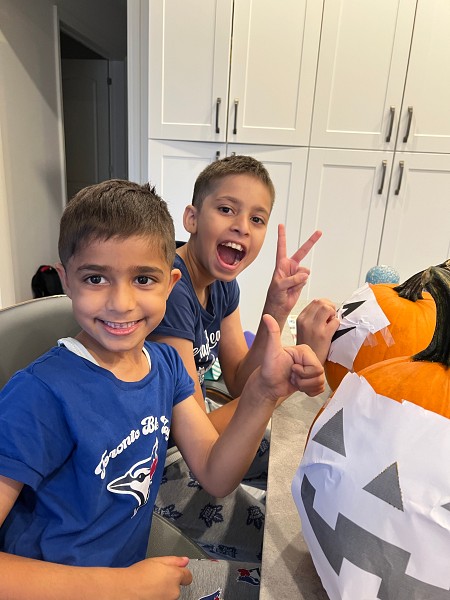 One is the jack-o-lantern and the other is scary pumpkin.

I used regular tape to stick the template on the pumpkin for the boys. Make sure that your template is aligned properly.

Then they used a thumb pin (thumb tack or toothpick will work as well) to poke holes in the template and trace it. You need to apply some pressure to poke holes as pumpkin skin is thick.

Once this was done we removed the paper template.

I helped the boys carve their pumpkins and viola!
DIY Carved pumpkin
Here's a SHORT REEL to show you how we carved pumpkins.
Kids friendly pumpkin materials and ideas
There are a variety of things kids can use to get creative with their pumpkins after pumpkin carving.
They can use paints like acrylic paints or markers to outline their design.
Use pumpkin decorating kits that come with safe to use tools and materials for pumpkin carving.
Pumpkin patterns in a variety of designs and ideas are available. You can print them or use stencils from stores.
Use stickers that come in a variety of packs from glittery to cutouts on foam that you can peel and stick to the pumpkin.
Pumpkin punchers are like cookie cutters that your kids can use a hammer to push into the pumpkin and carve designs.
Cover the entire pumpkin with chalkboard paint and let your kids get creative with chalk. Chalk markers and pens are less messy to use and give brighter results.  Here a fun chalkboard spooky printable.
You can get safe lights to substitute candles like LED lights and strobe lights that kids can easily switch on and off.
How to decorate front porch for Halloween?
We used a variety of elements to combine Halloween and Fall season for Front Porch decor such as Black Cat, Chrysanthemums, Spiders, and Spider web for cute spooky welcome. You will find details about the Fall fairy garden planter.

Outdoor pumpkin decor during the day
An assortment of different size pumpkins is always a great idea, it automatically adds the element of decor. There are two pumpkin sizes, the larger carved pumpkins with twinkle lights and smaller pumpkins. The twinkle lights are battery operated, however, you can invest in remote controlled lights or tealights for glowing Halloween pumpkins too.
You will also like: 90 cool pumpkin carving ideas
Outdoor pumpkin decor at the night
In a windy area like ours this was the perfect decor nothing flies away. We tucked spider webbing and net underneath the pumpkins and heavy objects. The Black cat was secured between the pumpkins and spiders were attached to pumpkin stem with black wire.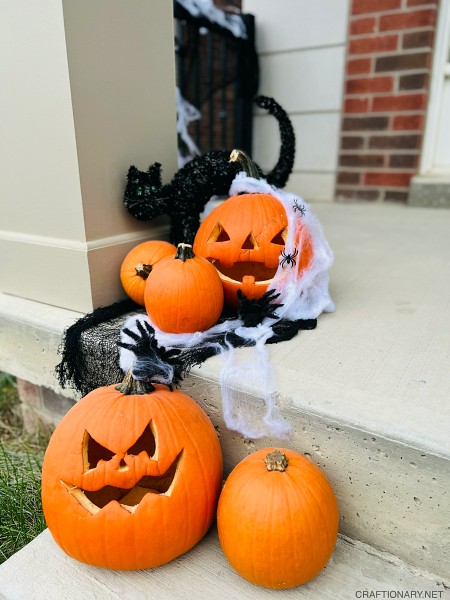 Glow in the dark pumpkin decor
This outdoor pumpkin decor idea is also great for Thanksgiving and Fall, instead of adding Halloween elements, you can add more planters with mums and make the decoration more Fall pumpkin decor.
Halloween outdoor pumpkin decor
For people who don't celebrate Thanksgiving and Halloween, but at the same time encourage their kids to accept other cultures and celebrations we tend to keep things subtle. Our aim is to not over do and have things to store, at the same time we want to teach kids to be entertained but not over spend in temporary things. With simple ideas they get to make memories and not get involved into habits of collecting things, throwing unused things and clutter. You will also like Thankful tree.

Our kids love to go for pumpkin patch, carve and paint pumpkins, appreciate Thanksgiving and above all go trick o treating on Halloween. Things got simpler than ever when kids were in-charge of creativity. They enjoyed the entire process and were excited to hand out treats to their neighbors in the new area. They also had an amazing time visiting other neighbors for treats and the tricks in the neighborhood were so much fun for them.
I hope you enjoyed this simple idea! Here's a cute little pumpkin cake for inspiration. Check out these pumpkin carving ideas.
You will also like:
15 Homemade trail mix recipes for Fall