This post may contain affiliate links. Please see our full Disclosure Policy for details.
Origami flower kids paper crafts is an easy paper folding tutorial to get kids started to make origami flowers and learn techniques. A beautiful jasmine flower so easy it just needs some per-creased lines and one fold and bravo your done. These folds are easy and you can make this flower with napkins for your dinner parties too.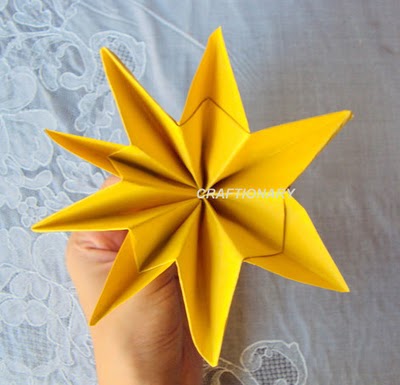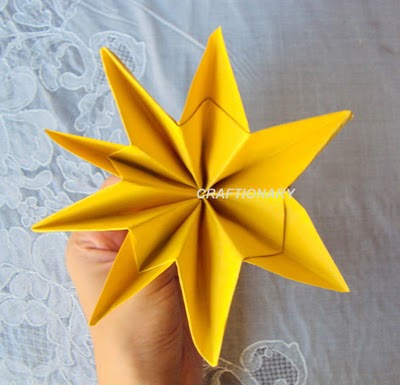 Origami flower kids paper crafts for beginners
Make it:
Take a square paper (9 1/2 cm x 9 1/2 cm) and fold it into rectangle and triangle to pre-crease as shown below. Then fold the 4 corners into triangles meeting at the centre. Keep the pattern-side up (if you want pattern inside the flower) and down for reciprocal.
Making 2 jasmine flowers together is easier than 1. So we will need 2 papers to make 2 jasmine flowers together. Fold the pink paper like the yellow paper above.
Now place the two papers over each other such that pink is the diamond and the yellow is the square. Fold the yellow flap over so that it's tip meets the tip of the pink paper. Repeat it with the other 3 sides. Repeat the process with the pink paper over the yellow paper now.
Now we will need 8 pre-creased lines for the final jasmine flower. Fold the paper into triangles, rectangles and crosses. Make the lines stiffer with your finger tips (you can also use paper crease tool).
Origami flower simple folding for starters
Here is a simple illustration of pre-creased lines we will need for the jasmine.
Fold the flaps outside and sideways so that you will have 4 on one side and 4 on the other side as shown below:
Your final shape would be like an arrow. Now fold it at the tip and in half.
Followed by folding the line and closing it firmly in the shape. Now open the petals while holding the tip firmly
There you have it a very simple and easy jasmine flower. I would really love to give it a try with napkins for a dinner party next time if I have some extra time at hands. Till then enjoy this paper flower.
You may also like:
Origami tulip flower craft
Origami organizer